Moms For Liberty targets teacher who showed class Disney film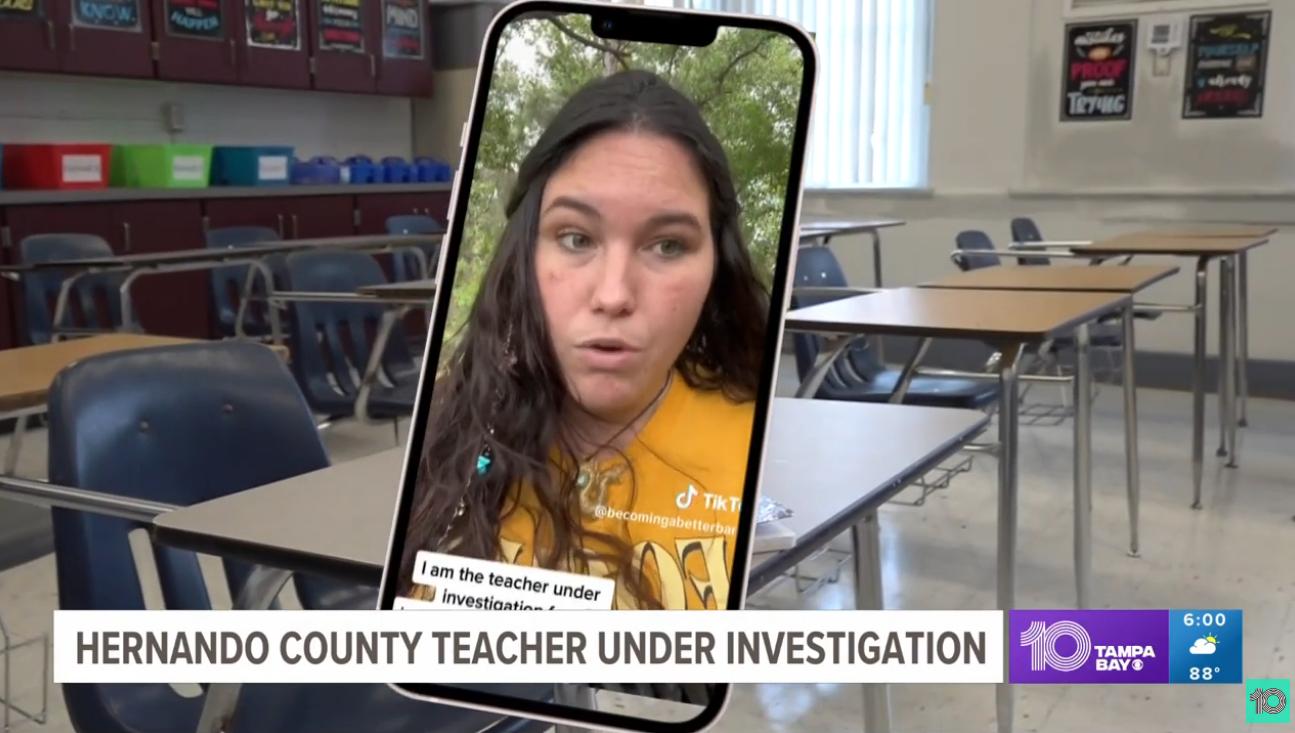 BROOKSVILLE, Fla – A fifth grade elementary teacher is under fire in Hernando County, Florida after showing her students the 2022 Disney's film "Strange World." It's the first Disney film with an out, gay character.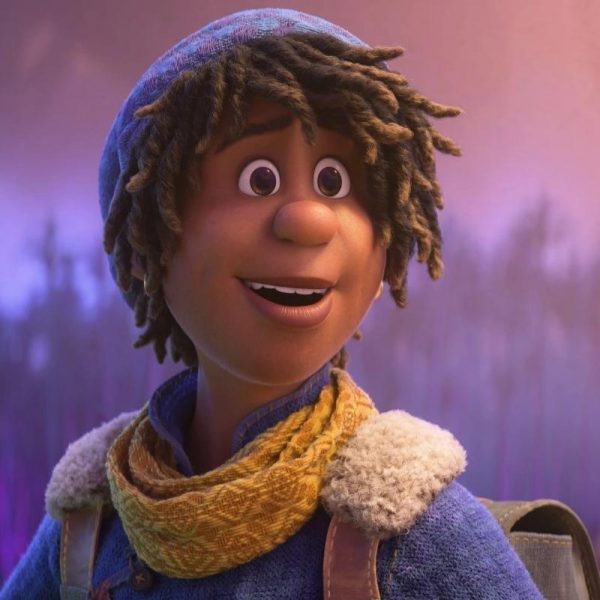 Strange World features the openly gay character named Ethan Clade, who has a crush on another male character and is voiced by gay comic Jaboukie Young-White.
Hernando County School Board member Shannon Rodriguez, who was elected to the school board last fall, and was endorsed by conservative anti-LGBTQ+ parents' rights group Moms for Liberty, reported fifth-grade teacher Jenna Barbee to the state Department of Education who has opened an investigation.
Rodriguez has a daughter in Barbee's class.
Common Sense Media in its Parents' Guide to Strange World gave it a four out of five star rating. Common Sense Media states in its FAQ: "Common Sense is the nation's leading nonprofit organization dedicated to improving the lives of all kids and families by providing the trustworthy information, education, and independent voice they need to thrive in the 21st century."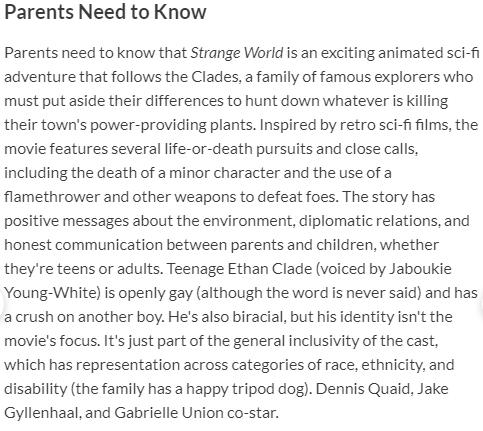 Barbee, who teaches at Winding Waters K-8, a public school located in Weeki Wachee, during a public comment session during last week's Board Meeting told the members and the audience:
"The word indoctrination is thrown around a lot right now, but it seems that those who are using it are using it as a defense tactic for their own fear-based beliefs without understanding the true meaning of the word."
The Tallahassee Democrat reported Florida educators are prohibited from teaching about gender and sexual identity due to the Parental Rights in Education Act, signed by Gov. Ron DeSantis last year. Also known as "Don't Say Gay" by critics, teachers have expressed anxiety and confusion over the vague wording of the law for fear of losing their teaching licenses or criminal penalties if found in non-compliance.
Opponents of the law say the vague wording unfairly targets books and classroom materials with gay and transgender characters and themes.
Rodriguez, in her short tenure on the school board, has argued there is "smut" and "porn" on schools' library shelves and has asked for books to be removed, according to Suncoast News.
Barbee said that every student in her class had a signed parent permission slip that said PG movies were allowed. At the end of the school board meeting, Rodriguez said Barbee broke school policy because she did not get the specific movie approved by school administration and said the teacher is "playing the victim," the Tallahassee Democrat noted.
In a statement to local media outlets, Moms for Liberty says school boards should ensure parents' rights are honored in the classroom.
"It is great that local school board members can question content that is not approved by parents. Parents have a right to be a part of their child's education and school boards should also ensure parental rights are honored in the classroom."
Florida teacher under investigation for showing 5th graders Disney movie:
Gay Days 2023 will go on despite DeSantis & anti-LGBTQ+ animus
"We continue to be that blue speck in a sea of red, but ultimately laws are laws, and that is the interesting situation we are in"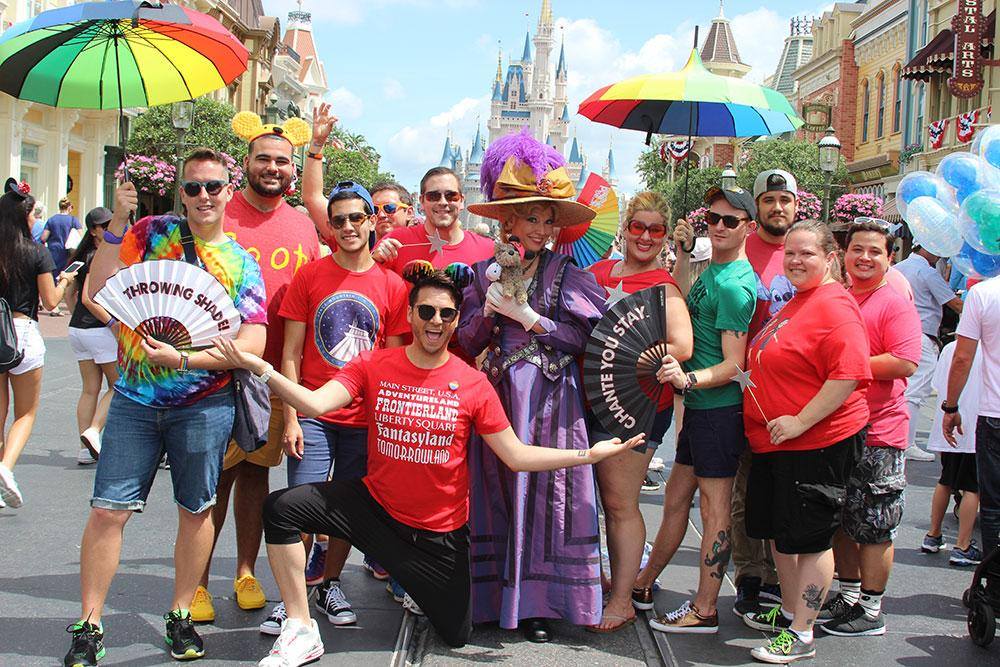 ORLANDO – Equality Florida has issued a travel advisory to LGBTQ+ people that traveling to the state isn't safe given the plethora of anti-LGBTQ+ laws. On May 23, 2023, the Human Rights Campaign joined with Equality Florida urging LGBTQ+ people to avoid travel to Florida.
Citing six anti-LGBTQ bills passed and signed by Governor DeSantis, the two groups noted that while not a blanket recommendation against travel nor a call for boycott, the travel advisory outlines the devastating impacts of laws that are hostile to the LGBTQ community.
As Pride month gets underway Thursday, an annual event that is celebrating its 32nd anniversary this year and draws tens of thousands of LGBTQ+ people to Walt Disney World and the Disney resort areas near Orlando, is slated to commence over the next four day period.
Wearing red shirts to identify themselves, participants in the unofficial Disney Gay Days celebration gather for parties, meet-ups, and enjoying a Disney holiday. In an interview with the Associated Press, Joseph Clark, CEO of Gay Days Inc., said that he is hoping that this year can see upwards of 150,000 LGBTQ+ people descending on Central Florida to mark the start of Pride season.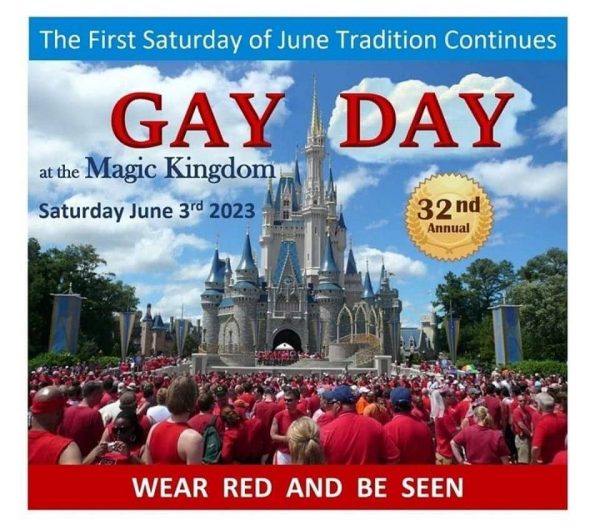 In addition to Disney, the LGBTQ+ folks will also be visiting the neighboring amusement parks of Universal Studios and SeaWorld.
Pride celebrations this year in Florida have taken on a different tone, St. Cloud organizers of the 'PRIDE in St. Cloud' scheduled for June 10 cancelled the event joining a growing list of Pride events being cancelled as a "climate of fear" has overtaken the state in the wake of Gov. Ron DeSantis' extreme new anti-LGBTQ+ laws.
The Pride Alliance of the Treasure Coast notified the greater Treasure Coast community that the Pride parade was cancelled and that Pridefest will only be accessible to residents 21-years-old or older.
The Wilton Manors City Commission as well as the city's mayor voted to amending the permit for Stonewall Pride Inc. to force compliance of a new state law that expands the definition of "live adult entertainment" to include drag entertainment.
Brandon Wolf, the Press Secretary for the largest state-wide LGBTQ+ equality and human rights advocacy group Equality Florida, in a text with the Blade noted: "These are the intended chilling effects of DeSantis' slate of hate legislation. Just as the Don't Say LGBTQ law didn't direct school districts to rip down rainbow stickers, this bill does not ban drag or pride. But it uses vague language and threats to induce self-censorship."
"We continue to be that blue speck in a sea of red, but ultimately laws are laws, and that is the interesting situation we are in," Joseph Clark, the CEO of Gay Days, told Deadline, adding that many folks have reached out to ask whether it's safe to visit Florida.
In a Facebook post earlier this week, GayDays® announce the cancellation and "reimagining" of Taste of GayDays® as "due to challenges caused by the current political climate in Florida which recently caused concerns for a large group of our restaurant partners."
"UPDATE: We're deeply sorry to announce the cancellation and "reimagining" of Taste of GayDays® due to challenges caused by the current political climate in Florida which recently caused concerns for a large group of our restaurant partners. Because of these circumstances, and though we adamantly tried to recruit additional vendors, it became clear that we would be unable to provide the exceptional experience that our guests have come to expect at the Taste of GayDays® Event.
But FEAR NOT! We've planned something special for you all. Join us for the FREE GayDays Orlando 2023 "Taste of GayDays® Entertainment Preview Show" at 6pm on Thursday, June 1! This new event aims to give a preview of several other special events during GayDays® Orlando including performances by some of our Miss GayDays® Pageant competitors, introductions and meet & greets with Mr. GayDays® Leather Competitors and more. Please know – we are committed to delivering extraordinary experiences at GayDays® Orlando.
As we are days away from the start of GayDays Orlando 2023 this was not an announcement we had expected to have to make. We will not let this deter us! We are determined to work towards changing the mindset of people and ensure that future events uphold the high standards that are synonymous with GayDays®. It is because of you, that together, we'll make a difference," the group wrote.
GayDays® at Area Theme Parks | #RedShirtDays schedule linked here: (Link)