Charlie Kirk's Turning Point partners with registered sex offender
Bergstrand served time for attempted "coercion and enticement" after trying to persuade "a minor female" to "engage in sexual activity"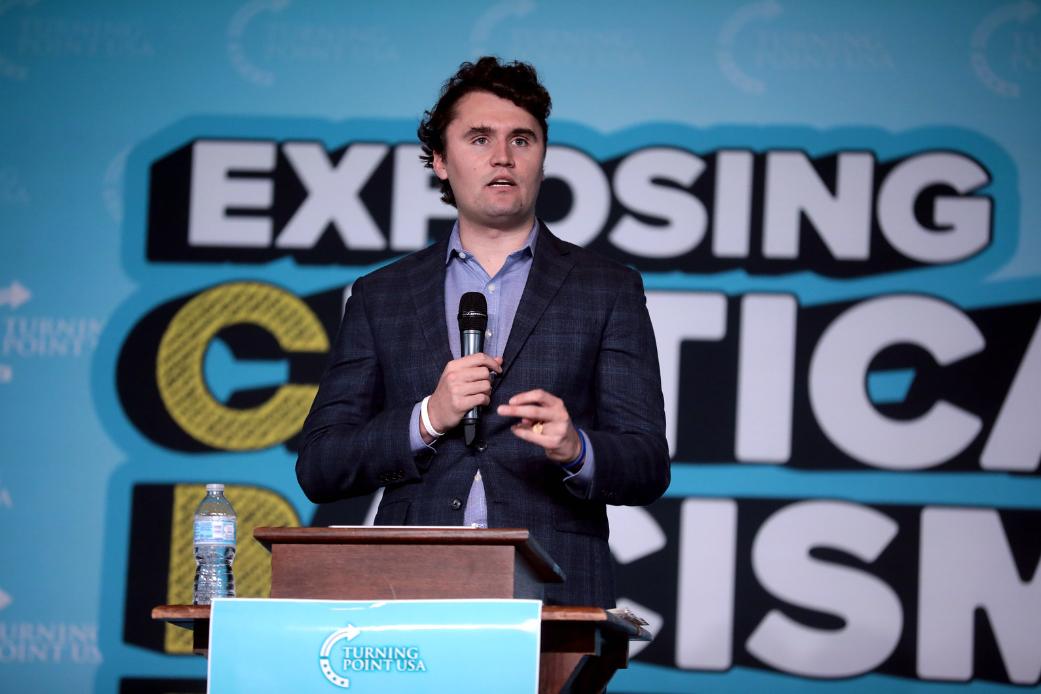 NASHVILLE – Far-right extremist radio chat show host and Turning Point USA CEO Charles J. Kirk, in statements he made this past week at the TPUSA's second-annual Pastors Summit, told attendees that conservatives and others needed to boycott Target for "their support for grooming kids."
Kirk also attacked Target, telling a packed audience of religious leaders: "If you love God, you must hate evil."
One of the TPUSA summit's corporate sponsors was Shawn Bergstrand, currently CEO of Bismarck-based Rightside Up Apparel, who is also a registered sex offender in North Dakota Rolling Stone magazine reported.
Bergstrand, served time in federal prison for attempted "coercion and enticement" after trying to persuade "a minor female" to "engage in sexual activity."
In a statement to Rolling Stone, TPUSA spokesman Andrew Kolvet said that TPUSA Faith "was not aware of this incident" but emphasized that, as an "exhibit sponsor," Bergstrand was not a speaker, organizer, or "professing doctrine from the stage."
Charlie Kirk decried the sexualization of children at his Pastors Summit this week.

One of the event's corporate sponsors is run by a man convicted of "coercion and enticement" of a minor.https://t.co/abUPkTCiWl

— Rolling Stone (@RollingStone) May 27, 2023
Kirk, who decried the sexualization of children at his pastors summit, responded on Twitter saying: "What a joke. Let's set the record straight. First, I've never met this person. He was one of many exhibitors at our event. He's not a "corporate sponsor" but rather a small business trying to market his company.
I'm told from the team that coordinates exhibitors that he's a nice person who did something wrong over a decade ago, and unlike Target, he repented and the experience led him to his faith. Good for him. That's the Gospel.
Lastly, he doesn't hide what happened. He tells his story on his own website, and the jerks at Rollingstone [sic] took that public testimony and called it "exclusive," just to unfairly smear him and play gotcha with me and TPUSA Faith. Rollingstone [sic] should be ashamed. Trash outlet that publishes trash hit pieces about an event they didn't witness and know nothing about.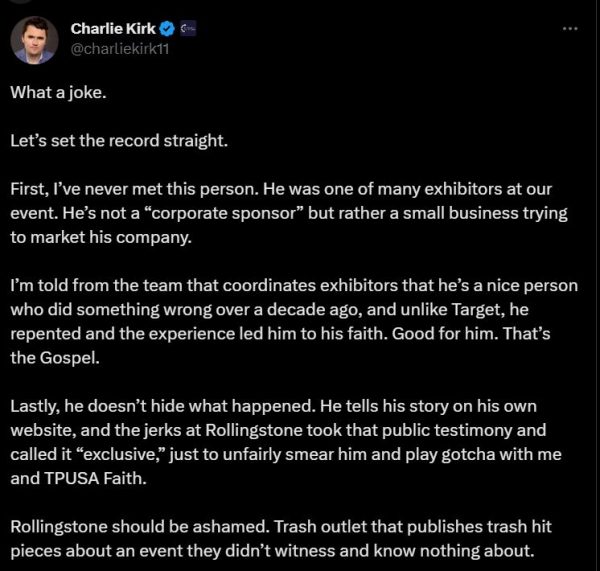 Rolling Stone also noted: Kirk responded to Rolling Stone's coverage of his group's new crusade. "First of all, it's not my Turning Point," Kirk insisted of his organization. "It's the Lord's Turning Point." He added: "I am both a Christian and a nationalist, but most importantly, I'm a Christian."
Bergstrand did not respond to requests for comment from the magazine, but his address on North Dakota's sex offender registry matches the registration address for Bergstrand and Rightside Up in a corporate registry maintained by North Dakota's secretary of state. Bergtrand's photo on the offender registry also matches video of the apparel CEO from RightsideUp's website.
Kirk has launched attacks on progressive politicians in a similar vein as his attacks on Target. Last November, in a lengthy tirade on Twitter, Kirk, while loosely channeling an InfoWars host Alex Jones style-attack, went after California State Senator Scott Wiener, (D-SF District 11) implying that the veteran lawmaker endorses and supports child molestation.
Kirk's attack on the senator commenced with: "Thousands of pedophiles in California are going free after just a few months in jail, thanks to the state's radically reduced penalties for child molestation. One reason so many of these predators are going free so early is California lawmaker Scott Wiener."
Editor's Note: It needs to be made clear, California has NOT reduced penalties for child molestation.
Senator Wiener responded to Kirk's attacks saying on Twitter:
Charlie Kirk — one of the biggest attention-seeking liars around — is spreading bald-faced lies about me. These statements are absolutely false & defamatory. These are the lies bigots have always spread about LGBTQ people — lies that lead to violence against our community.
Related:
Rep. Jennifer Wexton, ardent LGBTQ ally, will not seek re-election
In fact, on the day she took office, the congresswoman became only the second member to fly a transgender Pride flag outside her office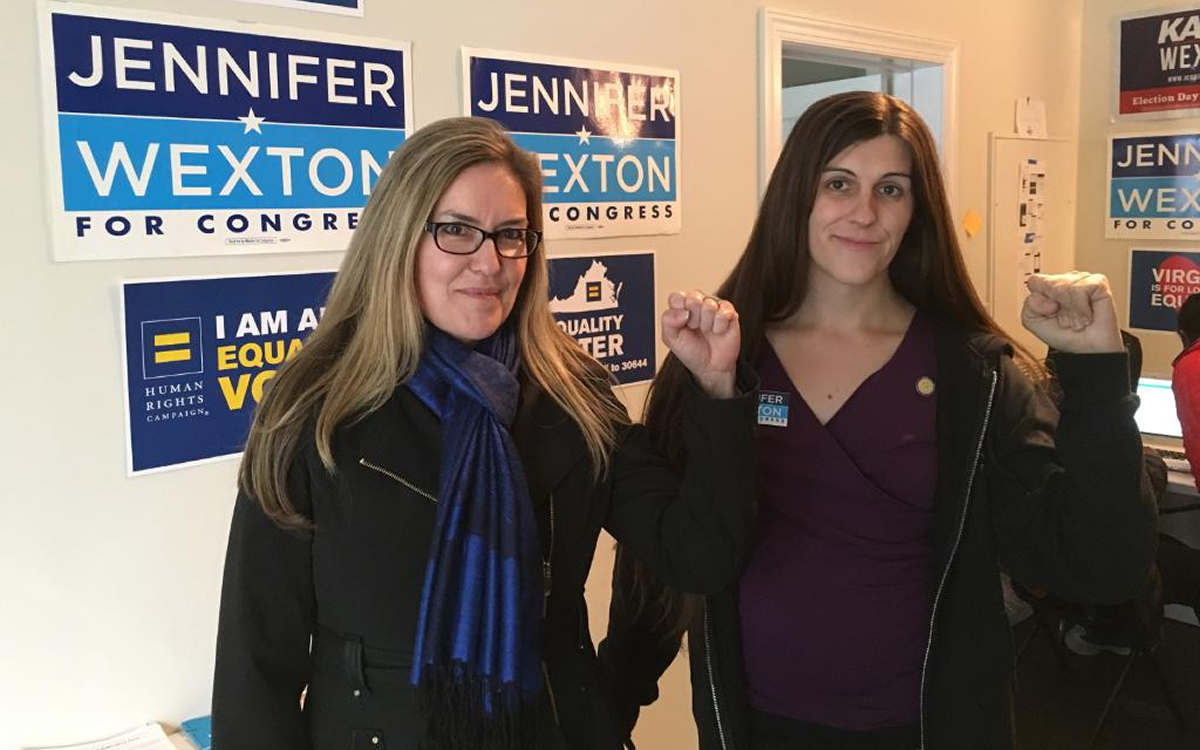 LEESBURG, Va. – U.S. Rep. Jennifer Wexton (D-Va.) announced on Monday she will not seek reelection after receiving a diagnosis of progressive supranuclear palsy, a neurological disorder that the congresswoman described in a statement as "Parkinson's on steroids."
"I'm heartbroken to have to give up something I have loved after so many years of serving my community," she said. "But taking into consideration the prognosis for my health over the coming years, I have made the decision not to seek reelection once my term is complete and instead spend my valued time with Andrew, our boys, and my friends and loved ones."
A member of the Congressional Equality Caucus and co-chair of its Transgender Equality Task Force, Wexton has been a staunch ally of the LGBTQ community since her first election to Congress in 2018 and during previous five-year tenure in the Virginia State Senate.
"On my lowest days, she's quite literally been a shoulder to cry on, and on my best days, she was the second person I told about my engagement last year," Virginia Del. Danica Roem (D-13) told the Washington Blade on Monday.
The congresswoman is "a role model, mentor and genuine public servant whose friendship and advocacy means the world to me," said Roem, who is the first openly trans representative to serve in any state legislature and will be the first in Virginia's State Senate if she is elected to the newly drawn 30th district seat next year.
"I spent so many years closeted in part because of the fear and loathing perpetuated by elected officials toward LGBTQ people in Northern Virginia broadly and greater Prince William [County] specifically that made for a hostile, unwelcoming environment," she said.
"To go from that to having such outspoken, fearless representation from my member of Congress in Rep. Jennifer Wexton hasn't so much been a breath of fresh air as much as a completely new biosphere," Roem said.
She added, "I'm so grateful to her for everything she's done and the example of inclusivity she's set for her constituents."
Roem pointed the Blade to an article in the Washington Post entitled, "How Jennifer Wexton became the 'patron saint of the transgender community,'" which details the ways in which LGBTQ rights "with an emphasis on the transgender community" had become Wexton's "signature issue" just "six months into her first term."
In fact, on the day she took office, the congresswoman became only the second member to fly a transgender Pride flag outside her office.
Equality Virginia, the state's largest LGBTQ advocacy group, also noted Wexton's advocacy for the community in a post Monday on X: "Thank you @RepWexton for being a tireless advocate for LGBTQ+ people in the General Assembly and in Congress."
"You've made our commonwealth a better place," the group wrote, adding, "we're sending our love and strength to you, your family and your entire team."
"In 2018, this state senator I called my legislative role model and looked up to so much as a first-year delegate, came over for dinner crepes to share her wisdom, humor and guidance," Roem said on X. "Five years later, Rep. @JenniferWexton is still a mentor, friend and champion for NOVA."
The Washington Post reported Wexton's planned departure means her seat representing Virginia's 10th Congressional District could be vulnerable in next year's elections, as it was held by Republicans for 40 years prior to the congresswoman's defeat of GOP incumbent Barbara Comstock in 2018.