Ohio Rep. pushes conversion therapy; bill mandates it for trans kids
Ohio Rep. Click has sponsored several anti-trans care bans and claims that his bills are "about the science"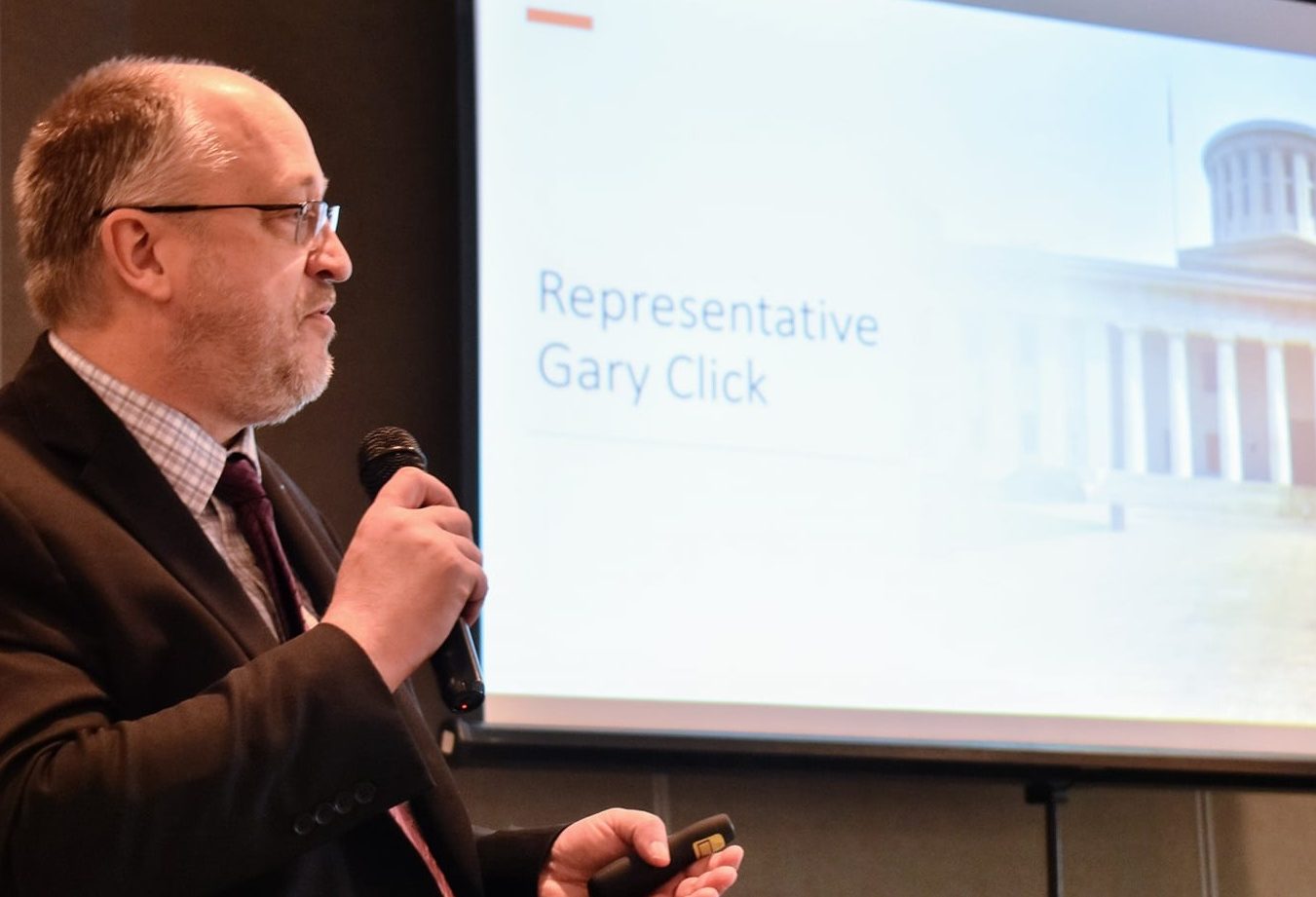 By Erin Reed | WASHINGTON – Advocates for bans on gender-affirming care often argue that their bills are not religiously motivated and claim they do not support conversion therapy. Groups such as the Society for Evidence in Gender Medicine and Genspect are frequently used to propagate pseudoscience around gender identity and standards of care.
In Ohio, Rep. Gary Click, sponsor of House Bill 68 that would prohibit gender-affirming care for transgender minors, has consistently stated that his bill is not influenced by religious beliefs and has denied endorsing conversion therapy in hearings.
However, recent recordings uncovered by local reporter Riley Roliff from his church sermons seem to contradict his statements. In these videos, Click defends conversion therapy and states he has counseled individuals who expressed no desire to identify as LGBT.
House Bill 68 mirrors many of the bans on gender-affirming care proposed throughout the U.S. this year. Alarmingly, though, new provisions target trans people in ways not seen in other states. One provision, for example, would criminalize "aiding and abetting" gender affirming care by physicians, including psychiatrists.
Additionally, the bill would prohibit mental health professionals from affirming and diagnosing transgender youth without first "screening for other comorbidities that influence gender identity," such as depression, autism, anxiety or ADHD.
This requirement is problematic given there are no established screenings and no confirmed causal links between any of these conditions and gender identity. This requirement essentially bans evidence-based mental healthcare for trans youth.
The bill also proposes burdensome reporting requirements for mental health professionals treating transgender patients. It requires them to meticulously document aspects of their patients' personal lives and report summary data to the health department. Lastly, the legislation would sanction "watchful waiting" and other related therapies like the misleadingly named "gender exploratory therapy" and "watchful waiting" therapies, which are forms of conversion therapy for transgender individuals that seek to blame being trans on anything other than the youth actually being transgender. These therapies seek to delay transition until the teen feels like it is no longer an option or they age out of care.
Collectively, these provisions amount to forced conversion therapy for transgender youth. It pulls them from their medical care, it bans well-supported psychological care by imposing burdensome reporting requirements and mandating assessments that do not exist, it bars aiding and abetting gender transition for trans youth, and it explicitly legalizes conversion therapy for this population.
Local activist Cam Ogdon agrees, "HB 68 mandates that families detransition their children and follow a specific path of care that is not endorsed by any major medical association. Then those kids' medical information is collected in a registry for analysis. It is nothing more than a conversion therapy experiment that Representative Click wants to run on Ohio's children."
See the provision for instance, explicitly legalizing conversion therapy for trans people:
The bill's sponsor, Representative Gary Click, has claimed that he has no religious motivations behind his bill and has even claimed to not support conversion therapy. For instance, in a tweet earlier this year, he stated that being trans was a form of conversion therapy at its worse – implying that he is against conversion therapy while also misrepresenting what gender identity is. In a hearing this year, he claimed to be against "changing people's minds to match their bodies." In numerous tweets, he claims his bills are following "science, not activism."
Yet recently, video has emerged from his own church where he not only defends conversion therapy: he claims to have done it himself. "When you counsel with someone who struggles with same sex attraction and gender identity, and you show them what the bible says and how they can be at one with the body that god gave them and you help them and you counsel them, they want to make that illegal."
Later in the sermon, he says, "I've counseled with people. I've helped people overcome that before."
See the video here:
Following news media discovering this video, Rep. Click has reacted with outrage, accusing those who post it of "misusing the phrase." Yet his bill requires that the medical standard of care for trans youth be ignored, that those already receiving care be medically detransitioned through pulling them from that care, and that all forms of mental health therapy seek to find "explanations" for transness that do not exist while also forcing them to report on all of their patients to the state. When you seek to deny a trans person's gender identity and withdraw their medical care while also explicitly legalizing gender exploratory therapy and watchful waiting, that is establishing a mandate for conversion therapy.
This carries forward a trend of religious organizations trying to front anti-trans bills while pretending their motivations are based in science. Earlier this year, we learned for instance that the Florida standards of care were written by doctors from a conversion therapy organization, the American College of Pediatricians, designated as a hate group by the Southern Policy Law Center. The standards of care were later shown to be manipulated to support a gender affirming care ban there in court filings. One of the head experts for Florida behind this ban, Dr. Van Mol, was discovered to be supporting "sexual orientation change efforts" in a recent video:
It is important to note the religious conversion therapy roots of anti-trans legislation. Representative Click, when supporting legislation like HB68, is attempting to mandate conversion therapy on all trans youth in Ohio. He, according to his sermons, sees transgender identity and trans people "straying from God's plan" as part of the "crumbling" of society caused by Satan. Anti-trans bills are not driven by science, and their sponsors are being intentionally dishonest when making these claims. Instead, they seek to legislate morality and force trans youth out of their care teams and into a world where they are no longer allowed to be themselves.
****************************************************************************
Erin Reed is a transgender woman (she/her pronouns) and researcher who tracks anti-LGBTQ+ legislation around the world and helps people become better advocates for their queer family, friends, colleagues, and community. Reed also is a social media consultant and public speaker.
Follow her on Twitter (Link)
Website here: https://www.erininthemorning.com/
******************************************************************************************
The preceding article was first published at Erin In The Morning and is republished with permission.
Conservatives find new LGBTQ+ outrage: Paw Patrol
It's hard to keep track of everything conservative's have cancelled for LGBTQ+ representation in recent months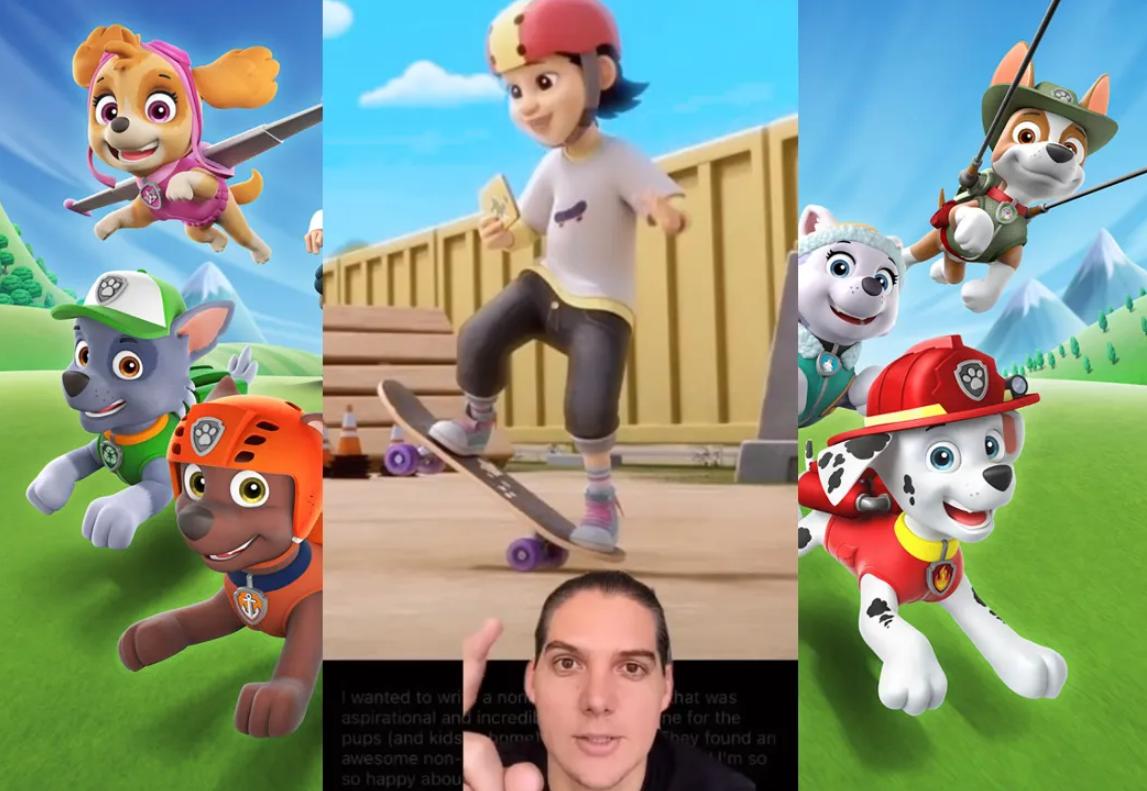 By Erin Reed | WASHINGTON – Bud Light beer. Costa coffee. Target clothing. It's hard to keep track of everything conservative's have cancelled for LGBTQ+ representation in recent months. It seems even the mere mention of a transgender person is enough to get a company targeted these days, and a single rainbow flag could result in harassment and bomb threats.
Now, conservatives have turned their eyes to a new target to be outraged over: Paw Patrol.
Or, to be more accurate, their outrage has turned the Paw Patrol spinoff, Rubble & Crew, a construction-themed spinoff of the original animated series. In a viral video on twitter reaching over 2 million people, conservative influencer and former GOP primary candidate Robby Starbuck opened his video with the ominous statement, "They are coming for your children." The outrageous content in question worthy of such a bold claim? A single nonbinary character wearing trans colored socks, who appears in only a single episode.
You can watch the video here:
I regret to inform you that Paw Patrol has gone woke. Their new spinoff series "Rubble and Crew" added a trans character. They also hired @lindzamer as a writer. Lindz runs the Queer Kids Stuff YouTube channel that indoctrinates kids into the trans ideology. Hollywood is working… pic.twitter.com/d4OGP58FeH

— Robby Starbuck (@robbystarbuck) September 18, 2023
Robby Starbuck video on Paw Patrol
The video quickly gained traction among prominent conservative influencers and elected officials. Libs of TikTok, notorious for fueling viral outrage and inciting violence against LGBTQ+ individuals and their supporters, circulated the video. They then falsely alleged that Paw Patrol was "embedding pornographic links on their candy wrappers," a claim refuted by Twitter's Community Notes feature. The Daily Caller, often criticized for transphobic content, also wrote an article on the matter. Prominent elected officials, like Tennessee House Majority Leader Representative William Lambeth, who penned the state's ban on gender-affirming care for trans youth, also shared the video.
The video identifies queer author Lindz Amer as the creative mind behind the episode. Amer, a distinguished writer and recipient of the GLAAD Rising Stars Grant awarded for initiatives that "champion intersectional LGBTQ+ issues," shared their excitement on Instagram: "I wanted to write a nonbinary character that was aspirational and incredibly cool, someone for the pups (and kids at home) to look up to. They found an awesome non-binary actor to voice River and I'm so so happy about how it turned out."
Representation matters, especially for the LGBTQ+ community. As more individuals embrace their true identities and come out, families are increasingly inclusive of LGBTQ+ members. The Internet and Television Association has observed that over the past two decades, the shift towards greater acceptance of LGBTQ+ individuals can be largely attributed to positive portrayals on TV. Speaking on the matter with the NCTA, GLAAD's Director of Entertainment Research & Analysis emphasized the significance of LGBTQ+ representation in children's programming, noting, "By introducing this level of representation to children's shows, we foster conversations about embracing differences, ensuring that children begin to cultivate a robust sense of self-worth from a young age."
In recent months, though, conservatives have sought out to stamp out representation in all aspects of public life. Sixteen states have enacted restrictions on LGBTQ+ content in educational settings, under the guise of "Don't Say Gay Or Trans" laws. In Florida, an educator was dismissed for as little as showing a Disney film featuring a gay character. GOP attorneys general have penned letters to Target, claiming the sale of LGBTQ+ themed apparel for young people violates obscenity laws. In Georgia, a predetermined mock trial saw a teacher fired for reading the Scholastic Kids book, "My Shadow Is Purple." Virginia witnessed a lawsuit against Barnes & Noble, calling for the removal of LGBTQ+ books from their shelves. Ironically, the same conservatives who once lambasted the notion of "cancel culture" now seem to have fully embraced it.
For those who want to see the episode, it has just been released. The episode is titled, "The Crew Builds An Observatory," where the characters join together to help River, the nonbinary character in question, catch a picture of a shooting star. You can watch it now on Nick Jr.
****************************************************************************
Erin Reed is a transgender woman (she/her pronouns) and researcher who tracks anti-LGBTQ+ legislation around the world and helps people become better advocates for their queer family, friends, colleagues, and community. Reed also is a social media consultant and public speaker.
Follow her on Twitter (Link)
Website here: https://www.erininthemorning.com/
******************************************************************************************
The preceding article was first published at Erin In The Morning and is republished with permission.