Since Florida banned most adult trans care: People are suffering
Today marks 15 days since Florida's legislature banned most adult trans care. People are unable to obtain their meds. People are suffering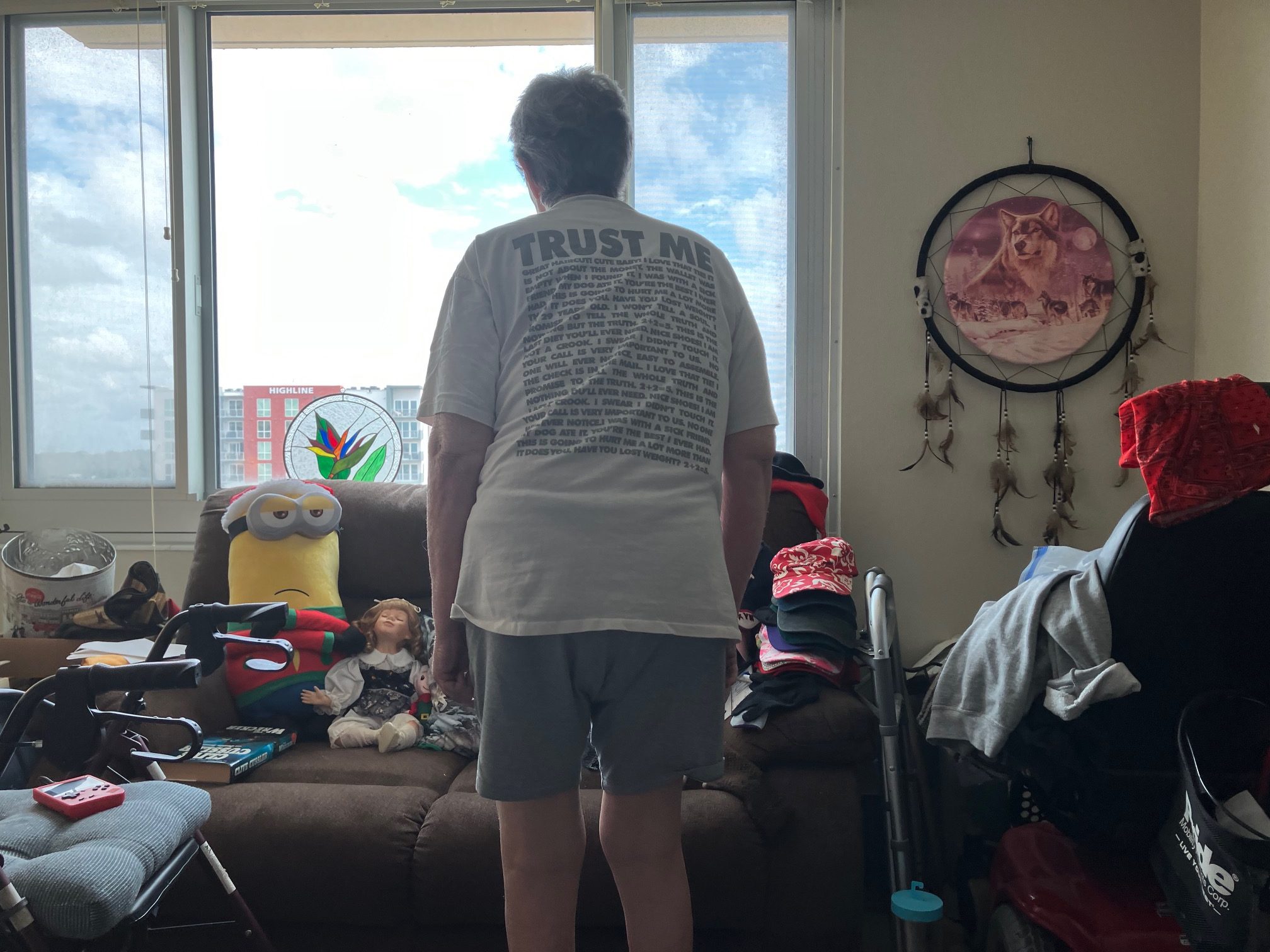 By Erin Reed | WASHINGTON – It's been 15 days since Florida Gov. Ron DeSantis put his signature on Senate Bill 254, putting a halt to 80% of trans adult care while leaving the remaining 20% stuck in limbo.
The repercussions are profound, with many transgender individuals throughout the state losing access to their medications, pushing a multitude into medical detransition. The situation grows ever more critical for transgender residents, with the majority unable to secure prescription refills or make new appointments.
A fortunate few, who either stockpiled their medication or found willing pharmacies, are living on a borrowed time. For the rest, Florida, bearing the second-largest population of adult transgender individuals, is experiencing a chilling experiment: a rapid and extensive removal of lifesaving medication, and people are suffering.
Up until this point, gender affirming care bans have mostly focused on transgender youth. Though there were murmurings of bans that could go up to 26 years old, these were quickly quashed in state legislatures. A few bills, such as a bill in Oklahoma, were amended to bans on gender affirming care under 18 years of age – these bills are extreme enough and represent a major step backwards in transgender rights.
The landscape shifted significantly in recent months, beginning in Missouri. Attorney General Andrew Bailey signed a decree prohibiting the majority of gender-affirming care for transgender adults. The instituted regulations echoed Targeted Regulation of Abortion Providers (TRAP) laws, which impose almost insurmountable requirements on abortion clinics. The policy advanced to a court hearing where it seemed to significantly falter under scrutiny. In a pre-emptive move, the Attorney General withdrew the policy before the judge could render a final verdict.
Several weeks later, DeSantis enacted Senate Bill 254, a law that uniquely targets the transgender community in Florida. Initial news reports characterized it as a ban on transgender youth, but its provisions concerning transgender adults have incited severe distress among this group within the state. The law blocks 80% of gender-affirming care for transgender adults by barring nurse practitioners from offering this care. Organizations like Planned Parenthood, one of the largest providers of this care, rely on nurse practitioners heavily.
For the remaining 20% who receive their care from MDs or DOs, they face significant challenges refilling prescriptions at pharmacies that are currently trying to interpret the implications of these regulations on their risk. Additionally, the bill stipulates that transgender adults, even those who have previously received care, must be given a medical disinformation and informed consent form sanctioned by the state's Board of Medicine. The Board, however, has yet to produce such forms, leading to an additional layer of difficulty.
Transgender researcher Zinnia Jones' website, Gender Analysis, has outlined the exact impact of this bill on the community in a flowchart, showing how no matter how you received your care as a transgender adult in Florida before, it is likely you are facing severe disruptions:
Speaking with Erin In The Morning, Mia, a 38 year old transgender woman, shared an email from Planned Parenthood stating that gender affirming care services were paused. Though Planned Parenthood sent an emergency refill to Publix that was valid before the law took effect, the pharmacy has refused to fill her prescriptions and she was told to return in 4 months once the impact of the law could be evaluated.
See the email she received:
When asked what would happen if she lost access, she said, "I'm scared to lose access completely, especially since moving isn't really an option right now. Losing access or not being able to refill would be possibly the worst thing. The last 9 months have been the best mental health wise, even with all of the fear from the law changes. I'll find refills through the gray market before being forcibly detransitioned."
She is still trying to find ways to fill her prescription legally.
She has stated that leaving the state may be an option after she finishes her bachelors in legal studies and can work long enough to afford to move, stating that it will take "about 6 months to a year to get out."
However, as Jones points out, "Leaving the state is also not a realistic or scalable option: Florida has the second-largest adult trans population in the country after California. 94,900-100,000 adult trans people are affected by this ban."
You can see the figures here:
Kameron, an 18 year old transgender man in the state, agrees that leaving would not be an easy option, stating that "it would uproot my entire life here."
Kameron also received his refills from Planned Parenthood and was told that he would be unable to refill his prescriptions. Though he has heard that some doctors might be able to prescribe medication, he knows that the informed consent form to receive care mandated by the state has not been developed yet. As a result, he has been forced to rely on his stockpile that he gathered in preparation for laws like this.
Lucina, a trans individual residing in Florida, received a notification from her healthcare provider stating her care would be discontinued due to her provider being a nurse practitioner. The correspondence indicated that the enactment of the bill prohibited the continuation of her care, and she should promptly seek a legally authorized physician. The letter suggested that she contact primary care providers as a desperate measure, even though these providers often lack training in gender-affirming care. Even if they agreed to provide such care, without the necessary informed consent form, which is yet to be produced by the Board of Medicine, these physicians would likely be unable to administer it.
Here is the letter she received: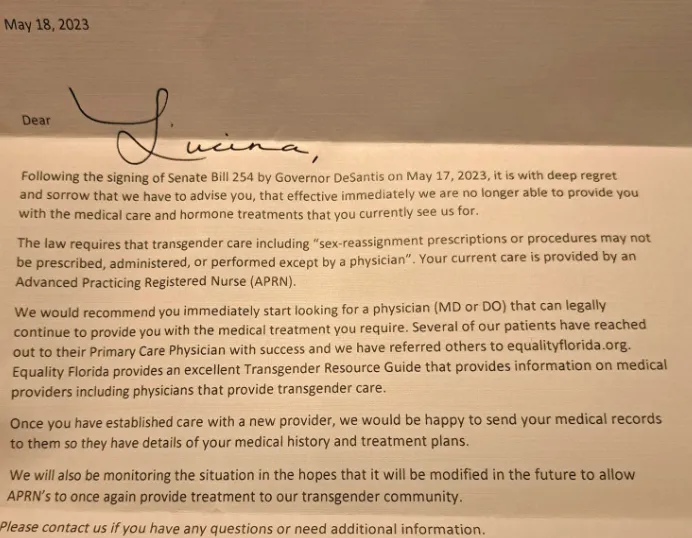 Gender-affirming care is lifesaving. Numerous studies have proven its positive effect on transgender individuals, including research that indicated a 73% reduction in suicidality and another study that reflected a 40% decrease in recent suicide attempts. Over 50 studies underscoring the advantages of gender-affirming care have been collected by the Cornell University Center for the Study of Inequality. Policies such as Senate Bill 254 not only deprive individuals of this essential care but also inflict trauma on transgender people by abruptly discontinuing their treatment.
The future of transgender people in Florida hangs in the balance. The contentious law is currently under legal scrutiny, with an imminent decision expected regarding a motion for a temporary restraining order to halt its enforcement. Concurrently, the Florida Board of Medicine is scheduled to convene on Thursday to deliberate on the law, possibly initiating the process to create state-required informed consent and disinformation forms. As each day passes, the situation becomes more precarious for many transgender individuals in the state who are being forced to discontinue their hormone therapy unsafely or turn to alternate methods.
****************************************************************************
Erin Reed is a transgender woman (she/her pronouns) and researcher who tracks anti-LGBTQ+ legislation around the world and helps people become better advocates for their queer family, friends, colleagues, and community. Reed also is a social media consultant and public speaker.
Follow her on Twitter (Link)
Website here: https://www.erininthemorning.com/
******************************************************************************************
The preceding article was first published at Erin In The Morning and is republished with permission.
Conservatives find new LGBTQ+ outrage: Paw Patrol
It's hard to keep track of everything conservative's have cancelled for LGBTQ+ representation in recent months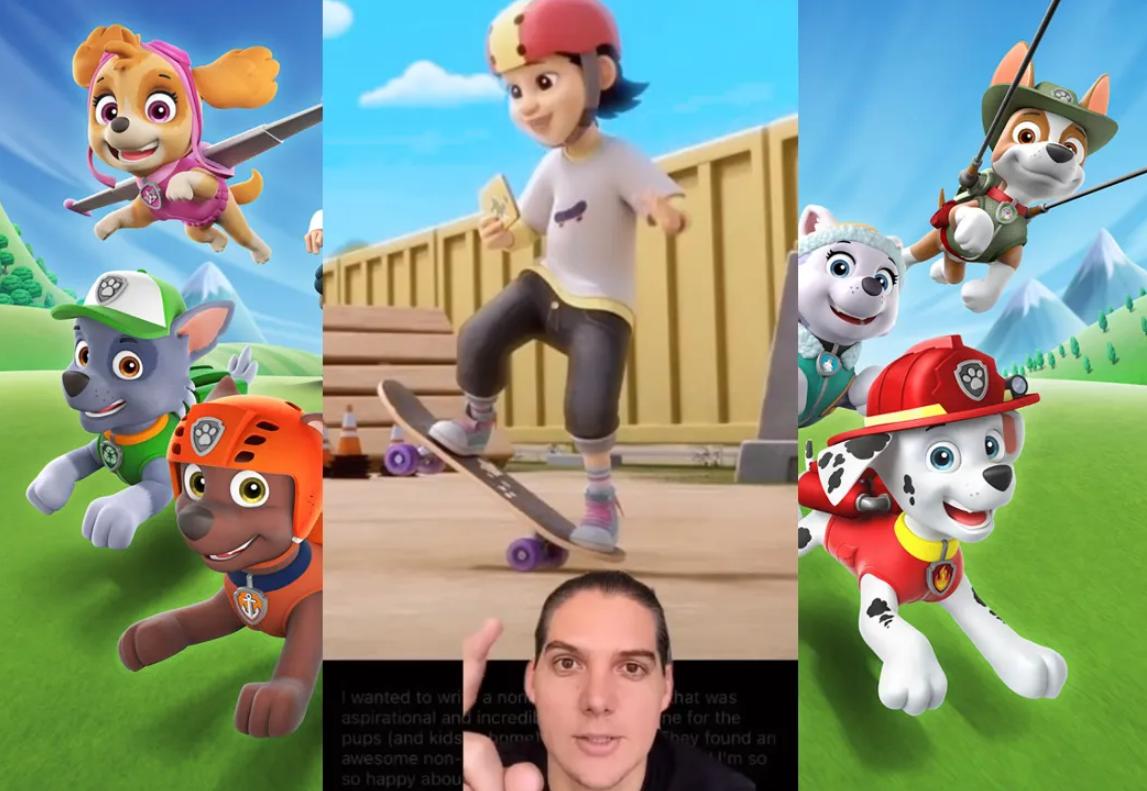 By Erin Reed | WASHINGTON – Bud Light beer. Costa coffee. Target clothing. It's hard to keep track of everything conservative's have cancelled for LGBTQ+ representation in recent months. It seems even the mere mention of a transgender person is enough to get a company targeted these days, and a single rainbow flag could result in harassment and bomb threats.
Now, conservatives have turned their eyes to a new target to be outraged over: Paw Patrol.
Or, to be more accurate, their outrage has turned the Paw Patrol spinoff, Rubble & Crew, a construction-themed spinoff of the original animated series. In a viral video on twitter reaching over 2 million people, conservative influencer and former GOP primary candidate Robby Starbuck opened his video with the ominous statement, "They are coming for your children." The outrageous content in question worthy of such a bold claim? A single nonbinary character wearing trans colored socks, who appears in only a single episode.
You can watch the video here:
I regret to inform you that Paw Patrol has gone woke. Their new spinoff series "Rubble and Crew" added a trans character. They also hired @lindzamer as a writer. Lindz runs the Queer Kids Stuff YouTube channel that indoctrinates kids into the trans ideology. Hollywood is working… pic.twitter.com/d4OGP58FeH

— Robby Starbuck (@robbystarbuck) September 18, 2023
Robby Starbuck video on Paw Patrol
The video quickly gained traction among prominent conservative influencers and elected officials. Libs of TikTok, notorious for fueling viral outrage and inciting violence against LGBTQ+ individuals and their supporters, circulated the video. They then falsely alleged that Paw Patrol was "embedding pornographic links on their candy wrappers," a claim refuted by Twitter's Community Notes feature. The Daily Caller, often criticized for transphobic content, also wrote an article on the matter. Prominent elected officials, like Tennessee House Majority Leader Representative William Lambeth, who penned the state's ban on gender-affirming care for trans youth, also shared the video.
The video identifies queer author Lindz Amer as the creative mind behind the episode. Amer, a distinguished writer and recipient of the GLAAD Rising Stars Grant awarded for initiatives that "champion intersectional LGBTQ+ issues," shared their excitement on Instagram: "I wanted to write a nonbinary character that was aspirational and incredibly cool, someone for the pups (and kids at home) to look up to. They found an awesome non-binary actor to voice River and I'm so so happy about how it turned out."
Representation matters, especially for the LGBTQ+ community. As more individuals embrace their true identities and come out, families are increasingly inclusive of LGBTQ+ members. The Internet and Television Association has observed that over the past two decades, the shift towards greater acceptance of LGBTQ+ individuals can be largely attributed to positive portrayals on TV. Speaking on the matter with the NCTA, GLAAD's Director of Entertainment Research & Analysis emphasized the significance of LGBTQ+ representation in children's programming, noting, "By introducing this level of representation to children's shows, we foster conversations about embracing differences, ensuring that children begin to cultivate a robust sense of self-worth from a young age."
In recent months, though, conservatives have sought out to stamp out representation in all aspects of public life. Sixteen states have enacted restrictions on LGBTQ+ content in educational settings, under the guise of "Don't Say Gay Or Trans" laws. In Florida, an educator was dismissed for as little as showing a Disney film featuring a gay character. GOP attorneys general have penned letters to Target, claiming the sale of LGBTQ+ themed apparel for young people violates obscenity laws. In Georgia, a predetermined mock trial saw a teacher fired for reading the Scholastic Kids book, "My Shadow Is Purple." Virginia witnessed a lawsuit against Barnes & Noble, calling for the removal of LGBTQ+ books from their shelves. Ironically, the same conservatives who once lambasted the notion of "cancel culture" now seem to have fully embraced it.
For those who want to see the episode, it has just been released. The episode is titled, "The Crew Builds An Observatory," where the characters join together to help River, the nonbinary character in question, catch a picture of a shooting star. You can watch it now on Nick Jr.
****************************************************************************
Erin Reed is a transgender woman (she/her pronouns) and researcher who tracks anti-LGBTQ+ legislation around the world and helps people become better advocates for their queer family, friends, colleagues, and community. Reed also is a social media consultant and public speaker.
Follow her on Twitter (Link)
Website here: https://www.erininthemorning.com/
******************************************************************************************
The preceding article was first published at Erin In The Morning and is republished with permission.