Trans teen no longer feels welcome in Florida- So she left
"It was just terror in my heart, like you could just feel that cold burst in my chest just going all throughout my body"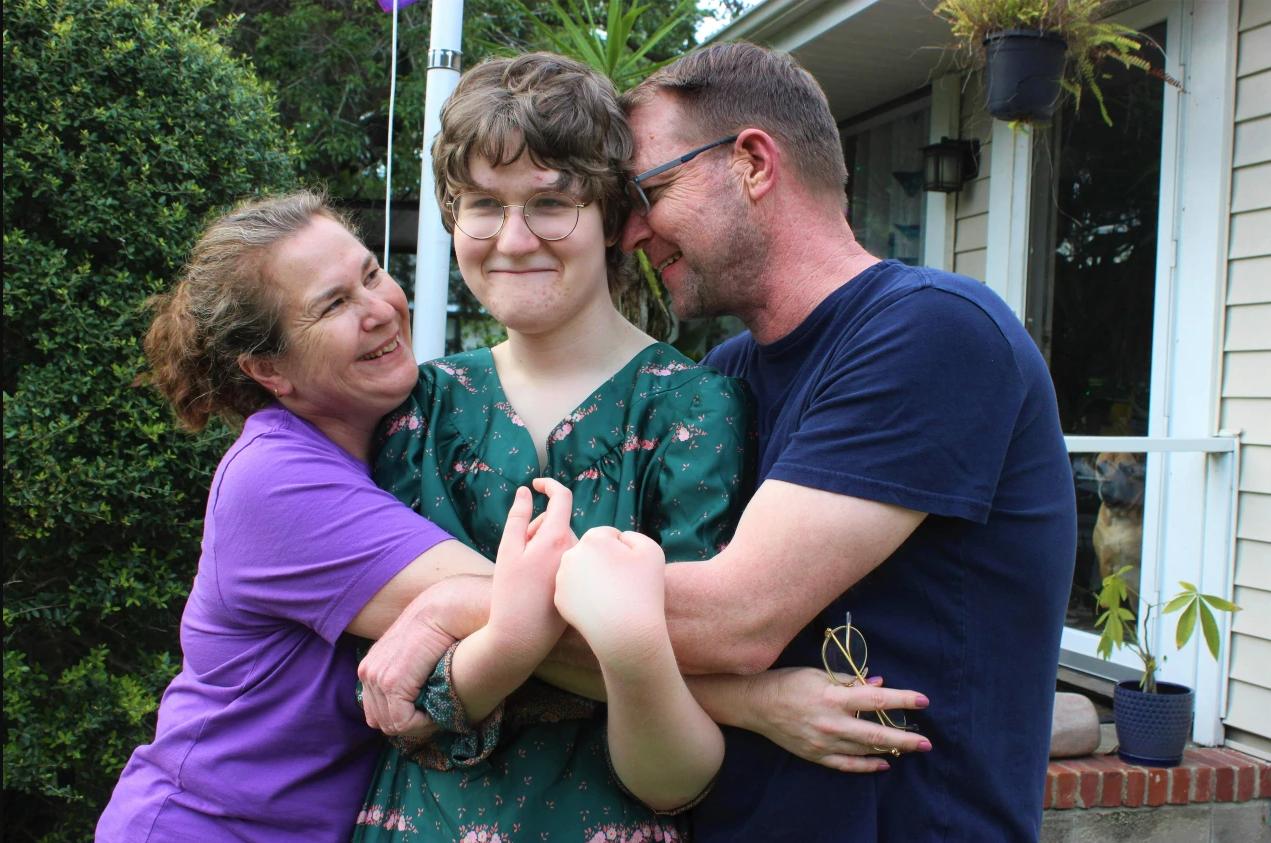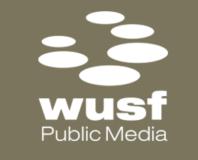 By Stephanie Colombini, WUSF | SAINT AUGUSTINE, Fla. – Josie had put off packing long enough. The high school sophomore in St. Augustine, Florida, sat on her bed while her mom, Sarah, pulled clothes from her closet.
It held a trove of good memories — like the red dress Josie wore to the winter homecoming dance and a pink cover-up she sported at a friend's pool party. Good times like these have felt scarce lately. Josie, who's transgender, no longer feels welcome in Florida.
Her family requested they be identified by their first names only, fearing retaliation in a state where Republican Gov. Ron DeSantis and other officials have proposed, politicized, and passed policies in health care and education that limit identity expression, access to certain school activities, and accommodations for trans people.
The ACLU is tracking bills it calls an "attack on LGBTQ rights, especially transgender youth." State legislation has forced some residents like Josie to rethink where they want to call home.
Josie moved more than a thousand miles from St. Augustine — and her parents — to start a new life in Rhode Island and stay with her aunt and uncle, who live outside Providence.
Preparing her for the move, Josie's mom held up outfits and asked, "Staying or going?"
The formal dress could stay behind. Cardigans and overalls went in the suitcase. At one point, the family dog, Reesie, crawled past the luggage to snuggle up to Josie.
"She has a sense when I'm sad, and just comes running in," said Josie, 16.
Moving to Rhode Island had been Plan B for some time, but Josie said she never thought it would happen. Much has changed in the past year.
Florida is one of more than a dozen states that have passed bans on gender-affirming medical treatments for minors, such as puberty blockers, hormone therapy, and certain surgeries.
Florida's medical boards began debating those bans last summer. For months, Josie was terrified she would lose access to hormones she takes to help her body align with her identity.
Board members argued gender-affirming treatments were "experimental" and, in March, barred doctors from prescribing them to minors. They allowed children who had already started care to continue. But Josie didn't trust that her access would last.
This spring, the legislature considered forcing all trans youth to stop treatment by Dec. 31, part of a bill to bolster restrictions on transgender care.
"I thought that they would realize what they've done wrong and repeal some things," Josie said. "But they just kept going. It just became, like, too real, too fast."
Lawmakers ended up stripping that provision just before the session ended this month, allowing young people like Josie to stay in treatment.
But she had already made her decision to move out of state. School has been challenging at times since Josie came out as trans in eighth grade. Some childhood friends rejected her.
Josie wanted to play on the girls tennis team, but Florida law bans trans girls and women from competing on school teams meant for athletes assigned female at birth.
She said living in Florida was also especially painful after the state passed the Parental Rights in Education law, which "prohibits classroom discussion about sexual orientation or gender identity in certain grade levels." Critics call it the "Don't Say Gay" law and said it has had a chilling effect on some teachers. Josie noticed stickers signifying that areas were "safe spaces" for LGBTQ+ people had been taken down at school.
"Which is just ridiculous, like you want your students to be comfortable and safe," she said.
The new laws and anti-trans rhetoric are hurting kids across Florida, said Jennifer Evans, a clinical psychologist at the University of Florida's Youth Gender Program in Gainesville.
"I'm seeing more anxiety, more depression," Evans said. "Things I hear patients say are, 'The government doesn't want me to exist.' They don't feel safe."
States are pushing measures on all sorts of gender-related issues — not just health care, but what schools can teach or which bathrooms people can use.
Bills don't have to pass to cause harm, said Evans, who is queer.
"It's a lot to feel like enough people in this country don't agree with your existence — which actually isn't affecting them — that people want to shut down other people's access to living complete and affirmed lives," she said. "It's painful to see that."
Four families who sought care at Evans' clinic have already left Florida, she said, while another 10 plan to move this year. Some older teens she treats also want to get out when they turn 18.
But moving isn't easy for many families.
"Just financially, it's difficult to uproot what we've set up," Josie's dad, Eric, said.
They've owned their home in St. Augustine for a long time. Eric recently started a new job. Josie's mom, Sarah, works at a private college that offers a benefit that allows Josie and her older sister to get reduced tuition at some colleges around the country.
So her parents decided that, at least for now, Josie would go live with her aunt and uncle and they would stay behind.
The choice was devastating.
"It was just terror in my heart, like you could just feel that cold burst in my chest just going all throughout my body," said Sarah. "Josie is part of everything I do."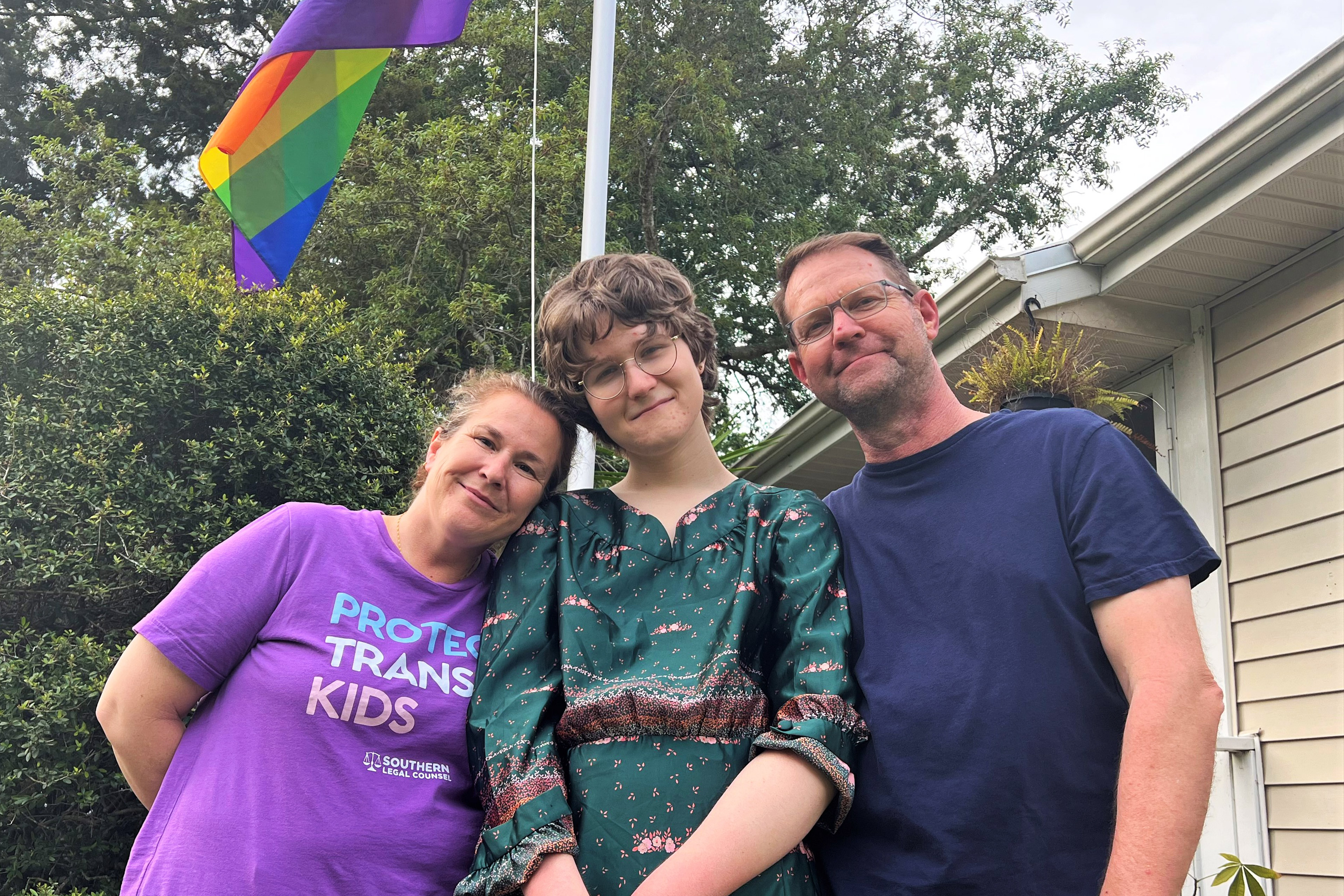 Josie will finish her sophomore year in Rhode Island before returning to St. Augustine for summer break. Her family sees it as a trial run for what could be years of separation.
One night before Josie left, she invited friends over for a going-away party. The teens played a dance video game, laughing as they performed a hip-hop routine.
Sarah brought out a Black Forest cake. "We love you Josie" was piped in frosting along the platter, framed by two hearts.
It was a simple but powerful send-off from the support system Josie has relied on in Florida. A few days later, she and her mom flew north to get Josie settled. Leaving her daughter in Rhode Island was "agony," Sarah said.
"I was a mess," she said. "I cried the whole way to the airport. I just felt I was going the wrong way."
Sarah is still adjusting to life without Josie at home, but they talk every day. And Josie is getting used to her new environment. Her aunt and uncle have been great, she said, and she's making friends at school.
Her new school is a little smaller than her old one and in a community that feels more liberal-minded, the family said. Josie said she loves seeing pride flags in the halls and plans to join the Gender and Sexuality Alliance Club. It all feels like a "bombardment of support."
"It was just, like, such a shock to me — like, not a bad shock, but, like, just shocked that this is how schools can be," Josie said. "It's just that Florida's choosing not to be like that."
DeSantis' office did not respond to several requests for comment to address concerns of families like Josie's.
Since Josie moved to Rhode Island in April, DeSantis has signed four bills that would curb health care and gender expression of trans people.
Josie's parents said they'll keep their pride flag waving in the front yard and advocate for equality while she's away.
Josie said she thinks about the trans kids who can't leave and urged them not to give up hope. But right now, she needs to move on.
******************************************************************************************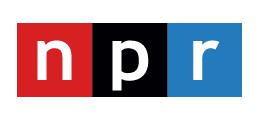 This article is from a partnership that includes WUSF, NPR, and KFF Health News. It can be republished for free.
Florida Uni students & professors sue over Stop WOKE law
"The student plaintiffs are adults capable of determining for themselves whether the viewpoints advanced by their instructors have merit"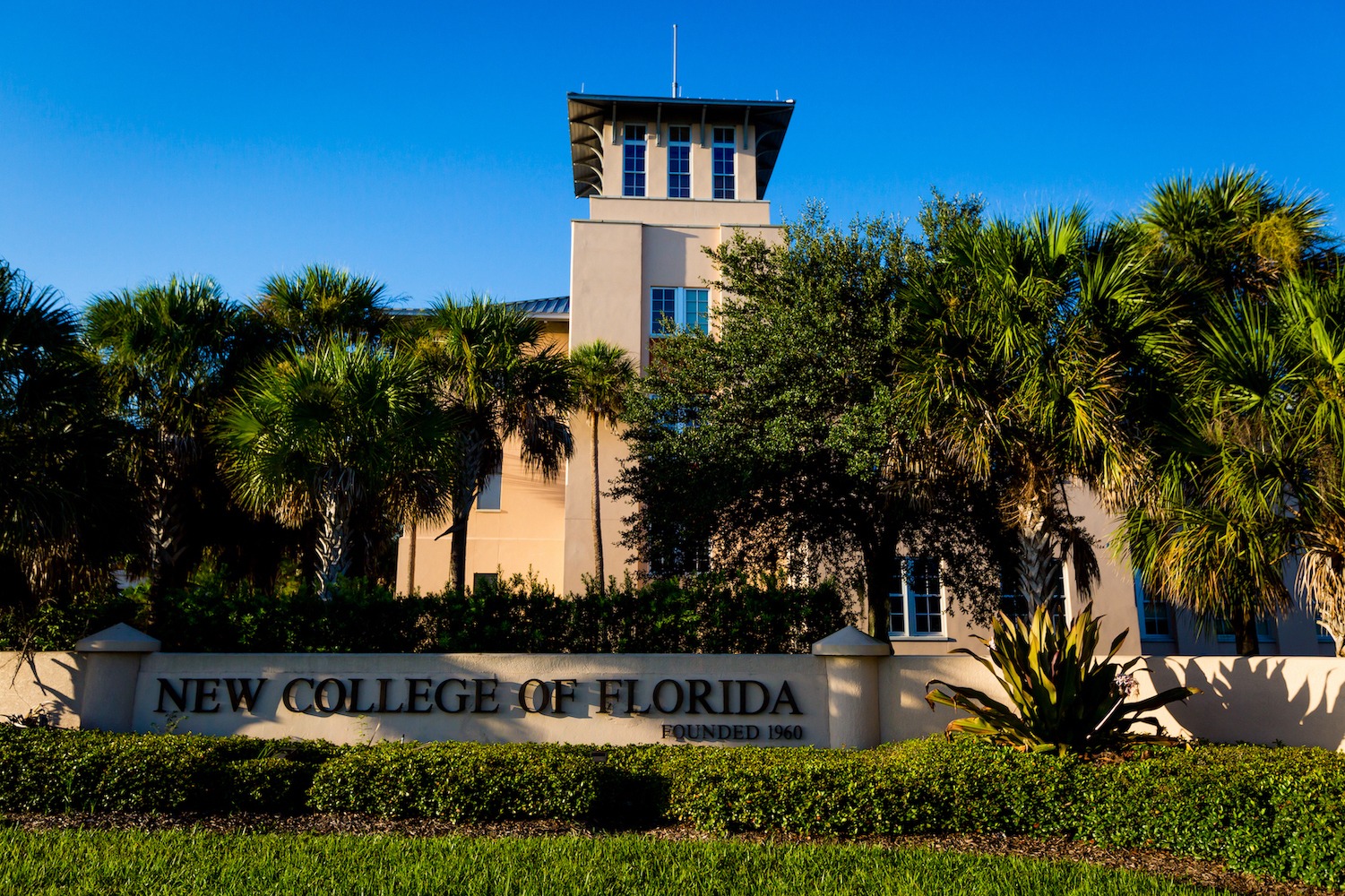 By Michael Moline | SARASOTA, FL. – Sara Engels is a rising junior at the New College of Florida studying political psychology. She wants to take a class called "Health, Culture, and Societies" this fall but it might not be available under the atmosphere of conservative orthodoxy the DeSantis administration is imposing on public university and college campuses.
The class, you see, addresses the different health outcomes people realize based on their race, class, gender, or ethnicity. That seems to be forbidden under a new state law banning instruction touching on identity politics, systemic racism, sexism, oppression, and privilege.
Carlton Leffler is the equivalent of a senior at the public honors academy taking urban studies and Chinese classes. The first field entails many of the same topics as Engels' health class; as for Chinese, the law would appear to limit discussion of pivotal historical material about Mao Tse Tung, his "Little Red Book" and the Chinese Cultural Revolution.
Engles and Leffler both are plaintiffs in a new legal challenge to SB 226, one of the anti-"woke" laws that the Republican-dominated Florida Legislature has approved for Gov. Ron DeSantis. All of the plaintiffs, including a third student and two professors, are affiliated with New College but the law applies to public higher education throughout the state.
"The student plaintiffs are adults capable of determining for themselves whether the viewpoints advanced by their various instructors … have merit," the 81-page brief, filed Monday in U.S. District Court for the Northern District of Florida in Tallahassee, reads.
"In order to know whether the viewpoints advanced by their professors have merit, the student plaintiffs must first have an opportunity to encounter them; that is, they must be permitted to listen to the professors' instruction in class," it says.
"The professor plaintiffs are willing speakers and the student plaintiffs are willing listeners. They desire to engage in academic discussion concerning topics prohibited by SB 266."
Organizing the case is another plaintiff, NCF Freedom, which describes itself as "an independent organization founded to protect and promote the academic mission of New College."
Sweeping changes
SB 266, passed earlier this year, made sweeping changes to higher education governance in Florida, including bans on diversity initiatives or application of critical race theory. The measure also specified that university presidents have the last word on personnel matters, abrogating the contract's arbitration language.
It followed passage of the "Stop WOKE," or "Individual Freedom," Act in 2022 to restrict conversations about race and gender in schools and workplaces. A federal judge found that law unconstitutional nearly one year ago.
New College is a public, small honors institution located in Sarasota. As the lawsuit points out, "Historically, New College has had a reputation for welcoming LGBTQ+ students and unconventional individuals of every sort. The landing page for the College's website proclaims that it is a 'Community of Free Thinkers, Risk Takers and Trailblazers.'"
The document cites campus organizations including "New College Feral Pigeons;" the "Indigenous Student Union;" and "Queery" — "an organization which 'serves to maintain New College as a safe place for LGBTQ+ identified individuals and their allies to socialize and engage with the larger community.'"
By contrast, DeSantis hopes to convert the Sarasota campus to "a Hillsdale of the South," referring to the private Christian Hillsdale College in Michigan. He got rid of the sitting board members and imposed conservative activists including Christopher Rufo, who was behind the anti-CRT (critical race theory) movement. The governor's board and Corcoran are even promoting intercollegiate athletics as a draw for more conservatively aligned students.
Named as defendants are Manny Diaz Jr., state commissioner of education and a member of the university system's Board of Governors; Brian Lamb, chairman of the Board of Governors; Eric Silagy, vice chairman of the governors; the 11 remaining governors; the New College Board of Trustees and its members; and Richard Corcoran, interim president of New College.
Academic threat
SB 266 threatens academic fields including gender studies, history, art, English, sociology, and more to the extent they inquire into this country's complicated political and social histories, the complaint alleges.
"The elimination or curtailment of many AOCs [areas of concentration] or majors directly affects the rights of current and future faculty and students, including the plaintiffs bringing this action. Faculty and students at colleges and universities throughout Florida face the same censorship and the same injury to their rights of free speech and academic inquiry," the complaint reads.
It adds: "Given its unique status as an honor college, dedicated to the liberal arts and attracting free thinkers from around the nation, New College is uniquely vulnerable to the censorship and pall of orthodoxy imposed by SB 266."
Furthermore, NCFF risks reprisal against itself and its members because of its support for social justice and diversity, the complaint adds.
The document alleges viewpoint-based discrimination against protected speech in violation of the First Amendment; and that the law is unconstitutionally vague under the Due Process Clause of the Fourth Amendment, in that it fails to sufficiently specify what behavior will draw punishment.
'Categorical ban on speech'
Additionally, the law is overbroad in that its "categorical ban on speech … is not sensitive to specific speech in context and is not supported by legislative findings of fact which might serve to either justify or narrow the broad scope of the censorship scheme. SB 266 has a strong likelihood of deterring speech which is not properly subject to the law including discussion of almost all controversial historical, political and social topics, many of which are vital to the unimpeded flow of ideas in a free society."
The complaint also targets new restrictions on tenure protection for faculty, arguing the law will chill free inquiry plus classroom instruction and debate between students in class.
The United Faculty of Florida, which represents university faculty, filed a 35-page complaint on Aug. 4 in state circuit court in Leon County over the tenure restrictions.
**************************************************************************************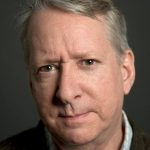 Michael Moline has covered politics and the legal system for more than 30 years. He is a former managing editor of the San Francisco Daily Journal and former assistant managing editor of The National Law Journal.
**************************************************************************************
The preceding article was previously published by the Florida Phoenix and is republished with permission.
The Phoenix is a nonprofit news site that's free of advertising and free to readers. We cover state government and politics with a staff of five journalists located at the Florida Press Center in downtown Tallahassee.