Anti-drag & Pride protest in suburban Virginia just outside of D.C.
Fairfax Mayor Catherine Read, who attended, said that the city is paying for the event. Other sponsors included George Mason University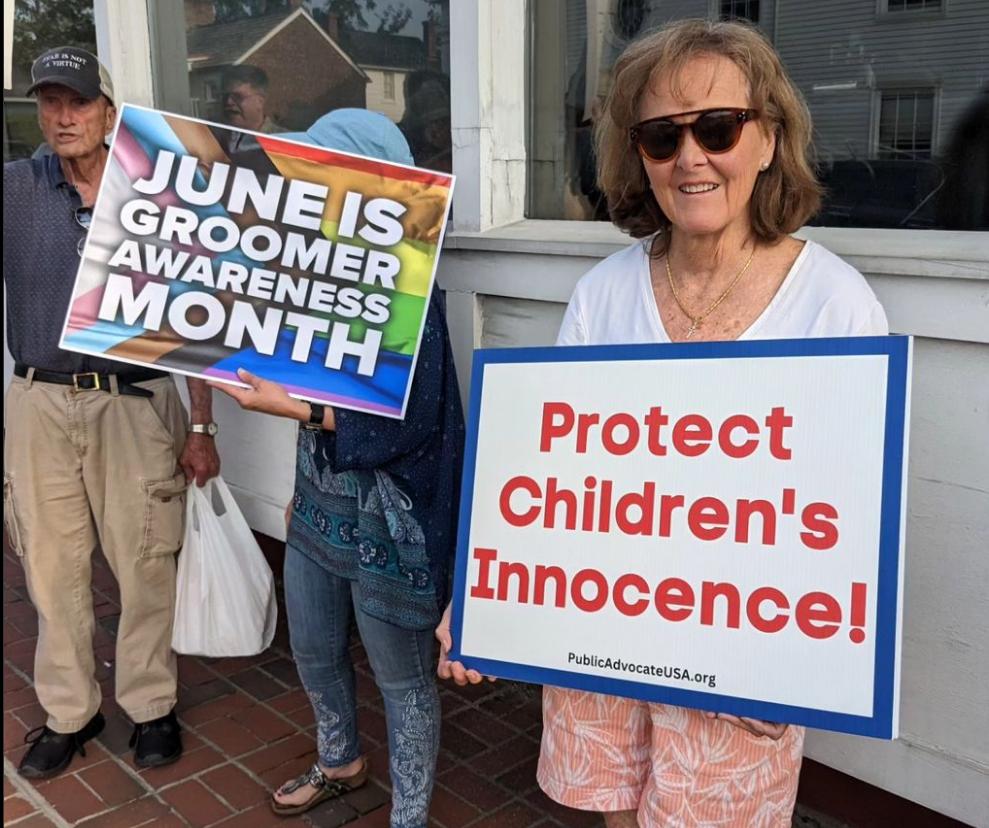 FAIRFAX CITY – Fairfax City Council declared June as LGBTQ Pride Month, with a celebration planned at Old Town Hall on Saturday, June 3, to include a drag queen performance. Outside of the event in front of the building roughly two dozen people gathered in protest of the city's Pride event.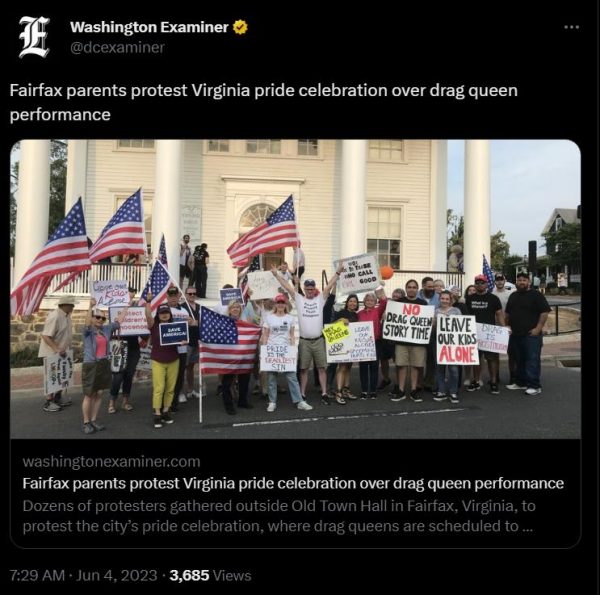 According to the local conservative right publication the Washington Examiner, the protest was coordinated by Stacy Langton, a Fairfax County resident, who gained notoriety for leading a group of parents protesting two controversial LGBTQ-themed books available in high school libraries in September of 2021, that Langton falsely claimed promoted pedophilia. The Fairfax County School Board, and officials with Fairfax County Public Schools announced they had removed the books from the school libraries to reassess their suitability for high school students.
At the time The Washington Blade reported: "I'm not one of those activist moms or disgruntled moms," Langton stated in an interview with Fox News. "This is not about being anti-gay, anti-trans or whatever. I would have been there and said every single word I said if this had been the depiction of a heterosexual couple with heterosexual acts – pornography is pornography and I don't care what the gender is," she told Fox News.
Langton also appeared in several ads for then candidate, now Republican Virginia Governor Glenn Youngkin, during the 2021 gubernatorial election.
Also appearing at the protest were members of the Southern Poverty Law Center listed hate group, Public Advocate of the United States, and its leader, Eugene Delgaudio.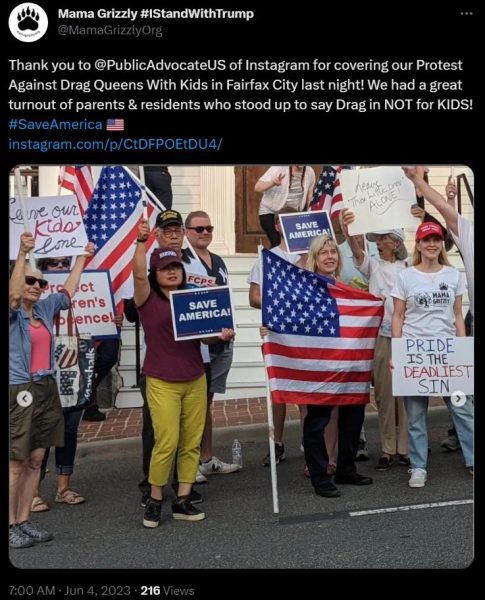 The Examiner reported that Fairfax Mayor Catherine Read, who was attending the event, told the tabloid that the city is paying for the event. Other sponsors of the event include George Mason University and Fairfax Ace Hardware.
The announcement from the city published online stated:
FAIRFAX PRIDE

Saturday, June 3rd
5PM – 10PM
Old Town Hall
3999 University Dr., Fairfax
The City of Fairfax and Mason are thrilled to host its inaugural "Fairfax Pride" event on June 3rd, 2023!
While Pride is celebrated 365 days of the year, it's most recognized during the month of June. Pride Month evolved out of the 1969 Stonewall Riots and has since become a time to reflect and celebrate both the progress and the people of the LGBTQIA+ community.
This collaborative event will kick off In Old Town Hall with informational vendors from both Mason campus and the NOVA area, as well as children's activities, such as face-painting, Fairy Hair, crafts and more! Later in the evening, a warm welcome will be given by representatives from both the City of Fairfax and Mason, to commemorate this exciting new event. The event will conclude with a dance party featuring several drag queen performances throughout the evening.
All are invited and welcome to attend!
Virginia AG says schools must comply with trans policies
Arlington County, Fairfax County, and Prince William County Public Schools have announced they will not implement the new guidelines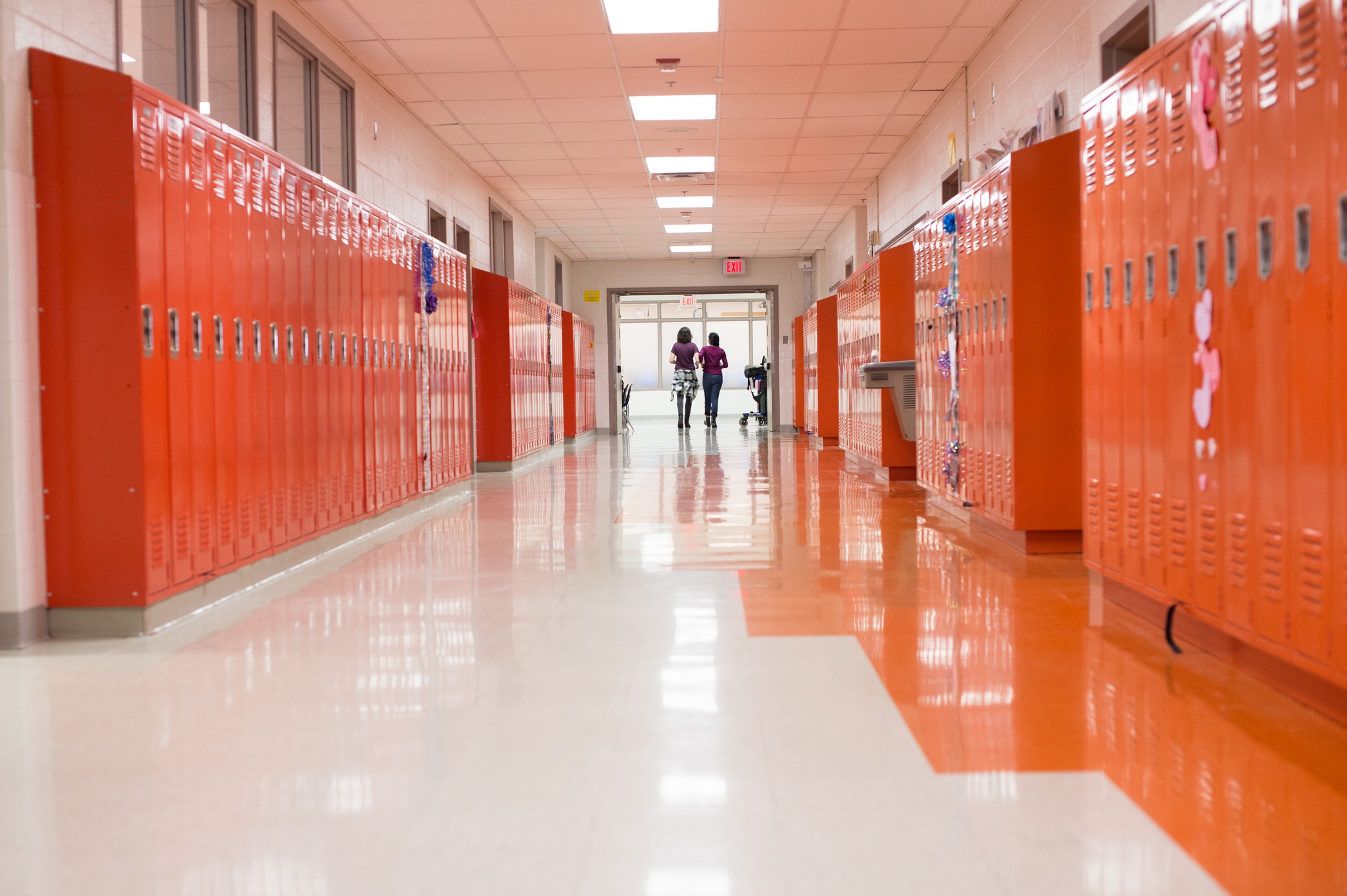 RICHMOND – Virginia Attorney General Jason Miyares on Thursday said school boards must adhere to the state's new guidelines for transgender and nonbinary students.
Miyares in a letter to Republican Gov. Glenn Youngkin said the guidelines "comply with the Equal Protection Clause, Title IX and the VHRA" (the Virginia Human Rights Act) and "local school boards are required to adopt policies that are consistent with them."
The Virginia Department of Education last month released the new guidelines.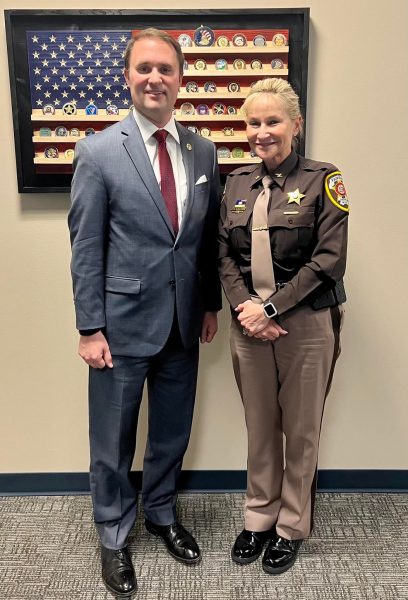 One section states "schools shall defer to parents to make the best decisions with respect to their children."
"Parents are in the best position to work with their children and, where appropriate, their children's health care providers to determine (a) what names, nicknames and/or pronouns, if any, shall be used for their child by teachers and school staff while their child is at school, (b) whether their child engages in any counseling or social transition at school that encourages a gender that differs from their child's sex, or (c) whether their child expresses a gender that differs with their child's sex while at school," it reads.
Another section notes "schools shall keep parents informed about their children's well-being."
"To ensure parents are able to make the best decisions with respect to their child, school personnel shall keep parents fully informed about all matters that may be reasonably expected to be important to a parent, including, and without limitation, matters related to their child's health, and social and psychological development," it reads. "Parents' rights are affirmed by the U.S. Supreme Court that characterized a parent's right to raise his or her child as 'perhaps the oldest of the fundamental liberty interests recognized by this court.' Troxel v. Granville, 530 U.S. 57, 65 (2000). This requirement is, of course, subject to laws that prohibit disclosure of information to parents in certain circumstances including, for example, Code of Virginia § 22.1-272.1(B) (prohibiting parental contact where student is at imminent risk of suicide related to parental abuse or neglect.)"
The guidelines further state "schools shall serve the needs of all students" and the Virginia Department of Education "is committed to working with school divisions to ensure a positive, safe and nurturing learning environment for all students."
"Each student's individual needs should be taken into consideration by his or her school, and divisions should develop policies that encourage schools to account for these individual needs, with due sensitivity to the needs of other students and the practical requirements of the teaching and learning environment," reads the guidelines. "Schools should attempt to accommodate students with distinctive needs, including transgender students. A team of appropriate school staff and other caregivers should collaborate with the student's parents or with an eligible student to identify and implement such reasonable accommodations or modifications (if any), considering the resources and staff available in the school and school divisions, as well as the rights and needs of other students and of school staff."
The guidelines further state "single-user bathrooms and facilities should be made available in accessible areas and provided with appropriate signage, indicating accessibility for all students."
"To ensure that all students have access to a learning environment in which they feel comfortable and safe, where state or federal law requires schools to permit transgender students to share otherwise sex-segregated facilities (such as bathrooms or locker rooms) with students of the opposite sex, parents should be given the right to opt their child out of using such facilities, and the child should be given access to alternative facilities that promote the child's privacy and safety," reads the guidelines. "Eligible students should be given the same right to opt out."
Arlington County Public Schools, Fairfax County Public Schools and Prince William County Schools have announced they will not implement the new guidelines. NBC Washington on Thursday reported Miyares' opinion is "nonbinding."