Missouri Governor Parson signs anti-trans legislation
Parson told capital reporters that he signed the measures without a ceremony and in private because "the issue is divisive to some"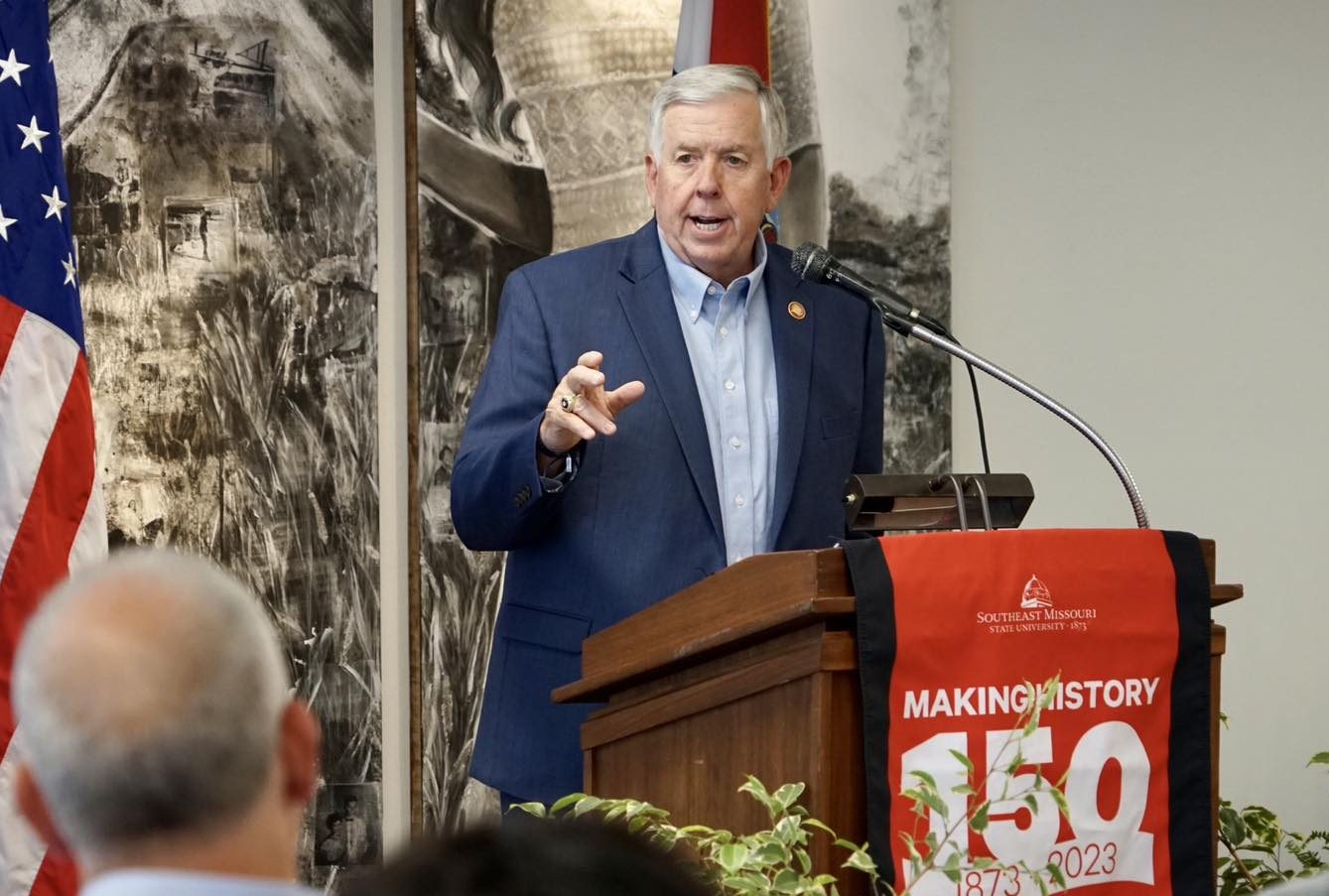 JEFFERSON CITY – Senate Bill 39, a law that bans transgender athletes, kindergarten through college, from participating in school-sanctioned team sports, and Senate Bill 49, a bill revoking access to gender-affirming healthcare for transgender minors and some adults, were signed by Republican Governor Mike Parson on Wednesday, June 7; Both measures will go into effect on August 28. 
According to the Saint Louis Post-Dispatch, Parson told capital reporters that he signed the measures without a ceremony and in private because "the issue is divisive to some."
Gov. Mike Parson signed legislation Wednesday adding Missouri to a list of states that ban gender-affirming health care for minors and prevent transgender girls and women from participating on female sports teams.https://t.co/R7aZPbSWBK

— St. Louis Post-Dispatch (@stltoday) June 8, 2023
Addressing SB49, Parson noted: "We support everyone's right to his or her own pursuit of happiness; however, we must protect children from making life-altering decisions that they could come to regret in adulthood once they have physically and emotionally matured."
Today, in an effort to protect the integrity of female sports and Missouri children from potentially harmful experimental surgeries and treatment, I have signed Senate Bill (SB) 39 and SB 49 into law. pic.twitter.com/NDbbkoq6gA

— Governor Mike Parson (@GovParsonMO) June 7, 2023
PROMO, Missouri's LGBTQ+ public policy and advocacy organization, said in a statement:
"The final signature of the governor comes during the month-long Pride celebration across the country for the LGBTQ+ community, which recognizes the progress made in our community's quest for equality, respect, and safety and the battles yet to come. These laws are not what Missourians want, and cities across our state have shown up to double down on protecting transgender youth and adults."
The ACLU of Missouri issued the following statement:
"The anti-trans legislation Governor Parson penned into law will be devastating for trans people of all ages. While the government pushed this deceitful bill behind the guise of protecting children, buried within the law is a ban on health care for adults based on the amount of money they earn or whether they are incarcerated.
"As was true with the Attorney General's failed attempt to limit care for all trans Missourians with his emergency rule, Senate Bill 49 ignores the evidence-based clinical recommendations of every major medical association. This law strips patients and parents of their rights and requires that decisions related to medical treatment that should be based on consent informed by medical professionals be dictated by the uninformed opinions of politicians.
"In alarming fashion, legislators took extraordinary efforts to target and prevent eight students statewide from playing sports in SB 39, while choosing to not solve issues that would benefit all Missouri students such as Missouri's teacher shortage.
"These bills do nothing but harm transgender Missourians and their families while adding inequities to a system already ripe with discriminatory laws and practices. The ACLU of Missouri will continue to explore all options to fight these bans and to expand the rights of trans Missourians."
St. Louis mayor signs executive order seeking to shield trans youth 
"All of our children in St. Louis deserve to know that there are still elected leaders out here fighting for them"

By Annelise Hanshaw | SAINT LOUIS – St. Louis Mayor Tishaura Jones on Thursday signed an executive order seeking to insulate transgender Missourians from bills passed by the state legislature restricting access to certain medical procedures for minors and limiting participation in school sports.
"The responsibility now falls to local governments to take tangible steps to respond to this state intrusion into private family medical decisions and minors' bodily privacy," she wrote in a letter to the city's legislative delegation earlier in the day notifying them of her planned order.
Missouri lawmakers passed bills earlier this month banning minors from beginning gender-affirming hormones or puberty blockers for four years, starting in August, and restricting transgender athletes to competing on teams as their birth sex. Both bills await action by Gov. Mike Parson, who has indicated he intends to sign them into law.
Jones' order calls the bills "an abhorrent intrusion into personal freedom and liberty."
She wrote that her executive order was crafted after "conversation and consultation with members of the LGBTQ+ community and our city departments" and expressed concern for families moving out of state because of state legislation.
The order calls for the city Department of Health to inform residents, including minors, about gender-affirming care. Jones plans for an annual "summit of health care providers and other individuals" to discuss the best practices for transgender health care.
The order would direct city agencies to inform residents, including minors, about gender-affirming care and allow athletes in city-funded recreation programs to compete according to their gender identity
It also allows transgender athletes in city-funded recreation programs to compete according to their gender identity, for she states that these programs must not require the disclosure of gender or one's gender-affirming hormone treatment. The Missouri State High School Activities Association policy currently allows transgender athletes to compete according to their gender identity only if they have been taking cross-sex hormones.
City recreation centers would also have at least one all-gender restroom under her order, and staff would receive training on "affirming best practices."
Buildings housing city administration are ordered to also have at least one all-gender restroom, and the city departments are directed to administer their services in a gender-affirming manner.
Jones prioritizes economic development in the order, stating future projects must support gender inclusivity.
She requests that the St. Louis Development Corp. advise how to incentivize inclusive business practices.
"All of our children in St. Louis deserve to know that there are still elected leaders out here fighting for them," Susan Halla, president of transgender advocacy group TransParent, said in a news release. "I am grateful to Mayor Jones for instituting these important changes in the face of recent attacks on trans youth from the Missouri legislature. For our trans youth, please know that you are seen and you are loved for who you are."
Earlier this month, the Kansas City Council resolved that the city would be a "safe haven" for gender-affirming care. The resolution directs city staff, including law enforcement, from penalizing those seeking gender-affirming care or providing it.
Missouri Attorney General Andrew Bailey called the city council's actions "unprecedented and radical" in a letter to the Kansas City Board of Police Commissioners. In it, he urged the board to make sure police enforce the new law when it goes into effect.
The bill does not have criminal penalties for those who seek care, so it is outside the police's enforcement, Kansas City Police Chief Stacey Graves said in a statement to the Kansas City Star.
Rep. Peter Merideth, D-St. Louis, told The Independent he was proud to be a St. Louis resident after the mayor signed her order.
"Government should be supporting folks' access to quality medical care, not interfering with our private medical decisions," he said. "Our leaders should be fighting for all kids to be included in activities like sports and have an opportunity to succeed — not bullying kids who are too often already bullied and left out."
****************************************************************************************
Annelise Hanshaw writes about education — a beat she has covered on both the West and East Coast while working for daily newspapers in Santa Barbara, California, and Greenwich, Connecticut. A born-and-raised Missourian, she is proud to be back in her home state.
************************************************************************************
The preceding article was previously published by The Missouri Independent and is republished with permission.
The Missouri Independent is a nonprofit, nonpartisan news organization dedicated to relentless investigative journalism and daily reporting that sheds light on state government and its impact on the lives of Missourians. This service is free to readers and other news outlets.