Pride Night 2023 at Dodgers Stadium: Mix of protest & celebration
LA Dodgers Team Manager Dave Roberts made it clear all were welcome at the ballpark ahead of the game as well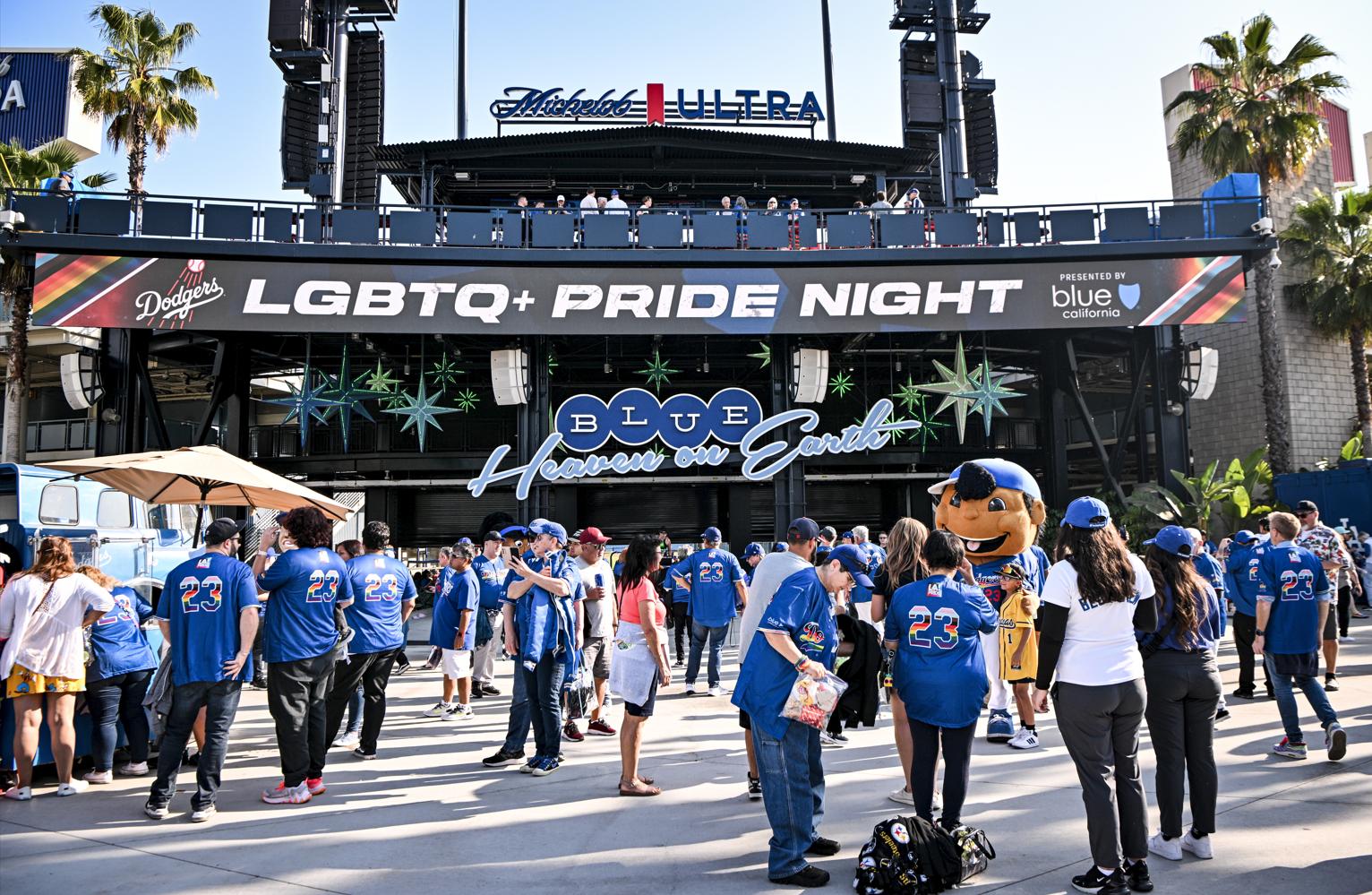 ELYSIAN PARK  – As fans of the Los Angeles Dodgers made their way into Dodgers Stadium Friday evening they were confronted by several thousand demonstrators outside in the parking lot protesting the decision by the team to honor a performance drag charity group as part of the team's annual Pride Night.
Inside and an hour prior to the first pitch of the game, the team honored the LA chapter of the Sisters of Perpetual Indulgence in a brief ceremony prior to the team's 10th annual Pride Night.
"The Dodgers community hero award goes to an organization reaching the LGBTQ+ community, the Sisters of Perpetual Indulgence, LA chapter," Dodger stadium announcer Todd Leitz said. "Please join us in recognizing the Sisters of Perpetual Indulgence for their outstanding service to the LGBTQ+ community."
In an interview with USA Today Sports writer Jordan Mendoza, Sister Unity, who donned a blue outfit with red ribbons to represent the group's service in fighting HIV/AIDS said: "I did not hear a single boo, and I was delighted to hear so much of our community cheering. That always flipped the on switch for me. I responded very happily with what we've always done, which is to wave and be fun and goofy, and make people feel good about who they are."
Dodgers Team Manager Dave Roberts made it clear all were welcome at the ballpark ahead of the game as well.
"I love everyone… Anyone who wants to come in and support the Dodgers, I'm all in, we're all in," Roberts told reporters.
There were criticisms that the stadium was barely filled with fans, however by the time of the first pitch over 50 thousand fans filled the seats.
The LA Dodgers garner a packed stadium for yesterday's game and annual LGBTQIA+ Pride Night. 🌈 pic.twitter.com/2y4cvDro5E

— Pop Crave (@PopCrave) June 18, 2023
Several thousand people, primarily from Catholic religious groups and joined by some other anti-LGBTQ+ groups thronged the area leading to Stadium Way and the entrance to Dodgers stadium in protest of the Dodgers decision to reinclude the Sisters of Perpetual Indulgence as honorees for Friday's Pride Night celebration.
The protest was spearheaded by the group Catholics for Catholics, a far-right activist group based in Phoenix, Arizona whose advisors include disgraced retired U.S. Army Lieutenant General TG Michael Flynn, former Trump White House advisor Steve Bannon, controversial anti-abortion activist, climate change denier, and anti-vaxer Fr James Altman who the La Crosse Catholic Diocese announced his removal as pastor due to his political activism.
Calling it a "The Most Sacred Heart of Jesus Prayer Procession at Dodger Stadium" the group set up a small stage at Parking Lot 13 outside Dodger Stadium before the team's 10th annual Pride Night. Speaker after speaker denounced the Sisters of Perpetual Indulgence, calling the the longtime charity satirical performance and activist organization a "hate group."
Also present were several people from anti-LGBTQ+ groups wearing T-Shirts that have been seen at anti-LGBTQ+ protests outside Saticoy Elementary School in North Hollywood, a meeting of the Glendale Unified School District Board, and at a board meeting in Temecula California.
LAPD asking for public's help with murders of homeless persons
Anyone with information is urged to contact the Los Angeles Police Department's Robbery-Homicide Division, Homicide Special Section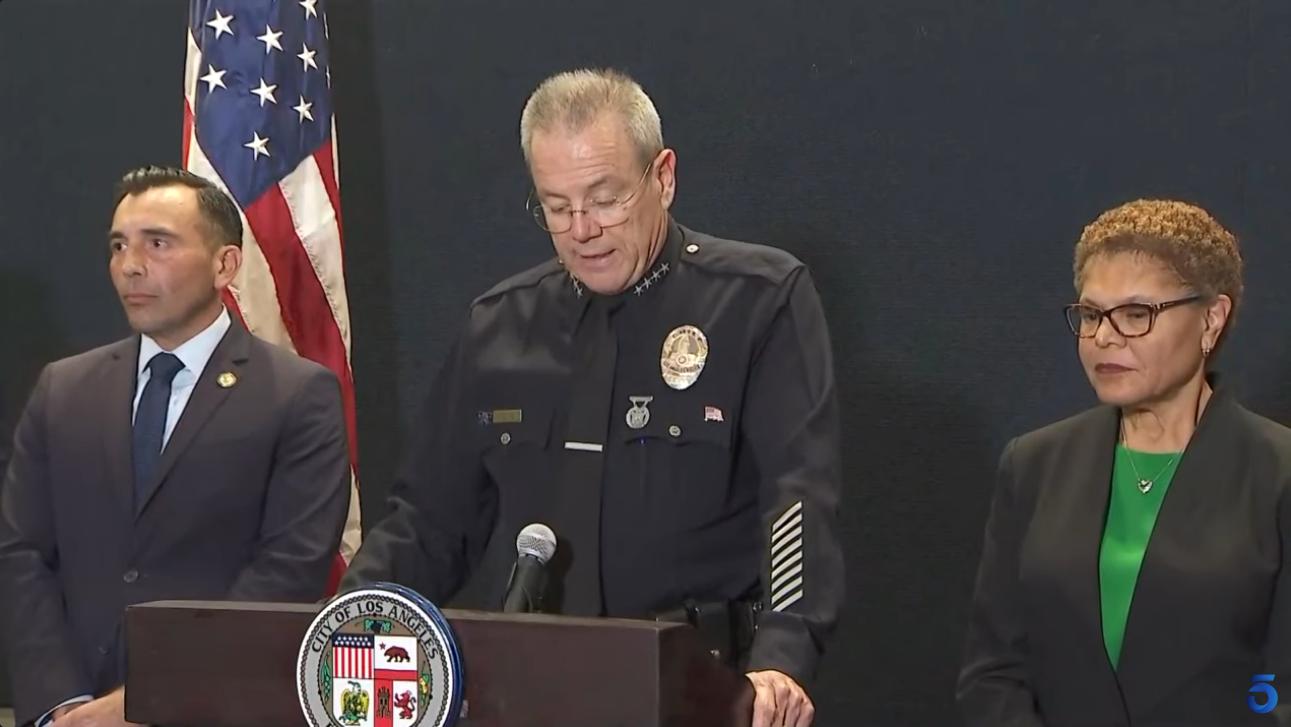 LOS ANGELES – Flanked by Los Angeles County District Attorney George Gascón, LA Mayor Mayor Karen Bass and Martin Estrada, the United States Attorney for the Central District of California, Los Angeles Chief of Police Michel Moore, held a news conference Friday where he announced that three homeless people had been fatally shot while they slept within the past week.
Moore added that authorities believe one suspect is responsible for all three murders.
Detectives from the LAPD's Robbery-Homicide Division are investigating three separate murders that occurred between November 26, 2023, and November 29, 2023. In each case, the victims were experiencing homelessness.
While some similarities have been identified, detectives are working to determine if these murders are related. A community alert bulletin has been issued to make the region's unhoused population and the community stakeholders aware of these recent murders.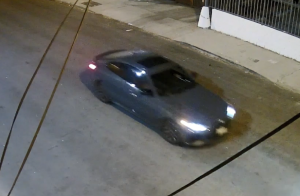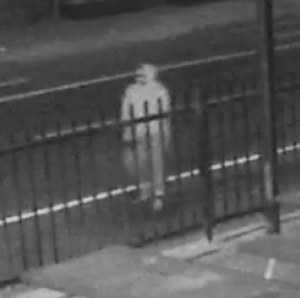 The suspect in these homicides is described only as male. The suspect was seen in a dark-colored sedan. It is unknown if he was alone or there were any additional suspects.
Police have spotted who they believe the shooter is on surveillance footage — Moore said they believe it's a man in a hoodie — and they also have images of the suspect's vehicle, though Moore would not describe it in an effort to avoid misinformation.
"People will see different types of cars, different types of models," he said. "I don't want someone to say 'You called this a Kia and it turns out to be a BMW or Mercedes," he said.
"A single individual approached each one and shot and killed each one as they slept," Moore said, though he avoided use of the term "serial killer."
"The Los Angeles Police Department is employing all available resources to bring justice to these murder victims. I am thankful for our City partners who are working with us closely to ensure the safety of this vulnerable population as we pursue the criminal investigation," said Moore.
"I want to be very clear about what we're facing today: This is a killer who is preying on the unhoused," Mayor Bass said, adding that homeless people should not sleep alone.
"As we always do in the face of a challenge or crisis, our region is mobilizing to respond to this issue. We will work tirelessly to find the individual responsible, arrest them, and hold them accountable. I have met with our partners at the Los Angeles Homeless Services Authority, Housing Authority of the City of Los Angeles, and the Los Angeles Housing Department and we are moving immediately to get the word out to our unhoused neighbors in housing networks. Our message to our unhoused community is clear – try not to be alone tonight. We will do all we can to make shelter and services available. To the many Angelenos who have friends or family who are unhoused, please let them know the danger that exists. We must stay safe. We will work diligently to bring those responsible to justice," the Mayor said.
"To the person responsible: We will find you, we will catch you and you will be held accountable," Bass said.
"I commend the LAPD for creating a dedicated task force to uncover the identity of a potential serial killer preying on the most vulnerable in our community. I've assigned our Major Crimes Division, Bureau of Victim Services and our Bureau of Investigation to assist with these efforts. Today, we demonstrate our collective resolve and stand united in our pursuit of justice, unwavering against the darkness that preys on the most defenseless among us," said LA District Attorney George Gascón.
Related:
Anyone with information is urged to contact the Los Angeles Police Department's Robbery-Homicide Division, Homicide Special Section, at (213) 486-6890. During non-business hours or on weekends, calls should be directed to 1-877-LAPD-24-7 (1-877-527-3247).
Anyone wishing to remain anonymous should call the LA Regional Crime Stoppers at 1-800-222-TIPS (800-222-8477) or go directly to www.lacrimestoppers.org.
Lastly, tipsters may also download the "P3 Tips" mobile application and select the LA Regional Crime Stoppers as their local program.