Trans-nonbinary athlete dedicates latest victory to trans community
Women's national 1500m champion Nikki Hiltz says of fan who brought Trans Pride flag to race: 'They're the reason I won'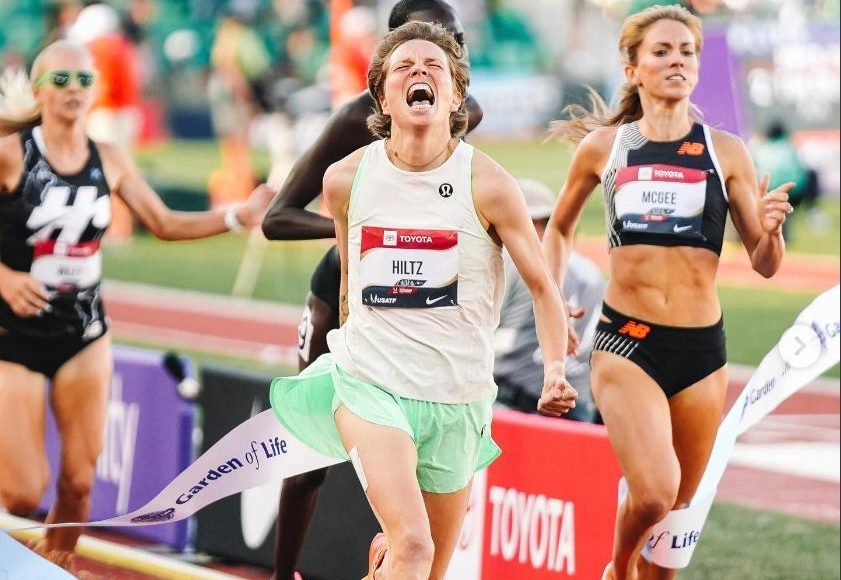 EUGENE, ORE. — Santa Cruz, Calif. native Nikki Hiltz is for the third time this year the women's national 1500m champion, after a fast finish Saturday at the 2023 Toyota USATF Outdoor Championships at the University of Oregon.
Hiltz, 25, who moved from San Diego to Flagstaff, Ariz. to train, broke free from the pack with a final burst of speed to win their first outdoor national title in 4:03.10. The win earned them a spot on Team USATF for the World Athletics Championships in Budapest next month, according to flotrack.com.
Hiltz came out as trans nonbinary in March 2021, as the Los Angeles Blade reported.
After the race, Hiltz told a reporter they spotted a fan with a Trans Pride flag in the stands, and took inspiration from that symbol.
"I saw that trans flag right when I came out before the race even started," they said. "I don't know their pronouns or who they are, but they brought that flag and I bet they're here for me."
🗣️ "I saw that trans flag…I thought I bet they brought that for me…I saw them after the race and gave them my bib…they were the reason I won, or at least one of them" 🏳️‍🌈@Nikki_Hiltz after running 4:03.10 at #USATFOutdoor to take the 1500m title!

FULL INTERVIEW 🎥… pic.twitter.com/4jbj2MLEku

— CITIUS MAG (@CitiusMag) July 9, 2023
"I think there's so much hate right now, and specifically the bills being passed for trans youth. I feel like the LGBTQ community needed a win and there's so many things that go through your mind in the race, and for whatever reason that was kind of in the back of my mind," said Hiltz.
One of eight women considered a potential winner in the race against defending champion Sinclaire Johnson, reigning world and Olympic 800m champion Athing Mu, and 2021 Olympians Cory McGee and Heather MacLean, Hiltz said they relied upon a strategy of a patience and timing.
"It was kind of like, staying calm in the beginning and then making big moves at the end," Hiltz told reporters.
From the starting gun, Laurie Barton of the Brooks Beasts Track Club jumped to a three-meter lead. But Hiltz did not react, and instead kept her eyes on Mu in second place at 400 meters, and stayed with McGee, Johnson, teenager Addy Wiley, and MacLean. Barton was still leading at 800 meters at the 2:12.29 mark, but by the time the field hit the top of the backstretch, the field had compressed back into a pack. Hiltz said later they knew that was how this race would end.
"Obviously, everyone in there is like a class act and has done incredible things," Hiltz told reporters. "But I know that I'm a great runner, too, and I just had to believe in myself."
At the bell signaling the final stretch, Wiley took the lead with Mu, and McGee, Hiltz and Johnson behind her. With the other runners out of contention at that point, the group of five women rounded the final bend. At the finish line, Wiley had fallen behind and wound up settling for fifth in 4:04.25. Johnson, Hiltz, Mu and McGee closed-in as they dashed for the tape.
"At that point, it's just bodies," Hiltz said.
Just feet from the finish line, Johnson ran out of gas and fell to the track to finish in fourth place at 4:03.49. Hiltz surged to the tape to get the win in 4:03.10. Mu ran a huge personal best in second at 4:03.44 and McGee finished third at 4:03.48.
"I don't have words for it," said Hiltz, when asked what they felt at the finish line as they shouted and smiled and raised their arms in victory. "I think relief," they said. "So much relief, joy, every emotion."
In 2021, Hiltz told the Blade their coming out definitely impacted their performance.
"I think with any sport, especially running, you bring your whole self to the starting line. It's not like I'm bringing just the athlete part of Nikki; I'm bringing my whole identity. The closer I can be to myself and stay true to myself, the faster and the better I run, essentially," said Hiltz.
"I am someone that runs with a lot of emotion and grit. And so, when I'm at war with myself or when I wasn't out of the closet, it really shows on the track. And then when I'm at peace with myself and I'm living my most authentic life, that also really shows on the track," they said.
In February, following their win in the indoor 1500m in Albuquerque, N.M., Hiltz posted a public thank you on Instagram to organizers and NBC Sports for getting their pronouns right.
"Thank you @usatf and @nbcolympics for using my correct pronouns on the broadcast last night. I can't express how much it means to not only me but the entire queer community."
Last year, Hiltz's sponsor lululemon posted a salute on Instagram, quoting the athlete: "I've already won as long as I show up as myself."

Hiltz and their girlfriend, collegiate runner Emma Gee, who was the first out LGBTQ athlete at Brigham Young University, organized an annual event called the Pride 5K, which takes place in cities across the country this October. 
Anti-Trans activists claim trans women have an advantage at darts
Victoria Monaghan became the first trans woman to ever compete in the WDF World Darts Championship in England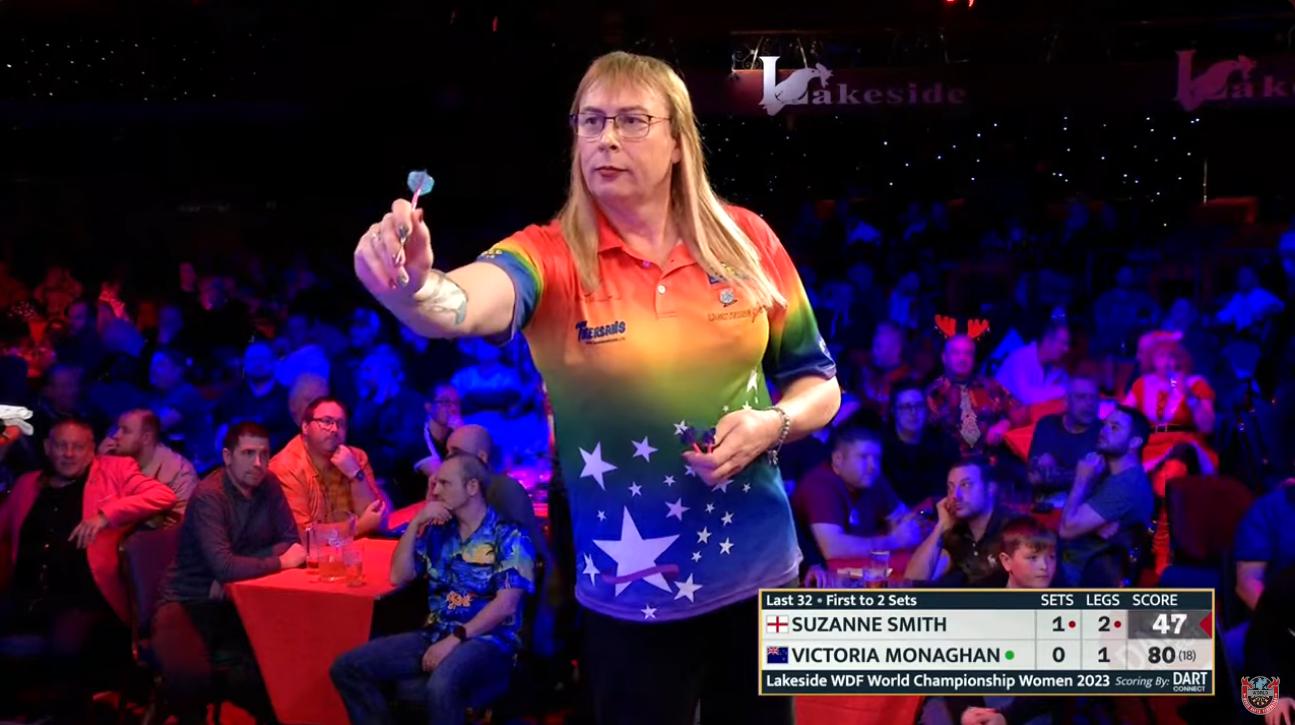 By Erin Reed | WASHINGTON – In recent years, those lobbying for restrictions on transgender individuals have focused heavily on sports. Some of the most influential anti-trans lobbyists in this arena, such as Terry Schilling of the American Principles Project, have stated that sports are an easy way to sell anti-trans policies to people who might otherwise reject discrimination.
Initially, the attacks on sports focused on contests of extreme endurance, such as elite swimming. Lately, however, these bans have entered new arenas. Now, there is a new sport where transgender participation is causing controversy: darts.
On Sunday, December 3rd, Victoria Monaghan made history as the first transgender woman to compete in the World Darts Federation's World Darts Championship. Monaghan, who has played darts since she was 12, mentioned that the New Zealand Darts Council has been incredibly supportive of her participation.
However, recently, after qualifying for the international tournament, opponents of transgender rights attacked her participation. They argued that transgender women should be banned from women's darts, claiming her participation was unfair due to supposed "biological advantages."
Martina Navratilova, a famed retired tennis player known for making anti-trans comments, decried Monaghan's participation, asking, "how the fuck is this acceptable?" The UK-based organization Fair Play For Women, which opposes transgender participation in sports, ridiculed Monaghan for participating, referring to her as a man.
One commentator claimed that trans women had physical advantages such as being able to throwing harder. One of the most outlandish claims, however, came from Dr. Linda Duffy, a sports psychology professor at Middlesex University. She stated that trans women have an advantage due to "cognition and brain structure."
See Dr. Duffy's comments here:
Quickly, however, people criticized the idea that trans women have an advantage in darts. Mark Grimshaw, a UK comedian, noted that the conversation swiftly shifted towards the notion that "women's brains are biologically cognitively inferior to men," ridiculing this idea as blatantly misogynistic.
TakedownMRAs, a Twitter account focused on opposing men's rights activism, also ridiculed the notion that trans women have an advantage in darts. Even some who generally support bans on trans individuals expressed concerns, with one person stating, "okay, this is giving the trans movement ammo."
There is no evidence supporting the idea that transgender women have a biological advantage in darts. Physical attributes such as strength or height are not significant in the game. For instance, one of the all-time best players, Phil Taylor, who is 5'8″, played in a World Darts Championship tournament at 59 years old. Similarly, there is no proof that transgender women possess a "cognitive advantage" over cisgender women in darts.
Recently, transgender participation in sports with no conceivable arguments for any "biological advantage" has come under fire. This is particularly evident in sports like pool. The same group that is attacking Monaghan's participation in darts also targeted a transgender pool player for participating in a pool tournament.
Additionally, transgender participation in chess has recently faced scrutiny from FIDE, the leading international chess organization. FIDE stated that trans women "do not have any right" to compete in women's chess categories.
As for Monaghan, she lost in the first round of the tournament. The woman she competed with, Suzanne Smith, gendered her correctly and stated that it was a hard won game that she was glad to get under her belt. Despite the hate that she is receiving from those who oppose her participation, Monaghan states that this is not the norm.
"Most of the women darts players have been really supportive," she wrote in an article released the day of her match. "and the others are starting to come around."
****************************************************************************
Erin Reed is a transgender woman (she/her pronouns) and researcher who tracks anti-LGBTQ+ legislation around the world and helps people become better advocates for their queer family, friends, colleagues, and community. Reed also is a social media consultant and public speaker.
Follow her on Twitter (Link)
Website here: https://www.erininthemorning.com/
******************************************************************************************
The preceding article was first published at Erin In The Morning and is republished with permission.