Queer actors sound off as SAG-AFTRA threatens to strike
The Screen Actors Guild, is poised to go on strike if last ditch federal mediation efforts fail ahead of a midnight Wednesday deadline
By Rob Salerno | WEST HOLLYWOOD – The union representing Hollywood actors, the Screen Actors Guild, is poised to go on strike if last ditch federal mediation efforts fail ahead of a midnight Wednesday deadline, and queer actors are saying that the union's demands are necessary in order to maintain acting as a sustainable profession for thousands of performers. 
SAG's demands reflect some of the demands being called for by the Writers' Guild of America, which has also been on strike four two months. Both unions are calling for restrictions or regulations on the use of artificial intelligence to replace creative workers, wage increases, and for residuals payments to be extended and standardized across streaming services like Netflix.
Out actor Stephen Guarino, known for memorable turns on broadcast and cable shows like ABC's Happy Endings and HBO's The Sex Lives of College Girls, worries that residuals could disappear as the industry moves increasingly toward streaming.
"I still have a pretty good passive income from residuals, so I've never really worried about that, but we're moving toward streaming so that could be going away," he says.
Guarino is also known for playing Quincy on the queer Netflix series EastSiders, a role for which he was nominated for a Daytime Emmy.
"I get no Netflix residuals, so ironically the thing I have my Emmy nomination for I get no residuals," Guarino says.
Daniel Montgomery, an openly gay actor who's been seen recently on the HBO show Barry and recently wrote and produced an independent horror feature The Jessica Cabin, says residual payments help carry a performer between acting gigs, which can often be short and months apart.
"At least half of my income has been from residuals. I've relied on that. It's been a lifeline," he says. "As actors, most of our time is auditioning – essentially applying for jobs. We'll get that one job and we need to make that job last as long as we can to support ourselves and afford to live in the meantime."
Under the current SAG contract, streaming services are able to pay lower fees and lower residuals – or avoid paying residuals at all.
"I've noticed a shift that, yes, I've continued to book jobs, but if it's for a streaming service, it's not paying a living wage. It's made it non-livable as an actor," Montgomery says.
Genderqueer actor Nicky Endres, who has appeared on shows such as Netflix' One Day at a Time and CBS' NCIS: Los Angeles, says these concerns are compounded by a lack of job security.
"Being a gig worker is hard enough, but all we sacrifice to be an actor, and what, we get covid and lose a job? AI being programmed to steal our voices and faces? It's all too much," they say.
Actors are also calling for regulations on the demands for self-taped auditions, which became the industry standard during the pandemic and have put an increasing burden on performers during the audition process.
Actors are required to light, shoot, and edit self-tapes, and find scene partners to read with, and are often given unrealistic turnaround times for auditions.
"Doing self-tapes has become a full-time job that we're not paid for," Montgomery says. "Sometimes I'll get a call at 11pm with a turnaround due at 11am. Actors will often do whatever it takes, but that can be to our detriment, but we need to stand up for what we deserve.
"We need regulations so we're not scrambling to turn around our living rooms at midnight. We're just asking for it to be fair," he says.
Writers and actors are hoping that by going on strike simultaneously, they'll put maximum pressure on producers to negotiate.
With writers and actors both on strike, scripted film and television productions will effectively come to a standstill. That will effectively delay movies and television shows that are in the Hollywood pipeline.
That's already put a freeze on season two of the Nickelodeon series The Really Loud House, in which Guarino plays one half of the network's first gay couple.
"They might come back. They're waiting to see what happens with the actors' strike. I'm hoping it happens not only for the representation, but also for my livelihood," Guarino says. "I haven't auditioned since March or April, and my agents don't think I'll have any auditions until September."
But Endres says they're willing to risk lost job opportunities to fight for a fair deal.
"I voted yes to strike on principle: the few bigwigs at the top should not be making multi millions while the writers and actors who make the shit they sell can't earn a living wage even if they are lucky enough to be working somewhat regularly," they say.
LGBTQ+ fans join the picket lines to support writers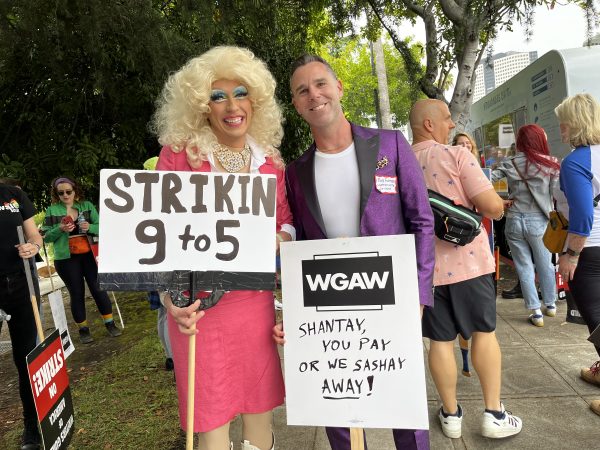 With two of Hollywood's big creator unions heading for the picket lines, it's turning out that the solidarity doesn't just extend to other film workers.
Even queer fans are doing what they can to support the writers. A group of global fans of the queer-themed pirate comedy Our Flag Means Death has been organizing to provide breakfasts and lunches at the Warner Bros pickets since the strike began.
A Midwest-based group called "Our Flag Means Corn" raised about $3500 to provide picketers at last month's Pride Picket with food truck and ice cream from queer-owned company Coolhaus. "We wanted to really bring out something big to celebrate gay pride and our gay pirates, and to celebrate and support the writers that really have changed our lives," says one of the fans, who goes by the handle Bunny Bread. "It really means a lot to us to give something back because they're given us so much with Our Flag Means Death."
********************************************************************************
Rob Salerno is a writer, journalist and actor based in Los Angeles, California, and Toronto, Canada.
LAPD asking for public's help with murders of homeless persons
Anyone with information is urged to contact the Los Angeles Police Department's Robbery-Homicide Division, Homicide Special Section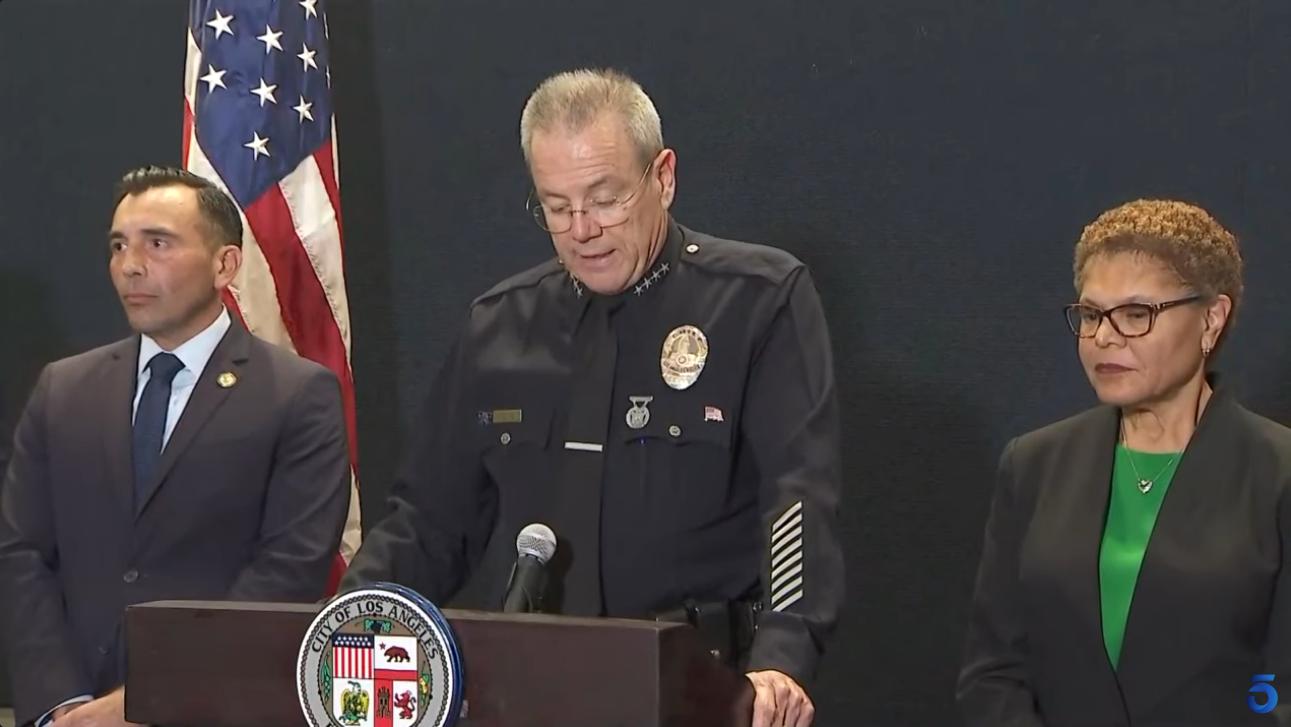 LOS ANGELES – Flanked by Los Angeles County District Attorney George Gascón, LA Mayor Mayor Karen Bass and Martin Estrada, the United States Attorney for the Central District of California, Los Angeles Chief of Police Michel Moore, held a news conference Friday where he announced that three homeless people had been fatally shot while they slept within the past week.
Moore added that authorities believe one suspect is responsible for all three murders.
Detectives from the LAPD's Robbery-Homicide Division are investigating three separate murders that occurred between November 26, 2023, and November 29, 2023. In each case, the victims were experiencing homelessness.
While some similarities have been identified, detectives are working to determine if these murders are related. A community alert bulletin has been issued to make the region's unhoused population and the community stakeholders aware of these recent murders.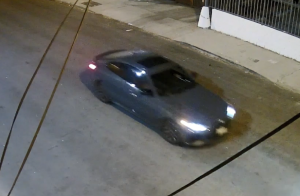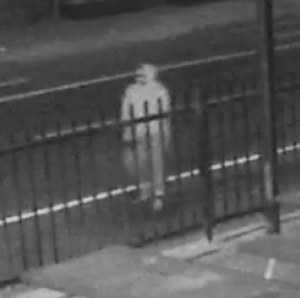 The suspect in these homicides is described only as male. The suspect was seen in a dark-colored sedan. It is unknown if he was alone or there were any additional suspects.
Police have spotted who they believe the shooter is on surveillance footage — Moore said they believe it's a man in a hoodie — and they also have images of the suspect's vehicle, though Moore would not describe it in an effort to avoid misinformation.
"People will see different types of cars, different types of models," he said. "I don't want someone to say 'You called this a Kia and it turns out to be a BMW or Mercedes," he said.
"A single individual approached each one and shot and killed each one as they slept," Moore said, though he avoided use of the term "serial killer."
"The Los Angeles Police Department is employing all available resources to bring justice to these murder victims. I am thankful for our City partners who are working with us closely to ensure the safety of this vulnerable population as we pursue the criminal investigation," said Moore.
"I want to be very clear about what we're facing today: This is a killer who is preying on the unhoused," Mayor Bass said, adding that homeless people should not sleep alone.
"As we always do in the face of a challenge or crisis, our region is mobilizing to respond to this issue. We will work tirelessly to find the individual responsible, arrest them, and hold them accountable. I have met with our partners at the Los Angeles Homeless Services Authority, Housing Authority of the City of Los Angeles, and the Los Angeles Housing Department and we are moving immediately to get the word out to our unhoused neighbors in housing networks. Our message to our unhoused community is clear – try not to be alone tonight. We will do all we can to make shelter and services available. To the many Angelenos who have friends or family who are unhoused, please let them know the danger that exists. We must stay safe. We will work diligently to bring those responsible to justice," the Mayor said.
"To the person responsible: We will find you, we will catch you and you will be held accountable," Bass said.
"I commend the LAPD for creating a dedicated task force to uncover the identity of a potential serial killer preying on the most vulnerable in our community. I've assigned our Major Crimes Division, Bureau of Victim Services and our Bureau of Investigation to assist with these efforts. Today, we demonstrate our collective resolve and stand united in our pursuit of justice, unwavering against the darkness that preys on the most defenseless among us," said LA District Attorney George Gascón.
Related:
Anyone with information is urged to contact the Los Angeles Police Department's Robbery-Homicide Division, Homicide Special Section, at (213) 486-6890. During non-business hours or on weekends, calls should be directed to 1-877-LAPD-24-7 (1-877-527-3247).
Anyone wishing to remain anonymous should call the LA Regional Crime Stoppers at 1-800-222-TIPS (800-222-8477) or go directly to www.lacrimestoppers.org.
Lastly, tipsters may also download the "P3 Tips" mobile application and select the LA Regional Crime Stoppers as their local program.