Mexico City hosts LGBTQ+, intersex rights conference
LGBTQ+ Victory Institute co-organized 3-day event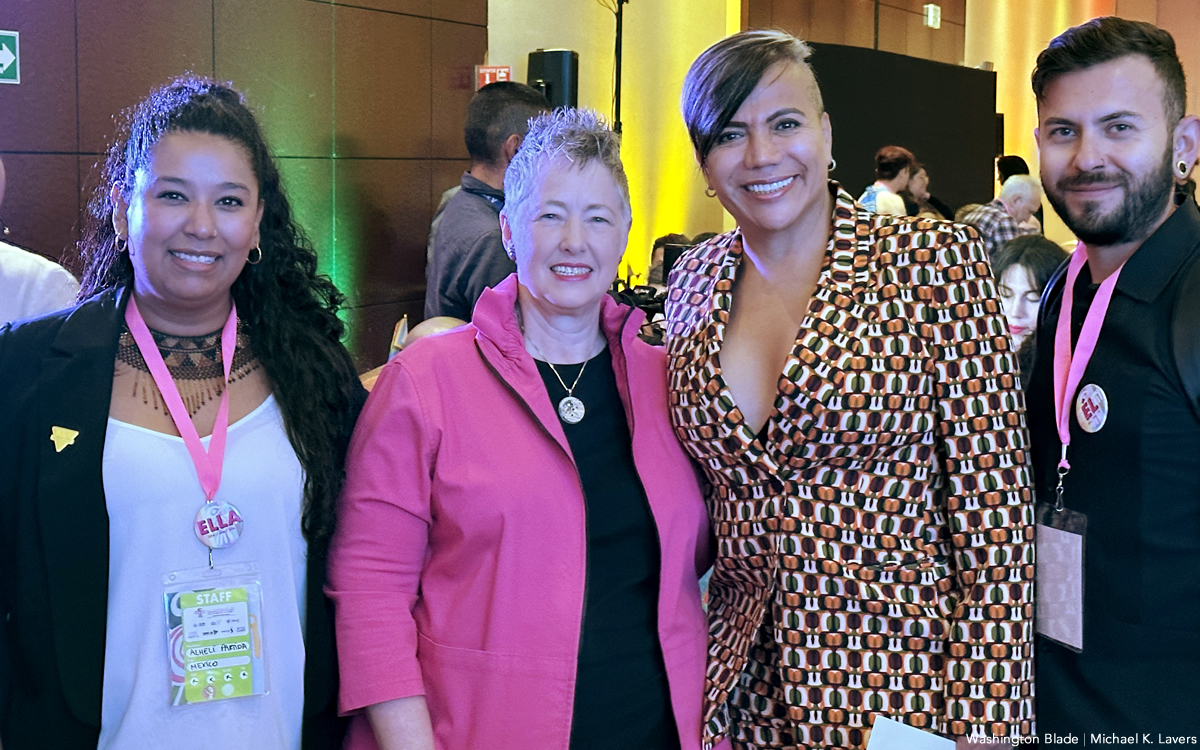 Editor's note: International News Editor Michael K. Lavers was on assignment in Mexico City from July 17-23.
MEXICO CITY — More than 400 people from around the world attended an LGBTQ+ and intersex rights conference that took place last week in Mexico City.
Jessica Stern, the special U.S. envoy for the promotion of LGBTQ+ and intersex rights, and Victor Madrigal-Borloz, the independent U.N. expert on LGBTQ+ and intersex issues, are among those who spoke at the LGBTI Political Leaders from the Americas and the Caribbean Conference that the LGBTQ+ Victory Institute co-sponsored. Maryland state Del. Gabriel Acevero (D-Montgomery County), Massachusetts state Rep. Jack Lewis, Brazilian Congresswomen Erika Hilton and Duda Salabert, Mexican Congresswoman Salma Luévano, Venezuelan National Assemblywoman Tamara Adrián, former Colombian Congressman Mauricio Toro, former Peruvian Congressman Alberto de Belaunde, Eastern Caribbean Alliance for Diversity and Equality Executive Director Kenita Placide and Fundación Triángulo (Spain) President José María Núñez Blanco are among those who also participated.
Victory Institute spokesperson Pita Juárez noted to the Washington Blade the 438 people who attended the conference came from the U.S., Mexico, Brazil, Colombia, Nicaragua, Venezuela, Afghanistan, China, Panama, Paraguay, Bolivia, Canada, Chile, Costa Rica, Cuba, the Dominican Republic, Ecuador, El Salvador, Guatemala, Haiti and Honduras.
The following groups from across the region co-organized the conference along with the Victory Institute.
• Yaaj México
• Caribe Afirmativo (Colombia)
• Diversidad Dominicana (Dominican Republic)
• Somos CDC (Honduras)
• Promsex (Peru)
• Vote LGBT+ (Brazil)
Stern in her speech at the conference on July 20 noted the U.S. supported the conference and helped organizers cover some attendees' transportation costs.
'Fight for global equality is more important than ever'
The conference took place against the backdrop of the passage of anti-LGBTQ+ laws in several U.S. states and in countries around the world and persistent violence based on gender identity and sexual orientation throughout Latin America.
Cubans last September approved a new family code that extended marriage and adoption rights to same-sex couples. (Brenda Díaz, a Transgender woman with HIV who participated in an anti-government protest in the country's Artemisa province on July 11, 2021, is serving a 14-year prison sentence.) Barbados, St. Kitts and Nevis and Antigua and Barbuda over the last year have decriminalized consensual same-sex sexual relations.
"Our fight for global equality is more important than ever," said Victory Institute President Annise Parker on July 20 when she opened the conference. "We have always known that we have had much farther to go, but we are experiencing a backlash across the globe."
"In the United States a record number of anti-LGBTQ bills were introduced and passed last year," she noted. "LGBTQ+ lawmakers like (Oklahoma state Rep.) Mauree Turner and (Montana state Rep.) Zooey Zephyr were censured and expelled from their offices in the United States, but hate has no borders."
Parker in her speech said "efforts to discriminate against trans people are increasing" in the U.K. and "we've seen an uptick in identity-based harassment" in Latin America. Parker also noted Ugandan President Yoweri Museveni in May signed his country's Anti-Homosexuality that contains a death penalty provision for "aggravated homosexuality."
"This is a moment of alarm; it is also a rallying cry," said Parker. "The best way to push back is to put LGBTQI+ people into those halls and offices to stand up and speak for us. They're our anecdotes to hate."
Parker in her speech also noted LGBTQ+ and intersex rights advances in the Americas over the last year. They include the election of Hilton and Dudabert, who are both Trans, to the Brazilian Congress last October, the five LGBTQ+ people and a nonbinary person who won their respective races for the Colombian House of Representatives in May 2022 and the Mexican Senate's vote to ban so-called conversion therapy in the country.
"We can make progress," said Parker.
Non-binary judge found stabbed to death in their Mexican home
Jesús Ociel Baena was Latin America's first nonbinary judge. They were found dead in their home on Nov. 13, 2023
AGUASCALIENTES, Mexico – Authorities in Mexico's Aguascalientes state on Monday found Latin America's first nonbinary judge dead in their home.
The Associated Press reported Jesús Ociel Baena's body was discovered next to another person who media reports and an LGBTQ rights group identified as their partner. State prosecutor Jesús Figueroa Ortega told reporters during a press conference the two victims showed signs they had been stabbed.
Aguascalientes state is located in central Mexico.
The AP reported Baena in October 2022 became a magistrate on Aguascalientes' electoral court. Baena in June was one of the first people in Mexico to receive a passport with a nonbinary gender marker.
Violence based on gender identity and sexual orientation remain commonplace in Mexico.
The AP reported Baena in the weeks before their death had received death threats. Federal Security Secretary Rosa Icela Rodríguez on Monday said it remains unclear if the murders were "a homicide or an accident."
The New Gay Times, the Washington Blade's media partner in Mexico, reported LGBTQ rights groups across the country have demanded "a definitive and specialized investigation" into Baena's murder. Thousands of people on Monday who took part in a march in Mexico City demanded justice for Baena.
"We are and will be there for you, dear Ociel," said Casa Refugio Paola Buenrostro, a shelter in Mexico City that Casa de las Muñecas Tiresas, a local transgender rights group, runs, on Monday in a post to its Facebook page. "Your fight will not be in vein."