Oklahoma's GOP governor targets trans rights in executive order
"This Executive Order is not about protecting women. It is a thinly veiled attack on codifying discrimination against trans women."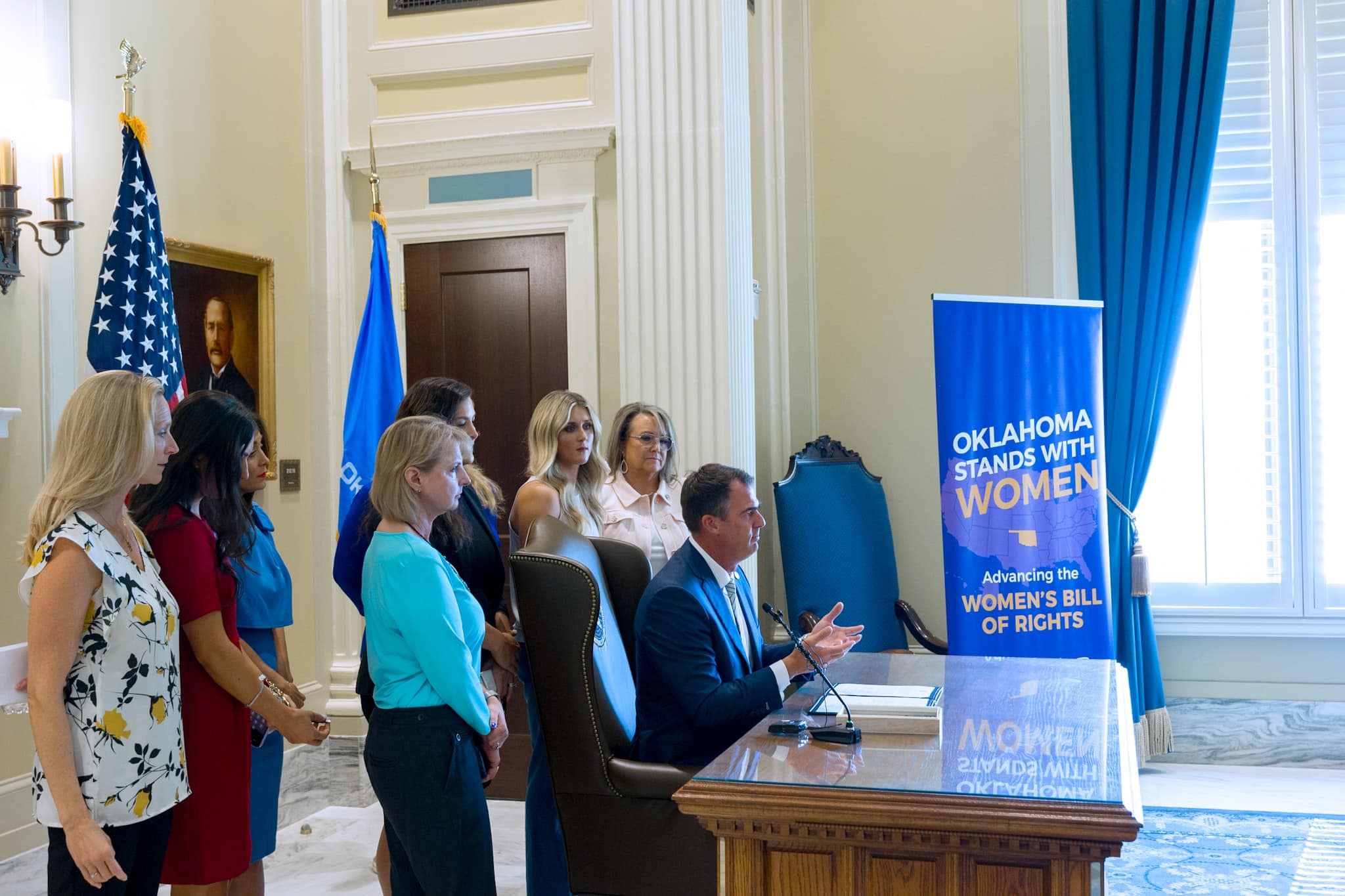 OKLAHOMA CITY – Republican Oklahoma Governor Kevin Stitt issued an executive order Tuesday — defining sex-based words like 'female,' 'woman,' and 'mother' and targeting trans females by designating women-only spaces predicated on gender "assigned at birth."
The governor's order is directed at state agencies. The state already has restrictive laws enacted that target trans participation in sports, use of public bathrooms and other accommodations, and a bill targeting gender-affirming healthcare.
Stitt in March signed into law Senate Bill 2, the "Save Women's Sports Act," which restricts transgender girls from playing on school sports teams that match their gender identity. He also signed the anti-Trans measure Senate Bill 615 into law, which requires all kindergarten through 12th grade students in public and charter schools to use restrooms and changing facilities associated with the sex listed on their birth certificates.
Stitt also signed Senate Bill 613 that will result in criminal penalties for medical professionals providing gender-affirming healthcare for minor patients. The law now makes it a felony for physicians to provide trans youth with treatments that can include puberty-blocking drugs and hormones.
 "I am taking decisive executive action to ensure the true definition of the word woman, meaning a biological woman, is what guides the state as we reaffirm our commitment to ensuring the safety, dignity, and sanctity of women across Oklahoma. As long as I'm governor, we will continue to protect women and ensure women-only spaces are reserved solely for biological women," the governor said as he signed the order.
Joining the governor was Independent Women's Voice, a right-wing anti-trans extremist group that also included Riley Gaines, a former University of Kentucky swimmer known for criticizing an NCAA decision allowing transgender swimmer Lia Thomas to compete against her in a women's championship race.
Riley Gaines told those gathered at the governor's signing ceremony, "Biological differences must be respected in the law to ensure female-only spaces have a future. It is sad that such basic truths must be spelled out to ensure equal protection, but I applaud Governor Stitt for taking decisive action today. Establishing common language by way of the Women's Bill of Rights is a way of saying enough is enough: Oklahoman women deserve equal opportunity, privacy, and safety, and this order will help deliver it."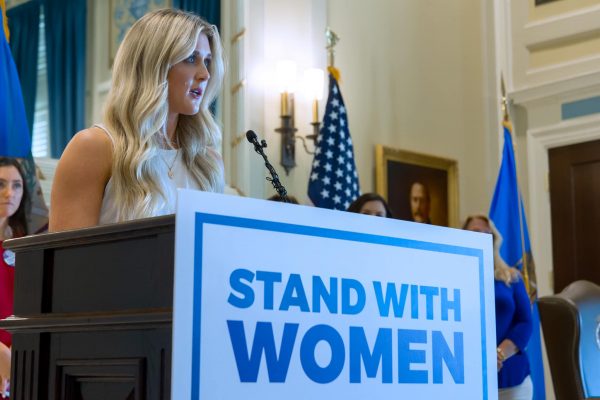 The Associated Press reported:
In addition to requiring state agencies and boards to define the words "female" and "male" to correspond with the person's sex assigned at birth, the executive order also includes definitions for the words "man," "boy," "woman," "girl," "father" and "mother." The order specifically defines a female as a "person whose biological reproductive system is designed to produce ova" and a male as a "person whose biological reproductive system is designed to fertilize the ova of a female."
It also directs schools and other state agencies to use these definitions when collecting vital statistics and further directs schools to provide dedicated restrooms and locker room facilities for boys and girls, respectively.
"Today Governor Stitt is going to claim he cares about women, while signing policy authored by an organization that has opposed both the Equal Rights Amendment and the Paycheck Fairness Act.
"This Executive Order is neither about rights, nor is it about protecting women. It is a thinly veiled attack on codifying discrimination against transgender women. This bill does not protect women, but instead opens the door for further civil rights violations that open all women to being harassed and targeted as they have their femininity assessed and judged by a public who feels increased permission to police gender.
"We know that this Executive Order, like the legislation we saw from this same organization this session, is not rooted in what is best for women or even clarity within the law, rather it is a blatant celebration of transmisogyny from the Governor's office." said Nicole McAfee, Executive Director of Freedom Oklahoma.
"Two Spirit, transgender, and gender nonconforming people have always been in Oklahoma. And we'll always be here. While we won't pretend to be surprised that the Governor is engaging in yet another blatant attacks on our community, we will continue to act with urgency towards the future where all 2SLGBTQ+ people have the safety to thrive."
Okla. board asks textbooks altered: Moms for Liberty complained
A state board requested a major publisher remove portions of its math textbooks for students in pre-K through fifth grade after complaint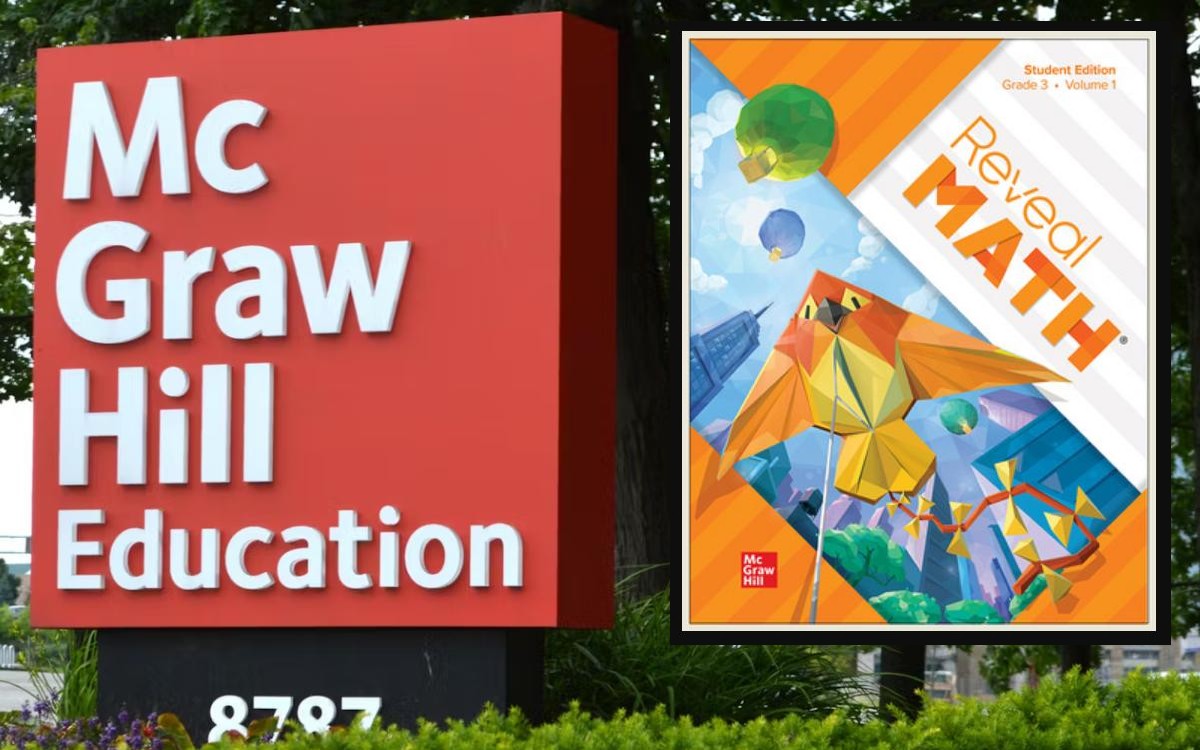 By Carmen Forman | OKLAHOMA CITY — A state board requested a major publisher remove portions of its math textbooks for students in pre-K through fifth grade after a local conservative group complained.
Despite the textbooks receiving the top rating from a review team made up of dozens of teachers, the chairwoman of the Oklahoma State Textbook Committee on Friday asked McGraw Hill to remove the "math thoughts" sections in its "Reveal Math" books in order to receive approval from the board.
If the publisher does not make the requested changes, the Reveal Math books won't be added to a list of approved titles that districts can purchase using state textbook funds. However, districts can purchase unapproved textbooks using other funding sources.
In a previous meeting, the head of the Tulsa chapter of conservative parents' rights group Moms for Liberty criticized the same elementary school textbooks, claiming they contain social-emotional learning concepts that don't belong in math classes. Social-emotional learning teaches children how to manage their emotions, make good decisions and relate to others.
Committee Chairwoman Kendra Wesson, a State Board of Education member State Superintendent Ryan Walters tapped to lead the textbook approval process, did not mention Moms for Liberty when she objected to portions of the McGraw Hill books.
Wesson said parts of the books don't specifically focus on teaching children how to do math. In the pre-K through second grade textbooks, she pointed to a section that she said asks questions like, "What helps you feel calm when you're angry?" and "How can you act with your classmates to build a safe classroom culture?"
"We have things in a math book that are not related to math, that are completely separate from that," she said. "I don't want to give up five, 10, 15 minutes of math time for things that are not related to math."
In the companion teachers' manual, Wesson flagged portions of a "math mindset" section that included suggested questions like, "Were you relaxed or frustrated during math today?"
Board member Jessica Thompson, a fourth grade teacher, said she doesn't have time to ask her students questions like, "What do you do when you feel sad?" when she's trying to teach math.
"I don't have the time or the knowledge to be a certified counselor … if those kids were to give me a really hard answer," she said.
She called that portion of the books "a waste" and expressed concerns that such questions would distract educators from teaching the fundamentals of math.
Jay Rotert, another board member, wondered if pushing back to 2024 a vote on adopting McGraw Hill's textbooks would leave the company enough time to get the new materials into classrooms for the next school year.
Citing the top ratings the review team gave the textbooks, board vice-chair Kathryn Szallar expressed optimism that McGraw Hill could make the requested changes.
"They do exemplify quality, and I do think those are the kinds of textbooks we would want in our classrooms," she said.
The board voted to provisionally approve the textbooks contingent upon McGraw Hill making the requested changes. The board plans to revisit the issue at its next meeting.
The company will reach out to the State Department of Education to get further details about the requested changes, said spokesperson Tyler Reed.
"We look forward to working collaboratively with the (Department of Education) to ensure our math materials are available to students and instructors across the state," Reed said.
If the board does not endorse the McGraw Hill textbooks, elementary schools will have few options that could be purchased using state dollars.
In that scenario, there would be just one approved vendor for pre-K through second grade and three vendors for math textbooks for children in third through fifth grades.
At least eight textbook publishers withdrew from consideration this year, leaving the state with a limited number of new textbooks for consideration.
This is the first cycle for the textbook committee to review proposed educational materials since Walters took office in January. The new superintendent previously accused textbook companies of trying to indoctrinate students and has said it's a good thing some vendors pulled out of the selection process.
******************************************************************************************
Carmen Forman covers state government, politics and health care from Oklahoma City. A Norman native, she previously worked in Arizona and Virginia before she began reporting on the Oklahoma Capitol.
******************************************************************************************
The preceding article was previously published by the Oklahoma Voice and is republished with permission.
Oklahoma Voice provides independent, nonpartisan reporting that holds officials accountable and elevates the voices of those too often sidelined by the political process.