A look ahead at the first GOP Presidential Primary debate
Should he secure the Republican nomination, Trump would square off against President Joe Biden, who already beat him in 2020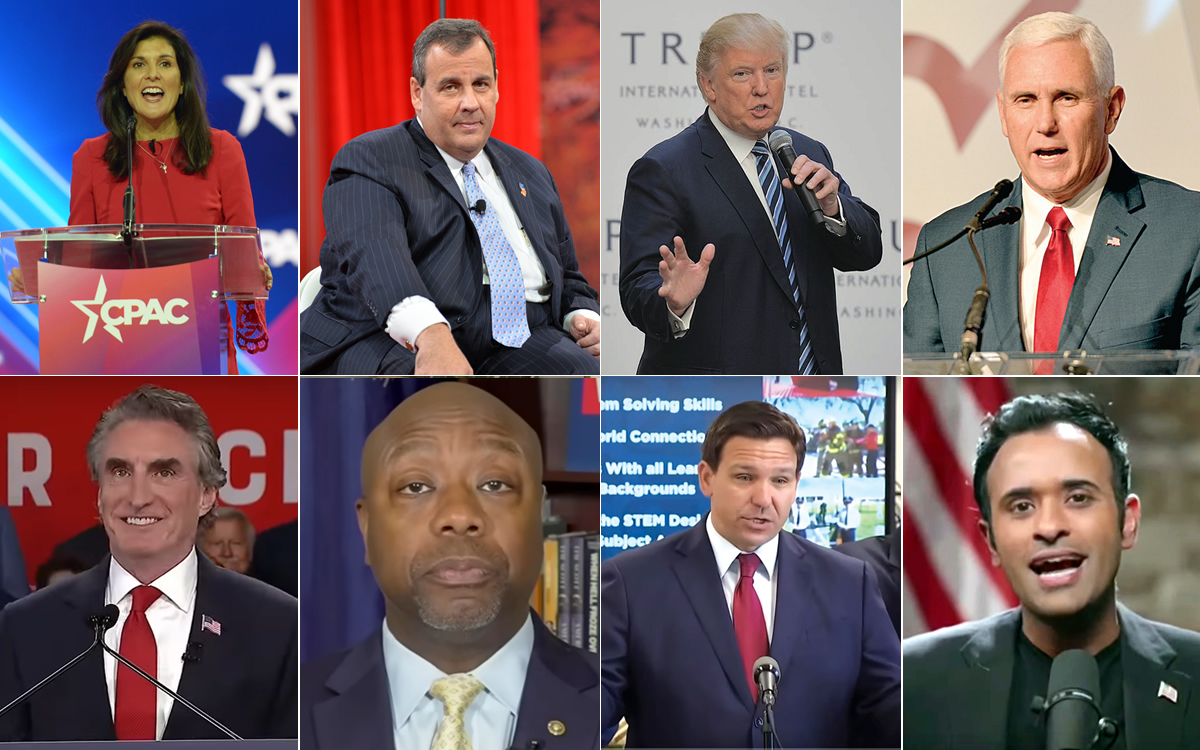 WASHINGTON – The Republican National Committee will host the party's first 2024 presidential primary debates next Wednesday, Aug. 23, in Milwaukee.
Five declared candidates have met the threshold requirements to participate: (One) 40,000 unique donors with at least 200 unique donors per state, (two) polling one percent or higher in three national polls recognized by the RNC, or in two national polls and in two polls from early voting states and (three) agreeing to support the eventual Republican nominee.
These GOP hopefuls are Florida Gov. Ron DeSantis, who formerly served in the U.S. House of Representatives, former South Carolina Gov. Nikki Haley, who formerly served as U.S. ambassador to the U.N. during the Trump administration, entrepreneur Vivek Ramaswamy, North Dakota Gov. Doug Burgum, a billionaire former tech mogul, and U.S. Sen. Tim Scott of South Carolina.
Three more — former President and current GOP frontrunner Donald Trump, former Vice President Mike Pence, who formerly served in the U.S. House and as governor of Indiana, and former New Jersey Gov. Chris Christie — have not yet signed loyalty pledges but otherwise will qualify.
(Miami Mayor Francis Suarez, former Arkansas Gov. Asa Hutchinson, businessman Perry Johnson, conservative talk radio host Larry Elder and former congressman Will Hurd are also in the running.)
It's Trump's race to lose
Just before he was handed a 13-count felony indictment on Monday, polling showed the twice impeached former president had grown his lead over DeSantis from six points in January 2023 to a whopping 38 points, while Ramaswamy trailed behind the Florida governor by just seven points and a one or two-point difference distinguished the rest of the field.
In 2015, the last time he faced a primary contest against a crowded pool of Republican hopefuls, Trump by August was leading the pack, though by a slimmer margin of 11 points. In a distant second place was Jeb Bush, who was governor of Florida from 1999-2007 and ultimately suspended his campaign after a poor showing in the South Carolina primary.
However, and despite the many scandals that roiled his insurgent campaign eight years ago, Trump had run on a populist economic platform with a relatively cohesive message stressing his business bona fides and outside-the-Beltway career as a real estate mogul.
The picture looks different now.
Should he secure the Republican nomination, Trump would square off against President Joe Biden, who already beat him in 2020.
Efforts by Trump to stay in power despite that decisive loss culminated in the Fulton County District Attorney Fani Willis' issuance on Monday of 13 felony indictments against him for election fraud and violations of the Racketeer Influenced and Corrupt Organizations Act.
"Trump and the other defendants charged in this indictment refused to accept that Trump lost, and they knowingly and willfully joined a conspiracy to unlawfully change the outcome of the election in favor of Trump," the indictment said.
The former president will now face a total of 91 charges in four separate cases that will soon be adjudicated in courtrooms from Fulton County, Ga., to New York, with the former carrying a mandatory minimum 5-year sentence — and the specter of live television coverage whose impact on the 2024 race will be difficult to forecast.
What to watch for next week
Most of Trump's 2024 rivals reacted by coming to his defense following Monday's news of the fourth set of indictments. Depending on whether he opts to participate in the Milwaukee debate, the other candidates may or may not take the opportunity to differentiate themselves from the former president and make the case for why they — and not he — should be nominated to take on Biden.
For instance, Christie told Fox News he is "uncomfortable" by the indictment, calling it "unnecessary," but hedged that "we can't normalize this conduct" by Trump and promised to call him out from the debate stage.
With such a solid lead, Trump may well skip the event despite having participated in all but one of the 12 presidential debates held between August 2015 and March 2016. Of the 17 major declared candidates, only U.S. Sens. Marco Rubio (R-Fla.) and Ted Cruz (R-Texas) and former Ohio Gov. John Kasich (R) participated in all 12.
The U.S. Supreme Court established the nationwide constitutional right to same-sex marriage with Obergefell v. Hodges on June 26, 2015, prompting each of the GOP presidential primary candidates to go on the record with their respective positions.
A couple months later, during the Aug. 5 debate hosted by Fox News and Facebook in Cleveland, Kasich disclosed that he had recently attended a friend's same-sex wedding, adding that "God gives me unconditional love" and therefore "I'm going to give it to my family and my friends and the people around me."
Former Arkansas Gov. Mike Huckabee (R), by contrast — who had warned Obergefell would usher in the "criminalization of Christianity" — inveighed from the debate stage against policies allowing gay and transgender service members to serve openly in the military.
Now, of course, transphobia is ascendent on the right.
Hundreds of anti-LGBTQ bills, most targeting the transgender community, have been introduced in conservative state legislatures this year, prompting the Human Rights Campaign to declare a state of emergency for LGBTQ people in the U.S.
Experts say it's all about keeping evangelicals voting. Whether and how the Republican Party's embrace of anti-LGBTQ policies and rhetoric will be reflected on the debate stage next week remains to be seen.
2024 candidates on LGBTQ issues
The GLAAD Accountability Project details the records of each of the eight GOP hopefuls who are likely to appear on the debate stage next week. Here are some excerpts:
Trump:
In March 2023, GLAAD writes, the former president "vowed to crack down on 'transgender insanity' and pledged to 'revoke every Biden policy promoting the disfigurement of our youth' at the first rally of his 2024 presidential campaign. He said that he would 'keep men out of women's sports' if re-elected president, after he last year misgendered transgender athlete Lia Thomas. He added: 'I will immediately sign an executive order to cut federal funding for any school pushing critical race theory, transgender insanity and other racial, sexual or political content on our children.'"
DeSantis:
During an interview with Fox News in July 2022, DeSantis "lied about gender affirming care," GLAAD notes, telling host Laura Ingraham: "They will actually take a young boy and castrate the boy. They will take a young girl and do a mastectomy, or they will sterilize her because of the gender dysphoria. There is no evidence that this is something that's effective medical care."
Ramaswamy:
In May 2023, Ramaswamy told Fox News Digital that "Target 'spit in the face of conservatives' in an anti-transgender attack on the retailer for selling swimwear designed to accommodate a variety of body types," GLAAD writes.
Pence:
Last month, GLAAD notes, the former vice president, "as a part of his 2024 presidential bid, said that as president, he would again prohibit transgender Americans from serving in the military, as was the policy when he was vice president under Donald Trump: '… having transgender personnel, I believe, erodes unit cohesion in a very unique way.'"
Haley:
In June 2023, Haley "falsely claimed that transgender girls playing sports contribute to teenage suicide ideation," GLAAD said, echoing previous comments in which the former South Carolina governor "said President Joe Biden's support of transgender rights will destroy women's sports, saying, 'Across the sporting world, the game is being rigged against women and in favor of biological men.'"
Christie:
The organization notes that as governor, Christie signed bills "instituting broad new protections for trans New Jersey residents: One directing schools to let students use bathrooms and locker rooms based on their gender identity or provide 'reasonable alternative arrangements,' and another prohibiting health insurers from discriminating against transgender residents." At the same time, GLAAD highlighted that he "vetoed a bill that would have eased access to accurate birth certificates for transgender people."
Scott:
GLAAD highlighted a 2010 report in Newsweek that Scott "considers homosexuality a morally wrong choice, like adultery."
Burgum:
In May 2023, GLAAD notes, Burgum "signed a bill into law that allows public school teachers and state government employees to ignore the pronouns their transgender students and colleagues use."
Rep. Jennifer Wexton, ardent LGBTQ ally, will not seek re-election
In fact, on the day she took office, the congresswoman became only the second member to fly a transgender Pride flag outside her office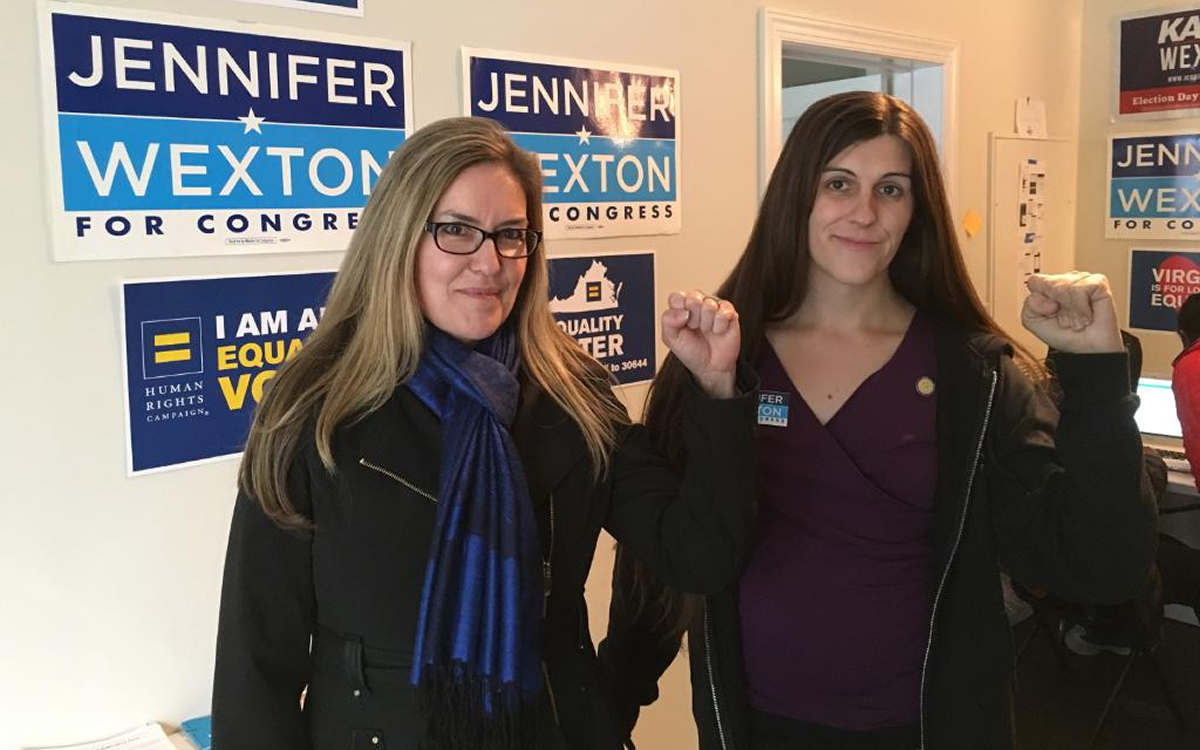 LEESBURG, Va. – U.S. Rep. Jennifer Wexton (D-Va.) announced on Monday she will not seek reelection after receiving a diagnosis of progressive supranuclear palsy, a neurological disorder that the congresswoman described in a statement as "Parkinson's on steroids."
"I'm heartbroken to have to give up something I have loved after so many years of serving my community," she said. "But taking into consideration the prognosis for my health over the coming years, I have made the decision not to seek reelection once my term is complete and instead spend my valued time with Andrew, our boys, and my friends and loved ones."
A member of the Congressional Equality Caucus and co-chair of its Transgender Equality Task Force, Wexton has been a staunch ally of the LGBTQ community since her first election to Congress in 2018 and during previous five-year tenure in the Virginia State Senate.
"On my lowest days, she's quite literally been a shoulder to cry on, and on my best days, she was the second person I told about my engagement last year," Virginia Del. Danica Roem (D-13) told the Washington Blade on Monday.
The congresswoman is "a role model, mentor and genuine public servant whose friendship and advocacy means the world to me," said Roem, who is the first openly trans representative to serve in any state legislature and will be the first in Virginia's State Senate if she is elected to the newly drawn 30th district seat next year.
"I spent so many years closeted in part because of the fear and loathing perpetuated by elected officials toward LGBTQ people in Northern Virginia broadly and greater Prince William [County] specifically that made for a hostile, unwelcoming environment," she said.
"To go from that to having such outspoken, fearless representation from my member of Congress in Rep. Jennifer Wexton hasn't so much been a breath of fresh air as much as a completely new biosphere," Roem said.
She added, "I'm so grateful to her for everything she's done and the example of inclusivity she's set for her constituents."
Roem pointed the Blade to an article in the Washington Post entitled, "How Jennifer Wexton became the 'patron saint of the transgender community,'" which details the ways in which LGBTQ rights "with an emphasis on the transgender community" had become Wexton's "signature issue" just "six months into her first term."
In fact, on the day she took office, the congresswoman became only the second member to fly a transgender Pride flag outside her office.
Equality Virginia, the state's largest LGBTQ advocacy group, also noted Wexton's advocacy for the community in a post Monday on X: "Thank you @RepWexton for being a tireless advocate for LGBTQ+ people in the General Assembly and in Congress."
"You've made our commonwealth a better place," the group wrote, adding, "we're sending our love and strength to you, your family and your entire team."
"In 2018, this state senator I called my legislative role model and looked up to so much as a first-year delegate, came over for dinner crepes to share her wisdom, humor and guidance," Roem said on X. "Five years later, Rep. @JenniferWexton is still a mentor, friend and champion for NOVA."
The Washington Post reported Wexton's planned departure means her seat representing Virginia's 10th Congressional District could be vulnerable in next year's elections, as it was held by Republicans for 40 years prior to the congresswoman's defeat of GOP incumbent Barbara Comstock in 2018.