New on the LA County Channel
You can watch on Channel 92 or 94 on most cable systems, or anytime here. Catch up on LA County Close-Up here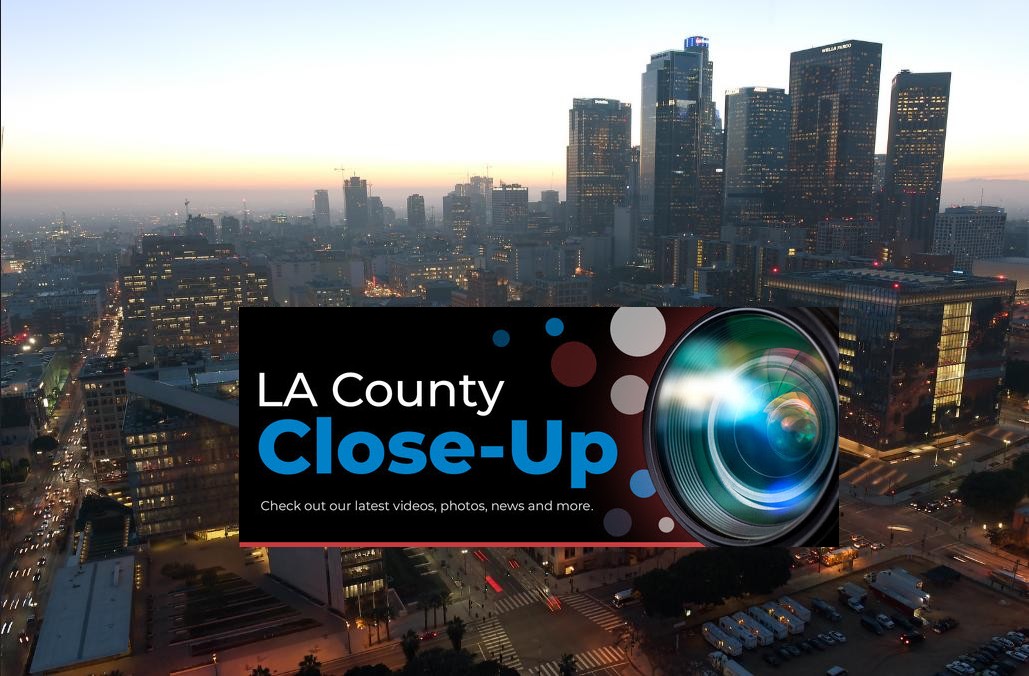 TOP STORY
New "Pathway Home" Program for Encampments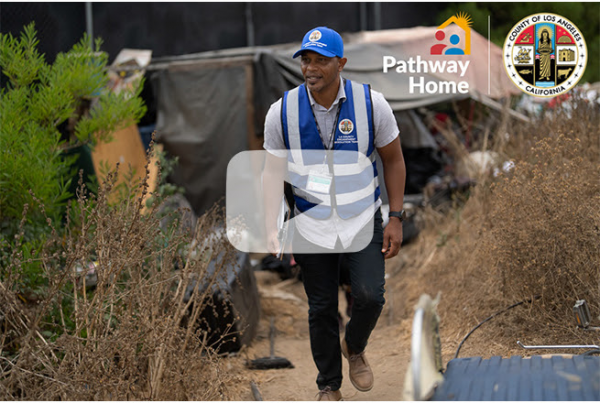 Los Angeles County has launched Pathway Home, a major expansion of its efforts to resolve encampments, with a successful operation in unincorporated Lennox that helped 59 people move inside. The Pathway Home encampment resolution program, which includes recreational vehicles or RVs, is just one component of the ongoing, multi-pronged response to the homelessness crisis launched under the emergency declared by the Board of Supervisors in January. The program, which will roll out in other communities of LA County in the months ahead, will partner closely with local jurisdictions.
The first Pathway Home encampment resolution, in unincorporated Lennox, took place from August 9 through August 11 and was conducted in collaboration with the Office of Supervisor Holly Mitchell along with officials serving Lennox and the Cities of Inglewood and Hawthorne. This operation focused on a cluster of longstanding encampments —including one dubbed "The Dead End"— beside or beneath the 405 Freeway, near Los Angeles International Airport.
In all, 59 people were supported to come indoors, 50 of whom chose to move into a hotel administered through Pathway Home, while nine others entered other forms of interim housing. Pathway Home also supported housing 26 pets, the removal of seven RVs, and the cleanup and removal of tents, trash and other items from the site. To learn more about Pathway Home, visit homeless.lacounty.gov/pathway-home/.
New on the County Channel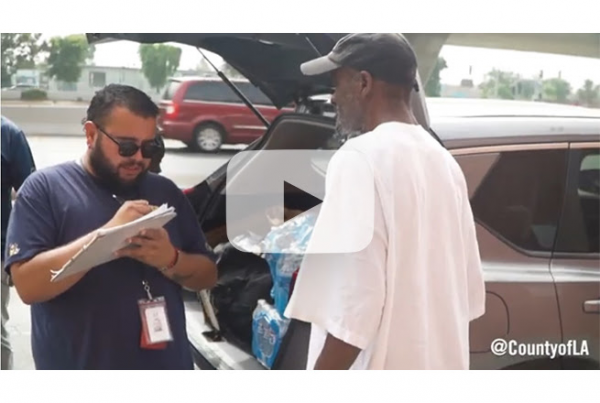 The Department of Public Health has made a huge investment in Harm Reduction services to saves lives on the streets and provide a pathway to housing.
You can watch more stories like this on Channel 92 or 94 on most cable systems, or anytime here. Catch up on LA County Close-Up here.
In Case You Missed It
START Information for Youth and School Communities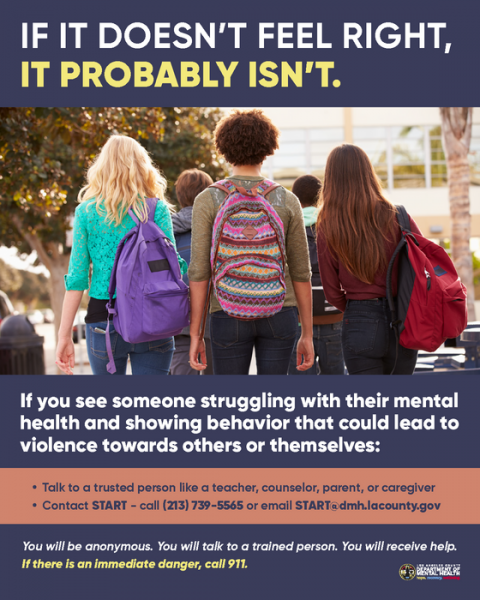 The School Threat Assesment Response Team (START) is an LA County Department of Mental Health (LACDMH) program that focuses on threat prevention and management assistance in schools. In this program, LACDMH staff collaborates with schools and first responders to evaluate and intervene on stated, implied and perceived threats in school settings — preventing them from escalating into more serious and potentially violent situations. Additionally, when violent events do occur in school settings, START staff are available to provide on-site and post-event mental health support to those who are impacted.
Youth can help save lives by talking to a trusted person—such as parents, caregivers, teachers, and counselors—about concerning behaviors, actions, or threats they have observed or encountered.
You can also contact our School Threat Assessment Response Team (START) by calling (213) 739-5565 or emailing [email protected]. Reports are anonymous and you will receive help from a trained member of the START team.
Learn more about START works by visiting dmh.lacounty.gov/start/.
For youth specific information, visit dmh.lacounty.gov/start/start-youth/.
At Your Service
Gun Violence Restraining Orders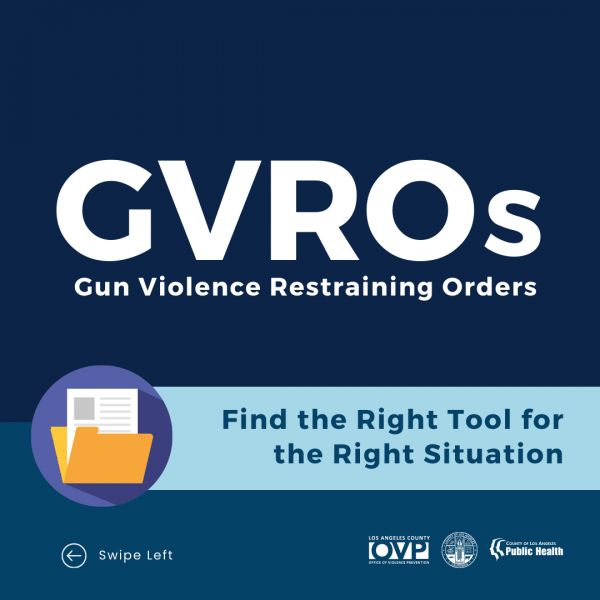 To help raise awareness about Gun Violence Restraining Orders, the LA County Department of Public Health has launched a new website with information on Gun Violence Restraining Orders, who can file for them, a list of legal aid organizations that can assists, and data about gun violence restraining order filings in LA County. 
Out and About
Marina Drum Circle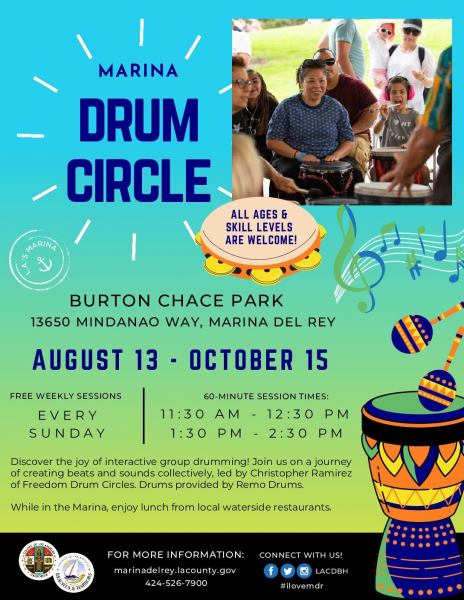 Marina Drum Circle is a free event held on summer Sundays at picturesque Burton Chace Park. Make your reservation and get free tickets as capacity is limited. Choose from two 60-minute sessions: 11:30 a.m. or 1:30 p.m. every Sunday starting August 13, 2023 through October 15, 2023.
All ages are welcome to enjoy a journey of creating beats and sounds collectively. Enjoy lunch from local waterfront restaurants or bring your own food for a picnic at the park.
Photo Finish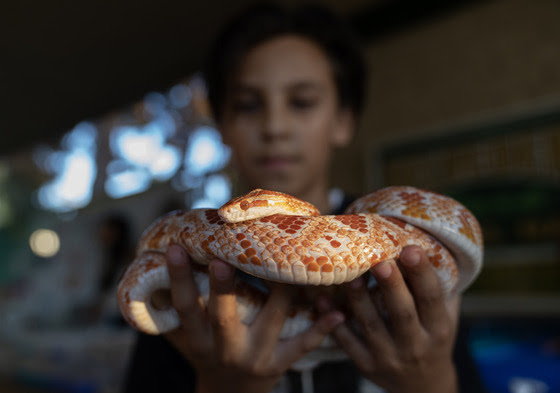 Click here to access more photos of LA County in action.
New on the LA County Channel
You can watch on Channel 92 or 94 on most cable systems, or anytime here. Catch up on LA County Close-Up here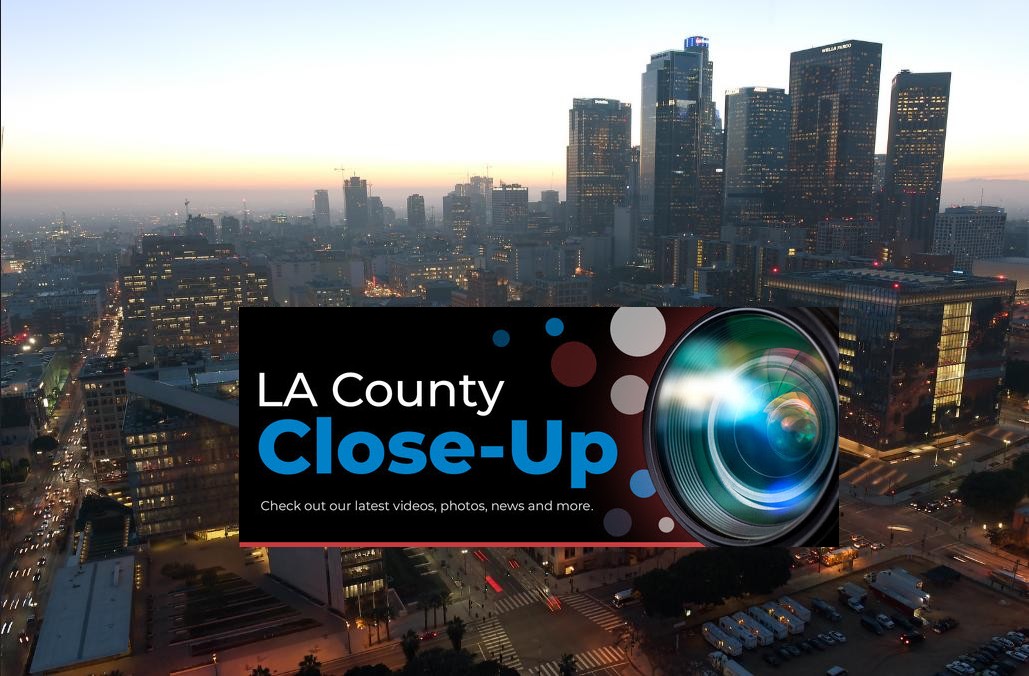 New on the County Channel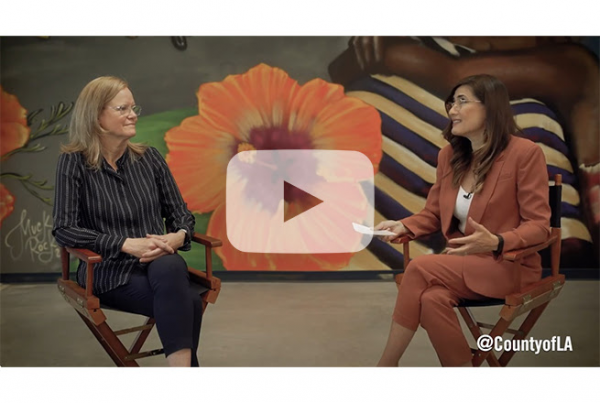 In this first episode of the County's new show "One on One," we delve deeper into the issue of homelessness and talk with Cheri Todoroff, director of the Homeless Initiative. From encampment resolutions to new housing, she breaks down what's driving the crisis and what County leaders are doing to address it.
You can watch more stories like this on Channel 92 or 94 on most cable systems, or anytime here. Catch up on LA County Close-Up here.
In Case You Missed It
Register to Vote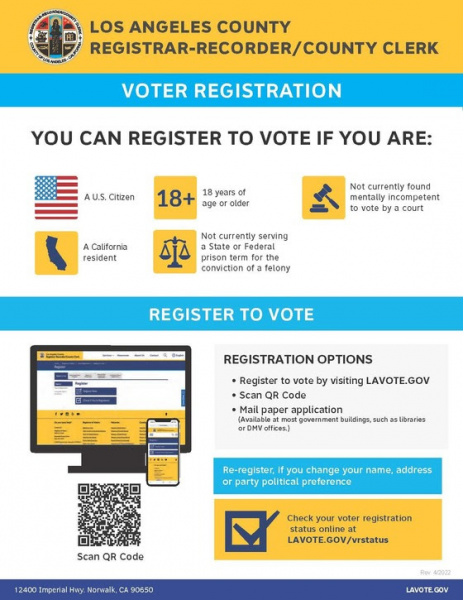 Los Angeles County Registrar-Recorder reminds you to register to vote by visiting LAVOTE.GOV.
Be sure to re-register if you change your name, address, or political preference. Check your voter registration online at LAVOTE.GOV/VRSTATUS.
For additional information:
Voter registration for people experiencing homelessness
Voters with a criminal history
Pre-registration for voters under 18
At Your Service
Hiring Fair for Youth!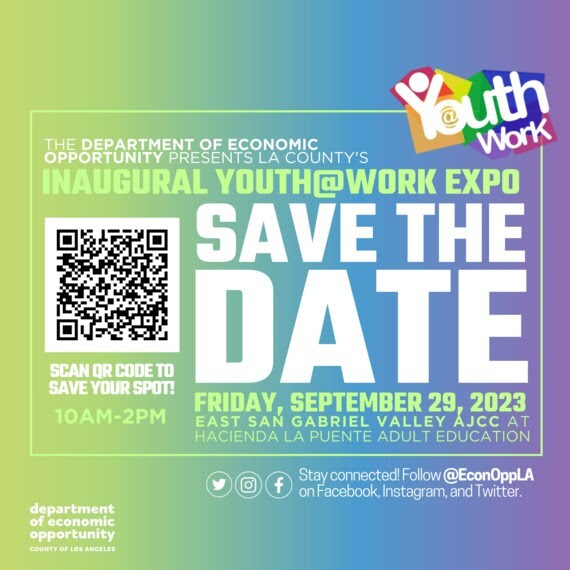 Looking for a job? Interested in exploring career options? Come to the first-ever Youth Expo for youth and learn about different careers and job opportunities that are available. Companies will be on-site to offer resources, discuss job opportunities, and provide feedback and valuable information on how to get hired! Don't forget to bring several copies of your resume and right to work documents.
Date: Friday, September 29, 2023
Time: 10 am – 2 pm
Location: East San Gabriel Valley AJCC at Hacienda La Puente Adult School, 14101 E. Nelson Ave. La Puente, CA 91746
Out and About
Beach Clean Up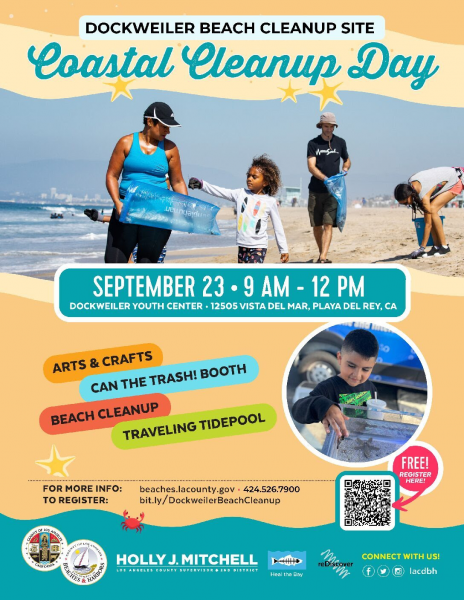 In celebration of Coastal Cleanup Day, LA County Beaches and Harbors is partnering with Supervisor Holly J. Mitchell and Heal the Bay to host a Beach Cleanup event at Dockweiler Beach. Our goal is to inspire and educate a new generation on how to create a more sustainable future!
Coastal Cleanup Day will also feature the following activities:
Can the Trash! booth
Traveling tidepool
Arts & crafts station with reDiscover Center featuring crafts made with recycled materials
EVENT DETAILS:
Date: Saturday, September 23, 2023
Time: 9 AM – 12 PM
Location: Dockweiler Youth Center, 12505 Vista del Mar, Playa del Rey, CA 90293
Parking: Free during event hours
RSVP: Click here to register
SAFETY: Be safe! Be sure to bring a hat, sunscreen, water, & refillable water bottle.
Beach Cleanup Rules/Guidelines:
All cleanup volunteers must print, complete, and submit a signed beach cleanup waiver form in order to join the cleanup.
Volunteers under 18 years old must have a waiver signed by parent or guardian.
Volunteers ages 12 & younger must be accompanied by an adult.
Gloves, buckets and trash pickers will be provided (while supplies last), but we encourage you to bring your own reusable cleanup supplies so we can reduce our environmental footprint.
Photo Finish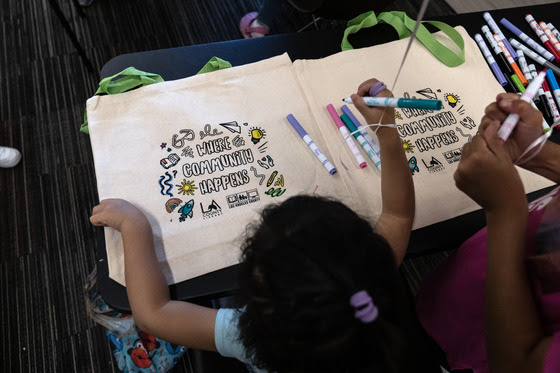 Library Fest at the Rowland Heights Library. There's so much more to do at Library Fest! Check out all our events, locations, and info on this page.

Click here to access more photos of LA County in action.