Toni Atkins, Out State Senate Leader steps down after 5 years
Atkins is one of only three people to hold both top spots in the Legislature. Before President pro Tempore she was Speaker of the Assembly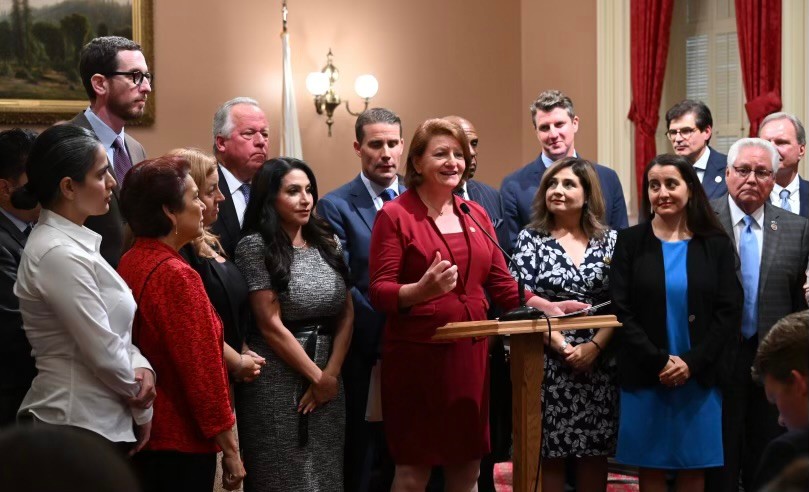 SACRAMENTO – Five years ago Democratic State Sen. Toni Atkins (D-39 San Diego) was sworn in as the first woman and first openly gay Senate President pro Tempore in California history. Yesterday, she announced she was stepping down and passing the gavel to State Sen. Mike McGuire (D-12 Healdsburg North Coast/North Bay) with a transition to be announced in 2024.
Atkins made the announcement during a press conference Monday with most of the Democratic legislative caucus arrayed behind her. The Associated Press reported the President pro Tempore cannot seek re-election because of term limits and must leave the Senate at the end of next year. She said the caucus chose to announce the transition now because "a long, drawn-out successor campaign would not be in the best interest of the Senate nor the people who we were elected to represent."
"We have a lot of work to get through in the next few weeks," Atkins said, referring to the chaotic final days of the Legislative session when lawmakers will vote on hundreds of bills. "This work does not mix well with internal caucus politics being at the top of everyone's minds."
Atkins is one of only three people in the history of California to hold both top spots in the Legislature. Before taking over as Senate President pro Tempore she was the Speaker of the Assembly from 2014 to 2016.
California Governor Gavin Newsom issued a statement following the announcement by Senate President pro Tempore Atkins.
"Jennifer and I are deeply grateful to Pro Tem Atkins for her tremendous leadership and partnership these past four years, and for her friendship. Through immense challenges and opportunities, Toni has been steadfast in her commitment to working Californians, civil rights, and the environment, and I'm glad that our work together will continue in the months ahead. I thank Toni for her decades of service to the people of our state and know this won't be the last we see of her in public service.
"Senator McGuire is a proven leader who has been a tireless champion for communities ravaged by wildfire, expanding educational opportunities, building affordable housing, addressing homelessness, and other priorities for everyday Californians. I congratulate him on this new role and look forward to the important work ahead with the Senate to continue tackling our current challenges and building a brighter future for all Californians."
Sen. McGuire's term in office as President pro Tempore himself will be a short one as he also is going to be required to leave office after 2026 because of term limits.
Equality California released the following statement from Executive Director Tony Hoang in response to the announcement:
"We are beyond grateful to have worked alongside Pro Tem Atkins throughout her career to advance legislative priorities that benefit LGBTQ+ Californians — from protecting transgender youth and their families, to reducing healthcare disparities, to protecting the right to bodily autonomy and currently combating the rise of anti-LGBTQ+ hate and policies across California. Pro Tem Atkins has been a trailblazing LGBTQ+ leaders and an invaluable partner to Equality California in our efforts to achieve full lived equality for all LGBTQ+ Californians. She has carved her name in history as the first woman and first openly LGBTQ+ person to lead the California State Senate, the first lesbian speaker of the California State Assembly, and the first person since 1871 to have held the top leadership position in both chambers of the California legislature.

We congratulate Pro Tem Designee McGuire, who has a lifetime 100% score from Equality California, and are committed to continuing to work with him to ensure that all LGBTQ+ Californians are heard from and supported across the state. Equality California looks forward to working with him and his future leadership team to continue the historic advancements that we have secured for LGBTQ+ Californians."
California Attorney General Rob Bonta issued the following statement after yesterday's announcement by Senate President pro Tempore Toni G. Atkins:
"Senate President pro Tempore Toni Atkins is a barrier-breaker and a California icon. From our days serving together in the California State Assembly, to now, I've always been able to count on her for wisdom, leadership, and stalwart commitment to serving the people of California. Under Senator Atkins' leadership, the Senate has tackled some of California's thorniest issues, advancing critical legislation to expand reproductive rights, protect LGBTQ+ Californians, tackle our housing crisis, and so much more. I thank Senator Atkins for her incredible service to our state and look forward to our continued partnership — and friendship — in the years to come.
"I'm proud to call Senator McGuire a friend, a partner in service and, now Pro Tem Designee. I am certain that his proven record of leadership — from holding Big Oil accountable to fighting for our environment and protecting California wildfire survivors — will serve our state well as we transition to a new era of leadership in the California State Senate. I look forward to continuing to work with Senator McGuire and the entire Senate to protect Californians and create a brighter, more just Golden State."
Governor Newsom to decide on ending pro-LGBTQ state travel ban
The state would be following San Francisco in doing so, as city leaders this spring ended their similar travel restriction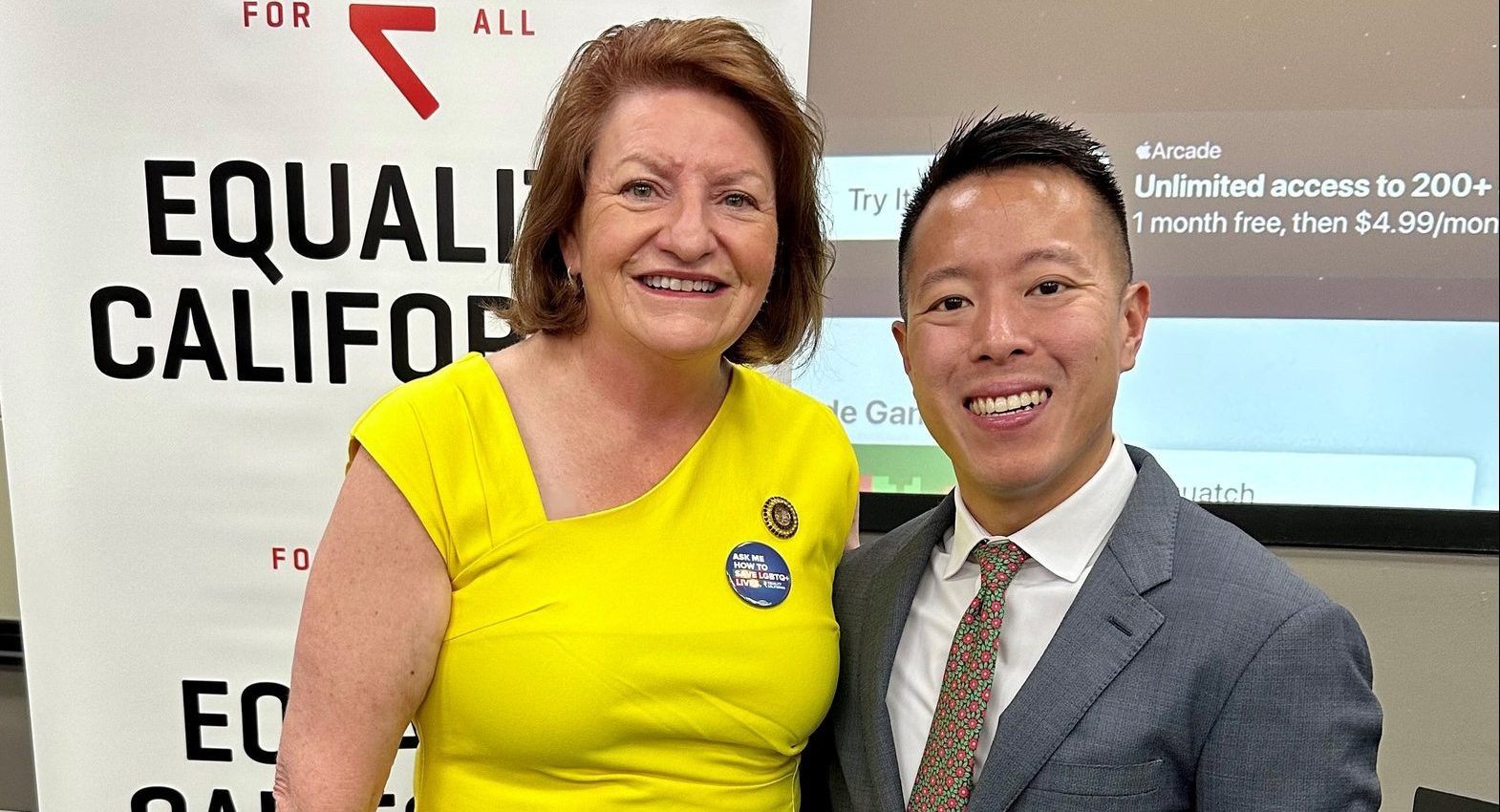 By Matthew S. Bajko | SACRAMENTO – Ending California's ban on publicly funded travel to states with anti-LGBTQ laws is now in the hands of Governor Gavin Newsom after lawmakers this week sent him a bill to do away with the policy.
The state would be following San Francisco in doing so, as city leaders this spring ended their similar travel restriction.
Legislators first enacted the statewide travel ban policy in 2016 with the hope of seeing their counterparts in other states think twice about adopting LGBTQ discriminatory laws. Under the ban, no taxpayer money is to be used to cover non-emergency travel by state employees, as well as faculty, students, and sports teams at state colleges, to those states that have enacted anti-LGBTQ laws since 2015.
Yet, since its implementation, the travel ban has grown to cover 26 states. The restriction on traveling to Nebraska, added to the list this summer, is set to take effect on October 1.
Citing the lack of impact the travel ban has had in halting other legislatures from passing anti-LGBTQ laws, lesbian outgoing Senate President pro Tempore Toni Atkins (D-San Diego) introduced this year Senate Bill 447 called the BRIDGE Act, which stands for Building and Reinforcing Inclusive, Diverse, Gender-Supportive Equality. It aims to replace the so-called no-fly list with a privately funded pro-LGBTQ marketing effort in the states on it.
San Francisco officials similarly cited continued passage of anti-LGBTQ laws by other states for ending their local travel ban policy, which also covered states that restricted abortion and voting access. They also cited the policy having a negative fiscal impact on the city in higher contracting costs since the policy prohibited city agencies from doing business with companies headquartered in the states covered by the ban.
To press the case for rescinding the state's travel ban, Atkins created a dedicated website at sd39.senate.ca.gov/sb447 for her SB 447. A broad coalition of LGBTQ groups and leaders had expressed support for doing away with the travel ban, arguing the policy also hampered the ability of LGBTQ advocates to be on the ground in the covered states arguing on behalf of LGBTQ rights.
"As attacks on the LGBTQ+ Community across the country grow, building bridges to change hearts and minds in these communities is now more important than ever," wrote gay Assemblymember Rick Chavez Zbur (D-Santa Monica/West Hollywood) on X (formerly Twitter), who had advocated for implementation of the travel ban in his former capacity as executive director of statewide LGBTQ advocacy organization Equality California.
Meanwhile, gay Assemblymember Evan Low (D-Cupertino), who wrote the initial legislation establishing the state's travel ban, had expressed misgivings about ending it. He was one of four members of his chamber who abstained Monday from voting on SB 447, when the bill passed out of the Assembly by a 64-12 vote.
Because Atkins had amended it to include an urgency clause so SB 447 would take effect immediately if signed into law by Newsom, the Senate had to vote on it again Tuesday. It passed out of the chamber 31-6 with three abstentions.
"I remember what it was like to grow up in a time and place where conversations about someone being gay or lesbian only happened in whispers," stated Atkins. "While years have passed since then, there are still areas of our country where the LGBTQ+ community — and especially our LGBTQ+ youth — feel isolated and fearful for their safety. The BRIDGE Project would be a conduit of hope and compassion, and encourage others to open their hearts and minds to be more accepting and inclusive. It's within all of us to be that light."
Newsom, who has faced criticism in the past for making personal trips to states on the banned list, has until October 14 to either sign SB 447 into law or veto it.
**************************************************************************************
The preceding article was previously published by the Bay Area Reporter and is republished with permission.