Exploring queer artistry: Felix D'eon's queer nostalgia
"It's important to contextualize us and place us in history… Our queer ancestors weren't able to tell their own stories"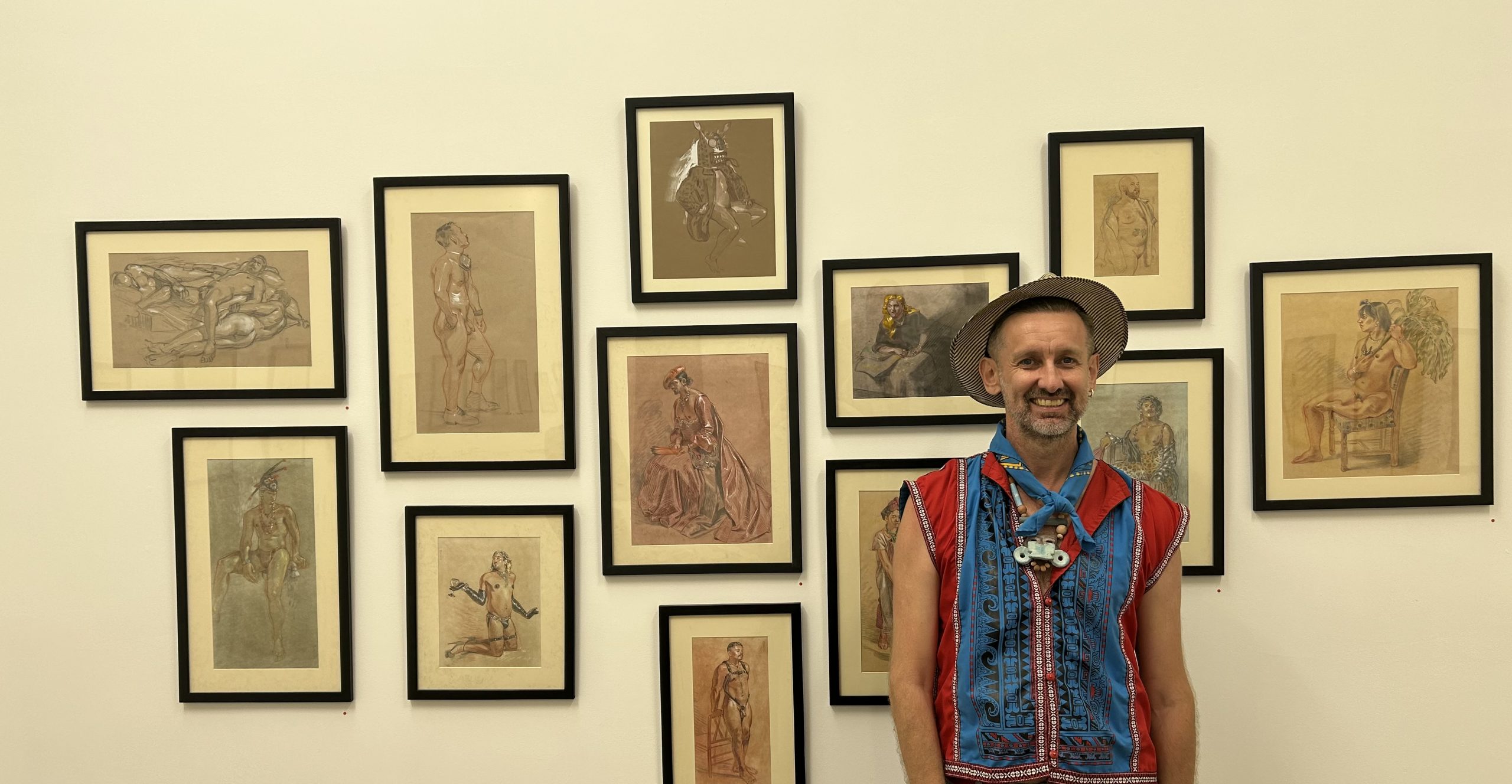 LOS ANGELES – In the vibrant heart of Los Angeles' art scene, Felix D'eon presented a captivating exhibition this past month at Artbug Gallery, a renowned LA-based venue that celebrates artists of different backgrounds and cultures.
Love and Marvels D'eon's title of his artistic sojourn, was an exploration of queer culture beautifully expressed through various mediums, including drawing, sketches, paintings, and unique twists on traditional childhood games.
D'eon has been a professional artist for 20 years with his style evolving over time. "I've always painted and drawn in a somewhat realistic style," D'eon said poignantly. For Felix, art has been a medium for self-expression and societal reflection. "The voices of queer people have been silenced for the past few thousand years," D'eon notes, "It's important to contextualize us and place us in history… Our queer ancestors weren't able to tell their own stories."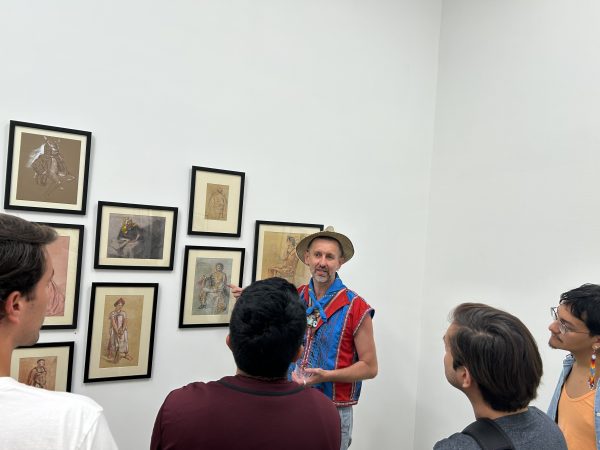 To this point, the gallery was abuzz with attendees commenting on the politically charged pieces. However, it is integral to bear in mind that D'eon wasn't just doing a typical art show with queer themes present – he was presenting artwork that explored the intersection between being queer and being Chicano. Evidently, as D'eon has progressed in his artistic abilities, he has also incorporated other demographics into his artwork.
Rogelio, an attendee of the exhibit and a model for D'eon, finds deep resonance with D'eon's artwork. "[Felix] weaves queer and trans people into the center of the themes, narratives, histories, and iconography," Rogelio said, "That's so often omitted from visual depictions of everyday intimacy or in cultural representations where queer or trans experiences are rarely reflected."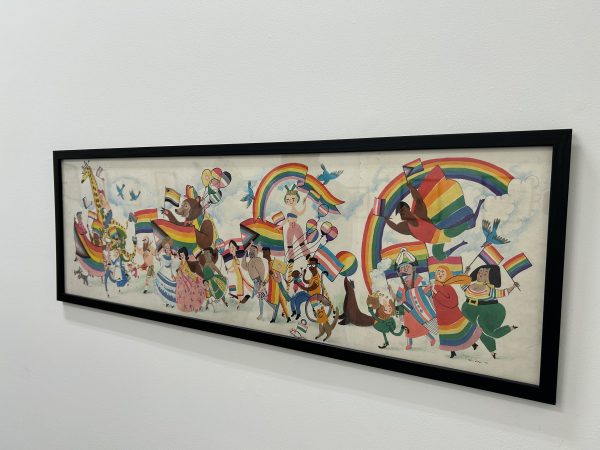 D'eon's art, with a myriad of styles and techniques, shared a common element—each piece had a distinct queer perspective. As Felix manages to seamlessly incorporate a plethora of identities, races, and gender expressions into his creations, he offers a comprehensive portrayal of the queer experience. Many of D'eon's fans were impressed with his ability to retell history through an accurate lens.
One of D'eon's paintings shows two women in love – a scene from WW1 with a nurse in love with her patient. "These fantasies of love," D'eon explains, "have been denied to queer people." Through this piece and others like it, Felix challenges the dominant historical narratives that have ignored or silenced the contributions and experiences of queer individuals.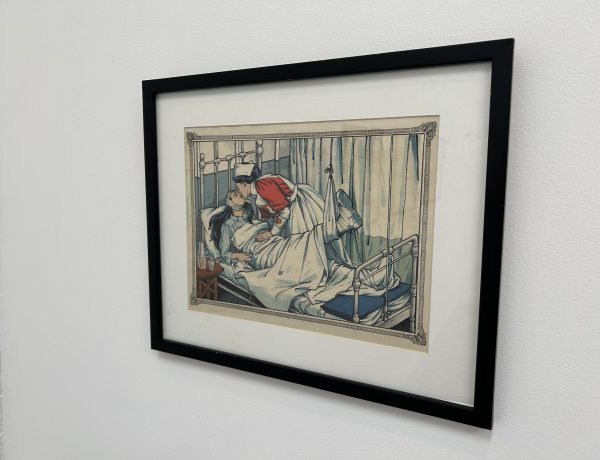 "I didn't know of that many artists who were queer and Chicano and made art like this."
One of the most engaging aspects of D'eon's exhibition was his unique take on traditional games. He introduced a queer twist to two beloved classics— La Lotería and Chutes and Ladders
Felix's interpretation of La Lotería discarded the conventional imagery typically associated with the Mexican game. D'eon's version featured symbols and scenes pertaining to the LGBTQ+ community. Each card told a story, weaving together the vibrant tapestry of queer experiences, struggles, and triumphs. It was a poignant reminder that queerness is not just about identity but also about shared narratives and histories.
Chutes and Ladders also received the Felix D'eon treatment. This revamped version, called "Serpientes y Escaleras" infused with queer themes, brought a whole new dimension to the game. Like a regular game of Chutes and Ladders, players start on the first square and work their way towards the end – hoping to not regress to a previous square. This game was a thought-provoking commentary on the queer experience.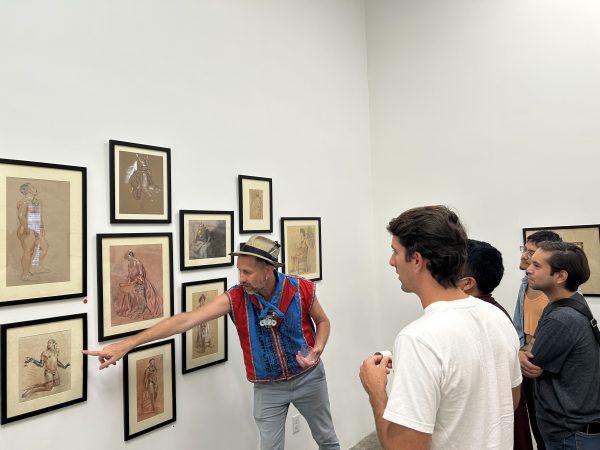 With a slice of pizza in hand and sipping on their beverage of choice, Miguel, an attendee of the exhibit, was truly encapsulated by the queering of these games. "There's a reminiscence to my childhood… [D'eon's games] bring back joy to moments that represent family gatherings where, if they included queer images, would have made me feel even more welcome in those environments of love. His queer Lotería, and now his queer Chutes and Ladders, makes us part of the game not only by bringing back beloved activities we did with as children, but also makes us feel seen and have fun through finding us as we move our little pieces in these makes. Turning our presence into a ludic, almost innocent, representation that changes the cultural meaning of queerness in Mexico."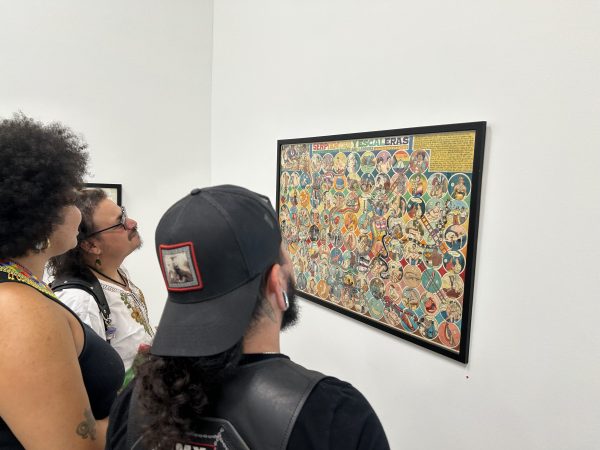 Felix explained his motivation behind queering these games: "I grew up playing La Lotería and Chutes and Ladders as a kid. These games tell a story that's patriarchal and antiqueer and don't speak to the values that I hold in any way… Making these games is nostalgic and I love watching people play my games… Queer joy is an important concept."
Many individuals were struck by the depth of emotion and the stories that each piece conveyed. D'eon's ability to capture the essence of queer life.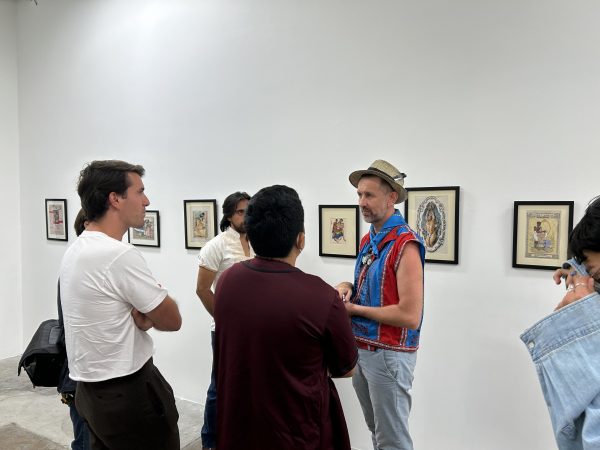 In an ever-changing world, it's essential to have artists like Felix D'eon who are unafraid to use their talents to shine a light on the beauty and resilience of the LGBTQ+ community. It is evident that Felix is not merely an artist but also a storyteller, a chronicler of authentic queer narratives.
Follow Felix D'eon:
Instagram: Felix D'eon (@felixdeonart)
Etsy Store: https://www.etsy.com/shop/theartoffelixdeon/?etsrc=sdt
Julio Salgado: Queer, Latino, & creating a powerful artistic narrative
Openly queer and openly undocumented, one Los Angeles artist uses his platform to destigmatize what many consider taboo
LOS ANGELES – Julio Salgado is the co-creator of The Disruptors Fellowship, a program at The Center for Cultural Power in Oakland, California, for emerging television writers of color who identify as trans/and or non-binary, disabled, undocumented/formerly undocumented immigrants.
His work has been displayed at the Oakland Museum, the San Francisco Museum of Modern Art, and the Smithsonian, but for the 39-year-old artist, it's using his art to destigmatize what many consider taboo that's his passion.
The early years
Growing up in Mexico, Salgado felt pressure from his family and peers to take part in sports, primarily soccer. However, disinterested in the innate masculinity of Mexican sports culture, the young artist chose to spend hours drawing in his room instead.
"Plus, I'm not a competitive person," Salgado humbly told The Blade.
Then, in 1995, when Salgado was twelve, a family trip to Los Angeles took a shocking turn when Salgado's younger sister developed severe symptoms that landed her first in a general hospital and then later in a children's hospital.
"It happened super fast," said Salgado. "She was rushed to the ER, and her kidneys started failing."
Salgado's sister (then 7) was put on dialysis as doctors told the family that she would need a new kidney ASAP.
Both of Salgado's parents were matches for his sister. Within a few weeks, Salgado's mother had an operation to transfer her kidney to her ailing daughter.
"It's your child," said Salgado, reflecting on his mother's sacrifice. "You will do anything for your child."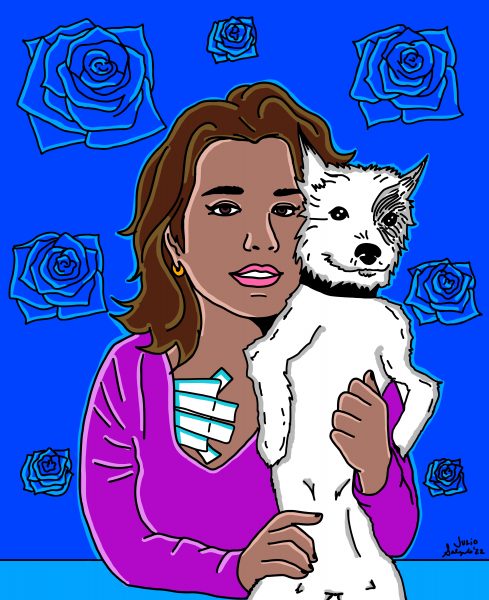 While the surgery was a success, a new complication arose when doctors told the family that it would be dangerous for the sister to be under the care of new doctors in Mexico. Not willing to risk her daughter's life, Salgado's mother decided to stay in America indefinitely.
"My parents were so young," said Salgado. "They were in their early thirties. I can't even imagine what that must have been like for them." 
Not fully prepared to move to the U.S., Salgado's father returned to his job in Mexico. He periodically sent money to his family in Los Angeles.
"It was the opposite of how it usually is," said Salgado. "Usually, Mexicans come to work here and send money back home to Mexico. But we did it in reverse."
For the first couple of months, the family of three couch-surfed their way through different family members' homes. Eventually, they moved into a small studio apartment with Salgado's uncle, Chicho. 
The family lived in the US for about a year before their passports expired.
In 1996, the family moved out of Chicho's apartment toa home in Long Beach, this time with Salgado's father, who had finally agreed to give up his life and job in Mexico.
In school, Salgado bonded with other undocumented kids in his ESL class. Sadly, many of these friends knew they could never attend university due to their lack of papers.
"That was my biggest fear," said Salgado. "I knew a lot of my friends went into the kind of jobs no one really wants to do. I did a few of those jobs myself… I wanted more for my life, but I didn't know what was going to happen to me after high school."
Luckily, California Assembly Bill 540 (AB 540) passed as Salgado graduated high school, allowing undocumented immigrants to attend community college while paying in-state tuition.
"I still had to make money," said Salgado, who independently funded his entire college career. "I got creative. I even took odd jobs caricatures for kids' parties."
Salgado recalled that despite building a life for himself in America, he was always hyper-aware of his illegal status.
"I only drove from work or to school and home," said Salgado. "There was always this feeling of being a kid forever… My friends just knew that if I were going to come out with them, they would have to drive me."
Salgado recalled a run-in with the police that left him shaking with fear.
It was 3:30 AM, and Salgado was driving his 1983 Plymouth for his early morning shift at a large chain store. A young police officer pulled Salgado over and asked for his license and registration. He lied, saying that he had forgotten it at home.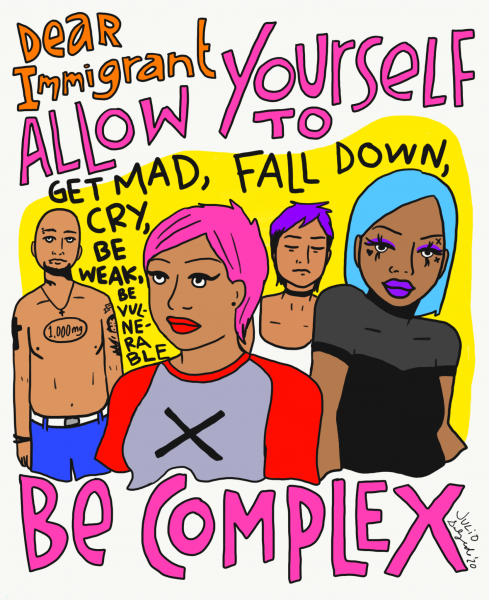 The officer asked him to pull into a nearby McDonald's parking lot so that they could search his car. Feeling he had nothing to hide, Salgado complied.
"Before I knew it, two more police cars showed up," said Salgado. "I was being told not to move. There was a gun to my head. I was going to cry. I had never seen a gun in my life."
The police had found some t-pins, used to pin artwork on cork walls, in his trunk and mistaken them for drug paraphernalia. Once he cleared up the misunderstanding, the police made a tearful Salgado abandon his car and left him on the side of the road.
"I was so scared," said Salgado, who felt the incident served as a reminder that he was constantly at risk of being deported.
While Salgado remains currently undocumented, he said that the Deferred Action for Childhood Arrivals (DACA) has helped him settle more into American life. DACA is administrative relief from deportation that protects eligible immigrant youth from deportation originally established via executive action in June 2012 by the Obama Administration.
"Since 2012, I have been able to do more," said Salgado. "Now I have a social security number and a real ID and driver's license. I can now get permission to leave the country and come back."
Salgado said he feels DACA benefits not only immigrants but also the spirit of America as a whole.
"You are creating citizens who can give back to America. Many who got DACA became doctors and lawyers. Isn't that the American dream?"
Coming Out as Gay
Homosexuality had always been a sensitive subject in Salgado's family. In addition to the stigma homosexuality carried in his religious Catholic household, the AIDS crisis also played a role in the taboo.
Salgado's mother had a young brother who died from AIDS. His uncle, Chicho, who the family lived with when they first moved to Los Angeles, was openly gay and had developed HIV.
"There were always whispers about my uncle Chicho," said Salgado.
"We were just learning about AIDS and seeing people die on the news… I knew if I followed this path, I would die."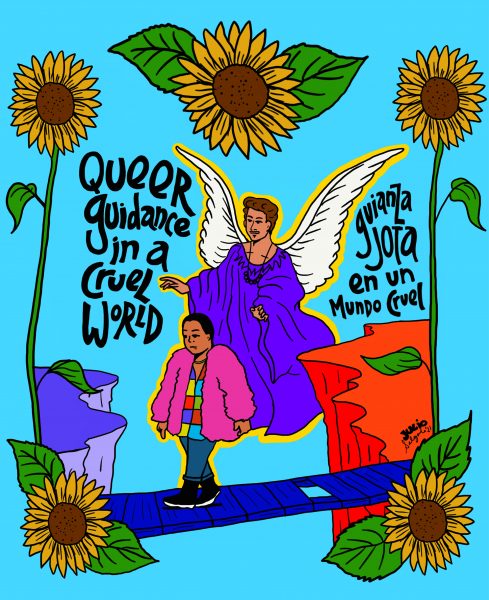 Salgado got his first inkling that he was gay when he was a young boy watching Disney's Aladdin.
"I just really wanted to hug him," said Salgado, laughing. "I knew I was attracted to other men, but growing up Catholic, I also knew that was wrong."
When Salgado was in high school, he started to share suspicions about being gay with his female friends. A couple of those friends propositioned Salgado, saying they were willing to offer him their bodies so that he could discover whether or not he was gay.
"I do think sexuality is fluid," said Salgado, reflecting on how the experience left him thinking that he was bisexual. "At that point, I had never been with a boy. I was glad we were exploring, but I felt guilty, like I was used to them. And I was ditching school. "
Salgado said that he believed his foreignness saved him from the typical bullying commonly accompanying a young queer person's journey to self-discovery.
"I mostly got bullied for not speaking English," said Salgado. "It was actually the other brown kids who would make fun of me and call me 'wet back' and make me feel bad because my parents bought me shoes from Payless. It was immigrant-on-immigrant bullying."
Salgado did not come out to his family until he was an older teenager. He came out to his mother when he was eighteen after she read some experts about being gay in an old sketchbook/diary of his.
"At that moment, I felt I had two options. I could either say, how dare you go through my things, Mother, or I could come clean. I told her that I was bisexual because that is what I thought at the time."
Salgado did not come out to his father until he was about twenty-five and in college.
"I was in love with my first boyfriend," said Salgado. "I thought this was really the person I wanted to spend the rest of my life with…I came out to my dad because I wanted to introduce my boyfriend to my family."
Salgado came out to his father in the car on the way home from work.
"I remember not being able to get the words out," said Salgado. "I said, 'I'm different,' and he knew exactly what I was talking about."
At first, his father said that while he respected "this decision," he "did not want to see that."
While Salgado was glad his father did not react with the physical or emotional violence that was especially prevalent when his father drank, he also realized his hope of introducing his boyfriend to his father was impossible.
Salgado said his father has since come to terms with having a gay son. Their relationship is now better, and they even collaborated on an art piece about homophobia and machismo. Salgado said he realizes that his father's past homophobia was a misguided way of trying to protect his son.
The Art
Salgado's early art is often political, reflecting everything from the queer rights movement to the war in Iraq.
In college, Salgado stopped being an art major because he found it too restrictive. He then became a journalism major instead.
Salgado used political cartoons as a way to feel connected to the world at large. The artist said that is when he caught the bug for political art as a way to connect to others.
Salgado met more undocumented college students at Cal State Long Beach and started a support group for them.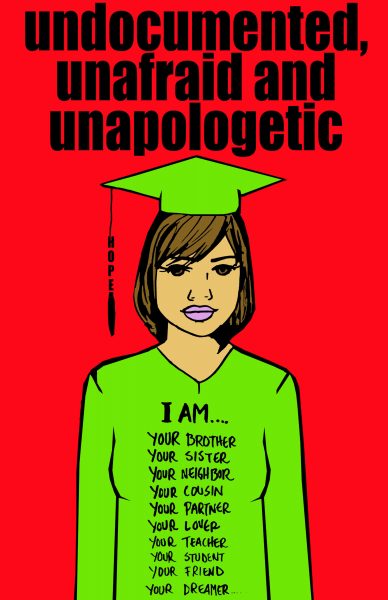 Through the support group, Salgado met other creatives and started a magazine called "The Reflection," which focused on the deep experiences of Latino/Latina students as first-generation students.
Openly queer and openly undocumented, one Los Angeles artist uses his platform to destigmatize what many consider taboo
"All of a sudden, I had a community that was investing in work in our own community," said Salgado. "I realized this was what I wanted to do with the rest of my life. I wanted to make art that mattered to people."
Salgado also used his Facebook and the school newspaper to publish political art about the movement. Wanting to represent his entire journey, he stopped separating his queerness from his 'undocumentedness' and started to combine the two aspects of his journey in his art.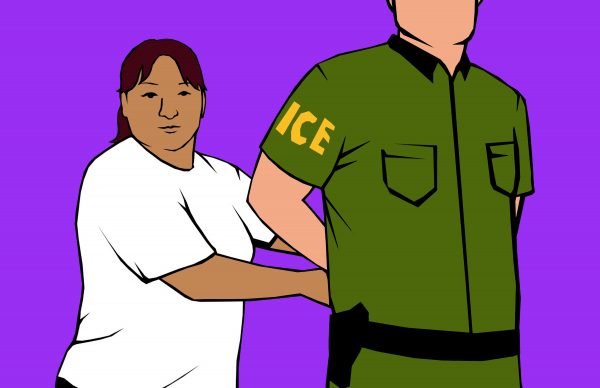 Salgado would also draw cartoons to be submitted for petitions against the deportation of certain young individuals.
"I knew we needed to lend a face to those being deported," said Salgado. "A lot was happening in the shadows."
"I felt like I could add to the movement through my art…I also knew if my family ever fell into a deportation case, my community would stand behind me. I didn't feel alone…. Just like we need to come out as LGBT, we need to come out as undocumented and say we are here. These are our faces."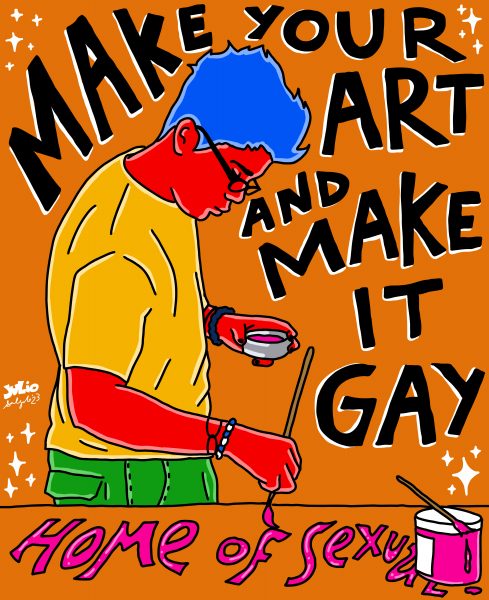 Now, Salgado has moved away from political art and chooses to focus on the more positive aspects of his life.
"I try to make art about the things that bring me joy. For many years. I made art about how fucked up it is to be an undocumented immigrant. Now my focus is on being a gay 40-year-old man who did not think as a teen that he would make it to his 30s. And now here I am."
After his sister's kidneys started failing again, Salgado moved in to a home with his sister and mother to help care for her. He drives her to her tri-weekly dialysis appointments while she awaits another kidney transplant. Salgado's father and mother are now separated but maintain a "beautiful" relationship.
Related:
This past Thursday, September 14, U.S. District Court Judge Andrew Hanen in Houston, Texas ruled that a revised version of a federal policy that prevents the deportation of hundreds of thousands of immigrants brought to the U.S. as children, or DACA, is illegal.
While Hanen agreed with Texas and eight other states suing to stop the Deferred Action for Childhood Arrivals, or DACA, he declined to order an immediate end to the program and the protections it offers to recipients.
The Associated Press reported Hanen's order extended the current injunction that had been in place against DACA, which barred the government from approving any new applications, but left the program intact for existing recipients during the ongoing legal review.
"While sympathetic to the predicament of DACA recipients and their families, this Court has expressed its concerns about the legality of the program for some time," Hanen wrote in his 40-page ruling. "The solution for these deficiencies lies with the legislature, not the executive or judicial branches. Congress, for any number of reasons, has decided not to pass DACA-like legislation … The Executive Branch cannot usurp the power bestowed on Congress by the Constitution — even to fill a void."
His ruling is ultimately expected to be appealed and after lower federal appellate court rulings will ultimately send DACA's fate to the U.S. Supreme Court for a third time.