Julio Salgado: Queer, Latino, & creating a powerful artistic narrative
Openly queer and openly undocumented, one Los Angeles artist uses his platform to destigmatize what many consider taboo
LOS ANGELES – Julio Salgado is the co-creator of The Disruptors Fellowship, a program at The Center for Cultural Power in Oakland, California, for emerging television writers of color who identify as trans/and or non-binary, disabled, undocumented/formerly undocumented immigrants.
His work has been displayed at the Oakland Museum, the San Francisco Museum of Modern Art, and the Smithsonian, but for the 39-year-old artist, it's using his art to destigmatize what many consider taboo that's his passion.
The early years
Growing up in Mexico, Salgado felt pressure from his family and peers to take part in sports, primarily soccer. However, disinterested in the innate masculinity of Mexican sports culture, the young artist chose to spend hours drawing in his room instead.
"Plus, I'm not a competitive person," Salgado humbly told The Blade.
Then, in 1995, when Salgado was twelve, a family trip to Los Angeles took a shocking turn when Salgado's younger sister developed severe symptoms that landed her first in a general hospital and then later in a children's hospital.
"It happened super fast," said Salgado. "She was rushed to the ER, and her kidneys started failing."
Salgado's sister (then 7) was put on dialysis as doctors told the family that she would need a new kidney ASAP.
Both of Salgado's parents were matches for his sister. Within a few weeks, Salgado's mother had an operation to transfer her kidney to her ailing daughter.
"It's your child," said Salgado, reflecting on his mother's sacrifice. "You will do anything for your child."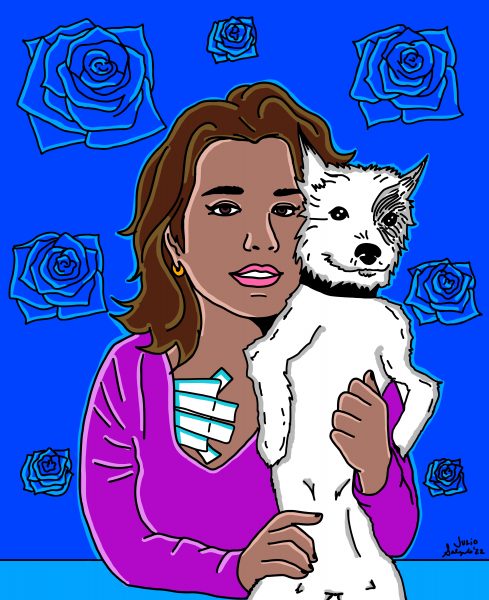 While the surgery was a success, a new complication arose when doctors told the family that it would be dangerous for the sister to be under the care of new doctors in Mexico. Not willing to risk her daughter's life, Salgado's mother decided to stay in America indefinitely.
"My parents were so young," said Salgado. "They were in their early thirties. I can't even imagine what that must have been like for them." 
Not fully prepared to move to the U.S., Salgado's father returned to his job in Mexico. He periodically sent money to his family in Los Angeles.
"It was the opposite of how it usually is," said Salgado. "Usually, Mexicans come to work here and send money back home to Mexico. But we did it in reverse."
For the first couple of months, the family of three couch-surfed their way through different family members' homes. Eventually, they moved into a small studio apartment with Salgado's uncle, Chicho. 
The family lived in the US for about a year before their passports expired.
In 1996, the family moved out of Chicho's apartment toa home in Long Beach, this time with Salgado's father, who had finally agreed to give up his life and job in Mexico.
In school, Salgado bonded with other undocumented kids in his ESL class. Sadly, many of these friends knew they could never attend university due to their lack of papers.
"That was my biggest fear," said Salgado. "I knew a lot of my friends went into the kind of jobs no one really wants to do. I did a few of those jobs myself… I wanted more for my life, but I didn't know what was going to happen to me after high school."
Luckily, California Assembly Bill 540 (AB 540) passed as Salgado graduated high school, allowing undocumented immigrants to attend community college while paying in-state tuition.
"I still had to make money," said Salgado, who independently funded his entire college career. "I got creative. I even took odd jobs caricatures for kids' parties."
Salgado recalled that despite building a life for himself in America, he was always hyper-aware of his illegal status.
"I only drove from work or to school and home," said Salgado. "There was always this feeling of being a kid forever… My friends just knew that if I were going to come out with them, they would have to drive me."
Salgado recalled a run-in with the police that left him shaking with fear.
It was 3:30 AM, and Salgado was driving his 1983 Plymouth for his early morning shift at a large chain store. A young police officer pulled Salgado over and asked for his license and registration. He lied, saying that he had forgotten it at home.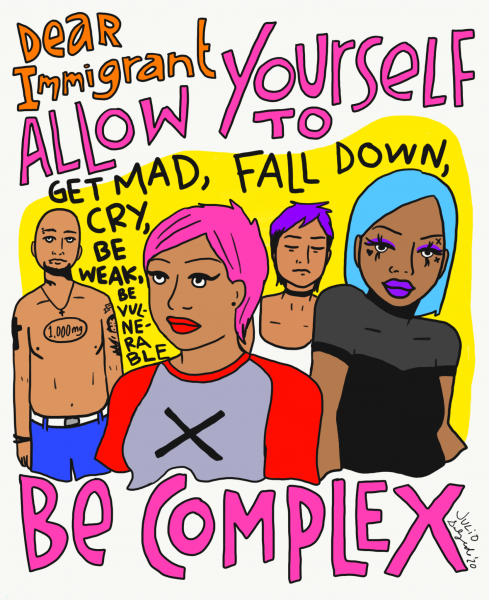 The officer asked him to pull into a nearby McDonald's parking lot so that they could search his car. Feeling he had nothing to hide, Salgado complied.
"Before I knew it, two more police cars showed up," said Salgado. "I was being told not to move. There was a gun to my head. I was going to cry. I had never seen a gun in my life."
The police had found some t-pins, used to pin artwork on cork walls, in his trunk and mistaken them for drug paraphernalia. Once he cleared up the misunderstanding, the police made a tearful Salgado abandon his car and left him on the side of the road.
"I was so scared," said Salgado, who felt the incident served as a reminder that he was constantly at risk of being deported.
While Salgado remains currently undocumented, he said that the Deferred Action for Childhood Arrivals (DACA) has helped him settle more into American life. DACA is administrative relief from deportation that protects eligible immigrant youth from deportation originally established via executive action in June 2012 by the Obama Administration.
"Since 2012, I have been able to do more," said Salgado. "Now I have a social security number and a real ID and driver's license. I can now get permission to leave the country and come back."
Salgado said he feels DACA benefits not only immigrants but also the spirit of America as a whole.
"You are creating citizens who can give back to America. Many who got DACA became doctors and lawyers. Isn't that the American dream?"
Coming Out as Gay
Homosexuality had always been a sensitive subject in Salgado's family. In addition to the stigma homosexuality carried in his religious Catholic household, the AIDS crisis also played a role in the taboo.
Salgado's mother had a young brother who died from AIDS. His uncle, Chicho, who the family lived with when they first moved to Los Angeles, was openly gay and had developed HIV.
"There were always whispers about my uncle Chicho," said Salgado.
"We were just learning about AIDS and seeing people die on the news… I knew if I followed this path, I would die."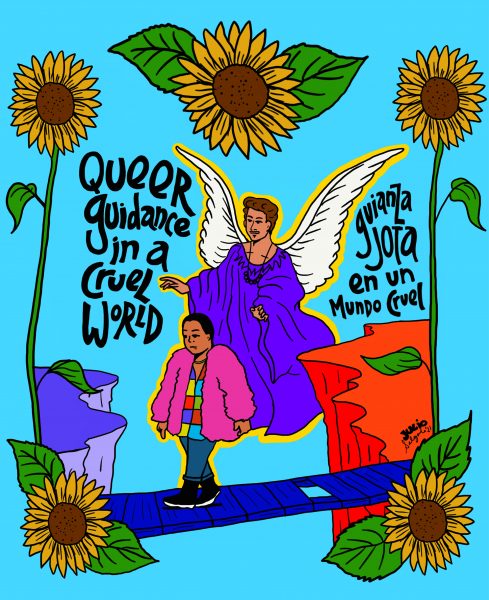 Salgado got his first inkling that he was gay when he was a young boy watching Disney's Aladdin.
"I just really wanted to hug him," said Salgado, laughing. "I knew I was attracted to other men, but growing up Catholic, I also knew that was wrong."
When Salgado was in high school, he started to share suspicions about being gay with his female friends. A couple of those friends propositioned Salgado, saying they were willing to offer him their bodies so that he could discover whether or not he was gay.
"I do think sexuality is fluid," said Salgado, reflecting on how the experience left him thinking that he was bisexual. "At that point, I had never been with a boy. I was glad we were exploring, but I felt guilty, like I was used to them. And I was ditching school. "
Salgado said that he believed his foreignness saved him from the typical bullying commonly accompanying a young queer person's journey to self-discovery.
"I mostly got bullied for not speaking English," said Salgado. "It was actually the other brown kids who would make fun of me and call me 'wet back' and make me feel bad because my parents bought me shoes from Payless. It was immigrant-on-immigrant bullying."
Salgado did not come out to his family until he was an older teenager. He came out to his mother when he was eighteen after she read some experts about being gay in an old sketchbook/diary of his.
"At that moment, I felt I had two options. I could either say, how dare you go through my things, Mother, or I could come clean. I told her that I was bisexual because that is what I thought at the time."
Salgado did not come out to his father until he was about twenty-five and in college.
"I was in love with my first boyfriend," said Salgado. "I thought this was really the person I wanted to spend the rest of my life with…I came out to my dad because I wanted to introduce my boyfriend to my family."
Salgado came out to his father in the car on the way home from work.
"I remember not being able to get the words out," said Salgado. "I said, 'I'm different,' and he knew exactly what I was talking about."
At first, his father said that while he respected "this decision," he "did not want to see that."
While Salgado was glad his father did not react with the physical or emotional violence that was especially prevalent when his father drank, he also realized his hope of introducing his boyfriend to his father was impossible.
Salgado said his father has since come to terms with having a gay son. Their relationship is now better, and they even collaborated on an art piece about homophobia and machismo. Salgado said he realizes that his father's past homophobia was a misguided way of trying to protect his son.
The Art
Salgado's early art is often political, reflecting everything from the queer rights movement to the war in Iraq.
In college, Salgado stopped being an art major because he found it too restrictive. He then became a journalism major instead.
Salgado used political cartoons as a way to feel connected to the world at large. The artist said that is when he caught the bug for political art as a way to connect to others.
Salgado met more undocumented college students at Cal State Long Beach and started a support group for them.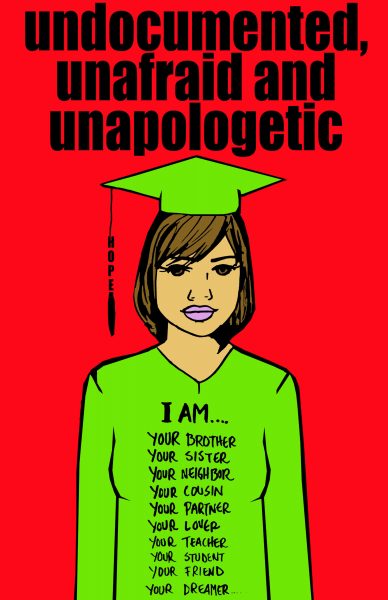 Through the support group, Salgado met other creatives and started a magazine called "The Reflection," which focused on the deep experiences of Latino/Latina students as first-generation students.
Openly queer and openly undocumented, one Los Angeles artist uses his platform to destigmatize what many consider taboo
"All of a sudden, I had a community that was investing in work in our own community," said Salgado. "I realized this was what I wanted to do with the rest of my life. I wanted to make art that mattered to people."
Salgado also used his Facebook and the school newspaper to publish political art about the movement. Wanting to represent his entire journey, he stopped separating his queerness from his 'undocumentedness' and started to combine the two aspects of his journey in his art.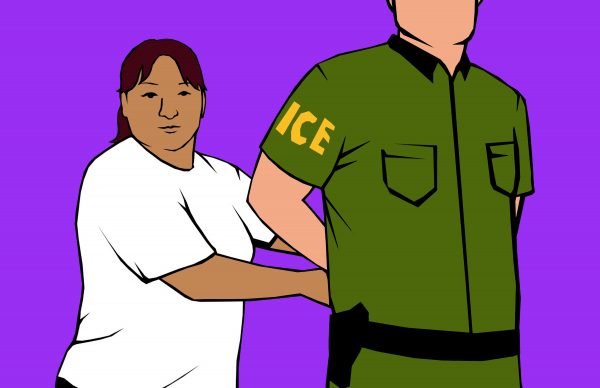 Salgado would also draw cartoons to be submitted for petitions against the deportation of certain young individuals.
"I knew we needed to lend a face to those being deported," said Salgado. "A lot was happening in the shadows."
"I felt like I could add to the movement through my art…I also knew if my family ever fell into a deportation case, my community would stand behind me. I didn't feel alone…. Just like we need to come out as LGBT, we need to come out as undocumented and say we are here. These are our faces."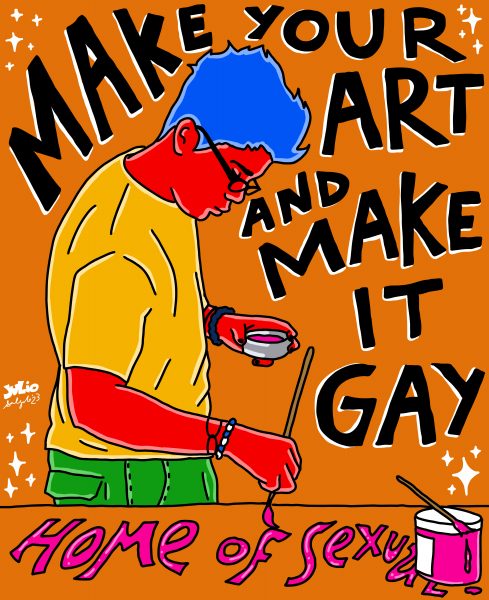 Now, Salgado has moved away from political art and chooses to focus on the more positive aspects of his life.
"I try to make art about the things that bring me joy. For many years. I made art about how fucked up it is to be an undocumented immigrant. Now my focus is on being a gay 40-year-old man who did not think as a teen that he would make it to his 30s. And now here I am."
After his sister's kidneys started failing again, Salgado moved in to a home with his sister and mother to help care for her. He drives her to her tri-weekly dialysis appointments while she awaits another kidney transplant. Salgado's father and mother are now separated but maintain a "beautiful" relationship.
Related:
This past Thursday, September 14, U.S. District Court Judge Andrew Hanen in Houston, Texas ruled that a revised version of a federal policy that prevents the deportation of hundreds of thousands of immigrants brought to the U.S. as children, or DACA, is illegal.
While Hanen agreed with Texas and eight other states suing to stop the Deferred Action for Childhood Arrivals, or DACA, he declined to order an immediate end to the program and the protections it offers to recipients.
The Associated Press reported Hanen's order extended the current injunction that had been in place against DACA, which barred the government from approving any new applications, but left the program intact for existing recipients during the ongoing legal review.
"While sympathetic to the predicament of DACA recipients and their families, this Court has expressed its concerns about the legality of the program for some time," Hanen wrote in his 40-page ruling. "The solution for these deficiencies lies with the legislature, not the executive or judicial branches. Congress, for any number of reasons, has decided not to pass DACA-like legislation … The Executive Branch cannot usurp the power bestowed on Congress by the Constitution — even to fill a void."
His ruling is ultimately expected to be appealed and after lower federal appellate court rulings will ultimately send DACA's fate to the U.S. Supreme Court for a third time.
Illinois becomes magnet for trans students seeking protections
Opponents of gender-affirming care say children are too young to make transition decisions and claim medical interventions are not safe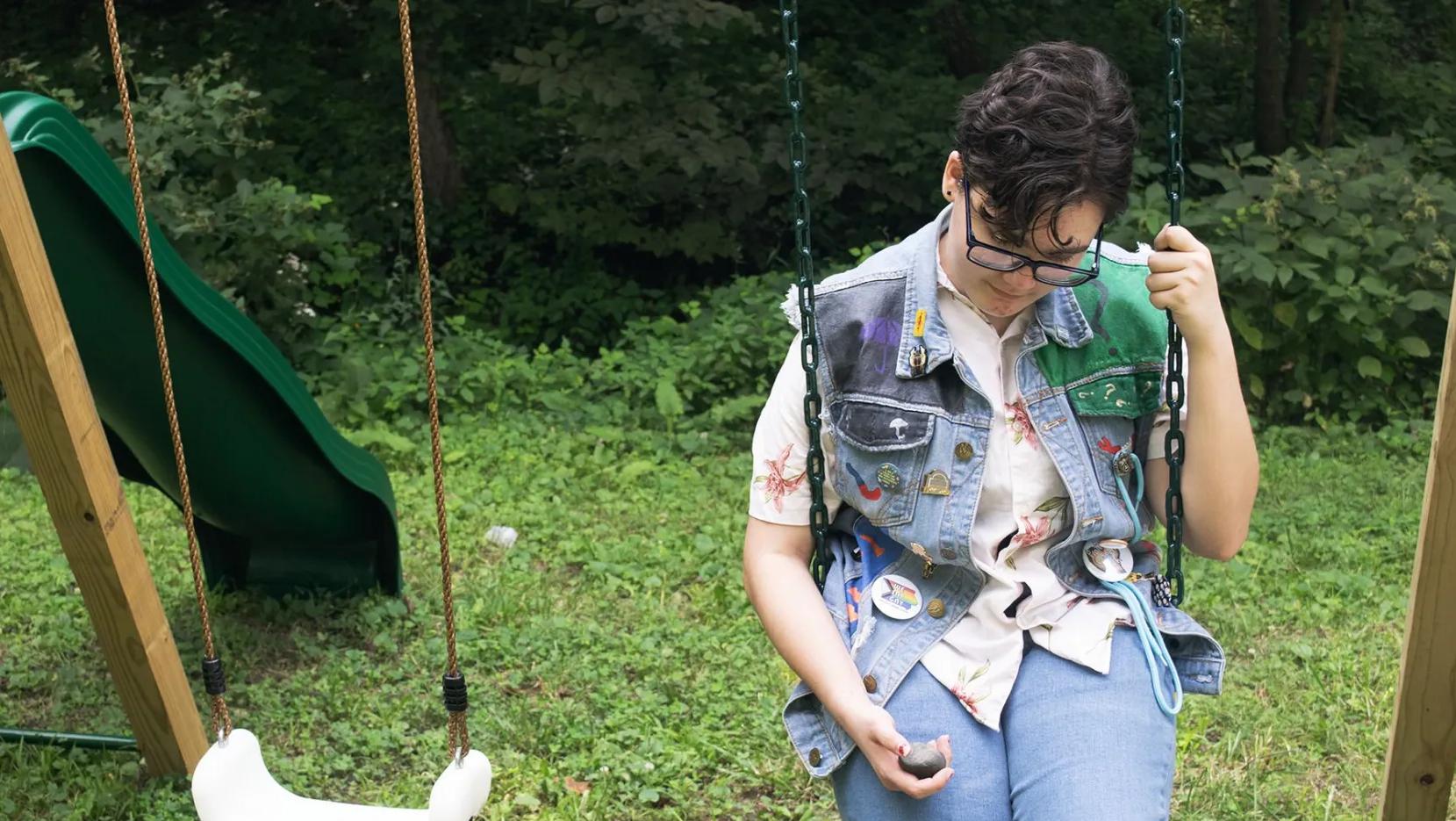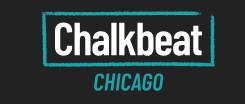 By Max Lubbers | CHICAGO, Ill. – Back in the spring, Kimberly Reynolds stared at a map of the U.S. Each state was filled in with a color gradient: red for those with the strictest active anti-transgender laws, bright blue for those with the most protections for trans people.
Her state, Florida, was awash in a sea of red. The closest state in blue? Illinois.
Reynolds took a breath. And some time to panic.
She had started researching a new place to live after legislators in Florida introduced a slew of anti-trans bills, many targeting transgender youth — including her 11-year-old son.
"Something inside me just broke," she said. "I've dealt with a lot of policies in Florida that are not okay. But now they're coming after my child. So that's why we're done. We're getting out, one way or another."
Reynolds asked her son: How do you feel about moving?
"I was like, 'Yeah, let's move. Let's get out of this place. Let's get out of this climate,'" Joseph Reynolds recalled thinking. "'Let's get out of this house. Get away from these people.'"
After Florida's Republican Gov. Ron DeSantis signed several of the anti-trans bills into law in May, Reynolds again checked the map. This time, her state had a new, special designation, marked in black stripes:
Do Not Travel.
Three months later, the new school year has started, and the Reynolds family remains stuck in Florida. The laws are already deeply impacting her child, Reynolds said. She's hoping to get her family to Illinois as soon as she can.
Florida is not the only state that has passed or is considering anti-trans legislation. This year, according to a Chalkbeat analysis of data from the American Civil Liberties Union, at least 14 states passed laws regulating bathroom access, sports participation, or pronoun and name changes specifically in K-12 schools. Additionally, at least 18 states passed laws restricting gender-affirming health care, primarily — though not exclusively — for minors.
For many families looking to protect their trans children in school and to preserve control over their medical decisions, moving seems like the only option — and Illinois a safe landing spot.
Restrictions impacting K-12 schools during this year's legislative sessions
Chalkbeat read and categorized 494 bills from the ACLU's tracker of LGBT-related state legislation, specifically looking for those that would regulate K-12 schools and students, to evaluate the landscape that trans and nonbinary students face.

About 45% of proposed bills sought to change policies or procedures in K-12 schools.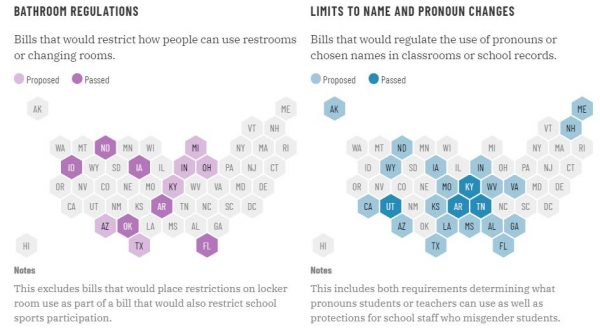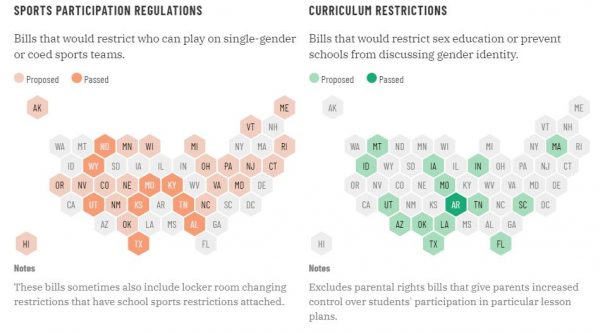 Notes: Excludes bills that use variations on "parental rights" language, which sometimes would broadly propose restrictions across multiple of these categories. The ACLU's 2023 legislative tracker includes some bills proposed in 2022 for sessions stretching into 2023.
Source: Chalkbeat analysis of ACLU data retrieved from tracker as of 8/18/2023
Credit: Kae Petrin & Thomas Wilburn / Chalkbeat
Bills impact school policies, sense of safety for trans students
Illinois is a sharp contrast to many states across the nation, where anti-trans policies are playing out in schools. Here, state law protects students from discrimination on the basis of their gender identities. Students must be permitted access to bathrooms, locker rooms, and sports teams aligning with their identities, according to state guidance.
Changes to education policy are a big part of why the Reynolds want to move.
Florida's board of education prohibits public schools from teaching students about sexual orientation or gender identity. School staff are also not allowed to ask students for their pronouns — or be required to use them — under state law. Another law forces K-12 schools and postsecondary institutions to discipline students who use a restroom that doesn't align with their assigned sex at birth.
Anti-LGBTQ legislation considered in 2023 frequently targeted school policy
More than 4 in 10 bills identified as anti-LGBTQ by the American Civil Liberties Union would directly alter policies and procedures in K-12 schools if passed.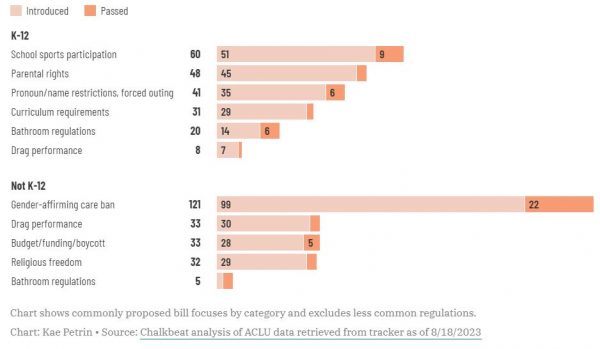 Such laws threaten to disrupt the lives of thousands of young people in Florida — and across the country. About 1.4% of the U.S. population between 13 and 17 identify as trans, according to the Williams Institute's 2022 estimates, which are based on analysis of Centers for Disease Control and Prevention youth surveys.
Even before the laws were passed, Joseph had run into discrimination at school. One time, he said, a kid in his class made a cross and screamed "die" while shoving it into his face. Still, he said his elementary school had largely been accepting, and he had a strong circle of friends.
But as Joseph watched the Florida laws come into effect over the summer, he said the idea of starting school there became more and more scary. Ahead of his first day of middle school this month, he had one word for how he was feeling: "horrible."
At school, he introduced himself as Joseph to his classmates. He said they've mostly been respectful. But teachers have been calling him by his legal name, which he no longer uses, and using she/her pronouns to refer to him.
Under Florida law, teachers must use a child's legal name unless a parent gives consent. After talking to multiple employees at her son's school just to get a consent form, Kimberly Reynolds said, she's not convinced that teachers will follow it.
Ultimately, she just wishes her son could have the chance to be a kid.
"He shouldn't have to even know that there's so many people against him and out to get him," she said.
But Reynolds said it feels like there's not much she can do right now. The timeline for their move is up in the air, since it's been a struggle to get enough money to leave Florida. A few days after the laws were signed, she set up a GoFundMe to help with moving costs, but donations have slowed down. And Reynolds is concerned about having to leave most of her family behind in Florida, especially because she recently had a new baby.
Though her original plans have been delayed — and these challenges loom — she said she's still prepared to move as soon as possible. They've even already started packing.
As for Joseph? "I just hope that it will be a lot more calm and peaceful than my life here."
The Reynolds are hoping that the more accepting place could be Carbondale, a town in southern Illinois with a strong LGBTQ+ community, and where residents recently elected the first transgender person to a city council in Illinois.
In the center of town, a rainbow awning hangs above the doors of Carbondale's LGBTQ+ community center, Rainbow Café. The executive director of the café, Carrie Vine, said that when anti-trans legislation began to increase across the country, a group of advocates got together and decided they should get the word out: Come to Carbondale.
They set up "Rainbow Refuge," mainly run through a local group, the Carbondale Assembly for Radical Equity. People reach out over social media, and advocates direct them to accepting areas and schools, including Carbondale.
Vine has previously worked to help people in bordering states access abortion care. But she said supporting trans people through moving involves more long-term support.
"They're not just coming here for one service and going home," she said. "You're talking about lifelong support — bloodwork, labs, doctor's visits. So we decided we needed to make something that would be more sustainable."
When families make that move, Vine said, it's important to get them to a safe place for trans people. Though Illinois has statewide legal protections, she said, not everywhere is accepting.
Despite protections, not everywhere in Illinois feels safe
Jay Smith, a trans man living in a small town in rural Illinois, knows that struggle. For him, being openly trans isn't a safe option.
Shortly after he finished his undergraduate degree, he got a job where his co-workers were openly discriminatory, using anti-LGBTQ+ slurs. To avoid harassment, he decided to keep his trans identity quiet and allow people to perceive him as a cisgender man. Smith is using a pseudonym for his safety in this story.
"I can't really just exist a lot of the time," Smith said. "At the same time, it's nice to not have people policing me."
Smith is only out to particular people that he's close with, such as his girlfriend and friends from high school. He used to live in Chicago, where he was openly trans and connected with a LGBTQ+ community. Now, he said, he sometimes feels isolated.
Smith is becoming increasingly anxious about what might happen if he were to be outed — and he and his girlfriend are thinking about moving towns within Illinois or even leaving the country.
He's not alone. Over half of trans and non-binary adults said they'd move — or already have moved — from a state with a gender-affirming medical care ban, according to a Human Rights Campaign survey.
As an adult, Smith can make that choice on his own. But he said he's concerned about youth, who must rely on their parents to leave.
For him, he said, school acted as a place of escape against a lack of support he faced at home.
He attended Chicago Public Schools, where current district guidelines state that staff should use the names and pronouns that align with students' identities. Students can request a support plan between administration and trusted adults — which doesn't necessarily have to include parents.
That's a divergence from bills that could "out" students as trans to their parents.
Broad parental rights bills could have wider impacts
These bills are not always explicitly about gender identity, but may include language that could restrict LGBTQ-related curriculum, allow parents to limit student participation in clubs and lesson plans, require schools to seek a parent's permission to use a nickname or new pronouns for their child, or make it easier for parents to sue schools that adopt trans-inclusive policies.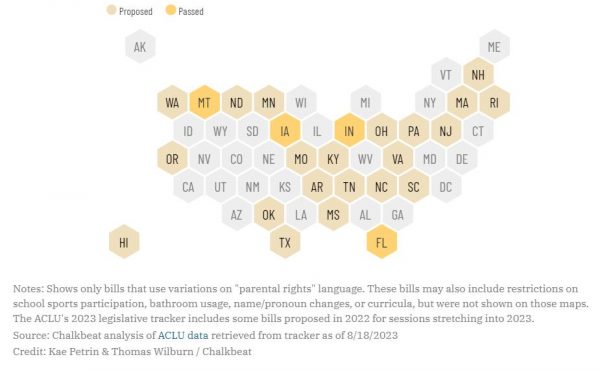 Smith graduated from CPS in 2017. When he came out as trans in high school, he said he simply emailed his teachers about his pronoun change. For the most part, he said, his school gave him a reprieve.
"It was nice to have that space from home, and know: My parents may not be able to treat me this way, but when I get here, I have that respect, that space, and that support that I just can't get from home," Smith said.
But Smith is scared for the kids who don't have the same opportunity to escape transphobia, whether in school or out of school.
Families seek states that protect access to gender-affirming care
Packing up and leaving isn't realistic for everyone. For many families, the options are limited to wherever is closest.
That's the case for Carly West, who lives in St. Louis, Missouri. She is trying to move right across the border to Illinois, she said, in order to protect her trans child, Lisa.
"Sometimes I think that I'm overreacting, because it's not like they're banging down the door and pulling her out of my arms," West said of the anti-trans push in Missouri. "But the reality is that she does need to be safe, and it's not safe here."
So much could change for Lisa with a short drive across state lines, West said.
In Illinois, Gov. J.B. Pritzker has spoken out in support of trans children and established a task force to create more inclusive school policy. In Missouri, the governor has signed bills to ban gender-affirming health care for minors and prohibit trans girls from playing on women's sports teams.
When Lisa heard about the laws, she said she thought to herself: Why? I'm not hurting anybody.
Lisa came out at 6 years old. Now 11 and attending middle school, West uses she/her and they/them pronouns, alternating back and forth between the two. They wear rainbow glasses and like watching dessert decorating videos.
After moving, West said, the family plans to keep Lisa enrolled in the same school district, since Lisa spends half their time with their mom and the other half with their dad, who is staying in Missouri. But if school policies change, Carly West said Lisa may transfer.
The biggest threat right now is to Lisa's gender-affirming medical care. For young people, such medical care might include puberty blockers — which can delay puberty-related changes such as facial hair growth — or hormone replacement therapy.
In Missouri, minors who were prescribed puberty blockers or hormones before Aug. 28 will be allowed to continue treatment, but health care providers cannot prescribe treatments to new patients.
Opponents of gender-affirming care say children are too young to make transition decisions and claim medical interventions are not safe. But more than a dozen top medical associations, including the American Medical Association and the American Academy of Pediatrics, support gender-affirming care as evidence-based and medically appropriate and have opposed laws restricting such care.
At least 33 states have proposed bills to limit gender-affirming care, according to a Chalkbeat data analysis of the ACLU's 2023 anti-LGBTQ bills tracker. About a fifth of bills considered during the 2023 session would restrict gender-affirming medical care for adults, according to a Reuters analysis that identified additional bills not captured in the ACLU tracker. But most policies would specifically restrict children's medical care.
In Illinois, state law protects health care providers and patients from being targeted by states that have banned gender-affirming care.
Gender-affirming care restrictions considered during 2023 legislative sessions
These bills propose restricting access to puberty blockers, hormone therapy, or gender-affirming surgery for the purposes of transition. Some would restrict or ban this care for minors even with parental permission. Others would restrict it for some adults.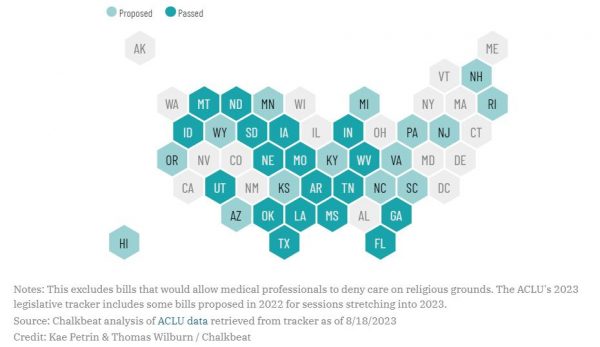 Before the cutoff date in Missouri, Lisa had a consultation to start gender-affirming care.
"I'm feeling great about it," Lisa said, at the time. "It's making me feel more like who I am."
Then the ban went into effect Monday — and Lisa wasn't able to be prescribed treatment.
Trans students carve out space in new Illinois towns, schools
On Feb. 28, the Nightengale family sat around the dining table in their Iowa home, making pins that read: "We say gay" and "Protect queer youth." They stayed up late that night, preparing for a school walkout in protest of pending anti-trans laws in their state.
Shigeru Nightengale, 15, pinned the new additions to a vest, not too far from a demiboy pin. Shigeru mostly likes using it/its pronouns — sometimes he/him — because it feels void of gender but male-adjacent. Shigeru's parent, Sami Nightengale, has a matching pin, for their own identity: genderqueer.
The next day, approximately 50 students walked out of Shigeru's high school as part of a statewide protest against anti-trans legislation. Across the state, 27 schools participated in the March 1 walkout, the Quad-City Times reported.
But a bill banning gender-affirming medical care for minors passed the Iowa legislature and headed to the governor's desk by March 8 — the day before Shigeru was due to receive its first testosterone shot.
Shigeru had been going to a clinic in Iowa City for over a year. Sami Nightengale first remembers Shigeru expressing thoughts about gender as a young child.
"When he was 7, he started to talk a lot about not feeling right in his own body and it would be better if he was just dead. As a parent, that's not something you want to hear from a little kid," they said. "Then we went through this whole process, seeing family doctors and therapists and psychologists and finally he figured out what was going on."
All those appointments led up to the moment of Shigeru getting on hormones. But as the Nightengales made the trip to Iowa City, they had no idea whether the governor would sign the bill into law before Shigeru could get the shot.
"I was so scared that I was going to just touch it and then have it completely taken away," Shigeru said.
That day, Shigeru got its first T shot, and doctors taught the Nightengales how to administer subsequent doses at home, a standard practice for hormone replacement therapy. What was not so standard: With the legislation on the governor's desk, Shigeru didn't know whether future hormone prescriptions would be possible.
The next day, the Nightengales started searching for new clinics in different states. But some places didn't have availability, and others didn't know whether they could take on Iowa patients.
Iowa's governor officially signed the gender-affirming care ban into law on March 22, less than two weeks after Shigeru's first shot.
"There was just too much going on — the terror of, 'Oh, God. All of these people hate us, because we are a queer family,' and also the joy of having my T," Shigeru said. "It was all so much that I went kind of numb."
When politicians first started discussing anti-trans legislation, the Nightengale family had loosely talked about moving. But they thought they'd have more time — to save money, to pay off debt, to search for the best home.
Over the course of March, the window to wait seemed to close more and more.
In early April, the family found an Illinois clinic that would take Shigeru. And against the odds, Sami Nightengale said, they were able to move before the start of the school year.
Now that Shigeru has settled in — and has reliable care — it said it can't describe the joy it feels.
"It has been a struggle with ups and downs," Shigeru said. "But I have been way happier than I have been pretty much my entire life."
Having been on testosterone for a few months, Shigeru said this is its first time going into school "mostly sorted out." Shigeru had previously come out as trans at school in Iowa, but felt people didn't take it seriously because it still looked feminine.
So far, Shigeru said it has run into some discrimination at school, but that students and teachers have been fairly accepting. Looking ahead, Shigeru is staying hopeful — and carving out a space in Illinois.
On Shigeru's bedroom desk are signposts of a new life: its first bottle of testosterone. A scattered rock collection. And, on top of one stone, a Band-Aid — narwhal-themed — from an appointment at the Illinois clinic.
Little things marking a big move.
***********************************************************************************
Max Lubbers is a reporting intern for Chalkbeat Chicago. Contact Max at [email protected].
Kae Petrin is a data and graphics reporter for Chalkbeat. Contact Kae at [email protected].
Thomas Wilburn is the senior data editor for Chalkbeat. Contact Thomas at [email protected].
Related:
As governor of Illinois, I've made it my mission to make our state the best to raise a family including for our LGBTQ+ community.

If you're looking for a place to be authentically yourself, come on up to Illinois. Trans rights are human rights here. https://t.co/quRZWc9NcI

— Governor JB Pritzker (@GovPritzker) September 3, 2023
***************************************************************************************
The preceding article was previously published by Chalkbeat Chicago and is republished with permission.
Sign up for Chalkbeat Chicago's free daily newsletter to keep up with the city's public school system and statewide education policy.