Hip-Hop's complicated history with queer representation
At 50, experts say the genre still doesn't fully welcome LGBTQ inclusion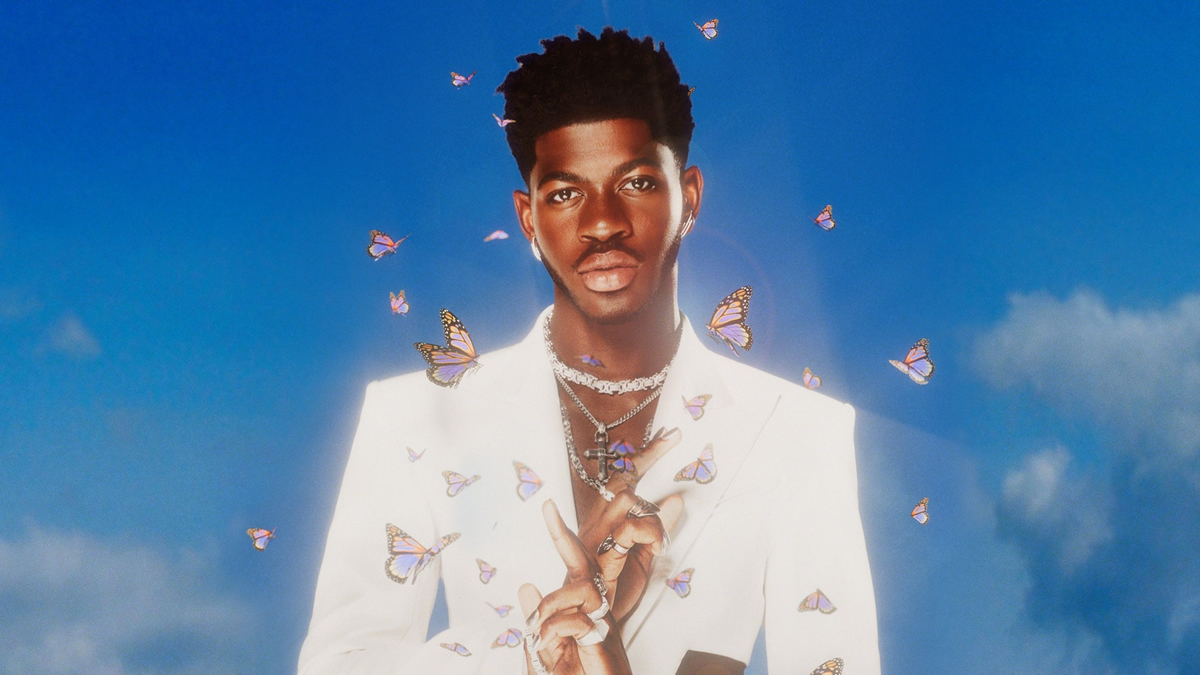 I didn't really start listening to rap until my college years. Like many queer Black children who grow up in the closet, shielded by puritanical Christianity from the beauty of a diverse world, I longed to be myself. But the affirming references I could pull from — in moments of solitude away from the wrath and disdain of family and friends — were in theater and pop music.
The soundtrack to my teenage years was an endless playlist of pop divas like Lady Gaga and Beyoncé, whose lyrics encouraged me to sashay my hips anytime I strutted through a long stretch of corridor.
I was also obsessed with the consuming presence of powerful singers like Patti LaBelle, Whitney Houston, and the hypnosis that was Chaka Khan. My childhood, an extrapolation of Tuesdays, Thursdays, Saturdays and Sundays spent in church groups, choir practices, and worship services, necessitated that I be a fan of throaty, from-the-stomach singing. But something about the way these artists presented themselves warmed my queer little heart. LaBelle wore avant garde geometric hairdos paired with heavily shoulder-padded blazers. Houston loved an elegant slender gown. And Khan? It was the voluminous red mane that gently caressed her lower back for me.
Listening to rap music in college was a political experience. My sociology classes politicized me and so it was only natural that I listened to rap music that expressed trauma, joy, and hope in the Black experience. However, I felt disconnected from the music because of a dearth of queer representation in the genre.
Nevertheless, groups like Outkast felt nostalgic. While delivering hedonistic lyrics at lightning speed, André 3000 — one half of the rap duo — mesmerized with his sleek, shoulder-length silk pressed hair and colorful, flowing shirts and trousers — a style that could be translated as "gender-bending." Despite the patriarchal presentation rampant in rap and Hip-Hop, Andr​​é 30000 represented to me, a kind of rebellious self-expression that I so badly wanted to emulate but couldn't because of the psychological confines of my conservative upbringing.
My discovery of Outkast was also sobering because it was a stark reminder of how queerness is also often used as an aesthetic in Hip-Hop while actual queer people are shunned, rebuked, and mocked. Queer people in Hip-Hop are like backstage wingmen, crucial to the development of the show but never important enough to make a curtain call.
As Hip-Hop celebrates 50 years since its inception in New York City, I am filled with joy because it's been half a century of Black people owning their narratives and driving the culture. But it's fair to ask: At whose expense?
A viral 2020 video shows rapper Boosie BadAzz, famed for hits like "Set It Off" and "Wipe Me Down," rebuking NBA star Dwayne Wade and award-winning actress Gabrielle Union-Wade for publicly supporting their then-12-year-old daughter after she came out as transgender.
"Don't cut his dick off, bro," said BadAzz with furrowed eyebrows and a gaze that kept turning away from the camera, revealing his tarnished diamond studs. "Don't dress him as a woman dawg, he's 12 years. He's not up there yet."
The responses from both Wade and Union-Wade were a mixture of swift, sarcastically light-hearted, and hopeful.
"Sorry Boosie," Union-Wade said to an audience during a live podcast appearance at Live Talks Los Angeles. "He's so preoccupied, it's almost like, 'thou doth protest too much, Little Boos.' You've got a lot of dick on your mind."
Wade also appeared on an episode of podcast, "I AM ATHLETE," and looked directly into the camera.
"Boosie, all the people who got something to say, J-Boogie who just came out with [something] recently, all the people who got something to say about my kids," he said. "I thank you because you're allowing the conversation to keep going forward because you know what? You might not have the answers today, I might not have the answers, but we're growing from all these conversations."
This exchange between the Wades and BadAzz highlights the complicated relationship between Black LGBTQ individuals and allies and the greater Hip-Hop and rap genres and communities. While Black queer aesthetics have long informed self-expression in Hip-Hop, rappers have disparaged queerness through song lyrics and in interviews, or online rants like BadAzz, outside the recording studio.
And despite LGBTQ rappers like Queen Latifah, Da Brat, Lil Nas X, and Saucy Santana achieving mainstream success, much work lies ahead to heal the trauma that persists from Hip-Hop's history of patriarchy and homophobia.
"'Progression' will always be relative and subjective based on one's positionality," said Dr. Melvin Williams said in an email. Williams is an associate professor of communication and media studies at Pace University. "Hip-hop has traditionally been in conversation with queer and non-normative sexualities and included LGBTQ+ people in the shaping of its cultural signifiers behind the scenes as choreographers, songwriters, make-up artists, set designers, and other roles stereotypically attributed to queer culture."
"Although Hip-Hop incorporates queerness in their ethos, ideas, and trends, it does not privilege the prospect of an out LGBTQ+ rapper. Such reservations position LGBTQ+ people as mere labor in Hip-Hop's behind-the-scenes cultivation, but not as rap performers in its mainstream distribution," he added.
This is especially true for Queen Latifah and DaBrat who existed in the genre for decades but didn't publicly come out until 2021. Still, both faced backlash from the Black community for daring to challenge gender roles and expectations.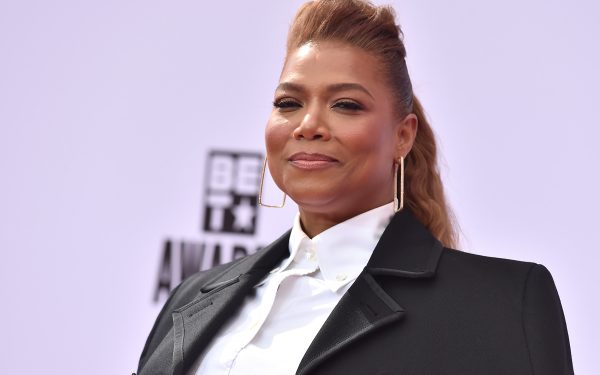 Lil Nas X also faced backlash for his music video "Montero" with satanic references, including one in which he slides down a pole and gives a character representing the devil a lap dance. Conservatives such as South Dakota Gov. Kristi Noem accused him of trying to scandalize children.
"You see this is very scary for me, people will be angry, they will say I'm pushing an agenda. But the truth is, I am," Nas X said in a note that accompanied "Montero." The agenda to make people stay the fuck out of other people's lives and stop dictating who they should be."
Regardless, "Montero" debuted atop the Billboard 100.
In an article published in "Souls: A Critical Journal of Black Politics, Culture, and Society," scholar C. Riley Snorton posited that celebrating queer visibility in mainstream media could be a problem as this kind of praise relies on artists presenting in acceptable forms of gender and sexuality expression and encourages representation that is "read alongside…perceptions of Hip-Hop as a site of Black misogyny and homophobia."
In the case of Frank Ocean, who came out in 2012 prior to the release of his album "Channel Orange," his reception was warmer than most queer Hip-Hop artists because his style of music is singing, as opposed to rapping. Because of this, his music was viewed more as R'n'B or pop.
"Frank Ocean ain't no rapper. He's a singer. It's acceptable in the singing world, but in the rap world I don't know if it will ever be acceptable because rap is so masculine," rapper Snoop Dogg told the Guardian in 2013. "It's like a football team. You can't be in a locker room full of motherfucking tough-ass dudes, then all of a sudden say, 'Hey, man, I like you.' You know, that's going to be tough."
So what's the solution for queer people in Hip-Hop? Digital media.
Williams, the Pace University professor, says that being divorced from record labels allows queer artists to be independent and distribute their music globally on their own terms.
"We witnessed this fact with artists such as Azealia Banks, Cakes Da Killa, Fly Young Red, Kevin Abstract, iLoveMakonnen, Lil Nas X, Mykki Blanco, and Saucy Santana, as well as legacy LGBTQ Hip-Hop acts like Big Freeda, DeepDickCollective, and Le1f," he said. "The music industry has experienced an increasingly mobilized market due to the rise of digital media, social networking platforms, and streaming services."
"More importantly, Black queer Hip-Hop artists are historicizing LGBTQ+ contributions and perspectives in documentaries, films, news specials, public forums, and podcasts. Ultimately, queer people engaging in Hip-Hop is a revolutionary act, and it remains vital for LGBTQ+ Hip-Hoppers to highlight their cultural contributions and share their histories," he added.
(Hip-Hop pioneers Public Enemy and Ice-T will headline The National Celebration of Hip-Hop, free concerts at the West Potomac Park on the National Mall in D.C. on Oct. 6 and 7.)
Taylor Swift's Eras: Inglewood's SoFi Stadium exuded excitement
As Swift effortlessly sings in her song 'August', "August slipped away into a moment in time' – and she was right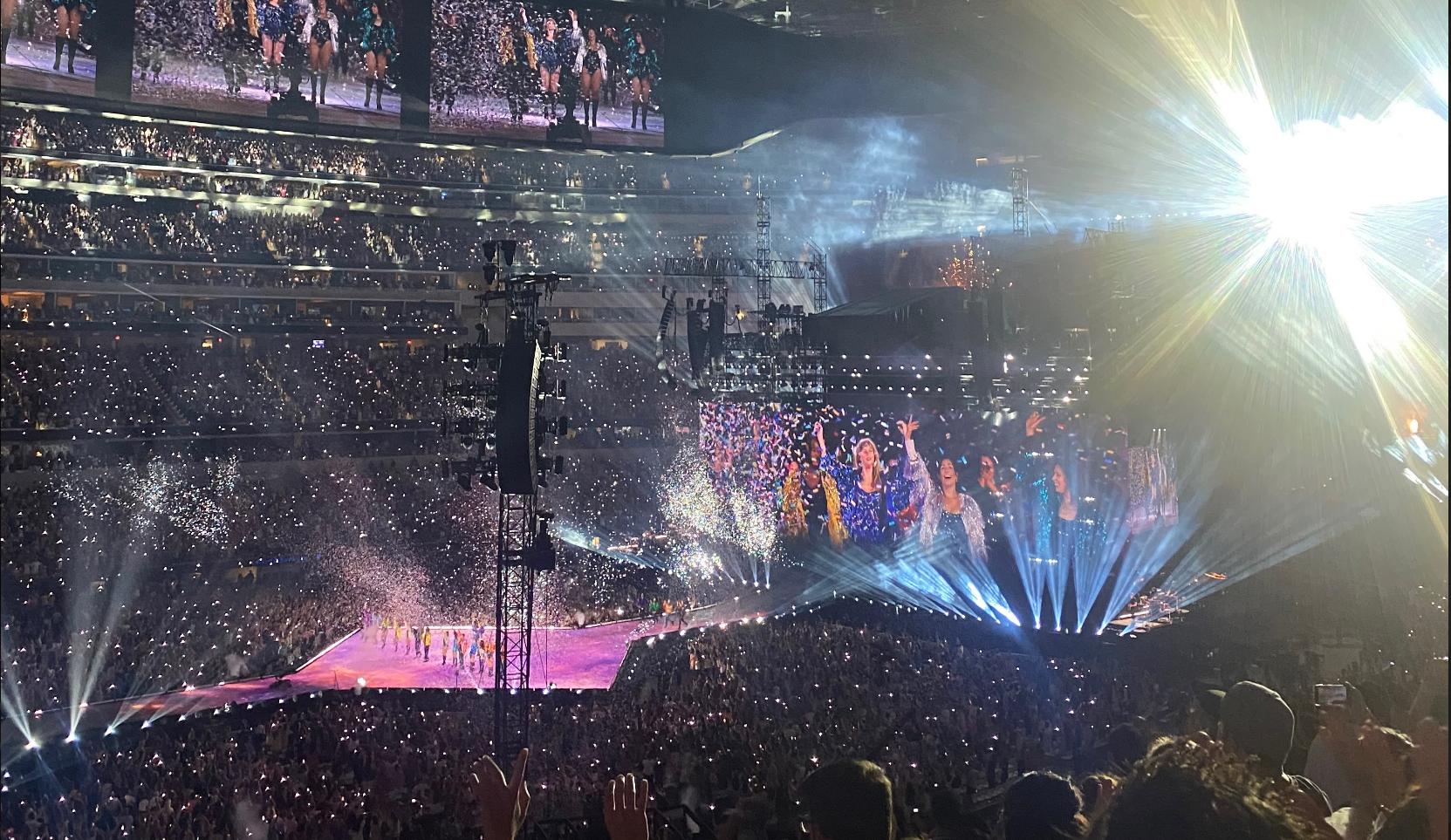 LOS ANGELES – After six nights – and upwards of half a million people – fans can still not get enough of legendary pop icon, Taylor Swift, and her acclaimed Eras Tour.
Performing at Inglewood's SoFi Stadium, Swift's six night mini-residency proved to not be enough for Swifties. With Taylor selling out stadiums nationwide within minutes, it comes as no surprise that people have paid thousands of dollars to attend this once in a lifetime experience.
The openers for Swift were Gayle and HAIM. Gayle, a pop singer who released the hit song "ABCDEFU" in 2021, sang at the top of her lungs leaving those entering the stadium impressed with such a strong opening performance. HAIM, an alternative-indie-rock-band composed of three sisters – Este, Danielle, and Alana Haim – appeared comfortable opening for Taylor in their hometown of Los Angeles. HAIM's band members appeared in Swift's music video 'Bejeweled' and are featured on Swift's song 'no body, no crime'.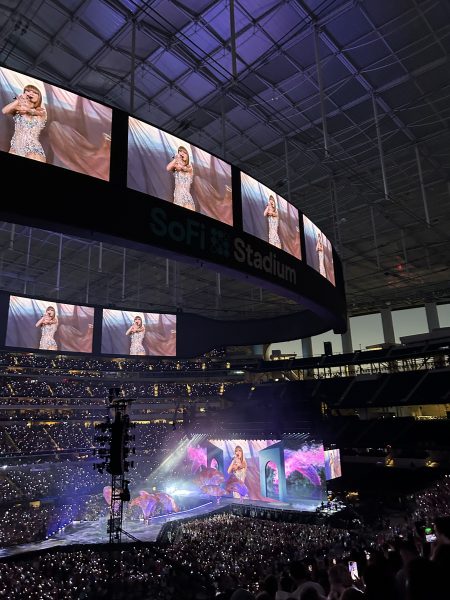 Swifties (the colloquial term for Swift's fanbase) erupted with roars, laughter, shock, and happy tears as Swift dramatically made her appearance on each night of the Eras Tour.
The Eras Tour is unlike any other concert you've ever been to. With dozens of outfit changes, set designs, and various props the Eras Tour is more than a concert – it's a life experience… and it's three and a half hours long. Usually when an artist performs, they mainly perform songs from a recent album. But, with Swift's Eras Tour, Taylor performed songs from each of her albums.
As the stadium was filled with both nostalgia, expectation and desire, people of all ages gathered to see Swift's various genres and styles of music. Regardless of whether one appreciates Swift's country style, pop style, or acoustic singer-songwriter style, there was not one person in the stadium who was unhappy with the music.
During her performance, Taylor effortlessly incorporated politically charged messages through her music. As the crowd engaged in their usual endless scream, Swift stated that the crowd made her feel like 'the man' – a reference to her song 'The Man': "I'm so sick of running as fast as I can // Wondering if I'd get there quicker if I was a man // And I'm so sick of them coming at me again // 'Cause if I was a man // Then I'd be the man." Per usual, irony prevails as Swift gets notorious amounts of criticism from the music industry whilst being one of the most successful artists.
In fact, the Federal Reserve of the United States commented on the amount of money brought in by the Eras Tour with some research firms estimating that this tour could add $5 billion dollars to the U.S. economy.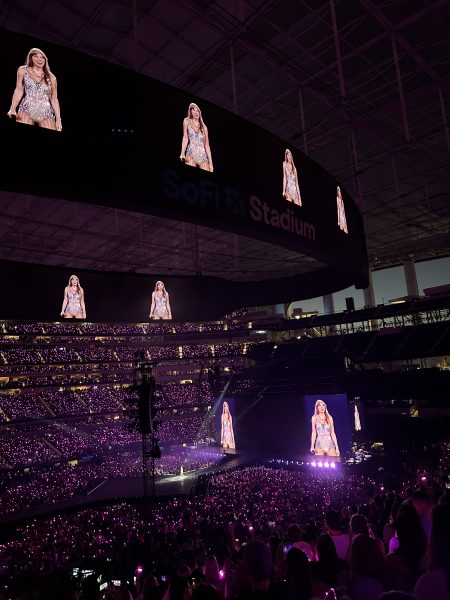 Other examples of Swift's activism – and on-stage advocacy – includes her pro-LGBTQ+ messaging. In her song, 'You Need to Calm Down', Taylor tells homophobic individuals to "calm down" and that they are being "too loud."
This especially rings true with a slew of anti-LGBTQ+ legislation being forwarded in the United States. In the same song, she brings awareness to the Gay & Lesbian Alliance Against Defamation by singing, "Why are you mad? When you could be GLAAD?"
Although Swift's fanbase is welcoming and accepting of individuals of all kinds, that did not stop individuals from protesting Swift's performance.
A protestor outside of the stadium holds a sign that says "CHILDREN OF DISOBEDIENCE: Fornication = Prostitution, Abortion = Murder, Drug Use = Suicidal Minds, LGBTQ = Total Deprativation." Thankfully, a counter-protest ensued directly next to those protesting the Eras Tour.
A Swifty used this opportunity in a creative manner: they used references to popular culture and Swift's lyrics to contest the protestor's message. In this case, a lyric from 'You Need to Calm Down' – which was screamed by everyone at the concert – rings true: "And control your urges to scream about all the people you hate 'cause shade never made anybody less gay."
Regardless of the negative energy outside, the stadium exuded excitement as Swift presented each of her eras in a different manner. After each of her eras (defined as a set of songs performed from a single album), Swift changed outfits and changed set designs. When Swift began the Evermore Era, named after her Evermore album, she brought the Haim sisters out to perform 'no body, no crime' on stage. As Swift's sound has evolved over time, some eras had complicated set designs and bright outfits while other eras appeared more simple.
Although Taylor follows her setlist, at each show she carved out a small amount of time to perform two surprise songs, leaving everyone in the audience with feelings of anticipation regardless of whether or not one looked at the previous setlists.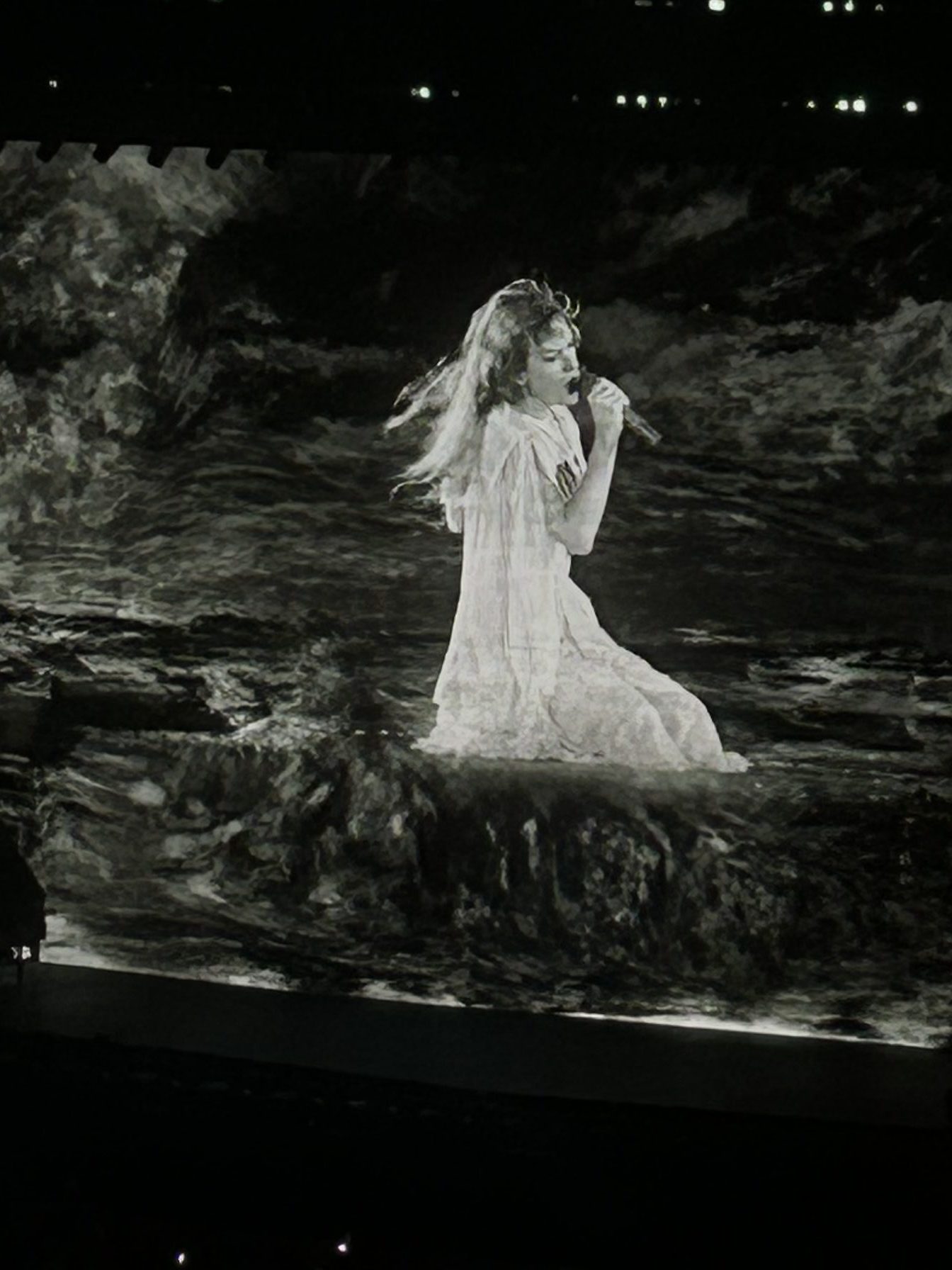 With Swift's shows drawing to a close, we can all agree that the month of August was one to remember. And although she performed for three and a half hours at each show, it was still a performance gone too soon. As Swift effortlessly sings in her song 'August', "August slipped away into a moment in time' – and she was right.
*********************************************************************************
During the singer's final show at SoFi Stadium, she announced to fans she was re-releasing her popular album "1989," as she wrapped her six-day Eras tour concert dates in Los Angeles.