LGBTQ+ ally Tony Thurmond announces for his bid for governor
Prior to serving as California's Superintendent of Public Instruction, Thurmond served in the State Assembly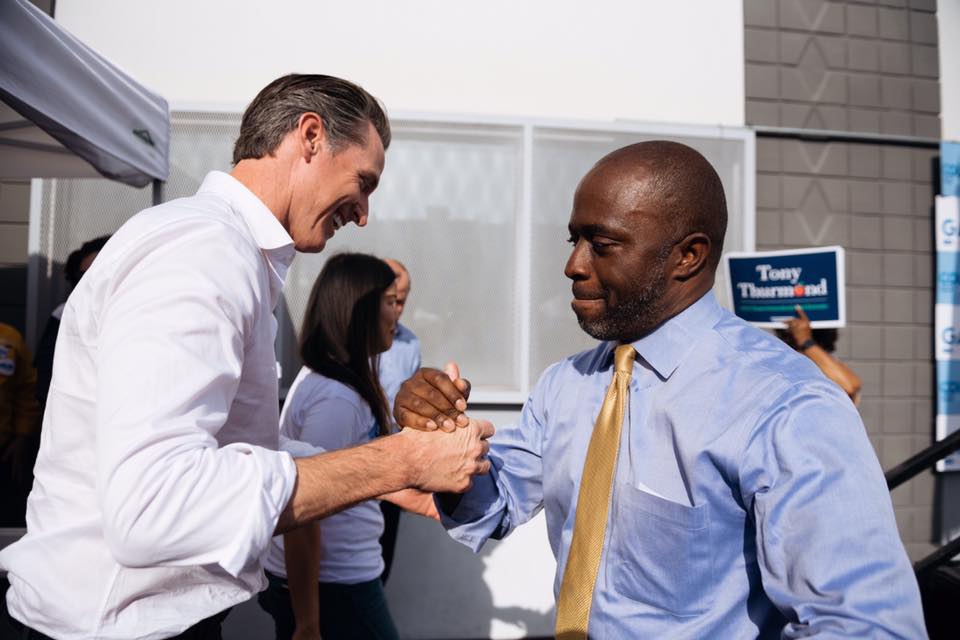 SACRAMENTO, Calif. – California State Superintendent of Public Instruction and long-time LGBTQ+ community ally Tony Thurmond, announced Tuesday that he is running to be the next Governor of California. 
He is running to replace incumbent Democratic Governor Gavin Newsom, who is term limited by state law to two four-year terms. Newsom assumed office on January 7, 2019 and his current term ends on January 4, 2027.
If elected, Thurmond would make history as California's first Black Governor and the first Latino Governor since 1875.
Thurmond made the following announcement on X, formerly Twitter, Tuesday morning: "I didn't come from money, power, or influence. I'm running for Governor to be a voice for those who need one — because California may be working for millionaires and billionaires but for the rest of California — we need real change."
"California should be a place where everyone has a chance to succeed, no matter who you are or where you're from, and together, we can make that a reality," he said in his announcement video.
In addition to his commitment to improving opportunities for all Californians, stabilizing the housing market, and contributing to ending homelessness, Thurmond has shown his continued support for children in LGBTQ+ community.
With several school districts across California passing mandatory outing policies and rules targeting the safety of LGBTQ+ students, Thurmond told The Blade in an interview last week that he has and will continue to fight for the rights of LGBTQ+ children. 
"My position on these actions is that they are misinformed and misguided. They are a blatant attack on LGBTQ+ kids. These are bigoted efforts to harm a group of students…This is purely a bigoted action by extremists, whose real effort is to bring harm upon LGBTQ plus students, and I will not stand for that," he said.
Thurmond told the Blade about his involvement in creating policies that allowed for safe and gender-inclusive bathrooms in the Chino Hills school district. He also mentioned two bills that he supports:
SB 760, sponsored by Senator Josh Newman (D-Fullerton). The bill would require the all-gender restroom to meet certain requirements, including, among other things, that it has signage identifying the bathroom facility as being open to all genders and is unlocked, unobstructed, and easily accessible by any pupil.
The Superintendent also supported AB 1078, sponsored by Assemblymember Dr. Corey Jackson (D-Moreno Valley), which bans "book bans" in schools, prohibits censorship of instructional materials, and strengthens California law requiring schools to provide all students access to textbooks that teach about California's diverse communities.
"From Temecula to Tallahassee, fringe ideologues across the country are attempting to whitewash history and ban books from schools. With this new law, we're cementing California's role as the true freedom state: a place where families — not political fanatics — have the freedom to decide what's right for them," Governor Gavin Newsom said as he signed the bill last Friday.
"We have an opportunity now to say that every person can be treated with love and respect and dignity, regardless of who they are and how they see themselves and who they love," said Thurmond.
"Many times, young people are not in a space where they can talk about how they identify in terms of their gender identities. It is our responsibility to get them resources and to help them, not to attack them. I sponsored legislation to provide more resources and training, and teachings to be able to support students and our LGBTQ+ students. The data shows that when we do this work, we support our LGBTQ+ people, they do better at school. They have better self-esteem and better grades. They are less likely to feel suicidal."
Thurmond has been elected statewide in the nation's most populous state twice, in 2018 and most recently in 2022, when he earned 63.7% and 5,681,318 votes.
Prior to serving as California's Superintendent of Public Instruction, Thurmond served in the State Assembly and before then on the Richmond City Council and the West Contra Costa School Board. Beyond his service in public office, Thurmond is a public school parent, a former social worker, and a public educator.
"I am grateful that my last 15 years of elective service have all centered around some form of education, formally or informally," said Thurmond. "I do think education is a great equalizer. It has been for me. I want this to be available to all six million students who are interested to our school system in California."
Related:
(Advert) Tony Thurmond for California Governor: It's About People:
Out Assemblymember Evan Low eyes South Bay House seat
Long considered a likely U.S. House candidate once a seat opened up, Low is widely expected to enter the 2024 race to succeed Rep. Anna Eshoo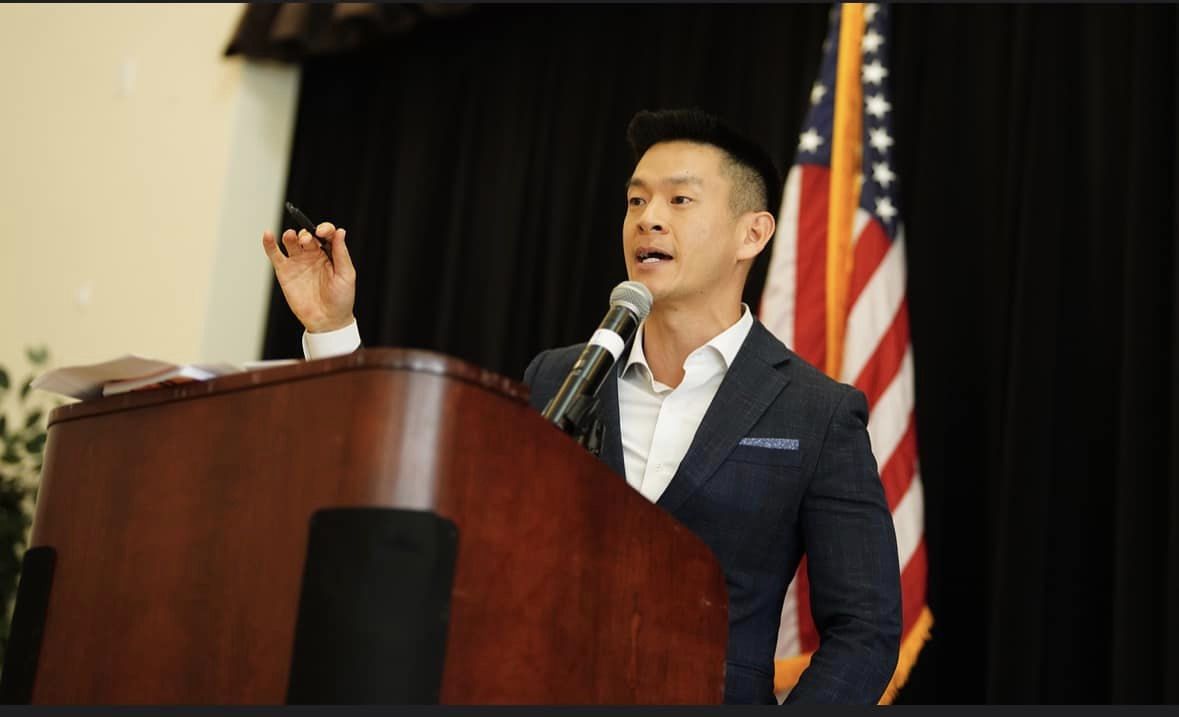 By Matthew S. Bajko, Assistant Editor | SANTA CLARA COUNTY, Calif. – With the news Tuesday that Congressmember Anna Eshoo (D-Palo Alto) will retire from the South Bay House seat she has held since 1993, it provides an opportunity to see the first LGBTQ person from the Bay Area be elected to Capitol Hill.
Long considered a likely congressional candidate once a seat opened up, gay Assemblymember Evan Low (D-Cupertino) is widely expected to enter the 2024 race to succeed Eshoo. Low, 41, told the Bay Area Reporter that he is interested in running for it but is not yet ready to make an official announcement.
"Any person who follows in her footsteps must commit themselves completely to upholding her incredible legacy. Today, I'm going to celebrate one of our valley's greatest public servants and a personal mentor to me. There are a lot of people in the community I need to talk to before I make a formal decision," Low, who has until early December to decide, wrote in a texted reply November 21.
Tuesday morning Eshoo released a video about her decision not to seek reelection next year in order to break the news to her constituents.
"As the first Democrat and first woman to ever represent this distinguished congressional district, no one could ever be prouder than me to carry our Democratic Party values," Eshoo wrote in an email to her supporters.
Eshoo's 16th Congressional District spans both San Mateo and Santa Clara counties. She had first sought a House seat six years after winning election to the San Mateo County Board of Supervisors but fell short in the general election of 1988 to Republican then-Stanford professor Tom Campbell.
When Campbell opted not to run for another term in 1992, and instead mounted an unsuccessful U.S. Senate bid, Eshoo ran again and won. She has long been a champion of LGBTQ issues in Congress and has enjoyed strong support from the LGBTQ community throughout her time in the House.
As the B.A.R.'s online Political Notes column reported last year, Eshoo ran her first TV ads since being elected to Congress for her 2022 candidacy. In it, she touted being an original co-sponsor of the Equality Act, the federal omnibus LGBTQ rights legislation adopted by the House in 2021. (It died when the U.S. Senate failed to vote on it.)
It is believed to be the first time a Bay Area congressmember highlighted their support of the Equality Act in a campaign commercial. In an interview Eshoo had told the B.A.R. she was proud to have that distinction.
"I have always believed there is one class of citizenship in our country and that is first class. So without the movement for equality and fullness of citizenship that can't happen," Eshoo had told the B.A.R. "I am very proud of that, so I wanted to highlight the Equality Act."
Eshoo also had the honor of being the first woman to serve as chair of the Democratic Party in San Mateo County, as she noted in her email to constituents. She also served as a member of the Democratic National Committee.
"I'm so proud of all we've achieved together and that the strength of our party rests on a strong foundation of clubs, caucuses, and county committees with our allies in Labor and other valued advocates. Our party continues to be strengthened by our diversity, and I'm confident this will continue because it is who we are," wrote Eshoo. "As the last year of my service in Congress lies ahead, be assured that I will continue to bring my tenaciousness and unswerving commitment to my work to strengthen our democracy, and our work together for a sweeping Democratic victory for the country we love so much."
In a statement he released reacting to Eshoo's news, Low called Eshoo "an icon" and a "personal hero" to him. He also praised her for being a "champion who leads this community with tremendous energy, grace, and grit."
He added that he is looking forward "to the many ways" the community can honor Eshoo for "her extraordinary service" over the years.
"We are so blessed to have her as our leader, gracefully navigating the complex issues in this valley of high expectations," stated Low. "Her public service has been noble and selfless, advancing quality healthcare access for all, immigration reform rooted in compassion and humanity, and stringent consumer protections unfettered by special interests."
As the B.A.R. reported last year, Low moved into the redrawn 26th Assembly District that includes Cupertino, Santa Clara, Sunnyvale, and parts of San Jose in order to avoid competing against his colleague Assemblymember Marc Berman (D-Palo Alto) for reelection to the state Legislature. Berman had been drawn into Low's former Assembly District.
Doing so required Low to vacate the 1,100 square foot condo in Campbell that he co-owns with his brother, a San Jose police officer. He moved into the Sunnyvale home of his father and stepmother.
Low grew up in San Jose, and his parents separated when he was 18. He graduated from San Jose State University and went on to win election to the Campbell City Council in 2006.
He was the first Asian American to serve on the governing body. Four years later he became the youngest openly LGBTQ+ mayor in the country at age 26.
He first won election to the state Assembly in 2014. He has strong ties to Silicon Valley's tech industry, which could benefit him in a House race as a source of support and financial donations to his campaign.
Low would be the second out candidate running next year for an open House seat in the Bay Area. Jennifer Kim-Anh Tran, Ph.D., a queer leader within the state's Vietnamese American community, is seeking to succeed Congresswoman Barbara Lee (D-Oakland), who is running for U.S. Senate rather than seek another House term.
Tran is the partner of Nenna Joiner, who owns several sex shops in the East Bay and a downtown Oakland nightlife venue. She is in a tough race to survive the March primary along with fellow Democrats BART board member Lateefah Simon and business owner Tim Sanchez, a U.S. Navy Reserves veteran who served in Afghanistan.
As the B.A.R. first reported in an online story November 17, there are now out House candidates in all three of the West Coast states. The 2024 election could thus see the California congressional delegation's LGBTQ contingent expand from its current two gay members, while those in Oregon and Washington state could see their first out members.
**************************************************************************************
The preceding article was previously published by the Bay Area Reporter and is republished with permission.
Help keep the Bay Area Reporter going in these tough times. To support local, independent, LGBTQ journalism, consider becoming a BAR member.