Newsom appoints Laphonza Butler to Feinstein seat
Newsom's office confirmed that he has picked Butler, an Out Black lesbian Democratic strategist who rose to prominence in the labor movement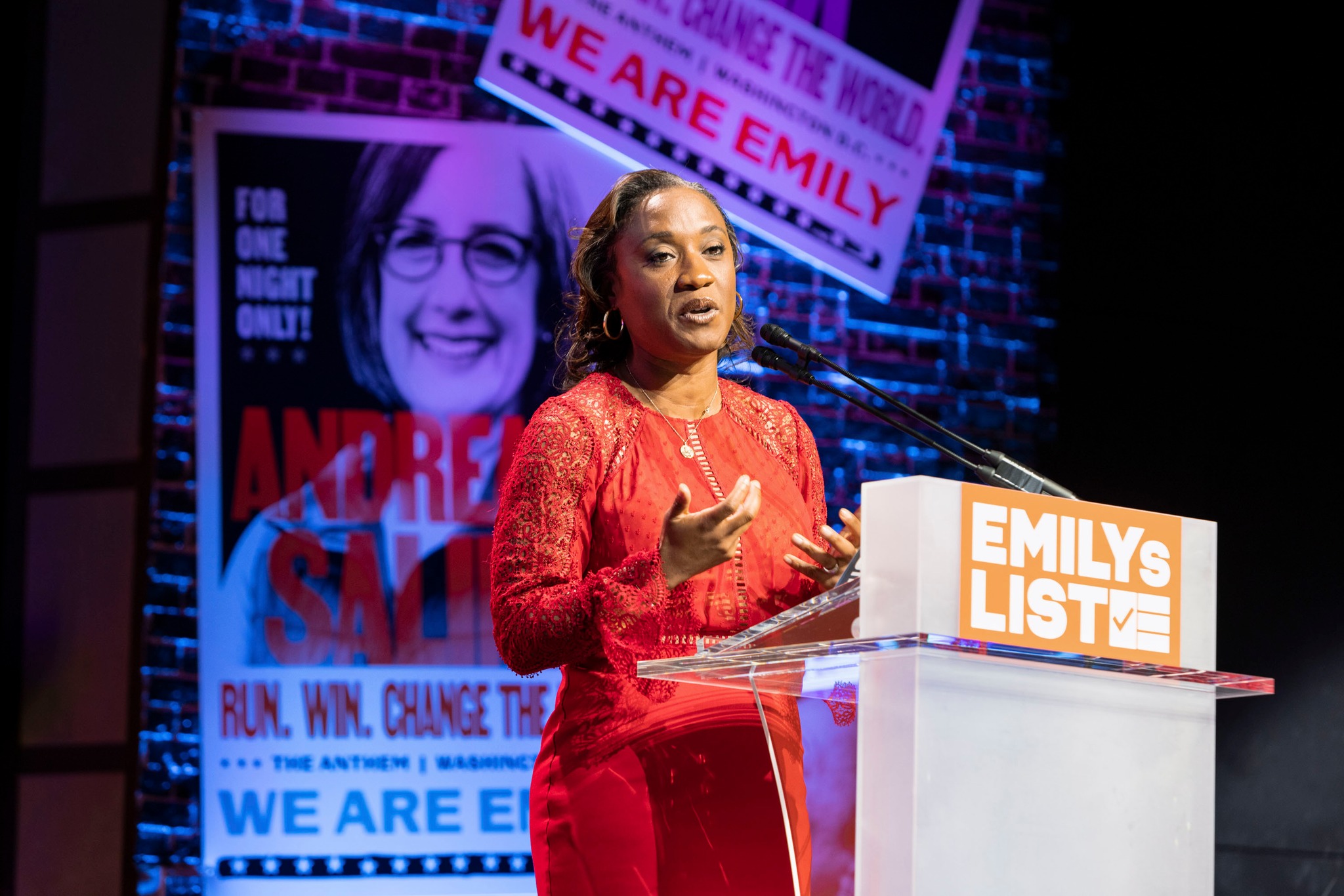 SACRAMENTO, Calif. – On Sunday evening, California Governor Gavin Newsom announced he is appointing Black openly lesbian EMILY's List President, Laphonza Butler, to the vacant seat of the late U.S. Senator Diane Feinstein who died Friday at age 90.
Butler's wife is Neneki Lee, the Washington D.C.-based Director for labor union SEIU's Public Services Division.
News of Butler's selection by Newsom was first reported by POLITICO's California Bureau Chief Christopher Cadelago. A source knowledgeable on the governor's team told POLITICO there were no preconditions about whether she could run in 2024.
Newsom's office confirmed that he has picked Butler, a Democratic strategist who rose to prominence in the labor movement, to fill Feinstein's seat.
In an emailed statement, Governor Newsom said:
"An advocate for women and girls, a second-generation fighter for working people, and a trusted adviser to Vice President Harris, Laphonza Butler represents the best of California, and she'll represent us proudly in the United States Senate. As we mourn the enormous loss of Senator Feinstein, the very freedoms she fought for — reproductive freedom, equal protection, and safety from gun violence — have never been under greater assault. Laphonza will carry the baton left by Senator Feinstein, continue to break glass ceilings, and fight for all Californians in Washington D.C."
SCOOP: Gavin Newsom will appoint EMILY's List President Laphonza Butler to fill the seat of the late Sen. Dianne Feinstein, elevating the head of a fundraising juggernaut that works to elect Dem women who support abortion rights, per a person familiar.https://t.co/FtOv4fneAk

— Christopher Cadelago (@ccadelago) October 2, 2023
Equality California tweeted a statement praising Newsom's action:
Executive Director @TonyHoang on Governor @GavinNewsom's selection of @LaphonzaB to serve as the next U.S. Senator from California: pic.twitter.com/6RYB1SUyEr

— Equality California (@eqca) October 2, 2023
Democrat Alex Padilla, now serving as California's senior U.S. Senator, released the following statement after Newsom appointed Butler to fill the vacancy created by the late Senator Feinstein: 
"Throughout her career, Laphonza Butler has been a strong voice for working families, LGBTQ rights, and a champion for increasing women's representation in politics. I'm honored to welcome her to the United States Senate.
"Governor Newsom's swift action ensures that Californians maintain full representation in the Senate as we navigate a narrow Democratic majority. I look forward to working together to deliver for the people of California."
Butler is a longtime leader in Democratic politics in California and beyond. She has been involved in campaign strategy, and the labor movement for two decades, and according to her official biography she has dedicated her life to empowering women and supporting them in finding their voice, and using it to make meaningful change.
Newsom's office noted in its statement:
"Butler, a longtime senior adviser to Vice President Kamala Harris, labor leader, and advocate for women and working people, will be the first openly LGBTQ person to represent California in the Senate. She will also be the first Black lesbian to openly serve in Congress in American history and the second Black woman to represent California in the Senate following Vice President Kamala Harris."
Prior to joining EMILYs List, Butler served as Director of Public Policy and Campaigns in North America for Airbnb. She also was a partner at SCRB Strategies, a political consulting firm where she was a strategist for candidates running up and down the ballot and a senior advisor to Vice President Kamala Harris's presidential campaign.
With nearly 20 years in the labor movement, Butler has served as the president of the biggest union in California, and the nation's largest homecare workers union, SEIU Local 2015. She was elected to this position at just 30 years old, one of the youngest to take on this role. As president, Butler was the leading voice, strategist, and architect of efforts to address pay inequity for women in California and a top advocate for raising the state's minimum wage to $15 an hour – the first state in the nation to do so, benefiting millions of working women in low wage jobs. That effort also gave hundreds of thousands of home workers access to paid time off. She also served as an SEIU International Vice President and President of the SEIU California State Council.
Throughout her career, Butler has been highly regarded as a strategist working to elect Democratic women candidates in political offices across California and nationally. A long-time supporter of Kamala Harris in her California runs, Butler was a key leader in Vice President Harris's presidential campaign. She served as a senior advisor to Hillary Clinton's presidential campaign in California during the primary and general elections. Most recently, Butler was a campaign operative behind the campaign to make the Los Angeles Board of Supervisors all-women for the first time in its history with the election of Supervisor Holly Mitchell.
She has been a member of the University of California Board of Regents and a member of the board of directors for the Children's Defense Fund and BLACK PAC.
Laphonza grew up in Magnolia, MS, and attended one of the country's premier HBCUs, Jackson State University. She lives in Maryland with her wife, Neneki, and together they have a daughter, Nylah.
EMILY's List is an American political action committee that aims to help elect Democratic female candidates in favor of abortion rights to office. It was founded by Ellen Malcolm in 1985. The group's name is an acronym for "Early Money Is Like Yeast". Malcolm commented that "it makes the dough rise".
Related:
Governor Gavin Newsom Appoints Laphonza Butler to the U.S. Senate:
Nonprofit leader aims to be 1st Out Santa Cruz County Supervisor
"I think it would send a really strong message to our county and region for a first openly LGBTQ supervisor in Santa Cruz County"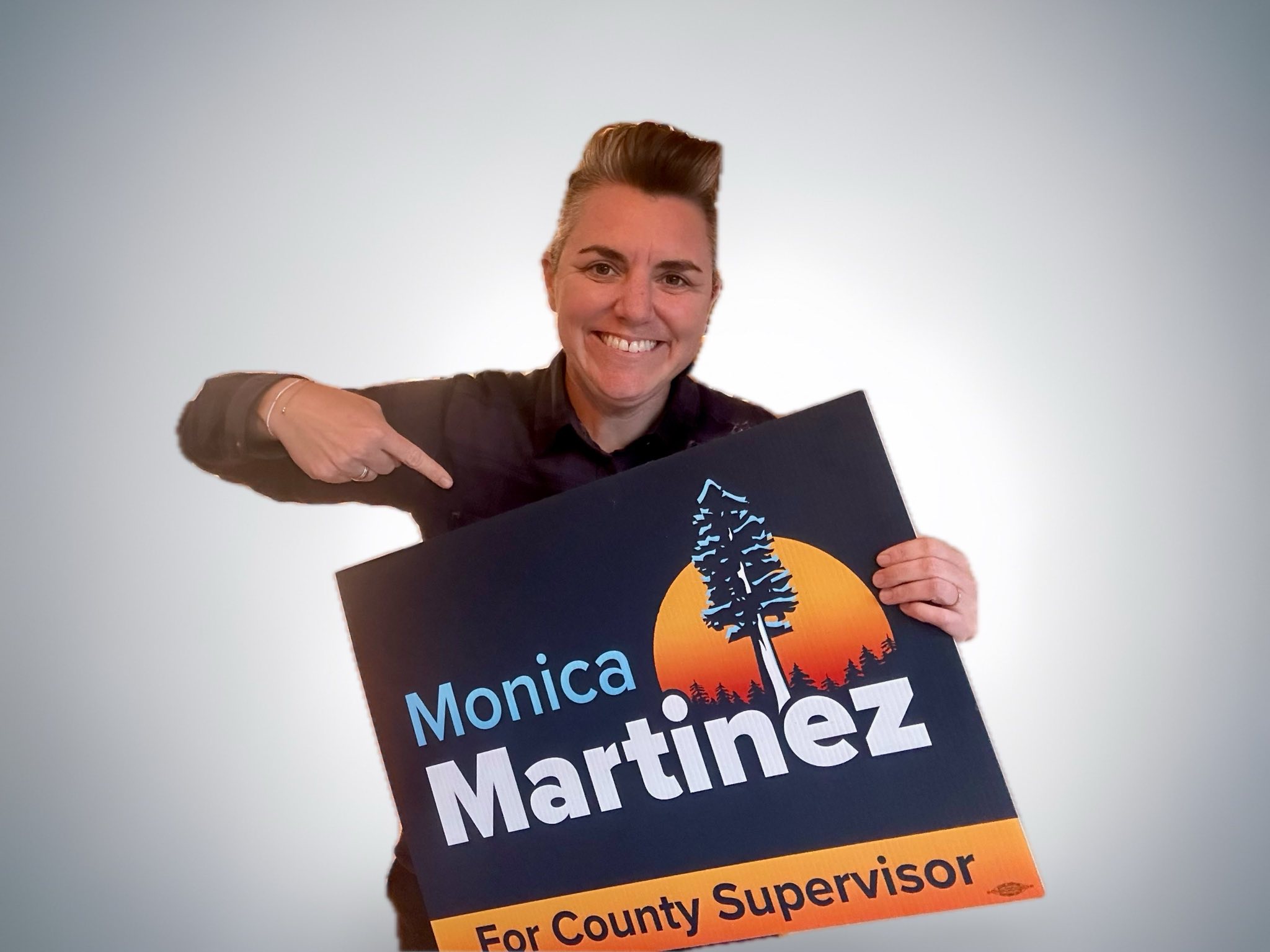 By Matthew S. Bajko, Assistant Editor | FELTON, Calif. – Despite its reputation as a coastal liberal bastion, Santa Cruz County has yet to see an LGBTQ leader elected to its Board of Supervisors. Recent elections have seen the out candidate running for a seat on the countywide governing body come up short.
Nonprofit executive and queer mom Monica Martinez is aiming to break through that pink political glass ceiling with her bid for the board's open District 5 seat. With another local leader opting against entering the race and instead endorsing Martinez, she is aiming to win the seat outright on the 2024 primary ballot.
"I don't want to take anything for granted," Martinez, 41, told the Bay Area Reporter about the campaign. "Certainly, my goal is to win in March and avoid a runoff in November."
If she does win the race for a four-year term, Martinez will be the first woman elected to the District 5 seat; she told the B.A.R. a woman was appointed to it in 1979 and served two years. She would also be the first woman to serve on the county board since 2012 and the first elected since 2008.
"I am ready to work as hard as I can all the way through the election because diverse candidates like myself, we don't have the privilege of walking into these seats," said Martinez. "I am ready to work hard to understand the needs of our district so I can represent it well as a supervisor."
Last June Supervisor Bruce McPherson announced he would retire at the end of his third term rather than run for reelection next year. It opened the door for Martinez, CEO of the county's largest health and human services nonprofit, Encompass Community Services, to seek the seat that covers the northern section of the city of Santa Cruz and Scotts Valley.
The fifth supervisorial district also includes the San Lorenzo Valley and its communities of Ben Lomond, Boulder Creek, and Felton, where Martinez resides. Most of it is unincorporated, with the county board providing services and governance.
"We haven't had a representative who has lived in San Lorenzo Valley since 2002, even though we make up 60% of voters," said Martinez. "Because we are unincorporated, we don't get another elected voice."
Two other candidates in the race, Christopher Bradford and Theresa Bond, have been focused on water issues in the district, while Tom Decker, who works for a company that builds accessory dwelling units, pulled papers last month to run. Santa Cruz County Sheriff Jim Hart ruled out also vying for the seat and endorsed Martinez in late October.
Last month, statewide LGBTQ advocacy organization Equality California endorsed Martinez along with several other out supervisor candidates on March ballots across the state, as the B.A.R. previously reported. She told the B.A.R. it is time for Santa Cruz County's board to have LGBTQ representation.
"I think Santa Cruz does have a reputation of being very progressive. However, this has been a glass ceiling that hasn't been broken yet," said Martinez. "I think it is an important voice that has been missing from the county board."
Becoming the first out supervisor from the board's most conservative leaning district would also be significant, she noted. Particularly at a time when attacks against LGBTQ rights have broken out across the Golden State, added Martinez.
"I think it would send a really strong message to our county and region if the first openly LGBTQ supervisor in Santa Cruz County came from the fifth district," she said. "I think it would be a really significant change and signal support for the values of inclusion and acceptance in our entire county, including in this district."
First-time candidate
A first-time candidate for public office, her candidacy is already an example of how far the LGBTQ community has come in her lifetime, said Martinez. She never imagined in her childhood that she would seek to be elected one day.
"Originally being from Bakersfield, I just never thought as an out LGBTQ woman who is Latinx that I would be electable," she said. "I have dedicated my life to public service and have been serving those in need in our community for my entire career. Over the last decade a lot has changed in what is valued in elected representation. My lived experience could be an asset; I could really help advance policy in our community."
Born and raised in Bakersfield at the southernmost end of California's Central Valley, Martinez grew up in a union household. Her father is a retired Kern County fire captain, while her mother is a retired public elementary school teacher.
Looking for a more welcoming environment post high school, Martinez enrolled at Cal Poly in San Luis Obispo along the state's Central Coast. As she worked toward earning her B.A. in political science, Martinez landed a summer job after her freshman year with the YMCA of San Francisco at its Camp Jones Gulch in the Santa Cruz Mountains.
Nineteen and not wanting to return to her hometown during her break between semesters, Martinez told the B.A.R. the camp was "a beacon" for her where she met like-minded, accepting people in the other employees.
"I met the first lesbians I'd ever met there. They took me to my first Pride in San Francisco. This was in 2001," she recalled. "I continued to work there for another five years during the summers."
She also noted that she hasn't missed Hardly Strictly Bluegrass, the free annual music festival held in San Francisco's Golden Gate Park, in 15 years. (It was held virtually during the first two years of the COVID pandemic.)
"I love it. I love music," said Martinez, who had just visited the city's LGBTQ Castro district for the first time since the start of the health crisis in 2020 when she spoke with the B.A.R. by phone in mid-November.
After Martinez earned a master's in public administration at the University of Southern California, she worked to provide services to homeless women living on Los Angeles' Skid Row. In 2010, the nonprofit Housing Matters of Santa Cruz County hired her as its executive director.
She co-founded the 180/180 Initiative, a community partnership aimed at helping to house homeless individuals in the county. By 2014, Martinez had taken over the leadership of Encompass Community Services.
Martinez is a co-parent with her two children's other mom, from whom she is separated. Because the couple adopted them out of the foster care system, Martinez is keeping their identities private, though she did tell the B.A.R. they are elementary school students ages 8 and 9 who are not biological siblings.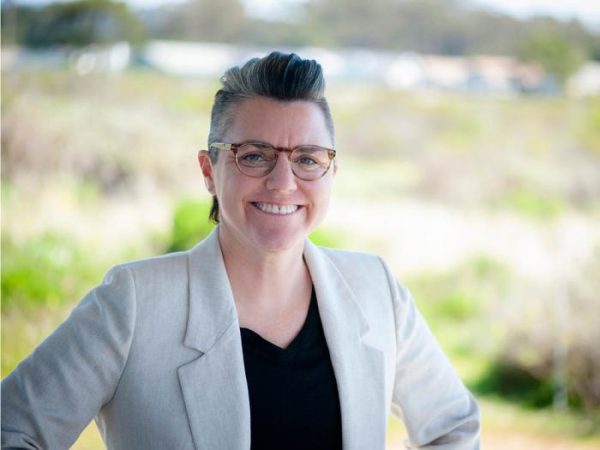 She and her family had to evacuate their home during the CZU Lightning Complex Fire that tore through the Santa Cruz Mountains in August 2020. They were able to return after being displaced for a month.
"We were fortunate to have a home to come home to," said Martinez.
That experience, and navigating the COVID pandemic as a parent working from home, provided her a unique perspective that she now wants to bring to the county board. In addition to knowing the inner workings of the county government due to her nonprofit work, Martinez has also chaired the Santa Cruz County Parks and Recreation Commission and serves on the executive committee of the Santa Cruz County Health Improvement Partnership.
"Given my experience navigating public services and county funding, I feel like I have a lot to offer," she said. "I won't be green in the job because I have been navigating these systems professionally my whole career. I feel really ready and that this is a natural next step for my career."
Should she be able to secure the supervisor seat in the March 5 primary, it would allow Martinez to help usher in a new executive director at her agency before she is sworn into the supervisor seat next December ahead of the board's first meeting in January 2025.
"The real reason I want to win in March is I run a large human services organization. If I have time to transition out of the role and support the organization in hiring and training a person during that time period, it will be good for the organization and the services we deliver in our county," said Martinez. "I'd much rather have time to do that from March to January rather than have to campaign."
To learn more about her candidacy, visit her website at martinezforsupervisor.com.
EQCA endorses out Santa Cruz council candidate
Another candidate looking to make political history in Santa Cruz County next year also picked up the support recently of EQCA. Joe Thompson is aiming to become the first nonbinary individual elected to the Santa Cruz City Council.
A former union organizer at Starbucks, Thompson came up short last year in their bid for a state Assembly seat. Thompson is now running for the District 5 council seat in Santa Cruz, as is former assistant city manager Susie O'Hara.
It includes the Pogonip open space area and the majority of the UC Santa Cruz campus, plus the city's Upper West Side and Harvey West Park areas. (The coastal enclave is transitioning to having six district-based council seats plus an elected mayor, which began with the 2022 elections for two of the seats and a new mayor.)
Like the county's supervisor races, the council race will be on the 2024 primary ballot. With just two candidates in the race, it is likely one of them will receive more than 50% of the vote come March 5 to win it outright and avoid a runoff race on the November ballot next year.
According to a map of LGBTQ elected officials maintained by the LGBTQ Victory Fund, there are no out members currently on the City Council in Santa Cruz. Former lesbian councilmember Donna Meyers left in 2022 after serving one four-year term, which included her becoming the city's first lesbian mayor when she held the former ceremonial role in 2021.
**************************************************************************************
The preceding article was previously published by the Bay Area Reporter and is republished with permission.
Help keep the Bay Area Reporter going in these tough times. To support local, independent, LGBTQ journalism, consider becoming a BAR member.