MAGA anti-LGBTQ+ Republican elected as Louisiana's governor
Landry received 52% of the statewide vote, and was the surprise victor Saturday by winning over 50% in the primary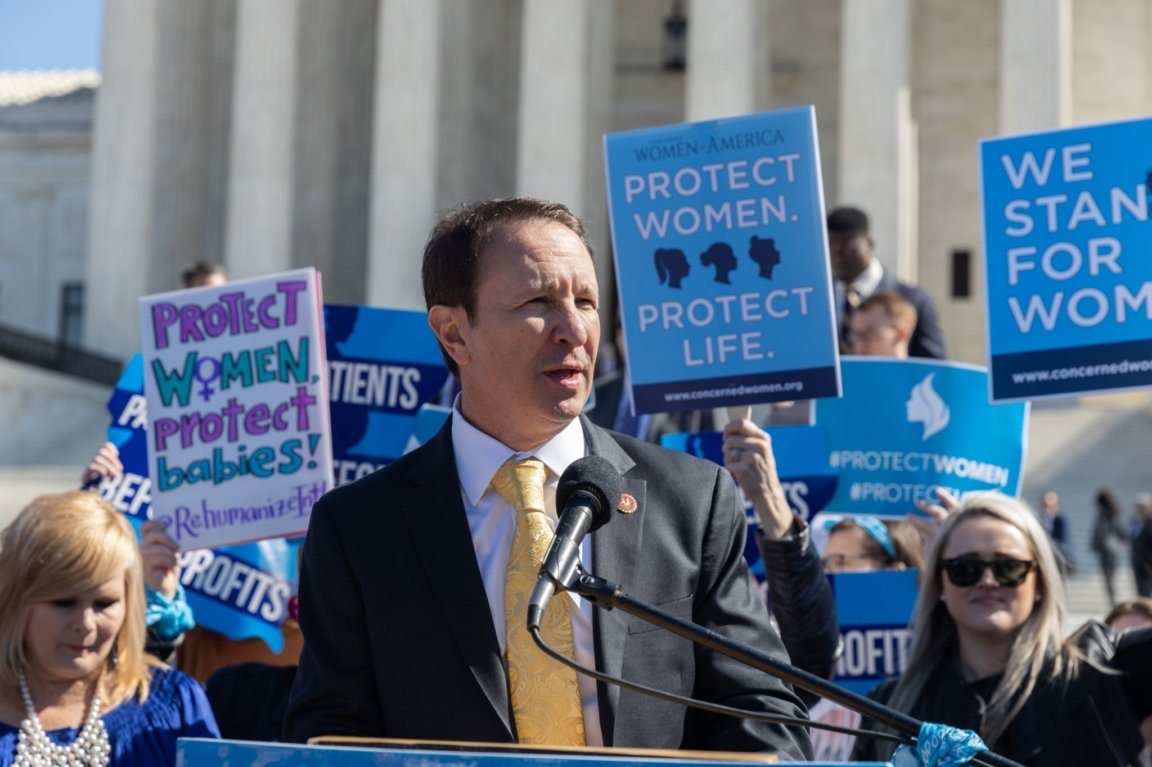 BROUSSARD, La. – Republican Attorney General Jeff Landry will become Louisiana's 57th governor, after winning Saturday's primary in a field with three other Republican candidates, a conservative independent and a lone Democrat.
Landry was endorsed by former President Donald Trump and garnered endorsements from House Majority Leader Steve Scalise, who represents the congressional first district of Louisiana. Tony Perkins, the head of the Family Research Council, listed by the Southern Poverty Law Center as a anti-LGBTQ+ hate group for its lies and propaganda against LGBTQ+ people, also endorsed Landry.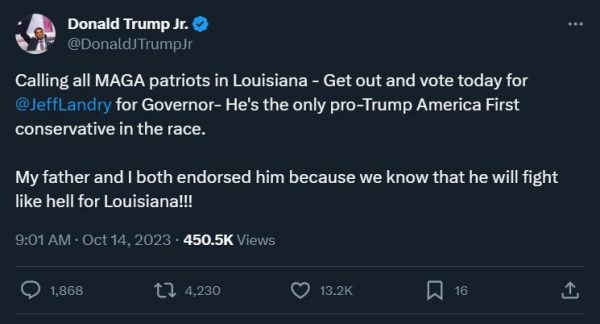 "Today's election says that our state is united," Landry told supporters as he celebrated his victory speech Saturday night. "It's a wake up call and it's a message that everyone should hear loud and clear, that we the people in this state are going to expect more out of our government from here on out."
The Associated Press noted that Landry's win is a major victory for the GOP as they reclaim the governor's mansion for the first time in eight years. Landry will be sworn into office in January, replacing current Gov. John Bel Edwards, the lone Democratic governor in the Deep South, who was unable to seek reelection due to consecutive term limits.
Landry is a conservative firebrand who has repeatedly clashed with Edwards over LGBTQ+ rights and in 2020, was part of the group of Attorney's General who joined the lawsuits that attempted to overturn the 2020 election.
The Louisiana Illuminator reported Landry received 52% of the statewide vote, and was the surprise victor Saturday by winning over 50% in the primary securing him the governor's chair.
Shawn Wilson, the lone Democrat in the race, drew 26% of the vote — a paltry figure when considering that Democrats comprise roughly 40% of Louisiana's electorate. Louisiana's open primary format results in a runoff between the top two finishers unless a candidate receives 50% or more of the vote.
"There are no regrets in the Wilson household," the Algiers native told supporters at the Westin Hotel in New Orleans.
Wilson's chances of making a runoff with Landry hinged on coaxing enough turnout in the state's urban centers. Heading into Election Day, a small segment of Republicans predicted Landry could claim the governor's seat in the primary, perhaps serving as a deterrent to Democrats and supporters in the rest of the field.
A spokesperson for Wilson said he called Landry to concede once the governor-elect completed his victory speech. Wilson said he asked Landry to keep Medicaid expansion in Louisiana and raise teacher pay. Landry has previously said he would maintain status quo with Medicaid, which Gov. John Bel Edwards expanded on his first day in office in 2016.
"…While we might not understand everything that Jeff Landry wants to do as governor, I believe he wants to try to do the right thing, and it's our job as Louisianians to make that happen," Wilson said.
The 52-year-old governor-elect has garnered national attention the Associated Press reported since taking office as the state's attorney general in 2016 over his involvement and staunch support of Louisiana laws that have drawn much debate, including banning gender-affirming medical care for transgender youths, the state's near-total abortion ban that doesn't have exceptions for cases of rape and incest, and a law restricting youths' access to "sexually explicit material" in libraries, which opponents fear will target LGBTQ+ books.
Landry has repeatedly clashed with Edwards over matters in the state, including LGBTQ rights, state finances and the death penalty. However the Republican has also repeatedly put Louisiana in national fights, including over President Joe Biden's policies that limit oil and gas production and COVID-19 vaccine mandates, the AP also noted.
Additional reporting by The Louisiana Illuminator & The Associated Press.
The price of hate: Louisiana loses one of its 3 pediatric cardiologists
The environment created by anti-LGBTQ legislation in Louisiana, drove Out gay doctor, his husband & kids from home they loved for Long Island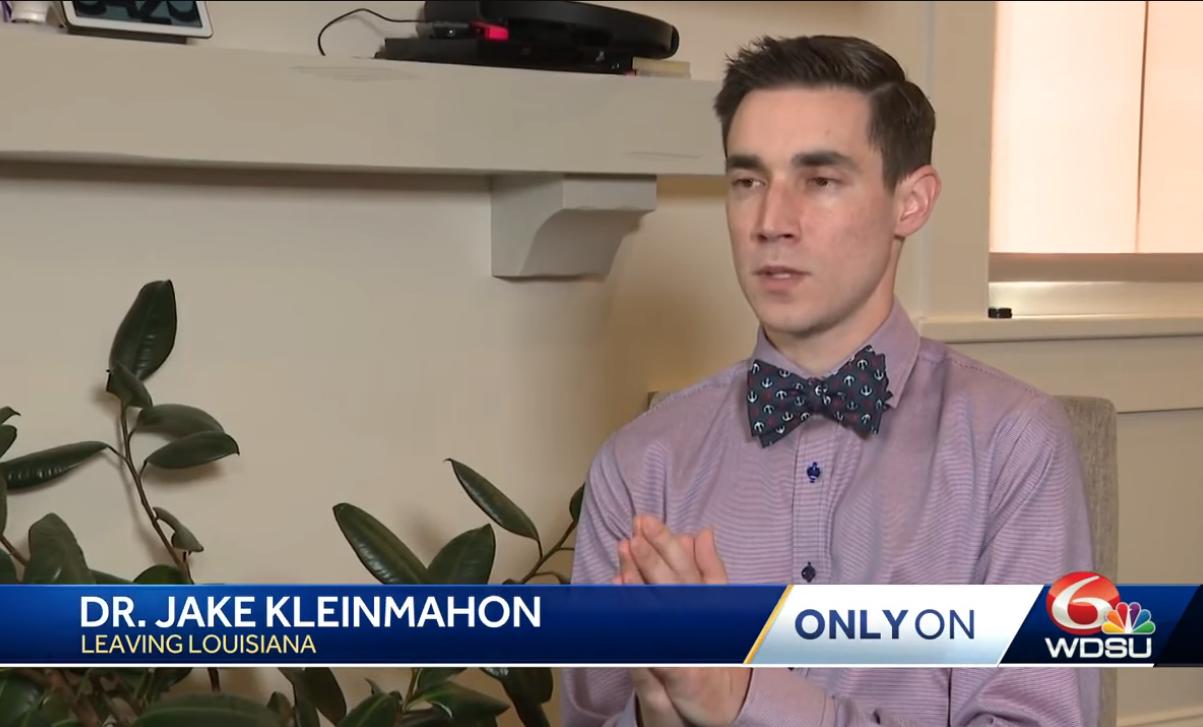 LONG ISLAND, N.Y. — While Jake and Tom Kleinmahon are busy settling-in to their new home in the suburbs of New York City — no easy task when you're raising two children — Jake is also busy telling the story of why they moved here, more than 1,300 miles from New Orleans.
Dr. Kleinmahon, one of three pediatric cardiologists in Louisiana, first shared that story on Instagram in July, about why they were leaving. It was not only because he accepted a new job in Queens, N.Y.
"This is a wonderful new opportunity, but it is incredibly sad to leave our home, our friends, colleagues, and patients and their families," he wrote on Instagram. "Our children come first. We cannot continue to raise them in this environment."
The environment is what was created by anti-LGBTQ hate legislation in Louisiana, which the surgeon wrote is what drove the Kleinmahons from their beloved home in New Orleans. Now, he's telling that story to reporters at TV stations, CNN and People magazine. 
As CNN reported, Kleinmahon is a graduate of Tulane University's medical school, and after leaving the state to complete his fellowships, he said he felt compelled to return, five years ago.
"At the time there was only one heart transplant doctor in the state of Louisiana," he said. "I believe the kids in Louisiana should have the same world class health care as any other part of the United States." Before his return, hospitals often sent children out of state for the lifesaving care he provided.
As the new director of the pediatric heart transplant program at a local children's hospital, Kleinmahon started building a life with his husband in New Orleans, and raising a family. Peeling crawfish, celebrating Mardi Gras and going to Saints games was just a part of it; so was making friends and getting involved in community groups.
But this year, Kleinmahon told CNN he started having difficult conversations with his family about leaving the home they love. When he explained to his six-year-old daughter that their family had no choice but to leave New Orleans, she said, "We do have a choice, just one of them isn't a good one."
In Louisiana, where the governor is a Democrat but the legislature is dominated by Republicans, the legislature proposed bans on transgender student-athletes, an education bill restricting both students and teachers from discussing orientation and identity, and a ban on gender-affirming healthcare for trans and nonbinary youth.
Kleinmahon lobbied against the bills, calling state lawmakers and writing letters to the state's senate education committee. But he reached a breaking point when Republican state lawmakers walked out of a senate education committee meeting as opponents of the state's version of the "Don't Say Gay" bill were discussing why it was harmful.
"It really showed that they just don't care," Kleinmahon told CNN. "They are not going to support our children; they are not going to support our family."
Almost four percent of adults in Louisana identify as LGBTQ+, according to the Movement Advancement Project. And its data shows 28 percent of LGBTQ+ adults are raising children there.
The Republican-led legislature moved forward anyway, sending those bills to the governor in Baton Rouge, as the Los Angeles Blade reported. On July, 18, lawmakers voted to override Gov. John Bel Edwards' vetoes of their anti-LGBTQ+ bills. His veto of anti-trans legislation survived the vote to override, but Louisiana will join 22 other states banning gender-affirming care in 2024.
The surgeon and his family bid farewell to New Orleans on Aug. 24.
Kleinmahon is now working as the director of Pediatric Heart Transplant, Heart Failure, and ventricular assist devices at Cohen Children's Medical Center in Queens, and Louisiana has only two pediatric surgeons available as of press time. 
"Although we love New Orleans and we love Louisiana with all of our hearts," Kleinmahon said, echoing his Instagram posts, "We can't raise our children in this environment."