Urging bipartisanship, Democrats condemn Speaker's extremism
"Mike Johnson is Jim Jordan in a sports coat," DCCC Spokesperson Viet Shelton said in a statement to the Washington Blade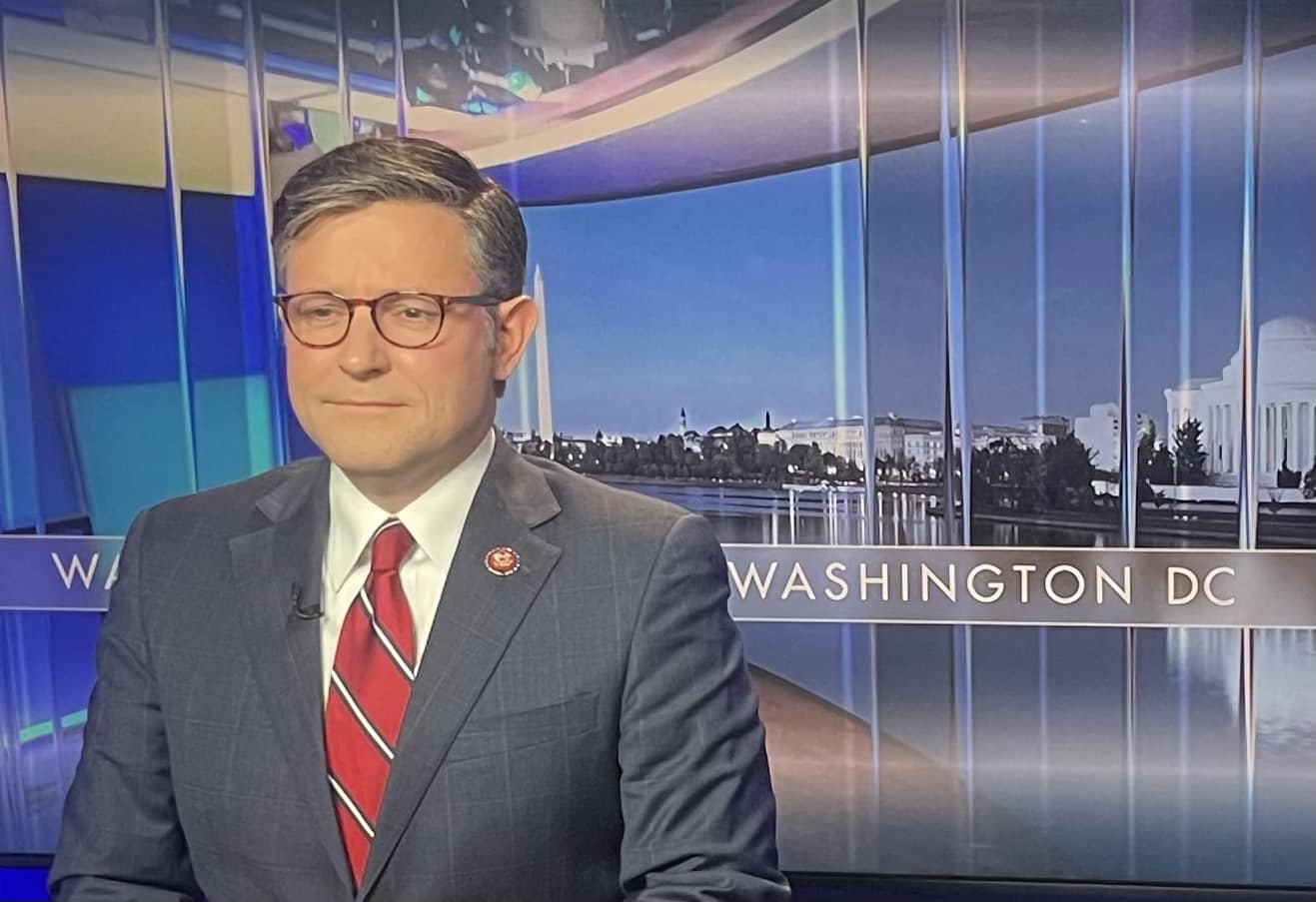 WASHINGTON – Following Wednesday's election of the new Republican House Speaker, U.S. Rep. Mike Johnson (La.), President Joe Biden and the top Democrats of both chambers of Congress pledged to work with him in good faith, noting the appropriations bills that must be passed before November 17 to avoid a government shutdown and shore up America's national security interests.
Meanwhile, other elected Democrats, along with the Democratic Congressional Campaign Committee, the Democratic National Committee, and advocacy groups closely tied to the party, responded by flagging Johnson's far-right socially conservative record, particularly with respect to LGBTQ and reproductive rights – arguing, in many cases, that his election is proof of the Republican Party's embrace of extremism.
"Mike Johnson is Jim Jordan in a sports coat," DCCC Spokesperson Viet Shelton said in a statement to the Washington Blade, comparing the lesser known Republican leader with the outspoken, bomb-throwing hardline Congressman from Ohio (who is often seen jacketless).
He continued, "Electing him as Speaker sends a clear signal that the so-called moderate House Republicans have completely fallen in line with his repellent, discriminatory attacks on the LGBTQ community. From introducing a federal "Don't Say Gay" bill to propelling openly homophobic commentary before Congress, Johnson has consistently attacked the LGBTQ community with hate and ignorance."
The LGBTQ Victory Fund, which works to elect LGBTQ candidates to public office, told the Blade House Republicans' choice of Johnson for speaker will jeopardize the seats of GOP members in vulnerable districts:
"Mike Johnson prides himself on discrimination and hatred for LGBTQ+ people, dedicating most of his career to opposing our basic rights. He introduced a federal "Don't Say Gay" bill, is the current sponsor of three national abortion bans, is against marriage equality and wants to ban lifesaving gender-affirming care."
The group's statement continues, "By casting their ballots for Rep. Johnson, Representatives like Ken Calvert, Lori Chavez-DeRemer and Mike Lawler have made their anti-LGBTQ, anti-choice views very clear. Polling shows voters favor pro-equality and pro-choice legislation – these extremist votes will undoubtedly have consequences on Election Day."
In a post Wednesday pinned to her page on X, House Minority Whip Katherine Clark (Mass.), the chamber's second highest-ranked Democrat, said "House Republicans have learned nothing from their three-week civil war. Mike Johnson wants to criminalize abortion everywhere and degrade democracy for everyone. They reject reasonable bipartisanship and celebrate MAGA fealty."
The Congressional Equality Caucus released a statement from its Chair, U.S. Rep. Mark Pocan (D-Wis.), who said "Today, the House had the opportunity to elect a Speaker of the House who could lead in a bipartisan manner to move America forward. Instead, extreme MAGA Republicans elected a Speaker who has dedicated his career to attacking LGBTQI+ people and pushing an anti-equality agenda."
"The House has already taken more than 10 anti-equality votes this Congress," Pocan said. "By electing Mike Johnson—a vehement opponent of LGBTQI+ equality—as Speaker, his supporters have signaled they want these attacks against our community to continue."
Six of the Equality Caucus's eight co-chairs, all of whom are LGBTQ, condemned Johnson's election in separate statements or posts on X: Democratic U.S. Reps. Mark Takano (Calif.), Becca Balint (Vt.), Robert Garcia (Calif.), Sharice Davids (Kan.) Eric Sorensen (Ill.), and Ritchie Torres (N.Y.).
Stalled for weeks by House GOP's failure to choose a speaker, leading Democrats urge bipartisanship

In a statement congratulating Johnson, Biden said that while House Republicans spent the last 22 days trying to unite around a new leader, he was working on a funding package addressing national security needs, the border, and other investments on behalf of the American people:
"Jill and I congratulate Speaker Johnson on his election.
"As I said when this process began, whoever the Speaker is, I will seek to work with them in good faith on behalf of the American people. That's a principle I have always held to, and that I've acted on – delivering major bipartisan legislation on infrastructure, outcompeting China, gun reform, and veterans care.
"I restated my willingness to continue working across the aisle after Republicans won the majority in the House last year. By the same token, the American people have made clear that they expect House Republicans to work with me and with Senate Democrats to govern across the aisle – to protect our urgent national security interests and grow our economy for the middle class.
"While House Republicans spent the last 22 days determining who would lead their conference, I have worked on those pressing issues, proposing a historic supplemental funding package that advances our bipartisan national security interests in Israel and Ukraine, secures our border, and invests in the American people. These priorities have been endorsed by leaders in both parties.
"We need to move swiftly to address our national security needs and to avoid a shutdown in 22 days. Even though we have real disagreements about important issues, there should be mutual effort to find common ground wherever we can. This is a time for all of us to act responsibly, and to put the good of the American people and the everyday priorities of American families above any partisanship."
According to a White House pool report Wednesday from The Guardian's Washington bureau chief David Smith, Biden called Johnson to congratulate him and "expressed that he looks forward to working together to find common ground on behalf of the American people."
A White House spokesperson did not immediately respond to a request for comment addressing fears and concerns among the LGBTQ community over Johnson's election.
House Minority Leader Hakeem Jeffries (N.Y.), the highest ranking Democrat in the chamber, posted a clip on X from his floor speech in which he calls for bipartisan cooperation.
The Congress is back open.

House Democrats will continue to fight hard to make life better for everyday Americans.

Always and forever. pic.twitter.com/rsuLS48vBA

— Hakeem Jeffries (@RepJeffries) October 25, 2023
Likewise, in a statement on X, Democratic Senate Majority Leader Chuck Schumer (N.Y.) said "I look forward to meeting with Speaker Johnson soon to discuss the path forward to avoid a shutdown. I'll convey that bipartisanship is the only way we can deliver results. The only way to avoid a shutdown, pass critical funding, deliver common-sense investments is bipartisanship."
LGBTQ groups highlight Johnson's extremism
The Human Rights Campaign issued a press release headlined: "As Extreme as It Gets: Supposed 'Moderates' in GOP Conference Choose as Speaker an Election Denier Who Called LGBTQ+ People a 'Deviant Group'.
"The MAGA House majority has selected the most anti-equality Speaker in U.S. history by elevating Mike Johnson," the organization's President Kelley Robinson said in a statement, "a choice that will be a stain on the record of everyone who voted for him."
"Johnson is someone who doesn't hesitate to express his disdain for the LGTBQ+ community from the rooftops and then introduces legislation that seeks to erase us from society," she wrote, adding, "Just like Jim Jordan, Mike Johnson is an election-denying, anti-LGBTQ+ extremist, and the lawmakers who appeared to stand on principle in opposing Jordan's bid have revealed themselves to be just as out-of-touch as their new leader."
After Robinson's comments, HRC's press release goes on to highlight Johnson's "Appalling History of Attacking LGBTQ+ Rights."
On X, GLAAD linked to the congressman's GLAAD Accountability Project page, which contains details on his record, writing in the post that Johnson "has a long anti-LGBTQ history, including authoring a federal "Don't Say LGBTQ" bill last year, working as senior attorney and spokesperson for the anti-LGBTQ group Alliance Defending Freedom."
Brian K. Bond, president of PFLAG National, said the organization "welcomes an end to the Constitutional crisis caused by the vacancy in the second in line to the presidency. To be clear, Speaker Johnson has a history of working to deny freedom to LGBTQ+ people and families in the U.S., to deny the legitimacy of the federal election, and to deny access to safe and legal abortion."
"The role of Speaker requires that he works to preserve the rights and freedoms of all Americans, no matter their race, where they are from, their gender, or their ability," he said, "and PFLAG is watching and willing to hold him accountable—because the lives and well-being of LGBTQ+ people and their loved ones depend on it."
"I would be hard-pressed to think of a worse member to be elected speaker of the house, not simply for LGBTQ communities, but for the American people," National LGBTQ Task Force Director Allen Morris said in an emailed statement.
"Many of my family members have resided in the 4th Congressional district of Louisiana for decades so I know from personal experience his track record on civil rights and minority issues is clear and stark as our community continues to find itself under attack," he said.

"Americans should consider his track record on the preservation and maintenance of our very democracy as one that should concern us all," Morris said. "This entire process of choosing a new speaker of the house has only served to expose even more how MAGA extremism continues to degrade our ability to allow Congress to reconcile the important issues impacting us."
Behind the scenes: LGBTQ staff working on Biden's re-election
"We who work in politics feel like this is a choice between, most likely, Donald Trump & President Biden and Vice President Harris"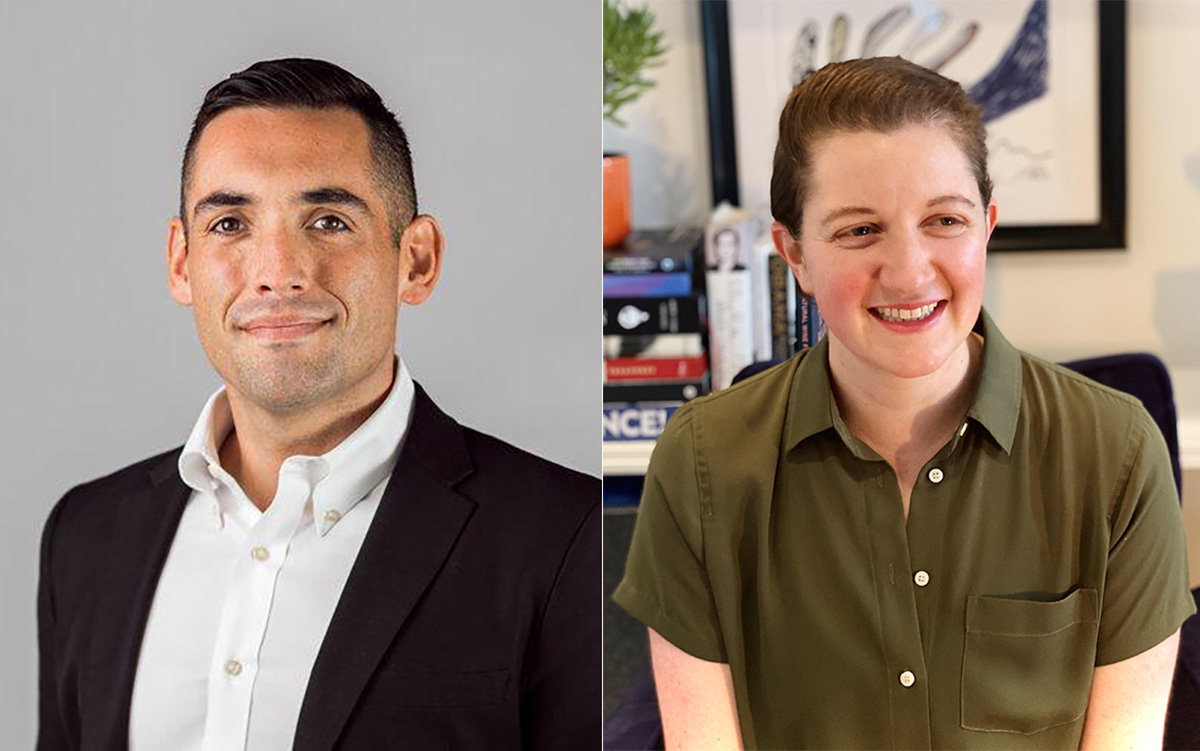 (Editor's note: This is the third in a three-part series profiling senior LGBTQ staff working on President Biden's re-election campaign. Part one was published on Nov. 21 and part two was published on Nov. 29.)

WILMINGTON, Del. — Last month from campaign headquarters, the Washington Blade spoke with Sergio Gonzales, senior adviser to Vice President Kamala Harris and the Biden-Harris reelection campaign, along with senior campaign adviser Becca Siegel.
On the importance of LGBTQ representation in the presidential campaign, Gonzales said, "When it comes to policies that affect the lives of millions of people in our communities across the country, having people who have that experience and that background really does matter."
Moving into next year, he said, the team is working "to ensure that we have people from across the spectrum of America who are able to both bring their own personal experiences and lives into these roles, but also bring a lot of relationships across the country and being able to engage with the community, talk to the community, persuade the community, turn out the community."
Gonzales has worked for Harris since she was elected to represent California in the U.S. Senate, and he said her record supporting and defending the LGBTQ community throughout her career was one of the major factors leading to his decision to join the campaign.
"Especially when it comes to issues related to LGBTQ rights and freedoms, this is something [Harris] has such a long history on," he said. "She has always — both in her office and externally — formed these strong relationships with people in the LGBTQ community and those relationships have always been very, I think, important in not only ensuring her office and the work that she has done reflects the various things that we as a community need, but also just in the way she supports people of color and LGBTQ folks who have worked for her."
In an election where, as the vice president says, so much is at stake for our fundamental freedoms and rights," Gonzales said, "that is especially true for LGBTQ Americans. If you look at the number of attacks by GOP leaders at the local, state, and federal level across the country, so much is on the line in this election."
On the right, Gonzales said, "We have a lot of leaders and a party in this country who are doing their best to try to attack fundamental rights and freedoms of a lot of different folks, including people in the LGBTQ community — and, in some ways, who are trying to turn back the clock on a lot of the progress we've made."
Voters are aware of the fact that, for instance, Republicans elected "a new Speaker of the House who has a very, very alarming and disturbing record of attacking people in our community, including trying to outlaw you know, being gay," he said.
"Both as senior adviser and personally as a very openly and proud gay man," Gonzales said, next year's election "is one of the most important if not the most important election of our lifetime," because "I see what sits on the other side; I see all of these different states who are trying to attack our rights, who are banning books, who are passing 'Don't Say Gay' laws, who are attacking trans people and trying to undo gay marriage, who are — both through policy and through rhetoric — making the country more dangerous for people like me and our community."
"I'm glad and proud to work for a principal and work for a campaign that is about continuing the progress and ensuring we don't turn back the clock and we don't go back on these things," he said.
Gonzales noted the Biden-Harris administration's appointment of record-breaking numbers of LGBTQ folks in senior positions in the White House and across the federal government, but stressed that the commitment to equality runs deeper.
"This administration is an administration that has ensured that not only is there representation for the LGBTQ community, but also has actually driven multiple policy wins, both through the executive level and through Congress, that ensure and afford greater rights and freedoms for people in our community," he said.
Helping voters see the contrast between this and what Republicans — like the party's frontrunner, former President Donald Trump — would do if elected will be an important part of the campaign's work moving into next year, Gonzales said. "As things become much more clear and what we are up against, and Donald Trump comes more into focus, I truly believe that we're going to see a lot of different parts of the country start to engage in this election," he said.
Voters will also remember "the specific things that [Trump] did in his last administration," Gonzales said. "They tried to erase LGBTQ people from the census. They imposed a ban on transgender individuals in our military, which this administration undid. They undid protections for LGBTQ Americans, including transgender individuals, in the workplace, and more broadly," so, "this is not just bluster."
And the Biden-Harris administration "has so much to run on" with respect to LGBTQ matters, Gonzales said, "whether we're talking about health care, whether we're talking about the Respect for Marriage Act, whether we're talking about, you know, some of the ways that we've addressed bullying in schools — these are very real policy wins for our community."
Like Gonzales, Siegel has "worked on many presidential campaigns."
"Your whole life is here when you're working on a campaign," she said. "This is your work, but also your social life and your friends," so "if you are not bringing your whole self to this community, you're not bringing it anywhere in your life."
Our job is to persuade and engage with voters," Siegel said, "and we have to have a campaign that reflects the voters we are trying to engage with."
"Core to my approach to this work is respect and empathy for voters," she said. "That's what we should think about every day. I think we are much better prepared to do that when we have a staff that looks like those voters."
Siegel added, "It's not just so that you walk into the office and it looks like it is a diverse place to work. That's important, too. But it's actually about the work."
With respect to her individual role within the campaign, she said, it comes down to "let's take that strategy" of using data to find a pathway to victory "and then make sure we are executing a campaign that reflects it." When it comes to "travel, comms, which radio stations we're on, what our TV ads say, where we're allocating our money, where we're hiring staff — do those things align with the strategy to get us to 270 electoral votes?"
The importance of representation, LGBTQ and otherwise, may not seem self-evident in data-centric roles, but Siegel noted, for instance, the persistent challenge of combatting bias within datasets.
Like Gonzales, Siegel stressed the contrast between the Biden-Harris administration and campaign and those run by the Republican opposition. "LGBTQ rights feel more under attack now than they have in the past," she said, "and so that rises to the top of concerns for voters — and our policy and position on this is really far away from the Republicans'."
"That's a clear contrast between us and the opposition," she said, adding, "It's at the top of people's minds. It's something they care about, and we have a pretty unimpeachable record on it compared to the opposition."
It is not necessarily so simple, however.
"We who work in politics feel like, of course, this is a choice between, most likely, Donald Trump and President Biden and Vice President Harris," Siegel said, "but voters, especially the voters who are most persuadable, don't feel that way right now, necessarily."
The choice voters will face will crystalize and the contrast between the campaigns will deepen moving into next year, she said.
On lots of LGBTQ issues, Americans are on our side. And when it becomes a choice between, 'there's this version of America and then there's Trump's version of America,' — then, that is really clear," Siegel said.
The campaign is working to reelect the president and vice president to represent the people, the voters, who "have day-to-day things that prevent them from, like, reading Politico," she said. "They have kids, they have to pay their bills, they have to worry about all kinds of things."
Siegel added, "I have a lot of faith in voters. They care about their families. They want a good life. They care about people who are different than them. I think most people care about other people."
For those working on the campaign, she said, "it's really on us" to make sure to "explain and show and demonstrate to them what you are getting from this administration, from these candidates."
"We get to run on issues that help people and are popular," Siegel said. "That's a great place to start from."