Kane's Cuisine: Mixed berry cobbler
LA Blade White House correspondent Christopher Kane shares his love and passion of cooking writing in his weekly column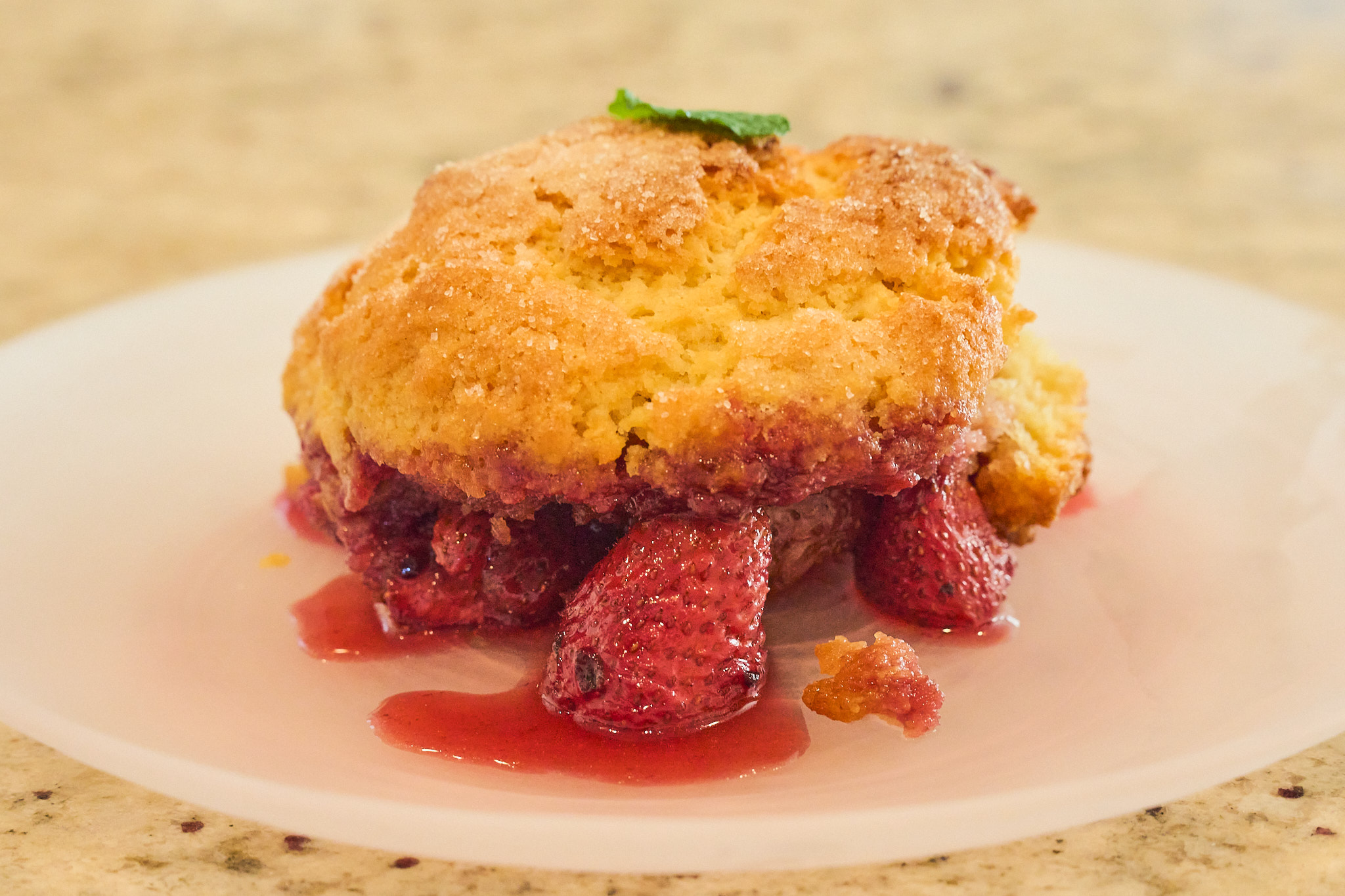 The LA Blade's intrepid Washington D.C.-based White House correspondent snarks his way through another delicious weekly recipe while dishing tea on other subjects
WASHINGTON – Unlike crisps and crumbles, cobblers have a biscuit-style topping covering the cooked fruit. Arranged in this fashion, the dessert allegedly looks like a cobbled road, hence the name. 
Recipe from Scott Campbell, adapted by Florence Fabricant, New York Times Cooking, and then by me:
Preheat oven to 350° F, line a baking sheet with parchment paper, and butter a 9 X 13 baking dish
In a food processor, briefly whirl 2 cups all-purpose flour, 2 tablespoons baking powder, and a teaspoon salt. Dice 2 sticks unsalted butter and pulse it until mixture becomes uniformly crumbly. In a measuring cup, mix a quarter cup white granulated sugar with one cup half-and-half until dissolved. Pour into the food processor and pulse until just combined. Do not overmix
Scoop the dough into eight mounds on the baking sheet. Sprinkle with an additional 1-2 tablespoons of sugar, and bake 20 to 25 minutes, until lightly browned
Meanwhile, in a large bowl combine 1.5 cups brown sugar with 3 12-ounce containers of berries. I used a 2:1 ratio of strawberries to blackberries. Spread evenly in your baking dish
Slide each biscuit topping off your parchment, and place on the berries, spacing them evenly
Bake for another 30 minutes, allow to cool for 30 minutes, and serve with mint and vanilla ice cream
Kane's Cuisine: A plum torte + bonus recipe featuring more plums!
LA Blade White House correspondent Christopher Kane shares his love and passion of cooking writing in his weekly column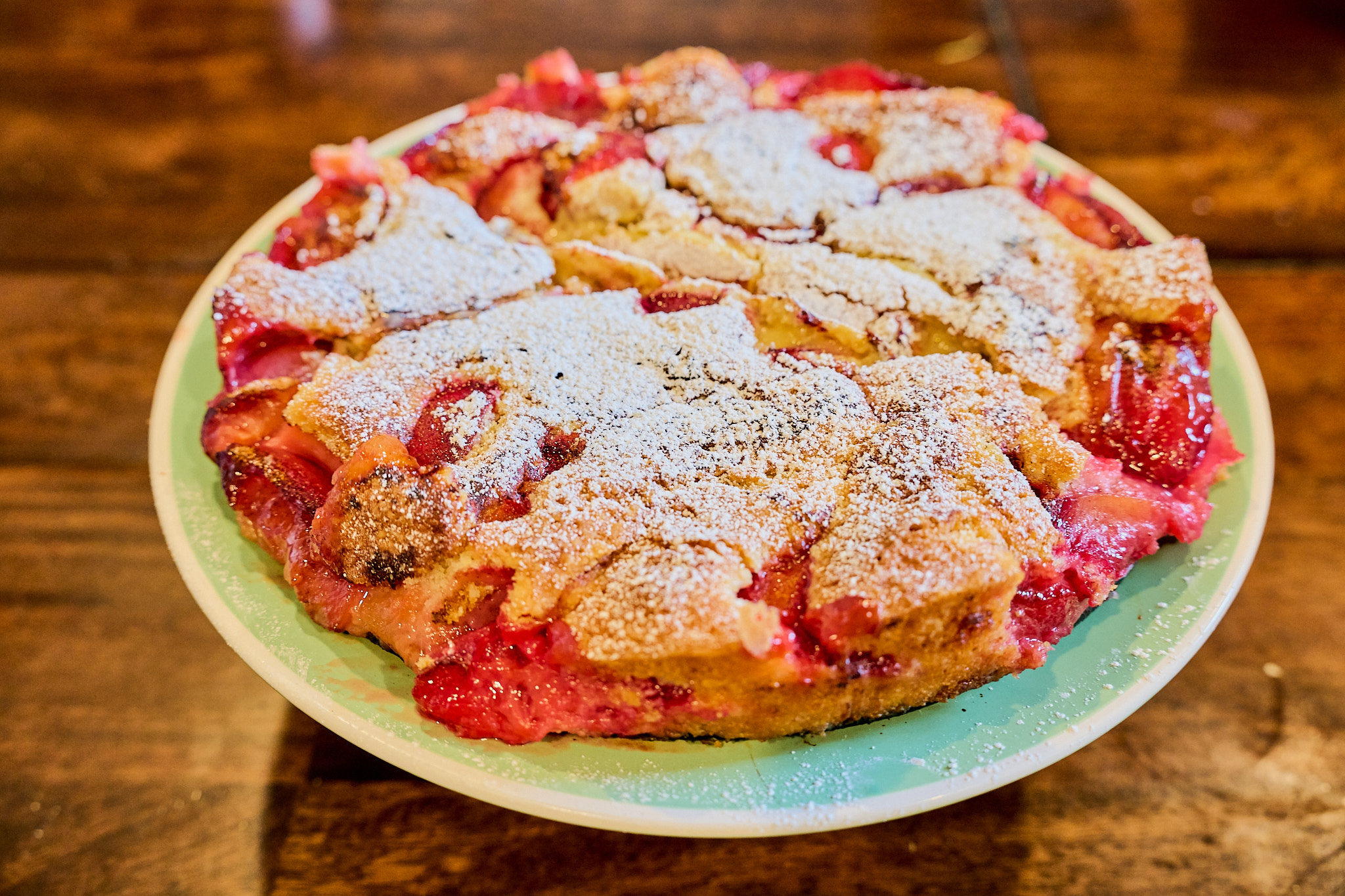 The LA Blade's intrepid Washington D.C.-based White House correspondent snarks his way through another delicious weekly recipe while dishing tea on other subjects
WASHINGTON – As I was looking for the recipe featured in this week's column, I got some interesting results when I mistakenly hit "return" after typing only the first word of my Google search query ("plum"). 
Turns out, in the U.K., a man who speaks with an accent typical of the English upper classes is often said to "have a plum in his mouth"? Of course, here in the States, instead of that we have Hilaria Baldwin. And Meredith Marks in the latest episode of RHOSLC.
And according to Urban Dictionary, "plum" is also used by Brits to describe the painful constriction of a man's external genitalia, often with a rubber band, for purposes of performing a sex act that I cannot describe with words that are printable in this news outlet.
Perhaps we should broaden the latter definition to include "putting the squeeze" on someone in a non-sexual manner, as our House Speaker is now experiencing at the hands of his Republican colleagues in the chamber?
Anyway, for our purposes, the plums we're talking about are the stone fruits whose abundance and peak ripeness mark the onset of autumn.
I could not possibly gas up this torte recipe better than the description provided by New York Times Cooking, which I've excerpted below:
The Times published Marian Burros's recipe for Plum Torte every September from 1983 until 1989, when the editors determined that enough was enough. The recipe was to be printed for the last time that year. "To counter anticipated protests," Ms. Burros wrote a few years later, "the recipe was printed in larger type than usual with a broken-line border around it to encourage clipping." It didn't help. The paper was flooded with angry letters.
Heat oven to 350° F. Grease a 9-inch springform pan (or similarly sized cake pan with high sides) with unsalted butter
Halve ~12 ripe plums, cutting slightly off-center to avoid blunting your knife with the pits, and then use a small paring knife to cut them out and discard
Cream a half cup softened unsalted butter together with 1 cup granulated sugar using a stand mixer, a hand-held electric mixer, or by hand with a whisk if you're a masochist and need to be a hero
Add 1 cup all-purpose flour, 1 teaspoon baking powder, a heaping half teaspoon kosher salt*, and 2 eggs, beating or whisking until well combined
Scrape the batter into your pan. Distribute your plum halves over top, skin side up, and sprinkle with the juice of half a lemon, 1 teaspoon cinnamon, and granulated sugar (roughly a tablespoon, depending on how sweet your plums are)
Bake for 1 hour. Top with confectioner's sugar and serve with ice cream or whipped cream if desired
*The recipe calls for a pinch, but I firmly believe most desserts make insufficient use of salt and its flavor enhancing properties, including in this case.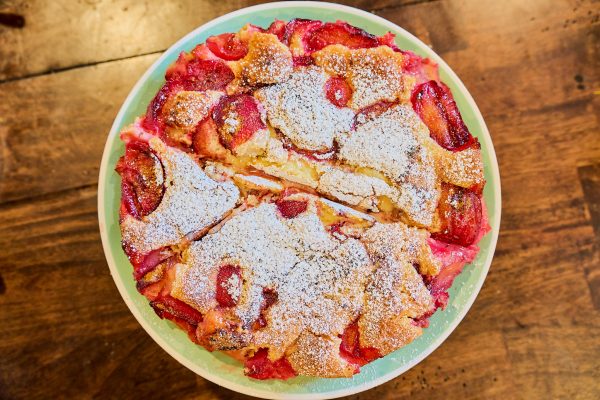 Bonus recipe: From Melissa Clark, a fabulous and easy weeknight dinner of roasted chicken thighs with peaches, basil, and ginger. And as I discovered, the dish works as beautifully with plums as it does with peaches.
Apologies that my husband was not available to take pictures of this one, but you can use your imagination or see what it's supposed to look like at NYT Cooking:
Heat oven to 400°
Halve plums (or peaches!), remove their pits, and slice the fruit into quarter to half-inch wedges
Arrange or evenly scatter the following on a 9 by 13-inch sheet pan: 1 pound chicken thighs,* seasoned with salt and cut into 1-inch strips; 2-4 cloves garlic, minced or crushed; 1 tablespoons chopped fresh basil, 2-3 tablespoons grated fresh ginger, 2 tablespoons extra-virgin olive oil, 2 tablespoons dry sherry or dry vermouth, 1 teaspoon kosher salt, and a half teaspoon black pepper
Roast for about 20 minutes
Top with an additional 1-2 tablespoons chopped fresh basil and follow Melissa's advice: "Sauce will be thin, so serve with crusty bread for sopping or over rice."
*Use boneless skinless thighs, or de-bone them and leave the skin on with the expectation that you'll have to pour off excess rendered chicken fat that will accumulate after roasting