I-10 Freeway will reopen ahead of Monday morning commute
CAL FIRE's investigation into the suspected arson remains ongoing. Any Anonymous Tips- call CAL FIRE Arson Hotline at 1-800-468-4408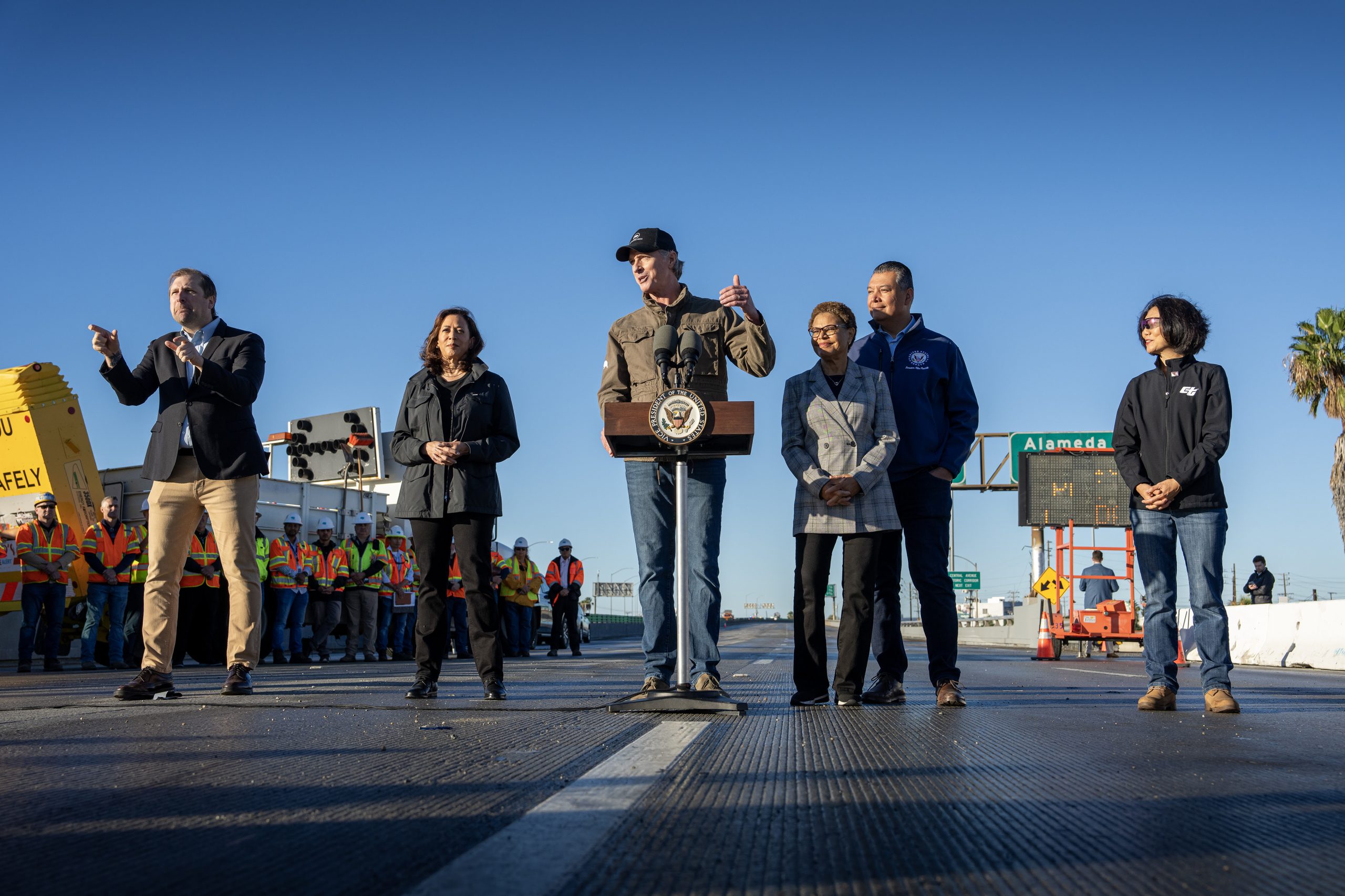 LOS ANGELES – This morning Governor Gavin Newsom, alongside Vice President Kamala Harris, Senator Alex Padilla, Los Angeles Mayor Karen Bass, and other local, state, and federal officials, announced the I-10 Freeway would reopen ahead of the Monday morning commute, beating the expected timeline by days thanks to around-the-clock work by union crews.
"What began as months has turned into days — before Angelenos hit the road on Monday, we're opening the 10 back up. Thanks to the tireless work of Caltrans and union construction crews and with help from our partners — from the Mayor's office to the White House — the 10's expedited repair is proof and a point of pride that here in California, we deliver," Newsom told reporters in the early Sunday morning press conference.
"The work that happened here is extraordinary," said Vice President Kamala Harris. "It was possible with the will and ambition of the workers on the ground, and their commitment as public servants and as union members to get this done and deliver for the people of Los Angeles. This is the kind of work that is happening around the country – where hard-working men and women, carpenters, laborers, and government workers, are rebuilding America's infrastructure. Thank you to those workers for your commitment to the country."
 
"The 10 will be safe to drive on weeks ahead of schedule because of urgent action and collaboration at all levels of government," said LA Mayor Karen Bass. "When we work together, nothing can stop Los Angeles. Right when this happened, I heard from our state and federal partners that they would let nothing stand in our way. The White House and the Governor's Office not only lived up to that promise, they helped us exceed all expectations. Today is proof of locking arms delivering real results for the people of this city."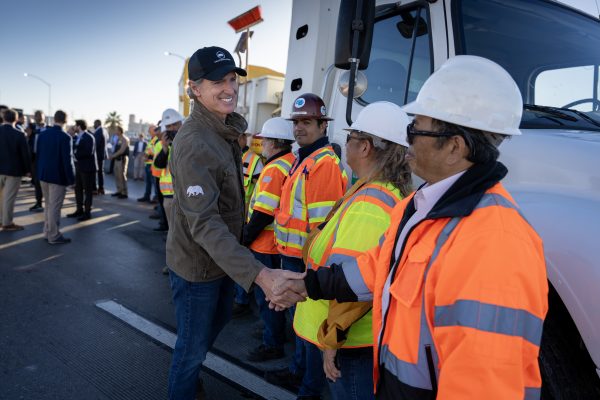 Today's announcement, eight days since the fire, comes far ahead of the original project schedule and was made possible because of the around-the-clock efforts of crews and engineers on and off-site, better-than-expected structural testing results, rapid debris removal, and close coordination between state, local, and federal government officials to safely expedite repairs of a major freeway that is a critical backbone to the American and global economy.
 
As repairs continue over the coming months, the public should expect some temporary closures on occasional weekends and overnight, along with intermittent lane closures.
The 10 Freeway fire began on a site rented by Apex Development, Inc. (Apex). Two months prior to the fire, Caltrans sued Apex, seeking to remove the company from the leased property for failing to pay its rent and subletting the property without authorization. A hearing is set for early 2024 in that lawsuit.
Apex was responsible for maintaining the fenced-off site while they continued to assert rights under the lease. CAL FIRE's investigation into the fire — suspected to be arson — remains ongoing. A person of interest has been identified and members of the public are encouraged to provide any leads or tips, which can be sent anonymously to the CAL FIRE Arson Hotline at 1-800-468-4408 or [email protected].
 
Last weekend, Governor Newsom proclaimed a state of emergency in Los Angeles County to support the state's response. The proclamation facilitates clean-up and repair work and directs Caltrans to request assistance through the Federal Highway Administration's Emergency Relief Program, which the state secured.
 
The 10 Freeway is a major artery that serves hundreds of thousands of Angelenos daily. After testing samples and assessing damage from the site, state transportation officials determined the damage could be repaired without demolishing and rebuilding the 450-foot span of the freeway, which could have taken upwards of 6 months.
Union crews continue to work around the clock to get the freeway open by tomorrow morning. While I-10 is closed to all vehicles, Caltrans workers are seizing this traffic-free opportunity to carry out a wide-ranging "swarm" maintenance operation – sweeping, repairing bridge railings and broken concrete, painting over graffiti, cleaning drains and culverts, removing litter, weeds, and overgrown vegetation, and sealing broken access doors.
LAPD asking for public's help with murders of homeless persons
Anyone with information is urged to contact the Los Angeles Police Department's Robbery-Homicide Division, Homicide Special Section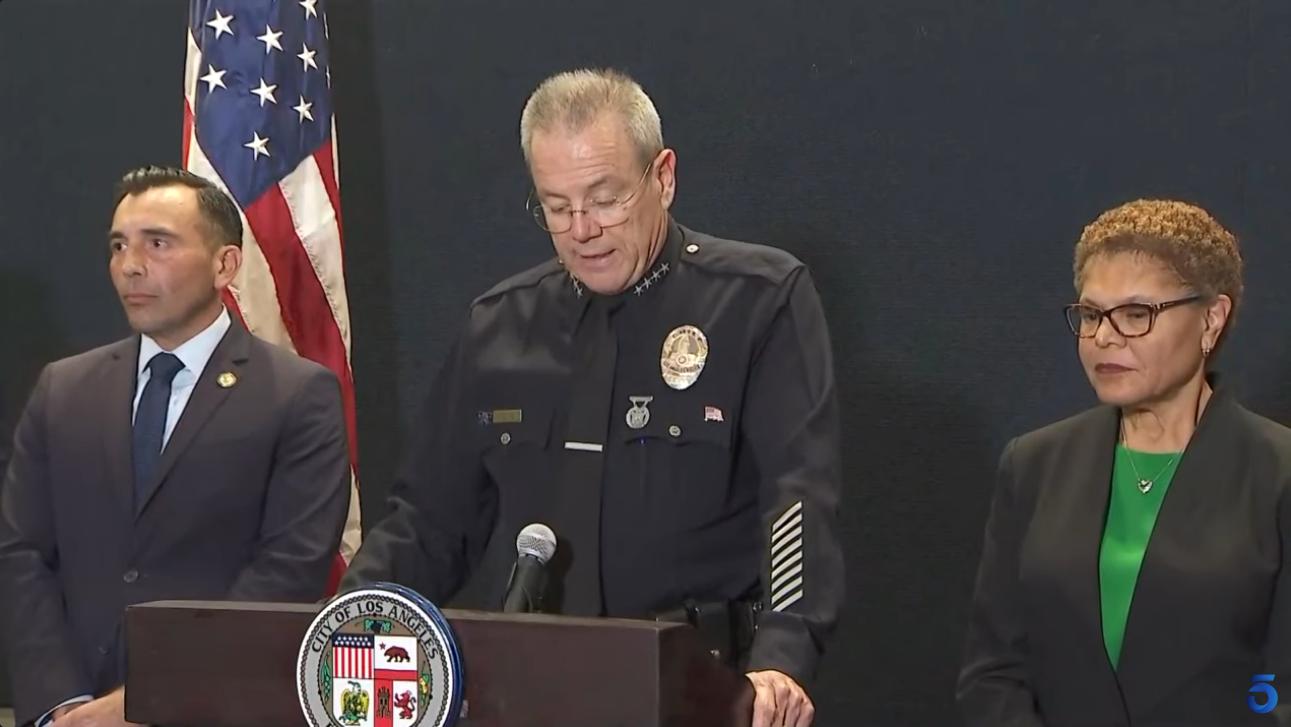 LOS ANGELES – Flanked by Los Angeles County District Attorney George Gascón, LA Mayor Mayor Karen Bass and Martin Estrada, the United States Attorney for the Central District of California, Los Angeles Chief of Police Michel Moore, held a news conference Friday where he announced that three homeless people had been fatally shot while they slept within the past week.
Moore added that authorities believe one suspect is responsible for all three murders.
Detectives from the LAPD's Robbery-Homicide Division are investigating three separate murders that occurred between November 26, 2023, and November 29, 2023. In each case, the victims were experiencing homelessness.
While some similarities have been identified, detectives are working to determine if these murders are related. A community alert bulletin has been issued to make the region's unhoused population and the community stakeholders aware of these recent murders.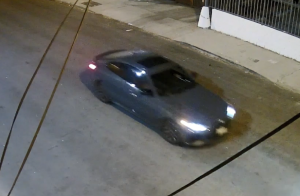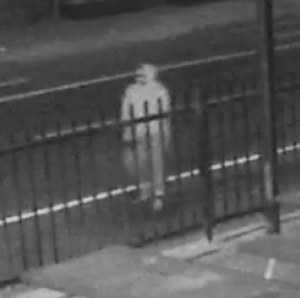 The suspect in these homicides is described only as male. The suspect was seen in a dark-colored sedan. It is unknown if he was alone or there were any additional suspects.
Police have spotted who they believe the shooter is on surveillance footage — Moore said they believe it's a man in a hoodie — and they also have images of the suspect's vehicle, though Moore would not describe it in an effort to avoid misinformation.
"People will see different types of cars, different types of models," he said. "I don't want someone to say 'You called this a Kia and it turns out to be a BMW or Mercedes," he said.
"A single individual approached each one and shot and killed each one as they slept," Moore said, though he avoided use of the term "serial killer."
"The Los Angeles Police Department is employing all available resources to bring justice to these murder victims. I am thankful for our City partners who are working with us closely to ensure the safety of this vulnerable population as we pursue the criminal investigation," said Moore.
"I want to be very clear about what we're facing today: This is a killer who is preying on the unhoused," Mayor Bass said, adding that homeless people should not sleep alone.
"As we always do in the face of a challenge or crisis, our region is mobilizing to respond to this issue. We will work tirelessly to find the individual responsible, arrest them, and hold them accountable. I have met with our partners at the Los Angeles Homeless Services Authority, Housing Authority of the City of Los Angeles, and the Los Angeles Housing Department and we are moving immediately to get the word out to our unhoused neighbors in housing networks. Our message to our unhoused community is clear – try not to be alone tonight. We will do all we can to make shelter and services available. To the many Angelenos who have friends or family who are unhoused, please let them know the danger that exists. We must stay safe. We will work diligently to bring those responsible to justice," the Mayor said.
"To the person responsible: We will find you, we will catch you and you will be held accountable," Bass said.
"I commend the LAPD for creating a dedicated task force to uncover the identity of a potential serial killer preying on the most vulnerable in our community. I've assigned our Major Crimes Division, Bureau of Victim Services and our Bureau of Investigation to assist with these efforts. Today, we demonstrate our collective resolve and stand united in our pursuit of justice, unwavering against the darkness that preys on the most defenseless among us," said LA District Attorney George Gascón.
Related:
Anyone with information is urged to contact the Los Angeles Police Department's Robbery-Homicide Division, Homicide Special Section, at (213) 486-6890. During non-business hours or on weekends, calls should be directed to 1-877-LAPD-24-7 (1-877-527-3247).
Anyone wishing to remain anonymous should call the LA Regional Crime Stoppers at 1-800-222-TIPS (800-222-8477) or go directly to www.lacrimestoppers.org.
Lastly, tipsters may also download the "P3 Tips" mobile application and select the LA Regional Crime Stoppers as their local program.