Gilbert Baker, "Gay Betsy Ross," creator of the Rainbow Flag, dies in NYC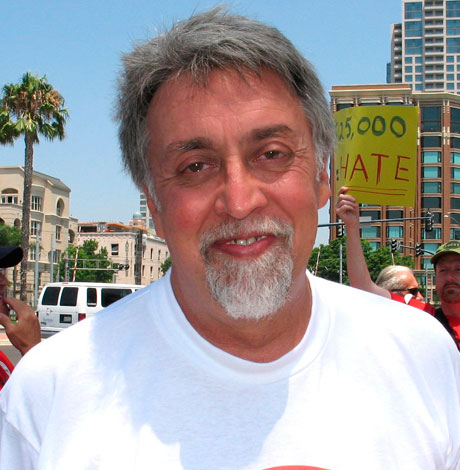 His life was a celebration of diversity that gave us gifts to the very end.
Gilbert Baker, widely recognized as the creator (some say appropriator) of the rainbow flag, an iconic symbol of the international LGBT movement, died on Friday (March 31, 2017) of unknown causes at home in his Hamilton Heights apartment in Manhattan. He was 65.
Baker's work as a flag maker spanned 39 years and includes two world records for flag making. "Flags are torn from the soul of the people," Baker told the author of  "The American Flag, Two Centuries of Conflict and Concord." 
The colors on the first Rainbow Flag, created by Baker and his team — raised at San Francisco Pride on June 25, 1978 — were intended to reflect the diversity of the LGBT community. Each stripe on the original, eight-color flag had a meaning: Hot Pink for sexuality; Red for life Orange for healing; Yellow for sunlight; Green for nature; Turquoise for magic/art; Blue for serenity/harmony; Violet for spirit.
Baker, writing about the moment the flag was first hoisted, said "Seeing it there blowing in the wind for everyone to see! It completely astounded me that people just got it, in an instant like a bolt of lightening – that this was their flag. It belonged to all of us. It was the most thrilling moment of my life. Because I knew right then that this was the most important thing I would ever do – that my whole life was going to be about the Rainbow Flag."
His fight for LGBT rights was a long and significant one.
Baker was born in Chanute, Kansas, on June 2, 1951. He served in the US Army 1970-1972, which stationed him in San Francisco just at the start of the gay liberation movement.
Randy Shilts, in his groundbreaking book about the experiences of gays who served in the military while LGBT people were banned from serving, "Conduct Unbecoming," featured a story on Gilbert's experience.
After being honorably discharged, Baker remained in San Francisco and taught himself to sew, applying that skill to creating banners for gay and anti-war street protest marches, often at a moment's notice.  He worked alongside his lifelong friend Harvey Milk, the San Francisco City Supervisor who was assassinated along with Mayor George Moscone on Nov 27, 1978.
Baker credited Milk as an inspiration for his work. 
In 1979, he worked at Paramount Flag Company in San Francisco and his flamboyant window displays caught the attention of Mayor Dianne Feinstein who commissioned him to design flags for her first elected inaugural. Baker began designing flags as the centerpiece of formal civic and state events, creating grand displays for the Premier of China, the President of France, The President of Venezuela, the President of the Philippines, the King of Spain, among many others.
He became so well known as a flag designer in San Francisco, he was commissioned to design displays for the 1984 Democratic National Convention.
Baker created flag spectacles for The San Francisco Symphony Black and White Ball, rock shows in Golden Gate Park, and fabulous stages and street displays for San Francisco Gay Pride.
In 1994 he Moved to New York City and created a mile-long Rainbow Flag for the 25th anniversary of the 1969 Stonewall Riot. Measuring 30 x 5280 ft. and carried by 5,000 people, it broke the world's record for largest flag. 
He flexed his creative muscle in the years that followed and became an artist of some note.
As an artist, Baker returned again and again to variations on the Rainbow Flag motif and his artwork and flag creations have appeared in galleries and museums around the world. In 2000, he staged an exhibition of photographs and other works celebrating the flag in Rome for World Pride.
In 2002, Baker mounted an extensive showing of 180 pieces, at The Lesbian, Gay, Bisexual & Transgender Community Center in New York. In 2003, an expansion of that exhibit was featured in San Francisco.
In 2003, the Rainbow Flag's 25th anniversary, Baker broke his own world record for the largest flag, crafting a flag that spanned the Gulf of Mexico to the Atlantic Ocean around Key West. Baker then sent sections of this flag to more than 100 cities around the world.
Friend and colleague Jay Blotcher said "Gilbert was passionate about all civil rights injustices, not only LGBT and HIV issues. We marched together in NYC in 2011 to commemorate the 100th anniversary of the Triangle Shirtwaist Factory fire and the immigrant girls who perished because of company safety shortcuts to save money."
Friend Ken Kidd, a New Yorker, said of his work, "Gilbert was so proud when MoMA honored the Flag with inclusion in its permanent collection. He just told me the Flag had been acquired to be a part of the collection of The British Museum of Design.Gilbert was also excited about Gov. Cuomo's design competition for the LGBT Memorial to be erected on the West Side, in the park near the piers. He's been breathlessly telling me about the project he submitted for nearly a year.  I am bereft.  This is a huge loss."
Author, activist and writer Michelangelo Signorile, who attended World Pride with Baker in 2000, said "I had a chance to watch him in Rome, during World Pride in 2000. We had a amazing time — he was so much fun to be around. He also was revered by the activists who gathered from all over the globe and spent time with them, inspired by them as much he had inspired them in their work."
Signorile added, "He was a hero and a pioneer, and an amazing activist — always full of energy and ready to take on the next fight. He was also pretty damned fabulous, a true star who were revered around the world for giving millions an iconic symbol of liberation, hope, power and love."
In a Facebook post, Cleve Jones, a longtime gay activist and friend of Baker's, told the Bay Area Reporter, "I am heartbroken. My dearest friend in the world is gone. Gilbert gave the world the Rainbow Flag; he gave me forty years of love and friendship. I can't stop crying. I love you forever Gilbert Baker."
Jones called for a community gathering on the night of Baker's death at the large rainbow flag in San Francisco's Castro neighborhood.
Early in 2008, Baker returned to San Francisco and recreated his 1970s pageantry for "Milk," the Academy Award-winning movie about the life of Harvey Milk.
More recently, Baker had become involved the resurgent protest movements, joining with Queer Nation in protesting the limitations of the Employment Non Discrimination Act.  He protested against Donald Trump and was involved with Gays Against Guns.  He had become involved in Resistance March efforts in New York City and urged Heritage of Pride, the organizing committee for New York City's LGBT Pride March, to declare its support for #ResistMarch.
Gilbert Baker leaves behind a mother, Patricia Baker of San Antonio, Texas and a sister, Ardonna Baker Cook, who lives in Cypress, Texas. He has written an unpublished memoir about his life.
In an extraordinary flourish in the last days of his life, he crafted a message to the world about diversity .
Just this week he completed a final update to the Rainbow Flag, a nine-color flag, adding the color lavender for diversity.  
Biden's second State of the Union prioritizes bipartisanship
"To my Republican friends, if we could work together in the last Congress, there is no reason we can't work together in this new Congress"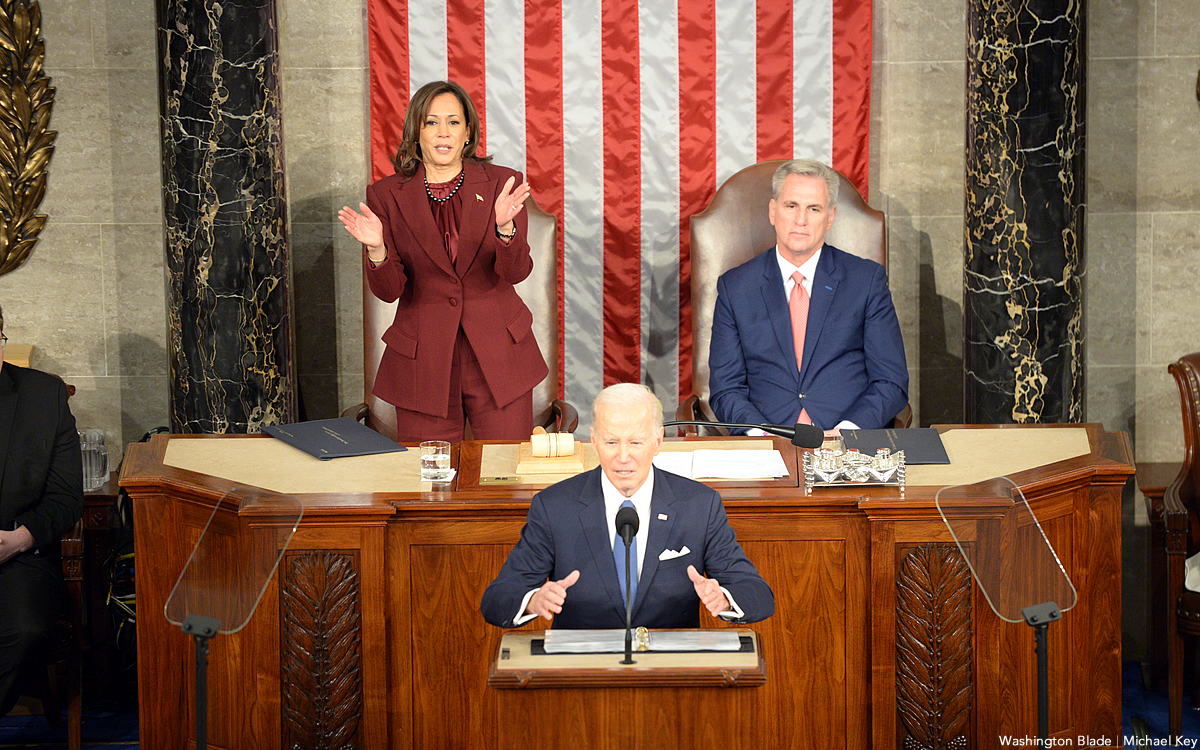 WASHINGTON – President Joe Biden's second State of the Union address on Tuesday focused on building upon recent accomplishments, especially legislative milestones that were reached with bipartisan cooperation.
Nevertheless, the speech was met with vocal objections from Republican lawmakers over Biden's comments about the debt ceiling and mention of some GOP members' plans to cut social security and Medicare.
"From reauthorizing the Violence Against Women Act, to the Electoral Count Reform Act, to the Respect for Marriage Act that protects the right to marry the person you love," Biden said, "To my Republican friends, if we could work together in the last Congress, there is no reason we can't work together in this new Congress."
On the subject of legislation, for the second year in a row, Biden repeated his plea for Congress to revisit the Equality Act "to ensure LGBTQ Americans, especially transgender young people, can live with safety and dignity."
He also focused part of Tuesday's address on public health. "Twenty years ago, under the leadership of President Bush and countless advocates and champions, we undertook a bipartisan effort through PEPFAR to transform the global fight against HIV/AIDS," Biden said.
The successful effort should be repeated in the fight against cancer, he added.
These matters aside, Biden included little mention of LGBTQ issues, or the extremism of Republicans who are poised to run for the presidency next year. Instead, the bulk of his remarks were focused on themes like implementing the provisions of the Inflation Reduction Act and the bipartisan infrastructure law.
The country's economic recovery was another well-trod message, on the heels of a January jobs report whose data showed record low unemployment and steady growth in new jobs and workers' wages.
Biden did devote some time to reproductive justice. "The Vice President and I are doing everything we can to protect access to reproductive health care and safeguard patient privacy," he said. "But already, more than a dozen states are enforcing extreme abortion bans."

The president then vowed to veto a national abortion ban if Congress should pass one.
During last year's State of the Union, Biden said "The onslaught of state laws targeting transgender Americans and their families is wrong," adding, "As I said last year, especially to our younger transgender Americans, I will always have your back as your President, so you can be yourself and reach your God-given potential."
One sign of solidarity with the LGBTQ community this year was the invitation of Gina and Heidi Nortonsmith, plaintiffs in the Massachusetts case that led the state to become the first to legalize same-sex marriage, to join First Lady Dr. Jill Biden's box.
And House Minority Leader Hakeem Jeffries (D-N.Y.) brought Human Rights Campaign President Kelley Robinson as his guest. Biden honored the former House Speaker, Rep. Nancy Pelosi (D-Calif.), as "someone who I think will be considered the greatest Speaker in the history of this country."
President Biden delivers 2023 State of the Union address: