Gilbert Baker, "Gay Betsy Ross," creator of the Rainbow Flag, dies in NYC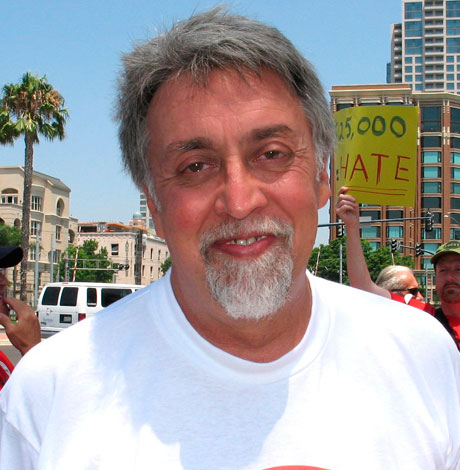 His life was a celebration of diversity that gave us gifts to the very end.
Gilbert Baker, widely recognized as the creator (some say appropriator) of the rainbow flag, an iconic symbol of the international LGBT movement, died on Friday (March 31, 2017) of unknown causes at home in his Hamilton Heights apartment in Manhattan. He was 65.
Baker's work as a flag maker spanned 39 years and includes two world records for flag making. "Flags are torn from the soul of the people," Baker told the author of  "The American Flag, Two Centuries of Conflict and Concord." 
The colors on the first Rainbow Flag, created by Baker and his team — raised at San Francisco Pride on June 25, 1978 — were intended to reflect the diversity of the LGBT community. Each stripe on the original, eight-color flag had a meaning: Hot Pink for sexuality; Red for life Orange for healing; Yellow for sunlight; Green for nature; Turquoise for magic/art; Blue for serenity/harmony; Violet for spirit.
Baker, writing about the moment the flag was first hoisted, said "Seeing it there blowing in the wind for everyone to see! It completely astounded me that people just got it, in an instant like a bolt of lightening – that this was their flag. It belonged to all of us. It was the most thrilling moment of my life. Because I knew right then that this was the most important thing I would ever do – that my whole life was going to be about the Rainbow Flag."
His fight for LGBT rights was a long and significant one.
Baker was born in Chanute, Kansas, on June 2, 1951. He served in the US Army 1970-1972, which stationed him in San Francisco just at the start of the gay liberation movement.
Randy Shilts, in his groundbreaking book about the experiences of gays who served in the military while LGBT people were banned from serving, "Conduct Unbecoming," featured a story on Gilbert's experience.
After being honorably discharged, Baker remained in San Francisco and taught himself to sew, applying that skill to creating banners for gay and anti-war street protest marches, often at a moment's notice.  He worked alongside his lifelong friend Harvey Milk, the San Francisco City Supervisor who was assassinated along with Mayor George Moscone on Nov 27, 1978.
Baker credited Milk as an inspiration for his work. 
In 1979, he worked at Paramount Flag Company in San Francisco and his flamboyant window displays caught the attention of Mayor Dianne Feinstein who commissioned him to design flags for her first elected inaugural. Baker began designing flags as the centerpiece of formal civic and state events, creating grand displays for the Premier of China, the President of France, The President of Venezuela, the President of the Philippines, the King of Spain, among many others.
He became so well known as a flag designer in San Francisco, he was commissioned to design displays for the 1984 Democratic National Convention.
Baker created flag spectacles for The San Francisco Symphony Black and White Ball, rock shows in Golden Gate Park, and fabulous stages and street displays for San Francisco Gay Pride.
In 1994 he Moved to New York City and created a mile-long Rainbow Flag for the 25th anniversary of the 1969 Stonewall Riot. Measuring 30 x 5280 ft. and carried by 5,000 people, it broke the world's record for largest flag. 
He flexed his creative muscle in the years that followed and became an artist of some note.
As an artist, Baker returned again and again to variations on the Rainbow Flag motif and his artwork and flag creations have appeared in galleries and museums around the world. In 2000, he staged an exhibition of photographs and other works celebrating the flag in Rome for World Pride.
In 2002, Baker mounted an extensive showing of 180 pieces, at The Lesbian, Gay, Bisexual & Transgender Community Center in New York. In 2003, an expansion of that exhibit was featured in San Francisco.
In 2003, the Rainbow Flag's 25th anniversary, Baker broke his own world record for the largest flag, crafting a flag that spanned the Gulf of Mexico to the Atlantic Ocean around Key West. Baker then sent sections of this flag to more than 100 cities around the world.
Friend and colleague Jay Blotcher said "Gilbert was passionate about all civil rights injustices, not only LGBT and HIV issues. We marched together in NYC in 2011 to commemorate the 100th anniversary of the Triangle Shirtwaist Factory fire and the immigrant girls who perished because of company safety shortcuts to save money."
Friend Ken Kidd, a New Yorker, said of his work, "Gilbert was so proud when MoMA honored the Flag with inclusion in its permanent collection. He just told me the Flag had been acquired to be a part of the collection of The British Museum of Design.Gilbert was also excited about Gov. Cuomo's design competition for the LGBT Memorial to be erected on the West Side, in the park near the piers. He's been breathlessly telling me about the project he submitted for nearly a year.  I am bereft.  This is a huge loss."
Author, activist and writer Michelangelo Signorile, who attended World Pride with Baker in 2000, said "I had a chance to watch him in Rome, during World Pride in 2000. We had a amazing time — he was so much fun to be around. He also was revered by the activists who gathered from all over the globe and spent time with them, inspired by them as much he had inspired them in their work."
Signorile added, "He was a hero and a pioneer, and an amazing activist — always full of energy and ready to take on the next fight. He was also pretty damned fabulous, a true star who were revered around the world for giving millions an iconic symbol of liberation, hope, power and love."
In a Facebook post, Cleve Jones, a longtime gay activist and friend of Baker's, told the Bay Area Reporter, "I am heartbroken. My dearest friend in the world is gone. Gilbert gave the world the Rainbow Flag; he gave me forty years of love and friendship. I can't stop crying. I love you forever Gilbert Baker."
Jones called for a community gathering on the night of Baker's death at the large rainbow flag in San Francisco's Castro neighborhood.
Early in 2008, Baker returned to San Francisco and recreated his 1970s pageantry for "Milk," the Academy Award-winning movie about the life of Harvey Milk.
More recently, Baker had become involved the resurgent protest movements, joining with Queer Nation in protesting the limitations of the Employment Non Discrimination Act.  He protested against Donald Trump and was involved with Gays Against Guns.  He had become involved in Resistance March efforts in New York City and urged Heritage of Pride, the organizing committee for New York City's LGBT Pride March, to declare its support for #ResistMarch.
Gilbert Baker leaves behind a mother, Patricia Baker of San Antonio, Texas and a sister, Ardonna Baker Cook, who lives in Cypress, Texas. He has written an unpublished memoir about his life.
In an extraordinary flourish in the last days of his life, he crafted a message to the world about diversity .
Just this week he completed a final update to the Rainbow Flag, a nine-color flag, adding the color lavender for diversity.  
Transgender activist in Pakistan fights for change
Jannat Ali attended 2018 HRC summit in D.C.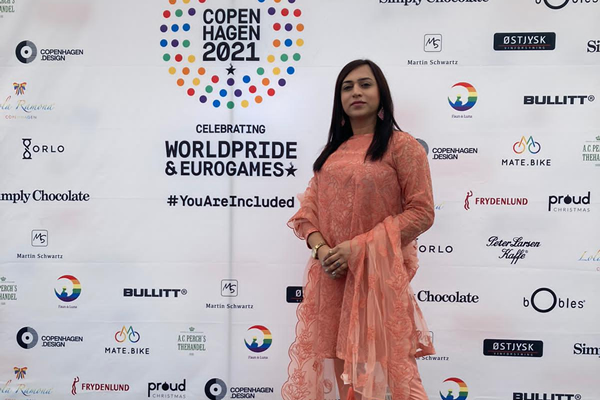 LAHORE, Pakistan — A pioneering transgender activist in Pakistan continues her fight for change in her country.
Jannat Ali—who describes herself as an "artivist"— is the executive director of Track T, a trans rights organization that is based in Lahore, the country's second largest city that is the capital of Punjab province.
Track T in December 2018 organized Pakistan's first-ever trans Pride march that drew nearly 500 people. A law that permits trans people to legally change the gender on their national ID cards and other official documents, allows them to vote and bans discrimination based on gender identity in employment, health care, education and on public transportation took effect earlier that year.
"That was an opportunity (for people) to celebrate their real true identities," Ali told the Los Angeles Blade on Aug. 19 during a telephone interview from Copenhagen, Denmark, where she was attending WorldPride 2021. "People were shaking hands because we did it so beautifully."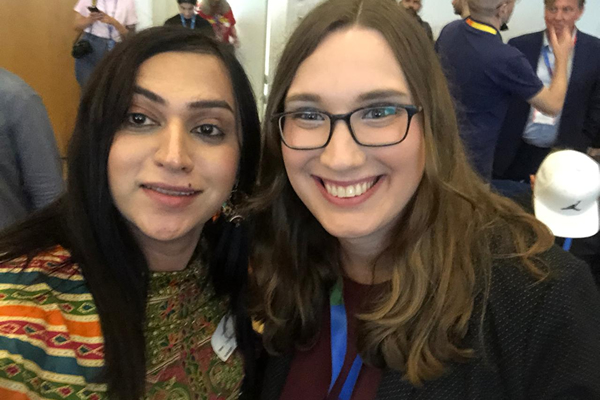 Ali in March launched "Journey with Jannat", an "inclusive infotainment show" with episodes on Instagram and YouTube. She is the first openly trans person to host her own program in Pakistan.
Ali in 2018 traveled to D.C. to participate in the Human Rights Campaign's annual Global Innovative Advocacy Summit. Track-T last year received a $5,000 HRC grant.
"They changed my life," Ali told the Blade, referring to HRC. "They helped me to fulfill my dreams in my life and make me be able to share my work."
Pakistan's Supreme Court in 2009 ruled in favor of recognizing trans people as a third gender on identity cards. The Pakistani government in July opened the country's first school for trans people.
Section 377 of Pakistan's colonial-era penal code that criminalizes consensual same-sex sexual relations remains in place. Ali told the Blade that implementation of the 2018 trans rights law— especially in the country's tribal areas along the border with Afghanistan and in rural Pakistan — remains a problem.
"The government doesn't (make it a) priority," she said. "It's a responsibility of other provinces to adopt or to amend it and present their bill in their own provinces."
Ali said violence based on gender identity remains prevalent in these areas.
Alisha, a trans activist who worked with Trans Action in Peshawar, a city in Khyber Pakhtunkwa province that borders Afghanistan, died in 2016 after a man who reportedly raped her shot her several times.
Activists said staff at a local hospital delayed treatment because she was trans. The province's then-governor ordered personnel to place Alisha in a private room, but she died a short time later.
"We are thankful to the governor," a local activist told the Blade after Alisha's death. "This was the first time that a government executive showed support."
Taliban regaining control of Afghanistan 'really sad'
Ali spoke with the Blade four days after the Taliban entered Kabul, the Afghan capital, and regained control of the country.
A Taliban judge in July said the group would once again execute gay men if it were to return to power in Afghanistan.
Some of the 50 Afghan human rights activists who Taylor Hirschberg, a researcher at the Columbia Mailman School of Public Health who is also a Hearst Foundation scholar, has been able to help leave the country are LGBTQ since. The Toronto-based Rainbow Railroad and Immigration Equality are among the other groups that have continued their efforts to evacuate LGBTQ Afghans since American troops completed their withdrawal from the country on Aug. 30.
"I was really worried," Ali told the Blade when asked about the plight of LGBTQ Afghans in Afghanistan after the Taliban regained control of the country. "I was really sad."
Ali this week said she is now "in touch" with LGBTQ Afghans who have fled to northern Pakistan.
Newsom expands drought emergency urges Californians to conserve water
California is experiencing its worst drought since the late 1800s. August 2021 was driest & hottest August on record since reporting began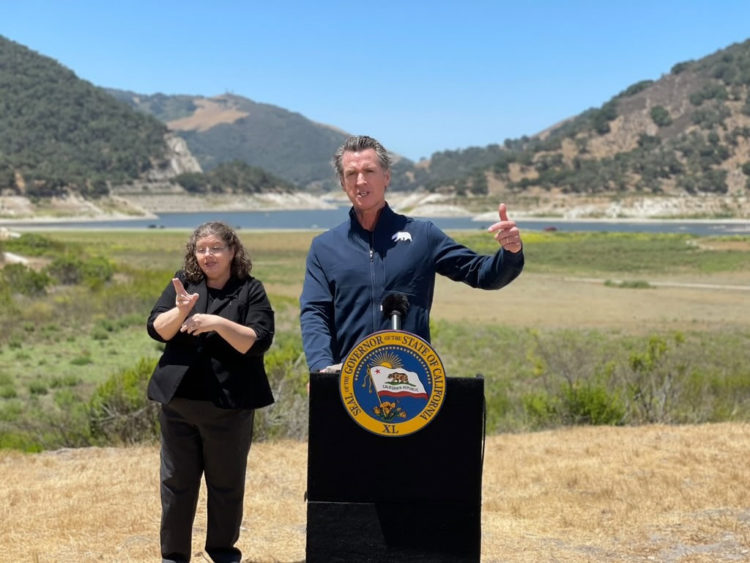 SACRAMENTO – Following the second driest year on record and with near record low storage in California's largest reservoirs, Governor Gavin Newsom today issued a proclamation extending the drought emergency statewide and further urging Californians to step up their water conservation efforts as the western U.S. faces a potential third dry year.
Bolstering conservation efforts, the proclamation enables the State Water Resources Control Board to ban wasteful water practices, including the use of potable water for washing sidewalks and driveways. The Governor issued an executive order in July calling on Californians to voluntarily reduce water use by 15 percent compared to 2020 to protect water reserves and complement local conservation mandates. The Governor's action today comes as the Board reports that in August, California reduced urban water use by 5 percent compared to 2020.
"As the western U.S. faces a potential third year of drought, it's critical that Californians across the state redouble our efforts to save water in every way possible," said Governor Newsom. "With historic investments and urgent action, the state is moving to protect our communities, businesses and ecosystems from the immediate impacts of the drought emergency while building long-term water resilience to help the state meet the challenge of climate change impacts making droughts more common and more severe."
The proclamation notes that the State Water Resources Control Board may adopt emergency regulations to prohibit wasting water, such as hosing down sidewalks or driveways, allowing drinking water to flood gutters or streets, or washing a car without a shut-off nozzle.
The proclamation adds the eight counties not previously included in the drought state of emergency: Imperial, Los Angeles, Orange, Riverside, San Bernardino, San Diego, San Francisco and Ventura. In addition, the proclamation requires local water suppliers to implement water shortage contingency plans that are responsive to local conditions and prepare for the possibility of a third dry year.
Expanding the Save Our Water initiative, a critical resource during the last drought, California has launched robust water conservation public education campaigns in partnership with stakeholders, including public water agencies. Statewide per capita residential water use declined 21 percent between 2013 and 2016 and as of 2020, the urban sector is using approximately 16 percent less on average statewide than in 2013. The Administration will continue to monitor the evolving drought conditions and evaluate all tools available to respond in real-time.
California is experiencing its worst drought since the late 1800s, as measured by both lack of precipitation and high temperatures. August 2021 was the driest and hottest August on record since reporting began and the water year that ended last month was the second driest on record. Today's proclamation authorizes the Governor's Office of Emergency Services to provide assistance and funding under the California Disaster Assistance Act to support the emergency response and delivery of drinking water and water for public health and safety.
The Governor's California Comeback Plan invests $5.2 billion over three years to support immediate drought response and long-term water resilience, including $815 million for emergency drought relief projects to secure and expand water supplies, drought contingency planning and multi-benefit land repurposing projects; support for drinking water and wastewater infrastructure, with a focus on small and disadvantaged communities; Sustainable Groundwater Management Act implementation to improve water supply security and quality; and projects to support wildlife and habitat restoration efforts, among other nature-based solutions.
A copy of today's proclamation can be found here.
More information on the state's response to the drought and informational resources available to the public are available at https://drought.ca.gov/.
Right-wing media blame trans-inclusive policy for Virginia sexual assault
[…] In reality, the Loudoun County Schools policy was not in effect when the reported sexual assault occurred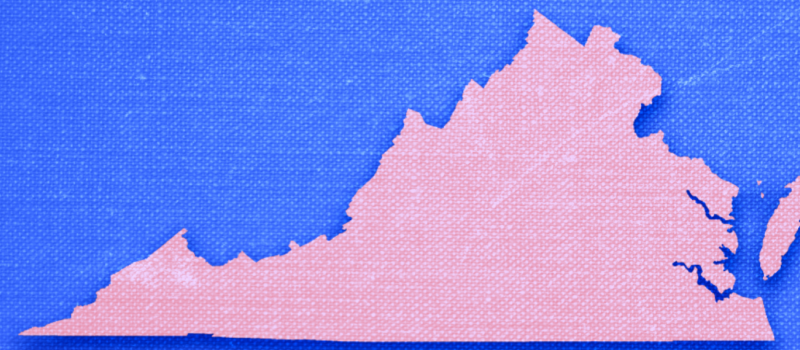 By Brennan Suen | WASHINGTON – Right-wing media have seized on a report of a sexual assault at a high school in Loudoun County, Virginia, to attack trans-inclusive bathrooms, often suggesting that a policy in the school district opened the door to predators in girls' bathrooms. In reality, the policy was not in effect when the reported sexual assault occurred, and it is always illegal to assault or harass someone.
On October 11, right-wing outlet The Daily Wire published a story about the reported assault and interviewed Scott Smith, the victim's father, who was arrested at a June 22 school board meeting after an altercation.
In the article, Smith seemed to acknowledge that the suspect might not have been affected by the district's trans-inclusive policy, which allows students to use facilities that align with their gender identity. He said, "The person that attacked our daughter is apparently bisexual and occasionally wears dresses because he likes them. So this kid is technically not what the school board was fighting about." However, he then seemed to blame the policy, saying, "The point is kids are using it as an advantage to get into the bathrooms."
However, the policy was passed by the school board on August 11 — months after May 28, when the assault was reported to have taken place, making it impossible for the suspect to have used the protections "as an advantage to get into the bathrooms."
The myth that trans-inclusive bathrooms allow predators to attack women has been repeatedly debunked; additionally, assaults and harassment are already illegal regardless of whether bathrooms allow trans people. In fact, the suspect was later charged in a second assault in Loudoun County that was reported to have taken place in "an empty classroom." The suspect has now been arrested and detained in juvenile detention.
The Washington Post has noted that authorities have not confirmed the gender identity of the suspect or that they were wearing a dress but identified as a boy. It also noted that "at the time of the alleged assault involving [Smith's] daughter, that rule was not in effect":
The parents she is representing have spoken out this week, often in interviews with conservative news outlets, to assert that the charged youth is "gender fluid" and that the assault took place in a girls bathroom. Those details have not been confirmed by authorities. The parents have also denounced a policy put in place by Loudoun's school board in August that lets students use bathrooms matching their gender identities. At the time of the alleged assault involving their daughter, that rule was not in effect.
Nevertheless, right-wing media have quickly spread the story, frequently citing the alleged gender identity of the suspect and the school's trans-inclusive policy — which they often falsely suggested was to blame for the reported assault.
For instance, the Heritage Foundation's outlet, The Daily Signal, published a report that quoted anti-trans advocate Lauren Adams, who said, "Assaults like these are the natural result of transgender bathroom policies, which allow boys to freely enter girls' spaces and erode boundaries."
In an op-ed in The Washington Times, columnist Robert Knight suggested Virginia may once again give us an "American Revolution," in part due to backlash over the case. Knight lied that the suspect "was allowed into the girl's room because of the idiotic transgender mandate."
The Daily Mail wrote, "Smith says the boy took advantage of the school's trans policies to get into the girls' bathrooms and assault her."
The New York Post also repeated this claim, writing: "Smith told the Daily Wire that his daughter was attacked at Stone Bridge High School on May 28 by a boy 'wearing in a skirt' who took advantage of transgender rules 'to get into the bathrooms.'"
Unfortunately, right-wing media have once again perpetuated the debunked bathroom predator myth and ignored the facts in order to attack trans people.
********************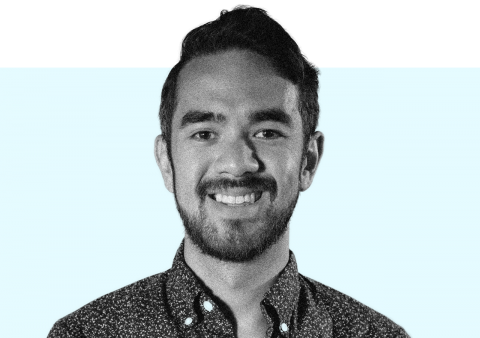 Brennan Suen is the LGBTQ program director at Media Matters, where he has worked since July 2015. He has a bachelor's degree from Northwestern University, and he formerly interned at the Human Rights Campaign and SKDKnickerbocker.
The preceding article was previously published by Media Matters for America and is republished by permission.