GLAAD glitters with the stars at Beverly Hills gala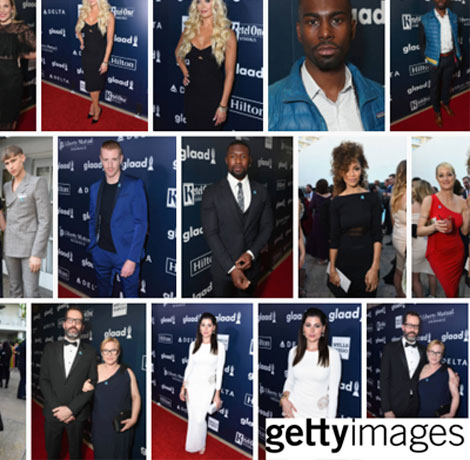 The 28th annual GLAAD Media Awards were handed out Saturday night in Beverly Hills, and if there had been a theme, it would  have been that the days of the invisible LGBTQ community are gone and if one person or group in the community is under attack,  everyone is under attack.
As Hollywood's elite sauntered down the red carpet, words like "resist," and "stand down," and "our stories are worth telling" reverberated.
Actress Patricia Arquette was honored with the Vanguard Award.
In her acceptance speech Arquette thanked CEO of GLAAD, Sarah Kate Ellis, and the organization for honoring her and for their work helping LGBTQ illuminate acceptance worldwide and for helping LGBTQ kids "see that they belong and they are loved and that there's nothing wrong with them; because visibility matters and trans visibility really matters."
Arquette spoke about the many transgender women who've been murdered, and the push to force Attorney General Jeff Sessions to investigate the murders as hate crimes. "The response from Sessions was silence," she said. "But LGBTQ people and allies don't do silence."
When a woman in the audience cheered, Arquette answered with, "We're not going anywhere. We will not be erased from your census." 
The 48-year-old Academy Award winner paid tribute to her late sister, Alexis, known as one of the first transgender activists in Hollywood, who died at 47 last September from complications related to HIV/AIDS.
Barry Jenkins' Academy Award-winning coming of age film, "Moonlight," took home the big prize for Outstanding Film in wide release.
The film's writer, Tarell Alvin McCraney and actor Trevante Rhodes were on hand to accept the award from R&B singer, Mary J. Blige.
"We win when we give our children, the ones who are going missing in the night, or wondering how much they matter to us, to each other, to the law… give them the courage, the tools and resources to scatter their light across the cinema walls and make the face of heaven so fine," McCraney said in his impassioned acceptance speech. "We won for 'Moonlight' today, but how are we winning tomorrow?"
The ceremony was held at the swanky Beverly Hilton hotel and was presented by the Gay & Lesbian Alliance Against Defamation, in honor of the 2016 season.
The event was hosted by comedian, Cameron Esposito, known for her role on Buzzfeed's series "Ask A Lesbian," and the popular "Put Your Hands Together" stand-up podcast taped live at the Upright Citizen's Brigade Theater in Los Angeles.
A tribute to the lives lost in the Orlando Pulse nightclub attack by Jussie Smollett and a powerful performance of 'Imagine' by Cynthia Erivo brought a hushed quiet to the room.
Surprise guest Carly Rae Jepsen joined legendary songwriter and GLAAD Board Member Justin Tranter to present singer-songwriter Troye Sivan with the Stephen F. Kolzak Award, which honors LGBTQ media professionals who have made a significant difference in promoting equality and acceptance.
In his acceptance speech, Sivan called attention to enormous challenges faced by the LGBTQ community, including violence against transgender women of color and rates of youth homelessness. He concluded with a message of hope of empowerment, saying, "Don't let anyone strip you of your truth and your love, because those are the foundations of who we are as a community." He added, "In a time where it might be tempting to retreat into the shadows, I ask you to be louder – keep holding hands, keep finding pride in your identity, keep standing up for those in our community who are most vulnerable, keep love in your heart, and share it with the world."
Music icon Mary J. Blige presented the award for Outstanding Film – Wide Release to Moonlight. Tarell Alvin McCraney accepted the award on the film's behalf, and was joined onstage by Trevante Rhodes and producer Jeremy Kleiner.
The GLAAD awards recognize media for their fair, accurate and inclusive representations of the lesbian, gay, bisexual and transgender community.
Attendees wore blue "&" pins to mark the organization's "Together" movement, which aims to address immigration, racial justice and women's rights issues.
Also in attendance was Paris Jackson. Jackson and Emmy winning actress from "Orphan Black," Tatiana Maslany, co-presented the award for Outstanding Comedy Series to the cast of "Transparent." Including the star of the show, Jeffrey Tambor, creator of the show Jill Soloway, and cast members, Judith Light, Alexandra Grey, Jay Duplass, and members of the creative team all joined together on stage to accept the award.
Amazon's "Transparent" won Outstanding Comedy Series – having won previously in their category in 2015 and 2016.
Freeform's "Shadowhunters" won for Outstanding Drama Series. Actors Harry Shum Jr. and Matthew Daddario accepted the award for the series.
Vertical Entertainment's "Other People" won for Outstanding Film in Limited Release.
In Outstanding Individual Episode, "San Junipero" won from the Netflix show, "Black Mirror," and in Outstanding Daily Drama, CBS' "The Bold and The Beautiful" won.
In Outstanding Comic Book, James Tynion IV won for "The Woods" for Boom! Studios.
The GLAAD Media Awards will air exclusively on Logo, April 6 at 10 PM ET.  
— By Rebekah Sager
Trans remembrance vigil held at LA LGBT Center
"We refuse to let violence rob us of the possibility to gather, to love each other, and to dream together in solidarity"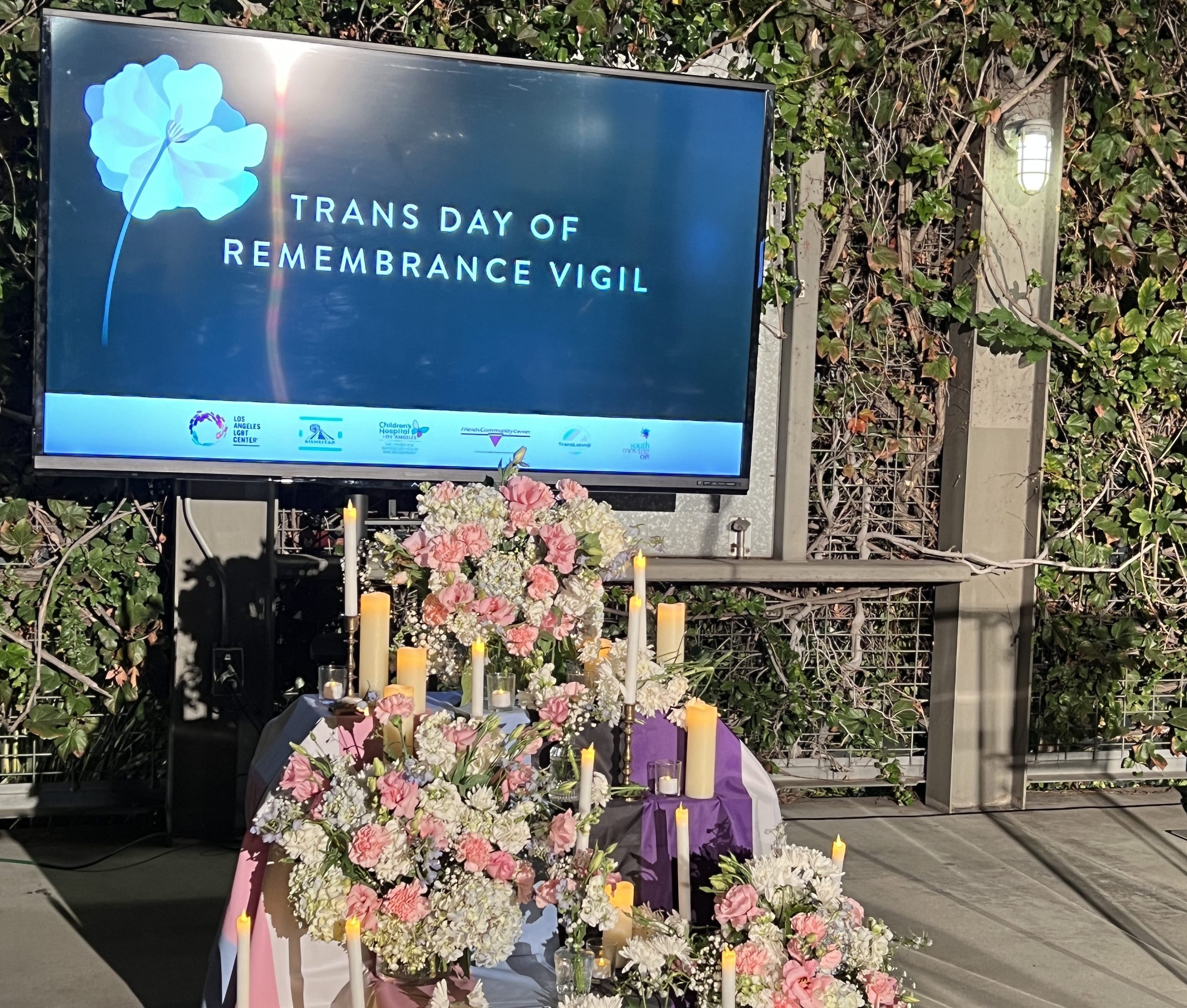 HOLLYWOOD – A Trans Remembrance Vigil was held at the Los Angeles LGBT Center on Monday, November 21st.
Candles and white, pink, and lavender flowers mounted on tiers draped by a trans flag adorned the center stage. A large monitor served as the focal point of the evening above the memorial display.
The Trans Chorus of Los Angeles started the ceremony with an acapella performance. Following the song of hope and redemption, opening remarks were given at the pulpit by the Anti-violence project manager for the LGBT center, Mariana Morroquin, and representatives from the Trans Wellness Center, Bienstar Human Services, Children's Hospital of Los Angeles, Friends Community Center, APAIT, and [email protected]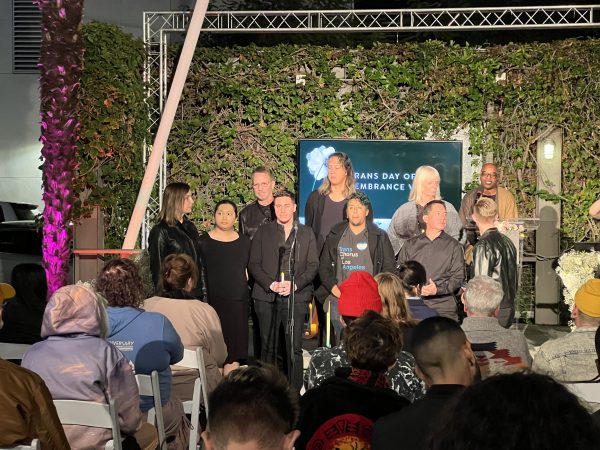 "I think it is very important to acknowledge our partners," said Morroquin, somberly addressing the seated audience of about one hundred and fifty. "We know that hate is real. A lot of us have seen hate pretty close. We are very grateful to have you. We open our arms to receive your love and your support. The way we support each other is by providing jobs, providing spaces for us, and providing opportunities. Because hate is out there. We need this space. We need to welcome everyone. I want you to keep that in your heart. And tomorrow, when we get back to work, let us open our hearts and our minds. Don't make decisions for us. Invite us to those tables. We know what we need. We've been doing this forever. We are going to keep fighting because this is what we do." 
She then added, "We refuse to let violence rob us of the possibility to gather, to love each other, and to dream together in solidarity. We gather because we must remember what is worth fighting for. For now, we commemorate. We tell the stories of the ones we lost. For tonight, that will be enough." 
One by one, members of the audience approached the pulpit to read the names and stories of a multitude of trans people whose deaths were the tragic result of hate crimes. The photos, names, and ages of the victims were displayed on the center-stage monitor.
"My name is Nikai David," said one speaker, the photo of a pale, curly-haired young lady displayed behind them. "I am a model and social media influencer who aspired one day to own my own clothing boutique. I had just celebrated my birthday a week before I was shot in Oakland California, on December 4th, 202. I was thirty-three years old."
Stories of these deaths included shootings by assailants, police, and family members, brutal beatings, and stabbings. The bodies of these victims were found in their homes, in garbage cans, and on streets where they were left, still dying, among other locations.
The final name read was Daniel David Aston, who died in the recent Club Q mass shooting.  This year, TDOR came on the heels of the senseless massacre in Colorado Springs that left five members of the LGBTQ+ community dead and 25 injured. 
Reverend Valerie Spencer gave an impassioned closing speech, first inviting the audience to take several deep breaths in unison.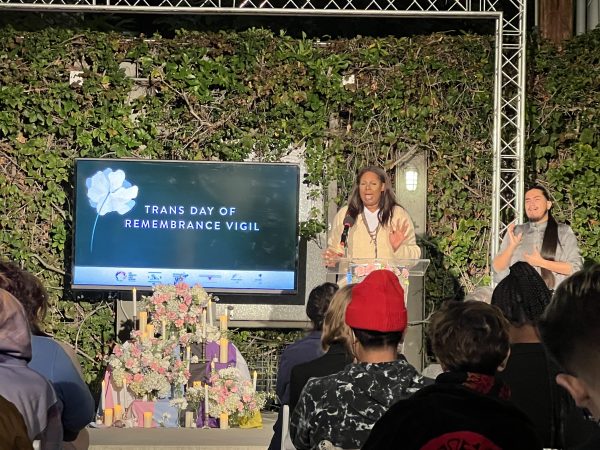 "We will mourn our family, our siblings," said Reverend Spencer, "but we are not having our primary focus on the violent conclusion of their life. We are choosing to see them and know them and celebrate them in the full context of their living. For they were fierce and powerful people."