David Bohnett, philanthropist with a social justice mission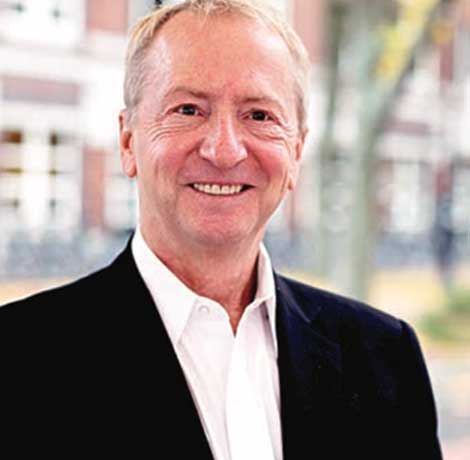 American democracy has changed. Politics is now 24/7, a constant barrage of opinions, petitions, and email and online solicitations like relentless fastballs in a batting cage. Head-spinning happens.
But to gay philanthropist David Bohnett, the angst-ridden reaction to President Donald Trump's untethered actions recalls the days after the anti-gay marriage Prop 8 initiative was passed by California voters in 2008. Then, like now, people had been informed about what would happen, how fundamental rights would be taken away—but were genuinely shocked when that really transpired.
"Wake up people! If you didn't think it could get this bad—where were you?" Bohnett asked rhetorically during a recent phone interview. "We have the responsibility to get as many people as possible in our community energized and activated because this is bad and it's going to get worse."
A major donor to the Democratic Party, Bohnett has been keeping up with the Democratic Congressional Campaign Committee's efforts to take back the House of Representatives. "I think there's a lot of momentum and yes, we're participating and we will wait to see as the time gets closer how much and where we're going to participate," he says. "But there's a great ground swell and the possibility we would be able to retake the House."
Bohnett thinks the Senate Intelligence Committee's investigation into the Russian hacking of the 2016 election "is going to make the real difference" in the 2018 midterm elections. Recently, Bohnett joined other Democratic donors and activists at the home of Norman and Lynn Lear to hear from popular Sen. Elizabeth Warren.
"Her words were very insightful and very telling," he says. "The most important thing for us is to unify around a small handful of messages around women's reproductive rights, the environment and stick to those messages and not get distracted and try and criticize every single thing that [Trump] does. And she's right. We will prevail if we remain focused on our key progressive messages and not get bogged down in the Twitter storms all the time."
LGBT full equality, a core Democratic value, comes under the broader civil rights, immigration umbrella.
But Bohnett believes the critical fight for LGBT full equality "is going to be won and our ground is going to be held by the social service organizations, such as the LA LGBT Center. I really think now, more than ever, those organizations serve the broadest constituencies in our community, including immigration, same-sex marriage, family and legal issues. So yes, we have to continue to fight at the political level but I want to keep reminding people that the organizations that are delivering the services to our community are right now the ones on the front lines and deserve our support."
Bohnett says there is a shift happening "across the board" regarding governmental and private grants. "The whole philanthropic sector is on tenterhooks wondering what's going to happen with the tax code alone," Bohnett says. "Grants to social organizations are health and human services-related grants that aren't necessarily specific for the LGBT community, although it's the constituents these organizations serve. And yes, those are under threat as well."
Bohnett started the David Bohnett Foundation in 1999 after selling GeoCities to Yahoo for $3.5 billion. He now heads Baroda Ventures, which invests in tech startups. In almost 20 years, his foundation has given more than $100 million in total grants across specific programs. This year will be the last for the open grant application process. Next year, the foundation will reach out to selected groups and off er them an opportunity to apply.
"I'm looking at how to maintain a level of giving for the long term," he says. "There are certain programs that we have continued to fund and concentrate on that have been so effective for our community," such as the Bohnett Leaders Fellowship at the Victory Institute, which has sent 118 outstanding LGBT leaders to the Harvard Kennedy School's Senior Executives in State and Local Government program since 2002, and the Cyber Center program at over 60 LGBT community services centers around the country.
Bohnett says he's learned "a couple of things" over his almost 20 years of philanthropy, much from his late partner, Judge Rand Schrader who died of AIDS in 1993. "When Randy and I were first together, he had been on the board of the [L.A. LGBT] Center since the Center was founded and I really saw from his experience that it's a sustained commitment that creates true change. That's what I think has made such a significant difference in these different areas."
Bohnett says his grant-giving is also "very focused on a collaborative-partnership model" where the foundation partners with an organization and then brings other funders and like-minded social service groups to help with the effort. Bohnett, who was appointed by President Obama to serve as a Trustee at the John F. Kennedy Center for the Performing Arts in Washington DC, is very concerned what will happen to the arts if Trump cuts the National Endowment for the Arts and similar programs. However, he notes there is "a significant government commitment" to funding the arts in Los Angeles.
Nonetheless, he's frustrated that no one is talking about "the importance of the arts in terms of how they define us as a people and as a society." For Bohnett, like JFK, the arts refl ect civilization.
"I am certain that after the dust of centuries has passed over our cities," Kennedy once said, "we, too, will be remembered not for our victories or defeats in battle or in politics, but for our contribution to the human spirit."
"What I strive to do within our community is to help everyone lift their head up and see how our struggle fits into the larger context of the broader human rights struggles," Bohnett says. "I think we're better served if we're champions for social justice for all."
LAPD asking for public's help with murders of homeless persons
Anyone with information is urged to contact the Los Angeles Police Department's Robbery-Homicide Division, Homicide Special Section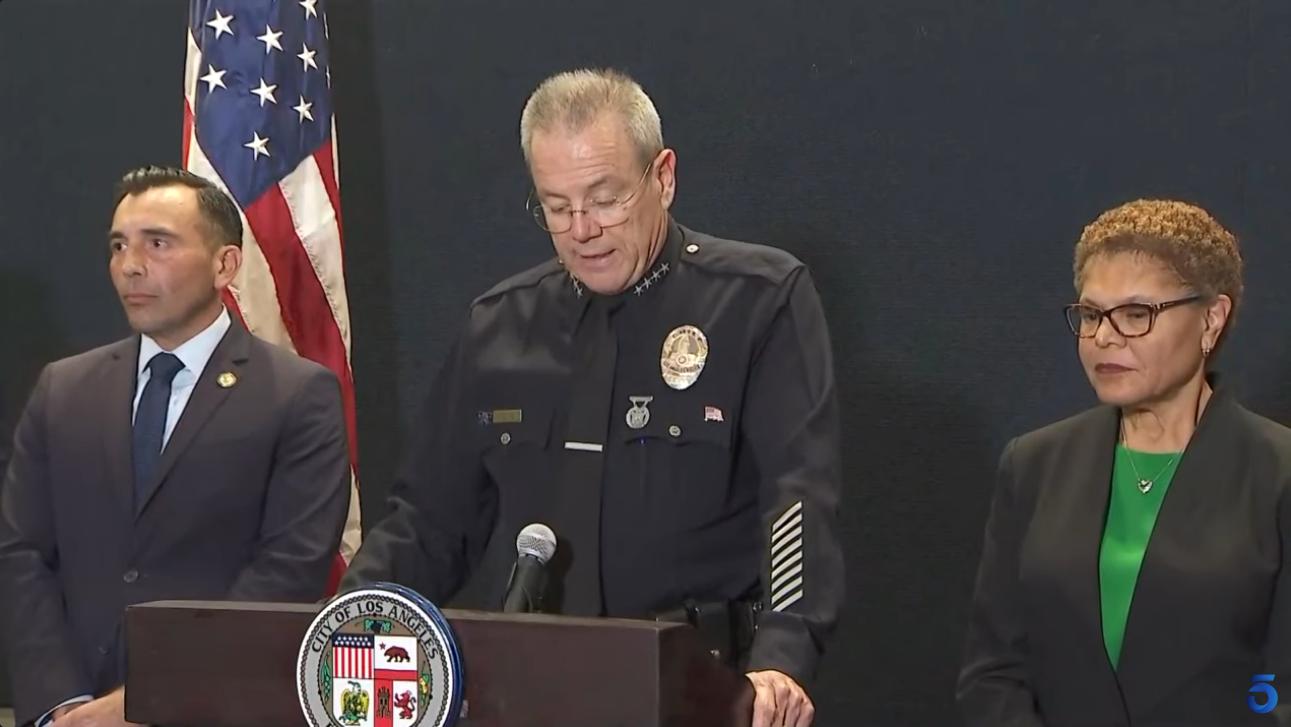 LOS ANGELES – Flanked by Los Angeles County District Attorney George Gascón, LA Mayor Mayor Karen Bass and Martin Estrada, the United States Attorney for the Central District of California, Los Angeles Chief of Police Michel Moore, held a news conference Friday where he announced that three homeless people had been fatally shot while they slept within the past week.
Moore added that authorities believe one suspect is responsible for all three murders.
Detectives from the LAPD's Robbery-Homicide Division are investigating three separate murders that occurred between November 26, 2023, and November 29, 2023. In each case, the victims were experiencing homelessness.
While some similarities have been identified, detectives are working to determine if these murders are related. A community alert bulletin has been issued to make the region's unhoused population and the community stakeholders aware of these recent murders.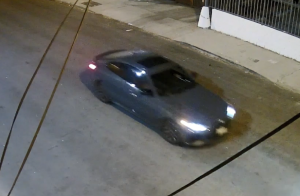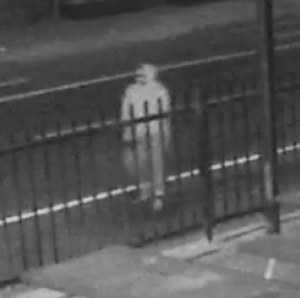 The suspect in these homicides is described only as male. The suspect was seen in a dark-colored sedan. It is unknown if he was alone or there were any additional suspects.
Police have spotted who they believe the shooter is on surveillance footage — Moore said they believe it's a man in a hoodie — and they also have images of the suspect's vehicle, though Moore would not describe it in an effort to avoid misinformation.
"People will see different types of cars, different types of models," he said. "I don't want someone to say 'You called this a Kia and it turns out to be a BMW or Mercedes," he said.
"A single individual approached each one and shot and killed each one as they slept," Moore said, though he avoided use of the term "serial killer."
"The Los Angeles Police Department is employing all available resources to bring justice to these murder victims. I am thankful for our City partners who are working with us closely to ensure the safety of this vulnerable population as we pursue the criminal investigation," said Moore.
"I want to be very clear about what we're facing today: This is a killer who is preying on the unhoused," Mayor Bass said, adding that homeless people should not sleep alone.
"As we always do in the face of a challenge or crisis, our region is mobilizing to respond to this issue. We will work tirelessly to find the individual responsible, arrest them, and hold them accountable. I have met with our partners at the Los Angeles Homeless Services Authority, Housing Authority of the City of Los Angeles, and the Los Angeles Housing Department and we are moving immediately to get the word out to our unhoused neighbors in housing networks. Our message to our unhoused community is clear – try not to be alone tonight. We will do all we can to make shelter and services available. To the many Angelenos who have friends or family who are unhoused, please let them know the danger that exists. We must stay safe. We will work diligently to bring those responsible to justice," the Mayor said.
"To the person responsible: We will find you, we will catch you and you will be held accountable," Bass said.
"I commend the LAPD for creating a dedicated task force to uncover the identity of a potential serial killer preying on the most vulnerable in our community. I've assigned our Major Crimes Division, Bureau of Victim Services and our Bureau of Investigation to assist with these efforts. Today, we demonstrate our collective resolve and stand united in our pursuit of justice, unwavering against the darkness that preys on the most defenseless among us," said LA District Attorney George Gascón.
Related:
Anyone with information is urged to contact the Los Angeles Police Department's Robbery-Homicide Division, Homicide Special Section, at (213) 486-6890. During non-business hours or on weekends, calls should be directed to 1-877-LAPD-24-7 (1-877-527-3247).
Anyone wishing to remain anonymous should call the LA Regional Crime Stoppers at 1-800-222-TIPS (800-222-8477) or go directly to www.lacrimestoppers.org.
Lastly, tipsters may also download the "P3 Tips" mobile application and select the LA Regional Crime Stoppers as their local program.