David Bohnett, philanthropist with a social justice mission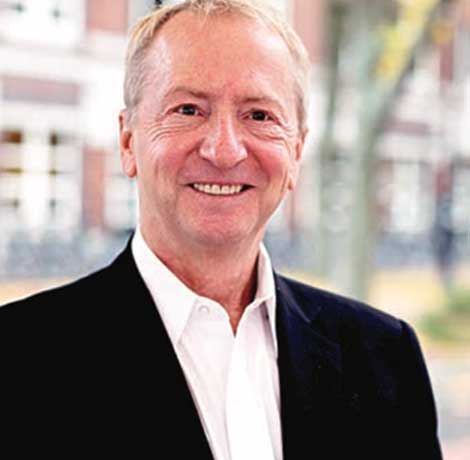 American democracy has changed. Politics is now 24/7, a constant barrage of opinions, petitions, and email and online solicitations like relentless fastballs in a batting cage. Head-spinning happens.
But to gay philanthropist David Bohnett, the angst-ridden reaction to President Donald Trump's untethered actions recalls the days after the anti-gay marriage Prop 8 initiative was passed by California voters in 2008. Then, like now, people had been informed about what would happen, how fundamental rights would be taken away—but were genuinely shocked when that really transpired.
"Wake up people! If you didn't think it could get this bad—where were you?" Bohnett asked rhetorically during a recent phone interview. "We have the responsibility to get as many people as possible in our community energized and activated because this is bad and it's going to get worse."
A major donor to the Democratic Party, Bohnett has been keeping up with the Democratic Congressional Campaign Committee's efforts to take back the House of Representatives. "I think there's a lot of momentum and yes, we're participating and we will wait to see as the time gets closer how much and where we're going to participate," he says. "But there's a great ground swell and the possibility we would be able to retake the House."
Bohnett thinks the Senate Intelligence Committee's investigation into the Russian hacking of the 2016 election "is going to make the real difference" in the 2018 midterm elections. Recently, Bohnett joined other Democratic donors and activists at the home of Norman and Lynn Lear to hear from popular Sen. Elizabeth Warren.
"Her words were very insightful and very telling," he says. "The most important thing for us is to unify around a small handful of messages around women's reproductive rights, the environment and stick to those messages and not get distracted and try and criticize every single thing that [Trump] does. And she's right. We will prevail if we remain focused on our key progressive messages and not get bogged down in the Twitter storms all the time."
LGBT full equality, a core Democratic value, comes under the broader civil rights, immigration umbrella.
But Bohnett believes the critical fight for LGBT full equality "is going to be won and our ground is going to be held by the social service organizations, such as the LA LGBT Center. I really think now, more than ever, those organizations serve the broadest constituencies in our community, including immigration, same-sex marriage, family and legal issues. So yes, we have to continue to fight at the political level but I want to keep reminding people that the organizations that are delivering the services to our community are right now the ones on the front lines and deserve our support."
Bohnett says there is a shift happening "across the board" regarding governmental and private grants. "The whole philanthropic sector is on tenterhooks wondering what's going to happen with the tax code alone," Bohnett says. "Grants to social organizations are health and human services-related grants that aren't necessarily specific for the LGBT community, although it's the constituents these organizations serve. And yes, those are under threat as well."
Bohnett started the David Bohnett Foundation in 1999 after selling GeoCities to Yahoo for $3.5 billion. He now heads Baroda Ventures, which invests in tech startups. In almost 20 years, his foundation has given more than $100 million in total grants across specific programs. This year will be the last for the open grant application process. Next year, the foundation will reach out to selected groups and off er them an opportunity to apply.
"I'm looking at how to maintain a level of giving for the long term," he says. "There are certain programs that we have continued to fund and concentrate on that have been so effective for our community," such as the Bohnett Leaders Fellowship at the Victory Institute, which has sent 118 outstanding LGBT leaders to the Harvard Kennedy School's Senior Executives in State and Local Government program since 2002, and the Cyber Center program at over 60 LGBT community services centers around the country.
Bohnett says he's learned "a couple of things" over his almost 20 years of philanthropy, much from his late partner, Judge Rand Schrader who died of AIDS in 1993. "When Randy and I were first together, he had been on the board of the [L.A. LGBT] Center since the Center was founded and I really saw from his experience that it's a sustained commitment that creates true change. That's what I think has made such a significant difference in these different areas."
Bohnett says his grant-giving is also "very focused on a collaborative-partnership model" where the foundation partners with an organization and then brings other funders and like-minded social service groups to help with the effort. Bohnett, who was appointed by President Obama to serve as a Trustee at the John F. Kennedy Center for the Performing Arts in Washington DC, is very concerned what will happen to the arts if Trump cuts the National Endowment for the Arts and similar programs. However, he notes there is "a significant government commitment" to funding the arts in Los Angeles.
Nonetheless, he's frustrated that no one is talking about "the importance of the arts in terms of how they define us as a people and as a society." For Bohnett, like JFK, the arts refl ect civilization.
"I am certain that after the dust of centuries has passed over our cities," Kennedy once said, "we, too, will be remembered not for our victories or defeats in battle or in politics, but for our contribution to the human spirit."
"What I strive to do within our community is to help everyone lift their head up and see how our struggle fits into the larger context of the broader human rights struggles," Bohnett says. "I think we're better served if we're champions for social justice for all."
Black AIDS Institute appoints Toni Newman as interim CEO
As Toni Newman steps into her new role at BAI, she will be one of only a few Black Trans women to head a non-profit in the nation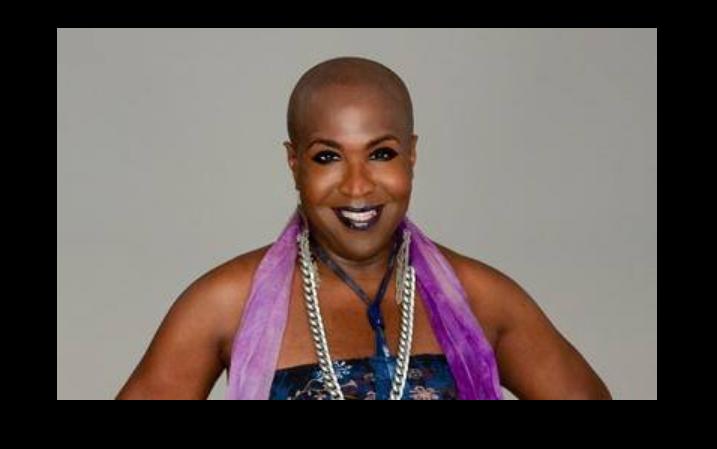 LOS ANGELES – The Board of Directors of the Black AIDS Institute (BAI) announced the appointment of Toni Newman as its Interim Chief Executive Officer and Dr. Kemal M. Atkins as Managing Director this past week.
Newman is currently the Interim Executive Director at LYRIC – a non-profit in San Francisco, California that focuses on advancing the community and creating social change for lesbian, gay, bisexual, transgender, queer and questioning (LGBTQQ) youth through education, career training and health advocacy. 
Dr. Atkins has been engaged to help further build infrastructure and management processes at BAI. Dr. Atkins, who will serve as a consultant on a temporary basis, has an extensive background in higher education and non-profit leadership where his expertise in crisis management, such as leading institutional responses to the COVID-19 pandemic, and expertise in building national wellness health models will provide much-needed program direction for BAI.
Founded in 1999, the mission of BAI is to stop the AIDS epidemic in Black communities by engaging and mobilizing Black institutions and individuals to confront HIV. In its mission statement, the organization states that "BAI envisions a world where all Black people are free and flourishing without HIV and AIDS, free of stigma and shame, where Black health and well-being are paramount. With a foundation in advocacy and policy work, BAI works towards improving the health and wellness of Black people through research, community efforts, and clinical work."
As she steps into her new role at BAI, she will be one of only a few Black Trans women to head a non-profit in the nation.
Ms. Newman is a distinguished Faculty Member at the Transgender Strategy Center in Los Angeles, where she advises non-profit organizations on engagement with transgender and nonconforming communities. In addition, she is the Chair of the Board of Directors for TransCanWork based in Los Angeles.
"Ms. Newman has a wealth of knowledge in non-profit management, budget and finance, and human resources and operations," BAI stated in its statement. "We're excited that she has agreed to serve as our Interim CEO as we continue implementing our transition plan to find a permanent, innovative executive staff leader."
LGBTQ+ ally City Councilman Kevin de León announces run for mayor
De León currently represents Council District 14 that takes in the predominantly Latino neighborhoods of Boyle Heights and El Sereno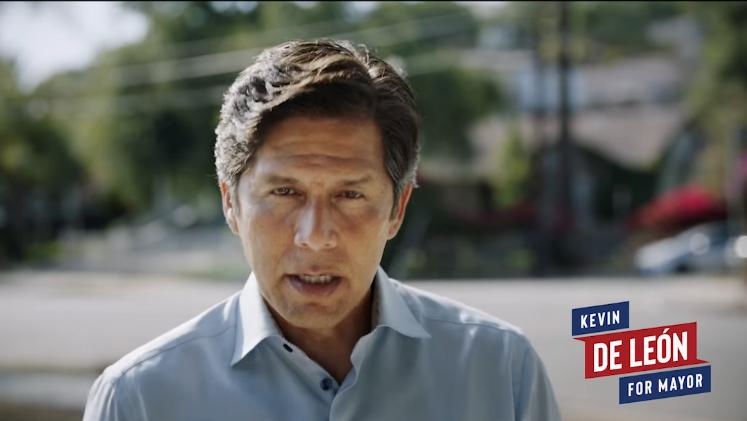 LOS ANGELES – Standing in front of a group of enthusiastic supporters Tuesday at the El Pueblo de Los Angeles Historical Monument, Los Angeles City Councilman Kevin de León announced that he was joining the mayor's race for next year's city elections.
Councilman de León, a Democrat, is the third city elected official to announce his intention to seek the mayor's chair after current Mayor Eric Garcetti, who was elected for a four-year term in 2013 and again in 2017- who's limited to serving no more than two terms, was picked by President Joe Biden to serve as the U.S. ambassador to India on July 9, 2021.
Born in Los Angeles of Guatemalan and Mexican descent, raised by a loving, hard-working single mother, de León, 51, got an education and spent 12 years in Sacramento, rising to become the President Pro Tem of the California Senate, authoring and passing legislation and making history. It was his bill that then Governor jerry Brown signed into law making California a "sanctuary state"—a law that was upheld by a federal appeals court.
In an August 2018 interview with former Los Angeles Blade Editor Karen Ocamb, he reflected on his relationship with the LGBTQ+ community.
"I've always been very close to the LGBTQIA (lesbian, gay, bisexual, transgender, queer, intersex, asexual) community even before I even knew all the initials that keep growing," de León says with a laugh during an extensive phone interview with the Los Angeles Blade. "It's always been my core set of values that every human being deserves a real opportunity to succeed, regardless of who they love and regardless of the hue of their skin and regardless of their legal status. That is embedded in my DNA."
De León learned to care about LGBT people as a child from his mother and aunt around the kitchen table.
"My mother got a third grade education and my aunt even less," he says. "I was very young and they were talking about a gay friend, a colleague of theirs. I didn't understand. Obviously, they didn't understand themselves. But they spoke with such affection, such tenderness. And here were two immigrant women with limited formal education and the way they spoke so lovingly, tenderly, beautifully about their gay friend. I could deduce the person they were talking about was gay—they kind of spoke in code around me when I was just sitting there listening to them at the kitchen table. And it transcended ethnicity and legal status and poverty—that we're all human beings and we deserve dignity and respect. That had an 'Ah Ha' impact."
De León's LGBT education continued as he picked his mother up from her work as a housekeeper at convalescent homes. "She had quite a few gay colleagues with her and I just remember they were just so beautifully nice with my mother and my mother with them and that had a huge impression on me of the universal values of treating everybody with dignity and with respect. So when there is a discriminatory blow against anyone in the LGBTQIA community, I feel that blow equally."
De León, 54, is by far the most prominent Latino running. Fluent in Spanish, he represents a district that takes in the predominantly Latino neighborhoods of Boyle Heights and El Sereno, as well as much of downtown, where a development boom has fueled huge growth over the past decade, KTLA reported.
Two other candidates — Councilman Joe Buscaino and City Atty. Mike Feuer — have been campaigning for several months. The race also features two business leaders: Jessica Lall, who heads the downtown-based Central City Assn., and real estate broker Mel Wilson, who has been involved with several San Fernando Valley business groups.
Hermosa Beach Pride Lifeguard Tower is here to stay
"The rainbow tower is beautiful and has become a symbol of this community's love and support for LGBTQ rights," said Supervisor Hahn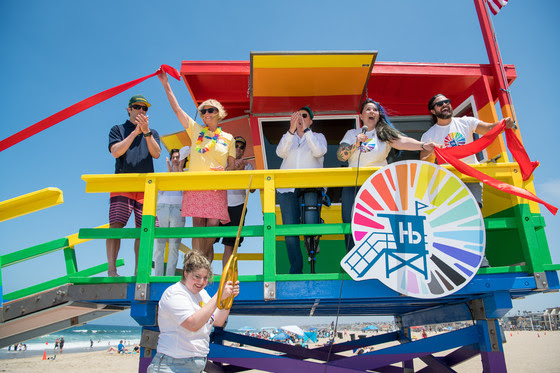 Hermosa Beach — Los Angeles County Supervisor Janice Hahn is announcing that the Pride Tower in Hermosa Beach is here to stay.  The 13th street Los Angeles County Lifeguard Tower, which was painted rainbow in June, was originally meant to be repainted its original blue color at the end of summer.  The rainbow paintjob will now be permanent. 
"The rainbow tower is beautiful and has become a symbol of this community's love and support for LGBTQ rights," said Supervisor Hahn, whose support paved the way for the project. "None of us wanted to see it painted over and I am proud to announce that the Pride Tower is here to stay."
The idea to paint the tower originally came from lzzy Bacallao, a local non-binary teen. Izzy, who uses the pronouns they and them, was responding to the burning of rainbow-painted Pride lifeguard tower in Long Beach in March. The rainbow-painted tower was unveiled at the Hermosa Beach Pride event June 26, 2021.
The new Pride Tower's rainbow paintjob will be maintained by the Los Angeles County Department of Beaches and Harbors which maintains all LA County Lifeguard Towers.   The Department of Beaches and Harbors also maintains another permanent Pride tower in Venice.