U.S. complicit in Chechnya horrors
Ignoring lessons of Holocaust, Trump caters to Putin while gay men die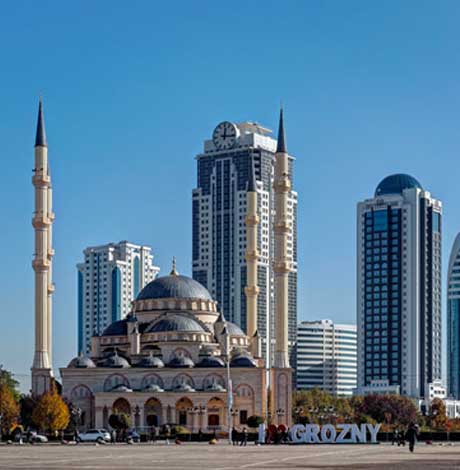 Listening to President Trump deliver remarks on Holocaust Remembrance Day last week proved yet another galling exercise in surreal hypocrisy. 
The same president who tapped Stephen Bannon to serve as his top adviser had the nerve to criticize Holocaust deniers, adding "we must never, ever shrink away from telling the truth in our time."
And so, let's tell some truth. 
Truth: Bannon established Breitbart News as "the platform for the alt-right," as he boasted last summer. While clever enough not to openly espouse anti-Semitic views himself, he deliberately cultivated Breitbart as the go-to place for expressing misogynistic, white supremacist and anti-Semitic views. Former KKK Grand Wizard David Duke praised Bannon's White House appointment, which alone should tell you all you need to know about this dangerous figure. Alt-right lunatics are now ensconced in the White House, including among the press corps. Two fake journalists recently flashed "white power" signs inside the White House press briefing room and shamelessly posted the photos to social media. As first reported by the Independent, "Freelance journalist Mike Cernovich and Cassandra Fairbanks, a reporter for Russian news outlet Sputnik, posed for a picture behind the podium in the White House briefing room. In the photo, they are making a hand sign that can be used to signify 'white power.'" 
Truth: According to a report from the Anti-Defamation League, anti-Semitic attacks increased by 86 percent in the first quarter of 2017. Between January and March, the ADL reports there were 541 anti-Semitic incidents in the country compared to 281 during the same period last year. Trump's gullible supporters — who are not influenced or constrained by facts, logic or reason — will dismiss those numbers as a coincidence. But for those of us with more than three functioning brain cells, it's obvious that America's deplorables have heard the dog whistles emanating from this White House and are acting accordingly. The bigots are unleashed and validated after being forced to endure an America led by a black man for eight years, their worst nightmare. 
Truth: Speaking of dog whistles, White House Press Secretary Sean Spicer told reporters recently that Adolf Hitler never used chemical weapons against his own people and referred to concentration camps and gas chambers as "Holocaust centers."
Truth: As Trump belatedly and hypocritically condemned anti-Semitism — after empowering bigots and ignoring attacks on Jewish community centers and cemeteries — gay men are being rounded up, tortured and killed in secret prisons in Chechnya. Holocaust Remembrance Day sounds like an opportune time to condemn those prisons, which have been widely described in the media as "concentration camps." But Trump didn't mention Chechnya and hasn't denounced the government's actions to cleanse the country of gays. Hillary Clinton lambasted Trump over his silence on Chechnya. The State Department, which remains woefully understaffed such that it hasn't been holding press briefings, is silent. Only Nikki Haley at the U.N. could be coaxed into denouncing Chechnya.
Why is that? Well, Chechnya is controlled by Vladimir Putin, whose own campaign against Russian gays is well known and documented. Trump's ongoing love affair with Putin (or is our president being blackmailed by the Russian murderer?) precludes him from speaking out. 
And so, amid cries of "never forget," we do just that in Chechnya, turning away from the well-documented horrors being committed there against gay men. America's pledge to respect the lessons of the Holocaust is now a hollow sham, a photo op that offers the appearance of caring while masking our government's complicity in atrocity. 
Judy Heumann helped so many of us with disabilities to be out and proud
'Like the color of my eyes or the color of my hair, it is a part of who I am'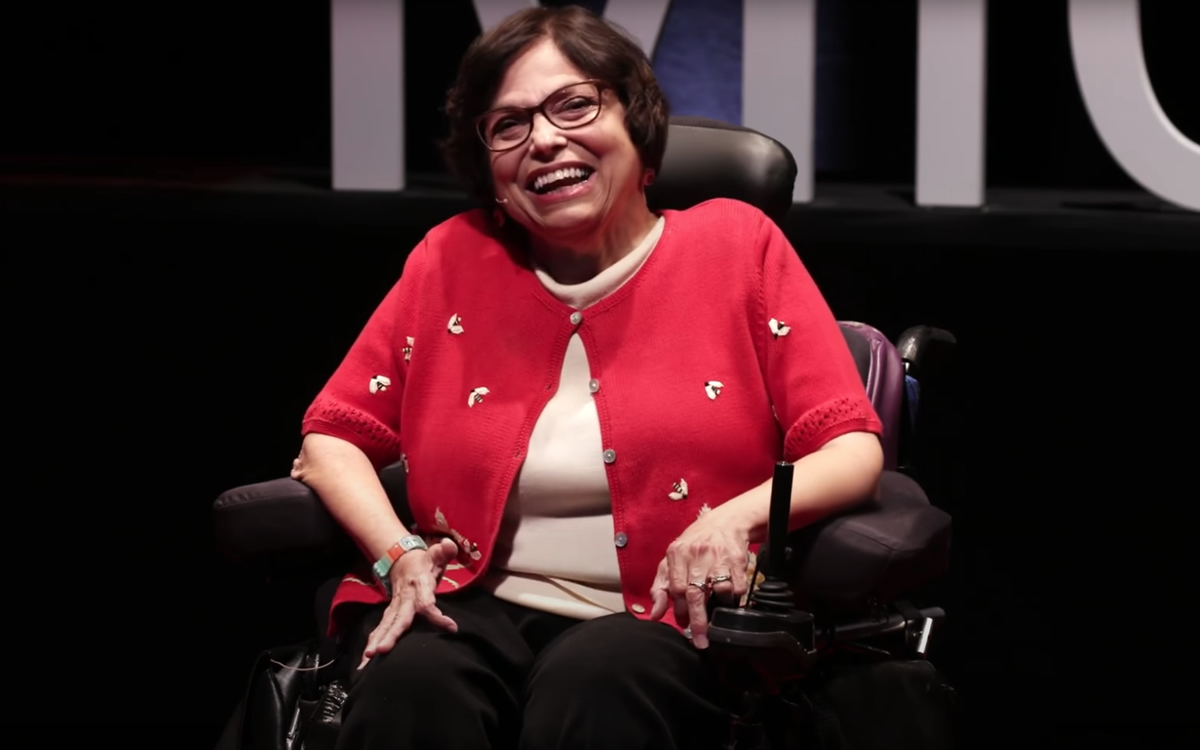 When I was growing up, people like me, who were disabled, were usually met with scorn, pity and exclusion.
On March 4, Judith (Judy) Heumann, a founder of the disability rights movement, died at 75 in Washington, D.C.
For decades, Heumann, who contracted polio when she was 18 months old, was a leader of a civil rights movement that changed the lives of millions of folks like me.
Judy (so many of us, whether we knew or not, connected with her on a first-name basis), was known as the "mother" of the disability rights movement. She was the Harvey Milk of our struggle.
You might think: why should LGBTQ people care about the passing of a disability rights leader?
Here's why: Nearly, 20 percent of people in this country have a disability, according to the U.S. Census Bureau. This includes LGBTQ+ people. An estimated three to five million people are queer and disabled.
Studies, including a study by the Map Advancement Project, reveal that queer people are more likely than non-queer people to become disabled. We face the double-whammy of anti-queer and disability-based discrimination. The MAP study reported that of the more than 26,000 transgender people surveyed, 39 percent reported having a disability.
If you're queer and have a disability (blindness, epilepsy, cerebral palsy, psychiatric disorder, etc.), you've likely run up against employers who don't want to hire you or restaurants who don't care to serve you. If you're a queer parent of a disabled child, you've probably had to fight to get your kid the education they need.
These battles are hard. But, thanks to Heumann and the movement she led, there are ways — from the Americans with Disabilities Act to working the media — to fight this injustice.
Heumann, who at 29 led a month-long protest that was the Stonewall of the disability rights movement, and in her 70s was the star of the fab, Oscar-nominated documentary "Crip Camp," was a powerhouse of energy, discipline, hard work and humor. She was a quintessential bad ass who worked for justice 24/7, and kicked your butt if you didn't."Kathi, get your self together!" commanded the voice over the phone, "or you won't get anything done."
It was 1987, and I was writing my first news story. I was interviewing Heumann about an historic protest that she'd led a decade earlier. It was the 10th anniversary of what is believed to be the longest non-violent sit-in a federal building.
In April 1977, more than 100 disabled people took over the (then) Health, Education and Welfare building in San Francisco. President Richard Nixon had signed the Rehabilitation Act into law in 1973. But, regulations, known as "504," a section of the Act that prohibited discrimination against disabled people by institutions (schools, hospitals, etc.) receiving federal funding, hadn't been signed. After protesting in the San Francisco building for a month and in Washington, D.C. (including at then President Jimmy Carter's church), the "504″ regulations were signed.
Heumann, who was an official in the Clinton administration and a special adviser in the Obama State Department, was tough, kind, and proud of herself and the movement that she founded.
For Heumann, who is survived by her husband and brothers, disability was a normal part of life, not a tragedy.
"I never wished I didn't have a disability," Heumann wrote in her memoirs "Being Heumann: An Unrepentant Memoir of a Disability Rights Activist."
When Heumann was a child, disabled children were often institutionalized. Like being queer, being disabled wasn't considered to be normal then.
Doctors advised Heumann's parents to send Judy to an institution when she was a child. But her parents, who were Jewish and had fled Nazi Germany, refused. This experience turned her mother and father against institutionalizing her, Heumann wrote in her memoir.
"If I'd been born just 10 years earlier and become disabled in Germany, it is almost certain the German doctor would also have advised that I be institutionalized," Heumann wrote, "The difference is that instead of growing up being fed by nurses in a small room with white walls and a roommate, I would have been taken to a special clinic, and at that special clinic, I would have been killed."
Just as it is if you're queer, if you're disabled, if you want to respect yourself, you need to be out and proud.
Judy more than anyone I've ever known, helped so many of us with disabilities to be out and proud. She taught us that being disabled isn't something to be ashamed of. That it's an important aspect of who we are.
Her disability, Judy often said, is, "Like the color of my eyes or the color of my hair, it is a part of who I am."
I knew Judy only from interviewing her over the years and being on an episode of her podcast "The Heumann Perspective." But Judy, whether you'd known for decades or just a few months, made you feel like you were a friend. She'd advise you, cheer you on and challenge you over the phone, in texts and on Zoom.
She almost got me, a non-make-up wearing lesbian, to wear lipstick (so I wouldn't look like a ghost on her podcast). Earlier this winter, Judy wondered why I didn't put my disability on my resume. Being nervous could be good, she said, when I was scared of reading at a poetry festival.
"If you don't respect yourself and if you don't demand what you believe in for yourself, you're not going to get it," Judy said.
Thank you, Judy for teaching us to respect ourselves and to demand our rights! R.I.P., Judy!
Kathi Wolfe, a writer and a poet, is a regular contributor to the Blade.