After protests, Hollywood developer RD Olson leaves antigay biz group
Membership in Christian business group that espouses conversion therapy at issue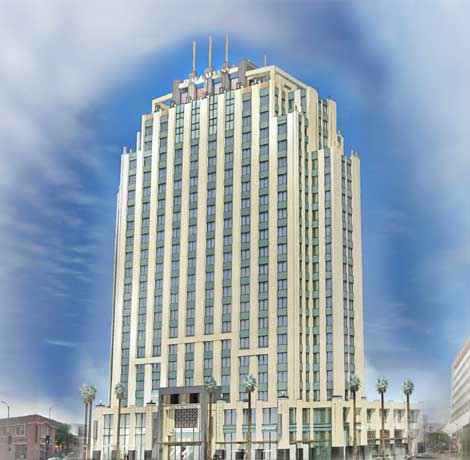 On Friday, April 28, 2017, several dozen protesters gathered outside of city hall for a press conference in protest of "homophobic developments in Hollywood," putting RD Olson, an Orange County based construction firm that is developing the 21-story Ivar Gardens Hotel project on Hollywood Boulevard, on notice for its membership in Legatus, right wing Christian business group.
RD Olson's website had stressed its involvement in Legatus, a 501C3 non-profit groups that describes itself as "Ambassadors of Christ in the Marketplace." Legatus' mission statement is to help its members "study, live and spread the faith in their business, professional and personal lives."
UNITE HERE Local 11, a labor union representing more than 23,000 hospitality workers, had pointed to several articles on the Legatus website that advocated the use of  "conversation therapy" for LGBT children, the criminalization of abortion, and the repeal of marriage equality.
Protesters were concerned that RD Olson had been given project approval from the planning and Land Use Committee of the Los Angeles City Council without consideration of its involvement in antigay and right wing causes..
Richard Zaldivar, Executive Director of The Wall Las Memorias, who was present at the protest, said "I am very concerned the City Council would even consider a development project from an organization that advocates such hateful homophobic beliefs and practices."
By Tuesday, May 2, however, after an inquiry by The Los Angeles Blade, the affiliation with Legatus had be erased from RD Olson's website and the company's President announced that he had terminated his membership and association with the group.
RD Olson's Marketing Director, Joey Sanchez, said President Bill Wilhelm has resigned his membership in Legatus but declined to say whether the decision was due to public relations pressure.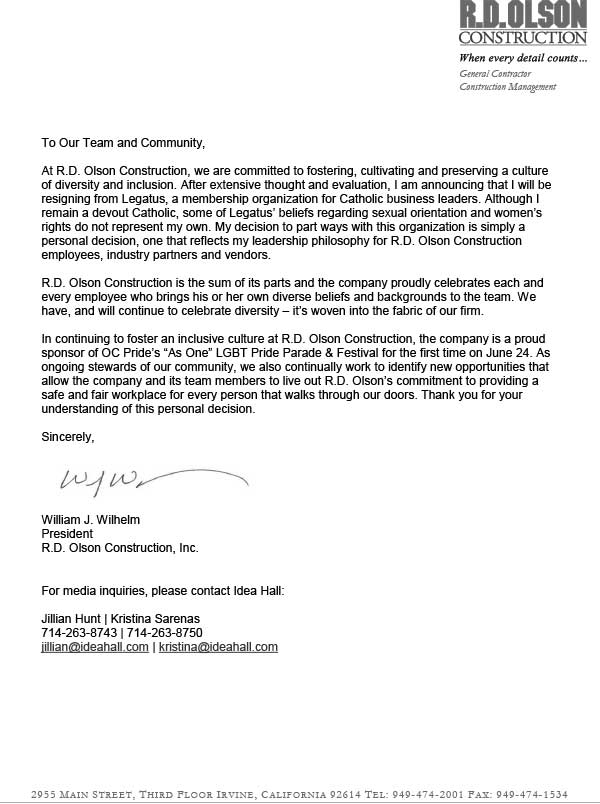 At the heart of the concern about the company's affiliation with Legatus is the group's homophobia and advocacy in support of conversion therapy.
California is among several states that have banned "conversion therapy," the practice of attempting to eliminate same-sex attraction through electroshock therapy and other controversial practices.  The Supreme Court of the United States just this week upheld California's right to ban the practice.
It is not know if California or Los Angeles previously offered RD Olson any subsidies for the construction of Ivar Gardens Hotel.  By offering Legatus as the basis of its business ethics, however, RD Olson and Ivar Gardens Hotel could potentially have run afoul of workplace protections for LGBT employees.
Controversy surrounding Legatus is not new.
In 2015, Brett Baier of Fox News was scheduled to speak at a Legatus conference, but later pulled out. Baier said, "I am a lifelong, mass attending Catholic – I'm a lector at my parish. I consider myself to be in line with my Church on most things. But, describing homosexuality as a 'disorder' and talking about ways to 'cure' people from it – does not seem to line up with the loving, accepting Church that I know."
Actor Gary Sinise,  who also serves as a missionary in service to American troops abroad, also dropped out. "I don't want my mission — which is designed to be unifying — to be disrupted by these, or any, controversies," said Sinise.
Molson Coors Board Chairman Peter Coors, who actually belongs to Legatus, also dropped out of Legatus, citing similar concerns.
Bob Newhart, the comedian, also declined to speak at the group's conference.
All identify as Catholic.
RD Olson's community statement reads:
To Our Team and Community,
At R.D. Olson Construction, we are committed to fostering, cultivating and preserving a culture of diversity and inclusion. After extensive thought and evaluation, I am announcing that I will be resigning from Legatus, a membership organization for Catholic business leaders. Although I remain a devout Catholic, some of Legatus' beliefs regarding sexual orientation and women's rights do not represent my own. My decision to part ways with this organization is simply a personal decision, one that reflects my leadership philosophy for R.D. Olson Construction employees, industry partners and vendors.
R.D. Olson Construction is the sum of its parts and the company proudly celebrates each and every employee who brings his or her own diverse beliefs and backgrounds to the team. We have, and will continue to celebrate diversity – it's woven into the fabric of our firm.
In continuing to foster an inclusive culture at R.D. Olson Construction, the company is a proud sponsor of OC Pride's "As One" LGBT Pride Parade & Festival for the first time on June 24. As ongoing stewards of our community, we also continually work to identify new opportunities that allow the company and its team members to live out R.D. Olson's commitment to providing a safe and fair workplace for every person that walks through our doors. Thank you for your understanding of this personal decision.
Sincerely,
William J. Wilhelm
, President

R.D. Olson Construction, Inc.
'Leave Our Kids Alone' group protest, LAPD make arrests
A separate group gathered to rally in support of LGBTQ+ youth, ultimately leading to an unlawful assembly declaration & at least two arrests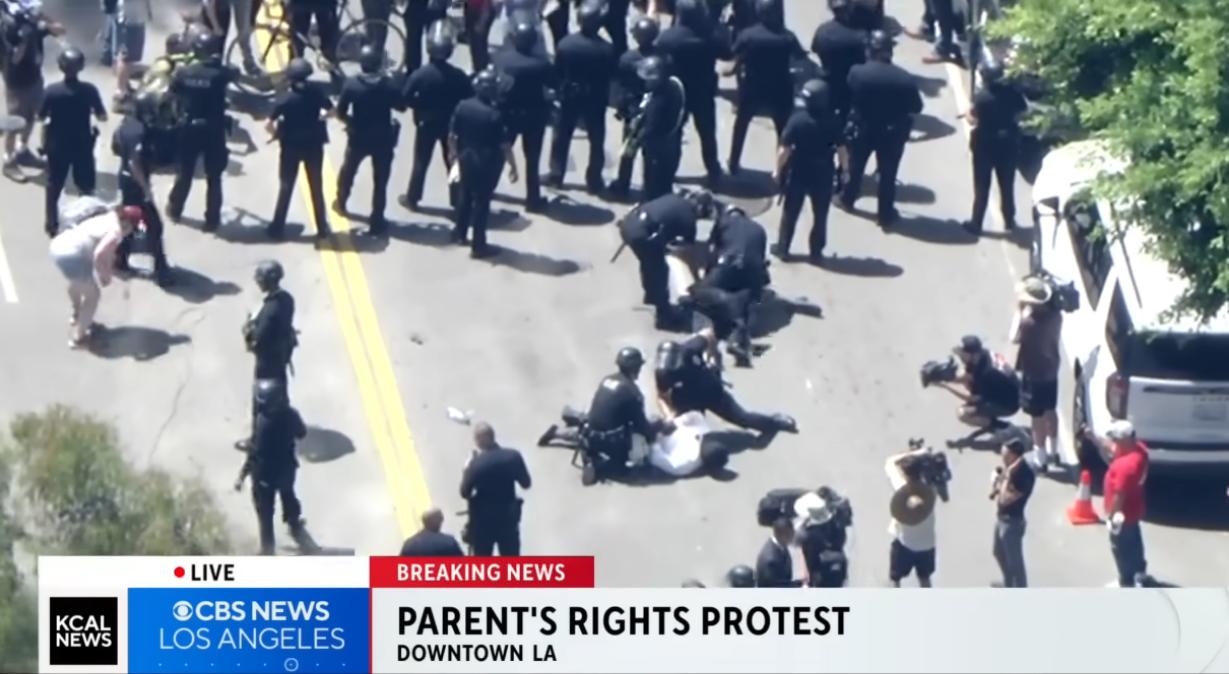 LOS ANGELES – Approximately 200 people from the loosely organized social media based group 'Leave Our Kids Alone' (LOKA) marched through downtown Los Angeles today in support of parental rights and notification policies in schools.
A separate group gathered to rally in support of LGBTQ+ youth, ultimately leading to an unlawful assembly declaration and at least two arrests as the Los Angeles Police Department deployed about 40 officers and supervisors to keep the groups apart.
On the LOKA group Instagram and Facebook posts, organizers called for the Tuesday rally at 10:00 AM writing: "Calling all California parents to stand United and rally for our kids. Whether it's the school boards or Sacramento in their attempts to indoctrinate kids and separate them from families – parents have had enough."
The group on its social media posts claim they are supporting parental rights and opposing "indoctrination," "sexualization" or "grooming" of children in schools.
KCAL CBS-Los Angeles reported the LOKA group assembled outside Los Angeles City Hall, then marched to Los Angeles Unified School District headquarters, where some participants sat in the intersection. Some people in the Leave Our Kids Alone group waved American flags while others carried signs with slogans such as "Parental Rights Matter" and "Parental rights are non-negotiable," and many wore shirts saying "Leave our kids alone." One held a sign reading "Teach the Bible, not porn."
The protest was in support of forcing the LAUSD Board to adopt policies that would 'Out' trans children and also minimize the so-called influences regarding LGBTQ+ students.
On X/Twitter members of the group live-streamed the march and protest:
Los Angeles CA – Leave Our Kids Alone #saveourkids #leaveourkidsalone

We are live on YouTube and rumble. pic.twitter.com/ytOtQ20kOM

— Oreo Express Normal/Not Mentally Ill (@OreoExpress) August 22, 2023
The counter-rally was organized by Ground Game LA and Queer Nation Los Angeles, plus another Queer affirming group which are opposed to parental-notification policies, noting such policy requirements can put LGBTQ+ students at risk if their families are not accepting of their gender identity.
KCAL also reported that members of the smaller counter protest, some of whom waved Pride flags, prompting LAPD officers to set up skirmish lines to keep the groups separated. According to reports from the scene, police attempted to push the counter-protesters back, but two people allegedly resisted and were taken into custody.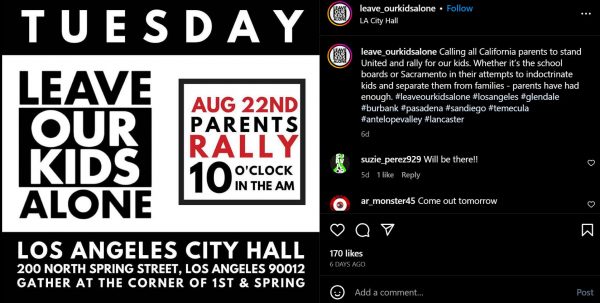 The LOKA group first rose to prominence after a group of parents took to social media and distributed flyers to protest a scheduled June 2 LGBTQ+ Pride event at Saticoy Elementary School on 7850 Ethel Avenue in North Hollywood.
Then on June 6, the group and others clashed with Glendale Police and LGBTQ+ supporters outside a meeting of the Glendale Unified School Board over LGBTQ+ studies and the GUSD polices on addressing LGBTQ+ related issues.
News footage from CBS Los Angeles KCAL showed approximately fifty Glendale police officers attempting to keep the two groups separated and then fists were thrown as both sides engaged in physical assaults. A Glendale police spokesperson confirmed that some arrests had been made but wouldn't comment further.
The group has also been present at school board meetings in Temecula, Murietta Valley, Orange County and Chino protesting for polices that would forcibly 'Out' LGBTQ+ kids and also remove LGBTQ+ materials, books, and Pride flags from classrooms.
California Attorney General Rob Bonta announced  earlier this month that his office is opening a civil rights investigation into potential legal violations by the Chino Valley Unified School District (CVUSD), which adopted a policy that forces schools to "out" students whose gender identities may be changing.
The Murrieta Valley Unified School District Board (MVUSD), had approved a policy mirroring one recently adopted by the Chino Valley Unified School District (CVUSD), that forces school faculty and staff to "out" students to parents whose gender identities may be changing.
Bonta in an emailed statement to the Blade said: "I am deeply disturbed to learn another school district has put at risk the safety and privacy of transgender and gender nonconforming students by adopting a forced outing policy. My office remains committed to ensuring school policies do not target or seek to discriminate against California's most vulnerable communities. California will not stand for violations of our students' civil rights."
Related:
Parent's rights group and counter protesters clash Downtown LA: