After protests, Hollywood developer RD Olson leaves antigay biz group
Membership in Christian business group that espouses conversion therapy at issue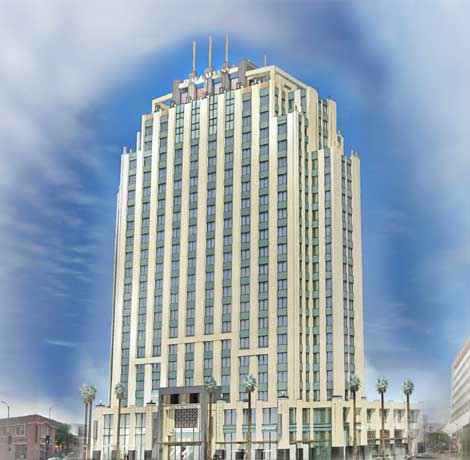 On Friday, April 28, 2017, several dozen protesters gathered outside of city hall for a press conference in protest of "homophobic developments in Hollywood," putting RD Olson, an Orange County based construction firm that is developing the 21-story Ivar Gardens Hotel project on Hollywood Boulevard, on notice for its membership in Legatus, right wing Christian business group.
RD Olson's website had stressed its involvement in Legatus, a 501C3 non-profit groups that describes itself as "Ambassadors of Christ in the Marketplace." Legatus' mission statement is to help its members "study, live and spread the faith in their business, professional and personal lives."
UNITE HERE Local 11, a labor union representing more than 23,000 hospitality workers, had pointed to several articles on the Legatus website that advocated the use of  "conversation therapy" for LGBT children, the criminalization of abortion, and the repeal of marriage equality.
Protesters were concerned that RD Olson had been given project approval from the planning and Land Use Committee of the Los Angeles City Council without consideration of its involvement in antigay and right wing causes..
Richard Zaldivar, Executive Director of The Wall Las Memorias, who was present at the protest, said "I am very concerned the City Council would even consider a development project from an organization that advocates such hateful homophobic beliefs and practices."
By Tuesday, May 2, however, after an inquiry by The Los Angeles Blade, the affiliation with Legatus had be erased from RD Olson's website and the company's President announced that he had terminated his membership and association with the group.
RD Olson's Marketing Director, Joey Sanchez, said President Bill Wilhelm has resigned his membership in Legatus but declined to say whether the decision was due to public relations pressure.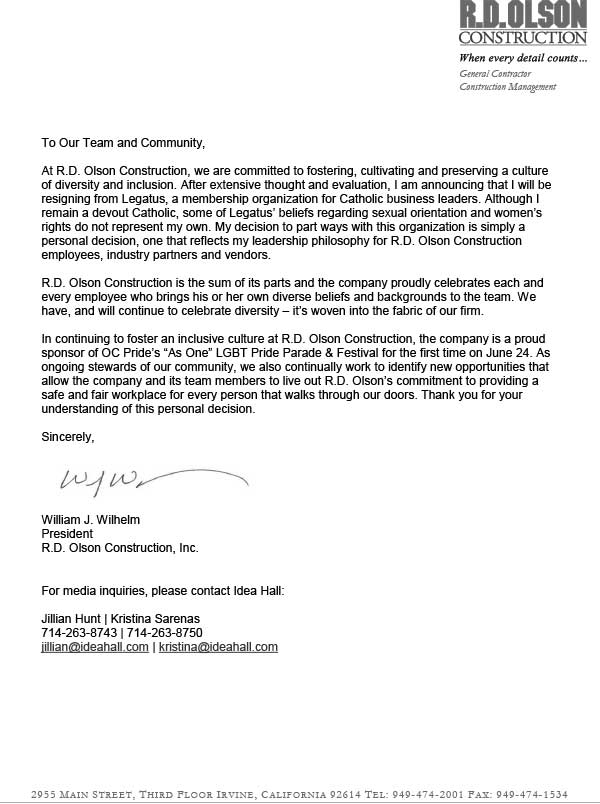 At the heart of the concern about the company's affiliation with Legatus is the group's homophobia and advocacy in support of conversion therapy.
California is among several states that have banned "conversion therapy," the practice of attempting to eliminate same-sex attraction through electroshock therapy and other controversial practices.  The Supreme Court of the United States just this week upheld California's right to ban the practice.
It is not know if California or Los Angeles previously offered RD Olson any subsidies for the construction of Ivar Gardens Hotel.  By offering Legatus as the basis of its business ethics, however, RD Olson and Ivar Gardens Hotel could potentially have run afoul of workplace protections for LGBT employees.
Controversy surrounding Legatus is not new.
In 2015, Brett Baier of Fox News was scheduled to speak at a Legatus conference, but later pulled out. Baier said, "I am a lifelong, mass attending Catholic – I'm a lector at my parish. I consider myself to be in line with my Church on most things. But, describing homosexuality as a 'disorder' and talking about ways to 'cure' people from it – does not seem to line up with the loving, accepting Church that I know."
Actor Gary Sinise,  who also serves as a missionary in service to American troops abroad, also dropped out. "I don't want my mission — which is designed to be unifying — to be disrupted by these, or any, controversies," said Sinise.
Molson Coors Board Chairman Peter Coors, who actually belongs to Legatus, also dropped out of Legatus, citing similar concerns.
Bob Newhart, the comedian, also declined to speak at the group's conference.
All identify as Catholic.
RD Olson's community statement reads:
To Our Team and Community,
At R.D. Olson Construction, we are committed to fostering, cultivating and preserving a culture of diversity and inclusion. After extensive thought and evaluation, I am announcing that I will be resigning from Legatus, a membership organization for Catholic business leaders. Although I remain a devout Catholic, some of Legatus' beliefs regarding sexual orientation and women's rights do not represent my own. My decision to part ways with this organization is simply a personal decision, one that reflects my leadership philosophy for R.D. Olson Construction employees, industry partners and vendors.
R.D. Olson Construction is the sum of its parts and the company proudly celebrates each and every employee who brings his or her own diverse beliefs and backgrounds to the team. We have, and will continue to celebrate diversity – it's woven into the fabric of our firm.
In continuing to foster an inclusive culture at R.D. Olson Construction, the company is a proud sponsor of OC Pride's "As One" LGBT Pride Parade & Festival for the first time on June 24. As ongoing stewards of our community, we also continually work to identify new opportunities that allow the company and its team members to live out R.D. Olson's commitment to providing a safe and fair workplace for every person that walks through our doors. Thank you for your understanding of this personal decision.
Sincerely,
William J. Wilhelm
, President

R.D. Olson Construction, Inc.
LAPD: Body found on fire hanging in tree in Griffith Park likely a suicide
The person's age, identity and gender have not yet been determined, but they are believed to be a person who frequents the park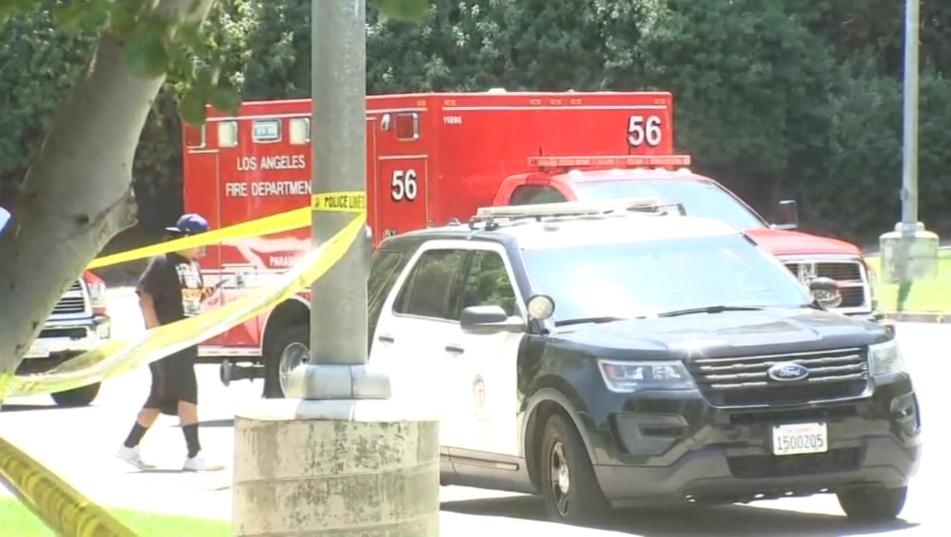 LOS ANGELES – The body of an unidentified person deceased found hanging from a tree near the Griffith Park's merry go round was likely a suicide a detective with the Los Angeles Police Department said Tuesday.
The body was discovered at around 12:30 p.m. on fire and hanging from a tree. Los Angeles City firefighters put the flames out and LAPD detectives investigated and found no signs of foul play, determining that most likely the cause of death was suicide.
"It appears to be self-immolation," said LAPD detective Michael Ventura. "This is going to be somebody who brought some gasoline, brought some lighters. We have had, they are rare, but we do have cases where people will self-immolate. Or they choose to set themselves on fire."
The person's age, identity and gender have not yet been determined, but they are believed to be a person who frequents the park on a regular basis Ventura said.
Independent freelance journalist Vishal P. Singh, who was on scene tweeted about the incident:
Firefighters from @LAFD are carefully removing things from the tree in Griffith Park. @LAPDHQ and the Park Rangers are here, too, investigating the body found hanging from a tree and on fire here. pic.twitter.com/5xBxviZRki

— Vishal P. Singh (they/he) 🏳️‍⚧️ (@VPS_Reports) August 9, 2022
KABC reported:
Editor's note: If you or someone you know is struggling with suicidal thoughts or mental health matters, please call the National Suicide Prevention Lifeline at 800-273-8255 or dial 988
LAPD respond after protestors disrupt LA City Council vote on homeless
All of City Council left except for Councilmembers Raman, Harris-Dawson, & Bonin who have previously voted against the expansion of 41.18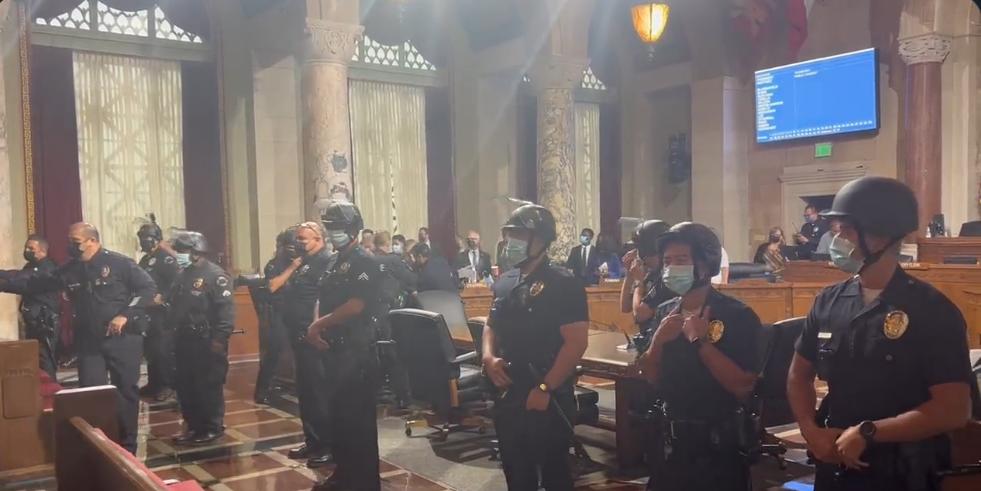 LOS ANGELES – After protestors angrily voiced opposition and one charged towards the council dais disrupting the LA City Council's impending vote Tuesday on a mass expansion of 41.18 zones, which will prohibit encampments of unhoused persons near schools and daycare centers, the Los Angeles Police Department's Riot Squad was called-in.
The meeting erupted into chaos after a member of the public who was speaking climbed over a bench and charged toward Council President Nury Martinez. Police quickly filled the council floor to apprehend the person and another member of the public. Activists screamed at police, and at least one audience member attempted to spray water on officers.
Martinez abruptly recessed the meeting as dozens of activists in the room chanted "Abolish 41.18!" – a reference to the city law prohibiting homeless encampments at libraries, freeway overpasses and other locations.
Jonny Peltz, a freelance reporter for Knock LA, a nonprofit community journalism project, live tweeted the proceedings.
Before meeting starts there are chants of "Shame on you!" pic.twitter.com/7HdnvdOQgD

— Jon peltz (@JonnyPeltz) August 9, 2022
Crowd holding up mostly 'abolish 41.18' signs. Council President told the crowd to "grow up" as they were jeering pic.twitter.com/28dVNpZF4j

— Jon peltz (@JonnyPeltz) August 9, 2022
BREAKING: Riot squad now out at City Hall. Two protesters have been arrested pic.twitter.com/gX9utGVHLj

— Jon peltz (@JonnyPeltz) August 9, 2022
Crowd is staying and chanting. All of City Council left except for Councilmembers Raman, Harris-Dawson, and Bonin (who have previously voted against the expansion of 41.18). LAPD also lining the side of City Council chambers pic.twitter.com/Whmvd9P2xf

— Jon peltz (@JonnyPeltz) August 9, 2022
KTLA reported the Council voted to ban homeless encampments within 500 feet of city schools and day care centers after protesters again rallied against the expanded motion.
The final vote on the motion 11-3 in favor of the widespread ban.
Before the updated motion passed, camps were banned within 500 feet of facilities deemed sensitive, such as schools, day care facilities, parks and libraries but only if those areas have been designated for enforcement.
Tuesday's vote means a blanket ban on encampments within 500 feet of every private school and day care centers in the city.
LAPD increases patrol force by 200 in Hollywood to combat rising crime
"If you come here to commit crime, you will be arrested, you will be prosecuted, you will be jailed or imprisoned," said O'Farrell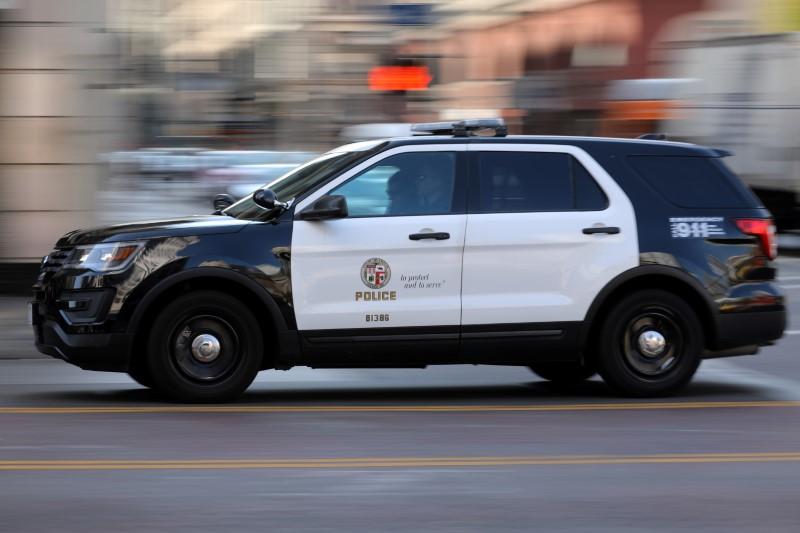 HOLLYWOOD – The Los Angeles Police Department has been deploying additional resources over the past seven months as the neighborhoods around Hollywood have experienced sharp increases in petty thefts, robberies, shootings and homicides.
On Wednesday, Out Los Angeles City Councilmember Mitch O'Farrell hosted an event to spotlight more aggressive actions being taken by the LAPD and other city officials to stem the uptick in crime in the heart of the City's entertainment district.
"If you plan to come to Hollywood to commit crime, you are not welcome," said Councilmember O'Farrell. "All Angelenos should feel safe where they live and work. By bringing additional LAPD shifts to Hollywood, we are strengthening the holistic approach my office is taking to public safety – one that brings unarmed services to people in distress, while ensuring our LAPD officers have the necessary tools to effectively prevent and address crime."
"If you come here to commit crime, you will be arrested, you will be prosecuted, you will be jailed or imprisoned," said O'Farrell adding; "There is no permissiveness in Hollywood. We're not going to permit or tolerate that."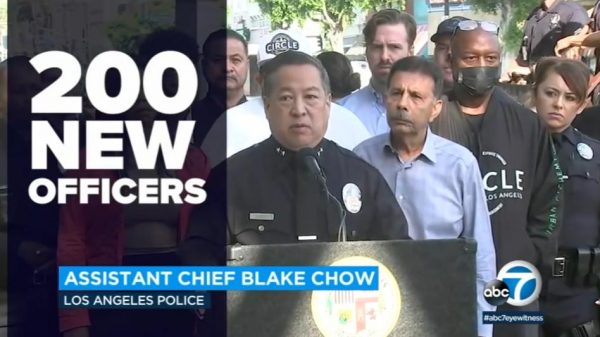 "That's really basically about 200 more officers out on the street here on Hollywood Boulevard. "They're going to be on foot, they're going to be in patrol cars, they're going to be on horseback, they're going to be on bikes," LAPD Deputy Chief Blake Chow told attendees and reporters attending the event.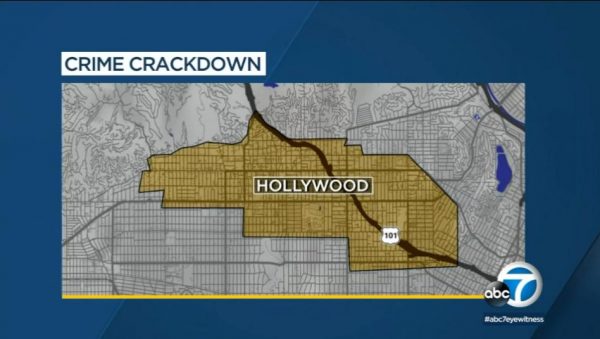 Year to date, Hollywood has seen a 75% increase in homicides and 35.6% increase in shots fired, while robbery and theft have risen by 19.4% and 24.7% respectively, compared to 2021. This latest effort to enhance public safety follows Councilmember O'Farrell's groundbreaking work to bring the CIRCLE program, the City's first unarmed model of crisis response, to Hollywood, in addition to supporting a City budget that accounts for attrition rates within LAPD's ranks.
"People need to feel safe when they're in Hollywood," said Deputy Chief Chow. "We're thankful to Councilmember O'Farrell for these additional resources and look forward to quickly putting them to use to prevent, deter and address crime."
"Public safety requires robust collaboration and an all-hands-on-deck approach," said James Hegler, Director of Operations for the CIRCLE Program. "We're proud of our successful working relationship with Councilmember O'Farrell and LAPD, which helps us bring unarmed services to Angelenos in need so that LAPD can focus their resources on actual crime."
"Public safety is an essential part of a thriving local economy," said Kathleen Rawson, President and Chief Executive Officer of the Hollywood Partnership. "As Hollywood emerges from the pandemic, having officers on the street and available to respond to calls is necessary for our businesses to safely keep their doors open and welcome visitors back to this iconic boulevard."
In addition to deployment of added LAPD resources, O'Farrell on Wednesday introduced a motion that, when approved by the City Council, would strengthen LAPD's presence in Hollywood with additional officer shifts.
The $216,000 effort would be funded directly by O'Farrell's office as part of his comprehensive approach to public safety in Hollywood a spokesperson said in a statement.