LA protests against Trump's Religious Freedoms Executive Order cancelled
The White House says the Executive Order language is "in flux"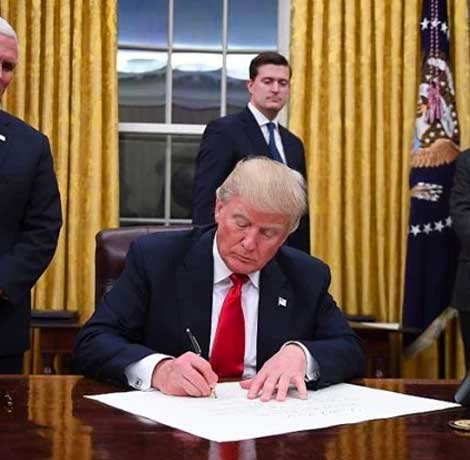 "Organizers are calling off tonight's rally — today's executive order was not the broadside on LGBT rights we feared. However, it is a frontal attack on women's reproductive rights and opens the door to potential anti-LGBT discrimination in the future," according to Equality California.  The group instead called for the community to stand up for other intersecting concerns, like women's rights and health advocacy.
"Please participate in the many smaller, targeted events that are being planned today by Planned Parenthood Action, advocates of the separation of church and state and others. And although today's order was not the expected attack, that broader anti-LGBT order could still come at any time. Please keep monitoring our page and those of other LGBT organizations for future actions. We are not letting down our guard. Stand with us," Equality California wrote on Facebook.
In Los Angeles, Equality California and other civil rights and activist groups are had been set to protest in anticipation Donald Trump's long awaited Religious Freedoms executive order.  
While the executive order Trump signed did not include provisions that would let federal contractors discriminate against LGBT people, as an earlier draft of the religious liberty order did, some say it dismantles provisions of the Johnson Amendment that prevent Churches and other non-profits from participating in politics.  It's real impact, however, is to underscore the Hobby Lobby decision, a Supreme Court ruling that shields employers from certain requirements they object to .  It also allows churches to participate in political campaigns and make endorsements.
Equality California had written on Facebook that "contrary to the president's statements that he's 'respectful and supportive of LGBTQ rights,' he has already publicly pledged to sign the anti-LGBT First Amendment Defense Act. An executive order could create broad exemptions to federal civil rights protections that allow anyone to deny basic services to LGBT people if they feel that doing so violates their religion."
"America has a rich tradition of social change beginning in our pews and our pulpits," Trump said before signing the bill. "We must never infringe on the noble tradition of change from the church and progress from the pew."
"Under my administration, free speech does not end at the steps of a cathedral or a synagogue or any other house of worship. We are giving our churches their voices back and we are giving them back in the highest form."
The order made no mention of LGBT rights.
His order, however, netted little change.   Campaign Legal Center general counsel, Lawrence Noble, told CNN  "President Trump's executive order did not ease the current restrictions on political activity by religious organizations, The executive order allows the IRS to restrict the activity it currently considers political, but prohibits the IRS from expanding the restrictions to cover activity not covered before the executive order."
CNN noted that the order does not offer exceptions for groups to deny services to anyone based on religious grounds.
The order, entitled "Promoting Free Speech and Religious Liberty," does instruct Attorney General Jeff Sessions to interpret the order: "In order to guide all agencies in complying with relevant Federal law, the Attorney General shall, as appropriate, issue guidance interpreting religious liberty protections in Federal law," it reads.
That has some LGBT advocates concerned.
National Center for Transgender Equality Executive Director Mara Keisling issued a statement that sums up the concerns and relief of the day.
"Thanks to the overwhelming pushback from so many communities, President Trump stopped short today of explicitly endorsing anti-LGBT discrimination. But this vaguely worded order is clearly aimed at providing a license to discriminate against LGBT people, women, religious minorities, and others—while also eroding the separation of church and state. President Trump has simply asked others in his administration to do much of his dirty work, like today's Congressional vote to take away health care from millions of Americans, any effort to divide this nation is dangerous, un-American, and will ensure that those who fight for equality will do so until such efforts are dead for good. We call on transgender people and their loved ones to keep making their voices heard by their elected officials. This is our country too."
LA-DWP & Mayor Garcetti announce new outdoor watering restrictions
Sprinkler watering will be allowed Monday & Friday at odd-numbered addresses in the city, and even-numbered addresses on Thursday & Sunday

LOS ANGELES – In a press conference Tuesday Los Angeles Mayor Eric Garcetti and officials from the Los Angeles Department of Water and Power (LADWP) announced that outdoor watering in the city will be restricted to two days a week starting June 1.
The announcement comes as the Metropolitan Water District of Southern California declared an unprecedented water shortage emergency two weeks ago, imposing restrictions after MWD's board voted to adopt the emergency measures to "reduce non-essential water use" in certain areas. Cities and smaller water suppliers that get water from MWD are required to start restricting outdoor watering to one day a week, or to find other ways to cut usage to a new monthly allocation limit.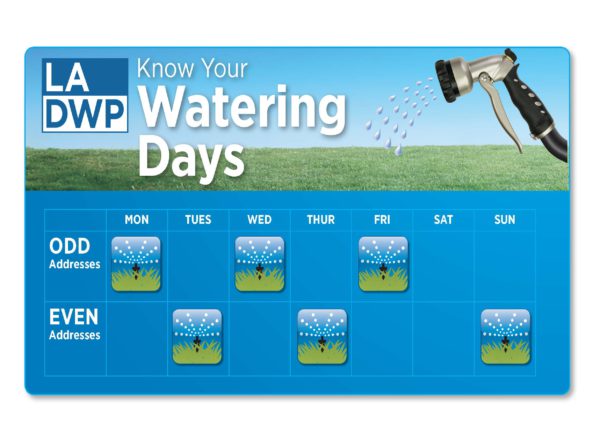 In Tuesday's press conference Mayor Garcetti said L.A.'s two-day limit was still more lenient than the one imposed by the Metropolitan Water District of Southern California, which has ordered many of its member agencies to restrict outdoor watering to once a week.
Sprinkler watering will be allowed on Monday and Friday at odd-numbered addresses in the city, and even-numbered addresses on Thursday and Sunday.
Hollywood residents angered over Sunset Blvd. homeless encampment
Many residents are frustrated over the increasing daily criminal activity that has plagued the area, including vehicle break-ins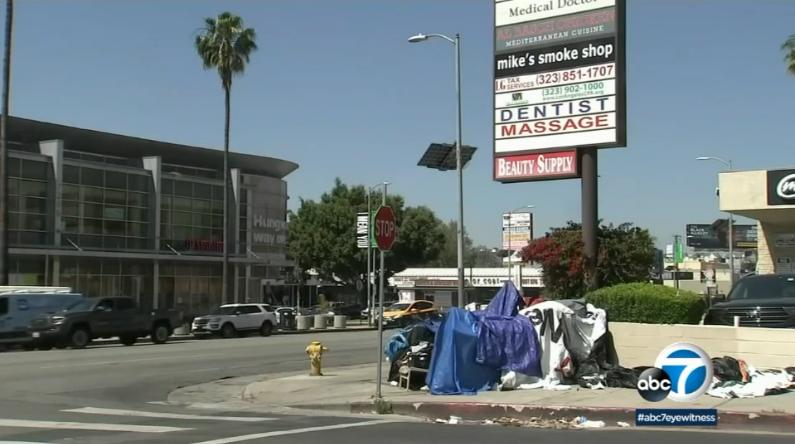 HOLLYWOOD – For those who live in the Hollywood neighborhood that surrounds the homeless encampment on Sunset Boulevard at Martel Avenue, the last seventeen months have been aggravating.
Many residents are frustrated over the increasing daily criminal activity that has plagued the area, including vehicle break-ins which at times has resulted in multiple break-ins on the same vehicles.
"We've had tons of break-ins. Our garage has been broken into five times. Cars are vandalized. Mail is stolen," local resident Lawrence S., who lives near the encampment, told KABC 7. "Our building, the building across the street, the building across the street that way — there's just rampant crime.
"I actually had my sister in-law come to visit for the first time and she parked across the street in broad daylight and within 30 seconds, someone from the homeless encampment was down swinging a club at her. The violence is escalating and we keep asking the City Council, what is it going to take? Do we need to wait till someone's murdered?"
The encampment is located at 7323 Sunset Blvd. and surrounds an AT&T building. It's located in L.A. City Councilwoman Nithya Raman's district who toured the encampment in 2021, joined by residents, including Terry S.
"She promised. She said that she would be adamantly enforcing ADA compliance. That she's looking into setting up a safe camping location for the campers. Never happened," Terry S. told KABC 7.
"In August, 41.18, an ordinance, passed and we were very hopeful because finally we thought that they would have some tools at their disposal," Lawrence S. said. "But the city councilwoman is only enforcing a part of that ordinance, which is the Care Plus Cleanup program. However, she's only doing it when she feels like enforcing it, which is three times in 17 months."
Residents say that the city's efforts to clean up and clear out the encampment only results in the homeless displaced for a couple of days sometimes less and then they return to reestablish the encampment. This past Thursday the city again clean and cleared the encampment.
While an KABC 7 camera and reporter Josh Haskell were working on the story homeless people were in the background reestablishing their presence across the street.
KABC 7 reached out to Councilwoman Nithya Raman whose office responded with a media statement:
"This encampment is a priority for our office, and our Homelessness Team has been consistently bringing services and working with the individuals living at this location. LAHSA outreach teams most recently identified seven people living here and together we worked to move three of them into shelter just yesterday as part of our Encampment-to-Home project, which has already moved 43 people in Hollywood indoors. Additionally, a cleanup took place at this location yesterday and we are working to move the remaining individuals into shelter as soon as beds become available. We are in continued communication with the residents in the neighborhood regarding the status of our progress as we move forward."
Residents upset with LA City Councilwoman Nithya Raman over Sunset Boulevard homeless encampment:
Lawsuit against USC in sexual abuse case of 80 male students settled
"The settlement is another step toward closure for our clients who finally feel a sense of recognition and validation for speaking up"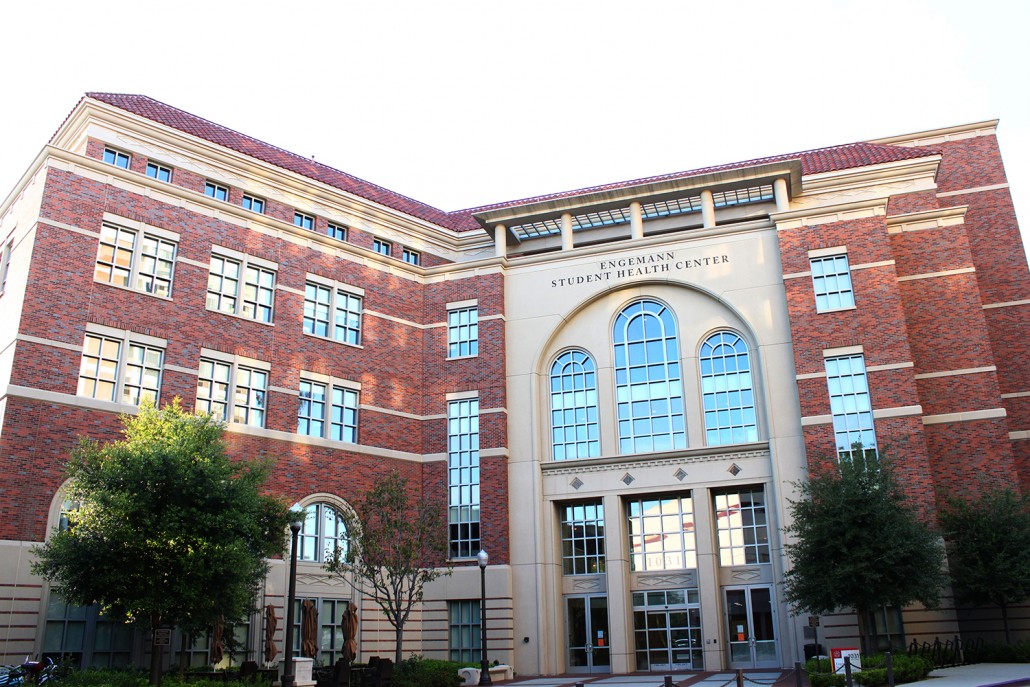 LOS ANGELES – Attorneys representing 80 individuals who filed lawsuits and made claims against the University of Southern California and former USC men's health physician Dennis Kelly for allegations of sexual misconduct and harassment have reached a global settlement according to the plaintiffs' attorney, Mikayla Kellogg.
"The settlement was achieved through the persistence and bravery of our clients who had the strength to come forward to share the harrowing details of their experiences at the USC Student Health Center and the determination to hold USC accountable for its failure to protect its students," said Kellogg, partner at Kellogg & Van Aken last week. "The settlement is another step toward closure for our clients who finally feel a sense of recognition and validation for speaking up."
The lawsuit was filed in February 2019 in Los Angeles Superior Court by six former University of Southern California student alumni, all gay or bisexual, alleges that Dr. Dennis A. Kelly discriminated against and battered them while he was serving as the only full-time men's sexual health doctor at the Engemann Student Health Center on the USC campus.
Since the original filing, 74 additional individuals have come forward, bringing the total number of claimants to 80.
Kelly Van Aken, partner at Kellogg & Van Aken said, "It has been a long three years for our courageous clients who have persevered through intense scrutiny to ensure their voices have been heard. It is our hope that by taking these allegations public and speaking out on behalf of dozens of current and former students of USC, institutions entrusted with the care of vulnerable young people are forced to confront and correct the toxic and problematic cultures that allow abuse and misconduct to continue."
Dennis Kelly was a physician at USC's Student Health Center from 1997 to 2018. The claimants allege that Dennis Kelly used his position of trust and authority as USC's men's health physician to engage in sexual misconduct under the guise of medical care and disproportionately targeted LGBTQ+ patients.  They further allege that USC received complaints about Dennis Kelly's misconduct but failed to adequately address them and continued to allow Dr. Kelly to see and treat vulnerable young students without limitation.
Kelly, 72, who resigned in August of 2018 after twenty years working at the student clinic as a primary care physician, denied any inappropriate behavior toward patients and called the lawsuit's allegations "terribly hurtful."
"I can't second-guess or question anything I've done," Kelly said in a phone interview February 12, 2019 with the Los Angeles Times. He added, "I know I did it all professionally and without any other motive."
Kelly, who described himself as an openly gay physician to the paper defended his actions telling The Times that he had devoted much of his career to counseling LGBTQ patients about ways to reduce the risks of their sexual behavior.
According to Kelly, he never used the graphic terms described in the lawsuit or performed unnecessary genital exams. He said he suspected his stern warnings about behavior that put patients at risk for sexually transmitted diseases were misinterpreted as condemnation or deviance.
The court documents stated that Kelley specifically targeted USC's gay and bisexual and male student population, "all of whom were young adults and many of whom were visiting the doctor without a parent for the first time," alleging he subjected to "intrusive and medically unnecessary rectal examinations."
"Dr. Kelly did not treat heterosexual men in a similar manner and did not perform rectal examinations on heterosexual men who had similar sexual practices," the suit claimed.