LA protests against Trump's Religious Freedoms Executive Order cancelled
The White House says the Executive Order language is "in flux"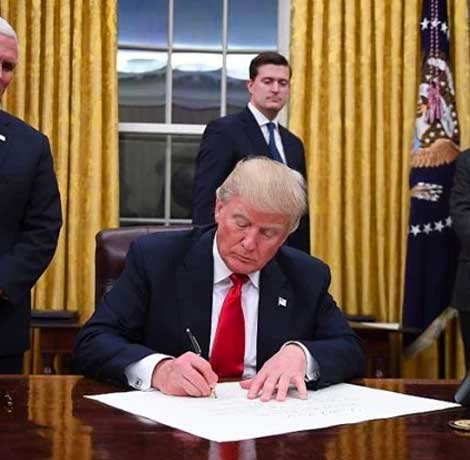 "Organizers are calling off tonight's rally — today's executive order was not the broadside on LGBT rights we feared. However, it is a frontal attack on women's reproductive rights and opens the door to potential anti-LGBT discrimination in the future," according to Equality California.  The group instead called for the community to stand up for other intersecting concerns, like women's rights and health advocacy.
"Please participate in the many smaller, targeted events that are being planned today by Planned Parenthood Action, advocates of the separation of church and state and others. And although today's order was not the expected attack, that broader anti-LGBT order could still come at any time. Please keep monitoring our page and those of other LGBT organizations for future actions. We are not letting down our guard. Stand with us," Equality California wrote on Facebook.
In Los Angeles, Equality California and other civil rights and activist groups are had been set to protest in anticipation Donald Trump's long awaited Religious Freedoms executive order.  
While the executive order Trump signed did not include provisions that would let federal contractors discriminate against LGBT people, as an earlier draft of the religious liberty order did, some say it dismantles provisions of the Johnson Amendment that prevent Churches and other non-profits from participating in politics.  It's real impact, however, is to underscore the Hobby Lobby decision, a Supreme Court ruling that shields employers from certain requirements they object to .  It also allows churches to participate in political campaigns and make endorsements.
Equality California had written on Facebook that "contrary to the president's statements that he's 'respectful and supportive of LGBTQ rights,' he has already publicly pledged to sign the anti-LGBT First Amendment Defense Act. An executive order could create broad exemptions to federal civil rights protections that allow anyone to deny basic services to LGBT people if they feel that doing so violates their religion."
"America has a rich tradition of social change beginning in our pews and our pulpits," Trump said before signing the bill. "We must never infringe on the noble tradition of change from the church and progress from the pew."
"Under my administration, free speech does not end at the steps of a cathedral or a synagogue or any other house of worship. We are giving our churches their voices back and we are giving them back in the highest form."
The order made no mention of LGBT rights.
His order, however, netted little change.   Campaign Legal Center general counsel, Lawrence Noble, told CNN  "President Trump's executive order did not ease the current restrictions on political activity by religious organizations, The executive order allows the IRS to restrict the activity it currently considers political, but prohibits the IRS from expanding the restrictions to cover activity not covered before the executive order."
CNN noted that the order does not offer exceptions for groups to deny services to anyone based on religious grounds.
The order, entitled "Promoting Free Speech and Religious Liberty," does instruct Attorney General Jeff Sessions to interpret the order: "In order to guide all agencies in complying with relevant Federal law, the Attorney General shall, as appropriate, issue guidance interpreting religious liberty protections in Federal law," it reads.
That has some LGBT advocates concerned.
National Center for Transgender Equality Executive Director Mara Keisling issued a statement that sums up the concerns and relief of the day.
"Thanks to the overwhelming pushback from so many communities, President Trump stopped short today of explicitly endorsing anti-LGBT discrimination. But this vaguely worded order is clearly aimed at providing a license to discriminate against LGBT people, women, religious minorities, and others—while also eroding the separation of church and state. President Trump has simply asked others in his administration to do much of his dirty work, like today's Congressional vote to take away health care from millions of Americans, any effort to divide this nation is dangerous, un-American, and will ensure that those who fight for equality will do so until such efforts are dead for good. We call on transgender people and their loved ones to keep making their voices heard by their elected officials. This is our country too."
Next Generation of Pride means looking to the future
LA Community College students are true heroes overcoming seemingly insurmountable odds in pursuit of a college education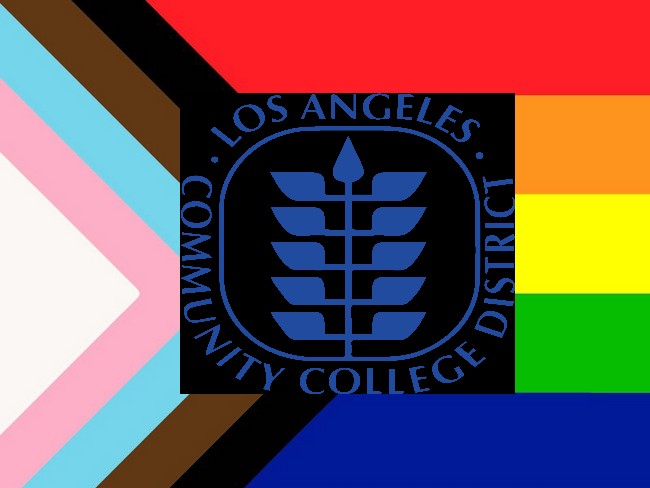 LOS ANGELES – Sofia C. Zaragoza is a 19 year old queer Latinx student from the LACCD's LA Pierce College. Zaragoza, an English major, is transferring from the Pierce campus to University of California, Berkeley in the Fall of 2021.
She has also been recently accepted in to the Mellon Mayes Undergraduate Research Fellowship where she will continue her research in English through what she calls "an interdisciplinary feminist lens." In an interview with the Los Angeles Blade on Wednesday, Zaragoza told the paper that her passion for social justice, equity and literature led her to hold various positions in her college including as a Student Senator, a Chair on a Student Government committee, where she has maintained inclusion as her top priority.
She believes that her intersectional identity has led her to provide a diverse and enriching perspective for any and all activities which she is a part of. Finally, she hopes to eventually provide this same supporting, enriching environment for future generations of students through her career, she says.
"In many ways I think I was privileged- in high school (Grover Cleveland Charter High School) with the program I was in- also the Gay-Straight Alliance," she said.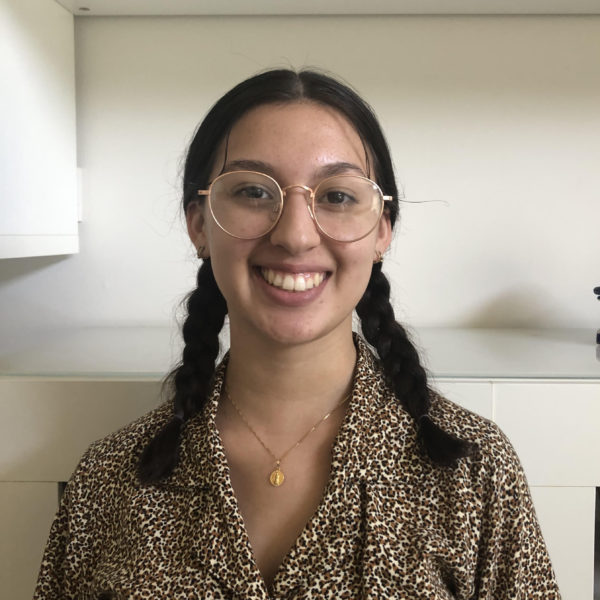 A spokesperson for the Los Angeles Unified School District told the Blade that it is committed to providing a safe learning environment for all of its students, so that in the case of Zaragoza, that commitment becomes foundational later on as the students enter college or continue on into a work environment. She told the Blade she did feel that support while attending Cleveland.
While attending LACCD's Pierce she says she very much felt the support for her identity as a queer Latinx. The only elements she felt represented a personal loss was the interruption of her academics by the coronavirus pandemic.
"The biggest loss was the in-person, oh! and social interactions," she said. She credits the educational opportunities that LACCD provided her as making admission to UC Berkley a reality.
Haunted by carrying the weight of navigating an often intolerant society as a gay, woman of
color, Nadia Noemi Martinez channels these ghosts both as an academic and as a writer.
Touching upon experience, vulnerability, and romance based upon these identities, her writing
attempts to capture these difficulties through vulnerable emotives and the embodiment of her
own intimate transparency with her readers, Noemi tells the Blade.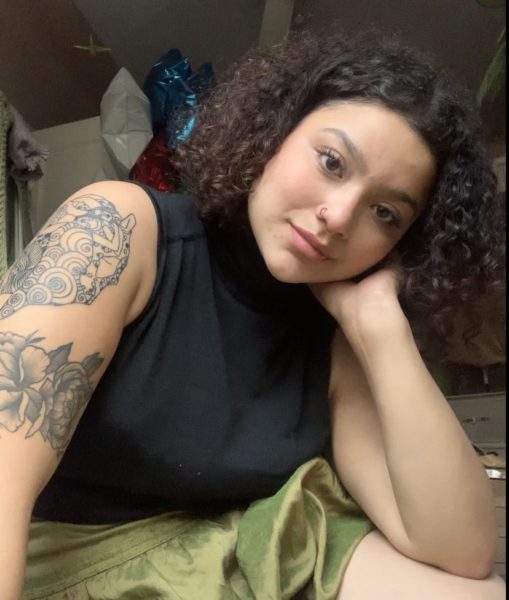 "The LACCD system prepared me," she said. "I found my ground, discovered, upholstered in life by my professors- letting me reach for what I will now experience."
In addition to her own personal life experiences, Nadia dedicates much of her growth and self-discovery to the narratives and work enacted by the queer activists before her–and certainly to those who will come after. With an acceptance into Hunter College in New York City as an English Literature major this upcoming Fall, she will continue the importance of challenging the literary canon and the structure of higher education itself in relation to marginalized identities.
Her central belief that through the outlet of creating art, such as prose and poetry, is one of the most profound ways to express what is foreign to those outside the confines of a queer body. While she hopes for her voice and her experiences to be heard, she wishes for the narratives of those closest and dear to her, to be heard, too.
"It was the discovery at ELAC in that Queer Lit class that gave me foundations," Noemi said.
A thirty-six year old single mom, with a bright sense of humor even as she battles a bit of a physical challenge, Jamey Dee, who told the Blade, "I choose to use "queer" to be all-inclusive" is grateful to LACCD and Pierce college for drastically improving her quality of life.
"LACCD helped me with my extreme dyslexia and made it possible for me to graduate Pierce college, which has been a blessing in my life," she said.
"I would love to continue to work to help LACCD and Pierce college in the future with my Law degree. I am starting Cal Lutheran in the fall and then plan to go to law school," she added. [California Lutheran University is a private liberal arts university in Thousand Oaks, California.] "I also want to help battered women and the queer community with pro bono law, as a way to help and give back."
Dee told the Blade that she went to school to help herself grow and expand her business opportunities. From her adolescence in Ventura County to bouncing around the Pacific Northwest and then back to California, Dee said that her journey was difficult. But when she was finally settled in and enrolled at Pierce, it was the Disabled Student Program and Services (DSPS) office and a kind staffer named David Phoenix who finally identified her severe case of dyslexia and then worked alongside her to ensure her academic success.
That sense of accomplishment coupled with a greater sense of stability, and a loving partner, led to her successful graduation from Pierce. "It's been beneficial, it has helped me, myself as I navigate my journey," she said.
Michael P Fuller, LACCD's Director of Institutional Advancement pointed out, "LA Community College students are true heroes overcoming seemingly insurmountable odds in pursuit of a college education."
Fuller, also noted; "During the past year of unprecedented challenges, foundations and individuals have stepped up to make 2020 the most successful fundraising year ever for the Foundation for the Los Angeles Community Colleges.
In turn, the Foundation gave out more than 25,000 awards directly to students including laptops, grocery gift cards, food deliveries, internet hotspots, and grants for emergency situations. These grants and awards change lives forever and affect generations to come."
Troy Masters, publisher of the Los Angeles Blade said that the Blade Foundation, a 501C3 arm of the Los Angeles Blade and Washington Blade, will support an LGBT scholarship program through the office of Director Fuller aimed at developing the academic careers of LGBTQIA students who wish to pursue journalism.
"Supporting LGBTQIA youth who show promise as journalists and who value media for its ability to further social justice and the needs of our people is something dear to my heart. It's time for my generation to pass the baton," said Masters. adding "and a scholars program to support community college students is the right way to go on so many levels."
Next Generation Pride; LA Community Colleges enact LGBTQ+ student's Bill of Rights
One of the important facets of campus life for an LGBTQ+ student is to ensure that the student feels safe and the environment is inclusive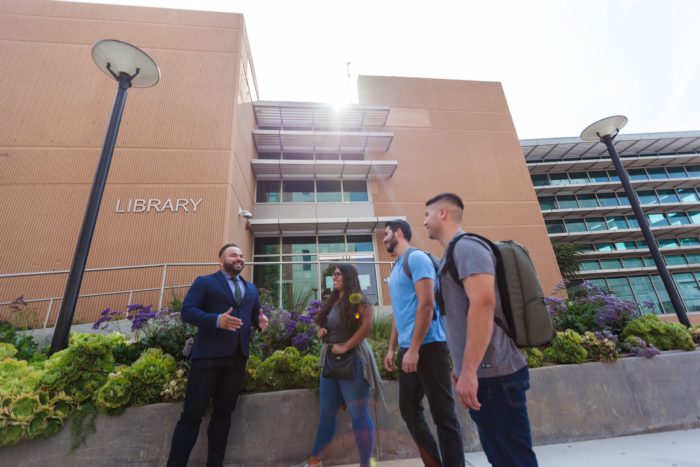 LOS ANGELES – If a student's life isn't stable then they cannot be expected to learn and the immediate environment around that them is key says David Vela, the only openly LGBTQ+ Trustee for the Los Angeles Community College District (LACCD). One of the important elements of campus life for an LGBTQ+ student is ensure that the student feels safe and that the environment is welcoming and embraces a feeling of inclusion, he notes.
In the Fall of 2020, Vela worked hard to ensure that the entire Los Angeles Community College District Board of Trustees approved an LGBTQ+ Bill of Rights resolution that calls on all nine of the system's colleges to promote equity and equality for their LGBTQ+ communities.
This was made difficult, he acknowledged, by the coronavirus pandemic. Yet during a Zoom conference on Oct. 7, 2020 the Board of Trustees approved his resolution.
The student-led newspaper The Valley Star, from the Los Angeles Valley College reported the resolution called for the district and colleges to review anti-discrimination policies and procedures and determine changes that could better support LGBTQ+ students and staff.
It also called on the nine colleges to celebrate LGBTQ+ History Month every October, plus host events that bring visibility to the community. It also provides for Cultural Responsiveness Training related to LGBTQ+ issues for faculty and administrators and ensure the success of clubs like the Gay Straight Alliance. LACCD also implemented gender-neutral language in official documents.
The coronavirus pandemic also added additional strain and stress for LGBTQ+ students. Many LGBTQ+ students are still not out to family for a variety of reasons, primarily because most live in non-affirming homes.
LACCD has an estimated 10,000 students who self-identify as members of the LGBTQ+ community, but a high percentage of that number rely on the safety and security of the colleges to be open about themselves.
Providing the sense of security for students is a priority for Felipe Agredano-Lozano, the LGBTQIA Faculty Liaison for the Los Angeles Community College District. Agredano-Lozano teaches Chicana/o Studies LGBTQ courses and Political Science at East Los Angeles college.
Agredano-Lozano told the Blade in an interview Tuesday that one of the many steps that were implemented to assist LGBTQ+ students at his home campus at East Los Angeles College was a simple symbol to let the students know that there were safe spaces and safe faculty members to talk to — a Monarch butterfly with Rainbow wings.
The Monarch butterfly Rainbow symbol represents important symbolism for trans people, representing metamorphosis. For gay men it is perhaps a little more poetic, evoking the glamorous beauty of the butterfly's wings being hidden in a drab pupae, according to Meghan Hibicke, a Postdoctoral Researcher at Louisiana State University Health Sciences Center New Orleans.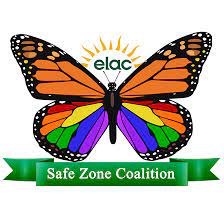 But for LACCD students it is above all a symbol of safe spaces.
Agredano-Lozano noted that 'wrap-around' services is an absolute must. "Each student we have is different," he said. "We need to account for LGBTQ+ students who are DACA students, or formerly incarcerated persons, or military veterans, or just homeless youth who wish to succeed."
"We also need to adapt as a college community to the changing needs of our students. For example, on some campuses a 'Gay-Straight Alliance' club is now a 'Gender-Sexuality Awareness' club," he said.
Agredano-Lozano, who started with the LACCD in 2001, marveled at the ever evolving landscape for LGBTQ+ equality and rights along with a wider acceptance societally for LGBTQ+ people. For example he pointed to the end of 'Don't ask-Don't tell which allowed for open military service for lesbian and gay servicemembers. Then the 2015 Supreme Court decision Obergefell v. Hodges which made same-sex marriage a legal right, finally having President Joe Biden order the end to a ban on transgender military service as well as reestablishing other trans rights that had been eliminated by the previous presidency of Donald Trump.
But he cautions, there is still a long path forward such as one day having an Equality Act passed to protect LGBTQ+ Americans. He also acknowledged the challenges that he and other LACCD faculty and staff face in broadening the scope of their focus to be more inclusive of gender non-binary and gender fluid students.
Agredano-Lozano sees progress as organic growth, tracking from his earliest days dealing with no to limited visibility for LGBTQ+ students and his teaching just the one course of Queer Literature to encompassing a full slate- Chicano Studies, Queer Studies, LGBTQ+ history, and working hard to expand student clubs addressing multiple needs.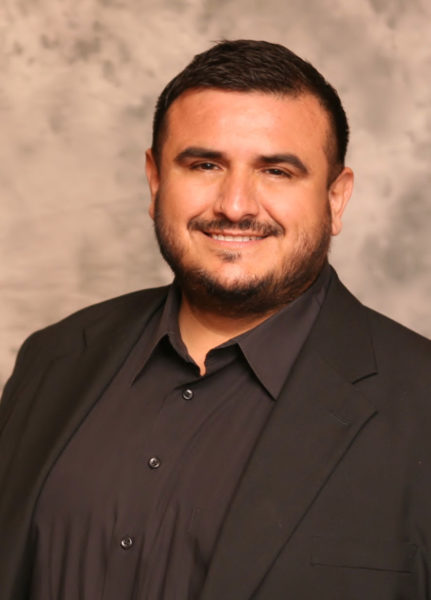 He is most proud of the 'Butterfly' safe zones for students which he sees boosting students academically as well as supporting their personal well-being.
Felipe Agredano-Lozano, LACCD faculty picture
"One of the areas that LACCD has really taken a leading role with is our Health Centers," he said. Access to medical care for LGBTQ+ students is critical he noted. He also pointed with pride at the relationship that the LACCD has built with the Los Angeles LGBT Center which provides additional resources for the LGBTQ+ students.
In a return to the first part of the conversation Agredano-Lozano pointed out that the LACCD is the number one feeder for both the University of California and the Cal-State systems. "I think though, that we need to be looked at as more than a 'last chance university' or as just a basic college level 2 year degree," he said. "For our students, we teach them to be resilient, that goals are attainable even with considerable adversity seemingly blocking a path. We teach them, and in our wrap around principles that success is achievable and that uniqueness is a positive trait."
He pointed out that during the pandemic, even students forced to be at home in non-affirming environments still found creative ways to work around problems. "There were more than a few who attended class in the bathroom," he wryly pointed out.
Last Fall when the LACCD's LGBTQ+ Bill of Rights was passed, Trustee Mike Fong said; "The district's LGBTQIA+ Bill of Rights resolution is just the first step. We need to make sure the district and the colleges fulfill the promises made to ensure diversity and inclusivity are not just words on a resolution, but action."
Next Generation Pride; LA's Community Colleges embrace LGBTQ students
In its nearly eight decades, the Los Angeles Community College District has served as educator to more than three million students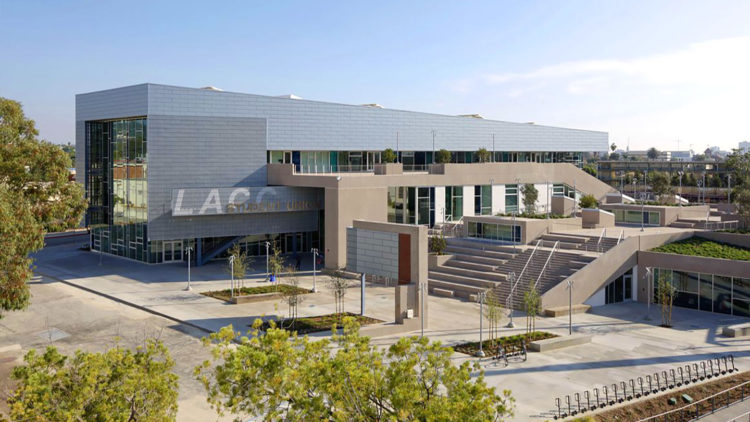 LOS ANGELES – It is entirely safe to argue that nowhere in the environs of higher education will a person find a greater reflection of the racial and ethnic diversity, jobless students, military-connected students, homeless and couch-surfing students, delayed-entry students, and older students than a community college. Also arguably a person seeking that diversity will also find a significant LGBTQ+ student body population.
As steadily increasing numbers students of color and first-generation students enroll in colleges, for many LGBTQ+ students a community college represents the first rung on the ladder of personal success by way of an attainable goal of a degree or certificate. A consideration of which is affordability which encompasses a whole person approach, especially for an LGBTQ+ identified student.
The First Lady, Dr. Jill Biden is a powerful education advocate and one who has on-the-job knowledge of the importance of higher learning having taught freshman English classes for a number of years in the Northern Virginia Community College system in suburban Fairfax County outside Washington D.C..
Earlier this Spring Dr. Biden, during a visit to Sauk Valley Community College in Dixon, Illinois renewed her call for affordable community college for all Americans who wish to attend, and also revisiting her support for free community colleges.
Speaking to students, faculty members, and staff, Biden noted that "Community colleges meet students where they are," saying, "We can't afford to exclude so many from continuing their education just because they come from certain areas or income brackets."
"I am — first, foremost and forever — their writing professor, Dr. B," Biden said. "In my class, my students don't take anything for granted. Some are there for a head start on a four-year degree, others for a much-needed fresh start." Biden said her students appreciate the affordability and flexibility of community college, and she understands the importance of education for overall economic growth.
According to research conducted by the American Association of Community Colleges, the average annual amount for tuition and fees for community college are $3,770, versus $10,560 per year for public, four-year college.
In its nearly eight decades, the Los Angeles Community College District (LACCD) has served as educator to more than three million students. Spread out over nine college campuses, LACCD educates almost three times as many Latino students and nearly four times as many African-American students as all of the University of California campuses combined.
The Los Angeles Community College District's nine community colleges are located throughout an area of more than 882 square miles within the County of Los Angeles; Los Angeles City College, East Los Angeles College, Los Angeles Harbor College, Los Angeles Mission College, ​Los Angeles Pierce College, Los Angeles ​Southwest College, ​Los Angeles Trade-Tech College, Los Angeles Valley College and West Los Angeles College.
Eighty percent of LACCD students are from underserved populations and more than half of all LACCD students are older than 25 years of age, with more than a quarter who are 35 or older.
The very factors that Dr. Biden pointed out in her speech at Sauk Valley Community College are core tenets for the trustees, faculty, and staff of the LACCD. Importantly as the LACCD notes in its handbook, "Community colleges serve adults of all ages, meeting the needs of a society where "lifelong learning" is the rule and multiple careers and continual retraining are the norm."
Beyond those factors are the complications that arose from the devastating affects of the global coronavirus pandemic, especially financial issues. Yet that term according to Inside Higher Education has dual meaning.
"Financial issues" can be a euphemism for deeper mental and emotional problems. Colleges need to be sure faculty and staff members are informed about all the potential signs of mental distress, as well as about resources for students who need support and assistance. Commuter and other students would benefit from campus counseling services online in addition to safely distanced in-person sessions. To meet overwhelming demand, colleges should consider adding services by online providers that work directly with counseling centers, Inside Higher Education noted in a July 23, 2020 article.
LGBTQ+ students face greater challenges
David Vela, the first openly LGBTQ+ Trustee in the LACC district, chairs the Chancellor's Advisory Committee on LGBTQ+ Affairs. On Monday Vela spoke with the Blade about the unique circumstances that confront LGBTQ+ students across all campuses.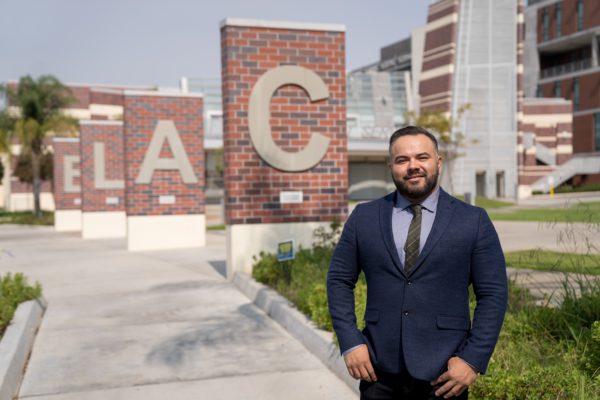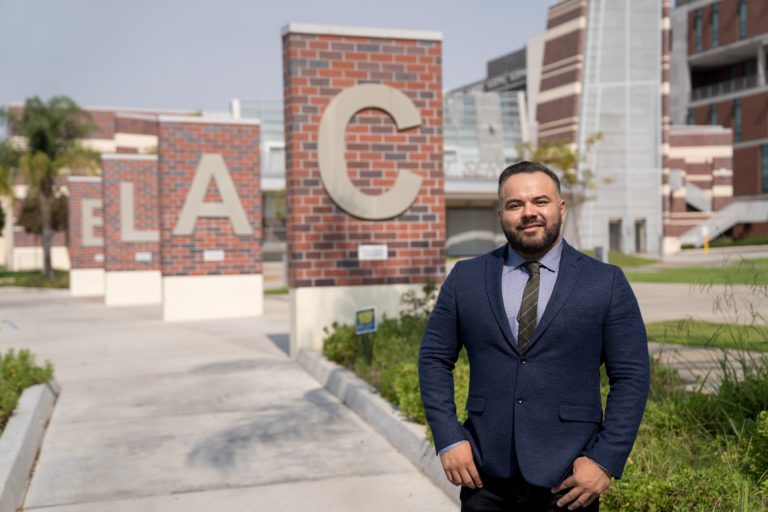 "The main focus for me as well as all of our trustees, the faculty, and staff is to ensure that the primary mission of the LACCD is met with each and every one of our students," Vela said. "The priority is 'completion,' whether it is a certificate, a two-year Associate degree or successfully transferring the student to either the UC system or Cal-State systems to finish out a 4 year degree."
Vela stressed that all of the LACCD students are assisted in three major ways; Academic, Housing and Food security and financial aid. " Our colleges are the number one alternative to the UC system and as such we are a critical element of ensuring a student's personal success," he said.
The LGBTQ+ students in fact, like most of the minority groups on the LACCD campuses, are faced with unique circumstances. But in addition, their status with their gender identity or sexual orientation often will complicate matters.
One of the primary considerations is housing, especially for students of color. A study by the Williams Institute at the University of California Los Angeles School of Law surveying a majority of providers of homeless youth services said that youth of color reported to be disproportionately overrepresented among LGBTQ clients accessing homelessness services.
Respondents reported a median 31% of their LGBTQ clients identifying as African American/Black, 14% Latino(a)/Hispanic, 1% Native American, and 1% Asian/Pacific Islander.
Access to safe spaces is a priority for LACCD says Vela. Beyond Housing security comes accompanying issues of broadband access and addressing food insecurity he added.
Focusing on safe housing by partnering with the City of Los Angeles, the County, and the State of California is an ongoing mission Vela told the Blade.
One of the primary ways to address these issues he said is by a total embracing of a student's experience within the LACCD system. Of special importance is to promote equity and equality for the LGBTQ communities across all nine campuses.