May 9, 2017 at 3:31 pm PDT | by Dan Allen
LA Pride Festival scores big with Erika Jayne, Chromeo, Brandy and more…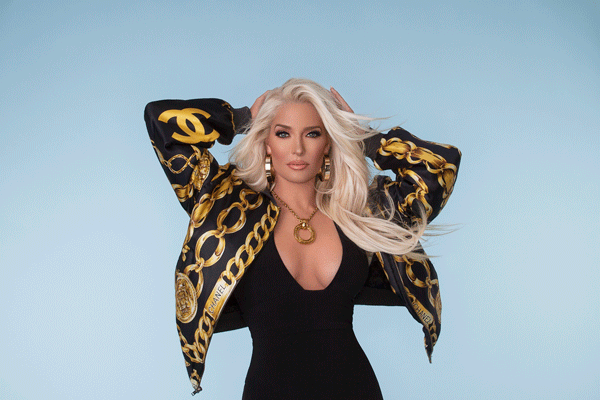 LA Pride has announced a stellar line up for 2017's LA Pride Festival, to be held in West Hollywood park on June 10th and 11th and Erika Jayne is just one of the big names.
The Festival will feature a collection of Pop artists sponsored by Blue Shield of California, including Young M.A, Erika Jayne, Brooke Candy, Kat Dahlia, Aaron Carter, ILOVEMAKONNEN, Spencer Ludwig, Starley, Tish Hyman, Leon Else, Connell Cruise, and Jesse Møntana.
Erika Jayne seems to be the one talent that already has tongues wagging. You're either are either a megastar or a genius if you can rack up nine #1's on the US Billboard dance club charts – without the support major label support. But when Ariana Grande and Christina Aguilera are among your biggest fans, there's just no doubt you are on hot, talented ticket. She may just be the best reason to click here and buy a ticket!
On Saturday, CHROMEO will fill the Festival an electro-funk beat. The duo, Dave 1 and P-Thugg. have been turning out their signature uniqueness since 2002 . On Sunday, after the #ResistMarch, Brandy takes the stage as the evening's headliner. The award-winning singer, songwriter, recording artist, and actress will rock LA Pride with her R&B hits.
LA Pride Festival 2017 Sizzle Video from LA PRIDE on Vimeo.
"This is our 8th year producing LA Pride's celebration and I have to say that this is one of my favorite lineups of talent for the festival," said Jeff Consoletti of JJLA. "This is our 8th year producing LA Pride's celebration and I have to say that this is one of my favorite lineups of talent for the festival. This lineup is edgy yet balanced with established hit makers and, much like the community itself, is very progressive. I think people will love how this year's lineup will make for a fun weekend-long celebration of our community," he said.
The week-long LA Pride hosts both free and ticketed events starting Monday, June 5th and continuing through Sunday, June 11th. Events like the annual LA Dodgers LGBT Night (in partnership with LA Pride) and other community events will lead up to the Festival on Saturday and the #ResistMarch on Sunday.
Organizers are referring to the #ResistMarch as a "Human Right's March and Rally." That event, expected to draw hundreds of thousands of intersectional marchers from a variety of Civil Rights concerned communities and organizations on June 11th, will begin at 8am at the intersection of Hollywood and Highland. That intersection marks the very intersection where Christopher Street West, the organization overseeing LA Pride, began over 47 years ago.
The march is open to the public and will progress through LA's streets until reaching West Hollywood Park on San Vicente and Santa Monica Boulevards.
The Los Angeles Blade is a sponsor of Christopher Street West.