Brian Pendleton: #ResistMarch is about our liberties and our lives
When they come for one of us, they come for all of us!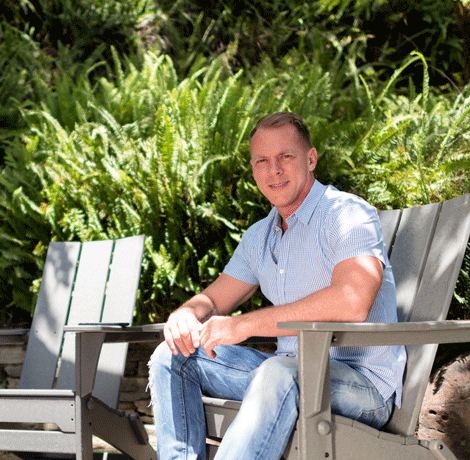 Before we talk about why we resist, it's important to understand who we are. Because who we are is at the heart of why we resist, and our understanding of who we are has morphed over time.
Intersectionality is a foreign word to many people, but it is the essence of who we are as a community. It's time we awaken to the simple fact that we cannot be reduced to five or even 10 letters. With this new understanding, we can see we are part of a much larger, more diverse human family than ever before.
We are a beautiful tapestry of concentric circles. We no longer just belong to the L or G or B or T or Q; we belong to those and many other communities. We are people of color and of faith. We are disabled. We are immigrants of every status. We are DREAMers. We are HIV positive. We have AIDS. We are educators. We are women, men, allies, friends, and family. We are teenagers and seniors. We are union members. We are wounded veterans and recent West Point graduates. We are parents and grandparents. Imagine all the possibilities. No longer do we need to identify with a singular silo. We are so much more.
We truly are the beauty of the rainbow.
Why is this important? At #ResistMarch we say, "When they come for one of us, they come for all of us!" It's the pact we are making with each other as a community. Even though a law or other action may not be aimed directly at me, a cisgender Caucasian gay guy, if it's aimed at anyone in our community, I will rally around them in support. It's our very own NATO pact.
When 10 transgender people of color are murdered in the United States since Jan. 1, we must rally around our community. March in the streets with them. Attend public forums in support, donate to their charities and anything else required. We must resist.
When the United States Congress votes to repeal the Affordable Care Act, it may not affect your health insurance, but it will impact our community disproportionately. We must be ready to lend a hand. We must resist.
When the state of Texas or North Carolina passes bills that marginalize or, even worse, criminalize our community, you may not feel that in Hell's Kitchen, on Lake Shore Drive, in South Beach or the Hills of Los Angeles, but we must stand with our whole community wherever they call home. We must resist.
When desperate gay Chechens are denied visas to enter the United States despite the obvious human rights abuses they are suffering, we must resist!
When people of the Muslim faith are profiled and detained simply because of how they worship, we must resist.
We resist because our work is not complete. We resist because there is a coordinated effort to criminalize us, roll back our rights and drive us into the closet. We resist because some of our lives might be better, but millions have been left behind. If we don't lend a hand, who will?
My good friend Alan Uphold says something all the time, and it bears repeating: "This. Is. Not. Normal." We must not let the crazy behavior of an extreme conservative minority set us back decades with their nefarious dealings with the Russians or their unholy alliance with those who would criminalize and marginalize us—or worse. We must not let Donald Trump's erratic behavior, lack of discipline with respect to the crown jewels of our national security and work ethic become the new normal. We must resist these things at every turn.
The best way to resist is to vote.
Chad Griffin, president of the Human Rights Campaign, told me this week that our community makes up 5 percent of the U.S. electorate. FIVE percent!
Imagine the greater percentage and power of the LGBT vote in progressive cities such as Los Angeles. In elections that are won by a few hundred votes, we can make the difference, and more elections than you can imagine—particularly on the front lines of our fight at the state and local level—are decided by tiny margins.
We must get serious about voting. Like wearing a seatbelt in a car or wearing a helmet on a bike, we must protect our democracy and our lives by voting. It must be second nature, and the peer pressure to vote must be overwhelming.
We are sitting where we are, not because they got more people to vote for them, but because too many of us did not vote.
We must resist apathy.
You are a member of a colorful and incredibly diverse family. Like any family, we may not agree on every approach. I ask that, in this time of serious political peril, we spend more time listening to each other and less time convening the circular firing squad. My way is NOT the only way. Your way is not the only way. Every decision is not a fight to the death. We must figure out a way to lock arms and move forward together. Our lives and liberties depend on it. That is why the first phrase in our #ResistMarch mission statement is that we "#Resist the efforts to divide us."
When Sunday, June 11 rolls around, it is my hope that you'll #resist the desire to stay in bed. I know 8 a.m. on a Sunday feels early. But your presence is not only requested; it is required. Our community is counting on you. Being at Hollywood and Highland will be the unifying moment that our community needs.
Join us, our allies, your friends and your family. Be seen and be heard. Express your joy and your hopes. We are a proud people and we will not go back.
Padilla joins women's march rally in LA to advocate for abortion rights
"We're coming together this weekend with a powerful message to those who wish to control our bodies & our futures"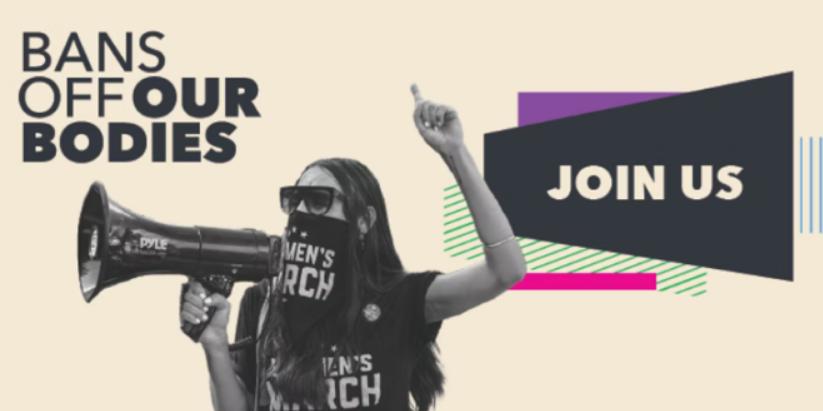 LOS ANGELES – U.S. Senator Alex Padilla (D-Calif.), a member of the Senate Judiciary Committee, will join the Women's March Foundation along with local and national leaders for a National Day of Action, the 'Bans Off Our Bodies' Reproductive Rights Rally. Padilla will deliver remarks on the importance of defending access to safe, legal abortion at the federal level.
Senator Padilla joins leaders in Los Angeles for this day of action following a leaked draft Supreme Court decision that would overturn Roe v. Wade and roll back abortion access protections for millions of women across the country.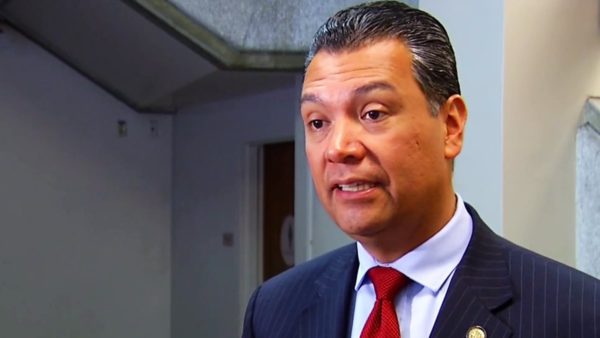 Earlier this week, Padilla voted in support of the Women's Health Protection Act (WHPA), legislation that would codify the right to an abortion into federal law, and spoke on the Senate floor urging his colleagues to pass the bill.
The "Bans Off Our Bodies" daylong event is organized by groups including Women's March, Planned Parenthood Action Fund, UltraViolet, MoveOn, the American Civil Liberties Union and the National Abortion Rights Action League.
"We're coming together this weekend with a powerful message to those who wish to control our bodies and our futures: Keep your bans off our bodies," said Planned Parenthood national organizing director Brianna Twofoot.
| | |
| --- | --- |
| WHEN: | TOMORROW, Saturday, May 14 at 10:00am PT |
| WHO: | Women's March Foundation |
| WHERE: | Los Angeles City Hall, 200 N Spring St., Los Angeles, CA 90012 |
Vaxxed & unmasked, DragCon returns as a three-day LA lady
"It's a drag world and we are so excited to be welcoming a record number of queens from all over the world to RuPaul's DragCon this year"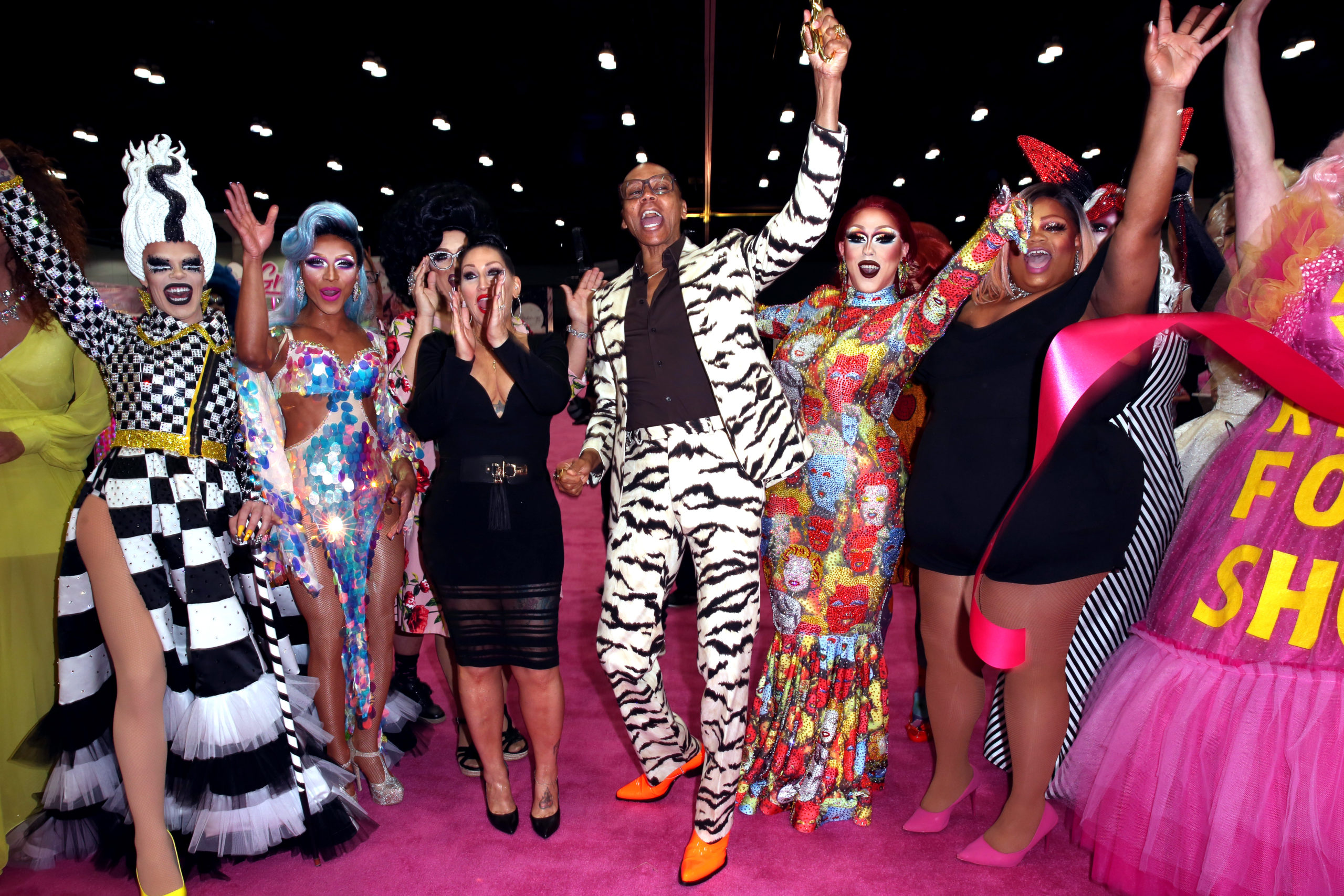 LOS ANGELES – After what seems like a lifetime of shuttered gay bars, cancelled Pride marches, and digital drag shows so long they're still going on, RuPaul's DragCon LA is set to roll out its photo op-fabulous pink carpet for the first time since 2019, and invite you to sissy that walk back into a World of Wonder filled with wigs, dresses, heels, and makeup with such lasting power it's said to take a queen all the way from her first werk room entrance to her "Miss Congeniality" win at the inevitable reunion show.
Taking place Friday through Sunday, May 13 to 15, RuPaul's DragCon LA 2022 will be the 10th such in-person convention presented by RuPaul and World of Wonder—their "fiercest year yet," say the organizers, who've brought some things old, some things new to what they note is "the world's largest all-ages and family-friendly celebration of drag, featuring vendors, exhibitors, meet & greets, panels, and Q&A sessions."
Long-may-she-reign supermodel of the world RuPaul (Fun Fact: She put the "RuPaul" in "RuPaul's Drag Race"), will open the proceedings at a Friday morning ribbon-cutting, and then make several DJ appearances. But as star-powered as a "Mama Ru" sighting can be, it's the storied queenmaker's "Drag Race" alum ("My girls," she calls them) that have become the most powerful draw. Booked for the LA Con are long-established queens including Alaska, Monet X Change, The Vivienne, Raja, Shea Couleé, Trinity the Tuck, Jinkx Monsoon, and Adore Delano.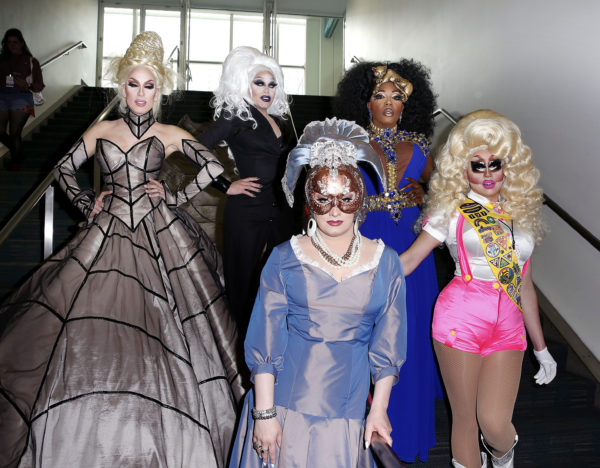 But wait—the roster is also well-represented by queens from the ever-growing lists of Drag Race competitions taking place outside of the United States. This lucky talent pool isn't just showing up at the LA Con to put in some face time—they're also putting on a show. "Bring Back My Girls" is the name of the seven-part show taping live at DragCon for fall 2022 viewing as a WOW Presents Plus original series. The cast of "Bring Back" is drawn from queens of the UK, Australia & New Zealand, Canada, Holland and our good old USA. Appearing in a series of panel discussions hosted by TV personality and LGBTQ+ activist Ts Madison, the tapings are accessible to the public, whose interactions with the panelists during the Q&A section just might find them making the final cut
"It's a drag, drag, drag, drag world and we are so excited to be welcoming a record number of queens from all over the world to RuPaul's DragCon this year," said World of Wonder co-founders Fenton Bailey and Randy Barbato of the international influx, adding, "We cannot wait to showcase them… These conversations will make you laugh and cry while serving you T from a global perspective."
The panelists will include, from "RuPaul's Drag Race S12": GiGi Goode, Heidi N Closet, Jackie Cox, and Nicky Doll. From "RuPaul's Drag Race vs. The World": Baga Chipz, Blu Hydrangea, and Cheryl Hole. From "RuPaul's Drag Race UK S2: A'Whora, Lawrence Chaney, Tayce, and Tia Kofi. From "Canada's Drag Race S1": Anastarzia Anaquway, Jimbo, Juice Boxx, and Scarlete BoBo. And that's just a fraction of the featured shows and castmembers.
Other panels not themed to the WOW Presents Plus series taping have compelling themes and panelists. On Saturday, May 14 at 3PM, the Anastasia Beverly Hills: Exploring Beauty panel features Detox, Norvina aka Claudia Soare, Trinity the Tuck, Jorgeous, and Kerri Colby. At 3:30pm, Carson Kressley, Raja, Nicky Doll, Alexis Mateo, and Gottmik sit down for a Fashion Photo Ruview. Also at 3:30PM, Jackie Cox brigs her WOW Podcasts show live with a "It Do Take Nerd" panel featuring Steven Sims, Tina Burner, and Daniel Franzese.
On the convention floor, you'll find something totally new, even by drag standards. It's been 30 years since four sex-positive seniors known as The Golden Girls wrapped up their seven-season run. Now, for the duration of its three-day run, DragCon LA transports you into the most beloved room in that iconic, wicker-filed Miami house. This lovingly detailed recreation of "crisis central" (aka the kitchen) invites fans to "get lost in the Golden Girls universe and live their 80s-sitcom fantasy" say the minds behind this "unique activation"—which is Hulu, since the press release touts the streaming service as a means to catch up on the show before you see the set on-site and succumb, understandably, to a royal tizzy.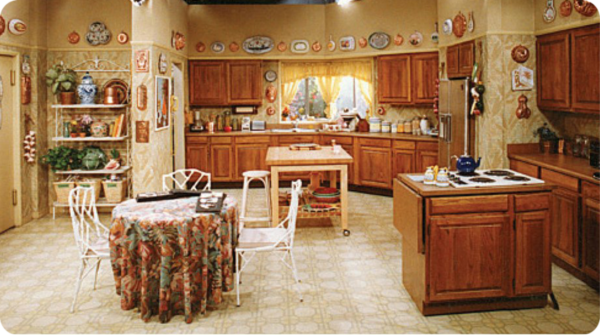 Con-goers who take part on Sunday from 11AM to 2PM will have the opportunity to interact with the Girls, as lovingly played by four equally beloved drag queens. Picture it: Pandora Boxx (RuPaul's Drag Race Season 2, All Stars S6) is Rose; Tempest DuJour (RuPaul's Drag Race S7) is Dorothy; Kennedy Davenport (RuPaul's Drag Race S7, All Stars S3) is Blanche; and Mrs. Kasha Davis (RuPaul's Drag Race S7) is Sophia. All who attend during that three-hour window will have the opportunity to schmooze while being served the kitchen's most popular repeat dish… which is, what? Yes, cheesecake!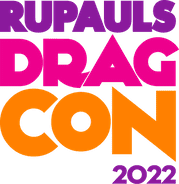 RuPaul's DragCon LA 2022 takes place Friday, May 13th: 9:00PM to 6:00PM; Saturday, May 14th: 9:00AM to 6:00PM; and Sunday, May 15th: 9:00AM to 5:00PM. COVID Protocols: All must provide proof of full vaccination or a negative COVID-19 PCR test upon entry into the venue (taken within 48 hours of walking through the doors). Masks are optional but recommended – however, vendor and talent booths may have their own rules in place that require masks. **Guidelines are subject to change.
More information can be found at https://la.rupaulsdragcon.com/faq/. *At home tests will not be accepted; onsite testing will be available at a fee. DragCon uses the CDC's definition of fully vaccinated. Full details can be found on the CDC website.
The Los Angeles Convention Center is located at 1201 South Figueroa Street
Los Angeles. The Los Angeles Convention Center (LACC) offers two parking garages on a first come first serve basis. Maps and more info can be found at LACC Parking. 
Quartet of Queer singers livestream concert from WeHo restaurant
The partnership with Twitch will also showcase OUTLOUD: Raising Voices Music Festival at West Hollywood's inaugural Pride celebration
WEST HOLLYWOOD – Out entertainers Whatever Mike (FKA Michael Blume), Mikalah Gordon, Black Gatsby, and Eyemaki will headline a concert on May 12 livestreamed from 6-9 p.m. from Stache, a restaurant in West Hollywood.
The shows follow a pair of April concerts, which have been viewed more than 250,000 times. Twice each month through December, officiallyOUTLOUD will partner with Twitch, an interactive livestreaming service, to stream premium music and entertainment programming that includes live performances, Q&As with buzzworthy queer-identifying and allied talent.
The partnership with Twitch will also showcase OUTLOUD: Raising Voices Music Festival at the City of West Hollywood's inaugural Pride celebration, June 3-5, with headliners Lil' Kim, Marina, Jesse J., and Years & Years.