LA Pride arrives but #ResistMarch is all the buzz
Massive Intersectional march reclaims Pride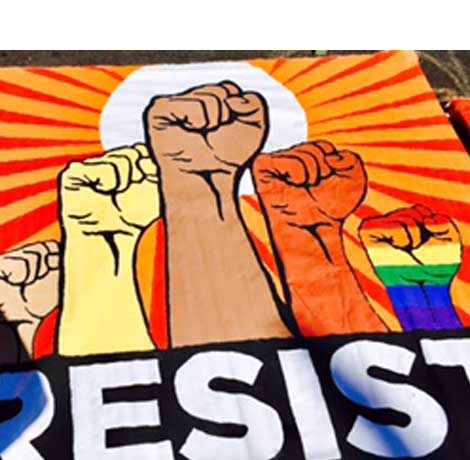 The Resistance is ready for its close-up and Hollywood Boulevard may never be the same.
"I came to see the awakening of the political culture of LGBT life in LA," says Dan Davidson, 58, who flew in just for #ResistMarch from a small town near the Smoky Mountains of East Tennessee.
Davidson is not unlike the many thousands of other people — from literally everywhere — who will descend on Hollywood Boulevard, Sunday June 11 for the #ResistMarch.
"I'm not here just to stand up to Donald Trump but also because this really is historic; for me it's not entirely about him.  It's about coming to a city I once called home and being surrounded by like minded people, a break from all the conservative madness that has taken over my home state," he says.  "I came in need of the righteous anger of the many folks who have had their world thrown upside down.  I'm standing up for basic dignity and our civil rights because if we don't they are ready to take apart every bit of progress we have made."
Julia Winston is a teacher from Waco, Texas.  She's flying in on Saturday, she hopes, to "be part of history. Our lives really do depend on standing up to this political nightmare."  The 32 year old lesbian single mom is flying stand-by and can only get on a flight if there are available seats.  "I'm actually going to start trying to leave Dallas on Thursday night, just in case the flights are full.  I don't care if it takes days," she said.
Winton says "When I was 21, my Dad died of AIDS. Before he died he told me to stand up for myself.  If he was alive today, I am sure he'd be there. I'm marching for him. For a time he received his medication through a drug assistance programs and the government literally helped him live.  He never had insurance because no one would give it to him. These people would see my father dead in the streets. They'd be willing to see the kids I teach starve. Sink or swim."
Allen Roskoff lives in Manhattan. He "thinks it is important that, as a New Yorker, I show solidarity with my LA sisters and brothers."
Roskoff plugged away for 15 years on passage of a gay rights bill that he authored in 1971, the nation's first such bill to be introduced; the bill finally passed New York City Council in 1986.
He says that "after suffering discrimination and violence, after losing hundreds of friends to AIDS and fighting for basic dignity and healthcare, we accomplished so much and have seen so much progress.  We fought and achieved marriage equality and a significant expansion of our rights.   To now see it all at great risk — we must all unite to resist!  We have to wake up."
Billy Pace, who lived blocks from Pulse Nightclub in Orlando at the time of the shooting and who has recently relocated to Los Angeles, says "the resist march is an emancipation of sorts from the complacency that lulled us into believing we had come farther than we thought."
The award winning song-writer (Celine Dione, "Titanic") says #ResistMarch is a chance to "take back our destiny as opposed to giving our lives over to the hands of those who are casually robbing us."
"We are taking hold of our future proudly and unapologetically," he said. "It is our time."
Angeleno Hazel Jade Prejean, a 19 year old transgender woman, told The Los Angeles Blade she is marching because, "this year so far we've already had 11 trans women who have been murdered and one black trans man. It's important that we stand up and stand in unity but also let our black queer youth and queer youth of color, as well as our white brothers and sisters across the nation know that they are not alone and that this country allows them to be visible."
Lauren Meister, 57, is a former Mayor of West Hollywood who continues to serve as a City Council member says she will attend #ResistMarch because "we cannot allow the politics du jour to eradicate the many years of countless people's efforts to achieve equality. We cannot stand idly by as our own government attacks our rights or those of our family members, neighbors, friends, or co-workers."
Lauren, who is an ally, was deeply inspired by the events of June 11, 2016.
"When the Pulse nightclub shootings happened last June in Orlando, we (West Hollywood) chose to still move forward with the Pride parade — even though we were shocked and scared and mourning. This year, because waving flags on floats is not enough, we will march together, a united LGBTQ community and its allies, and we will once again show the world what pride looks like," she said.
Bao Nguyen, 37, is the former Mayor of Garden Grove and says he will attend the #ResistMarch because "for me, it's an expression of my deep gratitude to those who've paved the way by continuing the fight for justice for all."
Nguyen makes the point that "our resistance is itself a celebration that recognizes how far we've come while seeing the long road ahead."
Kit Winter, 52, a Los Angeles lawyer who lives in Silver Lake, says "I came out in 1983. In 1986, as gay men were dying in staggering numbers, the Supreme Court decided in Bowers v Hardwick that the Constitution permitted imposing criminal penalties for consensual gay sex. I remember traveling from New Haven to New York to protest the decision; by the time the march petered out down by Battery Park, people were throwing beer bottles at us and calling us faggots," he recalls.
"We've come a long way since then," says Winter, "but progress is easily lost —and civilization is a thin veneer over the darkness that lies inside many people. We're seeing that darkness emerge more and more under Trump. If we are to have any hope of keeping the progress we've made, we have to #resist."
Alexandra Grey, 26, an actress and musician who lives in Los Angeles, says she will be at #ResistMarch "because nothing changes unless we all stand together. I'm going because my life is at risk."
Gray, who is transgender, says "these causes mean so much because, like any major plight in history, the people have to stand together and fight to be seen and to be heard."
Jeremy Kinser says attending the march is his duty. "I'm joining many friends who haven't attended a Pride celebration in several years but this year we'll all walk together in unity because it's the most important, urgent event since the "No on Prop 8" demonstrations in 2008."
Kinser finds it disheartening that we are at this juncture and says, "I honestly can't believe we're still having to fight for our basic civil rights. We advanced so far during the eight years of Obama's administration and now, almost inconceivably, we stand to lose so much under the current president, who didn't even have the decency to issue a Pride proclamation and who made us invisible in the latest Census Bureau survey."
He adds, "This weekend we will prove to them that we are a powerful and vital part of this country and we won't be vanquished back into the closet."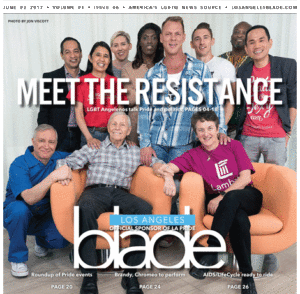 On Sunday, June 11, the #ResistMarch will bring these people and tens of thousand more, from all walks of life, together for a peaceful protest march that will begin at the intersection of Hollywood Blvd. & Highland Ave. in Los Angeles. The march will conclude at the intersection of Santa Monica Blvd. and La Peer Dr. in West Hollywood.
"This year the LGBTQ+ community is lending its iconic rainbow flag to anyone who feels their rights are at risk and to everyone who believes that America's strength is its diversity." said Brian Pendleton, Founder of #ResistMarch.
"When they come for one of us," he said, "they come for all of us.  Which is why we our diverse intersectional community must unite as one."
Intersectionality may just be the most important — perhaps even historic — aspect of this march.
More than 100 partner organizations have committed their support to the #ResistMarch, representing a full rainbow spectrum of civil rights in America, including GLAAD, Planned Parenthood, Black Lives Matters, the ACLU, Los Angeles County Federation of Labor, the Human Rights Campaign, AIDS Project Los Angeles, Bienestar, the City of West Hollywood, among others.
"GLAAD is proud to support the #ResistMarch on June 11th. In a time when LGBTQ people are being erased, it is now more important than ever that we stand in solidarity," said Sarah Kate Ellis, President & CEO of GLAAD.
Sue Dunlop, President & CEO of Planned Parenthood Los Angeles, noted, "On June 11th, we will join the #ResistMarch in support of fundamental civil and human rights for all people, everywhere."
John D'Amico, Councilmember proclaimed "The shoulders we stand on are broad and strong. And have carried us here. The #ResistMarch is showing up for yourself and your rights. The #ResistMarch is peace and protest and pleasure and passion and people. The #ResistMarch is authentic. The #ResistMarch is who we are."
#ResistMarch will begin after a brief opening ceremony with speakers in Hollywood and at the end of the march route.  A rally will be held that will include a wide array of speakers, politicians and entertainers.
Speakers will include U.S. House Democratic Leader Nancy Pelosi, U.S. Congressman Adam Schiff, U.S. Congresswoman Maxine Waters, U.S. Congressman Ted Lieu, California, Los Angeles Councilman Mitch O'Farrell, Los Angeles Councilman David Ryu, West Hollywood Mayor John Heilman,  Trans Activist Bamby Salcedo, AIDS Activist Phil Wilson, #ResistMarch Founder Brian Pendleton, HRC President Chad Griffin, Haim, Margaret Cho, RuPaul, Adam Lambert, Jussie Smollett, Cheyenne Jackson, The Gay Men's Chorus Of Los Angeles, The Trans Chorus of Los Angeles, America Ferrera, Black Lives Matter's Dr. Melina Abdullah, NALEO National Chairman John Duran,  Planned Parenthood's Sue Dunlap, Los Angeles LGBT Center's Lorri Jean, Women's March L.A. Founder Emi Guereca and others.
In a recent article in The Los Angeles Blade, Troy Perry's pathbreaking work on behalf of the LGBT community, including the historic journey he led across Hollywood Boulevard in 1969, was explored.  The #ResistMarch returns the LGBT community to that place and in the same spirit of the founding gathering.
"In 1969, with signs declaring 'we're not afraid anymore,' Perry led a nighttime march down Hollywood Boulevard calling for the end to sodomy laws and a small picket protesting anti-gay job discrimination, where he met Mattachine Society founder Harry Hay and his lover John Burnside and had no idea who they were. In January 1970, he sat in at the counter of Barney's Beanery in West Hollywood, demanding that the owner take down his 'Fagots Stay Out' sign above the bar. He also led hundreds of marchers demanding police reform.
On March 9, 1970, Perry led 120 marchers to rally behind the pre-bathhouse Dover Hotel in downtown LA to commemorate the one-year anniversary of Howard Efland, who had been beaten to death by two LAPD officers. He attended the inquest and heard the police explain that one of the officers had "fallen" on Efland, rupturing his spleen and that the broken bones and cuts were a result of him having fallen out of the police car, not being dragged feet first down three flights of stairs after having been beaten up and then kicked. "There were two eyewitnesses," Perry says. 'The City Attorney asked the first one, a drag queen wearing female clothes, "are you a homosexual?" She answered, "Yes," and the eyes of the jurors closed. They didn't want to hear any more."
And so we return to our roots.
Just as in the first LGBT march and parade in the 1970's, organizers say "we are going to march in unity with those who believe that America's strength is its diversity. Not just LGBTQ+ people but all Americans and dreamers will be wrapped in the Rainbow Flag and our unique, diverse, intersectional voices will come together in one harmonized proclamation. We #Resist the efforts to divide us!"
More information about the #ResistMarch can be found at www.resistmarch.org.
Biden administration uses IDAHOBiT to highlight LGBTQ+ rights support
WHO on May 17, 1990, declassified homosexuality as mental disorder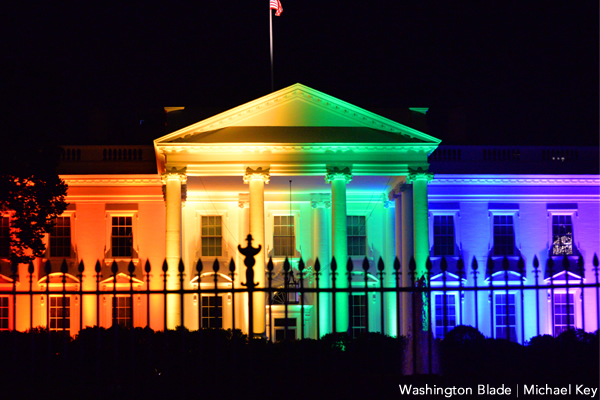 WASHINGTON — The Biden administration on Tuesday publicly acknowledged the International Day Against Homophobia, Biphobia and Transphobia.
"Jill and I stand in support and solidarity with lesbian, gay, bisexual, Transgender, queer and intersex (LGBTQI+) people in the United States and around the world," said President Biden in a statement the White House released. "We join with Americans across the country to reaffirm our commitment to the ongoing work of upholding human dignity for all people and advancing equality globally."
Biden in his statement noted there "has been much progress" since the World Health Organization on May 17, 1990, declassified homosexuality as a mental disorder. Biden also highlighted "we continue to witness disturbing setbacks and rising hate and violence targeting LGBTQI+ people in the United States and around the world."
"This is wrong," he said. "LGBTQI+ people are entitled to all the rights, opportunities, and protections that belong to every human on this planet. LGBTQI+ people are an essential part of families and communities—teachers, first responders, public officials, doctors, lawyers, front-line workers and friends who enrich and strengthen every single country."

"And make no mistake: Hateful legislative attacks against members of our own LGBTQI+ community cannot be tolerated in America or anywhere else," added Biden. "They spur discrimination and can stoke violence. And they are rooted in the same ignorance and intolerance that we see around the world. Hate is hate—and all of us have a responsibility to speak out against hate wherever we find it."
Secretary of State Antony Blinken on Tuesday issued his own IDAHOBiT statement.
"The United States affirms today, on the International Day Against Homophobia, Biphobia, Interphobia and Transphobia (IDAHOBIT), that the human rights of lesbian, gay, bisexual, Transgender, queer and intersex (LGBTQI+) persons are the same human rights to which all persons are entitled," said Blinken. "As enshrined in Article 1 of the Universal Declaration of Human Rights, '[a]ll human beings are born free and equal in dignity and rights.'"
Bliken further noted that "too many LGBTQI+ persons live under the shadow of discrimination, violence and fear."
"Global data makes clear that the dehumanization of LGBTQI+ persons is systemic, pervasive, and often violent," he said. "Homophobia, biphobia, interphobia and transphobia are deeply entrenched in societies across the world, including here in the United States. Countless persons are at extreme risk for being themselves."
Biden shortly after he took office in 2021 issued a memorandum that committed the U.S. to promoting LGBTQ rights abroad.
The administration last June appointed Jessica Stern as the special U.S. envoy for the promotion of LGBTQ+ rights abroad.
The U.S. Senate earlier this year in a bipartisan vote confirmed Chantale Wong, the U.S. director of the Asian Development Bank, as the first openly lesbian American ambassador. The State Department on April 11 began to issue passports with "X" gender markers.
The State Department on April 28 released a report that details the federal government's implementation of Biden's foreign policy memo.
"We remain committed to ending this intolerance. Everyone deserves to live with respect, dignity, and safety," said Blinken in his IDAHOBiT statement. "The United States affirms that all LGBTQI+ individuals, couples, and their families are valid and valuable."
Biden in his statement also referred to the report.
"By openly reporting on our own progress, the United States hopes to inspire other governments to take similar action to address the needs of their LGBTQI+ communities," he said.

"To the LGBTQI+ community, my administration sees you," added Biden. "We stand with you. And we will continue to defend human rights and dignity, at home and around the world."
Spanish Prime Minister Pedro Sánchez, Cuban President Miguel Díaz-Canel and Council of Europe Human Rights Commissioner Dunja Mijatović are among the other world leaders who have publicly acknowledged IDAHOBiT.
Victor Madrigal-Borloz, the independent U.N. expert on LGBTQ+ rights, and other U.N. human rights experts in a statement they released on Monday highlighted the plight of LGBTQ+ people who have been forcibly displaced from their homes.
"With the number of forcibly displaced persons continuing to rise, States, businesses and humanitarian and civil society organizations must invest in developing human rights-based policies and programs that take into full account the intersectional dimensions of forced displacement and sexual orientation and gender identity, fostering stronger collaboration and coordination among all actors responsible for the protection of displaced LGBT individuals," reads the statement.
Advocacy groups around the world also commemorated IDAHOBiT.
"Today I want to thank my incredible team of Insight public organization who still works for LGBTQI+ people in Ukraine, saving life's (sic) of our community during the war," tweeted Olena Shevchenko, chair of Insight, a Ukrainian LGBTQ+ rights group. "We are here for equality."
Today I want to thank my incredible team of Insight public organization, who still works for LGBTQI + people in Ukraine, saving life's of our community during the war!#IDAHOBIT2022 We are here for equality pic.twitter.com/wOMholwaOv

— Olena Shevchenko (@InsightOlena) May 17, 2022
Sexual Minorities Uganda in a tweet said IDAHOBiT "is a significant day for the LGBTIQ+ community because it serves as a reminder of the ongoing violence and prejudice that our communities face."
"The struggle for equality still continues," added SMUG.
The 17th of May (IDAHOBIT) is a significant day for the LGBTIQ+ community because it serves as a reminder of the ongoing violence and prejudice that our communities face. The struggle for equality still continues. 🌈
Happy IDAHOBIT22 #ourbodies #ourlives #ourrights pic.twitter.com/h5moRos4VH

— Sexual Minorities Uganda | SMUG (@SMUG2004) May 17, 2022
Pride House Tokyo in Japan also acknowledged IDAHOBiT.
May 17th is the International Day Against Homophobia, Transphobia & Biphobia (IDAHOTB or "YES to Diversity Day" in Japan). 32 years ago in 1990, the World Health Organization removed "homosexuality" from the list of mental disorders & finally stopped being considered a disease. pic.twitter.com/rQK6pn65b5

— Pride House Tokyo(プライドハウス東京)🏳️‍🌈 (@PrideHouseTokyo) May 17, 2022
Federal judge issues mixed ruling in Kansas Trans case
Fort Riley Middle School, located on the sprawling home to the U.S. Army's First Division, has policies to protect LGBTQ+ students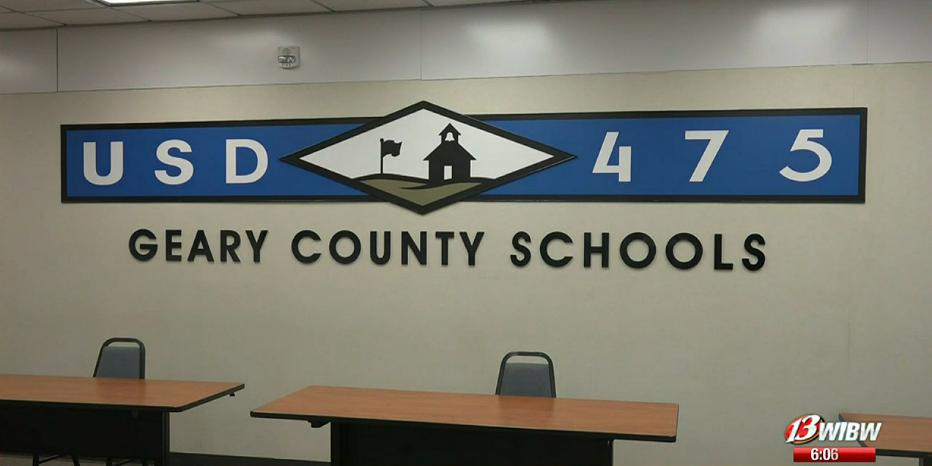 TOPEKA – In a ruling last week, a U. S. District Court allowed the Geary County Unified School District 475, (GCUSD 475) to continue its policy of requiring teachers and staff to respect trans students pronouns and additionally not out them to their parents.
However, Judge Holly Teeter sided with the teacher that brought the lawsuit prohibiting the GCUSD 475 from disciplining her for her refusal to follow policies based on her religious beliefs.
Fort Riley Middle School, located on the Ft. Riley post, the sprawling home to the U.S. Army's First Division, has a long standing set of policies to protect LGBTQ+ students.
A math teacher Pamela Ricard, sued Geary County Schools over LGBTQ anti-discrimination those policies claiming that those policies conflicted with her Christian beliefs. Ricard was represented by Alliance Defending Freedom, a conservative Christian legal advocacy group listed by the Southern Poverty Law Center as a hate group for its anti-LGBTQ+ lying and deceptive propaganda.
Teeter, was nominated by former President Donald Trump and on August 1, 2018, the U.S. Senate confirmed her as United States District Court Judge for the District of Kansas.
Topeka Capital-Journal journalist Jason Tidd reported , Teeter issued a preliminary injunction on Monday blocking the school from disciplining Ricard if she reveals preferred names and pronouns of her transgender students when communicating with their parents.
"The Court relies on Plaintiff's statements that she does not intend to communicate with a parent for the sole purpose of disclosing a student's preferred name and pronouns," Teeter wrote.
Ricard has two transgender students in her class, the judge wrote, neither of whom have authorized the district to disclose their preferred names and pronouns to their parents. While Ricard uses their preferred names in class and avoids pronouns, she has emailed parents using a student's legal name and biological pronouns, the Topeka Capital-Journal noted.
"Plaintiff believes that addressing students one way at school and a different way when speaking to their parents is dishonest," the opinion states. "Being dishonest violates her sincere religious beliefs."
According to the Topeka Capital-Journal, Teeter, ordered the injunction to remain in place until May 18 or until Ricard's contractual responsibilities to the district end, whichever comes last. Court records state that Ricard is not returning to work next year at Fort Riley Middle School, after teaching in the district since 2005.
Will Rapp, a statewide organizer for the Kansas chapter of GLSEN, told the Capital-Journal:
"Any effort to force teachers to out students to their guardians is a violation of young people's privacy and can place vulnerable young people in harm's way," Rapp said. "When transgender and nonbinary youth feel unsafe at school, they experience negative impacts not only to their health, but to their academic achievement and likelihood of graduating or moving to higher education opportunities.
"Attempts to forcibly out students also jeopardize educators' ability to foster trust and create the kind of safe school environment that allows young people to grow and learn without fear of harassment or discrimination."
WNBA players back petition for Biden to 'prioritize' Brittney Griner's release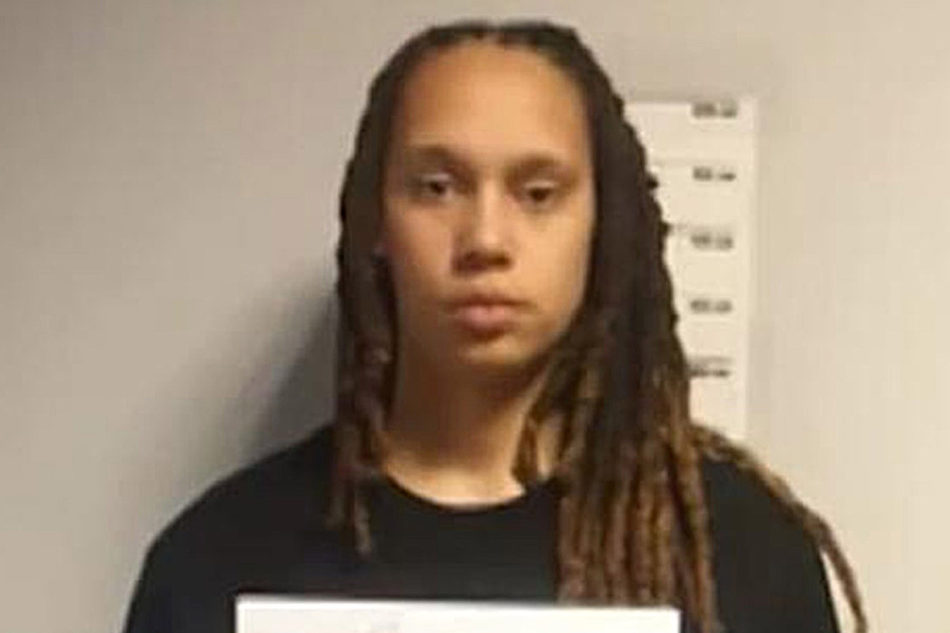 WASHINGTON — The Women's National Basketball Players Association has endorsed a petition that urges the Biden administration to "prioritize" WNBA star Brittney Griner's release.
"It is imperative that the U.S. government immediately address this human rights issue and do whatever is necessary to return Brittney home quickly and safely," reads the Change.org petition that Tamryn Spruill, a freelance journalist and author, created.
"The WNBPA and its members proudly join Tamryn Spruill, the creator of this petition, in demanding that lawmakers prioritize Griner's return," it continues. "White House and Biden adminsitration, we ask that you take action today—doing whatever is necessary—to bring Brittney Griner home swiftly and safely."
More than 135,000 people have signed the petition.
Spruill on Saturday in a tweet said the WNBPA, a union that represents WNBA players, partnered with them and Change.org "in demanding that our elected officials work urgently to gain BG's swift and safe release."
A new phase in the Brittney Griner/Change.org petition is underway! @TheWNBPA has partnered with me and @Change in demanding that our elected officials work urgently to gain BG's swift and safe release.

Details here:https://t.co/AHtb1DYcSI#WeAreBG

— Tamryn Spruill (@tamrynspruill) May 14, 2022
Griner — a center for the Phoenix Mercury and a two-time Olympic gold medalist who is a lesbian and married to her wife — was taken into custody at Moscow's Sheremetyevo Airport in February. Russian officials said customs inspectors found hashish oil in her luggage.
The State Department earlier this month determined Russia "wrongfully detained" Griner. A Russian court on Friday extended her detention for another month.
"The Russian system wrongfully detained Ms. Griner," then-White House Press Secretary Jen Psaki told reporters on Friday during her last White House briefing. "We take our responsibility to assist U.S. citizens seriously. And we will continue to press for fair and transparent treatment for all U.S. citizens when they are subject to legal processes overseas."

"Now, because the State Department recategorized her as wrongfully detained, it means that our Special Presidential Envoy for Hostage Affairs — it's quite a title but a well-deserved one — is going to be overseeing this case and leading the effort," added Psaki. "Because it's a deliberative process and we know from experience of bringing other Americans home, we're just not going to detail what those efforts look like at this point in time."
Griner faces up to 10 years in prison.