Amy Siskind is keeping a list of Trump's anti-LGBTQ moves
Tracking Trump's lies goes viral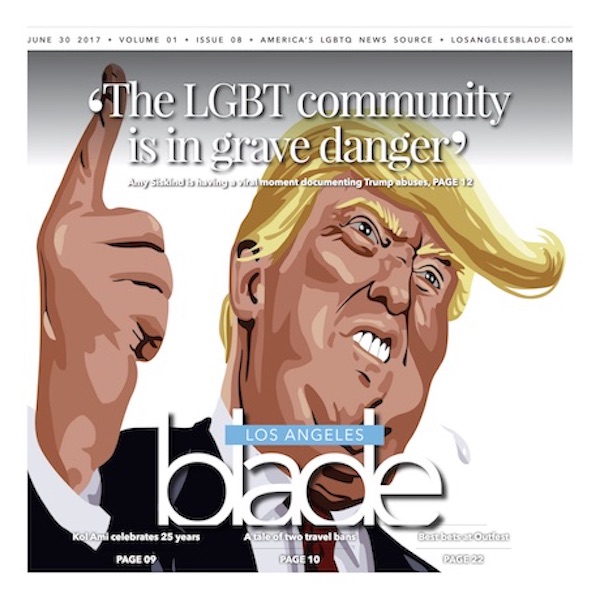 Amy Siskind's work is the kind of genius historians will refer to in the next decade as the definitive chronicler of what went wrong and how.
"Experts in authoritarianism advise to keep a list of things subtly changing around you, so you'll remember," she likes to say.
Each day brings a bombshell that in ordinary times would dominate the news cycle for months with sweeping investigations. Trump takes to Twitter over the slightest perceived slight, promoting the fakest narrative he can spell out in 140 characters about news he wants his followers to ignore.
But that, like so much else, is just a charade that masks a whole spate of other alleged crimes and misdemeanors now under multiple investigations. While we are hyperventilating about a Tweet, something else much darker is happening.
And that's where Siskind comes in. For the past seven months she has taken note and documented every instance of the abnormal or bizarre, spending 15-20 hours a week and talking to thousands of people to synthesize events as they happen.
She publishes her work (dubbed the "Weekly List") chronicling the bad deeds of the Trump administration on social media platforms, including Twitter, Facebook and Medium, attracting hundreds of thousands of weekly readers. Her work has been highlighted by The Washington Post and The Independent and Siskind is considered a rising star. A NYU journalism professor called her work "thoroughly journalistic and much needed."
Siskind said her work on Trump originated from her post-election reading about how authoritarian governments take hold — behavior that seems shocking at first quickly becomes normal.
And on LGBT rights, she has a particularly urgent message, especially if you continue to believe that Trump hasn't really gone after the LGBTQ community.
The Blade spoke with Siskind by phone from her home in Westchester County, N.Y.
BLADE: What's the motivating force behind your work tracking Trump's lies and the administration's bizarre behavior? You told The Washington Post that it developed when you read about the process of normalization, that we come to accept things that are abnormal because we get lost in this slow drift of bizarreness. So I guess my question is, what strikes you so far as the most bizarre thing that's happened?
AMY SISKIND: Though there are too many to mention, I think what strikes me most is that we are living in a constant state of chaos. There are so many items each and every day that are, in and of themselves, shocking. In normal times these things would be individual stories that would be covered by our media for weeks or months. But, because there are so many of them, we've lost track of accountability for these items or being able to even remember them. As a result, we've in a way normalized things that in any other time in our country or in our lifetimes would be shocking and deserving of outrage around the country. We're bombarded with so many of these each and every day we've become desensitized.
That's led to a sort of acceptance because we are sort of plowed over by all that's not normal.
BLADE: Even journalists are plowed over. There's tacit endorsement when they do not properly challenge him.
SISKIND: The bar was set pretty low by our media. I have myself been a critic of the media early on about some journalists complimenting him for reading off a teleprompter or covering him like you would a normal candidate, talking about things like infrastructure when it was pretty obvious even before he took office that he was not going to be normal.
Even though it started out that way, I am grateful to see a shift.
I think the media has realized they are under siege now and being silenced. I see mainstream journalists beginning to form a community and protecting one another. Journalists from the right are still amplifying authoritarian messages and giving credence to "news" that's not true news. I am starting to see change.
What The List does that our media is not able to do — because they need to cover every story as if it were a traditional administration (or in Trump's case it's a regime) — is give some perspective week by week about what's happening.
What mainstream journalists are reporting is very in the moment but it doesn't, with the exception of a few like maybe Rachel Maddow, trace back the story.
For example, The List can follow the Deutsche Bank story over weeks or months whereas most of the reporting is just "here we are in this moment and today." So what I really hope to accomplish with The List is to access all the stories about Deutsche Bank that have happened over the last several months since I've been doing The List. It's a journalistic way of tying things together that our media is not doing.
Typically, I spend 15 to 20 hours a week on each list because so many of the things I put in it are not widely seen, but to me are really important.
I spend a lot of time covering treatment of different subsets of people because that's part of authoritarianism; I mean how you treat one then how do you treat the LGBTQ community how you treat people of different religions and people of color so I make sure to highlight things that are really not normal.
I cover the way citizens are acting but also the way the administration is acting.
BLADE: What do you make of gay Republicans and Trump supporters who say he hasn't really done anything specifically bad to LGBTQ people?
SISKIND: That's an uninformed argument. I think the LGBT community is in grave danger with Trump and the overriding thing is that we are invisible to the Trump administration.
And I'll give specific examples of ways that he is hurting our community, but the overall theme is we're invisible that's never good for any community.
Let's start with the fact that there's no recognition of LGBTQ Pride month. When we are made invisible you take away our identity. Trump is doing that by not recognizing Pride: he's doing that by not including LGBTQ people in the Census.
That's a really big deal and I have it in my weekly list 32 that just came out; NPR did a Freedom of Information Act request on work that was done by HUD and they said Census data was essential for the inclusion of the LGBT community to be part of the Census. Trump's response is that they don't think it's appropriate to ask questions of sexual orientation and gender identity topics, which is an argument that makes us invisible.
BLADE: That Census information is used throughout government to implement civil rights protections and to ensure representation and equality.
SISKIND: Point is that if you're invisible you don't need protections or rights. So, you can see the path down which he is taking the nation.
Also in Week 32, his Secretary of Education DeVos said she won't go after schools that discriminate against transgender students amongst other things. They are not going to push on the civil rights issues. That was just one week!
Not protecting transgender people is an issue. They've also already taken away – in certain government departments – worker protections on the basis of sexual orientation.
So when you make people invisible, you don't need to protect them against discrimination in housing and workplace discrimination. So, in many parts of the Trump administration it's legally acceptable to discriminate against people based on their sexual orientation or gender identity.
And that's that headline worthy!!! That should scream out with three exclamation points at the end.
People who don't think he hasn't done anything against LGBT people are missing the point — he's slowly eroding our protections and making it legal to discriminate against us because of our sexual orientation and gender identity.
BLADE: It's very much like what you said about authoritarianism — a slow erosion of normalcy.
SISKIND: Exactly! And end of rights for different subsets of people. You can see the different subsets of people that are under attack. It's pretty much everyone that's not white, straight, Christian and male. We can have the same conversation about ways women are being attacked or Muslim Americans or Jewish Americans or Latinos or immigrants or Black Americans or something for everybody.
BLADE: Those, of course, include LGBT people…
SISKIND: Yes, we are under assault in so many ways. Let's talk about Gorsuch. Just this week his Supreme Court appointee argued against gay adoption. And the scariest part of that to me is that it's not based on fact. There's study after study showing gay and lesbian parents are actually superior parents to heterosexual parents! So, it's not based on any factual study, it's based on his own bias.
These are the people that Trump is bringing into power and into authority. If that doesn't scare you! There's now, I think eight states, since he took power that are making it illegal for gay couples to adopt.
I know California now has banned official government business travel to those eight states.
But there's eight states — since he took power — that are making it illegal in their state for gay people to adopt. Between workplace discrimination, gay adoption, and what happened to transgender people, transgender students being excluded from protection under the Civil Rights Act and in college too. I mean, this is something that impacts the LGBTQ community.
BLADE: They have taken away the right to sue for those things.
SISKIND: Yes! They won't pursue that under DeVos and our Department of Justice. And we're just at the start of things!
I'm looking here at week 20. 'Trump signed an executive order which legalizes discrimination against LGBT federal employees.' Yes, that's one of the two items that week. And then the Census.
But that's really a huge thing I mean it and then in a later week you have (Commerce Secretary) Wilbur Ross removing sexual orientation and gender identification from its anti-discrimination policies. That another really big item to include in week 30.
BLADE: So much for the idea that Trump has done nothing to hurt LGBT people.
SISKIND: Yes, we are under assault and I think the community's in great danger; he's not going to stand up on stage and say "I am a bigot." He's going to slowly erode our rights and make us invisible. That's what he is doing.
BLADE: What happens if Pence replaces Trump?
SISKIND: What's going to happen, in either scenario, is that we're going to be in chaos. I mean Trump isn't getting anything done legislatively. And if he faces impeachment hearings or if he faces other criminal proceedings, nothing's going to get done legislatively. But he still can slowly erode things.
Will Pence be any better or worse? We don't know. We don't know if Pence himself will be ensnared by what's going on — I find it hard to believe he won't be.
Regardless, I think it has to be a goal for everybody, every American. Any normal Republican is a better alternative than losing our democracy, which is what's happening.
The basic rights that were afforded, including our voting rights and fair elections are, under Trump, under siege.
When people ask me that question you don't know exactly how anything's going to play out; you know it's going to be chaos. Would I rather have Pence?
I'll deal with that option when it comes to it, but I can tell you right now we're in danger and I don't think there's anything that could be any worse than what we're currently living in.
BLADE: With the Supreme Court decision to take on the wedding cake case on the same day it basically erased the line between church and state, it's really hard to imagine we aren't about to face a significant setback. It looks like the threat to LGBTQ people is spreading throughout government.
SISKIND: Well, if he's able to appoint another Supreme Court judge — we just have to pray for our Ruth Bader Ginsburg that she can stay on the bench until the 2020 election.
I worry about all of it. But I think we get sort of distracted if we just focus on what's happening in the judicial branch because Trump is doing so much damage in the executive branch already, that people are just kind of numb to…that, I think, is the biggest purpose with what I'm doing with The List and the conversation you and I are having.
We need to raise awareness that already we are becoming invisible and that our rights are being eroded.
It's hard to imagine exactly what will happen with the Supreme Court cases. You know, we've lost Scalia and gained somebody who's maybe even further right than him.
I think probably the only issue that is NOT currently on the table is gay marriage, and that's only because generations are so decidedly pro-gay marriage.
Everything else, though — you can be married and have every other right taken away from you, including the ability to have people make your wedding cake, host your wedding, or be discriminated against and beat up on the way back from your wedding.
I think our community has become so obsessed about the success of this one issue that we've forgotten about all the other issues that impact our daily living.
BLADE: This slipperiness is all playing out in the background of the Russia investigation. This is what is happening while we are all hyperventilating about Russia.
SISKIND: And that's why every week in The List you can find all the events that are playing out.
If you put in LGBTQ it will show you all the items that have already changed. If you put in Muslim, you'll see all the assaults on Muslim people. If you put in Black or African American, you'll see the items about the nooses in D.C. or the gorilla mask in Tennessee this week. I'm really trying to keep a focus on every week's list of what's happening.
The fabric of our country is changing. We are legitimizing hate and it's hate against everybody that's not white, straight, Christian and male and I think there needs to be a much greater awareness within our community of the danger we're in, what you normalize, what happened to that 17-year-old Muslim girl walking back to her mosque after having a meal at McDonald's before starting Ramadan.
That could have been a trans student or a gay man or a woman walking down the street. It can be any of us that aren't the same.
BLADE: Just as Trump eliminated Pride at the White House, he also eliminated Muslim celebrations.
SISKIND: He didn't celebrate Cinco de Mayo either.
BLADE: He's an equal opportunity eraser.
SISKIND: For anybody who's not white, straight and male. But anybody in our community who is complacent is missing the boat, because you still have to be able to walk down the street each day, you have to be able to get a job, you have to be able to get housing and right now he's making it legal to discriminate on all those things.
We can't underestimate the danger that we are in as a community. Gay marriage is just a little piece of icing on the cake but we have to raise our children, we have to be able to work and live and be safe and all those things are under siege.
BLADE: Marriage is not safe. It they can create a system of laws that make it legal to deny you services, we are not equal.
SISKIND: Right, so it's sort of like a tin victory! You can get married but we won't make you your cake, we won't host your reception.
BLADE: We won't protect your right to your own children.
SISKIND: Right. Our community gets too hyper focused on marriage and has dropped the ball on everything else. People feel like "oh, we crossed that bridge and now it's done," kind of like women with abortion rights. It was 1973 and here we are in 2017 and talking about taking away Planned Parenthood.
Nothing is guaranteed. One victory on a single issue doesn't mean everything else isn't in danger of being rolled back. We have to remember also how far as a community we came and how quickly. I mean, this is been endemic in the women's movement; big victories and then everyone's like "Oh, good now everything's done and we're equal."
No. It happens in every community. We have this huge victory and we like stopped agitating and stopped organizing and stopped worrying. And that's a false hope.
We are in danger under this regime.
BLADE: How did you feel about the Resist marches across the country?
SISKIND: I marched in New York. As much as you can do in person…it's sort of like fuel and it reinvigorates you. Our organization does a big event each year called National Girlfriends' Networking day and so many of the young woman said to me 'I needed this because I feel so disempowered.'
I think whatever you can do in person really is helpful.
White House, Don't Say Gay law: "This is discrimination, plain and simple"
"State officials who claim to champion liberty are limiting the freedom of their fellow Americans simply to be themselves"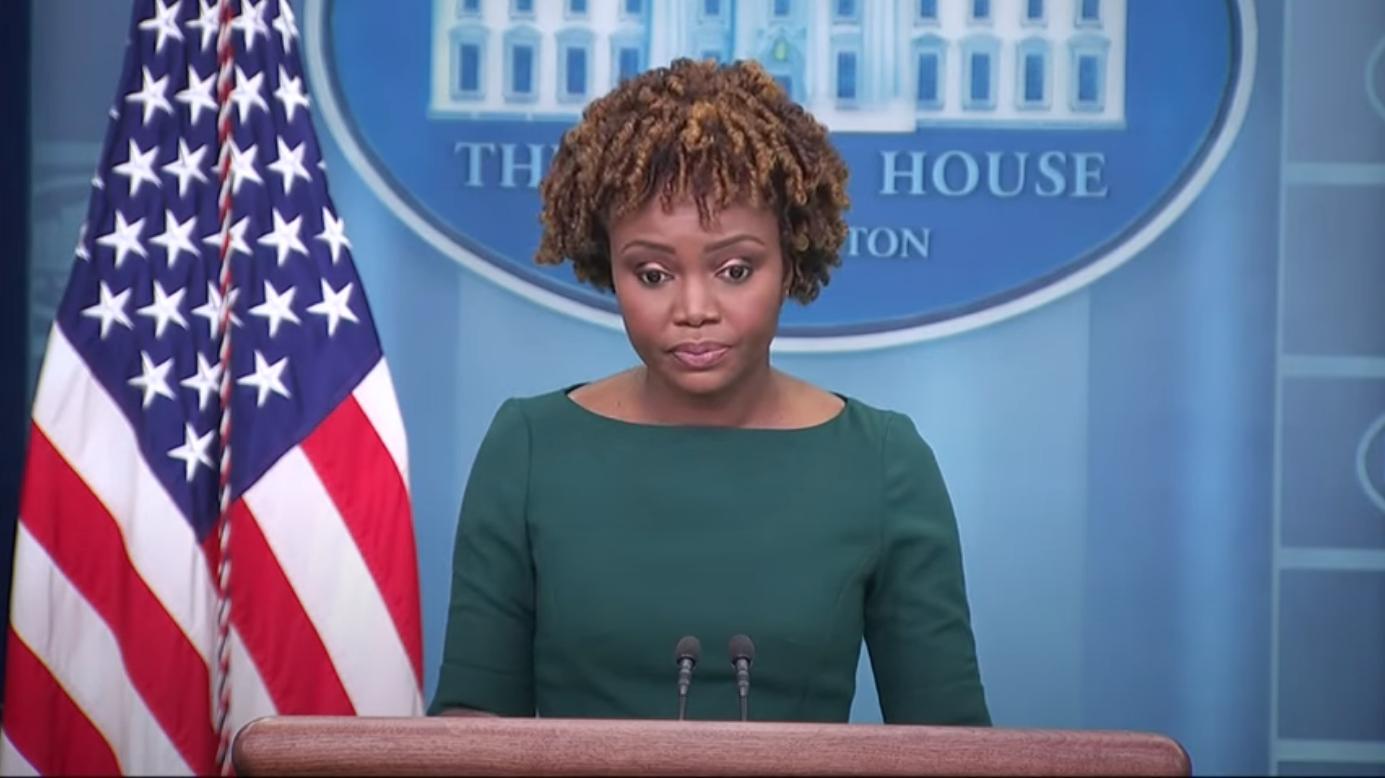 WASHINGTON – The White House Press Secretary Karine Jean-Pierre released a statement Friday as Florida's notorious 'Don't Say Gay' law took effect, saying "[…] state officials who claim to champion liberty are limiting the freedom of their fellow Americans simply to be themselves."
President Biden also tweeted about the law prior to leaving for Camp David to spend the July 4th holiday weekend, calling the law "the latest attempt by Republicans in state houses to target LGBTQI+ students, teachers, and families."
Florida's "Don't Say Gay" law takes effect today – the latest attempt by Republicans in state houses to target LGBTQI+ students, teachers, and families.

Legislators shouldn't be in the business of censoring educators, and @usedgov will do all in its power to protect students.

— President Biden (@POTUS) July 1, 2022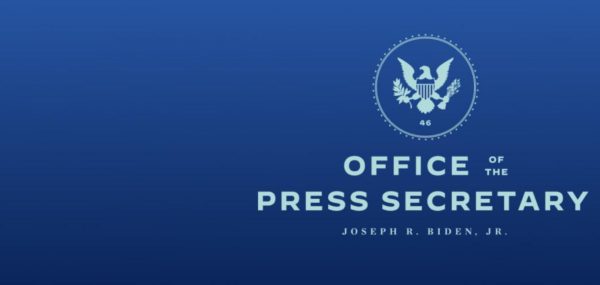 In her statement, Jean-Pierre said:
"Today, some of Florida's most vulnerable students and families are more fearful and less free. As the state's shameful "Don't Say Gay" law takes effect, state officials who claim to champion liberty are limiting the freedom of their fellow Americans simply to be themselves.
"Already, there have been reports that "Safe Space" stickers are being taken down from classrooms. Teachers are being instructed not to wear rainbow clothing. LGBTQI+ teachers are being told to take down family photos of their husbands and wives—cherished family photos like the ones on my own desk.
"This is not an issue of "parents' rights." This is discrimination, plain and simple. It's part of a disturbing and dangerous nationwide trend of right-wing politicians cynically targeting LGBTQI+ students, educators, and individuals to score political points.
"It encourages bullying and threatens students' mental health, physical safety, and well-being. It censors dedicated teachers and educators who want to do the right thing and support their students. And it must stop.
"President Biden has been very clear that every student deserves to feel safe and welcome in the classroom.
"The Department of Education will be monitoring this law, and any student or parent who believes they are experiencing discrimination is encouraged to file a complaint with the Department's Office for Civil Rights.
"Our Administration will continue to fight for dignity and opportunity for every student and family—in Florida and around the country."
Florida county's school policy critics say "essentially targets LGBTQ+ kids"
"Sending out a parent notification could be seen as placing a target on a student's back," said Lauren Kelly-Manders, a Tallahassee resident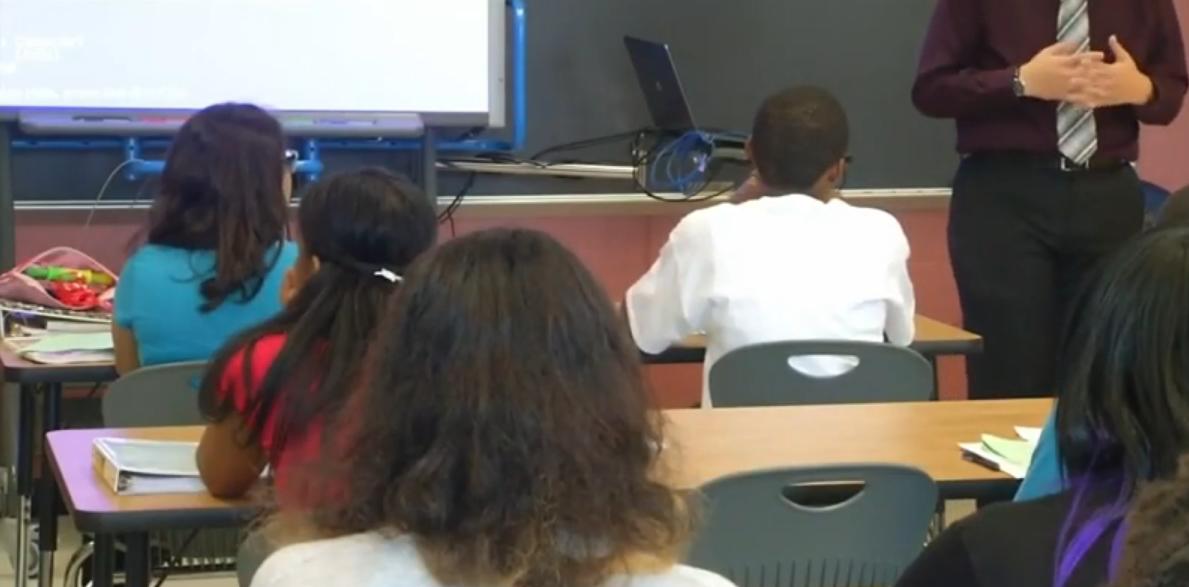 TALLAHASSEE – The Leon County School Board this week unanimously approved its "LGBTQ Inclusive School Guide" after a rancorous and at times heated debate Tuesday. At the heart of the new policy are guidelines that critics charge will harm LGBTQ+ youth in the school system.
The Tallahassee Democrat newspaper reported what drew the most debate was a provision that a school will notify parents — by form — if a student who is "open about their gender identity" is in a physical education class or on an overnight trip. 
Some teachers and students during the Tuesday night meeting said the policy will "out" LGBTQ+ students — revealing their sexual orientation or gender identity without their permission. 
While the policy language does explicitly say a student's sexual orientation, gender identity or expression "should not be shared with others without their input and permission,"  advocacy groups and activists claim that in "real world" application the policy's danger to Outing LGBTQ+ kids remains regardless.
Los Angeles-based writer and actor Benjamin Siemon took to Twitter angrily noting that the policy "essentially paints these children as sex offenders that require warnings."
This school board in FL voted that if an LGBTQ child is in a P.E. class or attending an overnight trip that ALL the parents in their class will receive a notification about it, which essentially paints these children as sex offenders that require warnings. https://t.co/g1bE4df2bS

— Benjamin Siemon (@BenjaminJS) June 30, 2022
Supporters of the school board's new policy included the Leon County chapter of Mom's for Liberty, a national far-right anti-LGBTQ+ activist group which has sought to ban LGBTQ+ books and curriculum nationwide. But the sticking point for the group is the provision doesn't go far enough.
According to the Tallahassee Democrat, Sharyn Kerwin, head of the Leon County chapter of Mom's for Liberty and who also served on the advisory committee to the School board as it crafted the new policy, told board members and the audience Tuesday: "Any attempt to withhold information from a parent or try to influence a child in a knowing way is against Florida law."
Kerwin and other parents argued that the Parental Rights in Education bill, HB 1557, colloquially referred to as the "Don't Say Gay" law requires school administrators to notify parents and many in the audience Tuesday citing biblical verses maintained discussions about sexual orientation have no place in schools.
Opponents charge that this policy will effectively weaponize bigotry and target LGBTQ+ kids, especially trans youth.
Critics of the notification policy say the district's language is equating "gender identity" with LGBTQ sexuality. They note that even someone who is "straight" expresses themselves via their clothing choices or appearance and can be "open about their gender identity," the Tallahassee Democrat noted.
"Sending out a parent notification could be seen as placing a target on a student's back," said Lauren Kelly-Manders, a Tallahassee resident. 
In the end, even with the policy approved, none were happy with the outcome as one side claiming not enough consideration was given to parental rights and opponents charging this will simply increase bullying of LGBTQ+ kids.
"Normally when we have something on the agenda, we have a group that's for, and a group that's against," school board Vice Chair Alva Striplin noted adding, "Well, tonight we had everyone against."
The school board voted to approve the guide unanimously 4-0.  According to the Tallahassee Democrat school board members will schedule another meeting to revisit the guide in six months to adjust the policy if needed. 
White House announces 17 Presidential Medal of Freedom recipients
The nation's highest civilian honor, the Presidential Medal of Freedom will be presented to those named at the White House on July 7, 2022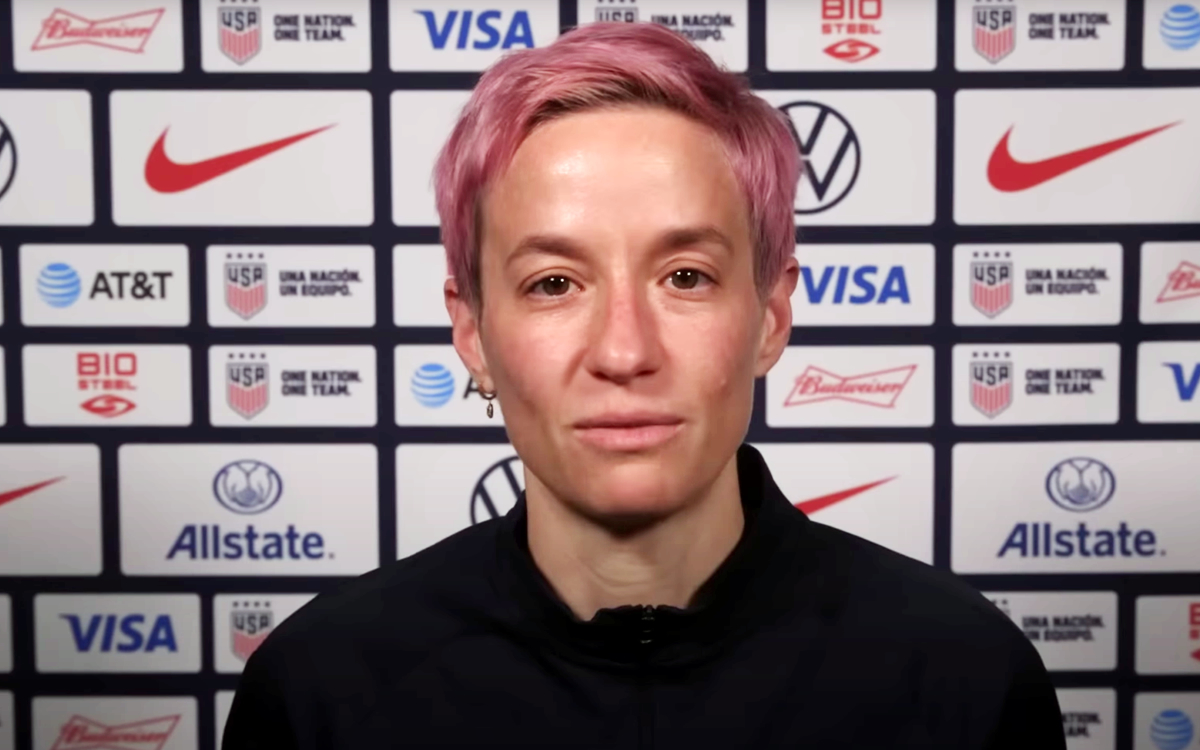 WASHINGTON – The White House today released President Joe Biden's selection of recipients for bestowing the nation's highest civilian honor, the Presidential Medal of Freedom. The awards will be presented at the White House on July 7, 2022.
Included among the seventeen honorees are Megan Rapinoe, the Out Olympic gold medalist and two-time Women's World Cup champion. She also captains OL Reign in the National Women's Soccer League. She is a prominent advocate for gender pay equality, racial justice, and LGBTQI+ rights.
Also selected by the president for a posthumous recognition was Richard Trumka, the powerful labor leader and longtime Democratic ally of the LGBTQ+ community who passed away last August. Trumka had led the AFL-CIO since 2009 and who throughout his career, was an outspoken advocate for LGBTQ+ Americans, social and economic justice.
The Presidential Medal of Freedom is the Nation's highest civilian honor, presented to individuals who have made exemplary contributions to the prosperity, values, or security of the United States, world peace, or other significant societal, public or private endeavors.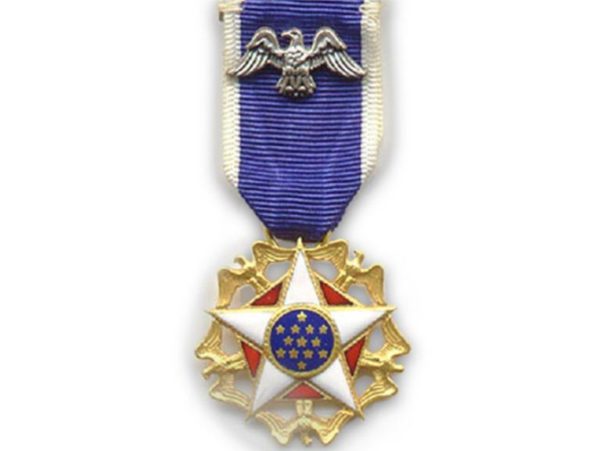 The following individuals will be awarded the Presidential Medal of Freedom:
Simone Biles
Simone Biles is the most decorated American gymnast in history, with a combined total of 32 Olympic and World Championship medals. Biles is also a prominent advocate for athletes' mental health and safety, children in the foster care system, and victims of sexual assault.

Sister Simone Campbell
Sister Simone Campbell is a member of the Sisters of Social Service and former Executive Director of NETWORK, a Catholic social justice organization. She is also a prominent advocate for economic justice, immigration reform, and healthcare policy.

Julieta García
Dr. Julieta García is the former president of The University of Texas at Brownsville, where she was named one of Time magazine's best college presidents. Dr. García was the first Hispanic woman to serve as a college president and dedicated her career to serving students from the Southwest Border region.

Gabrielle Giffords
Former Congresswoman Gabby Giffords was the youngest woman ever elected to the Arizona State Senate, serving first in the Arizona legislature and later in the U.S. Congress. A survivor of gun violence, she co-founded Giffords, a nonprofit organization dedicated to gun violence prevention.

Fred Gray
Fred Gray was one of the first black members of the Alabama State legislature since Reconstruction. As an attorney, he represented Rosa Parks, the NAACP, and Martin Luther King, who called him "the chief counsel for the protest movement."

Steve Jobs (posthumous)
Steve Jobs (d. 2011) was the co-founder, chief executive, and chair of Apple, Inc., CEO of Pixar and held a leading role at the Walt Disney Company. His vision, imagination and creativity led to inventions that have, and continue to, change the way the world communicates, as well as transforming the computer, music, film and wireless industries.

Father Alexander Karloutsos
Father Alexander Karloutsos is the former Vicar General of the Greek Orthodox Archdiocese of America. After over 50 years as a priest, providing counsel to several U.S. presidents, he was named by His All Holiness Ecumenical Patriarch Bartholomew as a Protopresbyter of the Ecumenical Patriarchate.

Khizr Khan
Khizr Khan is a Gold Star father and founder of the Constitution Literacy and National Unity Center. He is a prominent advocate for the rule of law and religious freedom and served on the United States Commission on International Religious Freedom under President Biden.

Sandra Lindsay
Sandra Lindsay is a New York critical care nurse who served on the front lines of the COVID-19 pandemic response. She was the first American to receive a COVID-19 vaccine outside of clinical trials and is a prominent advocate for vaccines and mental health for health care workers.

John McCain (posthumous)
John McCain (d. 2018) was a public servant who was awarded a Purple Heart with one gold star for his service in the U.S. Navy in Vietnam. He also served the people of Arizona for decades in the U.S. House of Representatives and U.S. Senate and was the Republican nominee for president in 2008.

Diane Nash
Diane Nash is a founding member of the Student Nonviolent Coordinating Committee who organized some of the most important civil rights campaigns of the 20th century. Nash worked closely with Martin Luther King, who described her as the "driving spirit in the nonviolent assault on segregation at lunch counters."
Megan Rapinoe
Megan Rapinoe is an Olympic gold medalist and two-time Women's World Cup champion. She also captains OL Reign in the National Women's Soccer League. She is a prominent advocate for gender pay equality, racial justice, and LGBTQI+ rights.

Alan Simpson
Alan Simpson served as a U.S. Senator from Wyoming for 18 years. During his public service, he has been a prominent advocate on issues including campaign finance reform, responsible governance, and marriage equality.
Richard Trumka (posthumous)
Richard Trumka (d. 2021) was president of the 12.5-million-member AFL-CIO for more than a decade, president of the United Mine Workers, and secretary-treasurer of the AFL-CIO. Throughout his career, he was an outspoken advocate for social and economic justice.

Wilma Vaught
Brigadier General Wilma Vaught is one of the most decorated women in the history of the U.S. military, repeatedly breaking gender barriers as she rose through the ranks. When she retired in 1985, she was one of only seven women generals in the Armed Forces.

Denzel Washington
Denzel Washington is an actor, director, and producer who has won two Academy Awards, a Tony Award, two Golden Globes, and the 2016 Cecil B. DeMille Lifetime Achievement Award. He has also served as National Spokesman for the Boys & Girls Clubs of America for over 25 years.

Raúl Yzaguirre
Raúl Yzaguirre is a civil rights advocate who served as CEO and president of National Council of La Raza for thirty years. He also served as U.S. Ambassador to the Dominican Republic under President Barack Obama.