Congregation Kol Ami celebrates 25 years of advocacy
Synagogue has had a major impact worldwide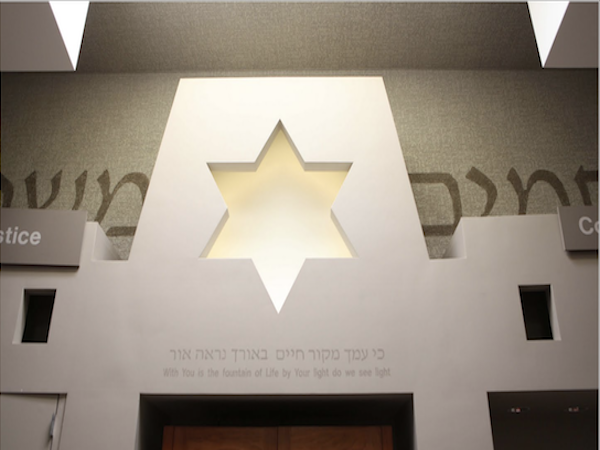 Fighting for social justice takes fortitude. And sometimes finding a salve for the wounds of war, weariness and disappointment can itself seem a burden too huge to bear. But then comes a voice of love and self-assurance, tinged with angry righteousness, aimed squarely at inspiring that heavy next step and never, ever abandoning the cause.
The voice emanates from Rabbi Denise Eger, who has been vociferously advocating for LGBT equality since the early 1980s. Ordained in 1988, the power of Eger's presence, often alongside longtime activist Rev. Troy Perry, reminded many of the courageous religious leaders on the frontlines during the dangerous battles for African American civil rights.
In 1992, during the height of the AIDS crisis, Eger and 35 others founded Congregation Kol Ami, a synagogue serving LGBT and allied Jews in West Hollywood.  On June 19, about 200 people celebrated Kol Ami's 25 years of commitment to "helping heal the world," including Eger's historic work bringing LGBT acceptance to Reform Judaism. Eger just completed a two-year term as the first openly gay President of more than 2300 Reform Rabbis worldwide, which she calls "one of the most significant events in my life."
Oscar-winning screenwriter Dustin Lance Black and his husband, Olympic diver Tom Daley, presented "Guardian of Justice" awards to founding members Kim and Natalie Bergman. Founding member Alvin Gross and temple social justice activities chair David Glickman received "Spirit of Kol Ami" awards.
"One of the most significant events for me has been our LGBTQ fight for equality," Eger tells the Los Angeles Blade. She became immersed in the issue of marriage equality, leading efforts in 1996 when Congress passed the Defense of Marriage bill to get the Reform Rabbis to support civil marriage. Then Eger wrote a "revolutionary resolution" that passed in her denomination. "It was "transformative for Judaism to understand that marriage was marriage and it paved the way for other religious denomination to come to support marriage equality both civilly and RELIGIOUSLY," she says.
Eger calls her impactful leadership during the fight against Prop 8 "a hallmark of my rabbinate." Kol Ami "was a force for organizing and every night we took out the pews in the sanctuary, set up tables and we became a hub for phone banking and trying to defeat Prop 8."
The passage of Prop 8 was not her only obstacle. "One of my biggest disappointments has been the tendency for our community to get lazy," Eger says. "We think because in California we have achieved so much equality that we don't have to be engaged. I know that Congregation Kol Ami's presence has helped people explore the intersection of justice and spirituality for themselves whatever their faith journey is and we continue at Kol Ami to be deeply engaged in social justice work.
"But some of our LGBTQ community and our allies think especially here in California that we achieved full equality.  We have not," Eger continues. "Wherever a child fears coming out, wherever a trans person is fired from work, wherever someone is denied their spiritual needs the work of equality is not done. We need more places and more LGBTQ people to transform the lives of all of Los Angeles and our nation. We need our energy, our voices to engage and transform this world.  We can't rest on our laurels.  We know from the teachings of the Rev. Dr. Martin Luther King: "None of us are free until all are free."
Eger has always been aware of the intersectionality of oppression and the struggle for liberation, "especially in these times when fear mongering, racism, misogyny, homophobia, xenophobia, anti-Semitism Islamophobia have raised their ugly and immoral head," she says. "I believe it is my religious calling to combat that wherever I am. My Judaism teaches me to 'Love your neighbor as yourself.'"
It is a consistent message. "At the core of my religious faith is the eternal promise of justice for all. Not for some but a vision that one day all people of goodwill and good faith and no faith shall sing in one voice an anthem of peace and liberty. And we cannot gather tonight only 35 miles from Baltimore when there are others who lack equality and justice. Our community has known police brutality. After all the Stonewall riots were a response in 1969 to continued police harassment. And there will be no justice and equality until all are at the table," Eger said in an April 26, 2015 sermon at the Multi-Faith Prayer Service in Washington, DC for Unite for Marriage.
"The world needs our LGBTQ vision of humanity—equality for all, true dignity, and love," Eger tells the Los Angeles Blade. "And we can't rest until that is a promise for every person. Congregation Kol Ami, West Hollywood's Reform Synagogue, anticipates that its members and supporters will continue to be out front, leading that spiritual quest for true human dignity for all."
Black AIDS Institute appoints Toni Newman as interim CEO
As Toni Newman steps into her new role at BAI, she will be one of only a few Black Trans women to head a non-profit in the nation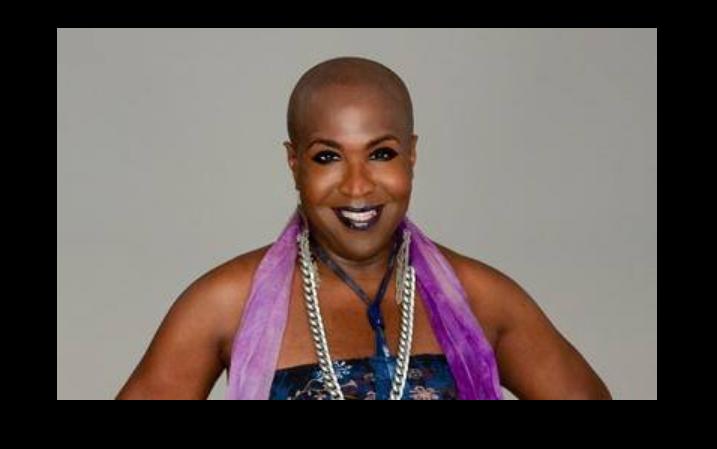 LOS ANGELES – The Board of Directors of the Black AIDS Institute (BAI) announced the appointment of Toni Newman as its Interim Chief Executive Officer and Dr. Kemal M. Atkins as Managing Director this past week.
Newman is currently the Interim Executive Director at LYRIC – a non-profit in San Francisco, California that focuses on advancing the community and creating social change for lesbian, gay, bisexual, transgender, queer and questioning (LGBTQQ) youth through education, career training and health advocacy. 
Dr. Atkins has been engaged to help further build infrastructure and management processes at BAI. Dr. Atkins, who will serve as a consultant on a temporary basis, has an extensive background in higher education and non-profit leadership where his expertise in crisis management, such as leading institutional responses to the COVID-19 pandemic, and expertise in building national wellness health models will provide much-needed program direction for BAI.
Founded in 1999, the mission of BAI is to stop the AIDS epidemic in Black communities by engaging and mobilizing Black institutions and individuals to confront HIV. In its mission statement, the organization states that "BAI envisions a world where all Black people are free and flourishing without HIV and AIDS, free of stigma and shame, where Black health and well-being are paramount. With a foundation in advocacy and policy work, BAI works towards improving the health and wellness of Black people through research, community efforts, and clinical work."
As she steps into her new role at BAI, she will be one of only a few Black Trans women to head a non-profit in the nation.
Ms. Newman is a distinguished Faculty Member at the Transgender Strategy Center in Los Angeles, where she advises non-profit organizations on engagement with transgender and nonconforming communities. In addition, she is the Chair of the Board of Directors for TransCanWork based in Los Angeles.
"Ms. Newman has a wealth of knowledge in non-profit management, budget and finance, and human resources and operations," BAI stated in its statement. "We're excited that she has agreed to serve as our Interim CEO as we continue implementing our transition plan to find a permanent, innovative executive staff leader."
LGBTQ+ ally City Councilman Kevin de León announces run for mayor
De León currently represents Council District 14 that takes in the predominantly Latino neighborhoods of Boyle Heights and El Sereno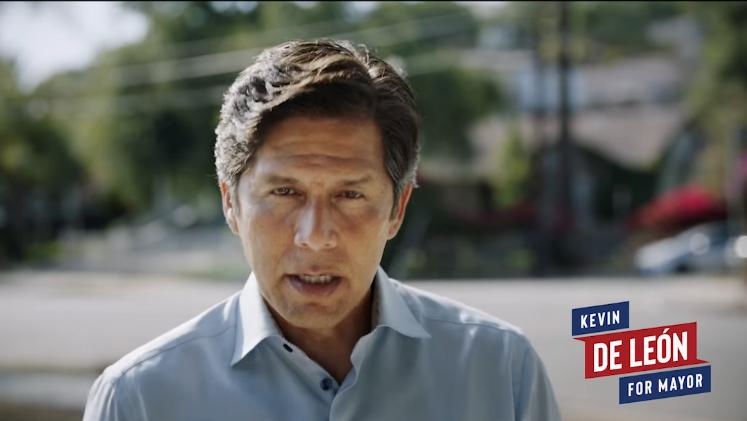 LOS ANGELES – Standing in front of a group of enthusiastic supporters Tuesday at the El Pueblo de Los Angeles Historical Monument, Los Angeles City Councilman Kevin de León announced that he was joining the mayor's race for next year's city elections.
Councilman de León, a Democrat, is the third city elected official to announce his intention to seek the mayor's chair after current Mayor Eric Garcetti, who was elected for a four-year term in 2013 and again in 2017- who's limited to serving no more than two terms, was picked by President Joe Biden to serve as the U.S. ambassador to India on July 9, 2021.
Born in Los Angeles of Guatemalan and Mexican descent, raised by a loving, hard-working single mother, de León, 51, got an education and spent 12 years in Sacramento, rising to become the President Pro Tem of the California Senate, authoring and passing legislation and making history. It was his bill that then Governor jerry Brown signed into law making California a "sanctuary state"—a law that was upheld by a federal appeals court.
In an August 2018 interview with former Los Angeles Blade Editor Karen Ocamb, he reflected on his relationship with the LGBTQ+ community.
"I've always been very close to the LGBTQIA (lesbian, gay, bisexual, transgender, queer, intersex, asexual) community even before I even knew all the initials that keep growing," de León says with a laugh during an extensive phone interview with the Los Angeles Blade. "It's always been my core set of values that every human being deserves a real opportunity to succeed, regardless of who they love and regardless of the hue of their skin and regardless of their legal status. That is embedded in my DNA."
De León learned to care about LGBT people as a child from his mother and aunt around the kitchen table.
"My mother got a third grade education and my aunt even less," he says. "I was very young and they were talking about a gay friend, a colleague of theirs. I didn't understand. Obviously, they didn't understand themselves. But they spoke with such affection, such tenderness. And here were two immigrant women with limited formal education and the way they spoke so lovingly, tenderly, beautifully about their gay friend. I could deduce the person they were talking about was gay—they kind of spoke in code around me when I was just sitting there listening to them at the kitchen table. And it transcended ethnicity and legal status and poverty—that we're all human beings and we deserve dignity and respect. That had an 'Ah Ha' impact."
De León's LGBT education continued as he picked his mother up from her work as a housekeeper at convalescent homes. "She had quite a few gay colleagues with her and I just remember they were just so beautifully nice with my mother and my mother with them and that had a huge impression on me of the universal values of treating everybody with dignity and with respect. So when there is a discriminatory blow against anyone in the LGBTQIA community, I feel that blow equally."
De León, 54, is by far the most prominent Latino running. Fluent in Spanish, he represents a district that takes in the predominantly Latino neighborhoods of Boyle Heights and El Sereno, as well as much of downtown, where a development boom has fueled huge growth over the past decade, KTLA reported.
Two other candidates — Councilman Joe Buscaino and City Atty. Mike Feuer — have been campaigning for several months. The race also features two business leaders: Jessica Lall, who heads the downtown-based Central City Assn., and real estate broker Mel Wilson, who has been involved with several San Fernando Valley business groups.
Hermosa Beach Pride Lifeguard Tower is here to stay
"The rainbow tower is beautiful and has become a symbol of this community's love and support for LGBTQ rights," said Supervisor Hahn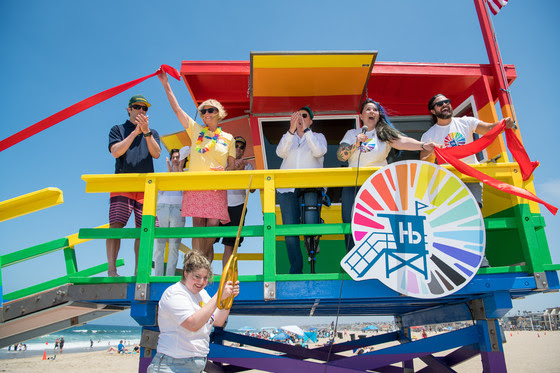 Hermosa Beach — Los Angeles County Supervisor Janice Hahn is announcing that the Pride Tower in Hermosa Beach is here to stay.  The 13th street Los Angeles County Lifeguard Tower, which was painted rainbow in June, was originally meant to be repainted its original blue color at the end of summer.  The rainbow paintjob will now be permanent. 
"The rainbow tower is beautiful and has become a symbol of this community's love and support for LGBTQ rights," said Supervisor Hahn, whose support paved the way for the project. "None of us wanted to see it painted over and I am proud to announce that the Pride Tower is here to stay."
The idea to paint the tower originally came from lzzy Bacallao, a local non-binary teen. Izzy, who uses the pronouns they and them, was responding to the burning of rainbow-painted Pride lifeguard tower in Long Beach in March. The rainbow-painted tower was unveiled at the Hermosa Beach Pride event June 26, 2021.
The new Pride Tower's rainbow paintjob will be maintained by the Los Angeles County Department of Beaches and Harbors which maintains all LA County Lifeguard Towers.   The Department of Beaches and Harbors also maintains another permanent Pride tower in Venice.