June 21, 2017 at 9:04 pm PDT | by Rebekah Sager
AHF puts Trans issues front and center with FLUX
Tuesday, Los Angeles based AIDS Health Foundation's transgender arm, FLUX, hosted a panel discussion on being trans, using the recently released National Geographic film, "Gender Revolution: a Journey with Katie Couric, as a conversation starter.
Clips from "Gender Revolution" were shown throughout the event and panelists were challenged to answer the sometimes tough and often touching questions of their personal transition stories, and the need for people to see them as whole people.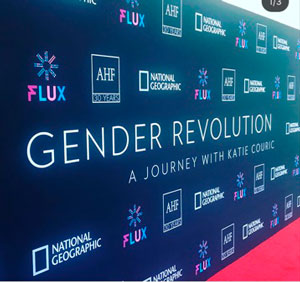 The panel included Michaela Mendelsohn, activist, philanthropist, and owner of six El Pollo Loco franchises, Laith Ashley De la Cruz, a singer and actor, Zoey Luna, a 15-year-old transgender activist, Luna's mother, Ofelia Barba, Christiaan Kier, professor at California State University Los Angeles, Blossom, an actress and HIV/AIDS activist, Julissa Bermudez, Yahoo's celebrity host, and Tiq Milan, a journalist.
All of the panelists agreed "Gender Revolution" could be used as a powerful tool in the arsenal of education for those who seek to understand the trans experience.
"There needs to be other narratives than older, white, transitioning people," Luna told the LA Blade about why she was excited to be a part of the panel discussion.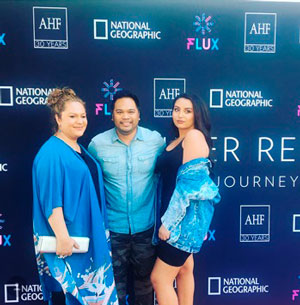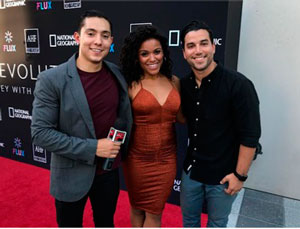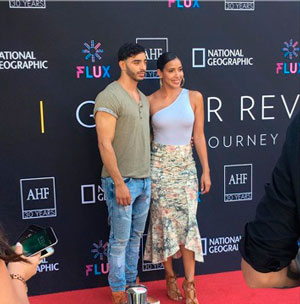 "I'm a Latina, and a transgender youth. I get to represent the way transgender people are presented in the media. We need someone of color in this fight. I'm here to help other trans kids who don't have a voice and don't live the life Caitlin Jenner can. We don't come from a rich background, and it's important for kids to see that too," Luna added.
Luna's mother explained that the greatest misconception around her daughter's trans identity is the idea that in the Latino community there's no support for trans children.
"The narrative changes when people see a single, Latina mom, supporting her trans daughter. Today I'm not so concerned what others think. I'm not so apologetic. It doesn't bother me what others say. The main challenge for us as parents of trans kids is their safety," Barba says.
De la Cruz talked about his transition at 4-years-old and how uncomfortable he felt in the expression of girl's clothing.
"I knew there was something different about me as a child. When I looked at gender, I would say that it was all about expression. From an early age, I wanted to wear boy's clothes. I knew that girl's clothes weren't what I wanted, I would want to rip them off," he said.
"A lot of people associate trans-ness with the process of transitioning, but you are trans prior to that. Some people choose to undergo medical transition in order to further affirm their gender, but it's not necessary or required," he adds.
One of the most difficult topics was about how trans people feel when non-trans people openly ask about their genitalia.
"If I'm out walking around in the world, no one cares what's between my legs, unless they're trying to sleep with me," De la Cruz says laughing. "Until I disclose that I'm trans, and then it becomes something that all of a sudden is super-important. There's no need for that," he says.
"Just because we're trans doesn't mean our private parts are any less private," Milan added.
The biggest threat however to trans people are the statistics. Trans women are four times more likely to live under the poverty limit, and one of the primary reasons is the challenge of finding employment.
Mendelsohn, a trans woman herself, started hiring trans people in her restaurants and then she launched TransCanWork, an organization that provides resources for transgender jobseekers.
"Working with the National Restaurants Association, we train employers in job inclusivity and show them why it's good for their businesses. We also set up job boards where job seekers can connect with these restaurants for work.
"Trans people have two to three times higher unemployment rates. The workplace has to face this and needs to work on it. The economics are so connected to the well being of trans women. For 90 percent of the trans people we've hired, it was the first time working in their true gender identity, and their self- esteem was so low. We got to watch their lives transform. Instead of wondering if they were worthwhile, and worrying about ever getting another job and having to maybe turn to sex work or suicide, they started seeing themselves in the customer's eyes as who they really are and they started to get married, and truly their lives started to normalize. That's our mission, to make this the new normal," Mendelsohn said.
Jessey Zambrano is featured in "Gender Revolution. " She moved to the U.S. from Mexico City and was working in a Los Angeles restaurant where she was severely mistreated – even beaten by a customer.
Her life changed when she began working at one of Mendelsohn's El Pollo Loco restaurants. Today, she's a manager.
"When a trans person is unemployed that could lead to them to sex work because it's all about survival. And when they do that, they become at a higher risk for HIV/AIDS," Blossom said.
HIV rates in the U.S. for the trans community is 1 in 4 or about 24 percent, despite the progress made in research and prevention education in the gay community. If that number is surprising, it's because, as Queen Victoria Ortega, a trans woman and the head of AHF FLUX says, "Because we have no political or economic clout and that's why visibility is so important and the cornerstone of FLUX's existence. If you don't acknowledge or measure people's existence, their thoughts and needs, and understand the gaps in services and resources, then you simply don't care," she said.