June 20, 2017 at 9:09 pm PDT | by Rebekah Sager
Focusing on LA's homeless LGBT youth crisis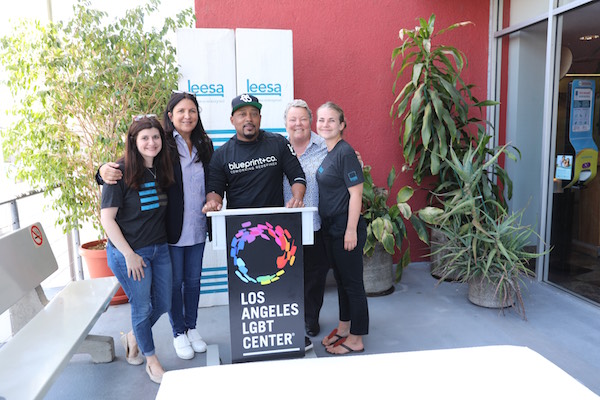 Tuesday the Los Angeles LGBT Youth Center got a few comfy gifts from the Leesa Sleep mattress company. The Center, which provides a place to stay for homeless youth in transition, received the generous donation of 50 mattresses hand-delivered– with a celebrity on the side.
"Shark Tank" star Daymond John was on-hand to be a part of the event and to sit down with the kids and talk about his hardships as a child, struggling with dyslexia, feeling out of place, and how he's overcome them.
Celebrating with cupcakes in the Hollywood facility, the kids were free to chat with John before snuggling in on their brand new, custom memory-foam mattresses.
As boxes of mattresses were opened, Lorri L. Jean, CEO of the LA LGBT Center, kicked-off the event by talking about the need for donations and why the population is so at-risk.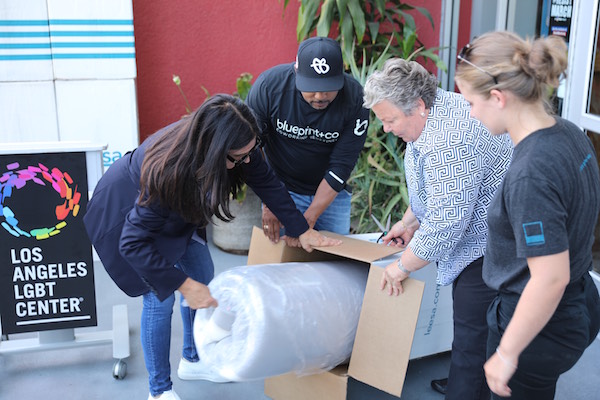 "We have a horrible problem of youth homelessness in Los Angeles. On any given night, thousands of kids are living on our streets and 40 percent are LGBTQ. And usually they are the last group anybody is taking care of, and that's because of their gender identity and because there's such a high number youth of color. The center is here for them 365 days a year," Jean said.
Each month the LGBT Center welcomes more than 42,000 visits — totaling more than 500,000 each year — from youth and adults in the LGBT community. In addition to offering community health services, counseling and conducting HIV-related research, the center lends support to homeless youth by giving them a bed to sleep on, food, clothing, support groups, education programs and employee training.
To support the work of the LA LGBT Center, Leesa donated 25 mattresses to the youth center and 25 to the emergency center.
Kathy Kloves has been a supporter of the Center for 12 years. She's a professional screenwriter and GLAAD board member.
"I came with a friend who was working here, and when I walked in and saw what was before me, I knew I had to get involved. And in the 12 years I've been here, I've raised over $5 million for homeless youth.
"When they show up on the doorstep here, they have nothing; they've been kicked out of their homes by the people who are supposed to support them and love them the most and thrown on the streets of Los Angeles. They have nothing but the clothes on their back. To put them in the population of homeless, when some of these youth are very young and vulnerable can be very dangerous. I heard about a year ago that Leesa mattress had this program and would donate, and I said, 'we need new mattresses.' For a year, I went back and forth with Leesa begging them. We have such a need both here and in our emergency facility as well. We're thrilled," Kloves said.
The youth Center offers an 18-month transitional program, where kids can get their GED, find job placement, counseling and sometimes unify with families.
Kloves says at the drop-in center a few blocks away, 150 kids arrive daily, hoping they can get into the transitional program.
John says when he learned about the work the LA LGBT Center was doing he had no hesitation in being a part of the Leesa donation.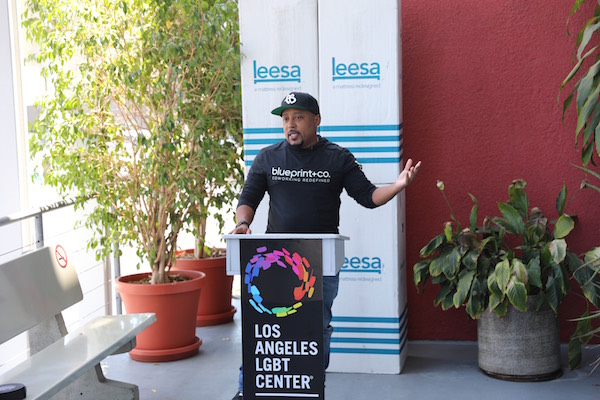 As an active philanthropist, John is partnering with Leesa to give back to communities through Leesa's "One-Ten" program, where the company donates one mattress for every ten they sell. This is one of five events John and Leesa will work on together this year, which in total will account for 1,000 donated mattresses
"There's several kinds of philanthropy — there's checkbook philanthropy, and that's great, obviously funds are needed. But, I have a hard time with that, because I don't always know where the money is going," he says.
"In a business where you're fortunate to be able to give back, and your employees are hands-on seeing that, I think it speaks volumes. It changes the culture of the company for good. I see companies coming around today to this way of thinking, because the consumer is changing. It's statistically been shown, that a consumer is three times more likely to support a company that supports some cause that they can see."
Kloves says simply, "It's wrong to put a child on the street who's done nothing to deserve it, and to make them feel afraid and vulnerable and to consider their sexuality to be something their ashamed of."