Meet a few of LA's homeless LGBTQ youth
Before our eyes, a tragedy is growing that must not be ignored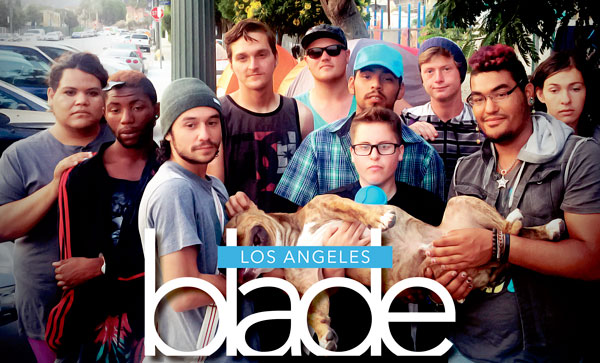 Energy and smarts are the first things you notice about Hay, 20, who had fun explaining his gender.
"I'm male but some of my friends be like, 'girl,' so I don't really conform," he says as he plopped down, lit a cigarette and showed off his green fingernails. "I need a manicure."
Hay, like several of the 30 or so LGBT youth living on a sun-blistered sidewalk, just north of Santa Monica Boulevard, aged out of the foster care system and instantly wound up on the streets.
At 14, he says, he'd finally had enough of his father's physical and emotional abuse. "I guess I put myself in foster care. I called CFS [Child and Family Services]  myself and I went to the school and told them how I had gotten beaten up really badly."
He says he still carries a great deal of raw trauma. And the trauma is growing.
On his 18th birthday, his social worker dropped him off at Hollywood and Highland. He had nowhere to go and no plan. He was utterly alone and hopeless, entering a spiral of 30-day stays in homeless shelters. "I feel like they pushed my homelessness," he says.
"I eventually stayed in a tent," he explains.
His head bowed and eyes narrowing, he said, "I've tried several times to get treatment [for trauma]. I don't feel like it's necessarily helpful."
Straightening his posture, Hay added, "treatment for me is having a safe place to be able to think."
But that's not possible for him right now.
LGBT youth, like Hay, account for a disproportionate number of the more than 50,000 people living on the streets of Los Angeles, a number that's increasing every day.  And, though the evidence is largely empirical, it is indisputable.
"There's no way of knowing exactly how many (homeless) young people are LGBT. These kids, runaway or throwaway young people, are very vulnerable on the streets," Los Angeles County Supervisor Sheila Kuehl told the Los Angeles Blade.
Still, Hay believes he is self-reliant.
"I'm resourceful, I wanted to be a professional dancer. I would run away from home and go to a dance class," he says proudly and with a beautiful and full smile.
Dance was his solace but for now it is a dream deferred.
"I'm broke, so, as much as I would like to go to a dance class, I have to worry about being able to feed myself, take care of myself, make sure I have clothes on my back," he said flatly.
Hay said he finds the shelters and transitional housing challenging because the collective emotional disturbance is profound. "Other people's mental illnesses make it hard for me because I am going through my own stuff," he said. "It's hard to juggle everyone and having their personality thrown at you on top of having to look for a place."
One agency Hay thought might be a good fit for him was Rapid Rehousing, which helps with the hurdles of finding permanent housing. The agency requires employment, however, a common demand that Hay finds maddening.
"Mentally, I don't feel like I could get a job. I've applied for jobs, you know, but how do you put on a facade that everything is hunky-dory? How do you say 'hey, I'm still going through homelessness and this job is the only source of income I have, so if you guys fire me I have literally nothing,'" he said.
He proudly added, "I'd quit before I tell them what I'm going through"
The city and county of Los Angeles are nearly overwhelmed and non-profits, like the Los Angeles LGBT Center have been operating at full capacity for some time.
The makeshift tent encampment Hay and others live in has become something of a virtual family, with aspirations, dreams, and profound personal stories, enormous insight to offer and even an abiding desire to change the world around them.
"I am not at all surprised to learn that our LGBT homeless youth are forming families; it gives them a semblance of comfort and sense of safety," said Kuehl.
In 2017, the number of people living on the streets of Los Angeles grew to 34,000 people, an increase of 23 percent in one year, according to a recently released report from the Los Angeles Homeless Services Authority. That number grows to 58,000 when you include Los Angeles County.
Los Angeles Mayor Eric Garcetti said, "Our city is in the midst of an extraordinary homelessness crisis that needs an extraordinary response. These men, these women, these children are our neighbors."
Kathen has an almost disarmingly joyous demeanor. At 22 years old, he is one of the oldest members of the tent group. "I go off people's vibe," he says, "I don't really go off a person's gender."
He describes himself as a "stranger and a bit of a random funny guy" and dreams of one day having his own restaurant.
He says his path to near chronic homelessness began five years ago when his stepfather, menacing and knife in hand, demanded he kill himself. Kathen says he never treated him "as his child."
"I was finally fed up with it," he said, adding that he "punched the door completely down — I broke it down — I punched the door completely down" he said, gazing away, tears welling in his eyes as he began to fidget. He paused, then added, "They told me to leave and so I just left, at 17, didn't finish high school. I left when I was in my junior year."
Kathen says he managed to graduate high school. "I want to go to college. I want to be a chef." He wants to own his own restaurant, he says.
When asked if he sees a path to his dream he looked at his hands and winced,  "A path?" Then, looking puzzled, he asked "A path right now?"
"It's crazy because there's so much I need to do for it. First, I need to go to school and then I need to travel. I want to explore the world and learn. Because in my restaurant I want to have a different menu each month and I want to have, like, different ways to cook." He grew excited and added, "I want to learn from people around the world and from different cultures."
Kathen fell in love with cooking while working at a nursing home. "It was fun because, you know, there's over 300 people there. You have to cook for each one individually because of their diet."
"It was fun but it's more by the book. But me? I'm a person who likes freedom and that's why I want to have my own restaurant," he said.
In the meantime, Kathen needs help getting off the streets.
He has been through at least three different programs, including the Los Angeles LGBT Center. "They all give you the same thing," Kathen says, "They tell you to go online and apply for job, but it's, you know….the resources don't help out as much as they should."
When asked how he has been surviving, Kathen said, "right now I am just trying to get some shoes, hustling lately trying to get some food. I sell some clothes. I have my EBT (a food stamp debit card). I sell my tokens…I'd rather walk with money in my pockets than ride the bus or the subway. I have to survive and you have to pay to live in this world."
"I'm pretty sure I can pull myself out of this," he says. But he also sees homelessness as an option when things don't work out. "There's been a couple of times when I chose to be homeless. Like when my stepfather tried to choke me. I chose safety," he said.
Last November, residents of the city of Los Angeles approved a $1.2 billion bond measure that aims to build 10,000 units of permanent housing with support services for the chronically homeless.
In March 2017, Los Angeles County voters, concerned about the growing crisis, approved Measure H, a quarter-cent sales tax increase in Los Angeles County that will help fund anti-homelessness initiatives. It should raise $355 million annually.
LA County Supervisors recently approved a funds allocation strategy focusing on subsidized housing, coordinated outreach and shelters, case management and services, homelessness prevention, income support and preservation of existing housing.
That three-year plan includes $295 million in spending for the first year, $374 million in the second year and $431 million in the third.
"Los Angeles County is responsible for the services portion," Kuehl told the Los Angeles Blade, "but the sales tax increase is not available to us quite yet. We will loan some funds to the Measure H pot until the tax is in place, collected and available." The tax is set to begin Oct. 1.
The loan against future tax revenues will allow some programs to begin implementation — programs that have been shown to make a difference.
One of those programs makes it possible for seamless transitions from shelter to shelter and program to program. "We also have a coordinated outreach program that helps homeless people more easily access services and housing," she said.
Jasmine, 20, who is transgender and prefers to be called Jazzy, says she likes to stand up for what's right.
Wearing a neon pink Pride T-shirt, a yellow Pikachu hat and sporting pink and blonde curls, Jazzy is poised beyond her years and possesses a passion that is clear the moment she engages you.
"I am a person who is fearless, brave and who hurts when other people can't stand up for themselves," she said with an edgy certainty.
As an 8-year-old, Jazzy says she "was picked up and thrown through a plate glass window in my own bedroom." Shortly after that she was placed in foster care and was eventually moved to group homes until she turned 18.
She aged out of the system and found herself living on the streets. Upon leaving the system, she was told of benefits that might be available, but when attempting to access them she says she was denied.
Today, Jazzy claims the only thing she is eligible for is "a TAP card to get where I need to go."
Jazzy wanders the streets "until I can't wander no more" during the day, often looking for a safe place to sit and a place to sleep at night. "During the nighttime you just gotta find a place that looks like it's not being, like, we are barred or a risky place where you will be arrested. You just gotta find a place to lay your head down on the sidewalk or grass," she says. "You just have to find a place."
"I'm not eligible for food stamps," claims Jazzy who says, "we rely on what random good people bring to the park. Or people from the neighborhood who say, 'hey, would you guys like this?' And they bring pizza. Today some guy brought two boxes of baked beans popped into chips. He said 'we want you guys to stay healthy' There's good people like that," she said.
Jazzy wants people to know that she and her friends have been on waiting lists for months and months to get housing from various services around Los Angeles. "We still have to inch up the list," she says.
The years on the street have not broken Jazzy and she still has a dream: "My passion is tattoos and piercing. I fell in love with tattoos and piercing by the age of 9. I gave my first professional tattoo at age 16. My passion. I don't care. I'll do it for the rest of my life."
Most shelters allow for only a temporary stay and most programs offer short-term services.
Kuehl points to the numbers of people housed in the last year — 14,000 people she said "were taken off the streets last year and housed or given shelter. And even though the problem has grown, that's an achievement."
"One of the biggest contributors to the homeless crisis here is the ability of landlords to raise the rents to market level whenever there's a vacancy or at the end of a lease. No rent control in most cities means your landlord can literally show up at your door and tell you your rent is going to double and you have no recourse."
Harvard University recently reported that 58.5 percent of renters in Los Angeles are "burdened," with more than 30 percent of their income going to rent.
When he turned 18, Kyle, now 22, jumped on a bus in Chattanooga, Tenn., and made it all the way to LA without so much as a bus ticket. "I literally snuck on a Greyhound and rode in the back."
"LA is where it's at if you are gay, you know. It's easy to be here because everybody accepts you for who you are," he says. In Tennessee, Kyle says he was "shot at, stabbed, had dogs go after me and everything so I just got on a Greyhound and left."
He's been homeless since. LA has "been alright I guess," he says with discouragement written on his face. Still, he persists.
Pulling himself out requires a job, something that has so far proven difficult for Kyle. For now the only money he has is what he is able to get by asking for change on Hollywood Boulevard.
Like others, Kyle is paralyzed by the idea of employment while homeless. He had a job that was helping him pay for cosmetics school, but decided to quit both. "I quit. It's hard to wash your clothes every day and not have a place to wash them. You know, trying to keep your phone charged so you can get up in the morning or worrying about smell. 'Do I stink?'
"Working with the public [while homeless] is a lot harder than people think," he says.
Kyle spends his days either on Hollywood Boulevard or at the LGBT Youth Center where he once lived. "I'm just there I'm trying to get into the center but it's harder because I've already been in there once and it's harder to get in there a second time," he says.
When asked why he doesn't just return to Tennessee, his eyes tear up, he bites his lip and looks afraid. "That's not where my heart is. Being raised in the Bible Belt and being called 'faggot' … I don't want to deal with that."
Kyle feels though "some days are harder than others…here, at least there are people like me and I don't have to be alone."
He is hopeful he can turn his situation around but for the moment, he is living on the sidewalk in a tent. "I don't want to do this the rest of my life."
The LGBT youth featured in this issue of the Los Angeles Blade have extraordinary stories of displacement. Some of them have never known a home. Under the most difficult circumstances, some are fighting addiction and some, but not all, are succumbing to it. Some are joyous and determined, while others are bereft and broken. All of them feel they've fallen through the cracks of a broken system. None of them feel they are being heard.
We thought you should meet them.  And we urge you to take action.
NOTE:
At the request of the youth, no women are featured in this article. The community was very clear about their desire to protect their lesbian and trans members, one of whom was recently raped and stabbed.
Since this article was written, the police busted the community up but they regrouped one block away and some have found shelters.  However, with new members, their numbers swelled recently to more than 50.
Dedication:  This article is now dedicated to the memory of Carol Singleton, who eased an intense period of rejection and abuse I faced as a child.  Her love helped me adjust and survive, preventing me from running away. Just showing love can prevent homelessness in youth.
Supervisor Hahn to host Downey & Long Beach vax pop-ups
"This vaccine is critical to keeping people safe from the MPOX virus and I want to make it as easy as possible for people to get vaccinated"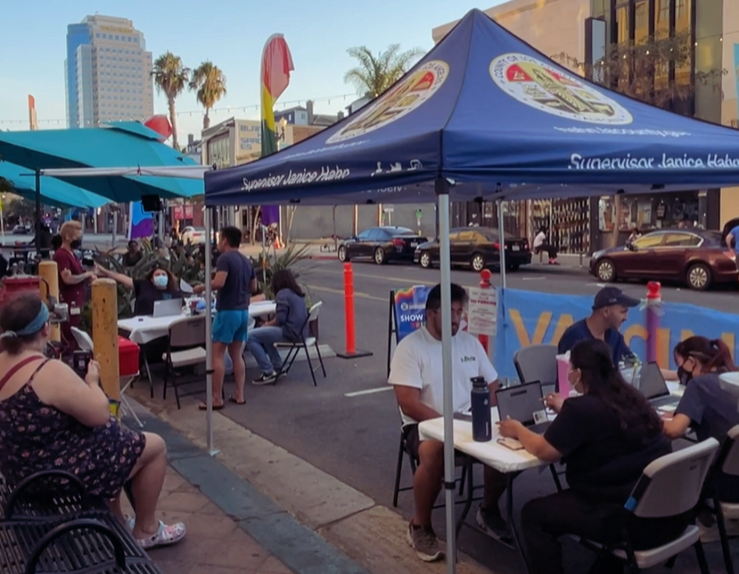 DOWNEY, Ca – Los Angeles County Supervisor Janice Hahn will host a series of Mpox vaccine pop-up clinics outside of bars in Downey and Long Beach this coming weekend. These follow a successful Mpox vaccine pop-up that the Supervisor held outside of Hamburger Mary's in Long Beach earlier this month, where 67 people received a dose.
"This vaccine is critical to keeping people safe from the MPOX virus and I want to make it as easy as possible for people to get vaccinated," said Supervisor Hahn. "I am partnering with the LA County Department of Public Health, Long Beach Public Health, and the City of Downey to bring these pop-up vaccine clinics to places where people spend their free time and that are considered safe spaces by the LGBTQ+ community."
Muevelo Fridays is an LGBTQ+ Latino dance party held once a week at The Epic Lounge in Downtown Downey. Falcon and Falcon North are well-established bars serving Long Beach's LGBTQ+ community. The Falcon is located on East Broadway, home to several other gay bars that attract people from across the region.
"We appreciate that the Supervisor listens to community concerns, especially when it comes to public health, and we're grateful that she's using her resources at the county level to bring the mobile testing unit to Downey," said Downey Councilman Mario Trujillo, who worked with Supervisor Hahn's office to bring the pop-up to Downey on Friday. "We invite Downey residents and residents from surrounding communities to take advantage of the unit that's being brought locally for their benefit."
The vaccine pop-ups are carried out using a cargo van mobile unit. Supervisor Hahn purchased one of these mobile vans to bring COVID-19 vaccines to communities across her district.
On-site vaccination staff are employees of the Los Angeles County and Long Beach public health agencies.             
What:  Supervisor Janice Hahn Mpox vaccine pop-ups
Details:
Friday, September 23, 8pm to 10:30pm
Muevelo Fridays
The Epic Lounge
8239 2nd St., Downey, CA 90241
Saturday, September 24, 8pm to 12am
Falcon
1435 East Broadway, Long Beach, California 90802
Sunday, September 25, 5pm to 9pm
Falcon North
2020 East Artesia Boulevard, Long Beach, California 90805
Racial disparities persist in monkeypox outbreak
With the racial disparity ongoing, health observers say additional efforts are needed to reach out to marginalized communities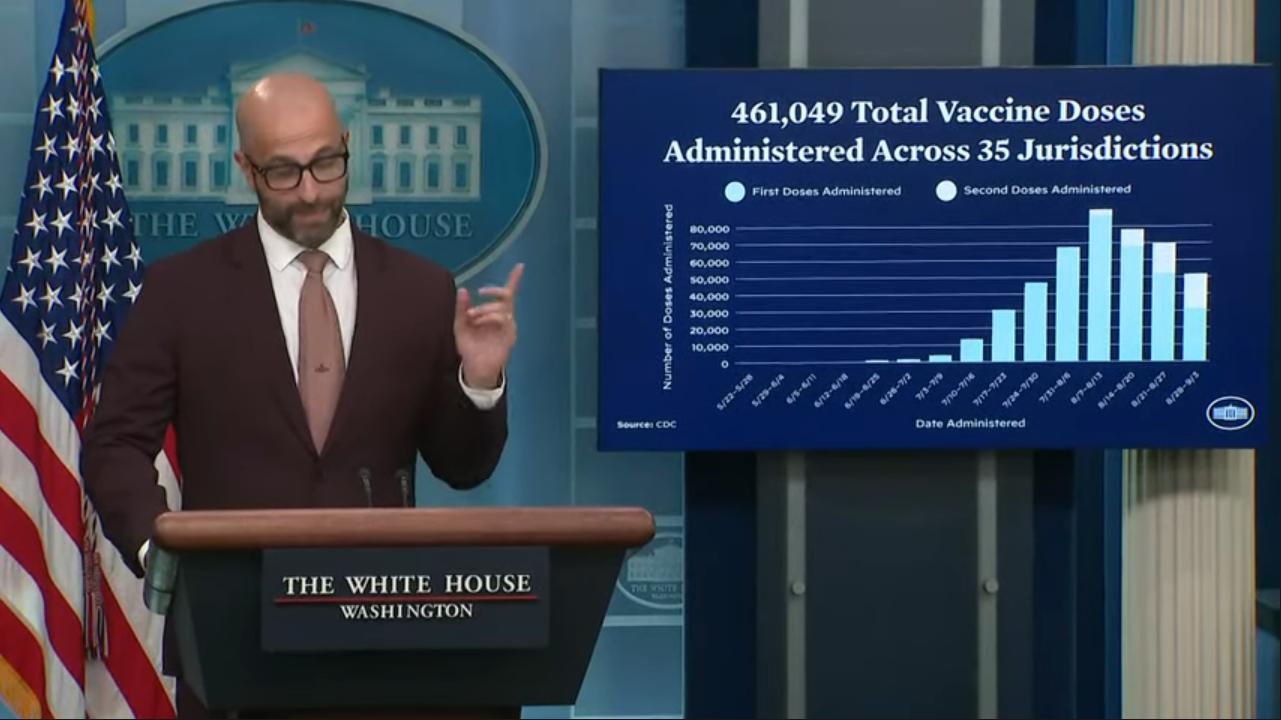 WASHINGTON – Racial disparities persist in response to the monkeypox outbreak as the numbers of Black and Latino men contracting the disease are now disproportionately high, but that inequity is getting new attention as overall cases drop.
Although overall new cases in the monkeypox outbreak are steadily on the decline after numbers peaked in the summer, a growing share of the continuing numbers belong to men who have sex with men who are racial minorities.
The latest numbers show the racial disparity dramatically. In the week of Sept. 4, Black people consisted of 41 percent of the cases and Latinos consisted of 27 percent, while 26 percent were white and three percent were Asian, according to data from the Centers for Disease Control.
Black people among the new cases of monkeypox were much smaller when numbers were first reported earlier in the summer. For example, the percentage was 18 on June 22 and as low as 8 percent June 8. The percentage of Latinos, as with white people, has been on the decline, although they're still overrepresented in new cases in the context of their demographics in the U.S. population at large.
The disproportionate impact of new monkeypox cases on racial minorities hasn't gone unnoticed. As a result, health officials are attempting to shift the focus of the monkeypox outbreak away from gay and bisexual men and other men who have sex with men more broadly and more toward men of color who are sexual minorities.
Sean Cahill, director of health policy research at the Boston-based Fenway Institute, said in an interview with the Washington Blade the racial disparities in the monkeypox outbreak are largely the result of Black and Latino men being "less likely to get vaccinated than their proportion of the population."
"So they're more vulnerable to monkeypox, and they're less likely to get the vaccine," Cahill said. "So that's a real problem, and it's really critical that you know, federal, state and local partners come together and really center equity in the response and try to reduce the burden on Black and Latino gay men, but also increase access to the vaccine to ensure that people can protect themselves."
The Fenway Institute last week issued a blueprint calling for a more effective federal response to monkeypox, accusing the U.S. government of failing to effectively mobilize existing public health infrastructure to aid communities affected by the virus. The document outlines a range of possible actions, but also concludes marginalized communities are having difficulty accessing vaccines and treatments, which are concentrated at well-resourced institutions less accessible to communities of color.
Cahill, asked to characterize whether the numbers demonstrating racial disparity have changed over time or have remained stagnant, said any trends are difficult to determine because the data on racial demographics has been available only recently and "it's very imperfect data."
"I don't know if it's getting worse or better, the disproportionate racial ethnic impact," Cahill said. "But it's definitely there, and it doesn't seem to be going away."
The Biden administration, while touting the 20 percent decline in overall cases in the monkeypox outbreak, has also started to recognize the continued disproportionate impact of monkeypox on Black and Latino men who have sex with men.
Rochelle Walensky, director for the Centers for Disease Control & Prevention, said during a conference call with reporters the U.S. government approaches the decline with "cautious optimism."
"Over the past several weeks, we have also seen the racial and ethnic makeup of this outbreak evolve," Walensky said. "While monkeypox cases were first seen predominantly in non-Hispanic white men, in the last week, among the cases for which we have race and ethnicity data, non-Hispanic Black men represented 38 percent of cases, Latino or Hispanic men represented 25 percent of cases, and non-Hispanic white men represented 26 percent of cases."
Among the efforts the Biden administration has undertaken is a pilot program for vaccines reserved for large events and equity. Monkeypox vaccines have been administered to more than 10,000 people, including at Southern Decadence in New Orleans, Atlanta Black Gay Pride, Charlotte Pride, Boise Pride Festival, and Oakland Pride and Pridefest.
Dr. Demetre Daskalakis, the face of LGBTQ outreach for the Biden administration in monkeypox efforts and deputy director the White House monkeypox task force, was among those promoting the pilot program in equity efforts during a conference call with reporters.
"Health departments will use their local experience and connection to the community to identify hyperlocal strategies to improve vaccine access to communities of color, specifically those that are overrepresented in this outbreak," Daskalakis said.
David Johns, executive director of the National Black Justice Coalition, said in the racial disparities in the monkeypox outbreak are consistent with other trends in public health.
"There have been so many opportunities to learn ways to address health inequities before they grow," Johns said. "That Black people continue to be disproportionately impacted by this newest health epidemic is additional evidence of how white supremacy works and the importance of democratized responses to crises."
Biden health officials, asked by the Washington Blade during the virtual meeting why the administration's stated goal of equity in managing the monkeypox outbreak isn't producing racial equity among new cases, restated their efforts and talked about the difficulty in achieving that goal.
Walensky, who has also had a lead role in the Biden administration combating the coronavirus pandemic, said racial disparities in the monkeypox outbreak "is not uncommon for many infectious diseases, quite unfortunately," and defended the U.S. government's approach to monkeypox.
"And it is exactly for these reasons why we started on these pilot projects before we even saw the shifts in data, as that is often the case in infectious diseases that we have more vulnerable population — racial and ethnic minorities — who are most impacted later on," Walensky added. "And so, we anticipated this. We have embarked on these activities to address this in exactly this moment."
Daskalakis, following up in defense of the Biden administration's efforts on equity, said he's "spoken to providers on the ground and also promoters at these events who have noted that this effort is really unprecedented in terms of reaching deeply into these communities."
"I think all of our commitment in the administration is to really focus efforts on equity to resolve the issues that we're seeing. It is a hard effort and it's a challenge," Daskalakis added. "And I think that the way to address equity is intentionally, and this is an example of intentional work to address equity."
With the racial disparity in the monkeypox outbreak ongoing, health observers say additional efforts are needed to reach out to marginalized communities to ensure they have access to public messaging and vaccinations.
Cahill said although people of color in urban areas go to LGBTQ centers to receive health care, many of them are also getting care through other facilities that aren't LGBTQ-specific, such as emergency rooms and urgent care clinics .
"I think providing some training and technical assistance to those healthcare organizations in how to provide affirming care to bisexual men could be an important approach and could make it so that people might be more likely to disclose same-sex behavior in those contexts," Cahill said.
LA County Public Health confirms first death due to Monkeypox
The patient was severely immunocompromised & hospitalized. To protect confidentiality & privacy additional information won't be made public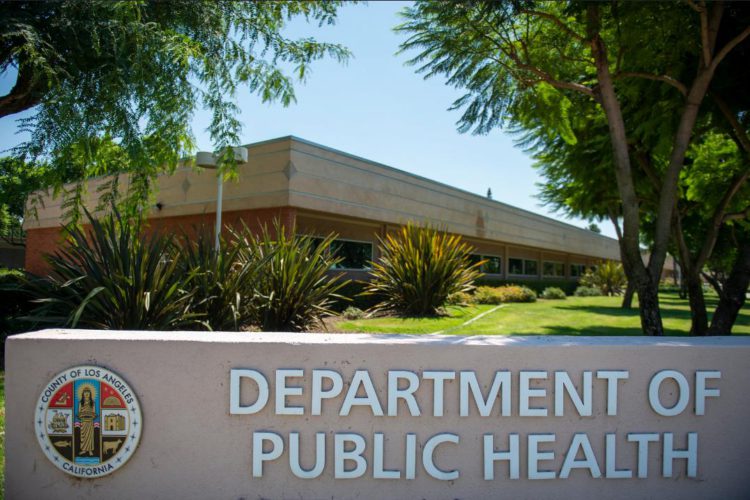 LOS ANGELES – In a press statement issued Monday afternoon, the Los Angeles Department of Public Health, along with the Centers for Disease Control and Prevention (CDC), has confirmed the first death due to monkeypox in a Los Angeles County resident.
According to the statement the resident was severely immunocompromised and had been hospitalized. To protect confidentiality and privacy, additional information on this case will not be made public the statement added.
LA County Public Health Chief Medical Director Rita Singhal had told reporters last week during a briefing that this second possible death from monkeypox in the U.S. was under investigation.
In the first case, NBC News reported that in late August, the Texas Department of State Health Services reported that a person diagnosed with monkeypox in the Houston area had died. The patient was described in a statement as "severely immunocompromised."
The role of monkeypox in the patient's death was under investigation, Texas officials said at the time.
The Centers for Disease Control and Prevention said Friday that a case analysis found that 61% of people in the U.S. who have developed monkeypox also had HIV or another sexually transmitted infection or disease.
Monkeypox cases data in LA County as of September 9, 2022 showed 1,836 cases which included the cities of Long Beach and Pasadena which have separate health departments.
Los Angeles County (excl. Long Beach and Pasadena)1,722, Long Beach 92, and Pasadena 22.