VIDEO: Caitlyn Jenner's continued support for Trump draws activist rage
Jenner was attending a Trans Chorus of Los Angeles event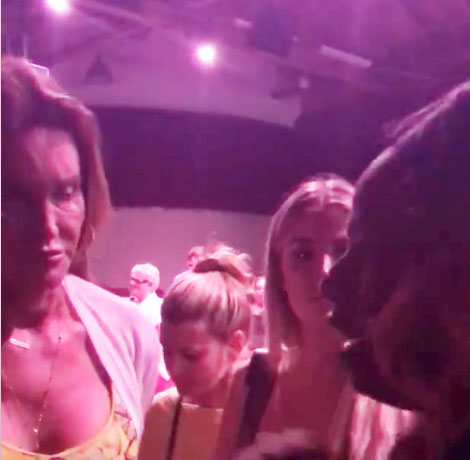 Caitlyn Jenner may wish she'd stayed home last night.
At a Trans Chorus of Los Angeles performance of "The Rise and Fall of Ziggy Stardust and the Spiders from Mars," leading Los Angeles transgender activist and Editor in chief of Wear Your Voice, Ashlee Marie Preston confronted Jenner for her continued support of Donald Trump.
The Saturday Aug. 26 event, sponsored in part by a cash donation from Jenner, was held at the Los Angeles LGBT Center less than 48 hours after Donald Trump made official a ban on transgender military service members.
The LGBT community is deeply outraged and Jenner's high profile early support for Trump has not been forgotten, even though she recently expressed her own disappointment. She has written several articles and many social media posts expressing her disappointment.
On her initial approach, Caitlyn tried to greet Preston with a hug and kiss but instead, she met resistance.
"It's really fucked up that you are here," Preston told a stunned Jenner. "Some people may be afraid to confront you for being here, but I am not."
"You are directly responsible for what has happened with transgender soldiers and the military. I am not afraid to say it to you, I am not. I am not afraid." she said.
Members of Caitlyn's entourage moved to end the confrontation and a member of the chorus' board, co-chair Dena Williams, tried to prevent the situation from escalating. "We can end this," she said. But Preston pushed. "You are complicit! Taking her money…makes you complicit. It goes against the mission (of the chorus), Dena!," said Preston.
Caitlyn stood stoically listening during the encounter and refused to leave when her entourage and security urged her to.
"We are the ones impacted by the choices that you make…it's not okay," Preston, animatedly told Williams "It's not ok, it's not ok," she repeated.
At that point Jenner demurely said "You don't know me." Preston expressed rage that Jenner was glossing over a well known record of support for Donald Trump and his policies. "Yes I do! We all do! You are a fraud!"
Jenner walked away at that point and left the event.
Preston turned her rage  to Williams: "I thought you were better than that. I'm really disappointed, really disappointed."
Preston drew instant praise on Facebook:
"Yes, Ashlee Marie Preston! Way to stand up to the hypocrisy! This is exactly the issue I was thinking of a couple of minutes ago when you told me about immigrant enablers of 45 that you know, Rey, and wondered how they must make you feel. It's so wrong. Good for Ashlee for drawing the line!," wrote Ernestina Osorio.
Robert Rumsey wrote, "Watching that woman protect Caitlyn made me so angry. Our communities tutorial on the LGBTQ community for Caitlyn already ended. We don't need to protect her. More people need to confront her. I salute you and would expect nothing less. You were honest and didn't resort to using them hands."
The Los Angeles Blade was unable to reach Jenner or Williams for comment.
Preston recently resigned Trans Chorus of Los Angeles in protest, citing "executive decisions such as the one made tonight," she told The Los Angeles Blade.
Blinken: PEPFAR shows 'what American diplomacy can do'
Secretary of state spoke at World AIDS Day event in D.C. on Friday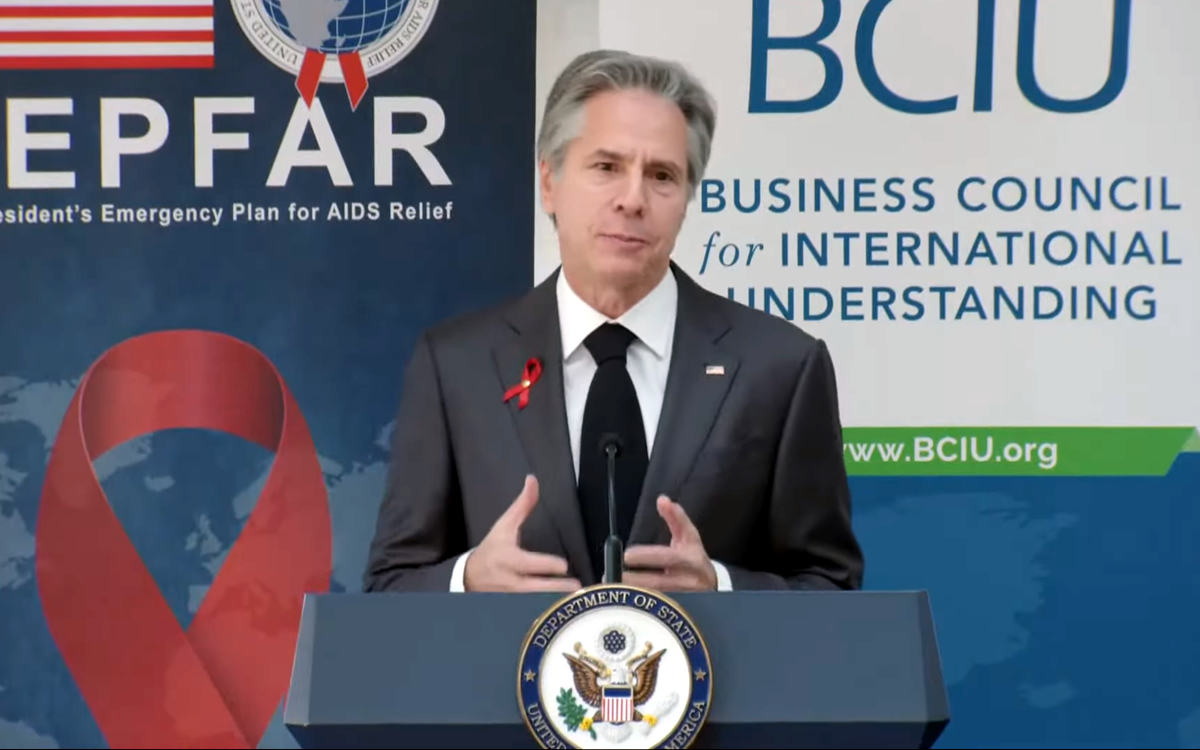 WASHINGTON — Secretary of State Antony Blinken on Friday noted the President's Emergency Plan for AIDS Relief has saved more than 25 million lives since its launch in 2003.
Blinken, who spoke at the Business Council for International Understanding's World AIDS Day event at the Hay-Adams Hotel in D.C., said the more than $100 billion the U.S. has earmarked for PEPFAR over the last two decades has funded 70,000 new community health clinics, 3,000 new laboratories and the hiring of 340,000 health care workers.
"Entire public health systems formed, with over a dozen countries which have either reached their HIV-treatment goals or managed control of the virus altogether," said Blinken.
Then-President George W. Bush in 2003 signed legislation that created PEPFAR. California Democrat Barbara Lee, members of the Congressional Black Caucus and Dr. Anthony Fauci, the director of the National Institute of Allergy and Infectious Diseases and chief White House medical advisor who is retiring at the end of this month, are among those who played a key role in PEPFAR's creation.
"PEPFAR has benefitted from bipartisan support, as we've heard, across four presidencies, across ten Congresses," said Blinken. "It's resulted in an investment of more than $100 billion to the global HIV/AIDS response. This is the largest commitment by one country ever to address a single disease."
Lee and Fauci were among those who attended the event alongside U.S. Global AIDS Coordinator John Nkengasong; Assistant Health Secretary Rachel Levine; Dr. Deborah Birx, the former White House Coronavirus Response Director, and HIV and Hepatitis Policy Institute Executive Director Carl Schmid.
Blinken in his speech noted "the systems put in place by PEPFAR have become an integral part of the health security architecture of countries around the world."
Blinken also said PEPFAR has bolstered responses to COVID-19, Ebola and the avian flu.
"We are continuing to build on PEPFAR's many successes to create a stronger global health security architecture to prevent, to detect, to respond to future health emergencies. Doctor Fauci, you once said that PEPFAR 'shows what the goodwill of a nation can do,' and you were right," said Blinken. "PEPFAR also shows us what American diplomacy can do: Bring together governments, bring together the public and private sectors, communities to tackle challenges that none of us can actually effectively deal with alone and that creates and has created a healthier, safer and ultimately more secure world."
Five-year PEPFAR strategy to target LGBTQ+ people
Blinken acknowledged there is still "very serious work still required for us to end the global HIV health epidemic by 2030," noting HIV/AIDS continues to disproportionately impact LGBTQ+ and intersex people and other marginalized groups.
"Too many countries still have fragile and insufficiently resourced public health systems, which makes it difficult to offer services beyond HIV/AIDS treatments, and that undercuts our capacity to respond to emerging threats," he said.
Blinken noted the U.S. on Thursday announced a new PEPFAR strategy that will help "fill those gaps" over the next five years. It includes the following:
• Targeted programming to help reduce inequalities among LGBTQ+ and intersex people, women and girls and other marginalized groups
• Partnerships with local organizations to help reach "hard-to-reach" communities.
• Economic development and increased access to financial markets to allow countries to manufacture their own antiretroviral drugs, tests and personal protective gear to give them "the capacity to meet their own challenges so that they're not dependent on anyone else."
"This latest PEPFAR strategy will keep making advancements like that possible so that millions more people can live healthy lives and live lives to their full potential," said Blinken.