Black Gay LA Crystal Meth Task Force to Meet Sept 13
Gemmel Moore has become the face of the crystal meth epidemic in the black gay community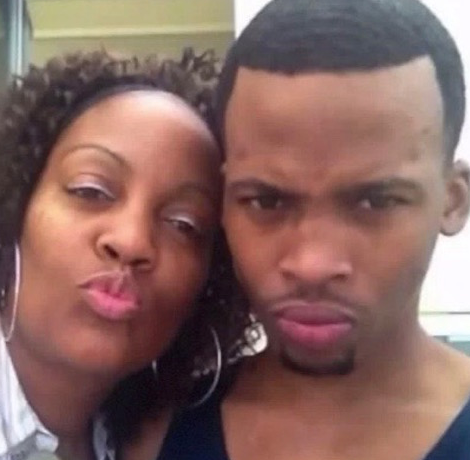 One potentially life-saving outcome of the tragic death of Gemmel Moore last July is the burst of awareness about the silent crystal meth epidemic in Los Angeles' black gay community. On Sept. 13, black gay and addiction recovery advocates will hold the first community South Los Angeles Crystal Meth Task Force, hosted by the AMAAD Institute, to focus on community engagement, prevention and addiction intervention for the LGBTQ community.
Moore, 26, was found dead of what the LA coroner originally determined was an accidental fatal overdose of crystal methamphetamine July 27 in the West Hollywood apartment of gay Democratic activist donor Ed Buck. Though investigators initially found nothing suspicious about the circumstances of Moore's death, Sheriff Jim McDonnell ordered a follow-up investigation "out of abundance of caution" after pleas from Moore's mother LaTisha Nixon and local activists for a "thorough investigation."
On Aug. 31, activist attorney Nana Gyamfi announced in a press release that the L.A. County District Attorney's Office agreed to provide "a binding written agreement of immunity" to "several" black men who she claims have come forward to tell stories similar to the story Moore wrote about in a journal last year about his sex work and meth use with Buck. In an email response for confirmation of DA Jackie Lacey's alleged immunity agreement with Gyamfi, DA spokesperson Shiara Davila-Morales wrote: "Regarding your pending query, we politely decline to comment."
It is not unusual that the DA's office would "decline to comment" in an ongoing investigation, but it is unusual for an attorney to make such an announcement, which could imply some sort of criminal culpability on the part of her client(s). But the Aug. 31 press release does not clearly indicate who she represents, only that she will "work with each victim" before they give their statement to the detective from the Robbery/Homicide Bureau in charge of re-examining the case. She does not indicate what type of immunity has been granted—whether it is blanket immunity covering any possible outstanding warrants or immunity limited to any potential crimes related to prostitution and meth use.
To the Blade's knowledge, there is no information or evidence yet that the detective is pursuing "criminal charges against Ed Buck for the murder of Gemmel," as Gyamfi states in the press release. Gyamfi did not respond to a request for comment. Sheriff's Department spokesperson Sgt. Boese told the Blade there is no update in the case.
If DA Lacey has granted immunity to "several" men for their stories about their experiences with Buck, that is a positive development for Nixon and her supporters who pressed for immunity, feeling that young black gay men have been victimized by both Buck and a system that has not listened to them. Additionally, the case has exposed sexual practices that may be familiar to gay men but are now front and center in community discussions about sex, race and drugs in the gay community.
Determined to not let Moore's death be in vain, on Aug. 22, Jeffrey King, founder and Executive Director of In The Meantime Men's Group, held an emergency town hall meeting to pay respect to Moore's life and "to shed light on the devastating impact of Crystal Meth. Our intention was to call for a State of Emergency and to foster solutions from within the community."
Kings says about 100-150 people attended. After cathartic sharing about Moore and personal stories about substance abuse, the attendees shifted to talking about what they could do. King reports that there were two additional overdose deaths related to crystal meth in the two-week period around Moore's death. What is not known about crystal meth is the long-term damage done to the body and brain (see the LARG section on the In The Meantime Men website) and how quickly an overdose can lead to death if the user has other health issues.
From The Addictionblog: "[M]eth users can take a lethal dose and not realize it right away. But in general, meth overdose is characterized by physiological deterioration, eventually leading to a heart attack or stroke. Further, meth should not be used by people with heart, thyroid disorders and diabetes, because these chronic conditions may lead to sudden death….Because of rapid onset, death proceeds suddenly and unexpectedly after a meth OD. Many fatalities usually manifest symptoms of coma, shock, inability to pass and secrete urine, and muscle twitching. Emergency department visits due to meth overdose have been up to 130,000 per year, out of which almost 15% were fatalities."
King says that while everyone is welcome to attend the South LA Crystal Meth Task Force meeting—"addiction is addiction"—the focus will be on the meth epidemic in communities of color.
Though the Task Force will develop and provide culturally competent experts and resources for people of color battling addiction, the group will also be inclusive, King says. For instance, Kathy Watt, the white long-term director of the LGBT-oriented Van Ness Recovery House, was a panelist at the town hall meeting and has agreed to be on the Task Force as an expert. Also agreeing to serve on the Task Force are Pastor Curt Thomas, Senior Pastor of the Renewed Church of Los Angeles and Lynwood Patterson, a licensed clinical social worker at the LA LGBT Center, among others.
The meeting will be held Wednesday, September 13, 7:00pm-9:00pm, hosted by Carl Highshaw, Founder and Executive Director of the AMAAD Institute, (Arming Minorities Against Addiction and Disease Institute), which is located at 10221 S. Compton Ave, Suite #105, Los Angeles CA 90002, (Onsite Parking). If you are interested, please contact In The Meantime @ 323-733-4868 or call (323) 569-1610.
Below are Community Recommendations that Task Force is expected to discuss:
1. Provide trainings and educational opportunities in the public-school system starting with grade school, middle school and high school youth that will educate them about addiction and recovery.
2. Develop community based interventions that include addiction/recovery education while promoting individual and collective liberation and self/community-affirmation.
3. Develop a community social marketing campaign with a global mantra that mirrors, 'If you see something say something.' Better utilize social media to engage and educate the broader community about addiction and recovery.
4. Develop and support recovery panels and forums that engage individuals in the recovery community while providing them with a platform to share their stories outside of the rooms of recovery.
5. Hold agencies and organizations accountable for the delivery of client centered services they are funded to delivery. Insure that recovery and treatment funding makes it to the people best suited to facilitate work in communities of color.
6. Develop and support panels and community forms/ educational outlets to educate the broader community about the world of survival sex as an issue that intersects race, homophobia, education, incarceration and sexual orientation.
7. Explore current policies surrounding the issues of substance abuse/ addiction and compile a listing of legal services that will investigate cases that are addiction related.
8. Develop a taskforce/ working group for LGBTQ communities of color and support increased outreach and educational opportunities.
9. Work directly with elected officials to task relative to policy development and reform and the distribution of local funds to support a LGBTQ Crystal Meth/ Substance abuse Taskforce. Call for a state of emergency.
10. Compile a data base of substance abuse resources that are LGBTQ affirming to include the Cities new 24- hour toll-free number.
11. Promote, develop, and equipt LGBTQ specific safe spaces where individuals can access social support and other services to include substance abuse counseling and treatment.
12. Develop a strategy to make mentorship/ recovery specific sponsorship more easily accessible to the general public.
13. Explore that intersections of mental health treatment and substance abuse recovery.
14. Explore and provide increased educational opportunities to better understand the multiple pathways to addiction recovery.
15. Seek ways to link the LGBTQ taskforce to the broader recovery community.
16. Engage the Taskforce in an ongoing think tank process to develop and much fuller LGBTQ and broader community based mobilization effort. Community to include entertainment industry, local business, community based CBO, faith based communities, etc.
17. Initiate a call to action/ State of Emergency
18. Identify already existing taskforces and groups to partner with in coalition.
19. Advocate for affordable and accessible housing for at -risk LGBTQ youth.
Bank of England and British Intelligence Pride Month tributes to Alan Turing
"Though we should never forget the tragedy of his life being cut short, we should always endeavour to learn from his legacy."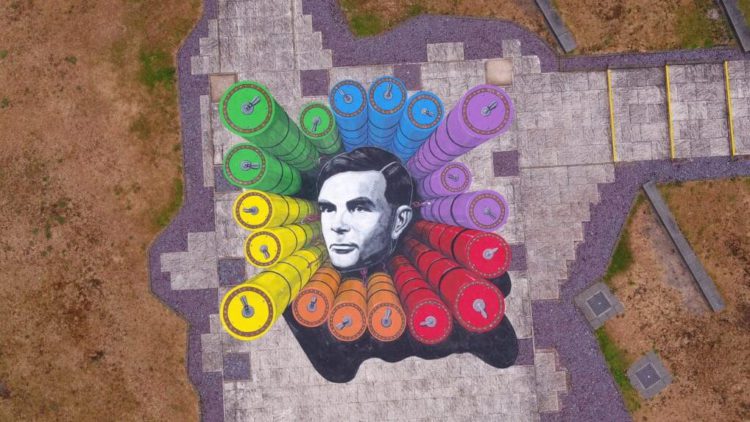 LONDON – He was quirky, aloof and in the modern vernacular just a tad bit weird. A mathematical genius whose ground breaking work in the art of 'the maths' and what later became known as computer sciences led to the Allied Victory in Europe over Nazi Germany- and Dr. Alan Turing was gay.
It was his sexual orientation that led to his loss of his career and then upon conviction for breaking British laws against homosexual acts- "gross indecency" a criminal offence in the UK he was prosecuted for in 1952. He died in 1954, 16 days before his 42nd birthday after committing suicide.
In 2009 then British Prime Minister Gordon Brown made an official public apology on behalf of the British government and people for "the appalling way he was treated," followed by Queen Elizabeth II granting him a posthumous pardon in 2013.
Turing was for decades one of the unsung heroes of Bletchley Park and the codebreakers who were able through the first systematic electronic method cracked Germany's infamous Enigma machine's encoded messages.
Some historians estimate that Bletchley Park's massive codebreaking operation, especially the breaking of Kriegsmarine's U-boat fleet's Enigma codes, shortened the war in Europe by as many as two to four years. If U-boat Enigma had not been broken, and the war had continued for another two to three years, a further 14 to 21 million people might have been killed.
There are those who claim that he stands alongside British Prime Minister Winston Churchill, General of the Army and Allied Supreme Dwight David Eisenhower, and others of the wartime principals as a leading figure in the Allied victory over Hitler. There should be a statue of him in London among Britain's other leading war heroes they say.
Instead of a statue though, on the 109th anniversary of his birth in London this past Wednesday June 23, the Bank of England's newly-designed £50 note featuring the portrait of Turing entered circulation.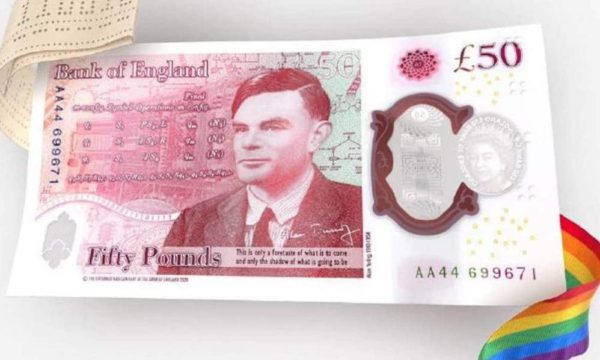 It's here! Today we have issued the £50 note featuring computer scientist Alan Turing.

Find out more about the new note and its features: https://t.co/nbOlU9kgCU #TheNew50 pic.twitter.com/Ipw8nQGBwJ

— Bank of England (@bankofengland) June 23, 2021
But the likely the best tribute during this Pride Month 2021 however, came from the descendent of the wartime Government Code and Cypher School that Turing and the Bletchley Park codebreakers worked under, now known as the Government Communications Headquarters, commonly referred to as GCHQ.
The 10 by 10 metre rainbow artwork was created by artist Joe Hill in consultation with staff from GCHQ's Pride network, and has been installed in the centre of the GCHQ hub in Benhall, Gloucestershire, which is known as the Doughnut.
The work features a portrait of Turing, surrounded by wheels from the British Bombe, the machine he designed to break the Enigma code at Bletchley Park. The artwork also includes 15 hidden codes.
The piece will not remain permanently at the intelligence agency, but will be donated to organisations chosen by GCHQ's Pride Network.
"Alan Turing is a role model for many here at GCHQ and a global icon as an LGBTQ+ person in the field of science and technology," GCHQ's Pride Network said in a statement released Wednesday. "Though we should never forget the tragedy of his life being cut short, we should always endeavour to learn from his legacy and create a safer and better future for LGBTQ+ people."
Leaders of 17 EU countries urge bloc to fight anti-LGBTQ discrimination
Hungary lawmakers last week passed another homophobic, transphobic bill
BRUSSELS — The leaders of 17 European Union countries have signed a letter that urges the EU to fight anti-LGBTQ discrimination.
Politico reported Belgian Prime Minister Alexander De Croo, Danish Prime Minister Mette Frederiksen, German Chancellor Angela Merkel, Estonian Prime Minister Kaja Kallas, Irish Taoiseach Micheál Martin, Greek Prime Minister Kyriakos Mitsotakis, Spanish Prime Minister Pedro Sánchez, French President Emmanuel Macron, Italian Prime Minister Mario Draghi, Cypriot President Nicos Anastasiades, Latvian Prime Minister Krišjānis Kariņš, Luxembourgish Prime Minister Xavier Bettel, Maltese Prime Minister Robert Abela, Dutch Prime Minister Mark Rutte, Finnish Prime Minister Sanna Marin and Swedish Prime Minister Stefan Löfven signed the letter ahead of an EU summit in Brussels. Austrian Chancellor Sebastian Kurz is also a signatory.
The EU heads of state signed the letter a week after Hungarian lawmakers approved a bill that would ban the promotion of homosexuality and sex-reassignment surgery to anyone under 18.
The European Commission on Wednesday said it would seek to block the measure. European Commission President Ursula von der Leyen described it as a "shame."
"This bill clearly discriminates against people on the basis of their sexual orientation and it goes against all the values, the fundamental values of the European Union and this is human dignity, it is equality and is human fundamental rights, so we will not compromise on these principles," she said.
"I will use all the powers of the European Commission to ensure that the rights of all EU citizens are guaranteed, whoever you are and wherever you live," added von der Leyen.
This Hungarian bill is a shame.

It discriminates people on the basis of their sexual orientation & goes against the EU's fundamental values.

We will not compromise.

I will use all the legal powers of @EU_Commission to ensure that the rights of all EU citizens are guaranteed. pic.twitter.com/RzWPpue0CD

— Ursula von der Leyen (@vonderleyen) June 23, 2021
Hungarian Prime Minister Viktor Orbán rejected the criticisms.
"The recently adopted Hungarian bill protects the rights of children, guarantees the rights of parents and does not apply to the sexual orientation rights of those over 18 years of age, so it does not contain any discriminatory elements," his government said in a statement, as France 24 reported.
Orbán and members of his ruling Fidesz party in recent years have moved to curtail LGBTQ rights in Hungary.
Hungarian lawmakers late last year approved bills that effectively banned same-sex couples from adopting children and defined marriage as between a man and a woman. A measure that bans transgender and intersex people from legally changing their gender passed in the Hungarian Parliament in April 2020.
Munich's Allianz Arena sought to illuminate the stadium in rainbow colors during a Euro 2020 match between Hungary and Germany as a way to protest the latest anti-LGBTQ bill to pass in the Hungarian Parliament. The Union of European Football Associations, which is European soccer's governing body, rejected the request.
ILGA-Europe in a statement it sent to the Los Angeles Blade on Thursday notes both Hungary and Poland, another EU country in which lawmakers have sought to restrict LGBTQ rights in recent years.
"For quite some time now, we've been informing EU ministers about systematic breaches of EU law committed by Hungary and Poland, which impact on LGBTI rights and the lives of LGBTI people," says ILGA-Europe. "This week's developments seem to suggest that the European Commission and a number of member states finally heard that call. Time to keep up the action and follow through on its values and responsibilities as guardians of EU law, keeping the important commitments made this week."
The Memorial at Harvey Milk Plaza; preliminary design revealed
"The balance between Harvey's history and the movement's history feels correct- Harvey would have liked it"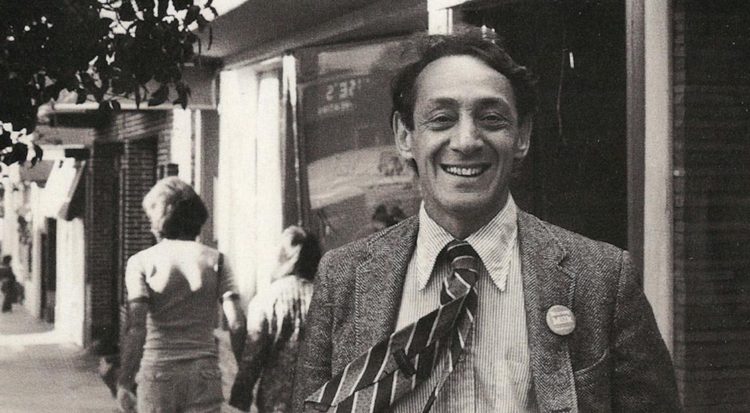 SAN FRANCISCO – The Friends of Harvey Milk Plaza (FHMP) revealed a new vision for the Memorial at Harvey Milk Plaza Thursday, which is located at the iconic intersection of Castro and Market Streets commemorating the visionary civil and human rights leader.
"The balance between Harvey's history and the movement's history feels correct to me. Harvey would have liked it," shared photographer Dan Nicoletta, who was close friends with Harvey and worked at his Castro Camera store on Castro Street.
In alignment with San Francisco's Pride Month celebrations, the design is being shared with the public for feedback via two virtual town hall meetings on June 23 and 24 and via a broader continued online engagement effort available here, [Link].
"We believe the redesign captures the public's desire to better honor Harvey Milk and creates one of the United States' first 'next generation' memorials: one that will continue to represent the values of the local community through growth and change. The Memorial at Harvey Milk Plaza will interweave the past and the present so that it serves as a call to action for generations that follow," explained FHMP Interim Executive Director Brian Springfield.
Included in the design are features dedicated to visibility and representation of the wide spectrum of people encompassed by the LGBTQ+ community. Public art and interactive elements celebrate LGBTQ+ culture and history while also promoting a call to action in support of social justice movements, making the Memorial at Harvey Milk Plaza a place where hope and action live on forever.
The design is anticipated to be finalized this year, and the project's initial phase of transit station improvements is expected to break ground in 2022. Springfield emphasized that the new design being shared is still preliminary, and that FHMP and SWA continue to seek input from the community – at the two upcoming design presentations and through ongoing input gathered through an interactive online community engagement portal available.
Four core elements will characterize the renewed plaza: The Pedestal, the Beacon, the Grove, and the Gallery. More details about each design element, along with high resolution images, can be found here.
Public feedback collected since 2017 has been incorporated into the new design, reflecting the community's desire for an unconventional and inclusive design process and assurance that Milk's qualities and legacy remain front-and-center. Discussions among FHMP, local landscape architecture firm SWA, local Castro-based organizations, and the general public will continue as the designs are refined.
"Harvey Milk Plaza can be a space that both honors the history of the LGBTQ+ rights movement and lifts up the voices and struggles of today's queer community, all while functioning as an inviting gateway to the Castro and Muni," said District 8 Supervisor Rafael Mandelman, who represents the Castro neighborhood and is currently the Board of Supervisors' sole LGBTQ+ member. "The concepts being shared today are an exciting step forward in achieving that vision."
Initial funding for the project has been provided through private and public sources, including a $1 million grant from the State of California, earmarked specifically to "support construction of LGBTQ space in Harvey Milk Plaza."
The project team's next steps include continued design refinements in response to ongoing community input, coordination with various city agencies, and progress through the approvals process, with a goal of being prepared to begin construction in Summer/Fall 2022.
The new design is inspired by Harvey's words, intersectional activism, and community input, with a keen eye for current and future transit needs. California State Senator Scott Wiener said, "Harvey Milk Plaza is at the heart of the Castro community — a place to gather, to go about our lives, and to remember Harvey's many contributions. Our community deserves a plaza worthy of Harvey's memory — one that educates and allows us to organize and enjoy our amazing neighborhood. The Harvey Milk Plaza redesign is a long overdue effort to make this great plaza all it can be."
To see the new design and provide your input, please visit the website.