How bi-curious Hugh Hefner and the gays emboldened free speech and the sexual revolution
Hefner's death reveals ties to gay community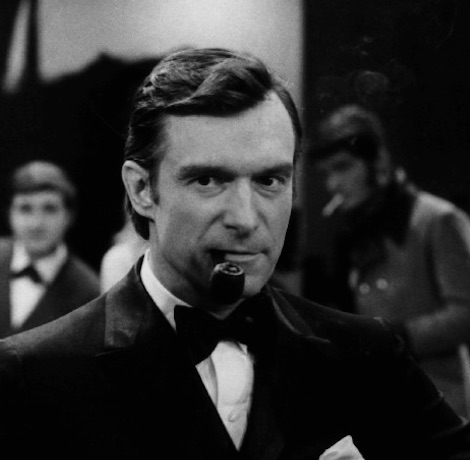 The right of individuals to exercise free speech without fear of government censorship, coercion or crack down has been much in the news recently as President Trump tries to bully NFL owners into firing football players who "take a knee" during the national anthem to protest police shootings of unarmed black men.
The First Amendment is perhaps the most cherished—and most assailed—of constitutional rights, with the interpretation changing with time and administrations. That became abundantly clear on Wednesday as Americans learned that Playboy Magazine founder Hugh Hefner died at age 91.
Hefner is widely believed to be one of the instigators of the sexual revolution of the 1950/60s, launching Playboy Magazine in December 1953 featuring a nude centerfold of actress Marilyn Monroe at a time when chaste ultra-conservative conformity and McCarthyism were in full swing. From the beginning, Hefner championed the First Amendment, not only by celebrating female nudity but by serializing such controversial works as Ray Bradbury's Fahrenheit 451 and in 1955, The year was 1955, science fiction author Charles Beaumont's futuristic short story "The Crooked Man" in which homosexuality is the norm and heterosexuality is criminalized.
But perhaps Hefner's greatest contribution to the sexual revolution and the parallel quiet movement for LGBT equality was the Playboy Forum where wide ranging discussions on taboo topics, including homosexuality, were enthusiastically encouraged.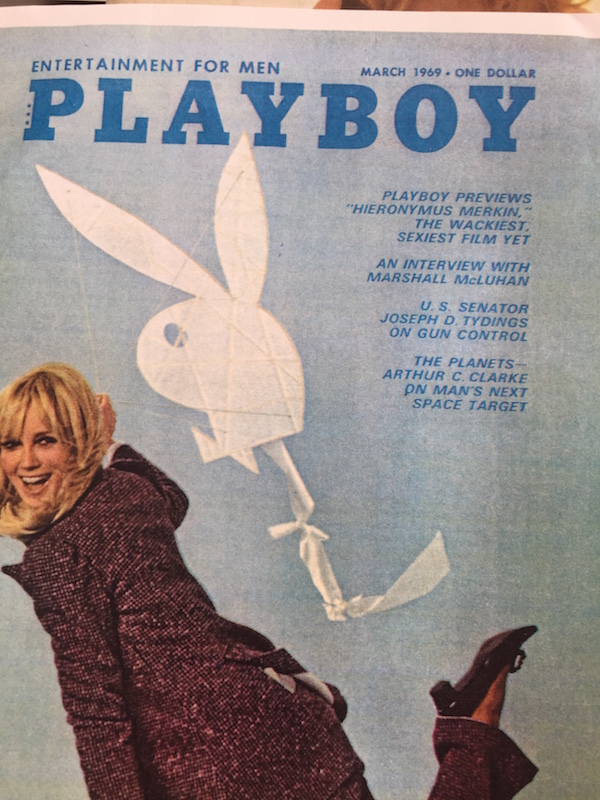 "What makes Hugh Hefner really important is the combination of his belief in the First Amendment and his Playboy philosophy," which rebelled against religiously-mandated codes of sexual morality, Charles Francis, president of the Mattachine Society of Washington DC, tells the Los Angeles Blade.
"He was an early supporter of LGBT equality," says Francis. "Playboy gave a platform where the first serious considerations about homosexuality could take place, well before Stonewall. (Mattachine Society/DC founder) Frank Kameny had serious back-and-forth discussions with psychiatrists and psychologists who thought homosexuality was an illness and a perversion. The Playboy philosophy was basically liberally enlightened about sex and humanistic and empathetic— homosexuals should be treated as human beings, not as perverts or deviants. It wasn't porn or smut; it was progressive and encouraged open-minded inquiry."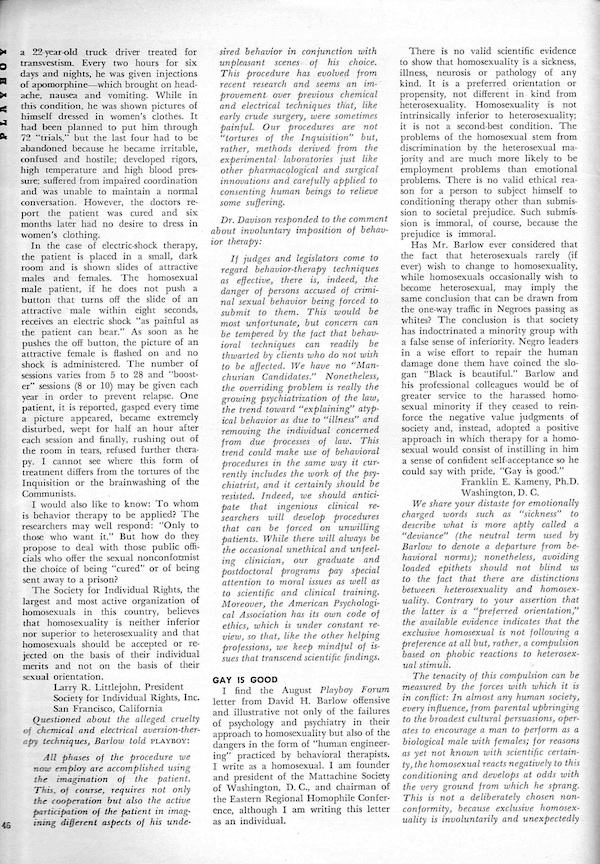 In fact, Francis says, Frank Kameny introduced his famous slogan "Gay is Good" in the "Playboy Forum" in the March 1969 issue. The forum enabled him to express his outrage at "normal" anti-gay attitudes and policies.
"The Playboy Forum gave Kameny the space to engage in substantive debate, over years, with such psychiatrists David H. Barlow and Gerald Davison about aversion therapy and whether or not homosexuality was a mental illness," Francis says. "Dr. David Barlow is a past President of the Division of Clinical Psychology of the American Psychological Association, and still very much alive.
In the day, Barlow was promoting various therapies at the University of Mississippi, including something called 'fading,' in which a patient seeking to be 'cured' of homosexuality would be exposed to a series of images, 'fading' from a naked young man into a highly sexualized black woman."
Though the Playboy Forum pushed back on Frank "that homosexuality is a 'compulsion based on phobic responses to heterosexual stimuli,'" Francis says, "the Forum itself was the only mainstream, popular platform to give him that much space and the ability to write at length about his ideas and reactions to psychiatrists like Davison and Barlow."
Historian Mark Stein wrote in his 2010 legal accounting of the sexual revolution, Sexual Injustice, that Playboy created "what may have been the country's most influential forum for public discussion about homosexuality during this period."
Francis discovered in the Kameny Papers at the Library of Congress that "Playboy Forum Associate Editor Henry Fenwick actually shared with Frank many of the letters (names withheld) Playboy had received on these exchanges–from groups like Texas Advocates for Human Dignity," Francis says. "Fenwick wrote Kameny on May 7, 1969, just months before the Stonewall riots: "In spite of our differences of opinion I hope we can continue to keep our lines of communication open. I believe the dialogue to be very useful, and we appreciate your continued cooperation."
It turns out Hefner may have read Kameny's "Gay is Good" missives, too. In a 1999 interview, Carrie Leigh, who lived with Hefner for five years in the 1980s and filed three lawsuits against him, told the Washington Post that Hefner's infamous and misogynistic sexual swinging also included men.
The Post reported: "Leigh and other Hefner girlfriends from the 1980s say they were also disturbed by Hefner's propensity for sexual encounters with men. Leigh says she interrupted Hefner's liaisons with men a couple of times. The irony that this symbol of heterosexual male virility was involved homosexually was not lost on her. But her real fear was that it indicated Hefner's only true interest in women was exploitive. 'It bothered me. It totally flipped me out,' she says. 'I tried to accept it. He thought it was all okay.'"
Indeed, in the interview with the Post, Hefner acknowledged having bisexual trysts.
"There was some bisexuality in the heterosexual, swinging part of my life," Hefner told the Post, adding that Leigh, who also had lesbian dalliances was "obsessed" with gays and her suspicion that he preferred men was only a "projection" on her part.
"I was testing the boundaries, just knocking down walls," Hefner said. "That period of sexual experimentation is long gone."
Aside from dabbling in bisexuality and promoting open discussions, Hefner also stood up for civil rights, gay rights, and opened his Playboy Mansion for AIDS fundraisers. When straight readers sent in angry letters about Beaumont's sci fi depiction of straight people having to sneak into dark barrooms to find someone to love, Hefner was quick to reply. "If it was wrong to persecute heterosexuals in a homosexual society," he wrote, "then the reverse was wrong, too."
But the greatest boon to Hefner and his Playboy Enterprises—and hence the goose that jump-started the sexual revolution and the sexual liberation movement was a gay lawsuit that reached the US Supreme Court—ONE Inc. v. Olesen, the landmark lawsuit that the gay publication, ONE Magazine, was not obscene and could therefore be sent through the US Post Office.
"ONE filled a very critical role for gays and lesbians during a very dark time," BoxTurtleBulletin founder Jim Burroway wrote on January 13th, 2008, the 50th anniversary of the first gay victory at the Supreme Court on January 13, 1958.
ONE's 1953 debut coincided with a major anti-gay push by the federal government, with President Dwight D. Eisenhower siding with communist and gay-hunter, Sen. Joe McCarthy, who framed gays as a subversive national security risk and a threat to the country's moral fiber. Eisenhower's Executive Order 10450 included a "sexual perversion" clause that prohibited gays and lesbians from federal employment; homosexuality was a crime in every state and considered a mental illness.
J. Edgar Hoover launched a major FBI crackdown on every aspect of homosexuality, from entrapment stings to confiscating and trying to shut down publications such as ONE Magazine, which was sold in gay bars and by subscription. The FBI, Burroway writes, "went so far as to write to the employers of ONE's editors and writers (they all depended on their day jobs for income), saying that their employees were 'deviants' and 'security risks.' Fortunately, no one lost their jobs, the FBI decided it wasn't worth their time, and ONE continued publishing."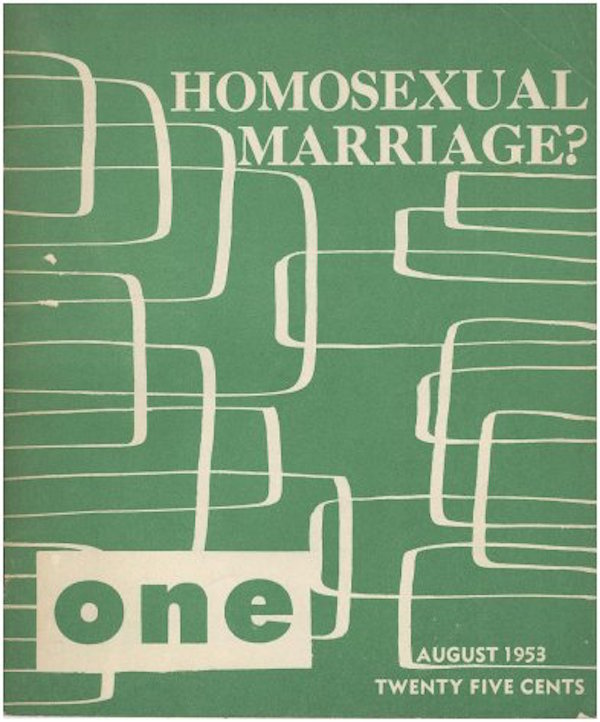 The U.S. Post Office then took up the mantle, with the Los Angeles branch checking each issue before shipping. In August 1953, postal authorities held up the issue on "Homosexual Marriage" for three weeks to check if it violated federal laws. It didn't and it was released. ONE sniped back in the October issue, saying on the cover "ONE is not grateful":
"It is true that this decision is historic. Never before has a governmental agency of this size admitted that homosexuals not only have legal rights but might have respectable motives as well. The admission is welcome, but it's tardy and far from enough. As we sit around quietly like nice little ladies and gentlemen gradually educating the public and the courts at our leisure, thousands of homosexuals are being unjustly arrested, blackmailed, fined, jailed, intimidated, beaten, ruined and murdered."
The victory was short-lived. Having seen a copy of the March 1954 issue—"The Importance of Being Different"— Senate Foreign Relations Committee Chairman Alexander Wiley (R-WI), wrote a protest letter to U.S. Postmaster General Arthur Summerfield, registering a "vigorous protest against the use of the United States mails to transmit a so-called 'magazine' devoted to the advancement of sexual perversions." Allowing a homosexual magazine to operate, he wrote, "(a) runs utterly contrary to every moral principle, (b) runs utterly contrary to our intentions to safeguard our nation's youngsters, (c) likewise, it is the very opposite of the entire purpose of our governmental security program…"
ONE tried not to get shut down through government censorship, having their young straight lawyer, Eric Julber, to write rules to avoid conflict. But the October 1954 issue featured a fictional short story entitled "Sappho Remembered," in which two young lovers touched four times and declared their love—and, most deplorable—the story had a happy, not dire or suicidal ending. The issue also featured a snarky poem about the gay arrests of British notable and two ads postal authorities construed as promoting obscenity.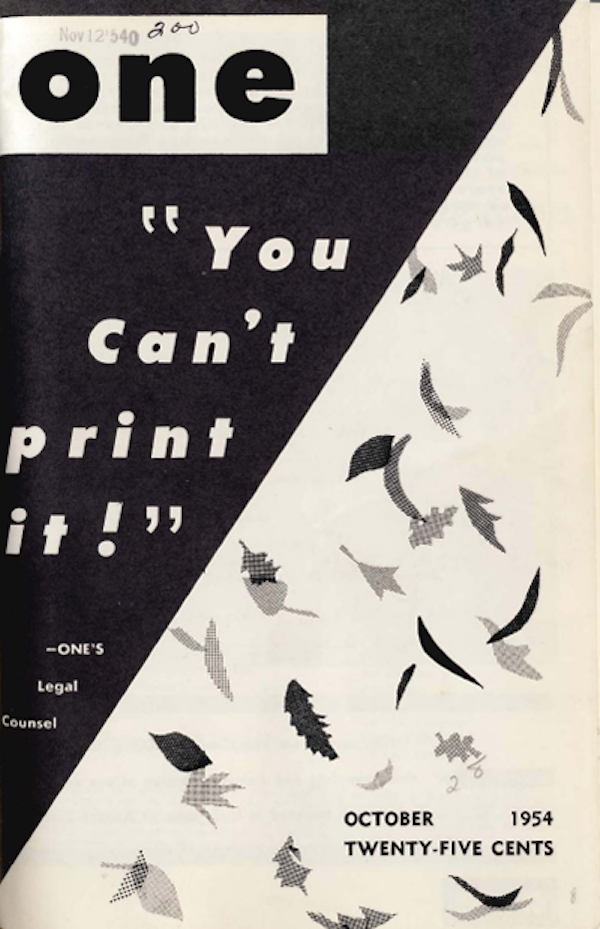 LA postal officials seized the "You Can't Print It!" issue and, Burroway reports, "charged the editors with violating the 1873 Comstock Act, which prohibited sending 'obscene, lewd, and/or lascivious' material through the mail."
Broke, ONE's editors waited a year to sue, with Julber,30, taking the case pro bono. The ACLU, which was still defending anti-sodomy laws at the time, refused to help. Julber flew solo and it didn't go well as he argued that ONE Magazine was not pornographic but educational. In March 1956, the judge ruled for the Post Office, as did the 9th Circuit Court of Appeals in February 1957, writing that the magazine "has a primary purpose of exciting lust, lewd and lascivious thoughts and sensual desires in the minds of persons reading it."
Julber filed his petition with the Supreme Court on June 13, 1957. He argued that lower courts had allowed publications advocating nudism, so why did the 9th Circuit "singled out and discriminated against" ONE because it dealt with homosexuality?
In fact, Hefner's HMH Publishing Company sued the US Post Office in 1955 because Postmaster General Arthur Summerfield deemed Playboy obscene and prohibited its distribution through the mail. Hefner won and received $100,000 in damages, as well as Playboy being granted a "B" class permit to operate without the risk of government censorship.
In a quirk of fate, the Supreme Court had been dealing with the issue of obscenity in Roth v. the United States. New York book dealer Samuel Roth was appealing his conviction for selling and mailing sexually explicit books, circulars and advertising. The Justices upheld his conviction in a 6-3 decision, but narrowed the definition of obscenity, which is not constitutionally protected free speech under the First Amendment.
"All ideas having even the slightest redeeming social importance — unorthodox ideas, controversial ideas, even ideas hateful to the prevailing climate of opinion — have the full protection of the guaranties, unless excludable because they encroach upon the limited area of more important interests; but implicit in the history of the First Amendment is the rejection of obscenity as utterly without redeeming social importance," wrote Justice William J. Brennan, adding that "Sex and obscenity are not synonymous."
The Court handed down its ruling on June 24, 1957, 11 days after Julber filed his petition. The Court took ONE's case and rendered a one-sentence ruling in ONE Incorporated vs Olesen on January 13, 1958, reversing the 9th Circuit decision, expanding the First Amendment and limiting the Comstock Act. No longer branded "obscene," ONE Magazine—and similar magazines—could be sent through the mail without legal action taken by the Post Office.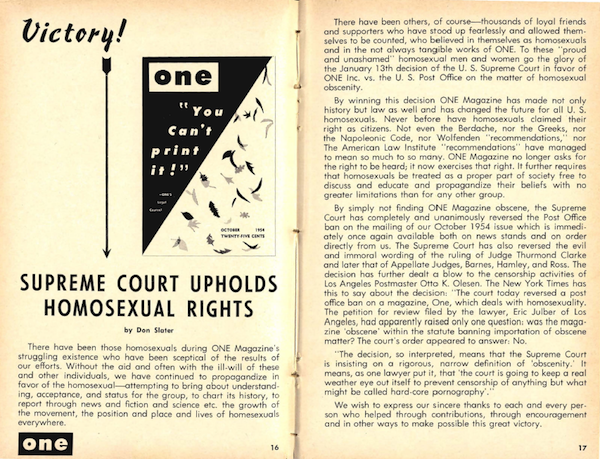 ONE editors noted this coverage from The New York Times: "The court today reversed a post office ban on a magazine, One, which deals with homosexuality. The petition for review filed by the lawyer, Eric Julber of Los Angeles, had apparently raised only one question: was the magazine 'obscene' within the statute banning importation of obscene matter? The court's order appeared to answer: No."
Hefner existed in a parallel universe, with Playboy Magazine, like ONE Magazine, also considered "smut" by the moral arbiters at the Post Office. And despite Hefner's earlier win—and despite ONE Magazine's win in January, by November 1958, the Post Office was after Hefner again, this time trying to ban the "lewd" Playboy from the mail system entirely. Hefner got a restraining order, which enabled him to keep distributing Playboy, while he continued to challenge the Post Office through the courts. Hefner won his lawsuit at the Supreme court, HMH Publishing vs the US Post Office in 1959.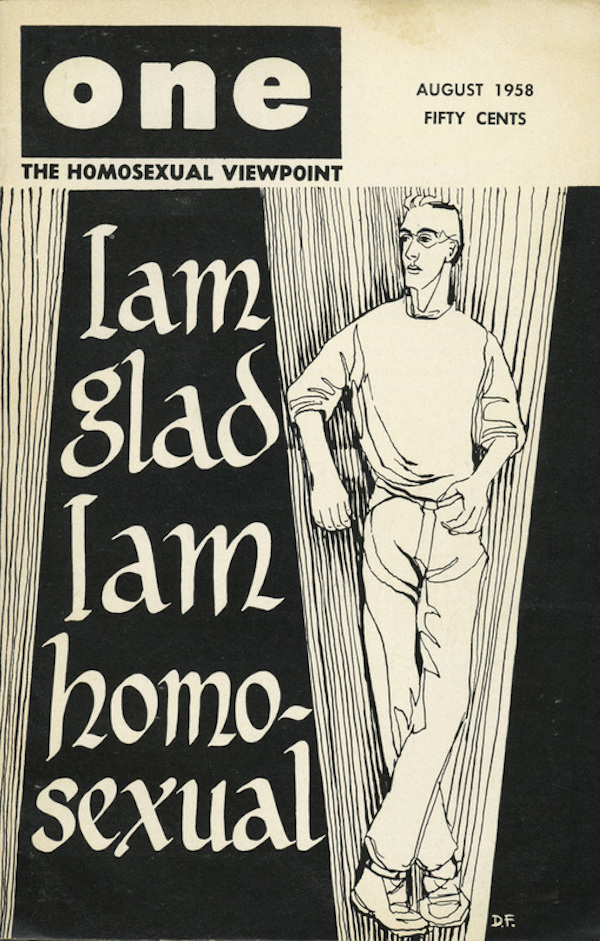 ONE Magazine writer and editor Jim Kepner said Hefner was always grateful for the legal victory achieved by ONE Magazine at the Supreme Court, which paved the way for his victory—and for the sexual revolution. And gays were grateful, too, for the Playboy Forum that allowed them to see themselves as human beings, not society's deviants.
Indeed, one can almost say that gays bought Playboy for the articles.
Disney honors Pride month and keeps some pandemic rules for now
"I was lost, desperate to connect with someone who understood what I was feeling. That all changed when I arrived at Disneyland."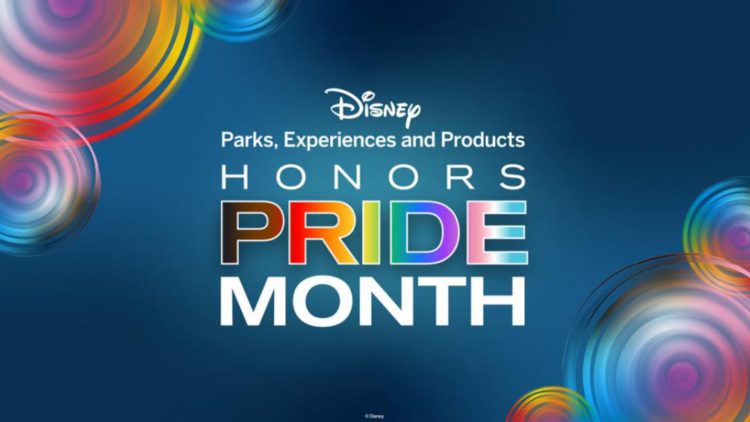 ANAHEIM – The Walt Disney Company's Disney Parks, Experiences and Products, (DPEP) is celebrating and honoring Pride this year, highlighting its LGBTQ employees as well as supporting a welcoming and embracing work environment where LGBTQ+ cast members are encouraged to be their authentic selves.
Writing for the company's blog, Michelle Mockler, DPEP's External Communications Manager profiled James Heath, a Senior Duty Manager at the Disneyland California Adventure Park. Heath, who has been employed by the Disney company since he was 17, related his personal experiences with Disney that he said shaped not only his career as an employee but as a gay man as well.
In the winter of 2000, Heath applied for a job position in hopes of fulfilling a lifelong dream of becoming a cast member, a term that Disney describes it employees as. After several interviews, James was offered a cast member role as a Food & Beverage Host.
According to Heath, he didn't realise that position working at Disneyland had just given him something far more important than a job… "It gave me a place to belong," he told Mockler.
Mockler writes that just two years prior, Heath had made the decision to come out as gay. At 15 years old, he found himself as the only openly gay student in his school.
"While I was fortunate to have supportive family and friends by my side, I was missing something truly critical at this time in my life: Other people like me. I was lost, desperate to connect with someone who understood what I was feeling. That all changed when I arrived at Disneyland."
At Disney, James found himself working alongside other LGBTQ+ cast members. He found people, with whom he could share stories, compare experiences and talk through challenges.
"Being gay was no different to my coworkers and leaders than any of the other countless qualities that make each of us unique."
Twenty-one years later, the now thirty-eight year old Senior Disney Manager related; "Sometimes I wonder who I would be today had I not had this safe place to grow into my own skin. I was fortunate to have allies who courageously pushed against outdated ideas to give me a safe place to thrive."
Heath says that he's found himself in the role of leader, mentor, ally and advocate.
"It's my turn to give back and help to further our culture of inclusivity. Somewhere out there, a future cast member is looking for a place where they can belong. I'm committed to helping them find it at Disney."
As Disney celebrates Pride Month, this past week as the State of California lifted most of the restrictions imposed by California state and local health officials and Governor Gavin Newsom. However, Disney officials have decided to keep in place for the time being some of those measures.
"I don't want to say we are going to go back to the way it was," Josh D'Amaro, chairman of Disney Parks, Experiences and Products, said Thursday about managing the parks. "I want to be really smart in the way we do this."
The parks at the Disneyland Resort in Anaheim in Orange County are continuing to reopen in phases, but a handful of the COVID-era changes are going to stick.
In an interview with the Los Angeles Times this past week, D'Amaro said that the company is poised to keep "in place a reservation system that was adopted to manage visitor numbers under the state-imposed capacity limits and the continued use of a virtual queuing system that was designed to give all parkgoers a shot at visiting the most popular attractions."
Currently valid theme park admission as well as a confirmed park reservation about both required if a guest wishes to visit either Disneyland or Disney California Adventure. Park Pass Reservations are also currently required at Disney World.
We're celebrating #PrideMonth by sharing the voices and contributions of the LGBTQ+ community. @Disneyland's James Heath shares how he found acceptance and encouragement to be his authentic self at Disney: https://t.co/efn4Q9e4ST pic.twitter.com/NQumRUicJT

— Disney Parks (@DisneyParks) June 18, 2021
Newsom ushers in state's full reopening at Universal Studios Hollywood
California was one of the only states to achieve a week-over-week increase rate of vaccinations, most recently with a 22% increase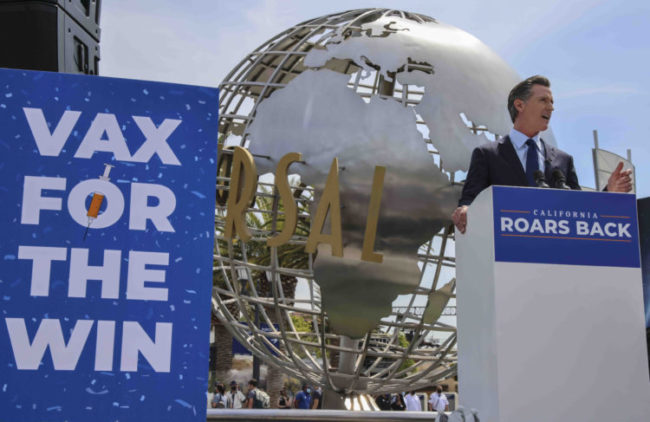 STUDIO CITY – As California moved to fully reopen the economy Tuesday, California Governor Gavin Newsom welcomed the milestone at Universal Studios Hollywood, where he highlighted the attractions Californians can look forward to revisiting this summer.
Starting today, June 15, the restrictions that have been in place over the past year will be eliminated, including physical distancing, capacity limits, county tier systems and masks in almost all settings for vaccinated Californians. The Golden State was one of the only states in the country to achieve a week-over-week increase in the rate of vaccinations, most recently with a 22 percent increase in vaccinations.
"Today, we celebrate the incredible strength and resilience of Californians – from our heroic health care workers to essential workers across the board to everyday Californians from all walks of life – who have supported each other through hardship and heartache over the past year, making sacrifices to save countless lives and enable us to turn the page on this pandemic," said Newsom. "As we look ahead to better days, we will continue to look out for one another, redoubling our support to those hit hardest by the pandemic and making unprecedented investments to address California's most persistent challenges, so that the entire state comes roaring back together."
Newsom also selected 10 lucky Californians to receive $1.5 million each – for a total of $15 million – as part of the final cash prize drawing in the state's Vax for the Win program. 30 prior winners won a total of $1,500,000.
Tuesday's selection of 10 $1.5 million winners caps off the cash prize giveaways as part of the $116.5 million Vax for the Win program – the largest vaccine incentive program in the nation. The program previously selected 30 winners to receive $50,000 each, for a total of $1,500,000. In addition, the program is providing $100 million in $50 prepaid or grocery cards for newly vaccinated people, while supplies last. Governor Newsom also highlighted the upcoming California Dream Vacations, a new Vax for the Win incentive in which vaccinated Californians have the chance to win one of six in-state vacation packages in a drawing on July 1.
In a press release, the Governor's office touted his administration's accomplishments that had been spread out over the duration of the pandemic in the past 15 months.
The Los Angeles County Department of Public Health noted that at the peak of the pandemic the County was losing 277 residents a day. Hospitals were under enormous strain, with more than 8,000 people hospitalized with COVID-19 and there were more than 15,000 new cases diagnosed each day.
L.A. County is in a better place than any other metro area of similar size in the entire nation. Each day, on average, only 1.5 cases per 100,000 people are diagnosed in L.A. County, compared with 2.8 cases in the same population in the New York City metro area, 2.9 cases in Chicago, 3.5 cases in Atlanta, 5.3 cases in Houston, and 9.1 cases in Miami. Only 0.4% of COVID-19 tests in L.A. County are positive, compared with 0.8% in New York, 1.3% in Chicago, 1.7% in Atlanta, 3.3% in Houston, and 3.7% in Miami.
Over the past six months, the tremendous effort to get the vaccine into the arms of residents has gotten the County to a place where as of June 11, more than 5,490,637 (66%) of eligible L.A. County residents have received one dose of the vaccine and 4,668,783 (56%) are fully vaccinated.
"After 16 months of enormous upheaval and loss, we can now move forward with a genuine sense of hope. We can and should feel joy while recognizing and honoring the immense collective effort that brought us to the point where we can fully reopen. We remain committed to protecting your health and to closing gaps in health outcomes associated with COVID-19.,"said Barbara Ferrer, Director of Public Health.
"Case counts and transmission are low because of our shared efforts to implement a layered approach to preventing transmission. As we reopen, we are mindful that for those not yet vaccinated, protection is highly dependent on our continued actions to take care of each other. Sensible protections for our essential workforce will be instrumental in keeping transmission of COVID-19 in check," she added.
Unvaccinated people need to remain very careful and wear masks when they are around people outside their household, and if in close contact with others, including at worksites, they should consider upgrading their masks to a respirator, such as an N95, or a KN95. These masks do a much better job protecting the wearer from other people's germs, a spokesperson for Public Health said.
Public Health continues to urge unvaccinated people to get vaccinated. Through Thursday, June 17 at County-run vaccination sites, participating LA city and mobile sites, and St. John's Well Child and Family Center sites, everyone 18 and older coming to get their first vaccine or who brings a first-time vaccine recipient with them to their second dose appointment, will have an opportunity to win a pair of season tickets to the 2021-2022 home season of the Clippers, the Rams, or the Chargers. Official rules and participating site locations are posted online on the Los Angeles County Vaccination Sweepstakes page. Winners will be contacted by phone and/or email.
To find a vaccination site near you, to make an appointment at vaccination sites, and much more, visit: www.VaccinateLACounty.com (English) and www.VacunateLosAngeles.com (Spanish). If you don't have internet access, can't use a computer, or you're over 65, you can call 1-833-540-0473 for help finding an appointment, connecting to free transportation to and from a vaccination site, or scheduling a home-visit if you are homebound. Vaccinations are always free and open to eligible residents and workers regardless of immigration status.
Newsom signs orders to roll back coronavirus restrictions next Tuesday
The Governor's Office established a timeline to continue winding down the various provisions of the 58 COVID-related executive orders.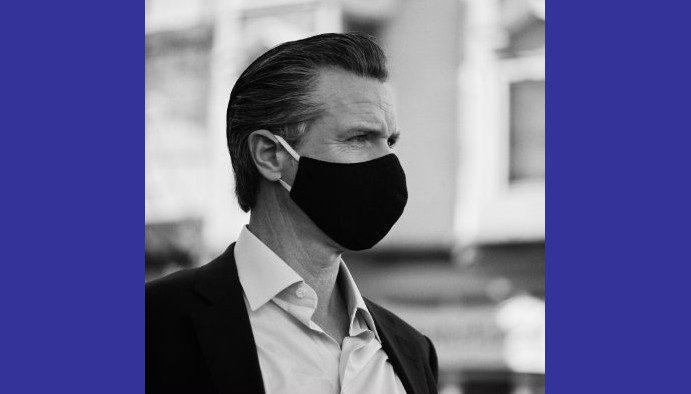 SACRAMENTO – Effective June 15, restrictions such as physical distancing, capacity limits and the county tier system will end as Governor Gavin Newsom signed a series of executive orders Friday marking a return to normalcy after nearly 15 months of the ongoing battle to protect the state's residents from the ravages of the coronavirus pandemic. Additionally, those Californians who are fully vaccinated won't be required to wear a mask — including indoors.
Newsom's actions also include terminating the Stay-at-Home Order that was implemented early in the pandemic to protect Californians and retiring the Blueprint for a Safer Economy.
"California is turning the page on this pandemic, thanks to swift action by the state and the work of Californians who followed public health guidelines and got vaccinated to protect themselves and their communities," said Newsom. "With nearly 40 million vaccines administered and among the lowest case rates in the nation, we are lifting the orders that impact Californians on a day-to-day basis while remaining vigilant to protect public health and safety as the pandemic persists."
The Governor's Office today established a timeline and process to continue winding down the various provisions of the 58 COVID-related executive orders, which suspended statutes and regulations to help the state and businesses continue operations during the pandemic.
To ensure that impacted individuals and entities have time to prepare for the changes, the provisions will sunset in phases, beginning later this month, in July and in September. For example, the suspension of certain licensing requirements for manufacturers to produce hand sanitizer will end on June 30, as shortages are no longer a concern. By the end of September, nearly 90 percent of the executive actions taken since March 2020 will have been lifted.
The California Department of Public Health on Friday released a new state public health officer order that goes into effect on June 15.
Dr. Tomás Aragón, California's public health officer, issued a new order that, among other things, puts in place new requirements for mask wearing that take effect Tuesday. The new rules say fully vaccinated people don't have to wear a mask in most places, either indoors our outdoors. But the state is still requiring people who have not been vaccinated to wear a mask in public places.
"We've met our metrics, we feel prepared," Dr. Mark Ghaly, California's Health and Human Services Agency secretary, told reporters on Friday. "Things in California, from a COVID transmission perspective, are going reasonably well."
These actions supports the full and safe reopening of the state, while maintaining focused public health requirements that address the risk posed by variants as some regions across the nation and world continue to experience high levels of transmission, Ghaly noted.