VP Pence in California for GOP fundraisers
After an estimated $242,500 political stunt, VP expected to raise $millions for GOP California Victory 2018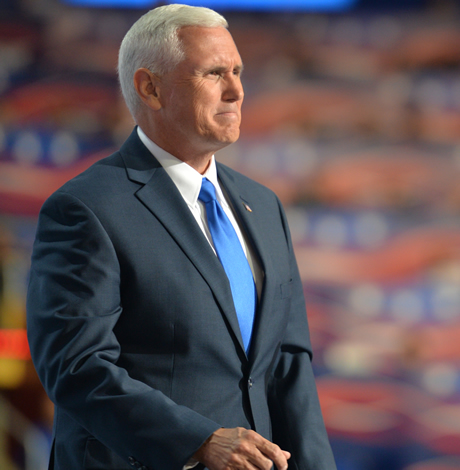 Despite revelations that a slew of Trump administration cabinet members have spent huge sums of taxpayer money on air travel and other expenses—$1 million alone for Health and Human Services Sec. Tom Price before he resigned—Vice President Mike Pence burned up $242,500 of taxpayer money to fly from Las Vegas to Indianapolis and then to Los Angeles on Sunday for three days of Republican fundraisers.
Pence ostensibly flew to Indianapolis to watch a ceremony retiring the jersey of former Indianapolis Colts quarterback Peyton Manning. But the former Indiana governor missed—and overshadowed—that grand occasion, leaving in a protest of his own moments after the opening ceremony of the Colts-49ers game because more than a dozen San Francisco players took a knee to protest racial injustice.  The VP's office has told reporters that Pence's protest was not pre-planned, though, as San Francisco 49ers players have pointed out, some players were expected to take a knee to continue the protest started by former 49ers quarterback Colin Kaepernnick last year.
But the Washington Post disputes Pence's innocence. Looking at the timeline, the Post notes that Sunday's NFL 49er vs Colts game was scheduled to start at 1 pm(Eastern time). Pence started a thread on his official Twitter account at 1:08 pm "without a typo to be found."
"I left today's Colts game because @POTUS and I will not dignify any event that disrespects our soldiers, our Flag, or our National Anthem," Pence tweeted, ending the thread at 1:24 with a highly stylized graphic. "This reinforces the obvious conclusion that Pence's appearance at the game and his well-coordinated exit from it was staged. It was a Colts-Niners game — pitting his home-state team against the team from the liberal hotbed where the players' protests over racial violence began. Pence's press pool was informed that, in essence, there probably wasn't any reason for them to join him inside the stadium. Why get out of your press van when Pence would go in, take a quick patriotic picture, and leave?" the Post reported.
Interrupting his truth-lacking tweet-storm rage against former campaign supporter Sen. Bob Corker,@realDonaldTrump tweeted: "I asked @VP Pence to leave stadium if any players kneeled, disrespecting our country. I am proud of him and @SecondLady Karen." And then Trump complained that he wasn't getting enough praise from Puerto Rico: "Nobody could have done what I've done for #PuertoRico with so little appreciation. So much work!" Meanwhile, Puerto Rico Gov. Ricardo Rosselló has asked Congress for more federal help. Not waiting for Trump or Congress, the Teamsters union and the AFL-CIO organized hundreds of truckers to go to Puerto Rico to help move supplies to desperate people inland.
Pence has denied he intends to run for president in 2020, but in an administration founded on lies and hypocrisy, "no" could turn to "yes" in an instant. Additionally, as the Los Angeles Blade pointed out in its recent cover story, Pence is a Christian Supremacist angling to lead the republic into a theocracy. Having donors back him, as Trump's good, submissive Stepford wife, could be useful to moguls who prize loyalty.
Pence headed to a Beverly Hills fundraiser on Sunday night and on Monday stars with House Majority Leader Kevin McCarthy at a pricy political fundraiser at the Pelican Hill Country Club in Newport Beach where tickets start at $2,700 each. He is expected to fly north for a breakfast in Bakersfield, then a dinner in Sacramento—McCarthy represents Sacramento's agricultural Central Valley, where he is expected to throw in some chatter about tax reform.
Pence may feel like the proverbial David in the Lion's Den since California is a majority progressive Democratic state that voted against Trump-Pence by roughly 4 million votes and has since become a "sanctuary state" in dramatic opposition to Trump's anti-immigration "policies." This is a state still reverberates with the political fallout of the anti-Latino Prop 187. But Pence is also considered by some conservatives as the "adult" in the administration, a politician who was once in the Republican leadership of Congress and understands the importance of maintaining control of the House.
And protecting the seats of seven vulnerable Republicans takes money. KTLA report that Pence is expected to raise about $5 million for "a joint fundraising committee that raises money for the National Republican Congressional Committee, a political action committee run by House Majority Leader Kevin McCarthy, whose district includes most of Bakersfield, and the vice president's own PAC, dubbed the Great America Committee." The seven seats are in districts that former Sec. of State Hillary Clinton won in 2016. According to Republican National Committee member Shawn Steel, the money will go to the re-election bids of Reps. Darrel Issa of Vista, Dana Rohrabacher of Huntington Beach, Mimi Walters of Irvine, Ed Royce of Brea, Steve Knight of Palmdale, David Valadao of Hanford, and Jeff Denham of Turlock.
Democrats may be waiting until the primaries pick which candidates to back in opposing the vulnerable GOP elected officials.  But with divisive infighting still fresh within the California Democratic Party, not mounting visible and strong opposition now to make a statement and generate new Democratic energy at the very least concedes the publicity ground to the Trump-Pence Republicans.
California expands broadband infrastructure & internet access across state
The initial project locations based on unserved/underserved areas that don't reliably have download speeds of at least 25 Megabits per second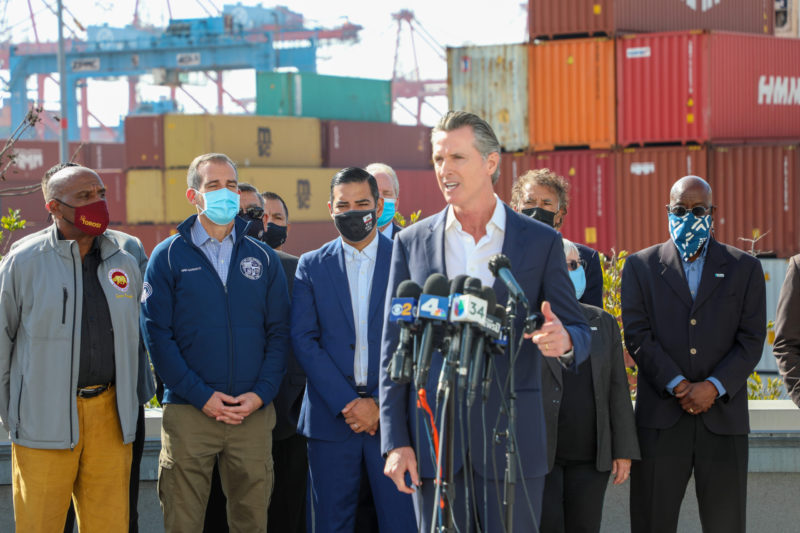 SACRAMENTO – Advancing California's commitment to bridge the digital divide, Governor Gavin Newsom announced that the state has identified 18 projects to begin work on an open-access middle-mile network that will provide missing infrastructure paths to bring broadband to all communities.
As part of the historic $6 billion broadband investment advanced in partnership with legislative leaders earlier this year, the initial project locations are based on known unserved and underserved areas across the state. The projects will connect to the core of the global internet and interconnect to last-mile infrastructure, which is the final leg that provides internet service to a customer.
"California is committed to taking on the challenges laid bare by the pandemic, including the digital divide holding back too many communities across the state," said Newsom. "These projects are the first step to delivering on our historic investment that will ensure all Californians have access to high-quality broadband internet, while also creating new jobs to support our nation-leading economic recovery."
The initial 18 projects represent a range of geographic locations and technical approaches. Projects are being initiated in the following tribal communities, counties and cities: Alpine County; Amador County; Calaveras County; Central Coast; Coachella Valley; Colusa Area; Inyo County; Kern County; Kern/San Luis Obispo Area; Lake County Area; Los Angeles and South Los Angeles; Oakland; Orange County; Plumas Area; Riverside/San Diego Area; San Bernardino County; Siskiyou Area; and West Fresno.
Evaluation of project areas included consideration of public comments, prioritization of unserved or underserved areas of the state, and inclusion of tribal communities, cities and counties. An unserved or underserved area has households that do not reliably have download speeds of at least 25 Megabits per second (Mbps) and upload of at least 3 Mbps.
"Core to our success will be the deep partnerships we've built with a diverse set of community organizations and last mile providers. Through many years of engagement with metropolitan planning organizations, CPUC-supported broadband consortia, Tribal organizations, community-based broadband advocacy groups, and organizations like the Rural County Representatives of California, the NAACP, and the California Emerging Technology Fund, we are now ready to take this historic step towards broadband equity for California," said Louis Fox, Founder and Chair of GoldenStateNet, the state's third-party administrator.
State partners implementing the middle-mile initiative include the California Department of Technology, California Public Utilities Commission (CPUC) and Caltrans. GoldenStateNet was selected as the Third-Party Administrator (TPA) to manage the development, acquisition, construction, maintenance and operation of the statewide open-access middle-mile broadband network. As the TPA, GoldenStateNet will partner with key stakeholder groups across the state to investigate the best technical, financial and operational models to meet the needs of the project sites.
A map and additional information on the initial projects can be found here.
"A reliable broadband connection makes the difference between having access to full-service health care, education and employment or sometimes going without," said State Chief Information Officer Amy Tong. "Through a historic partnership between our Governor, the Legislature, state agencies and a third-party administrator, we are taking immediate action to improve connectivity for Californians in the northern, central and southern parts of the state."
"These initial routes have been identified to accelerate projects in areas of the state that are unserved because of the lack of open middle mile infrastructure to serve them. We are accelerating the selection of a diverse set of routes — those that are ready to build and those that are not ready to build. This allows the state to partner with locals on these diverse projects and learn by doing, as we concurrently work to finalize all the needed routes in the State. There are many more communities like those in Phase I that will be included in the final map," said Martha Guzman Aceves, Commissioner at the CPUC.
Sen. Alex Padilla & Santa Monica College- Thanksgiving grocery giveaway
"As we approach Thanksgiving, it is important to support each other and our communities, and give back when we can"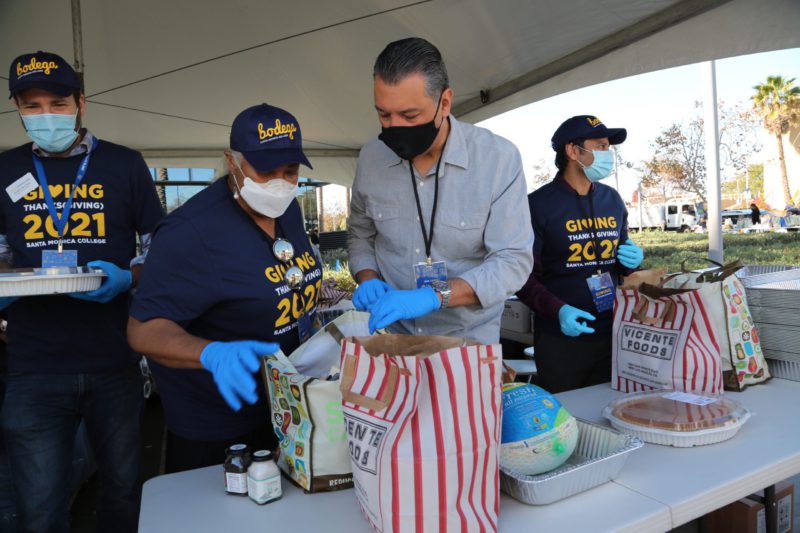 SANTA MONICA — Ahead of Thanksgiving, U.S. Senator Alex Padilla (D-Calif.) on Tuesday volunteered with Santa Monica College (SMC) for their 2nd Annual GIVING THANKS(giving) Holiday Grocery Drive-Thru Giveaway.
Padilla joined dedicated SMC volunteers, along with state and local officials to provide fresh holiday groceries to 1,500 food insecure students.
"As we approach Thanksgiving, it is important to support each other and our communities, and give back when we can," said Senator Padilla. "I was proud to join Santa Monica College and regional partners for their annual holiday food drive to make sure students have access to fresh food and groceries this holiday season. But this is also a stark reminder that there is more work to be done to address student food insecurity, an issue that existed since before the pandemic. I've introduced the BASIC Act to give students the resources they need to stay focused on their education. No student should have to worry about meeting their basic needs while pursuing their education."
"Having Senator Padilla attend today's event is so powerful because it raises the importance of giving back to our community," said Lizzy Moore, president of the Santa Monica College Foundation and Santa Monica College's dean of institutional advancement. "The Santa Monica College community is grateful for his leadership in the Senate to push for the BASIC Act and other legislative proposals to address the dramatic rates of food insecurity that exists on all college campuses including Santa Monica College."
Even before the pandemic, 50 percent of California Community College students were food insecure.
Senator Padilla has been a strong advocate for addressing food insecurity and ensuring students can meet their basic needs while pursuing a higher education. This year, Padilla introduced the Basic Assistance for Students in College (BASIC) Act, bicameral legislation to ensure college students are able to meet their basic needs while pursuing their education. Specifically, the legislation provides $1 billion for grants to ensure institutions of higher learning have the resources they need to support their students' most fundamental needs, and directs the federal government to streamline data sharing across agencies to help students qualify for aid – particularly Pell Grant recipients and attendees of community colleges and minority-serving institutions.
Senator Padilla also joined his colleagues in introducing the Student Food Security Act of 2021. This bicameral legislation helps address food insecurity on college campuses by enabling more low-income college students to access the Supplemental Nutrition Assistance Program (SNAP), improve data collection and sharing, and create a new grant program to help colleges and universities support their students.
2022 Best of LGBTQ LA Readers' Choice Award Nominations
Nominate your favorites in our 2022 Best of LGBTQ LA categories through December 5th.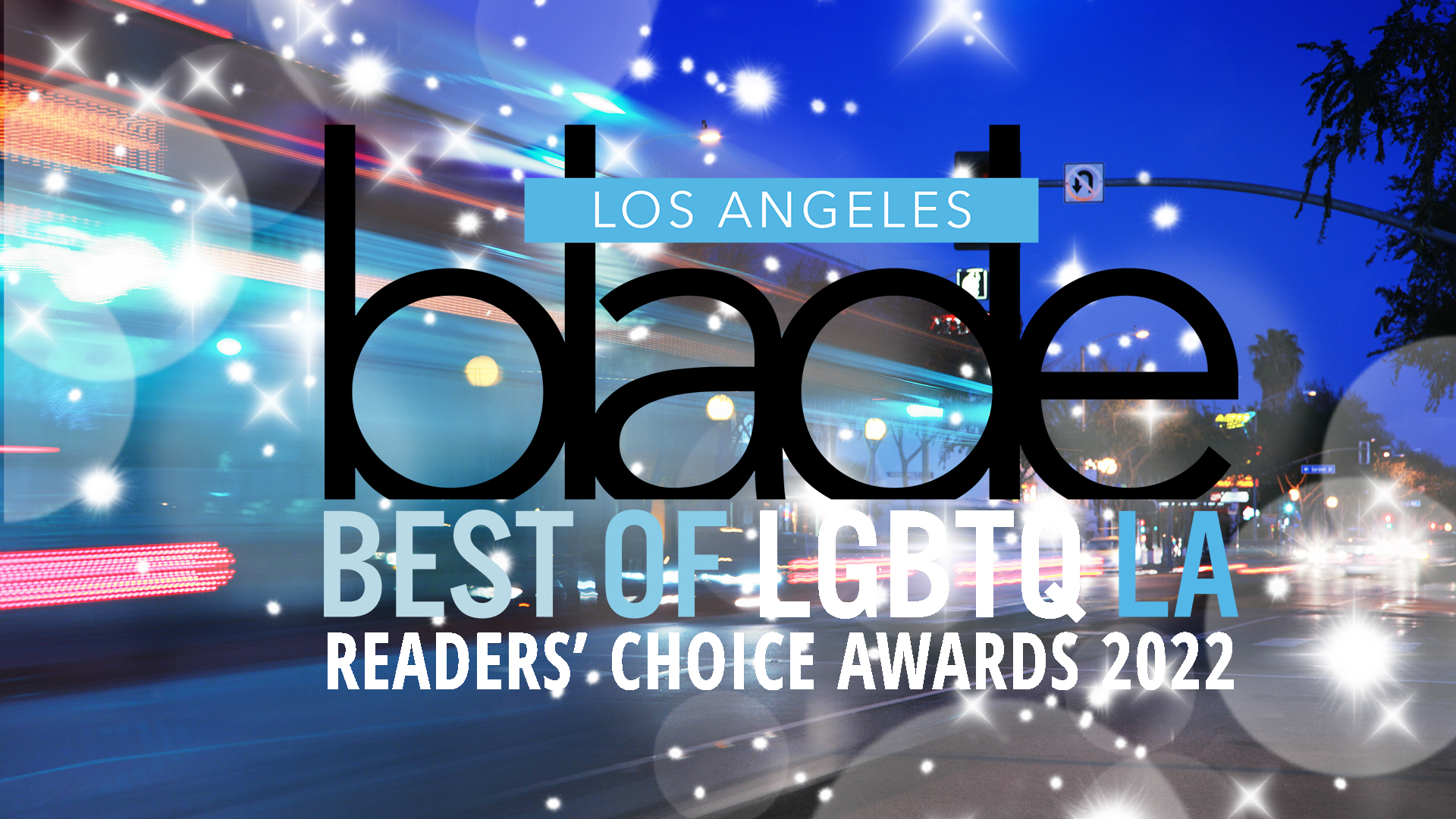 It is Decision 2022! Nominate your favorites in our 2022 Best of LGBTQ LA categories through December 5th. The top 5 nominees from each category will become a finalist with voting starting December 15th. Our 2022 Best of LGBTQ LA will be announced at the Best of LGBTQ LA Awards Party and special issue on January 28th, 2022.
Nominate below or click HERE.