GLAAD on Harvey Weinstein controversy
The accused sexual harasser has contributed to and been honored by several LGBT organizations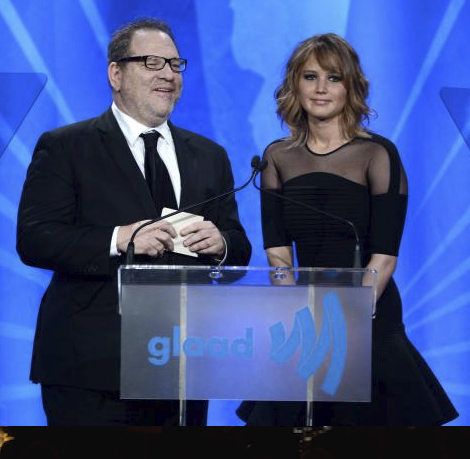 After former President Bill Clinton, the next most prominent and powerful men at the 24th Annual GLAAD Media Awards in Los Angeles in April 2013 were entertainment attorney Steve Warren, a GLAAD honoree, actor Leonardo DiCaprio, and producer Harvey Weinstein, who presented Clinton with his GLAAD award, alongside actress Jennifer Lawrence.
Mostly known as the quick-and-hot tempered powerhouse producer who green-lit important indy films, Weinstein was at times awkward and downright giddy on stage as he tried to read from notecards while Lawrence mangled her reading from the teleprompter—all in good fun. But after the stunning, blockbuster New York Times revelations of allegations of sexual harassment against Weinstein by scores of women in Hollywood, the exchange between the heavyweight producer and his Oscar-winning "Silver Lining Playbook" star seems oddly awkward.
"Before we begin, I just want to congratulate Harvey and his wife Regina on the birth of their new baby boy," Lawrence says, stroking his back. "Harvey gave us just what we needed, another—him. (Audience laughs). …If he's anything like his dad, he's going to be relentless, passionate and just about the best mentor an aspiring actor could ever hope for."
"Thank you, Jen." Weinstein says. "But you can stop kissing up to me for forgetting to thank me at the Oscars. (Laughter). Let's just do what we're here to do."
After she screws up and reads his line from the prompter, with her name, Lawrence runs her hand down his arm in jest. "Sometimes I call him 'Jennifer.' It's a pet name," she jokes.
Weinstein congratulates gay attorney Steve Warren on his award. "That was an amazing speech, by the way," Weinstein says. "I've seen Steve in action and I just want to say what a force he is for good and equality. He has incredible integrity in a business often filled with challenges." (Laughter.)
That moment has its place in LGBT history, but it now has a "cringe-worthy" asterisk. "It is reprehensible to learn about Harvey Weinstein's abuse of power and gross treatment of women, especially given his role as a frequent proponent of social justice. As the leader of an organization that advocates for women's rights and full LGBTQ acceptance, I stand with the women who have used their voices to speak up about this and commend the free press for telling their stories," GLAAD President Sarah Kate Ellis tells the Los Angeles Blade.
UPDATE: Jennifer Lawrence added her name to the outcry against Weinstein, telling the Daily Beast:  "I was deeply disturbed to hear the news about Harvey Weinstein's behavior. I worked with Harvey five years ago and I did not experience any form of harassment personally, nor did I know about any of these allegations. This kind of abuse is inexcusable and absolutely upsetting."
She added, "My heart goes out to all of the women affected by these gross actions. And I want to thank them for their bravery to come forward."
Harvey Weinstein and the Weinstein Company not only donated to GLAAD, but other LGBT organizations, as well. Variety reports that Weinstein contributed $10,000 to the Human Rights Campaign Equality Votes initiative last year. HRC has not returned phone calls or emails.
Though one website says Weinstein has contributed to the American foundation for AIDS Research, amFAR has not yet responded to an email request for comment. It also notes that Weinstein contributed to GLSEN, which gave Bob and Harvey Weinstein the Chairman's Award in 2012, Douglas Flores, GLSEN's Chief Operating Officer, tells the LA Blade: "GLSEN has not received a financial contribution from Harvey Weinstein. Thank you for reaching out."
Unlike several Democratic politicians who are returning Weinstein's contributions or giving the money to charities, one senior communications expert told the LA Blade that is unlikely that the LGBT groups would return funds, especially monies contributed years ago.
Weinstein has apologized,  adding: "Though I'm trying to do better, I know I have a long way to go." But that was not sufficient to keep his job with the company he co-founded and Deadline reported Monday, his name will be taken off company TV and movie credits.
The shunning has begun. If or how long it will last is a different matter. But it appears that the old "casting couch" sex harassment no longer has legs in Hollywood.
Openly gay journalist shot dead at home in Philadelphia
Jim Kenney, the Mayor of Philadelphia, said in a statement that he is "shocked and saddened" by Kruger's death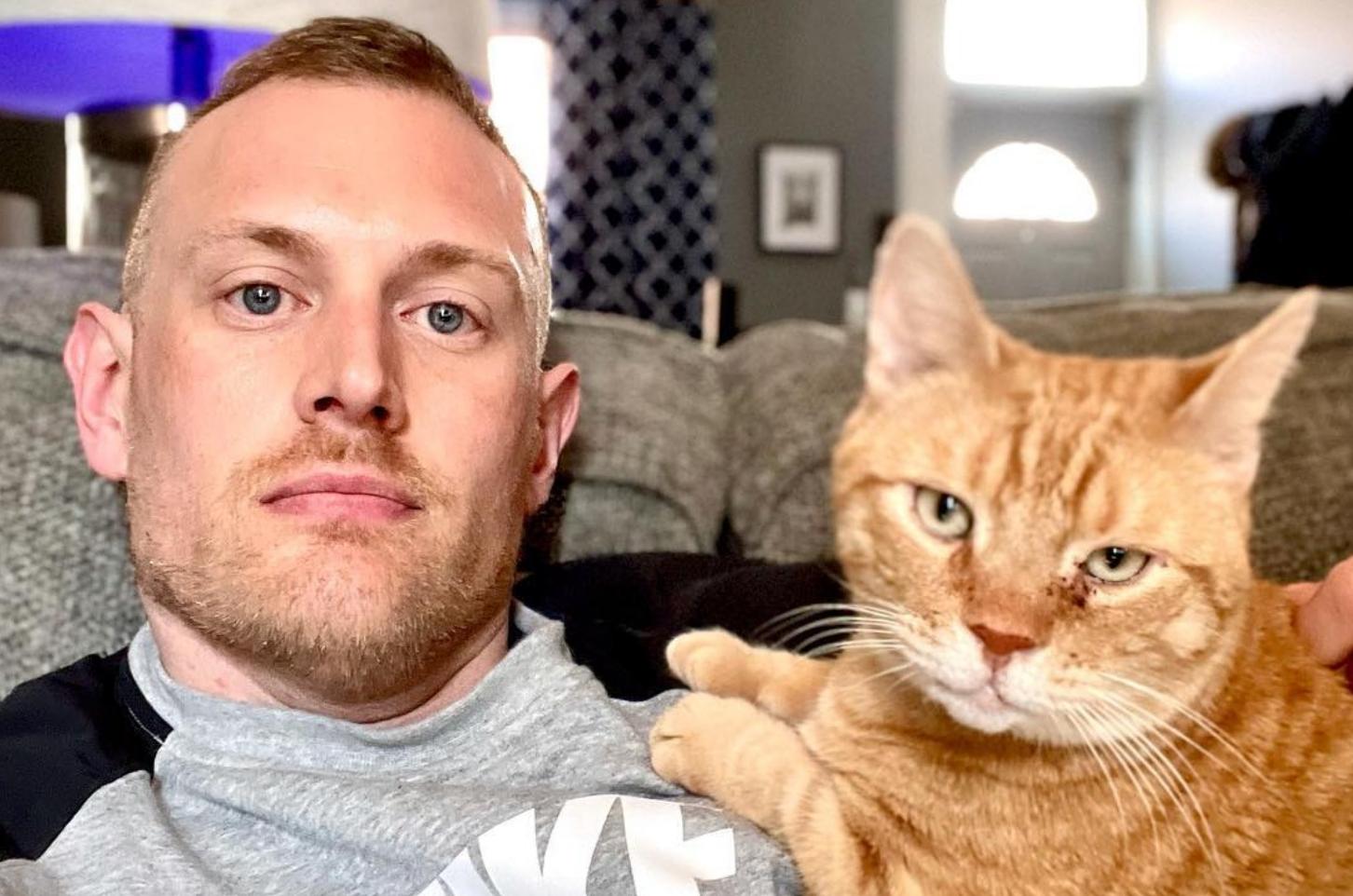 PHILADELPHIA, Penn. – An openly gay journalist was shot to death in his Point Breeze neighborhood home in the 2300 block of Watkins Street in South Philadelphia early Monday morning.
According to Officer Shawn Ritchie, a spokesperson for the Philadelphia Police Department, 39-year-old Josh Kruger was shot at about 1:30 a.m. and collapsed in the street after seeking help. Kruger was transported to Penn Presbyterian Hospital where he was pronounced dead at 2:13 a.m.
Police said that Kruger was shot seven times throughout the chest and abdomen and that no weapons were recovered nor have any arrests been made. Homicide investigators noted that there was no sign of forced entry and the motive remains unclear.
Philadelphia District Attorney Larry Krasner said in a statement:
"Josh Kruger lifted up the most vulnerable and stigmatized people in our communities — particularly unhoused people living with addiction. As an openly queer writer who wrote about his own journey surviving substance use disorder and homelessness, it was encouraging to see Josh join the Kenney administration as a spokesperson for the Office of Homeless Services.
Josh deserved to write the ending of his personal story. As with all homicides, we will be in close contact with the Philadelphia Police as they work to identify the person or persons responsible so that they can be held to account in a court of law. I extend my deepest condolences to Josh's loved ones and to all those mourning this loss."
The local PBS/NPR affiliate, WHYY reported Kruger had written extensively with bylines in multiple publications, including The Philadelphia Inquirer, Philadelphia Magazine, The Philadelphia Citizen, WHYY, and Billy Penn.
CBS News reported that Kruger overcame homelessness and addiction to work for five years in city government, handling Mayor Jim Kenney's social media and serving as the communications director for the city's Office of Homeless Services.
He left city government in 2021 to return to journalism, according to his website.
"He was more than just a journalist," Kendall Stephens, who was a friend and neighbor of Kruger's told CBS News. "He was more than just a community member. He was somebody that fought that great fight so many of us are not able to fight that fight because we're too busy sheltered in our own homes wondering if someone is going to knock down our doors and kill us the same way they killed him. The same way they tried to kill me. And we're tired of it."
Jim Kenney, the Mayor of Philadelphia, said in a statement that he is "shocked and saddened" by Kruger's death.
"He cared deeply about our city and its residents, which was evident in his public service and writing. Our administration was fortunate to call him a colleague, and our prayers are with everyone who knew him."
Shocked and saddened by Josh Kruger's death. He cared deeply about our city and its residents, which was evident in his public service and writing.

Our administration was fortunate to call him a colleague, and our prayers are with everyone who knew him. https://t.co/dnRxQ0Ic3W

— Mayor Jim Kenney (@PhillyMayor) October 2, 2023
The District Attorney's LGBTQ+ Advisory Committee issued the following statement:
"Many of us knew Josh Kruger as a comrade who never stopped advocating for queer Philadelphians living on the margins of society. His struggles mirrored so many of ours — from community rejection, to homelessness, to addiction, to living with HIV, to poverty — and his recovery, survival, and successes showed what's possible when politicians and elected leaders reject bigotry and work affirmatively to uplift all people. Even while Josh worked for the Mayor, he never stopped speaking out against police violence, politicized attacks on trans and queer people, or the societal discarding of homeless and addicted Philadelphians.
"We are devastated that Josh's life was ended so violently. We urge anyone who has information that could lead to an arrest and prosecution for Josh's murder to contact the Philadelphia Police or the DA's Office directly. LGBTQ+ Philadelphians experience violence of all kinds every day; few people used their platforms to remind powerful people in government of that reality as effectively as Josh Kruger did. Josh and the communities he advocated for every day of his life deserve nothing less than justice and accountability for this outrageous crime."