Equality California, NCLR, GLAD file for emergency relief against Trump's transgender military ban
Motion calls for courts to enjoin ban to stop harms happening now
Equality California filed Stockman v Trump on Sept. 5, naming President Trump, Defense Secretary James Mattis, and other top military officials as defendants. On Aug. 31, GLAD and NCLR filed the first motion for preliminary injunction and amended their initial complaint, Doe v. Trump, to include two new named plaintiffs and several powerful declarations supporting the motion from top military officials from the Army, Navy, and Air Force about why the ban would irreparably harm transgender servicemembers and their families and undermine national security.Among the declarations was one submitted by out former US Army Sec. Eric Fanning. The NCLR/GLAD lawsuit was the first of four lawsuits filed against the Trump Administration's transgender military ban across the country.
"Through this Motion, Plaintiffs seek preliminary relief prohibiting Defendants from implementing the ban on military service by transgender individuals as an infringement of Plaintiffs' rights under the United States Constitution," the motion says. "The ban inflicts irreparable injuries upon Plaintiffs and Plaintiff Equality California's members. The ban denies Plaintiffs and their members the equal protection of the laws, their right to liberty and privacy, and their right to freedom of expression in violation of the United States Constitution."
"As set forth below," the motion continues, "Plaintiffs are likely to succeed on the merits of these claims. Plaintiffs also easily satisfy the other preliminary injunction factors. As the Ninth Circuit has held, the unlawful deprivation of liberty constitutes irreparable harm. Moreover, particularly where transgender people have been serving loyally and with distinction since the ban's reversal, the balance of hardships and public interest favor an injunction. For these reasons, the Court should grant this Motion and enjoin the implementation of the ban.
Equality California filed Stockman v Trump on Sept. 5, naming President Trump, Defense Secretary James Mattis, and other top military officials as defendants. GLAD and NCLR previously filed an injunction initially on behalf of one defendant. That complaint was amended in August to include two more servicemembers and a student enrolled in ROTC as defendants. They also submitted declarations against the ban from such prominent military experts as out former US Army Sec. Eric Fanning. That lawsuit, Doe v. Trump, was the first of four lawsuits filed against the Trump Administration's transgender military ban across the country.
"The President's reckless ban is harming transgender troops in communities all across the country," said Shannon Minter, NCLR's Legal Director. "Despite their dedicated service, the President has thrown the lives of thousands of military servicemembers and their families into chaos, devastating their livelihoods and dreams, and harming our country. We must use every tool in our power to fight this ban immediately, here in California and throughout the country."
Stockman v. Trump claims the ban unlawfully discriminates against transgender people on the basis of their gender identity; impinges upon transgender people's fundamental rights by penalizing and stigmatizing them for expressing a fundamental aspect of their personal identity; and unfairly punishes transgender people who came out in the military in reliance on the government's assurances that they could serve openly, the three groups say in a press release.
"California is home both to the nation's largest population of LGBTQ people and to the largest number of servicemembers," says Rick Zbur, executive director of Equality California. "With his unnecessary and unjust ban, President Trump has attacked American heroes who simply want to serve their country. This ban will tear apart lives and livelihoods, cost taxpayers hundreds of millions of dollars and deprive the military of loyal, talented service members –it will not stand."
Equality California has 500,000 members, the concentration of which is in California, but a number of members are scattered throughout the United States since the battle over Prop 8 in 2008. That's one of the reasons EQCA is seeking a nationwide injunction against the trans ban, Zbur told the Los Angeles Blade.
"I was in eighth grade when I first told my mother I dreamed of joining the military. During my junior year of high school, I took the Armed Services Vocational Aptitude Battery (ASVAB) test to prepare for a future in the Air Force that I have continued to plan for and work toward. The moment I learned of President Trump's tweets, I was crushed. Right now, I work at a grocery store for minimum wage, and my store is shutting down. I live paycheck to paycheck. In the military, I would have access to training, a steady income, and career opportunities. If the ban were lifted today, I would go to a recruiter to discuss enlisting in the Air Force as soon as I could. Transgender individuals are just as qualified and capable to serve our country as any of our peers and many of us are eager to do so," says 20 year-old plaintiff Aiden Stockman from Yucca Valley, California, after whom the lawsuit is named.
"When I read President Trump's tweets, my heart sank. I feared that I would never be permitted to fulfill my longtime dream of military service. Small towns like Lisbon, Ohio—where I live—do not have many job opportunities. I am actively searching for a job where I can support myself and my grandmother who is unwell," says 23 year-old plaintiff Nicolas Talbott for whom Trump's tweeted policy change was more than just bias. "Enlisting in the military provides a stable job, steady income, health benefits, and the pride of serving my country. If the ban were lifted today, I would immediately enlist in the United States Military. No one could be more dedicated and committed to wanting to serve,"
"Thousands of transgender Americans serving around the globe have committed their lives and planned their futures around military service. The President's ban is putting them and others around them in harm's way," says Jennifer Levi, Director of GLAD's Transgender Rights Project, in the press release. "This cruel, unfounded reversal of policy undermines the strength of our Armed Forces and threatens the safety of our nation. We cannot let it move forward."
Sec. of Defense Jim Mattis, who has made it clear he opposes Trump's change in personnel policy, says the open service policy is still operational until a panel of experts recommends to him how to conform to the President's directive without disrupting military readiness. On Sep. 26, Gen. Joseph F. Dunford Jr. chair of the Joint Chiefs of Staff, the told Senate Armed Services Committee that he advised the White House that he does not believe gender identity is a sufficient reason to discharge service members, especially those who have served "with honor and value."
"I would say that I believe any individual who meets the physical and mental standards and is worldwide deployable and is currently serving should be afforded the opportunity to continue to serve," Dunford said.
Meanwhile, trans servicemembers and possible recruits are in limbo about their job status—issues which the lawsuits address. Members of the panel that will study the issue and give recommendations to Sec. Mattis have not been named yet, nor is there any indication of a trans service member, currently serving or retired, will have a seat at that table. Nor is there any indication what might happen should the panel agree with the organization filing suit, that the ban is biased, targeting one group, and is thus unconstitutional and unworkable. What might President Trump do if Sec. Mattis says the experts recommend NO to Trump's trans service ban before the courts rule?
Amicus brief: No negative incidents from Trans people in bathrooms
The brief details the constitutionality of bathroom bans. Courts across the U.S. have determined trans people have right to access bathrooms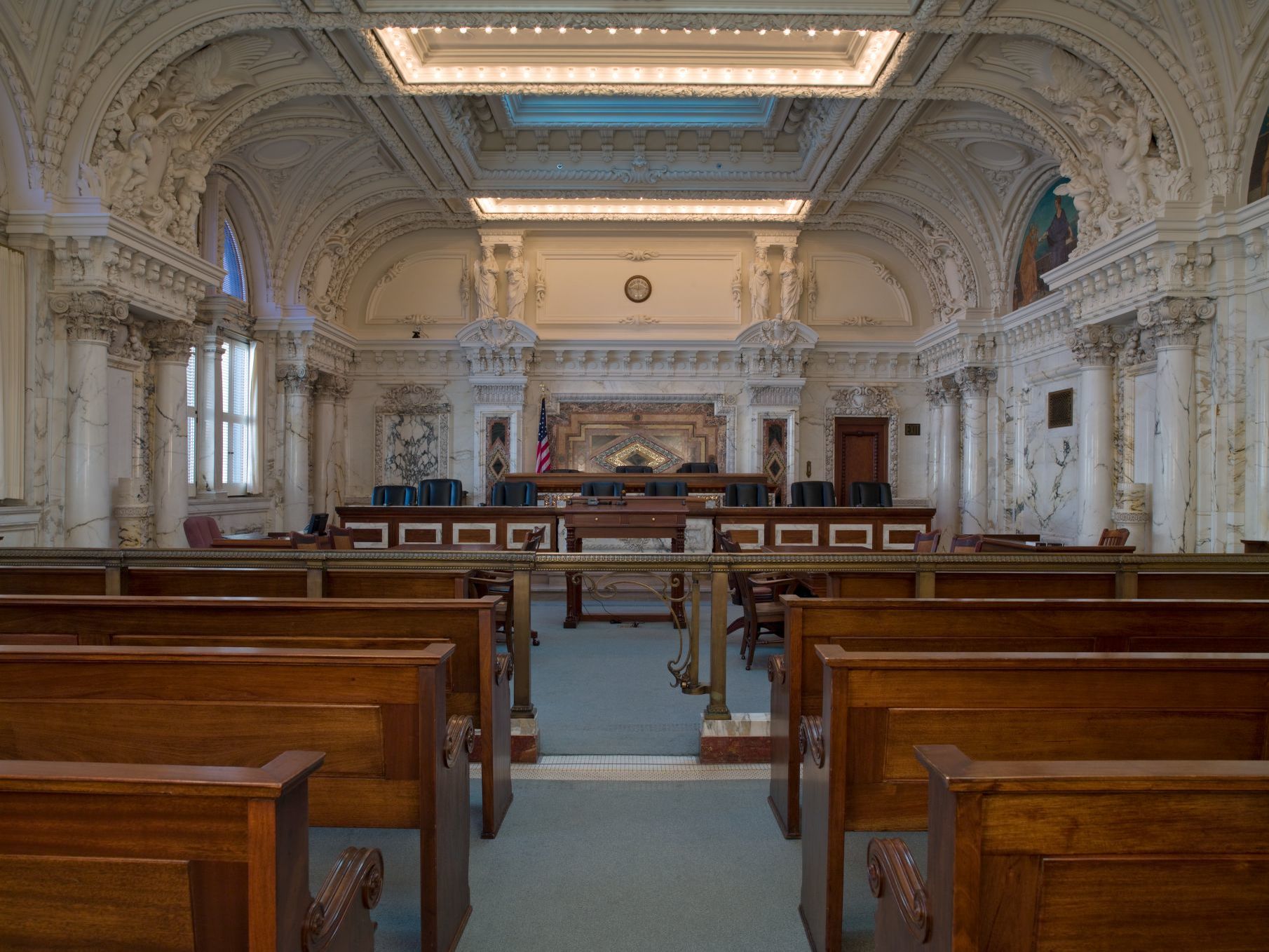 By Erin Reed | WASHINGTON – On Thursday, 21 state attorneys general filed an amicus brief with the 9th U.S. Circuit Court of Appeals, stating that transgender people must be allowed to use restrooms matching their gender identity.
This action comes after a district court judge in Idaho refused to block a ban on transgender bathroom usage in the state; he was promptly overruled by the 9th Circuit, which did block the ban.
The letter represents the latest development in a fight that has worked its way across the country, focusing on equal rights in bathroom accommodations for transgender people and barreling towards the Supreme Court.
The amicus brief is substantial. It represents the work of attorneys general in 21 states, and contains legal precedents, nondiscrimination laws, and the experiences of those states around allowing equal accommodations for transgender people. It cites 13 pages worth of laws, court decisions, and studies to support the rights of transgender people in bathrooms. It draws a final conclusion stating that disallowing trans bathroom access causes "emotional, psychological, educational, and constitutional harm," and requests that the court uphold these rights for transgender students.
The brief is unique in that it outlines the findings of negative events that stem from allowing transgender people to use the bathroom of their gender identity. The brief finds that "nondiscriminatory restroom policies produce important benefits and pose no safety concerns." Importantly, it shows that in states that allow trans students to use bathrooms according to their gender identity, there were "no reported instances of transgender students harassing others in restrooms or locker rooms."
See the briefing on this topic:
Meanwhile, the brief highlights the many negative effects of disallowing transgender people from using locker rooms and bathrooms. The report states that discriminatory policies for transgender people promote absenteeism, leading to trans youth missing valuable school time. These policies also harm the physical and mental health of transgender students.
The brief reports that 73% of trans students avoid restrooms in school because they feel unsafe or uncomfortable. Additionally, over half report negative health effects from doing so, such as kidney infections and other kidney-related problems. Rebecca, one of the plaintiffs in the case, reported limiting fluid intake at school and suppressing bathroom urges, both of which are unsafe for children.
The brief also details expansive case law surrounding the constitutionality of bathroom access. Courts across the United States have determined that transgender people have the right to access bathrooms that match their gender identities. Among the most significant cases is Grimm v. Gloucester County, where the 4th Circuit Court ruled that a transgender boy has the right to use the bathroom of his gender identity.
Similarly, in the 7th Circuit Court, A.C. v. Metropolitan School District of Martinsville was ruled in favor of a transgender plaintiff. Even the 9th Circuit Court, which is hearing this case, has favorable precedent. In Parents for Privacy v. Barr, it was ruled that transgender bathroom access does not violate other students' privacy.
Ultimately, the strength of these cases was bolstered by the Supreme Court's decision in Bostock v. Clayton County, which the report also heavily references. In that decision, which was ruled 6-3 with conservative Justice Neil Gorsuch authoring the opinion, the Supreme Court ruled that "it is impossible to discriminate against a person for being homosexual or transgender without discriminating against that individual based on sex."
Although the decision covered employment law and not bathroom access, many courts have interpreted it as applicable to bathroom access and other areas protected by Title IX.
The brief also directly addresses the idea that Title IX only protects "biological sex." It points out that Title IX regulations do not state that it only applies to "biological" sex "as determined by chromosomes and internal and external reproductive anatomy." Instead, the brief argues that discrimination based on assigned sex at birth treats, for instance, a transgender girl different from a cisgender girl when allowing restroom access. The overreliance on a very specific facet of biological sex likely renders the bill unconstitutional, the brief states.
For now, the bill is blocked in court, allowing Idaho transgender students to use the restroom that matches their gender identity if their school permits it. Meanwhile, cases concerning bathroom access are swiftly moving towards the Supreme Court, with a recent decision from the 7th US Circuit Court currently being appealed to the Supreme Court.
It appears likely that the Supreme Court will soon revisit transgender rights. In this interim, this coalition of 21 states has emerged, vocally advocating for the rights of transgender students and leveraging their collective authority to do so.
Related:
****************************************************************************
Erin Reed is a transgender woman (she/her pronouns) and researcher who tracks anti-LGBTQ+ legislation around the world and helps people become better advocates for their queer family, friends, colleagues, and community. Reed also is a social media consultant and public speaker.
Follow her on Twitter (Link)
Website here: https://www.erininthemorning.com/
******************************************************************************************
The preceding article was first published at Erin In The Morning and is republished with permission.