October 5, 2017 at 10:33 am PST | by Troy Masters
Rainbow flag finds a forever home on federal land, a first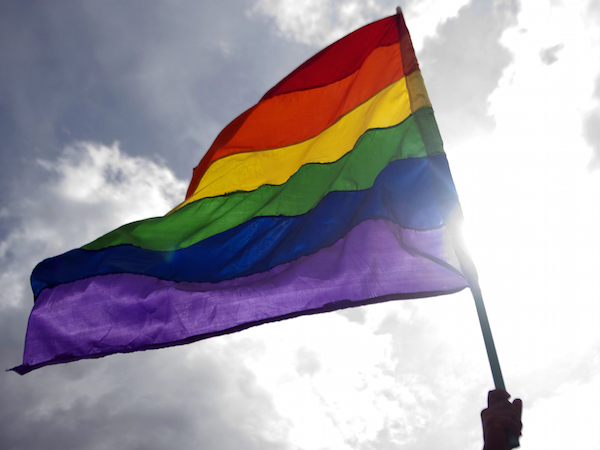 UPDATE:  ON THE EVENING OF 10/10 TRUMP ADMINISTRATION TERMINATED NATIONAL PARK SERVICE PARTICIPATION IN THIS EVENT
The riots at Stonewall Inn in 1969 New York, many argue, was Iwo Jima for the LGBT movement, where we metaphorically first planted our flag firmly and for the first time. Our community drew international attention to police brutality and a generally violent atmosphere of hatred aimed at LGBT people.
Few who were there would have imagined that the scene of those riots would one day become a National Monument, as it was formally designated in 2016, let alone an event that would be documented by countless books and movies.
But the latest event is really something extraordinary.
The Rainbow Flag, the international symbol of LGBT liberation and pride, will be unveiled in a special ceremony on Wednesday, October 11 at the historic Stonewall National Monument, claiming a permanent home and imbuing it with an official status in US history.
This historic event marks the first time that the iconic Rainbow Flag will wave over federally-owned land, and placed under the permanent stewardship of the National Park Service.
The event will be emceed by Gay USA television co-host Ann Northrop. Performers will include Telly Leung, who plays the title role in Disney's "Aladdin on Broadway" and Cantor Steve Zeidenberg of Congregation Beit Simchat Torah. Speakers will include Leslie Cagan, an organizer of the 1987 March on Washington for LGBT Rights, National Park Service's Chief of Interpretation, Education and Visitor Services Barbara Applebaum, Kiara St. James, Executive Director of New York Transgender Advocacy Group, and LGBT and AIDS activist Michael Petrelis who spearheaded this initiative.
"It is a victory for our community to have these symbolic colors flying majestically over our Stonewall, designated as a National Monument by President Obama, even as our LGBTQ brothers and sisters are under attack by the current regime in power," said Petrelis.
October 11, National Coming Out Day, also marks the thirtieth anniversary of the historic 1987 March on Washington for Lesbian Gay Rights–when the NAMES Project AIDS Quilt was unfurled on the National Mall.
Recently, some activists, drawing community attention to racism within the community, have demanded the addition of the color brown to the flag.
The flag at Stonewall National Monument will be the traditional flag as the late Gilbert Baker designed it, consisting of six stripes: red, orange, yellow, green, blue, and violet. The flag is typically flown horizontally, with the red stripe on top, as would appear in a natural rainbow.
Honoring the thousands of Arts community members who died of AIDS, the event is being hosted by Broadway Cares/Equity Fights AIDS, a national agency that offers lifesaving medications, health care, nutritious meals, counseling and emergency financial assistance to all people living with AIDS and HIV.