Trans community tries to heal after Caitlyn Jenner controversy 
Laverne Cox honors Jazzmun Crayton at Eleganza Saturday night =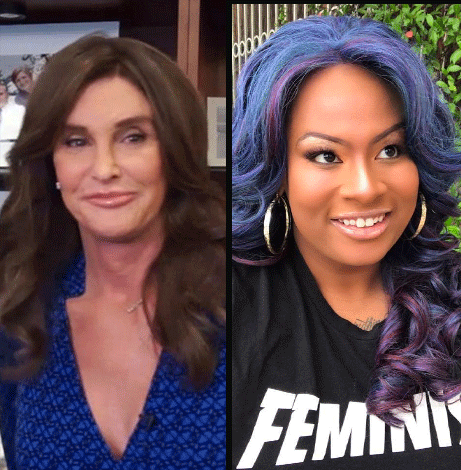 Meeting face to face was decidedly different from flame throwing on social media.
As about 50 people crowded into the emergency trans community meeting at St. John's Well Child & Family Center on Friday night, anticipation was high: would sparring leaders bash each other in person or respect "Mother Karina" enough to settle down, really listen to each other, and try to heal from hurt before celebrating everyone's shero—Jazzmun Nichcala Crayton. Trans super star Laverne Cox is presenting the actress, activist, model, and spiritual leader with the Marsha P. Johnson Trailblazer Award Saturday night at the TransNation Eleganza gala at The Cicada Club.
"Despite all the issues and obstacles Hollywood has historically presented, Jazzmun – a trailblazer herself – is grateful for the transgender talent that has come before her. Following the passings of Holly Woodlawn, Lady Chablis, and Alexis Arquette, Jazzmun honors trans pioneers and legends: 'They opened doors and kept doors open so that the rest of us can continue to walk through them. They did their job and did it so well that it allowed people to start thinking about us, putting us on their radar. They did it so well that they brought a joy, dignity and pride to being a person of trans experience,'"
Addison Rose Vincent wrote about Jazzmun on HuffPost.
But the strife around this year's TransNation Film Festival—a benefit for the unique and critical free transgender healthcare program at St. John's Well Child & Family Center in South Los Angeles—was so intense, Karina Samala, a highly regarded trans activist for more than 20 years, called a community meeting to air grievances and initiate healing with riKu Matsuda, who works for the LA County Human Relations Commission, serving as facilitator.
Matsuda established rules that all agreed to abide by, including no cell phones, no recordings or video and no identified direct quotes to the press or on social media. The exception was Jim Mangia who could speak briefly and in general terms as the out CEO of St. John's. Therefore, this story has been constructed from pre-community meeting interviews, transcripts or citation from public utterances on Facebook and background conversations with participants.
The LA transgender community is not monolithic. As with other minority communities, there is infighting prompted by political differences, intrigue, gossip, racism, classism, ageism and all the other "isms" that plague the larger society. And as the play and film "Boys in the Band" documented so well, sometimes the attacks can be vicious and soul-wounding. But unlike past battles, deep-claw fighting on social media in the era of Donald Trump can spread and generate more chaos, misunderstanding and retaliation than ever before. These cuts, often posted on Facebook in the heat of an argument, can cut to the bone and leave a festering infection.
That's what happened after the TransNation production team selected Caitlyn Jenner for an honor alongside Jazzman. Jenner had given two checks from her foundation totaling $50,000 to St. John's transgender program and had served as a judge for the Eleganza beauty pageant last year, without incident, though there were scattered boos when her name was announced.
Jenner came out as a Trump-supporting Republican during her Reality TV show, "I Am Cait," but it was clear she was clueless about what Trump's politics actually meant and was stubbornly certain she could help. It was often agonizing to watch the brilliant Jennifer Boylan and "trans diva" Chandi Moore try to educate Jenner about the real ways of the world for trans folk, when money can't buy you love.
The heat was really on after Trump surprisingly won the election and Jenner stuck with the MAGA hat, though she continued to evolve, learn about and contribute to the LGBT community, many of whom viewed her as an unwelcome rich Trump lackey. Even after Jenner blasted Trump for his shocking ban on trans military servicemembers, many in the trans community remained upset with her for allowing the media to portray her as one of the two "biggest voices in the transgender community."  The other was Laverne Cox.
The trans community felt that made Eleganza the Caitlyn Jenner show, highlighting her rather than Jazzmun, TransLatina Coalition founder Bamby Salcedo says. "She would steal the show. We didn't want that," especially since the community didn't recognize her as a voice for the community. "The media made her into that."
Additionally, Salcedo says, the decision to honor Jenner didn't come from the trans staff. "Their voice was not counted."
Salcedo also pointed out another issue—classism. She needs to be a part of the community, to come down from her millionaire status and home in Malibu to meet with ordinary trans people, without a camera and entourage, which are intimidating," Salcedo says. But that is not in line with Jenner's politics. "She supports a party whose main purpose is to continue to demonize us and keep people like us in the margins."
Diana Feliz Oliva, the Transgender Health Program Manager, explained that she was away at the US Conference on AIDS in Washington DC that early September when the TransNation Planning Committee apparently thought it was a good idea to honor Jenner's foundation. Program staff member Queen Victoria Ortega, a longtime community activist, was also not involved in the decision-making because she was at the clinic. So Olivia relied on feedback from the meetings, after which she brought it to her trans staff of eight.
"As you can imagine, I was a little bit shocked," Olivia says of finding out about the decision made in her absence. She says she was also confused since they had already agreed upon Jazzmun for trailblazing advocacy in the community. And they wanted to keep the event small so people could socialize and dance. But since it was the only foundation supporting the program and the decision had been made, she spoke up but didn't protest.
Jenner had previously visited the clinic with the Arcus Foundation and met the staff, who told her how the program was saving and improving lives. Jenner couldn't believe more people didn't know about the work and on the spot contributed a check for $25,000. The staff concluded she was nice but a "baby trans" who could be educated.
"They were all about forgiveness and solidarity," especially for someone who had never experienced being an outcast," says Olivia "They believe in redemption and forgiveness."
Indeed, the trans program has been an oasis in the hostile desert of persistent transphobia. The program started after Karina Samala suggested to Masen Davis, then executive director of the Transgender Law Center, that he meet with Jim Mangia, who Samala has known through many years serving on the Imperial Court. The Transgender Law Center had a statewide grant to provide training for staff at Federally Qualified Health Centers but no one wanted to participate. Mangia did. With help from a transgender advisory council, he hired and integrated trans staff in all departments, educated all employees and clients, including producing and hanging placards on office walls saying "Welcome our transgender clients." In 2014, he started a specific comprehensive medical, dental and pharmacy transgender health program—including free hormone shots, advocacy, referrals for gender confirming surgeries, and support programs.
In 2015, Mangia recruited Oliva from Fresno to run the program. Oliva says she accepted because Mangia ran St John's with a social justice framework. Using her Masters in Social Work from Columbia University, Oliva professionalized the program and over two and a half years, expanded the client base from 300 to 2,000. "That is not a feat you do alone," she says, applauding Queen Victoria Ortega, with 20 years of experience, as her "rock" and right hand, as well as her staff.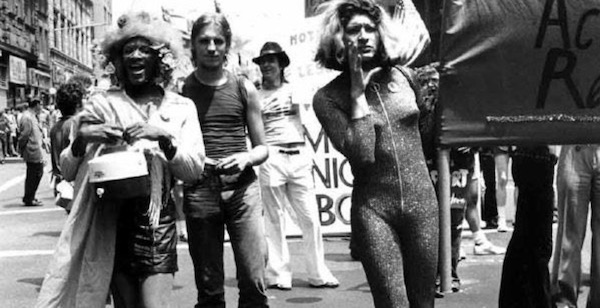 Some community members were outraged to learn that Jenner was being honored. They were already unhappy with the selection of the new David France documentary on the life of Marsha P. Johnson for the TransNation Film Festival. Transgender activist, filmmaker and writer Reina Gossett had accused France in Teen Vogue of stealing her work, her years of research on Johnson for a film that debuted on Netflix while she was "borrowing money to pay rent." They didn't buy France's explanation on Facebook that "Nothing in the film's concept, research or execution came from anyone outside of this process or our immediate team."
Trans media activist Ashlee Marie Preston, who had already publicly challenged Jenner, calling her a humanitarian "fraud," took the lead, posting a petition on Change.org. "The LGBTQ community has given Caitlyn Jenner SEVERAL attempts to right her wrongs, but her cognitive dissonance and stubborn arrogance have prevented her from formally apologizing to us and vowing to do better," the petition said. "Therefore; we (Trans Liberation Now) ask that St. John's Well Child & Family Center rescind their award/honor on 10/21/17. Failure to meet that demand will result in a demonstration at the Eleganza Gala.
Preston collected more than 2,000 signatures on the petition. The St. John's staff met with Jenner, after which Jenner said she declined the honor in the "spirit of unity and love." She added: "Trans people understand what it's like to be judged for who we are, and defined by a world that doesn't understand us, so let's present a united front in support of St. John's Trans Health Program. I am with you, and I am here to help."
The staff issued a statement acknowledging their mistake.
"For us, it has always been about the patients who we serve. We have managed to focus on the human impact over politics. But, in today's political climate, we realize that it is increasingly difficult to separate the two– especially because transgender lives are at risk every day under this new administration. This reality has renewed our commitment to work to create positive change and bring members of our community together to heal. That begins with listening to our brothers and sisters," the statement reads in part.
But in the meantime, Preston went on a tear on her Facebook page, not only ripping Jenner and St John's for honoring her—but calling out issues in the LGB and trans community, as well.
"If we're ever going to make progress, it's important that we learn how to sit in the inconvenience of uncomfortabilty. What we're recognizing is that although we're having difficult conversations, they're conversations that need to be had because we can't heal what we don't reveal," she said on Oct. 16.
"Here's what my problem is: while we're trying to pick up the pieces to all of this mayhem, the decisions are being made by people outside of our community, typically – some of the management and typical cis-gender white people in organizations that aren't really aware of the consequences and ramifications for the decisions that they make," she said.
"I deeply, deeply, deeply implore that Jim and management at St. Johns really be intentional about how they're serving people of color and the trans community at large. Because one of the things many of us know in the community but people don't want to say is that St. John's was supposed to be that knight in shining armor coming in on a white horse. That was supposed to be the antithesis to some of the things, to be honest, the Gay and Lesbian Center had become. There were many community members that felt that communities of color and trans people and gender non-conforming people and the elderly—that there were people that were being overlooked because the Center does so much amazing work, but there is just not enough manpower at times. And so St. John's was going to be somewhat of the antithesis of that – that was going to prioritize us and put us first and that was going to consider the disproportionate realities that many of us live and take a closer look and examine some of those disparities that we face."
And then Preston shifts. "I feel like many of us who've been doing the work for years, we're getting a little tired. And we're getting a little weary. And we're getting a little complacent," she said. "And we're taking short cuts that are ultimately undoing the work that all of our ancestors did before us. Because it's a lot easier to just submit to the crack of the whip and do what massa says for those funding dollars than it is to be intentional and firm and very compliant with our mission…. (W)e continue as trans people to sometimes kind of bite our tongues because many of us who work in the non-profit industry are only one paycheck away from being in the same position as the demographic that we serve."
Increasingly, Preston steps over the understood boundaries of protest.
On Oct. 18, having secured the withdrawal of the honor for Jenner, Preston shocks the community with her reaction to the call for a community meeting to air out grieves, heal and move on.
"Now, make sure your wigs are fashioned bitch. I'm about to go all the way in," Preston says with a smug smile. "I love Karina Samala. She's done a lot of amazing work for the community throughout the years. She's been really instrumental in raising funds through the Imperial Court, her pageant system that she's created before. She's served on several boards. I mean she's really done a lot. However, I think it's very disrespectful that Jim and anyone else at St. John's upper management who are typically white cis people who are not really interested in the voice and the dialogue coming from the community as much as they are trying to hush us and silence us and censor us just like what happened when TransNation Film Festival took the comments section off of the page because community started to bring forward backlash. And so other people like their sponsors like HBO and all these other people didn't see it. They just completely took it off.
"I think there's a lot of us in the community that are complicit as fuck. Complicit, complicit, complicit, complicit, complicit. And I know that Mother Karina, as I call her and many of us call her – I know she means well – but stop letting massa send you out to the field to give us messages. If massa wants us to work harder, or do whatever, make massa bring his motha-fuckin' ass out into the field and tell us his self. There is no reason why Jim continues to send house slaves out to the field to give us messages and try to reconstruct our thoughts and how we feel and what we think and to get us to inevitably do what he wants us to do. It's very simple and we made it very clear for St. John's Well Child and Family Center. You either rescind or we descend. Period. Point blank."
Queen Victoria Ortega explains that the trans community is a microcosm of what's happening in America today with the outside world tearing itself apart. It's important to push leaders forward, to evolve," she says, especially in terms of valuing an individual's worth based on experience rather than a degree. "But at some point, we have to figure out how to work together. We have to develop rules of engagement…and at the end of the day, we have to have the intention to help other trans folks. How do we proceed forward," when trans folks don't have the leverage to make systematic change?
She says the trans community also must deal with its own issues of intersectionality and suggests the fight between Preston and the trans Latina leadership at St. John's may be akin to the fight between Malcolm X and Martin Luther King Jr when they presented two different ways of approaching black civil rights and liberation. "It's upon us. We are accountable to the larger expectations of our community."
And that's perhaps why the roughly 50 people stayed in the trans community meeting trying to work things out. It was raw. Hurt feelings were expressed, some soothed. Preston both apologized for and justified her "massa" remarks. Mangia stayed for the entire four hours, apologizing again, explaining his weight of responsibility for the $75 million organization that provides free or low cost healthcare to uninsured, undocumented and 100,000 who live below the poverty level. Additionally, St. Johns has sued the Trump administration three times over their killing of Obamacare.
But while Mangia expressed his commitment to the trans community, he didn't share why that commitment comes from his soul. Marsha P. Johnson was not only a friend, but essentially saved him at a critical time in his life.
When Mangia came out in the 1980s, his family was upset and he left. "Marsha P. Johnson gave me place to stay while got on my feet," he says. Additionally, they marched together in every Gay Pride march and or years the drag queens and trans folk marched in front. But one year, they forced the drag queens to go to the back. Mangia was going to protest but Johnson told him to get round up the 300 or so people from the gay and lesbian caucus he headed and they all went to the back. But as the last contingent, Johnson, fabulous in her gold lame dress and hat, invited all the parade watchers on the sidewalk to join them. By the time they reached Christopher Street, the crowd has swelled to 10,000.
"You should have seen the faces of those white boys! It was more people than they'd ever seen before," says Mangia. "I will always be grateful to her. She taught me how to be gay and gave me shelter and solace when I came out."
For his official quote, Mangia says: "I was so honored to be a part of this dialogue which was the first step in healing the hurt and divisions which recently occurred in the trans community.  I sincerely apologized and continue to, for any part I or St. John's played in that controversy.  I am so proud of our trans staff and our transgender health program and in the fact that St. John's built this program.  And we will eagerly and aggressively continue to participate in this dialogue.  We are in this space because of our love for the trans community.  And we look forward to coming together tonight at Eleganza, along with Laverne Cox and so many trans leaders, to honor a true trans hero, Jazzmun Clayton, and celebrate the power and passion of the transgender community."
Karina Samala says she intends to hold more trans community meetings at St. John's in the future. And they are open to the public.
Jim Mangia at Eleganza, 2016:
Senate passes Respect for Marriage Act with 61 votes
President Joe Biden, Vice President Kamala Harris, the Congressional LGBTQ+ Equality Caucus, and LGBTQ groups celebrated Tuesday's victory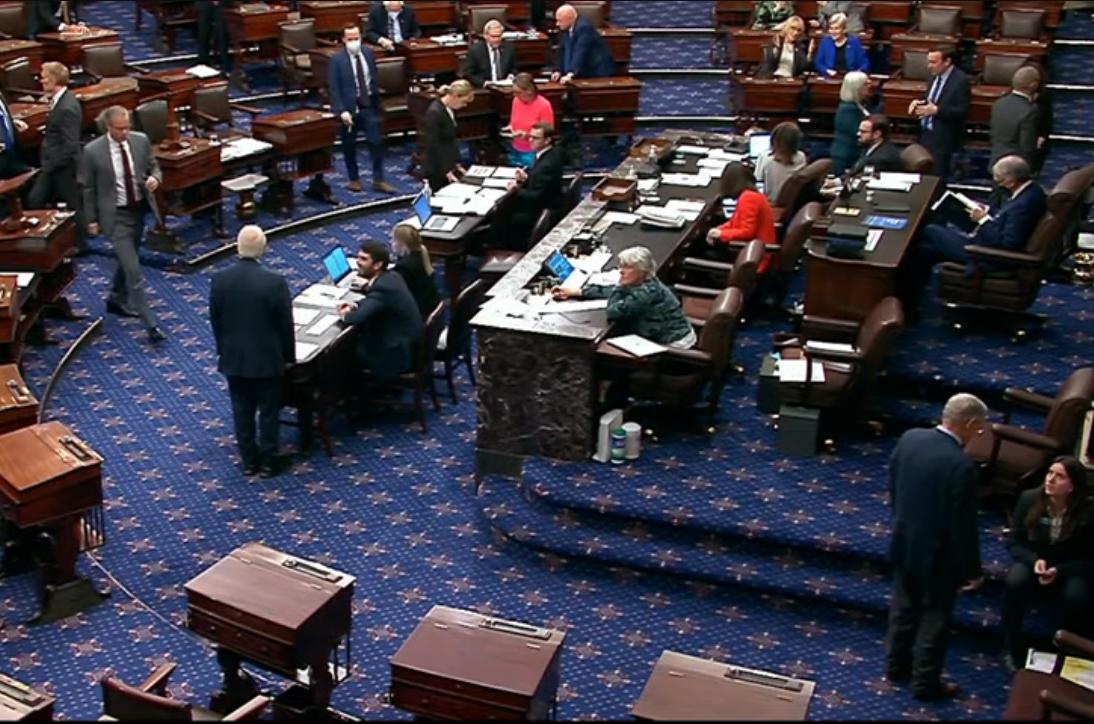 WASHINGTON – The U.S. Senate voted 61-36 on Tuesday to officially pass the Respect for Marriage Act, a historic piece of legislation that is expected to soon become law after members in the U.S. House of Representatives sign off on a bipartisan amendment added by their Senate colleagues.
Designed as a vehicle to mitigate the fallout if the U.S. Supreme Court's conservative supermajority guts the constitutional protections for marriage equality, the bill was narrowly construed – in part to help guarantee that it withstands potential challenges from conservative legal actors.
Nevertheless, the Respect for Marriage Act is a landmark bill that has been backed by virtually every LGBTQ advocacy organization in the country. The legislation repeals the Clinton-era Defense of Marriage Act while enshrining into law substantive protections for same-sex couples.
Regardless of whether or how the high court might decide to revisit the marriage question, the Respect for Marriage Act will protect the federally ordained rights and benefits that have long been enjoyed by married gay and lesbian couples. And should the court pave the way for conservative states like Texas to renew their bans on same-sex marriage, the law will require them to officially recognize and honor those that are performed in jurisdictions where they remain legal.
Despite earning broad bipartisan support from lawmakers in the U.S. House, which passed its version of the bill this summer with an overwhelming majority – including votes from 47 Republican members – the Respect for Marriage Act faced an uncertain future in the Senate.
Conservative members in the chamber's Republican caucus argued the bill would jeopardize religious freedoms, concerns that a group of five bipartisan senators sought to allay with an amendment that, among other provisions, clarifies the right of religious nonprofit organizations to refuse "any services, facilities, or goods for the solemnization or celebration of a marriage."
Writing the amendment were Sens. Susan Collins (R-Maine), Rob Portman (R-Ohio), Kyrsten Sinema (D-Ariz.), Thom Tillis (R-N.C.), and Tammy Baldwin (D-Wis.), who was considered the driving force behind the bill's passage through the Senate.
Thank you to the millions of same-sex and interracial couples who truly made this moment possible. By living as your true selves, you changed the hearts and minds of people around you. #RespectforMarriageAct https://t.co/o0EeY1vOq7

— Sen. Tammy Baldwin (@SenatorBaldwin) November 29, 2022
Several Republican senators proposed additional amendments that – per a narrow procedural vote before and another shortly after the Thanksgiving break – were not put up for debate, thereby allowing the Respect for Marriage Act to clear the Senate with Tuesday's vote.
Barely surpassing the 60-vote filibuster-proof majority with one extra "yea," the Senate's passage of the bill came despite the best efforts of conservative opponents who had run coordinated campaigns to erode support among GOP members.
President Joe Biden and Vice President Kamala Harris each issued statements shortly after Tuesday's vote.
The President celebrated the "bipartisan achievement" by Congress, writing: "For millions of Americans, this legislation will safeguard the rights and protections to which LGBTQI+ and interracial couples and their children are entitled. It will also ensure that, for generations to follow, LGBTQI+ youth will grow up knowing that they, too, can lead full, happy lives and build families of their own."
Harris wrote: "The Respect for Marriage Act ultimately stands for a simple principle: all Americans are equal and their government should treat them that way. Today, we are one step closer to achieving that ideal with pride."
The Congressional LGBTQ+ Equality Caucus also praised the victory. "Today, a bipartisan group of 61 Senators made clear that this country will not roll back the clock on marriage equality," said Congressman David Cicilline (D-R.I.), Chair of the Equality Caucus. "The Respect for Marriage Act is a crucial safeguard for LGBTQ+ people whose lives have been forever changed by Obergefell v. Hodges and Americans who are in interracial marriages thanks to Loving v. Virginia. On June 26, 2015, the Supreme Court declared marriage equality as the law of the land. Today, the Senate ensured those marriages will continue to be protected."
LGBTQ groups celebrate the win
"Diverse faith traditions across the nation came together to demand respect for LGBTQ+ Americans – we staked our ground and refused to let this opportunity slip away, " said Rev. Paul Brandeis Raushenbush, president and CEO of Interfaith Alliance, in a statement Tuesday.
"The LGBTQ+ community has faced ongoing deadly violence, legislative assaults and constant threats – including the deadly shooting in Colorado Springs barely one week ago," said Kelley Robinson, president of the Human Rights Campaign, in a statement from the organization.
"Today, with the passage of the Respect for Marriage Act in the Senate — a historic moment that marks the first federal legislative win for LGBTQ+ equality in over ten years, since the repeal of Don't Ask Don't Tell — the 568,000 same-sex married couples in this country can breathe a sigh of relief that their marriages will be protected from future attacks," said Robinson, who yesterday began her tenure as the first Black queer woman to lead America's largest LGBTQ organization.
GLAAD President Sarah Kate Ellis responded on Twitter and in a statement, writing: "As so many LGBTQ people face uncertainty and harm on the state level and extremists on the Supreme Court vow to reconsider the landmark Obergefell decision, this victory will provide comfort and security to millions of people and their families."
"Today's bipartisan vote in the Senate to pass the Respect for Marriage Act is a proud moment for our country and an affirmation that, notwithstanding our differences, we share a profound commitment to the principle of equality and justice for all," reads a statement from National Center for Lesbian Rights executive director Imani Rupert-Gordon.
LGBTQ Victory Institute President and CEO Annise Parker said, "This landmark piece of legislation protects the marriages of millions of LGBTQ Americans who have not slept well for months, wondering if our marriages would be dissolved by an activist court. While the Respect for Marriage Act is undoubtedly one of the most important pro-LGBTQ laws ever passed, it does not require states to grant marriages to LGBTQ couples. Until then, our fight is not over."
I just called my daughter and her wife—who are expecting a baby next spring—to let them know that this Senate passed the Respect for Marriage Act!

What a great day! pic.twitter.com/K3ZKM7r5Zo

— Chuck Schumer (@SenSchumer) November 29, 2022