Kamala Harris emerges as LGBT favorite for 2020 — there's just one thing
Kamala Harris' record contains one item that may surprise many of her LGBT supporters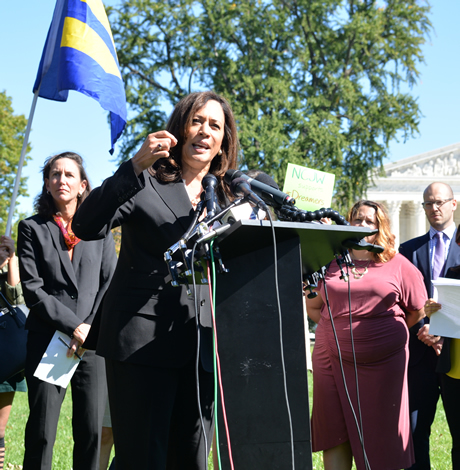 Sen. Kamala Harris (D-Calif.) was likely chosen as a featured speaker at Saturday's Human Rights Campaign National Dinner because she's quickly becoming a favorite in the LGBT community among potential 2020 Democratic presidential contenders.
To recognize her popularity among LGBT people, just find the animated picture of Harris making the rounds on Facebook at the Senate dais brushing her hair back, clasping her hands and blinking her eyes wearily as she's cut off during a Senate Intelligence Committee hearing. Also check out the widely shared video of her exchange with U.S. Attorney General Jeff Sessions about his Russian connections, which left the Trump official muttering he felt "nervous" under questioning from the U.S. Senate's only black female senator.
But a look at her LGBT record reveals one wrinkle on transgender rights that may surprise her followers and that has disappointed some trans people.
To be sure, Harris has a staunchly pro-LGBT record. As California attorney general, she declined to defend California's ban on same-sex marriage Proposition 8 in court. When the U.S. Supreme Court restored marriage equality to California, she officiated at the wedding of Kris Perry and Sandy Stier, the first same-sex wedding after the ruling, and instructed clerks to marry same-sex couples seeking a license with "no exceptions."
Also as attorney general, Harris in 2015 refused to certify a "Kill the Gays" ballot initiative proposed in California that would have (unconstitutionally) instituted the death penalty for homosexual acts. Despite a legal challenge, a federal judge agreed to relieve her of duty to prepare a title and summary for the measure before it advanced to the signature-gathering stage.
Harris also co-sponsored a bill in the California Legislature with former Assembly member Susan Bonilla to eliminate the "gay panic" defense in cases of murder or violent crime against LGBT people. Gov. Jerry Brown signed the legislation in 2014, making California, along with Illinois, one of two states in the country to ban the plea.
Upon beginning her term as a U.S. senator this year, Harris continued to advocate for LGBT rights. A co-sponsor of the Equality Act, Harris also demanded answers from the Trump administration on the decision to omit questions in the U.S. Census allowing responders to identify their sexual orientation or gender identity. The Trump administration never provided a direct response.
Harris has signed friend-of-the-court briefs arguing transgender people should be allowed to use the public restroom consistent with their gender identity. As California attorney general, she filed briefs in favor of Obama administration guidance supporting transgender students and against North Carolina's notoriously anti-LGBT House Bill 2. As a U.S. senator, she signed a brief before the U.S. Supreme Court in favor of transgender student Gavin Grimm's case.
Rick Zbur, executive director of Equality California, said Harris' record on LGBT rights in her capacities as attorney general and a U.S. senator are nothing short of "impeccable."
"We've known her since she was the DA in San Francisco, and then of course, when she as attorney general was more engaged than any attorney general has been with us in the LGBTQ community," Zbur said. "[She] really engaged with us and has a really strong commitment and understanding of our issues."
On transgender issues in particular, Zbur noted Harris as attorney general appointed last year a transgender woman of color, Mariana Marroquin, to the California Racial & Identity Profiling Advisory Board.
Harris will likely tout her record on LGBT rights during her remarks at the 21st annual Human Rights Campaign National Dinner.
But one part of her record she might avoid is her role as California attorney general in 2015 in arguing on behalf of the state to withhold gender reassignment surgery from two transgender inmates who were prescribed the procedure while serving out their sentences. Advocates have made the case that transgender inmates are entitled to receive the taxpayer-funded procedure because denying them medical treatment amounts to cruel and unusual punishment — a clear violation of the Eighth Amendment of the U.S. Constitution.
One case involved Shiloh Quine, who's serving a term of life for first-degree murder, kidnapping and robbery. The other case involved Michelle-Lael Norsworthy, who was serving time in prison in Mule Creek State Prison in Ione, Calif., for second-degree murder. Both were prescribed gender reassignment surgery, but the California Department of Corrections & Rehabilitation refused to provide the procedure.
The process of the Norsworthy case was quite public as it proceeded through litigation. Although U.S. District Judge Jon Tigar ordered California to grant Norsworthy gender reassignment surgery, Harris in her capacity as attorney general appealed the decision to the U.S. Ninth Circuit Court of Appeals and fought to reverse the decision.
One 29-page brief in the case, signed by Harris, urges a stay on the court order for Norsworthy because the hormone treatment the inmate receives is sufficient — at least for the time being.
"The core of Ms. Norsworthy's complaint is that Defendants have not provided the particular treatment she wants sex-reassignment surgery and unspecified 'additional treatment,'" Harris writes. "But the Constitution 'does not guarantee to a prisoner the treatment of his choice.' The Eighth Amendment requires that an inmate be afforded 'reasonable measures to meet a substantial risk of serious harm to her,' not that she be given the specific care she demands. The 'essential test is one of medical necessity and not one simply of desirability.'"
Ultimately, both the Norsworthy and Quine cases resulted in settlements. Norsworthy reached an agreement with the state in which she obtained parole. As a result, she was able to obtain surgery through Medi-Cal, a state health care system in California. In the Quine case, the state agreed to grant her gender reassignment surgery as well as clothing and items consistent with her gender identity. The California Department of Corrections & Rehabilitation also agreed to review and revise its policies writ large for transgender inmates and medical treatment, including gender reassignment surgery.
But Harris' actions in the Norsworthy case have inspired consternation in the transgender community and on Twitter, including from Chelsea Manning, who fought to receive gender reassignment surgery though litigation during her time in prison after the Army initially denied it to her. (A Washington Blade article on Harris' brief against the court order is among the paper's top 10 trafficked stories this year — the only story not from 2017 to hold that distinction.)
Zbur said criticism of Harris' role in the litigation, however, is "really misplaced" because as attorney general she was compelled to represent the position of her client, which in this case was the California Department of Corrections & Rehabilitation.
"As a lawyer for the government, she was constrained in what she could publicly say and do and her client was making decisions, but with us she really working hard to understand the issue, providing information, and I think she was a big part of the resolution, which resulted in the really significant policy changes that were implemented by the Department of Corrections when she was attorney general," Zbur said.
But the argument Harris was compelled to fight the court order granting gender reassignment surgery to an inmate because that was her responsibility as attorney general raises the question on how she got out of similar duties in an effort to uphold LGBT rights. If Harris could get out of defending Proposition 8 or certifying the "Kill the Gays" initiative, why couldn't she also opt out of litigation seeking to bar transition-related care to a transgender inmate?
Zbur said the difference between the transgender inmate litigation and the other two situations was that in the former, Harris had a specific client, namely, the California Department of Corrections & Rehabilitation.
"When you have a client, you basically have ethical duties to represent the client's interest," Zbur said. "You take direction from the client. And so, she did really have constraints in terms of what she could do, but I think the bottom line is that during that period of time, she was working hand-in-hand with us on a process that resulted in changing the policies at the Department of Corrections, and that's a really significant thing."
At the time Harris engaged in the litigation in 2015, Jon Davidson, legal director for Lambda Legal, said the attorney general's actions were her own choice.
"Even where the decision is made to defend an unconstitutional practice, there's nothing that dictates the tactics of that defense, particularly once a court has found there are likely ongoing constitutional violations," Davidson said. "The choice to appeal a preliminary court order and to seek to delay its implementation is just that — a choice. It's also a very unfortunate one, given that what is at stake here is potentially life-saving treatment that is widely recognized as medically necessary for some people suffering from gender dysphoria."
It seems the cases weren't on Harris' radar, even though her name is on each of the legal briefs, until much later in the process of litigation.
Nathan Barankin, who's chief of staff for Harris and served as her deputy attorney general, said around 1,100 attorneys are working on cases like these and Harris wasn't personally aware or involved in the litigation until a later time.
"She did learn about our office's involvement in this case by reading about it in the newspaper," Barankin said. "Her reaction to the way the case was being litigated was to work very closely with all of the parties involved to reach what we consider a successful conclusion, which was a permanent change in state prison policy on the treatment of transgender inmates."
Two years later after the settlements were reached, Lambda Legal struck a different tone on Harris' handling of the lawsuit.
Peter Renn, a senior attorney in the Western Regional Office of Lambda Legal who works on transgender cases, said the situation changed in the lawsuits as Harris became more involved in the litigation.
"The California AG's office shifted its handling of these cases significantly after now-Sen. Harris took over," Renn said. "Initially there was language in briefing for the state that glaringly misunderstood the medical necessity of transition-related medical care and was patently offensive. But then, there was a dramatic change, which seems to have gone along with important policy shifts."
Supporters of Harris point to the settlements that were reached in the cases as evidence that her role was productive for transgender rights. After all, those agreements created precedent in the state and new policy ensuring transgender people in California prisons can receive gender reassignment surgery.
But not everyone agrees with that assessment.
Amanda Goad, a California attorney who works on transgender issues and identifies as queer, said in a personal capacity calling the settlements in the Quine case an LGBT rights achievement for Harris "does not make sense."
"Her client CDCR could have updated its policies and made gender-confirming surgery available to incarcerated folks long before it did so under the pressure of a trial court loss in the Quine case," Goad said. "Harris has done other things that do seem to me to belong under the banner of LGBTQ champion. … Settling a lawsuit that the state was losing — and never should have defended in the first place — just doesn't fit the bill."
In her capacity as staff attorney for the American Civil Liberties Union of Southern California, Goad said the policy changes the California Department of Corrections & Rehabilitation promised aren't being implemented.
"Recent data shows that of the many prisoners who have applied to undergo gender-confirming surgery under the new policy, zero trans women beyond Shiloh Quine herself have actually undergone surgery. (Two men have undergone top surgery.)," Goad said. "Dozens have been denied, and I get letters every week from women extremely upset about their inability to access surgical care."
Goad also complained about the state continuing to fight transgender prisoners' access to clothing consistent with their gender identity as well as harassment, sexual assaults and violence endured by transgender women in prison.
That mistreatment, Goad said, is something Harris could address through encouraging enforcement of the Prison Rape Elimination Act and other actions.
"She has a great platform from which to speak out about the broader issues of violence, discrimination, and harassment endured by transgender women of color both inside and outside prison and propose constructive approaches for addressing those problems and their structural causes," Goad said.
Major transgender rights advocates said the inclusion in Harris' LGBT record of seeking to deny gender reassignment surgery to transgender inmates was unfortunate — but also urged LGBT people to look at the bigger picture.
Jillian Weiss, executive director of the Transgender Legal Defense & Education Fund, said Harris' defense of the state in the litigation contrasts with her otherwise pro-LGBT record.
"Sen. Harris has a positive record as a champion of gay and lesbian rights, and that is commendable," Weiss said. "It is unfortunate that her record also includes having argued that gender confirmation surgery was not a medical necessity for a transgender woman despite a psychological assessment to the contrary. While some public sentiment leans against providing necessary medical services for transgender people who are incarcerated, our Constitution recognizes that denying such vital health care is cruel and unusual punishment. It is our hope that Sen. Harris will learn more about transgender medicine and its importance to trans people."
(Harris isn't the only potential 2020 Democratic presidential candidate with an unfriendly record on gender reassignment surgery for transgender inmates. In a 2012 radio interview, then-U.S. Senate candidate Elizabeth Warren said when asked about granting the procedure to an inmate in Massachusetts, "I have to say, I don't think it's a good use of taxpayer dollars." Warren has never corrected that position even as litigation seeking the procedure for the inmate, Michelle Kosilek, proceeded through the courts. Ultimately, the First Circuit ruled against Kosilek, setting binding precedent in that jurisdiction.)
Mara Keisling, executive director of the National Center for Transgender Equality, took an even more lenient approach to Harris' action on the lawsuit and said her organization would work with her on issues of transition-related care for transgender prisoners.
"Sen. Harris has long been a friend of LGBT people and our causes," Keisling said. "Notwithstanding her one-time defense of an indefensible and unconstitutional state prison position on trans healthcare, she is now a senator and is very likely to continue being a vote and voice for trans people in the U.S. Senate. She has shown this recently in support of Gavin Grimm and trans service members. I am certain when I first meet her, we will discuss her position in the prison case, and she will continue to grow and continue to support us better and better."
Karen Bass & her LGBTQ staff discuss commitment to equity & justice
"Diversity is something you have to do consciously," Bass said. "I always look at my staff and [ask myself] 'who's missing?'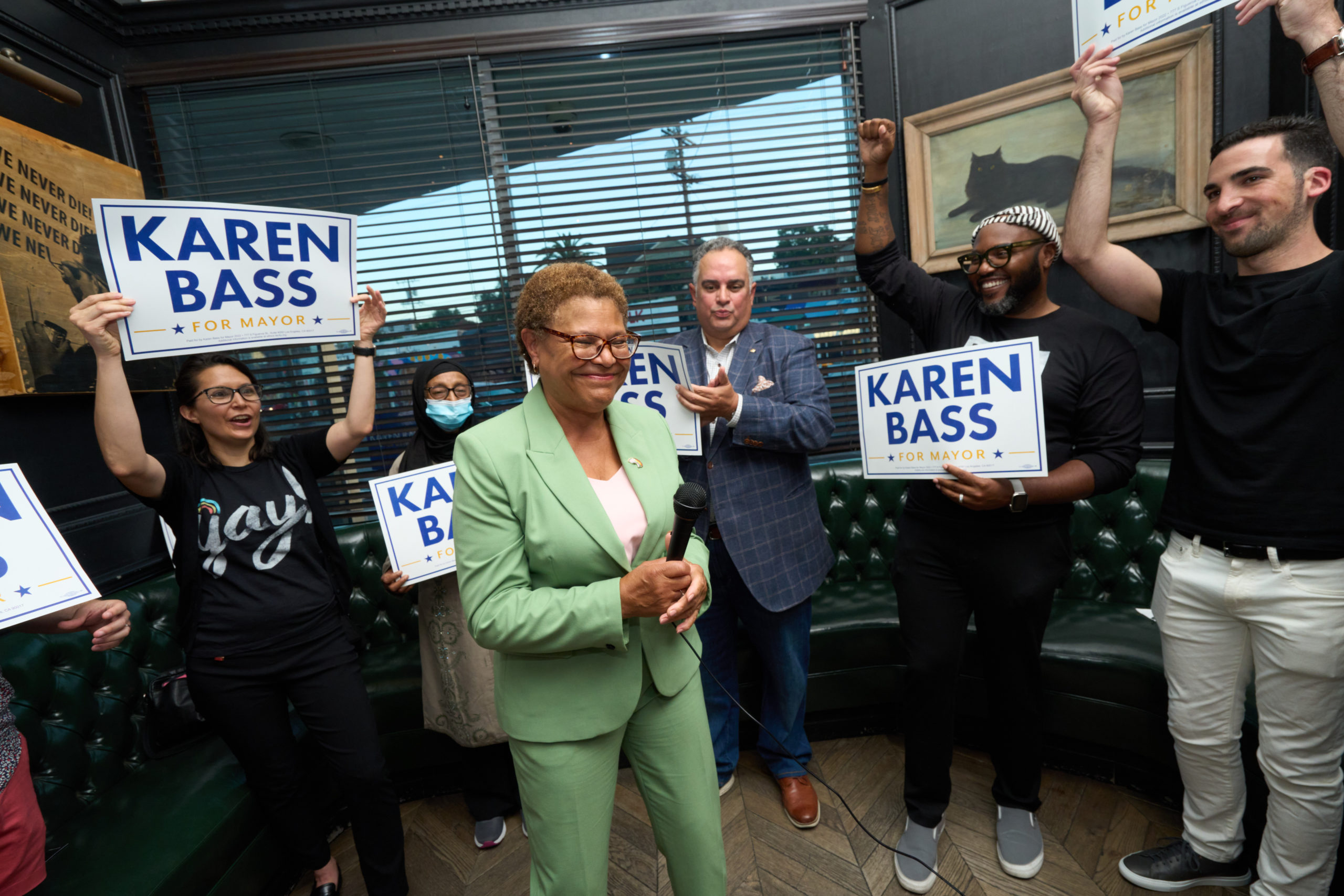 LOS ANGELES – U.S. Rep. Karen Bass (D-CA), a leading candidate to become the next mayor of the city Los Angeles, has hired LGBTQ+ folks with diverse backgrounds to leadership positions on her Congressional staff and in her mayoral campaign because of "their dedication to fighting for social and economic justice," Bass told the Los Angeles Blade over the phone Thursday morning.
"Diversity is something you have to do consciously," she said. "I always look at my staff and [ask myself] 'who's missing?' to make sure we have representation. I think it's really important to approach it that way."
Meanwhile three senior members of Bass's staff, all of whom identify as LGBTQ+ – Senior Advisor and Policy Director Joey Freeman, Campaign Manager Jenny Delwood, and Chief of Staff Darryn Harris — spoke to The Blade about their personal relationships with the Congresswoman. 
They also highlighted what they described as a throughline in Bass's adherence to principles of equity and justice, beginning with her early career as a nurse and physicians' assistant through to her candidacy for mayor of Los Angeles.
Bass is slated to square off against billionaire real estate developer Rick Caruso in the November 8 election to replace term-limited incumbent Los Angeles Mayor Eric Garcetti. The two candidates advanced from the June 7 primary elections, having each received less than 50% of the vote.
A longtime ally of the LGBTQ+ community, Bass kicked off her "LGBTQ+ for Bass affinity group" Wednesday night at the historic Black Cat restaurant in Silver Lake.
Bass has been a mentor to the next generation of LGBTQ+ leaders on her staff.
When it comes to her staff, Bass said, "I see my role as helping to develop their leadership and helping to support them however I can."
"I was able to be my full self here; fully black, fully gay," said Harris, Bass's chief of staff, who has known the Congresswoman for his entire adult life and served in multiple positions before being appointed to lead her congressional office.
"When you have a boss who's that supportive of you, it helps in so many different ways," he said. "Not only with the work we do, but also it was one of the things that helped deepen our friendship and deepen our mutual trust, because I was able to bring my whole self to work."
Delwood, Bass's campaign manager, has also known the Congresswoman for more than a decade and served in multiple positions before her appointment to lead her mayoral campaign. As a human being, as a professional, and as a lesbian, Delwood said Bass has embraced every part of who she is.
"The Congresswoman has been not only a boss, but also a mentor," Delwood said. "I started working for her as a fellow/intern in 2007 in the California Assembly, and she and I have built a very strong relationship over the years. She is part of my extended family, now."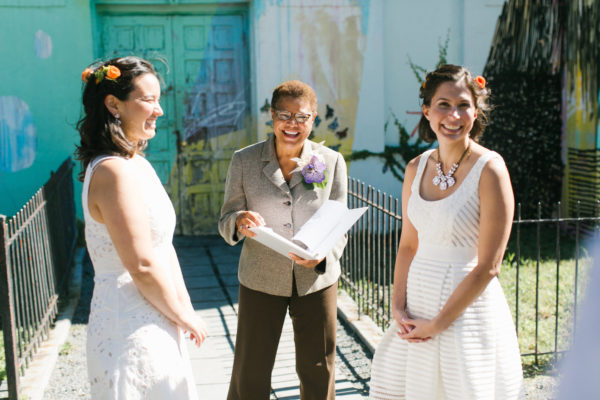 Beginning with her early career in healthcare, Bass has been an ally of the LGBTQ+ community
"When I went to school to be a physicians' assistant in the early 1980s," Bass said, the virus that would become known as HIV/AIDS began to emerge, disproportionately impacting gay men. "It was unbelievable, in the first few years of the epidemic, how [badly] these patients were treated," she said.
In her work treating patients, and as a full-time clinical instructor at the University of Southern California's Keck School of Medicine, Bass pushed for better treatment of HIV/AIDS patients, practicing what she preached.
"From that time on, she's been standing for and with the community," said Freeman, Bass's senior advisor and policy director, who identifies as gay.
"She was on the ground floor of the HIV AIDS epidemic," Delwood said, "providing medical care for people with HIV/AIDS when folks were steering clear of and being discriminatory [against those who were positive]." From those early days of her career, Delwood said, "Congresswoman Bass has been in deep solidatiry with the LGBTQ community."
"It wasn't just gay men with HIV," said Zach Seidl, Bass's communications advisor, "but trans folks, too."  In the best of cases, doctors would greet HIV/AIDS patients in hazmat suits; in the worst, refusing treatment, Seidl said. Bass, meanwhile, insisted she needed to help them, he added.   
Bass believes in consulting people who will be directly impacted by policy
Policymakers often speak with subject matter experts without consulting those who will be directly impacted, Bass said. It's an oversight the Congresswoman has been careful to avoid.
For example, Bass told the Blade she visited a federal prison yesterday morning to hand out copies of draft legislation that concerns women in the criminal justice system, inviting incarcerated women to read and share comments or input by email.
This will extend to her work as mayor, Freeman said. If elected, Bass will be charged with selecting staff, commission members, and general manager appointments, roles where she will ensure LGBTQ+ people are well represented, because this is how she prefers to govern – by consulting with people who are directly affected by policy.
Working so closely with Congresswoman Bass, "I have the opportunity to see that every single day," Harris said, "Ordinary people influencing public policy at state, federal, and – soon – the citywide level" under her leadership.
Bass believes the most effective way to create lasting change is to work with community members and to bring forward solutions that are community driven, Delwood agreed. "In order to actually solve homelessness or address crime in LA or deal with our lack of affordable housing, it's imperative" to work with a variety of stakeholders from the community as well as in the county, state, and federal government, she said.
Bass and her staff have big plans to address problems afflicting Los Angelinos
"I could have stayed in Congress to fight for a leadership spot," said Bass, who was reported as a front runner for President Joe Biden's vice president during his 2020 electoral campaign. But there are crises in Los Angeles, she said, pointing to the latest figures on the city's unhoused population as an example.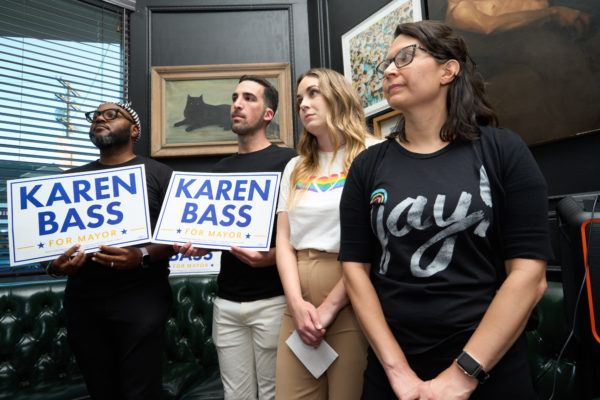 It was the second time in her career that Bass was faced with such a decision, she said. "I was a full-time faculty member of the medical school" when Los Angeles began to experience a crack-cocaine epidemic in the late 1980s and early 1990s.
"I was mortified at how the city was responding to crack cocaine and gang issues," Bass said. "These were health, social, and economic issues, but the response of policymakers was to criminalize everything and everyone in South LA."
Leaving USC, Bass formed the Community Coalition and began her work as a community organizer. "I worked to prevent the city from locking everyone up, and to steer people away from gangs," the Congresswoman said. "And then I looked for how we organize people to fight for drug treatment instead of incarceration for those who were addicted."
Likewise, Bass said, the current moment calls for coalition building and working across the government to improve the lives of Angelenos and effectuate just policymaking for, especially, vulnerable communities.
Members of Bass's staff pointed to how the Congresswoman could be particularly effective as mayor on issues of homelessness, LGBTQ+ rights, child welfare reform, foster care reform, housing affordability, and violence against Black trans people.
"Forty percent of young people on the streets are LGBTQ+," said Delwood. "Being able to address that is a top priority of the congresswoman as well as our entire team." Many children land in the foster care system because of discrimination over their sexual orientation or gender identities, she said, and while LGBTQ+ adoptive or foster parents are greeted with "open arms" in LA, such is not the case in many other parts of the country.
As Mayor, in coordination with the Los Angeles County Board of Supervisors, Bass will be able to champion foster youth, reform the child welfare system, and prove to the rest of the country how successful LGBTQ adoptive and foster parents can be, Delwood said.
Freeman agreed. There is a lot of overlap, he said, with issues concerning the foster care system, with high rates of homelessness among LGBTQ+ youth, with the housing crisis. "What we need to do to address homelessness and prevent future homelessness is to tackle the root cause," Freeman said. "Are LGBTQ youth receiving the support they need?"
Congresswoman Bass "has deep relationships with folks here, in DC, and in Sacramento, so when you're dealing with challenges in LA, she knows how to go in there and how to pool the resources in order to solve them," Harris said.
Harris highlighted Bass's community organizing and coalition building roots, arguing she is the best candidate to represent all of Los Angeles as the city's mayor.
One issue Harris said he is eager to see Bass's leadership in addressing is the high rates of murder and violent crime against members of the LGBTQ+ community, particularly Black trans people. "I'm excited to see how she would be able to ensure that they are safe, tracking some of those federal dollars to ensure that they have protections against domestic and sexual violence," he said.
Rep. Karen Bass greets LGBTQ+ affinity group at the historic Black Cat
Bass has been a longtime ally of the LGBTQ+ community. In her remarks she listed some of her achievements in the battles for LGBTQ+ equality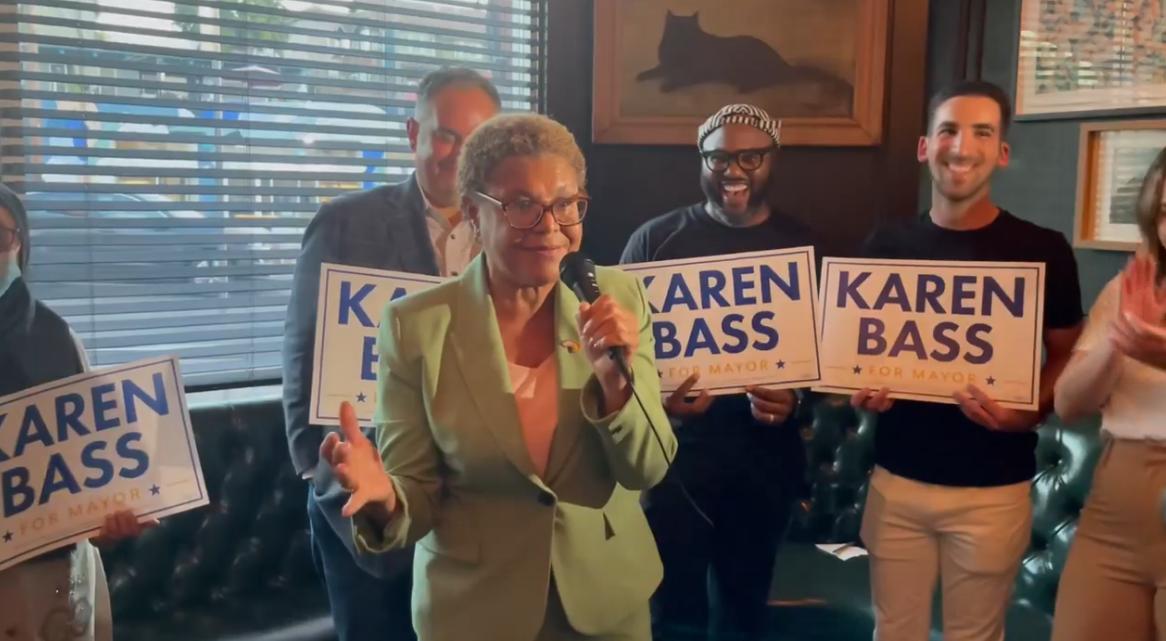 LOS ANGELES – Surrounded by well-wishers, supporters, and former California Assembly Speaker John A. Pérez at her side, U.S. Representative Karen Bass launched the official "LGBTQ+ for Bass affinity group" Wednesday evening at the Black Cat, an LGBTQ+ historic site located in the Silver Lake neighborhood of the City.
Pérez, an openly Out gay man served as the 68th Speaker of the California State Assembly, succeeding Bass as Speaker in 2010. Bass made several warm references to their mutual past political history. She also spoke on subjects that are critical to furthering LGBTQ+ equality and equity in her six-minute chat.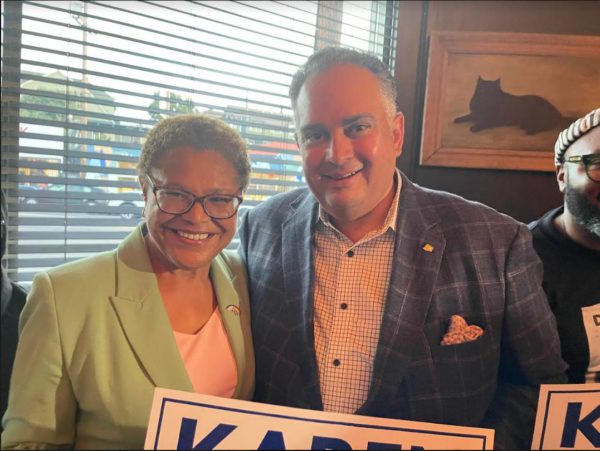 The congresswoman is locked in a close race with billionaire real estate tycoon Rick Caruso to succeed current Los Angeles City Mayor Eric Garcetti in the Fall elections on November 8. Both candidates advanced from the June 7 primary election since neither received 50% of the vote. Incumbent Mayor Garcetti is unable to stand for re-election due to term limits.
Bass has been a longtime ally of the LGBTQ+ community. In her remarks Wednesday at the Black Cat she listed some of her achievements in the battles for LGBTQ+ equality, first in the California Assembly, then in Congress.
The venue where the Congresswoman launched the LGBTQ+ political affinity group is famed as an LGBTQ+ historic site. The Black Cat was the site of one of the first demonstrations in the United States protesting police brutality against LGBT people, preceding the Stonewall riots by over two years.
From the One Archives at USC: A New Year's 1967 raid by the Los Angeles Police turned brutal as LAPD undercover officers began beating several of the patrons and ultimately arrested fourteen patrons for "assault and public lewdness." As reported by the local gay newspaper Tangents, two bartenders were beaten unconscious. The paper also noted that patrons fled to another gay bar, New Faces, but they were followed by police and arrested. The officers mistook the manager, a woman named Lee Roy, for a man (named "Leroy") wearing a dress, and beat her severely.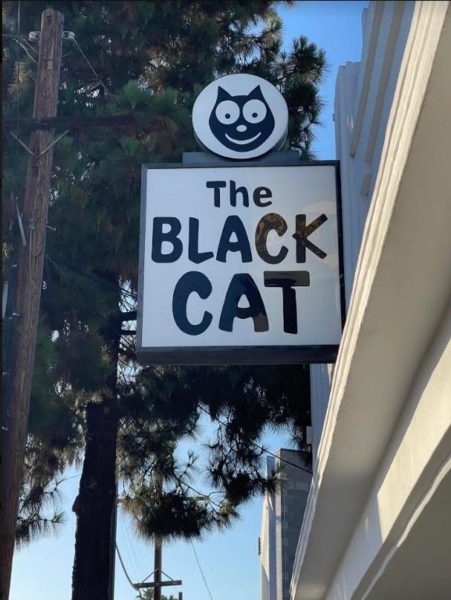 The historical account continued: Contrary to popular myth, there was no "riot" at the Black Cat, but a civil demonstration of 200 attendees to protest the raids was held on February 11, 1967. The demonstration was organized by a group called PRIDE (Personal Rights in Defense and Education) – founded by Steve Ginsberg – and the SCCRH (Southern California Council on Religion and Homophile). The protest was met by squadrons of armed policemen. Demonstrators carefully adhered to all laws and ordinances so that the police had no legitimate reasons to make arrests.
Two of the noteworthy events that arose from the Black Cat arrests and later protests was the establishment of The Advocate, which began as a newspaper for the group PRIDE and has continued publishing to this day and formation of the Metropolitan Community Church led by Los Angeles LGBTQ+ pioneer, the Reverend Troy Perry.
Karen Bass speaks at LA's iconic Black Cat:
Editor's Note: The Los Angeles Blade has endorsed Rep. Bass in her election campaign to become the next mayor of the city of Los Angeles.
Gay man wins Democratic congressional primary in Ill.
Eric Sorensen running for retiring U.S. Rep. Cheri Bustos' seat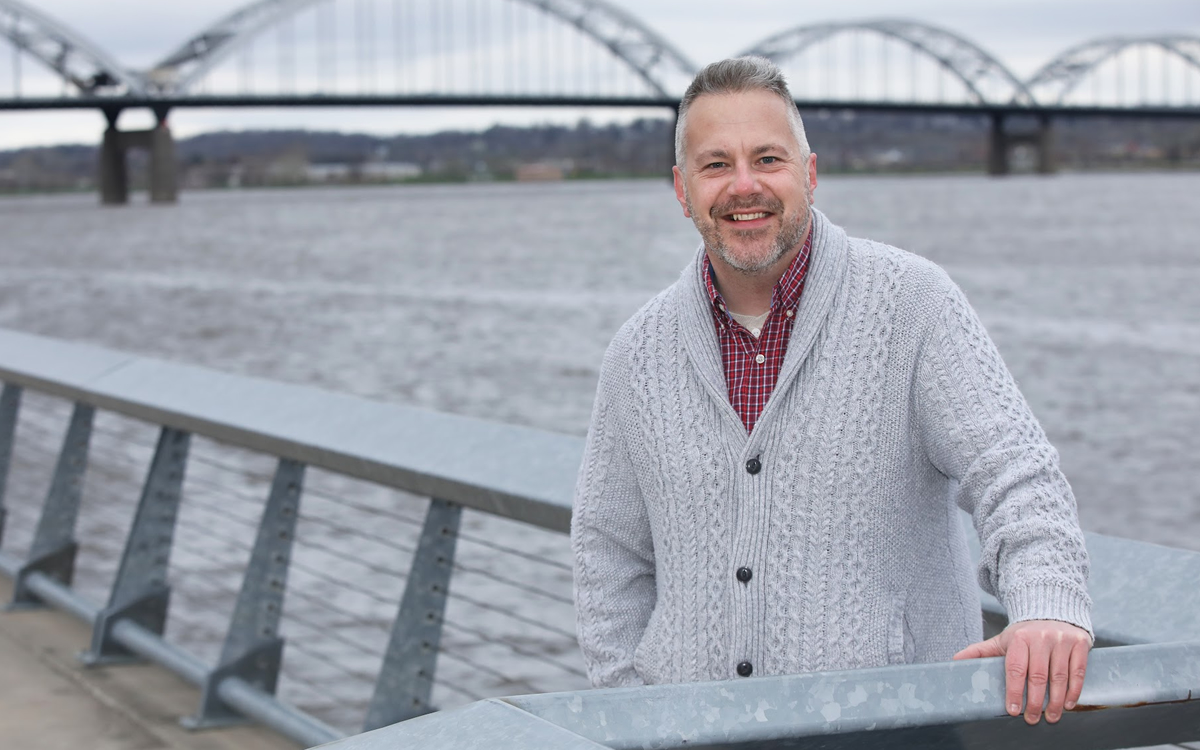 MOLINE, Ill. — Illinois Democrats are hoping to send a gay person to Congress for the first time in the state's history.
Voters in the 17th Congressional District in northwest Illinois on Tuesday voted to have Eric Sorensen, a former meteorologist, become the Democratic nominee for the district's U.S. House of Representatives seat currently held by retiring Democratic Congresswoman Cheri Bustos.
"THANK YOU to everyone who was a part of this movement," Sorensen wrote on Twitter following his primary victory. "From day one this campaign has been built on three pillars: Trust, science, and communication. I'm honored to be your #IL17 Democratic nominee for Congress."
Sorensen, who bested his closest primary opponent by more than 13,000 votes, has centered much of his campaign messaging around the issue of mitigating the effects of climate change.
Sorensen's candidacy and potential to become the state's first openly gay member of Congress has been met with celebration from those advocating for more of such representation on Capitol Hill. After Sorensen claimed victory on Tuesday, advocacy groups and political organizations like Equality PAC and the LGBTQ Victory Fund were quick to offer their support.
"It has never been more important to defend our pro-choice, pro-equality majority in Congress," Victory Fund President Annise Parker said in a statement. "As a meteorologist, Eric spent the last two decades keeping his local community safe by telling the truth and promoting a pro-science agenda. His success tonight is a testament to his continued leadership and grassroots support, as well as a highly effective ground game focused on candid conversations about how to make government work for all Americans."
Hoping to keep the district from flipping to Republican control in a midterm year that is expected to be an uphill battle for Democratic congressional majorities, Sorensen has also gained the backing of the district's current congresswoman. Bustos took to Twitter following Sorensen's victory to announce her support.
"Illinoisans deserve a representative who will fight for working families, help build our local economy and continue to lift up Midwestern voices," Bustos wrote. "Eric will do that."
Sorensen's ultimate ascension to Illinois' 17th Congressional District seat, however, is not assured. Though the district leans Democratic, it is widely labeled as a competitive race following nationwide redistricting of congressional maps ahead of this year's midterms.
Such a competitive landscape is coupled with a competitive rival battling Sorensen for the seat.
His Republican opponent, lawyer and Army Reserve Capt. Esther Joy King, previously ran for the seat in 2020, losing to Bustos by just four percent of the overall vote.
Having already secured a number of high-profile Republican endorsements including House Minority Leader Kevin McCarthy (R-Calif.), House Conference Chair Elise Stefanik (R-N.Y.) and former Secretary of State Mike Pompeo, King has already begun her November messaging campaign after besting her primary opponent by more than 30 percentage points.
"It doesn't have to be a choice if we elect leaders who will put their constituents first rather than far-left, out-of-touch policies and that's exactly what I'm running to do," King said in a statement Tuesday night. "Let's come together to win this in November."
Groups like the Victory Fund, however, are remain optimistic that Sorensen's potential to make history will be within reach when voters enter the polls on Nov. 8.
"Voters are clearly enthusiastic about Eric's vision for a more equitable future," Parker said. "We trust Eric will be a vital voice in Congress come November. The stakes have never been higher."