California officially plaintiff in trans military ban lawsuit
Ready to rumble?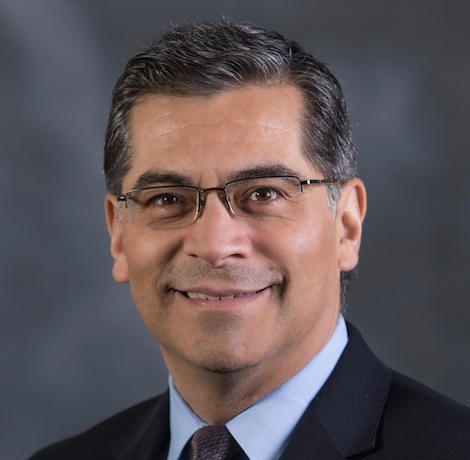 US Attorney General Jeffrey Beauregard Sessions' job just got a little harder. Thursday night, the U.S. District Court for Central California granted California Attorney General Xavier Becerra's motion to intervene on behalf of the State of California in Stockman v. Trump. The court rescheduled the Nov. 20 hearing to Dec. 11.
The lawsuit was filed on behalf of Equality California and seven individual plaintiffs challenging President Trump's transgender military ban. The National Center for Lesbian Rights (NCLR), GLBTQ Legal Advocates & Defenders (GLAD), and Latham & Watkins LLP serve as co-counsel representing the original plaintiffs. Becerra's office is representing the State of California as a plaintiff to protect the State and its 92,000 transgender residents from what Becerra called a "patently discriminatory federal policy."
"Our state is home to more than 130,000 active duty military personnel, in addition to more than 56,000 members of the National Guard and Reserves," Becerra said in a press release. "We are ready to get to work to defend the rights of transgender service members and those who seek to enlist in our armed forces. In California, we stand together against discrimination and inequality. We look forward to joining as a co-plaintiff in this critically important lawsuit to defend the rights of Californians against President Trump's prejudicial and discriminatory agenda."
"This is an important development in the fight to stop Trump's transgender military ban for good," said NCLR Legal Director Shannon Minter. "In taking this action, the court recognized the crucial perspective our state with the largest military population brings to bear on the serious question it is being asked to address regarding the harms of this ban. We are grateful to Attorney General Becerra for joining us in this critical case."
"Today we take another step forward in beating back Trump's reckless ban," said GLAD Transgender Rights Project Director Jennifer Levi. "It is incredibly significant to have the state of California – the most populous state in the nation — with us in this fight for service members, for those who wish to enlist, and for the stability and strength of the military."
"We must stop Trump's transgender military ban once and for all—too much is at stake for California, and for the nation," said Equality California Executive Director Rick Zbur. "I want to thank Attorney General Becerra for joining in this effort to stop the ban, which discriminates against our state's residents, has no rationale for being in place, and makes us less safe. Today's action by the court makes us even more confident that it will rule decisively against the administration and their reckless policy."
Obama rallies for Warnock as Walker goes transphobic in latest ad
"Tomorrow is the last day for early voting and then we need to get people out to the polls on Tuesday, which means we still got work to do"
ATLANTA – Former President Barack Obama held a rally with Sen. Raphael Warnock (D-GA) tonight in Atlanta as the Georgia election runoff for the U.S. Senate seat currently held by Warnock enters its final week.
Speaking to the enthusiastic crowd in the historic Pullman Yard, Obama urged supporters to continue pressing to secure Warnock's chances as early voting ends Friday ahead of next Tuesday's election.
"Now I know a lot of folks have been voting early over the last few days, that is a good thing. That is an encouraging thing. But — you knew there was a but —plenty of folks haven't voted yet. Tomorrow is the last day for early voting and then we need to get people out to the polls on Tuesday, which means we still got work to do," Obama said.
A spokesperson for the the Georgia secretary of state's office told the Blade that more than 1.1 million votes have been cast so far.
Warnock's Republican challenger meanwhile focused on his opposition to transgender rights. In a recent campaign ad, Herschel Walker is featured alongside cisgender former University of Kentucky swimmer Riley Gaines, who tied with University of Pennsylvania trans female swimmer Lia Thomas.
In the ad Gaines says she "worked so hard" at competitive swimming but she was "forced to compete against a biological male."  The ad also goes on to attack Warnock in the Chyron onscreen stating: "Raphael Warnock voted to allow biological men to compete in women's sports." That particular charge by Walker's campaign is factually incorrect as the U.S. Senate has not held any votes on the subject of transgender women in sports.
Politico's National political reporter Natalie Allison tweeted:
Herschel Walker is up with a new runoff ad about transgender athletes, featuring a swimmer who tied with Lia Thomas.

"My senior year, I was forced to compete against a biological male," Riley Gaines says in the ad for Walker's Senate campaign. pic.twitter.com/MlVxnJwkgB

— Natalie Allison (@natalie_allison) November 21, 2022
During the rally in Atlanta this evening Politico reported Warnock received roaring applause when he poked fun at Walker, something Obama also did, referencing a series of outlandish comments the retired football star has made over the course of his candidacy.
"We all know some folks in our lives who, we don't wish them ill will, they say crazy stuff … but you don't give them serious responsibility," Obama said.
"He was an amazing running back," Warnock said of Walker. "And come next Tuesday, we're going to send him running back to Texas."
Walker, who was raised in the Peach State and was a star player at the University of Georgia, lived the majority of his adult life in Texas before returning to run for Senate in 2021.
Politico also noted that Warnock, the pastor of the Atlanta church that Martin Luther King Jr. attended, tied the election to the long struggle of African Americans for equal rights, noting the crowd had gathered on the 67th anniversary of Rosa Parks refusing to get up from a bus seat in Montgomery, Alabama. Walker is also African American.