WeHo grapples with short-term rental regulations
But in the gig-economy, home-sharing is a lifesaver for some LGBT people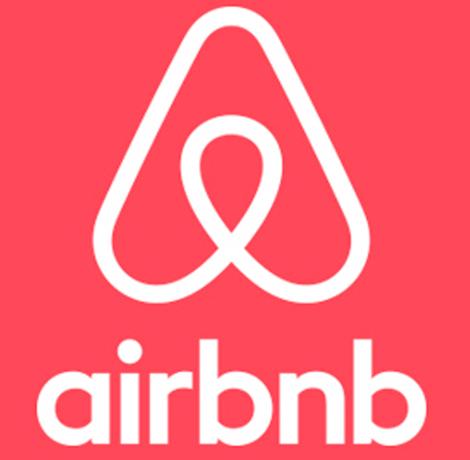 "Ridiculous," Brad Keistler, a 75-year-old gay man who owns a multiunit property near the Pacific Design Center in West Hollywood, said. He was referring to a proposed 90-day cap on the number of room nights allowed for hosted short-term rentals (STRs) now before the WeHo City Council.

As you may be aware, how the home-sharing economy is affecting communities across the nation is a huge political football right now. The City of Los Angeles is considering a revision to its policies and cities from Palm Springs to Pasadena to San Jose have all drafted different laws.

Keistler said home-sharing is "good for so many reasons." He enjoys meeting people from all over the world, saying, "I live alone and like the company." For him, a 90-day restriction on hosted STRs would be "too restrictive."
Yet despite references to the proposed 90-day cap, in truth, it's not the only option. WeHo's limit could become 180 days or even remain at the current complete ban on any STRs under 31 days, whether hosted or not. Hosted means the property owner (in some cases tenant) remains on the property. Currently the city has no plans to revise the ban on non-hosted STRs.

If Keistler had his way, there wouldn't be a ban. He sees no need for it. It should be said that he is a "super host" on Airbnb with a "98% approval rating."

But "super," or not, he's not alone.

Loren Lewis, a former model, lives in a condo her son owns on Kings Road south of Santa Monica Boulevard. Up until WeHo's 2015 ban on STRs, and her homeowners' association also prohibiting them, she rented out her second bedroom often.

While she said "I love, love, love doing it" and that she's "met wonderful people," she also added: "I need the money." Prior to the ban, Lewis, a divorcee receiving no alimony, earned up to $2,500 per month renting out her second bedroom, three times what she received from Social Security.

Describing the proposed 90-day cap as "very limiting," Lewis prefers no cap at all for hosted STRs. A limit, she said, "makes it hard to survive."

According to Airbnb, "25% of hosts use STR income to avoid eviction or foreclosure" and "50% use STR income as supplementation," to pay everyday expenses, such as those for rent, a mortgage, food and transportation. Hosts in WeHo, they say, also "earn $9,000 in supplemental income every year."
WeHo, no stranger to the challenges presented the gig and sharing economy, is an aging city of mostly LGBT residents — a majority are 50+ — and many Seniors are forced to find creative ways to supplement their income.

Juan M.  (who asked that his last name not be used) is 68 years old and HIV positive. "My income producing years were robbed from me because of the AIDS crisis. I have no savings and will have to work to the end of my life," he said. "But I earn almost half my rent by hosting out of towners in my little spare bedroom through Airbnb. If the city restricts that I'm forced out," Juan, a renter who also drives for Uber and Lyft, told the Los Angeles Blade. "I'm not some rich landlord warehousing entire buildings full of luxury apartments for rent on Airbnb," he added.
Juan, whose home is very well appointed and meticulously clean, says he vets his guests and requires more than a few days stay. "I look at their social media and google their names before I agree to allowing them to stay.  And I usually restrict to month long stays or more.  Lots of traveling nurses and creative people come to LA like that," he said.  He charges up to $70 per night and say it is "life changing money for me."
WeHo's City Council seems to be listening to hosts' concerns, those outlining the monetary necessity of STRs, as well as those admitting they just rent out a room for personal satisfaction.

Still, opponents raise many objections. They point to noise, like loud music and partying, traffic congestion and losing the peace of mind of simply knowing one's neighbors. As for non-hosted rentals, the biggest issue is the reduction of available long-term rental units driving up rents.

Keistler said he's had "no complaints from neighbors, so doesn't really get the concerns" about safety or strangers renting from him. "Tourists just come here to sleep. They are out all the time."
He added that Airbnb is "self-regulating." Hosts and renters post reviews online after a transaction and stressed how that can "go both ways." In his view, this mechanism generally ensures a high-quality customer because the community decides.

As for traffic concerns, Lewis said most of her guests "use Uber" so they have no car. And regarding safety, she is "cautious" about whom she rents to. There are "verification processes in place" – hinting at Airbnb's online process – but acknowledged "concerns are legitimate if nobody is on the property."

The difference between hosted and non-hosted may be the line in the sand.

Three random WeHo residents – who are not part of the home-sharing economy with any online service – were asked for their perspective.

Rafael Bunuel, who owns a home on Rangely Ave. in the WeHo West area, says hosted STRs are OK because he trusts his neighbors. Not so with non-hosted. "Who do I call if there's too much noise…the renters or the police?"

And Michael Rosenblatt, who rents one half of a duplex in the same area echoed that concern about non-hosted, saying, "Who is going to rent it?" For hosted, he's fine with it because he knows his neighbor on the other side of his wall would address any problems from renters.   

"For all I know they may already be doing it," a middle-aged co-owner of a four-unit property just north of Pavilions in WeHo said. Preferring to remain anonymous, he was referring to whether his neighbors rent out their homes or spare rooms for STRs.

For him, there is no correlation with issues like noise or safety. Based upon his experience living in various areas of LA, such concerns may be more of a problem with long-term renters.

"It's not about renting short term," he said, "it's about the people." In his view, people coming to WeHo for STRs are generally professionals in need of corporate housing, or tourists with high incomes, two demos he is not worried about.

How are other cities handling this issue? According to information provided by Airbnb, Pasadena "allows hosts to list up to two properties if they are both at the host's primary residence" and San Jose "has no limits on hosted primary residence stays [and a] 180-day cap on un-hosted."

Similarly, the City of Los Angeles, also now considering room night bans of various lengths, currently "allows a cap of 180 days per year on non-hosted and no restrictions on hosted," as per Airbnb and confirmed by the Los Angeles Blade.

While Llano of Airbnb would not state what West Hollywood should do outright, she did ask rhetorically: "How can the city come up with a plan that would allow the most number of people to benefit from home-shares?"
Kane's cuisine: Mission Im-pastable
LA Blade staff writer Christopher Kane shares his love and passion of cooking writing in a new weekly Sunday column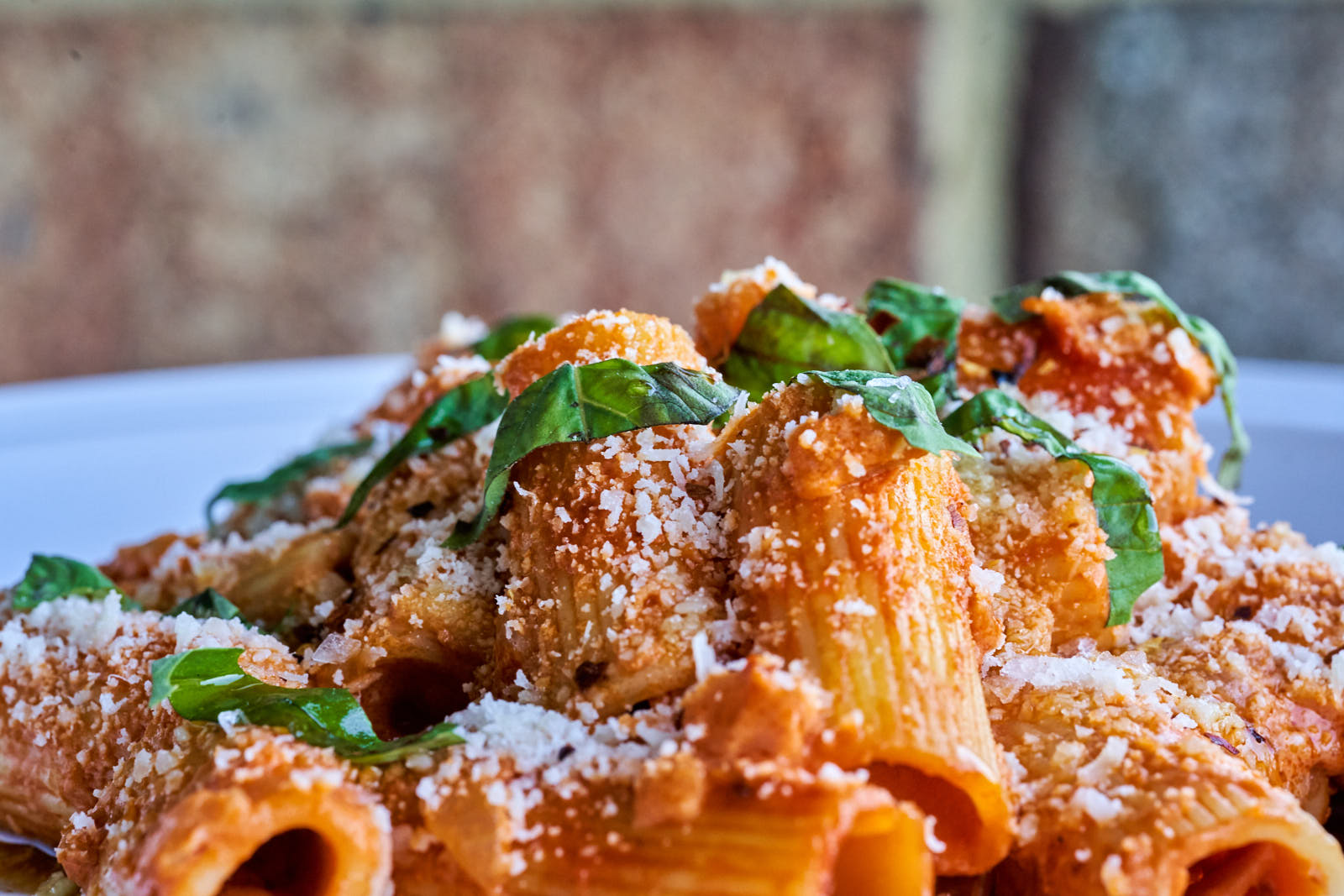 'Editor's Note: What happens when you have a pandemic and a bored stay-at-home political reporter with extra time on his hands? LA Blade staff writer Christopher Kane decided that he would pursue his second love and passion of cooking and now he's sharing the results in a new weekly Sunday column.
WASHINGTON – Some of you have been asking me to share an easy recipe. That makes me sound like a wannabe beauty influencer (nobody has been asking you for skincare tips, Stephanie), but it's true! I swear. Be sure to "like" and smash that "subscribe" button. 
So, I was originally going to give you a scratch-made cherry cream cheese kouign-amann danish, but to be honest with you, it's been a long week. This morning I woke up bleary eyed and dehydrated like I'd been partying with Madison Cawthorn (to be clear, I would never.)
And besides, my most fervent wish is for this column to make cooking more accessible and lower the barriers to entry – which would not be accomplished by describing the complicated technique required to create buttery layers of dough that puff up like a croissant.
Let's get to it. Today, it IS about the Pasta! Pasta la vista, baby.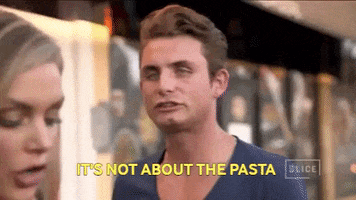 That gif was mostly for me. But I hope at least one of you share my taste for trashy reality TV and got a kick out of it. Moving on.
We are making rigatoni with vodka sauce. Made with pantry staples, it comes together quickly and easily. The underlined instructions are techniques that should be used for literally every pasta dish you will ever make – so, in a way, I'm showing you how to prepare pasta rather than just rigatoni with vodka sauce.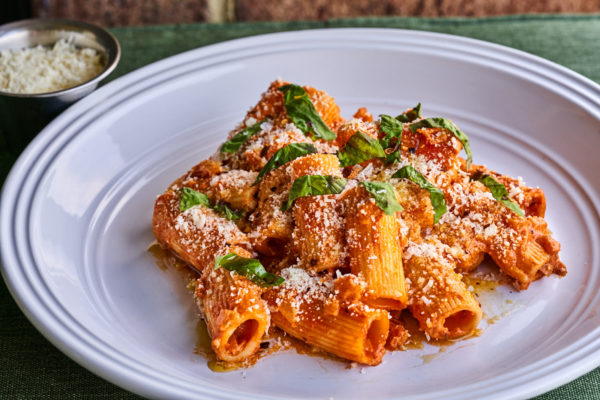 Bring a stockpot of water to boil with a full handful of salt. Taste the water (before it reaches a boil, preferably). It should be salty. Note: you will not add the rigatoni until step number 7
Finely chop an onion. White, yellow, red, it doesn't matter. You can use a shallot, too. Smash four to six cloves of garlic and remove their peels.
Grate about four ounces of parmesan using the smallest holes of your box grater. This part is annoying. If you have children or a spouse, I encourage you to delegate – but make it sound like a good time.
Using a Dutch oven or other cooking vessel whose sides are at least a couple inches high, cook the onion and garlic in olive oil for about five to ten minutes, stirring occasionally and seasoning salt and black pepper.
Add a full tube or can of tomato paste, which should be somewhere in the neighborhood of 4.5 to six ounces. I like to sprinkle in a teaspoon of red pepper flakes, but if you don't care for spicy food, skip this step. Cook for five to ten minutes, stirring often, until the color turns a deep brick-red.
With a Pyrex measuring cup, take about a fourth cup of boiling water from your stockpot. Add three-fourths cup heavy cream to the measuring cup, and then pour it into your sauce, stirring until smooth. Remove from heat.
Add 1 pound rigatoni to the boiling water (ziti would be good, too. Or penne, paccheri…any short, tubular pasta shape would work well.) Cook according to package instructions until a minute before al dente.
Use the Pyrex measuring cup to reserve a cup of starchy water and transfer, along with your pasta, to the sauce in your Dutch oven. Stir as you cook on low heat, gradually adding half the grated parmesan until the noodles are coated with a smooth sauce. Taste a noodle and season with more more salt if desired.
Divide among bowls and top with remaining parmesan, along with one or more of the following: a drizzle of olive oil, torn fresh basil leaves, more red pepper flakes and freshly ground black pepper
Kane's cuisine: Chicken Milanese
LA Blade staff writer Christopher Kane shares his love and passion of cooking writing in a new weekly Sunday column
Editor's Note: What happens when you have a pandemic and a bored stay-at-home political reporter with extra time on his hands? LA Blade staff writer Christopher Kane decided that he would pursue his second love and passion of cooking and now he's sharing the results in a new weekly Sunday column.
WASHINGTON – This chicken breast may be boneless, but like a twink on an Atlantis cruise it's been pounded within an eighth of an inch of its life.
When it comes to poultry, I prefer bone-in/skin-on, for reasons that I will doubtlessly explain in a future column, but there is something special about this dish.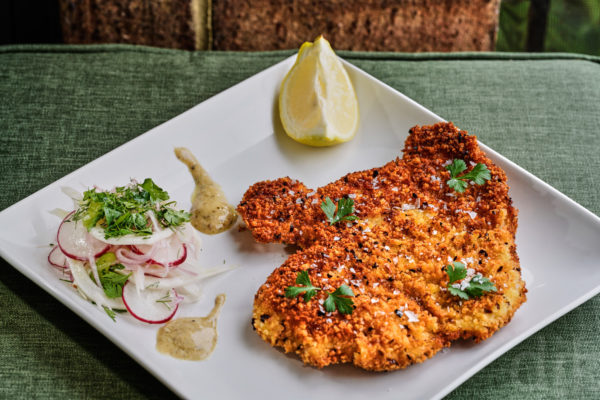 Chicken schnitzel, chicken Milanese, katsu, tonkatsu…there are some regional differences in how it's prepared, but the point is to take a large, flat-bottomed object (I prefer using my All-Clad fry pan) to a boneless skinless piece of meat (usually chicken, but often pork chops and occasionally steak) until it's very thin – and then bread and pan-fry it in oil or butter.
I will not and would never lie to you: it's not an inconsiderable amount of work. Unless you have the time and ambition (or, and this is key, someone who is willing to clean up), I wouldn't recommend attempting this on a weeknight. Hear me out, though – it's hard to screw up and it's sure to impress.
Another thing: people will tell you that you must coat the meat in flour before dredging it in the egg wash and applying the breadcrumbs. I'm here to tell you the flour adds nothing. It's an unnecessary step. Try it without the flour and tell me you missed it. You won't.
Unless you live in the Bavarian Alps, serving a breaded and fried piece of meat with something starchy like potatoes or rice would be…a lot. So, try it with this lemony salad instead.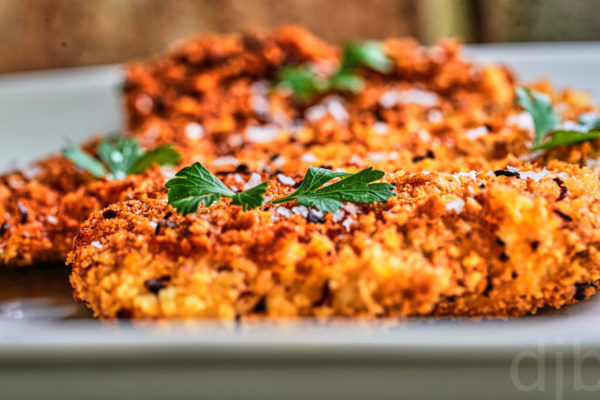 For our purposes, let's say you're using chicken and let's call it chicken Milanese.
Make sure your chicken is fully thawed. If it's really thick, slice it in half lengthwise (in which case you'll have another chicken Milanese, you lucky duck!)
Pound it like it's a bottom with daddy issues. Your chicken should be, uniformly, a fourth to an eighth of an inch thick
Season with salt and black pepper. How much salt? A teaspoon per pound. That was a callback to last week's column! Feel free to add paprika, chili flake, herbes de Provence…
Whisk an egg or two in a bowl with a teaspoon of water and dredge your chicken in the egg wash
Pour plain/original Panko breadcrumbs on a large plate or in a shallow baking dish (you'll need about a cup per pound of chicken) and press your chicken down, coating both sides. Repeat until you have an even coating
Heat about a third of a cup of olive oil in a fry pan, shake off excess breadcrumbs and add the chicken when the oil gets very hot. Cook for 2-3 minutes, flip, and cook the other side 2-3 minutes
This salad, especially when paired with chicken Milanese, is the perfect opportunity to use your preserved lemons. Another callback to a previous column! For the record, I totally forgot to add them until after my husband had snapped these photos. So, look at the salad pictured here and try to imagine it has a preserved lemon wedge diced up and tossed in. Delicious.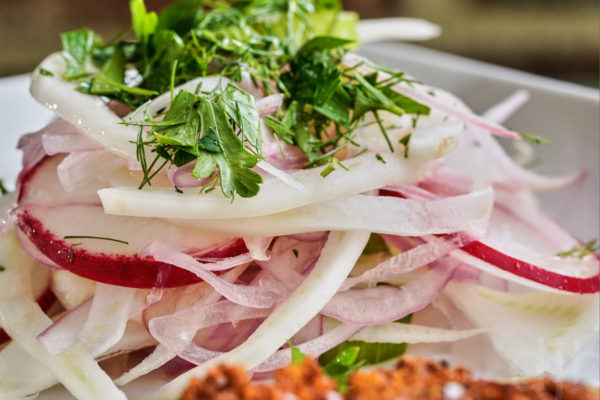 Using a mandoline or sharp knife, thinly slice a fennel bulb, a few radishes and two stalks of celery. Separately, thinly slice a shallot (or half an onion) and squeeze the juice from half a lemon over the alliums
Toss everything together to combine and top with roughly chopped parsley and fennel fronds, along with the preserved lemon if you've got it
To make the dressing, combine equal parts tahini and lemon juice. Add some olive oil (if you're using a quarter cup each of tahini and lemon juice, it should be about three tablespoons olive oil. Adjust your measurements accordingly.) Add a garlic clove, either grated with a microplane or finely diced, and season with salt and pepper
West Hollywood-based Grindr LGBTQ+ dating app goes public
"Grindr is well positioned to be a public company and will continue to expand the ways it serves the LGBTQ+ community"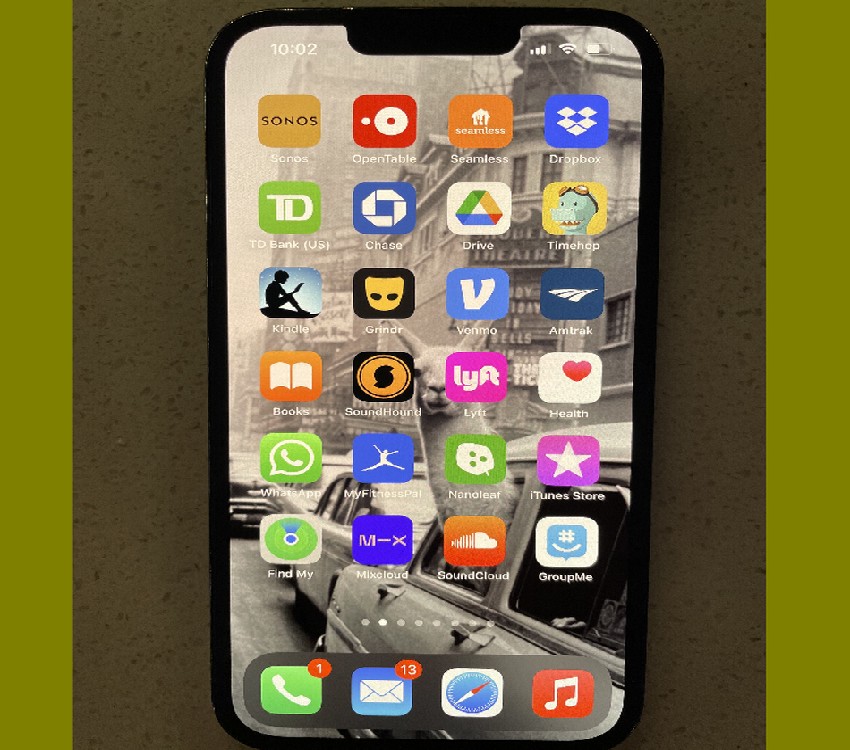 WEST HOLLYWOOD – The LGBTQ+ mobile phone dating app Grindr announced in a statement that it had merged with a special purpose acquisition company on Monday. The merger agreement gives the 13-year-old dating app company the ability to help pay off and satisfy debt as well as fund future growth.
The merger with Tiga Acquisition Corp. is a deal that values the combined company at $2.1 billion. The acquisition company will raise $384 million in cash proceeds, which will consist of $284 million of TAC's cash in trust plus up to $100 million in a forward purchase agreement.
Grindr, founded in 2009, is a widely popular dating app in the LGBTQ+ community, attracting 10.8 million monthly users in 2021, with 80 percent of its users being under the age of 35, according to the statement. 
"Grindr is the leading platform focused on the LGBTQ+ community for digital connection and engagement. We have a near ubiquitous global brand in the community we serve, impressive scale, best-in-class user engagement metrics and adjusted EBITDA margin, and we're still just beginning our monetization and growth journey," said Jeff Bonforte, Chief Executive Officer of Grindr.
"Grindr is well positioned to be a public company and will continue to expand the ways it serves the LGBTQ+ community, from products, services to the philanthropic and advocacy work done through Grindr 4 Equality," he added.
James F. Lu, Chair of Grindr's Board of Directors, said, "Bringing Grindr to the public markets with TAC furthers our mission to connect the LGBTQ+ community. This transaction is a milestone event, not only for our iconic company, our people, partners, and investors, but also for the community we serve around the world. We are grateful for the resilience, courage, and creativity that are some of the LGBTQ+ community's unifying characteristics. Lastly, we are thrilled to work with Ray Zage and Ashish Gupta and the entire TAC team, and appreciate their confidence and support in this important journey."
There have been some issues globally as the Hill reported: Chinese officials removed the dating app rom its Apple App Store in February, citing compliance issues with China's Personal Information Protection Law. 
The Personal Information Protection Law, which took effect at the end of 2021, requires that data stored in applications that is transferred to other locations be approved by government officials. The law also limits the personal information stored in apps.
The popular app also was removed from app market services from Chinese companies such as Tencent Holdings Ltd. and Huawei Technologies Co. Alphabet Inc.'s Google Play Store is unavailable in China.