Meet Trans lesbian Lisa Middleton, newly elected to all-LGBT Palm Springs City Council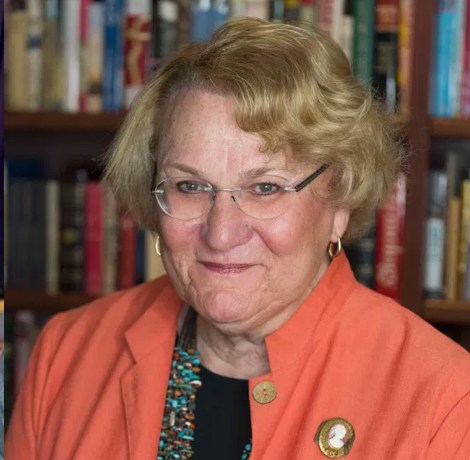 Three weeks before the Nov. 7 elections, former Republican President George W. Bush delivered a speech lamenting the "casual cruelty" that has degraded discourse since Donald Trump became president. "Bigotry seems emboldened," Bush said. "There are some signs that the intensity of support for democracy itself has waned."
Anti-LGBT hate crime statistics back him up, with data collected by law enforcement show underscoring the epidemic of anti-transgender violence. On Nov. 13, the FBI released their hate crime statistics for 2016 showing a five percent increase from 2015, including a nine percent increase of hate crime incidents based on gender identity. On Nov. 16, Los Angeles County released their hate crime report showing 31 reported anti-trans hate crimes— a 72% increase from the previous year. "We reviewed the number of anti-transgender hate crimes reported for the past ten years and this was by far the largest number," out LA County Human Relations Commissioner Marshall Wong told the Los Angeles Blade.
And yet, staring down the ugly face of hate, eight trans candidates were elected across the country on Nov. 7, a vote for civility.
Lisa Middleton's election to the Palm Springs City Council makes her the first out trans person elected to a non-judicial office in California— Victoria Kolakowski was elected the nation's first trans judge in 2010. But it also marks a major shift in political attitudes. Once the bastion of conservative country club Republicans such as Ronald Reagan, Gerald and Betty Ford, Sonny and Mary Bono—Palm Springs is now America's first LGBT-run city government.
Middleton came out publicly as transgender in 1995. She met Cheryl O'Callaghan in 2000 and 17 years later, they are a married lesbian couple, "with a little bit of a twist in one of our histories." They have two adult children.
Middleton also identifies as a career professional and community activist. For 36 years, she worked with the State Compensation Insurance Fund of California and was Senior Vice President of Internal Affairs when she retired.
Middleton comes from a family of sharecroppers who left Oklahoma during the Dust Bowl. She attended East Los Angles College, graduated from UCLA and received a Masters in Public Administration from USC. In addition to government service, she worked with the Organized Neighborhoods of Palm Springs, serving as chair from 2015-2017, and served on city planning commission and task forces concerned with homelessness and government transparency.
"I have been very proud to be out as a transgender individual but I had a career," Middleton tells the LA Blade. "I was in an executive position within the State of California. So at the time I came out, I had responsibility and involvement that went beyond the fact that I was transgender."
But she also helped advance the trans movement in California. In the mid-1990s, out San Francisco Supervisor Mark Leno proposed a trans-inclusive healthcare policy for employees of the City and County of San Francisco. At the time, insurance policies nationwide had standard exclusions barring transgender healthcare. Because of her knowledge of insurance systems, she helped the person struggling most with the proposed change—the city's actuary.
"I was able to sit down with him and talk him through transgender 101," Middleton recalls. "And then, in terms an actuary could understand, I talked about how to make projections as to what the actual costs would be. I was convinced he overestimated the projected costs—but it wasn't an unreasonable estimate and it wasn't an estimate that would cause people to say we can't afford it."
So, she continues, "a lot of the work I've been able to do as someone who is transgender hasn't been the person knocking down the barricades as an activist leading the charge. But as someone who proudly is transgender and is able to communicate across the spectrum in all kinds of environments and situations from neighborhood meetings to planning meetings to sitting down with an actuary trying to figure out a financial cost estimate."
Middleton is very cognizant of the issues around trans employment. "Until individuals have economic security, they're not in a position to fully exercise their other legal rights," she says, adding she will do "everything I can" to help.
"One of the things that our community faces in employment is lot of appearance discrimination," Middleton says. "Women have been judged for years based on appearances before they are judged based on their intelligence and their capacity to do work. And some of that discrimination falls more heavily on a transgender population. Transgender women tend to be taller, heavier than those that are not. Transgender men tend to be slighter."
What can be done about that? "One of the things I have done is be very good at what I do," Middleton says, emphasizing "very good" over the phone. "You can break down barriers. Attitudes make a big difference. So I feel very proud that as a transgender woman I have had the opportunity to succeed in government service and then to succeed in community and neighborhood relationships and programs and that's now afforded me the opportunity to serve on city council."
Middleton says her job will be tending to the city's needs. "And none of those issues are defined by gender or by sexuality. They're defined by your capacity to reach out, form consensus, and develop public policy programs that will succeed."
But to the LGBT community, her very presence combats hate.
"You're nothing more than a plague rat," social media users take on gay NYE parties
COVID isn't causing businesses to suffer, it's the actions of people. We are tired of it.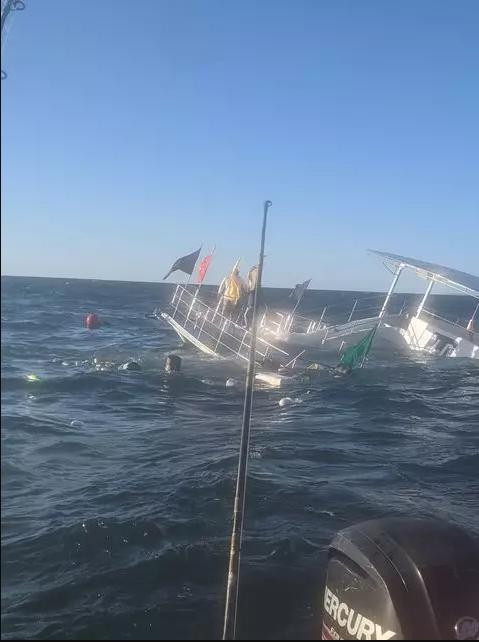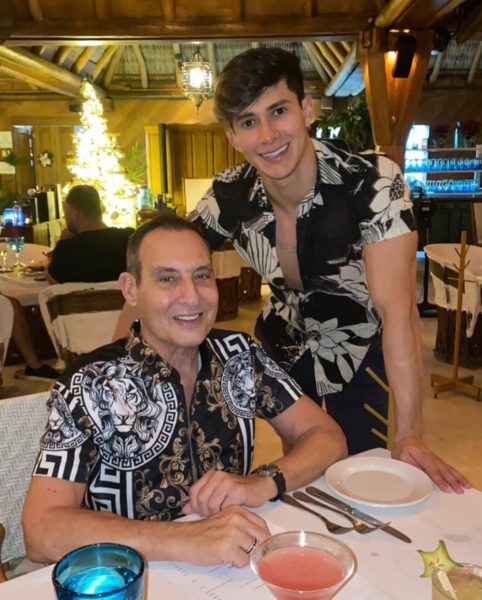 PUERTO VALLARTA – The disgust, anger, and recriminations over gay New Year's Eve parties in this seaside resort area of the Mexican state of Jalisco and neighboring Riviera Nayarit, continues to spread in gay online social media- particularly in numerous Twitter threads and on Instagram. One Instagram account, @gaysovercovid has repeatedly called out party goers and party organizers.
Local media outlets in Jalisco and many Mexican social media users are also outraged.
The @gaysovercovid Instagram account has faced a wave after wave of backlash from gay influencers many of who are now embroiled in the controversy after having their Instagram posts publicly disclosed and then shamed by the anonymous account holder. There have been financial rewards offered to anyone who can unmask the account owner's identity.
The account used the built-in abilities for tracking the influencers' Facebook locations and Venmo transactions in an effort to uncover where they were attending parties. That brought about severe condemnation from those exposed while many other people celebrated that the account exposed the bad behavior of gay men.
In one example, in response to a social media post that depicted a West Hollywood area ICU registered nurse as a participant, social media users tracked the pictures to an Instagram account (@legstrong) listed for 25 year old Armstrong Nworka. The Blade determined from online searches Tuesday, including Facebook using the handle '@legstrong' and his surname, Nworka had profiled himself as gay, an RN, and employed at Cedars-Sinai in Beverly Hills.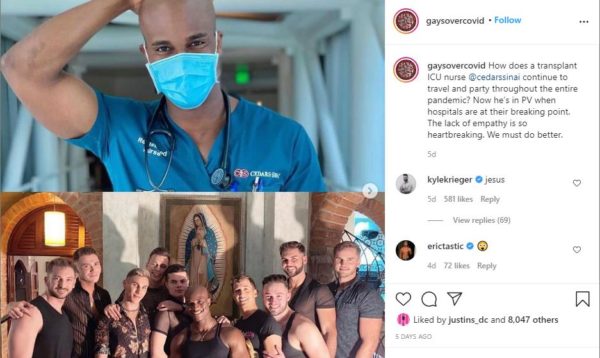 One of the comments [left on his page] read; "Disgusting, you give us gay people a bad name. You're truly nothing more than a plague rat." Nworka has since taken his Instagram account private. Nworka did not respond to a Blade request for comment.
The Blade also reached out to Cedars-Sinai and was told that there would be no comment on personnel matters.
The 'plague rat' comment was mild in comparison to the thousands of other vitriolic responses to other party attendees and especially organizers- labeled by critics as 'super-spreaders,' who openly defied both U.S. and Mexican Public Health authorities mandates and restrictions to help stem the spread of the COVID-19 coronavirus.
Palm Springs resident and gay circuit party impresario Jeffrey Sanker held the largest New Year's Eve weekend bash, which included several events. Originally set to take place in Puerto Vallarta, apparently ignoring the pleas from local health authorities, elected officials as well as residents, Sanker's White Parity Entertainment company was forced to move the event to neighboring Riviera Nayarit after the Jalisco state government banned mass gatherings and implemented more restrictive coronavirus measures.
In a text to ticket holders, Sanker's company told attendees to not reveal the location of the party. Nor could they take any photos or videos of the event. The text said the steps were necessary because they "do not want this getting out and causing any issues with the public."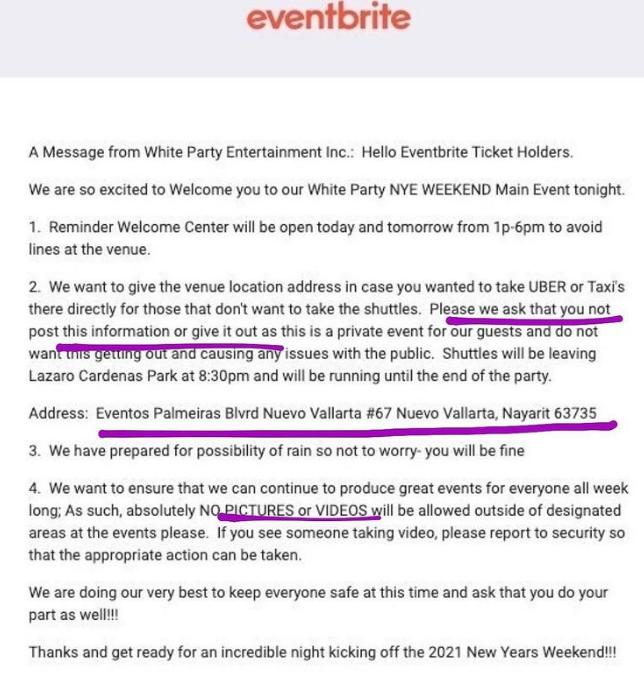 That text was screenshot and then posted by @gaysovercovid as well as other accounts which prompted one local news outlet in Puerto Vallarta, the Puerto Vallarta News, to editorialize on its social media accounts prior to the events;
"If you are interested in still visiting the COVID Superspreader New Years Eve Celebration where foreigners come to our community and throw big parties and leave COVID while causing our businesses to close and people lose their jobs- […] COVID isn't causing businesses to suffer, it's the actions of people. We are tired of it. We have supported this event in past years and given it positive coverage, but this year it's irresponsible and should be canceled.​"​
In a phone call with an editor at PVN on Tuesday, the Blade was told that the area's main healthcare facility, Puerto Vallarta Hospital was at 100% occupancy with COVID-19 patients – and that the state of Jalisco had reached 65% positivity rate.
Officials in Jalisco uniformly condemned the fact that so many had traveled from the United States just to party without seeming to care about the consequences to the local residents, many of who are employed as staff in the restaurants, bars, hotels and transportation systems.
"They came to have sex- to dance it seems and to make party without regard to spread of COVID," one government source told the Blade. "They have no sense of responsibility- don't care about peoples here," he added.
As part of the weekend long event​ the PV Delice, a catamaran boat that featured a live band and open bar, began taking on water and sank off the coast of Puerto Vallarta on December 31, 2020 around 5 p.m. while crew frantically called for help to rescue passengers. Video posted on Instagram, Tik-Tok and Facebook documented at least 10 other boats rushing to aid the sinking vessel and plucking 60 victims out of the choppy water.
Witnesses to the sinking told local news outlets that the boat was filled with White Party celebrants and was overcrowded. The boat sank to the bottom of the bay and there were no reports of injuries.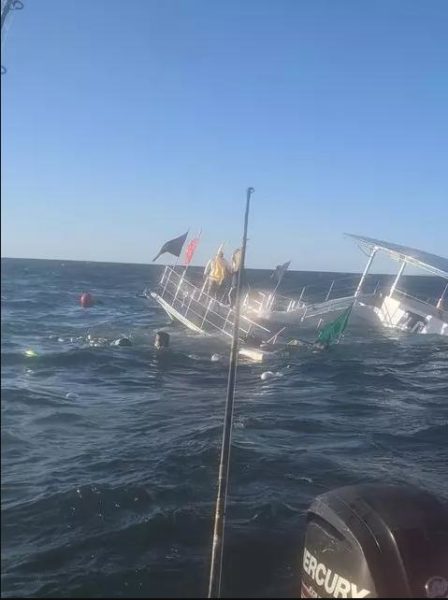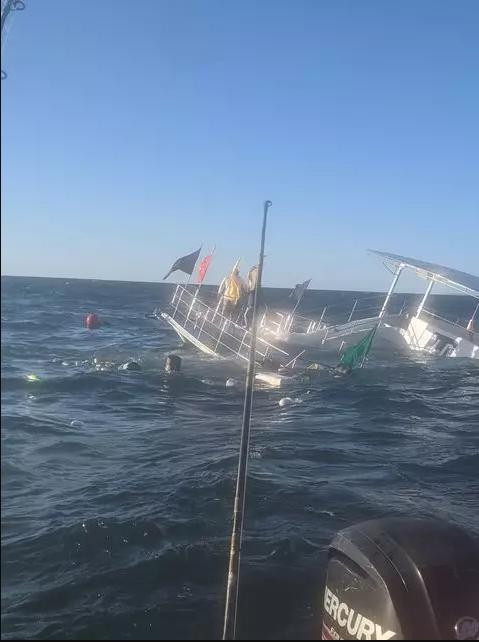 One passenger, a gay man from Chicago, Illinois, Emilio Blanco told the local LGBTQ news outlet, Out and About PV, "It was like the Titanic, it went all down slowly. I think the crew just didn't know how to maneuver the catamaran very well, the sea was not very rough nor was it too windy. We were about to sail back to Puerto Vallarta, but the catamaran barely moved. I saw at least 10 small boats coming to help, I jumped in a private boat whose owners were graceful enough to send their captain help out. It was quite a scary situation."
A spokesperson for Adrián Bobadilla García, head of the municipal agency, of Puerto Vallarta told the Blade Tuesday that the municipal government had made numerous notifications to the public regarding mandatory use of masks and maintaining social distance in public. He said that the boardwalk during the holiday however, wasn't closed nor were the beaches. He conceded that enforcement was not as stringent as it should have been.
A majority of gay parties attendees reportedly stayed in Puerto Vallarta. As a result, beaches were jammed wall to wall mostly with maskless celebrants. One local resident who provided pictures and video to NBC Palm Springs said it was a "superspreader nightmare."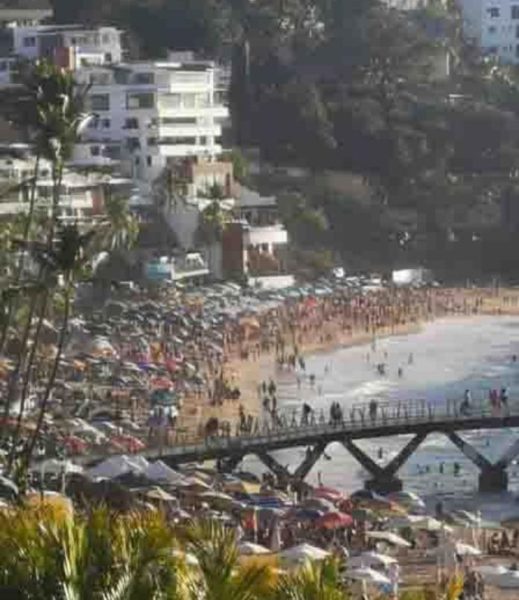 "It is with sadness and anger that we have Americans at the height of a pandemic surge travel to Mexico to participate in New Year's Eve parties knowing that people of color are disproportionately impacted by the COVID-19," said City of Huntington Park, California Councilman Eddie Martinez who also heads the Latino Equality Alliance.
"The action of these travelers has now put hotel workers, servers, janitors, and drivers at risk for the disease as well as to possibly put an additional strain on the hospital system in both Mexico and the United States. Party promoters and sponsors need to be held accountable if their actions result in more deaths for families, especially within the LGBTQ community," Martinez added.
Washington D. C. based journalist Zack Ford documented a majority of Twitter responses to the controversy in a thread he published Sunday. (Link)